If you've got a family on the go, you need quick dinner ideas. These 30 easy quick recipes will feed your family and help you skip the drive-thru.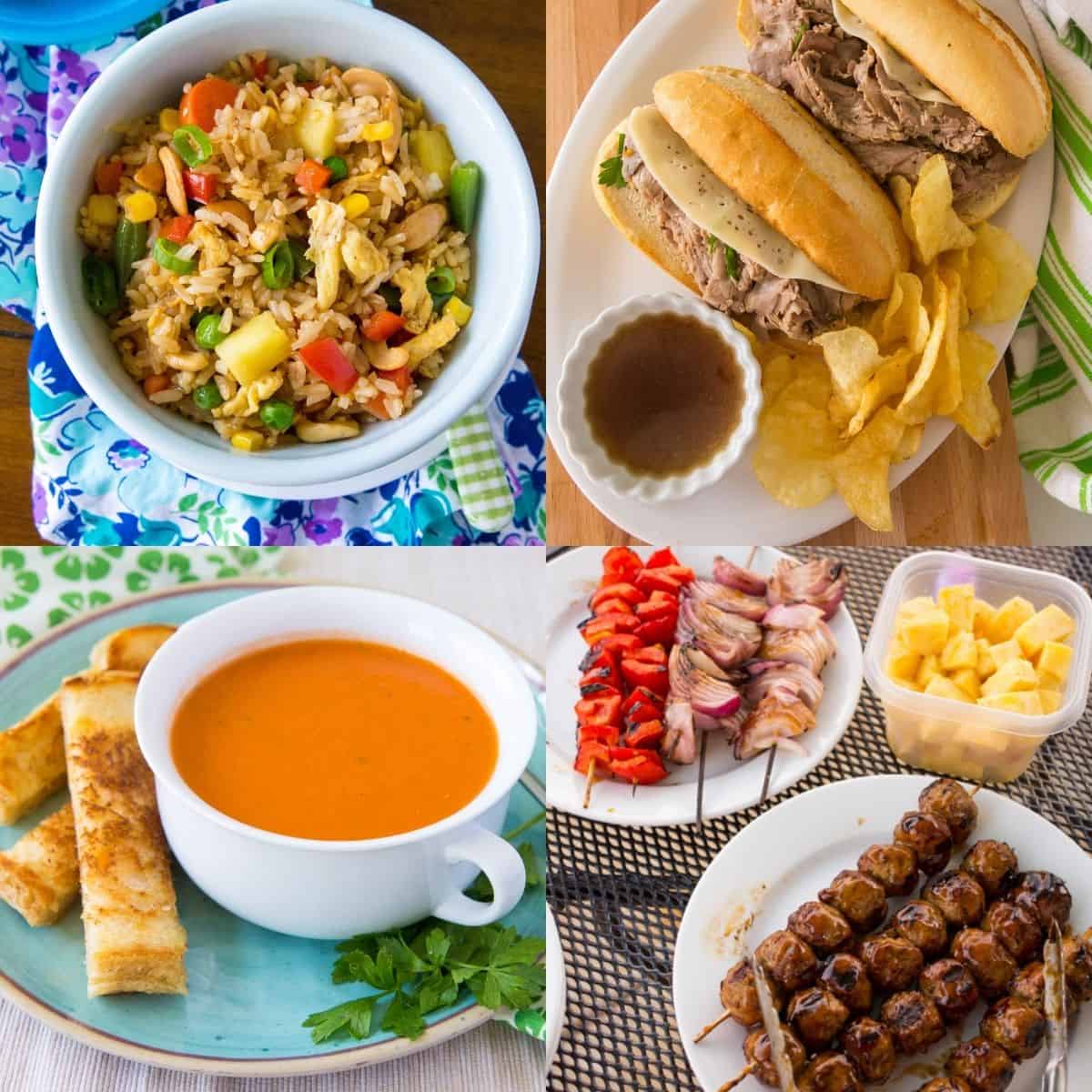 Have you seen the study that announced the undue pressure we're placing on moms with our society's focus on providing home cooked meals? This news made me pause, sometimes I worry I contribute to that pressure.
One of my missions here at Peanut Blossom is to inspire you to cook with your family.
But here's my big secret: I don't do it every night.
Sometimes I don't do it every week!
I've written extensively about my struggles with meal planning.
But now that my girls are older, we've encountered the most stressful part of the school year: getting dinner to the table on sports nights. Afterschool activities for older kids are the biggest obstacle to getting a home-cooked dinner on the table!
Between transportation to and from the activity, the practice itself, fitting in homework and baths and everything else, dinner on those nights is daunting. That drive-thru is just soooooo very easy to go to, isn't it?
And there's that pressure I mentioned:
Your evening is packed.
You're exhausted.
Everyone is starving.
Ok, now put a home-cooked meal on that table!
How We Should Define "Home Cooked"
If you had a hand in preparing it, it is home-cooked.
Yes, even these quick dinners:
A peanut butter & jelly sandwich? Home-cooked.
Cereal with a pour of milk and some orange wedges? Home-cooked.
Grilled cheese & tomato soup heated up from your pantry? Home-cooked.
I have fallen prey to my own high standards and failed.
When faced with my pantry & refrigerator on soccer nights, I want to cry from not having the energy for whipping up a casserole. I feel guilt passing over a bowl of macaroni & cheese to my kids. Now I know I shouldn't!
And neither should you!
To help us both overcome that fear of peeking into our pantry I'm sharing these 30 quick dinner ideas that are just perfect for Soccer Night. Feel free to substitute "football, basketball, dance, chess club," you know what I mean. Whatever activity is keeping your family on the go, these quick dinners are here to help.
And if you think some of these easy quick dinner ideas are obvious? They probably are, but they sure don't feel like it at 6:45 pm on soccer night!

Jump to:
P.S. Whether you're tracking a month of busy night dinners or need a month of easy school lunches for packing, keeping track of the meals to feed your family has never been easier.
Use my handy lunches & dinners blog posts to make a meal plan in a pinch. Track your favorite suggestions on a print-out from my brand new Monthly Meal Plan bundle and keep it handy in your kitchen.
Stop by the Happy Family Movement shop and be sure to get your copy of the monthly meal plan here.
Quick Last Minute Dinner Ideas from the Pantry
Let's start with the easiest category of quick and easy dinner ideas.
You haven't planned ahead, you're in a pinch, everyone is screaming for food. You've only got a minute to get family dinner on the table.
Try whipping up:
1. Scrambled eggs, toast with butter or jam, fresh fruit or applesauce or a few raw veggies like cherry tomatoes & carrots
2. Pasta with your favorite jarred sauce
3. Grilled cheese & tomato soup with a side of fresh (or canned!) fruit
4. "Nibble platter": Serve up a mixed plate of whatever you've got in the fridge--cold cuts, cheeses, nuts, apple slices, crackers, veggie sticks and introduce the word "Charcuterie Plate" to your kids.
6. Dress up a frozen pizza: Stock your freezer with plain cheese or margarita pizzas. Top them with your mixes based on the leftovers in your fridge.
Mix & Match Dinner Ideas
These easy family dinner recipes are one notch up in difficulty from the pantry dinners above.
You can create a "choose your own adventure dinner" if you plan ahead enough to stock your freezer with a few staples.
Keep a few fresh odds and ends laying around to fill out the meal.
Mix and match these dinner elements for a well-rounded meal and we'll count this as 4 more suggestions towards our 30 easy dinner ideas:
First, Choose 1 Protein:
Frozen breaded fish cutlets, we love the tilapia we buy in bulk at Costco
Flavored chicken sausages from the refrigerator case, we love most Aidell's varieties particularly the Chicken & Apple and Spicy Mango with Jalapeño
Shredded rotisserie chicken
Prepared meatballs, again we love Aidell's Caramelized Onion and the Pineapple Terriyaki flavors the best
Second, Choose a Side Dish:
Flavored rice packets, I know it isn't the healthiest choice but I have a crazy passion for Rice a Roni's Chicken Flavor rice. We also love Uncle Ben's Wild Rice mix.
Frozen potato wedges of choice, we love the all-natural Alexia brand of products, the sour cream and chives flavor especially
Pasta with butter or olive oil and a little garlic salt
Fresh baguette baked from the freezer. Costco carries the most amazing french bread baguettes by Le Petit Francais. They take 6-8 minutes in the oven directly from frozen.
Tortillas can turn any of those proteins into a taco plate.
Third, Pick 1 - 2 Veggies/Fruit to fill out the plate:
whatever fresh fruit is in season (and in your fridge!)
canned pineapple, peaches, or pears
applesauce
bag of frozen steamable vegetables. I buy the SteamFresh packets by Birds Eye whenever I can. We love their varieties but I generally stick to the unflavored ones and season them myself.
baby carrots
any raw veggie in the fridge: celery, bell peppers, cherry tomatoes, etc.
a simple green salad: call yourself gourmet and just serve up some lettuce with a light vinaigrette bottled dressing
Fourth, Add a flavor booster for dipping the protein or veggies:
honey mustard or just straight up dijon
ranch dressing
sour cream or greek yogurt with or without added seasonings stirred in
Sriracha sauce--the Peanut LOVES it dabbed on her frozen tilapia!
salsa: regular tomato works but I also keep a jar of corn salsa and sometimes a fruity salsa on hand, too.
Classic Family Dinner Ideas
What comes to mind when you think of "family dinner"?
Many classic family favorite recipes can be comfort food in a pinch.
Mentally prep yourself for a crazy night: have the ingredients on hand, and maybe you'll be lucky enough to do a little prep work earlier in the day or the night before.
You can fit these classic family dinners into you rotation as long as you plan ahead.
12. Sloppy Joes: prepare the meat mix ahead of time and all you have to do on your busy night is to reheat it and serve it up on buns with sides. We love this Philly Cheesesteak Sloppy Joe recipe.
13. Tacos: Same concept as the Sloppy Joes but with a Mexican twist. You can brown the beef or chicken ahead of time and just assemble the night you need to eat. Keep a batch of this awesome shredded chicken for tacos in the freezer to reheat quickly.
14. Quesadillas: Like a grilled cheese but more open to unique and hearty fillings. Add rotisserie chicken, pulled pork, or any mix of leftovers with your favorite veggies or even pineapple. Or not and just do cheese with some sour cream or salsa for dipping.
15. Fried Rice: Another great way to use up odds and ends of leftovers in a quick stir fry. If you've never made your own, I highly recommend trying it. So easy and so delicious. Check out my favorite recipe here.
16. French Dip Sandwiches: If you have deli roast beef on hand, you can make this very simple sandwich. There's something so much more filling enjoying a warm sandwich over a cold one at dinner time.
Soup and a Muffin Dinners
Growing up, one of our family's favorite restaurants would serve a long list of soups paired with a long list of muffins. You mixed and matched your flavors when you ordered. I've always adored this idea for a meal.
Mix and match your own soup/quickbread or muffin recipe. You can make both of them ahead of time so they're ready to go when you are home. All it takes is the time to reheat them.
Easy Soup Recipes:
Pair with an Easy Muffin or Sweet Bread:
Many of these easy sweet breads can be made ahead. The pumpkin bread, cranberry orange muffins, banana zucchini bread, and blueberry scones can all be frozen.
The blueberry scones are so fast, they'll be ready to bake before your oven is even preheated!
Freezer-Friendly Make Ahead Dinners
On the surface, these look like they are the most complicated to prepare but in the end, they are possibly the easiest to get to the table of anything I've shared on this entire list.
If you know ahead of time that you're going to have a crazy busy evening, plan ahead and have these stashed away into your freezer or fridge.
All it takes on the night you want to serve dinner is some simple reheating while everyone gets settled after they walk in the door. This is the golden zone of meal prep but also can be the hardest to be consistent with which is why I saved them for last.
23. Lasagna roll-ups: the whole dish is ready to go and just needs to be baked. While it is heating you have time for homework help or washing up.
24. Spicy Butter chicken: this is just one of 8 great Instant Pot recipes we love. The sauce freezes surprisingly well. You can broil some store-bought naan bread to dip it if you don't have time to make the rice.
25. Chicken spaghetti or Saucy Pork & Noodle Bake: two family favorite ready-to-go casseroles in a pinch. Double them the night you make them and freeze one for later.
26. Chicken alfredo rice casserole: If you're sick of pasta, the rice is a fun twist for dinner.
27. Chicken gyros: You can have everything prepped so all you have to do is broil the chicken which takes 10 minutes total.
28. Irish beef hand pies: My husband loves these most! Great for the meat & potatoes guy.
29. Old fashioned beef stew: a solid go-to dinner idea during cold weather.
30. Chinese noodles with pork and spicy peanut sauce: We make this on a nearly bi-weekly rotation. It is one of a tiny short list of recipes that fall in that category. Definitely one of our all-time favorites. It only takes 20 minutes to make fresh but you could freeze it for a busy night later in the week.
And lastly, if your night is just that crazy-busy, don't be afraid to call a Yo-Yo Night!
Short for "You're On Your Own," get my FREE printable easy dinner ideas list to hang on your fridge so your kids can come up with a dinner they can make by themselves: