Sweet corn pizza can be a quick 30 minute meal when you use prepared naan breads or a prepared pizza crust. Leftover bacon and corn would make the dish even faster to prepare.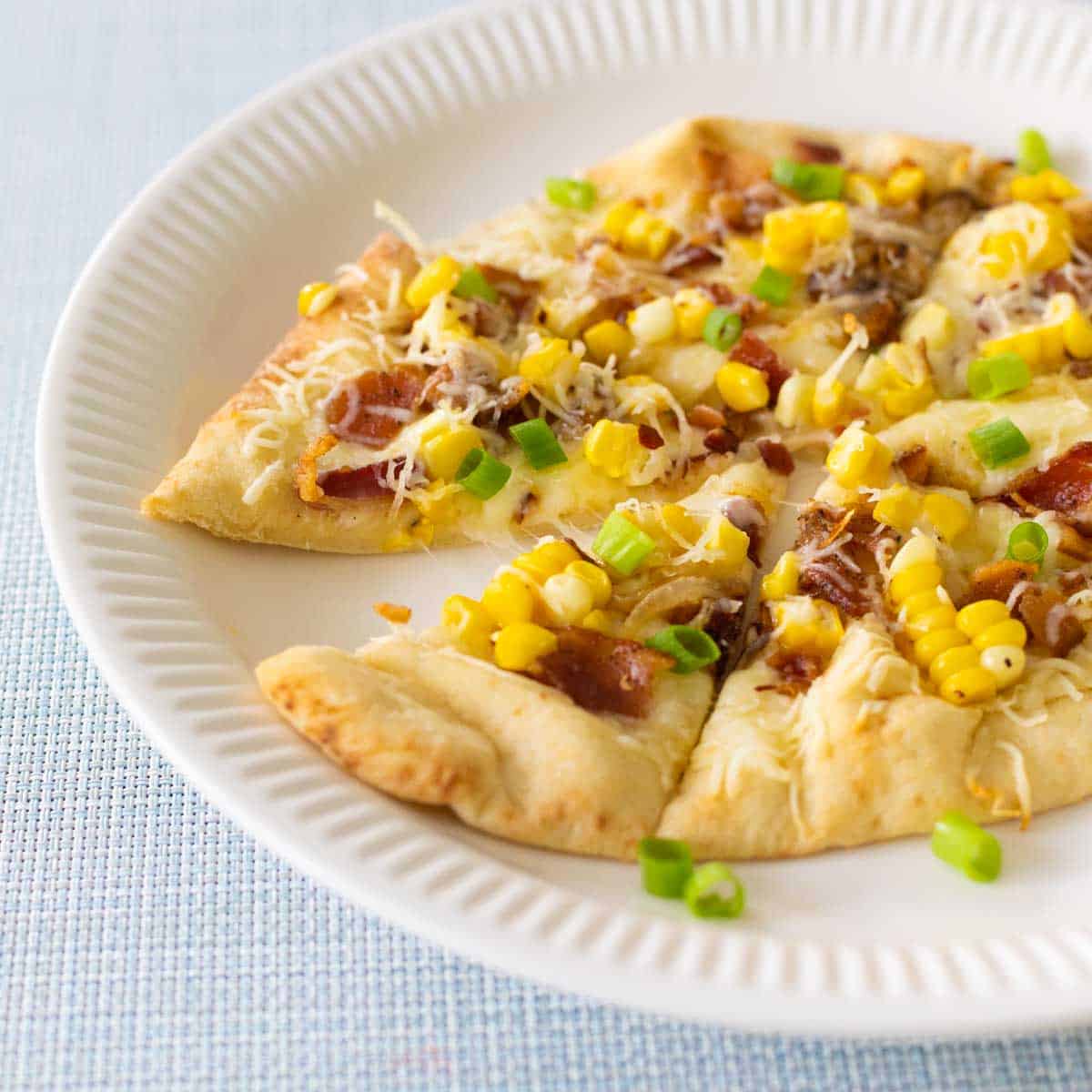 With sweet corn at the peak of the season, I find myself grabbing cobs and cobs of corn every time I'm at the grocery store because there are so many ways to use it.
When I made this sweet corn pizza, I had leftover corn and bacon to use up in the fridge but it is so delicious it would be worth making both of those items fresh.
I've included all the timing tips you need to make this recipe as quickly as possible but it might be a good idea to plan another dinner with corn and bacon just so you have the leftovers to make this dish in just 10 minutes!
Jump to:
Why This is the Best Recipe
Pizza is practically its own food group at our house but I think this is the best sweet corn pizza recipe because:
Quick & Easy: If you've got leftover corn and bacon like I did, the dish takes just 10 minutes. Need to add on the corn and bacon? You only need to add 20 minutes.
Perfect Summer Flavors: I love the taste of fresh sweet corn on the cob but you could use frozen corn if you want to make this later in the year
Easy Flatbread Crust: I used store bought naan breads for our pizza crust but you could absolutely use a homemade pizza dough if you prefer.
Appetizer, Lunch, or Dinner: There are so many ways to use this recipe. You could slice it into squares for an appetizer, share it for a light lunch, or enjoy it as a simple dinner.
Ingredients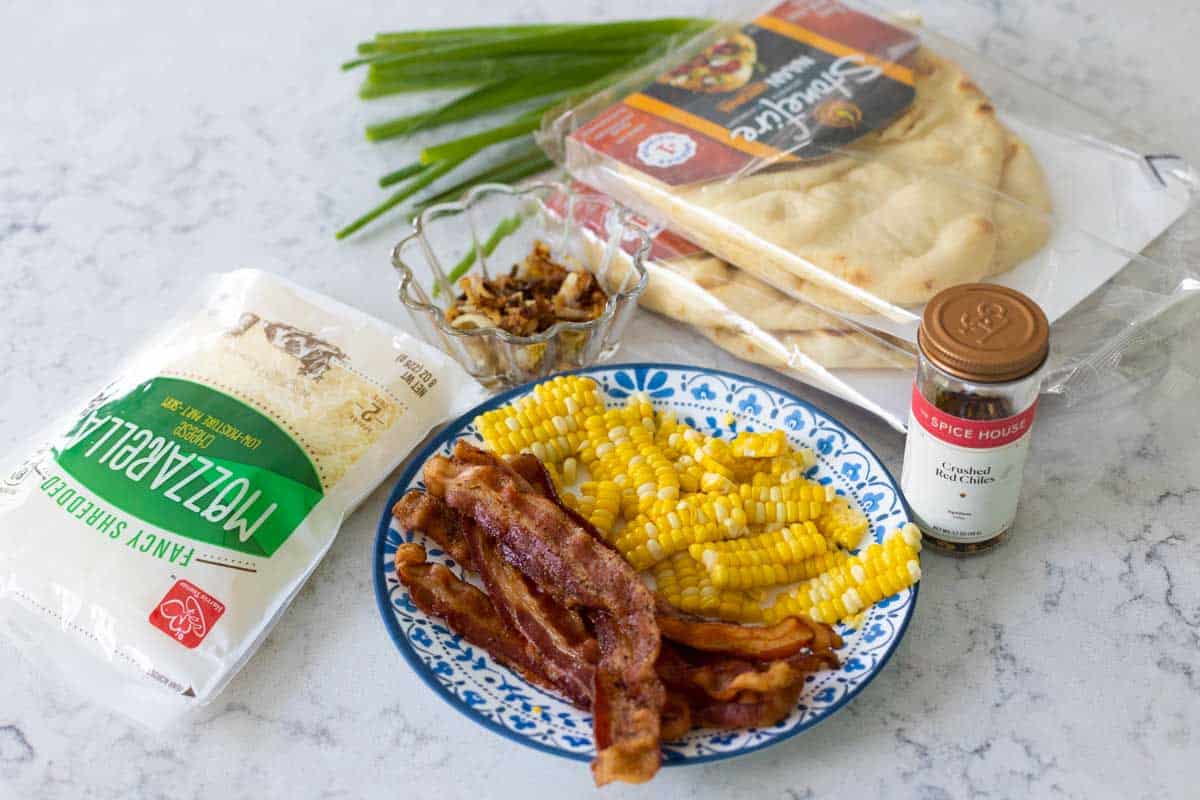 All you need to make an easy sweet corn pizza is:
Sweet Corn: I used fresh corn on the cob but thawed frozen corn would work, too. Double the batch of corn you cook and save some to make my slow cooker corn chowder for dinner tomorrow!
Bacon: I used our favorite peppered bacon recipe.
Onion
Pizza Crusts: I used a packaged naan bread to keep it easy. You could use a whole pizza crust or half of this bread maker pizza dough recipe.
Mozzarella Cheese: DO NOT buy the "fancy shredded" it just doesn't melt as well as the regular shred.
Crushed Red Pepper Flakes
Olive Oil
Green Onions
Make the Peppered Bacon
If you don't have leftover bacon already cooked, my oven baked pepper bacon is an excellent choice.
Get the bacon started right away so it has a chance to cook and cool a bit so you can crumble it on top of the pizza.
The full instructions for baking the bacon are in the recipe card below but you can see step by step photos of how I do it here:
Cook the Corn on the Cob
While the bacon is baking, get the corn on the cob cooking if you don't already have leftover corn.
Place the cobs of corn in a large pot of water with 1 teaspoon sugar.
Bring the corn to a boil and simmer for 12 minutes.
Remove the cobs of corn with a pair of tongs and place them on a plate to cool.
Cut the corn from the cob with a sharp knife.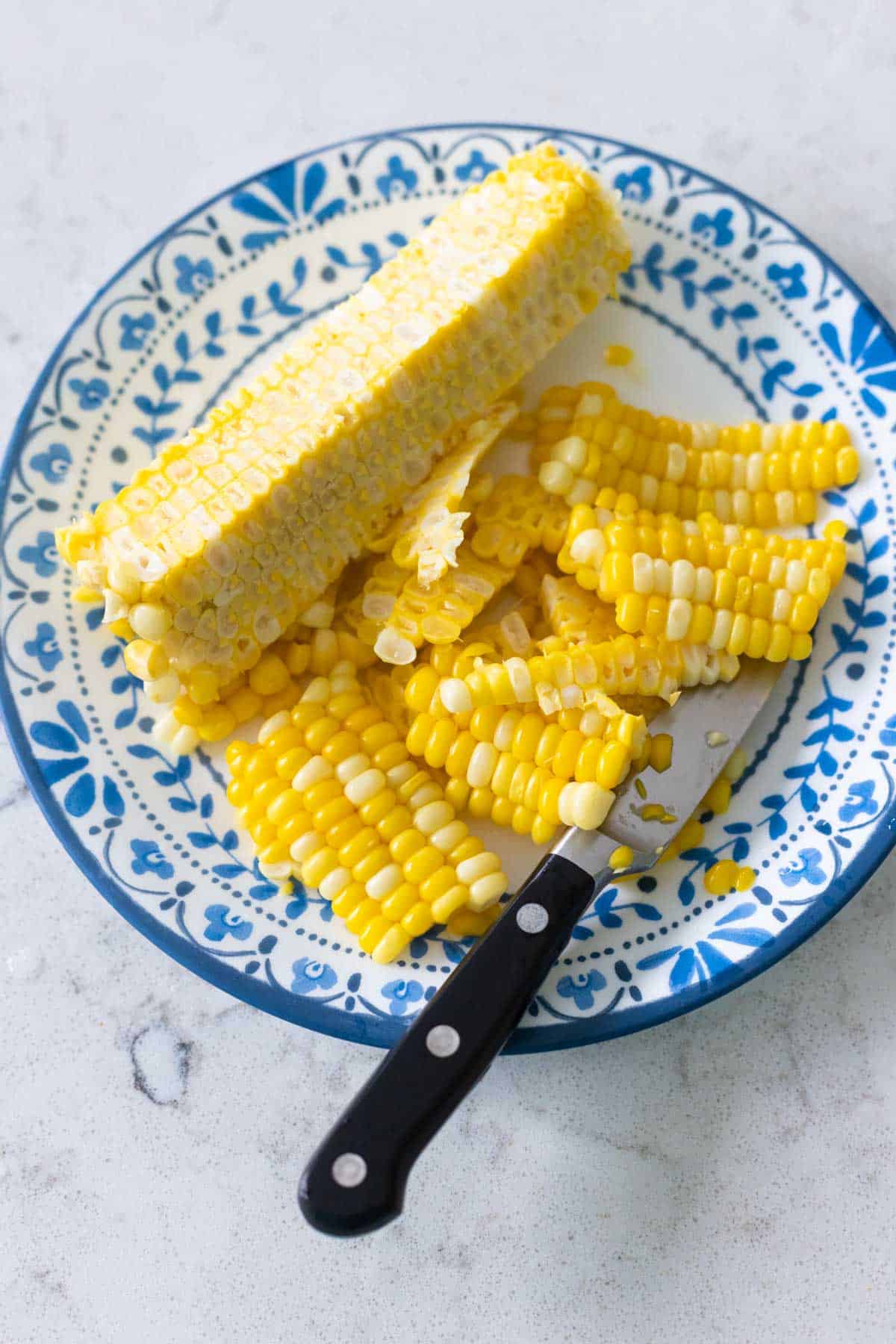 Saute the Onions
Once the bacon is baking and the corn is cooking, saute the onions.
Slice the onion thinly. Place olive oil in the skillet over medium-high heat and add the onions.
Cook and stir the onions until they have softened and started to get crispy edges.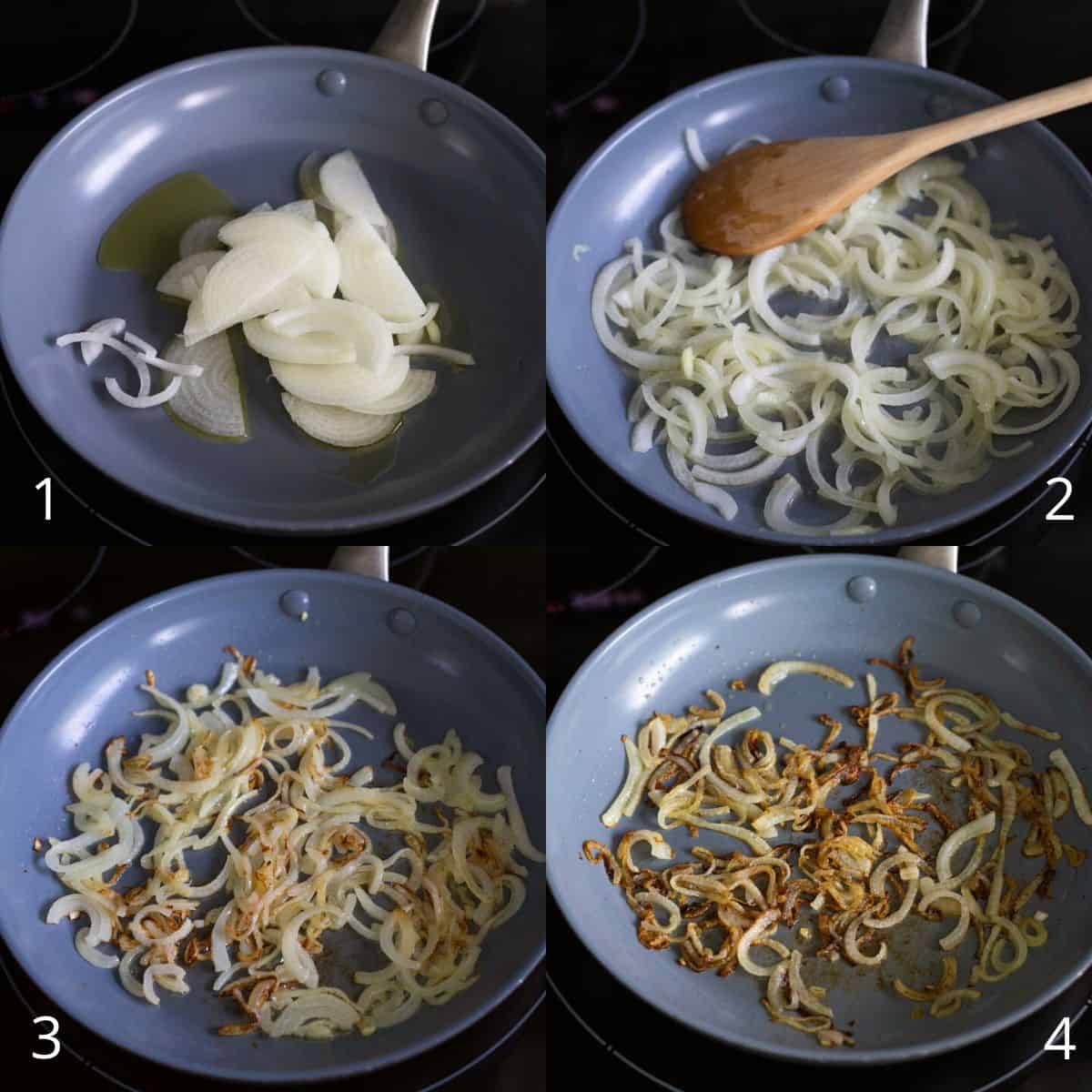 Assemble the Corn Pizza
Now that all the toppings are prepped and ready, it is time to make the sweet corn pizza.
Brush the pizza crust you're using with olive oil.
Add half of the mozzarella cheese.
Sprinkle the corn, bacon, and onions over the top and finish with the remaining half of cheese.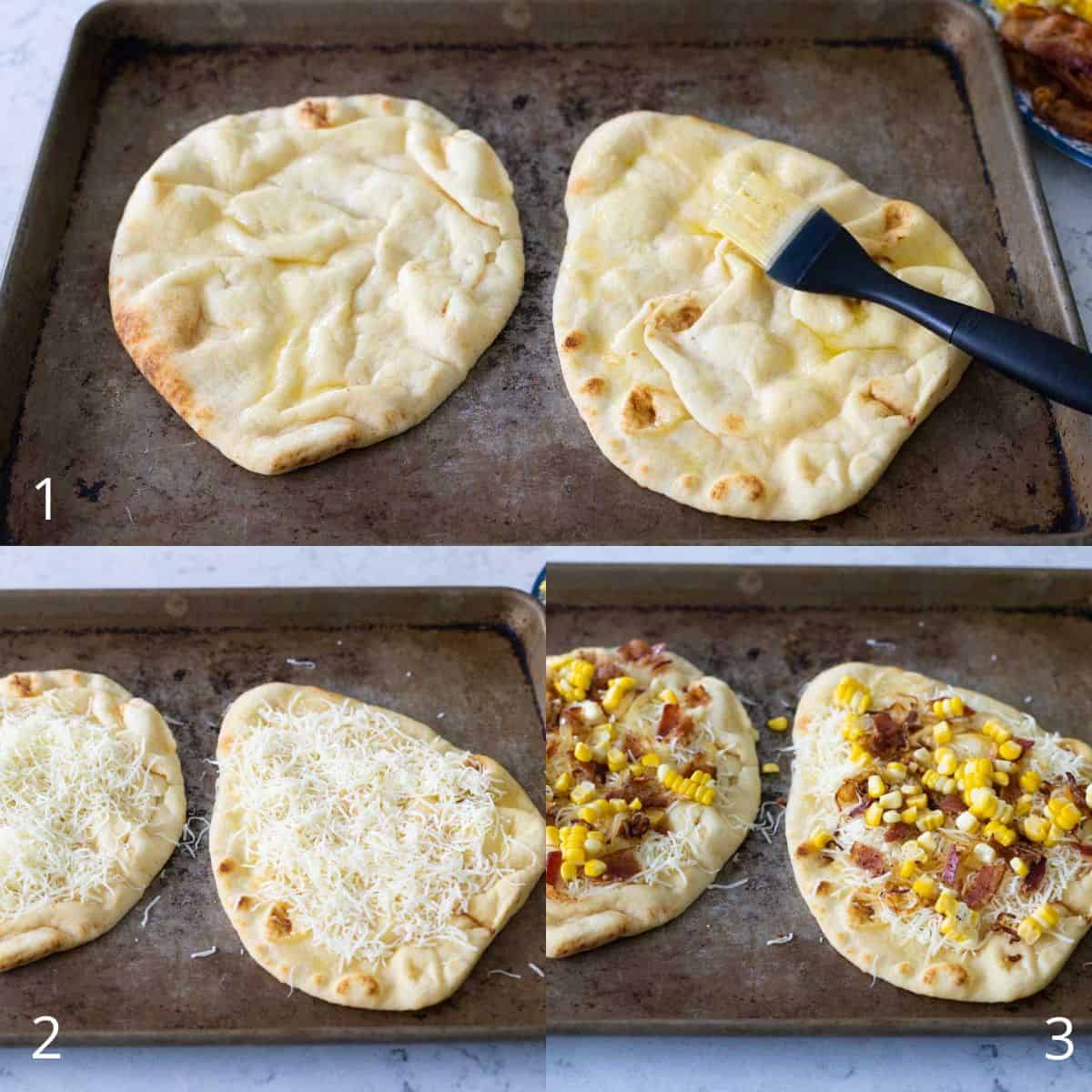 Baking Instructions
Preheat the oven to 425°F.
Bake the sweet corn pizza for 10 - 12 minutes or until the cheese has melted and is bubbling hot.
Serve with chopped green onions over the top.
Additional Topping Ideas
There are so many ways you could play with this super quick dinner idea.
Some additional toppings you might like sprinkled over the top:
Shredded Rotisserie Chicken
Grilled Shrimp
Diced Peppers
Pickled Jalapeno
Chopped Red Onion
Fresh Basil
Fresh Chives
Make Ahead Tips
The timing of the bacon, corn, and onions works so that they are all finished at about the same time.
However, this dinner is a LOT faster if you have the bacon and corn already cooked.
You can boil the corn ahead of time, as far as a week in advance!
You could bake the bacon for another meal and just use the leftovers for this dish.
When you can just sprinkle the toppings on and bake the pizzas, this is easily a 10-minute dinner.
Serving Suggestions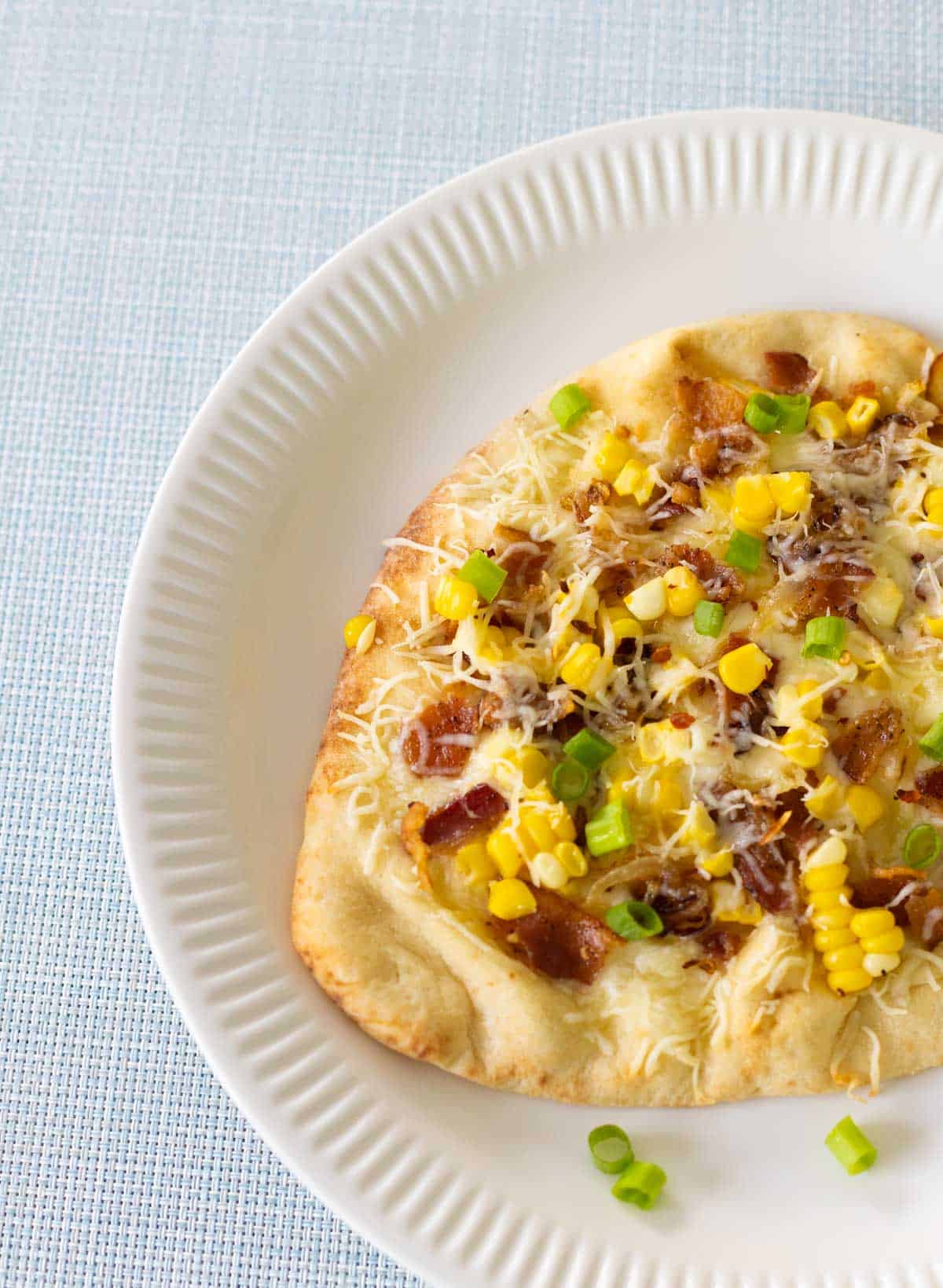 I made this sweet corn pizza as a super quick dinner before I had to run out the door for an appointment.
It was meant to just feed me and one of my kids, but the leftovers were gone in a flash once my husband saw it on the stovetop.
You could serve this yummy pizza as a side dish with grilled chicken or pork tenderloins or make it a main dish with a side salad or big platter of watermelon.
More Sweet Corn Recipes
Boil up more sweet corn than you need and you'll have leftovers to make these other yummy corn recipes:
More Pizza Recipes
Pizza is one of our favorite family dinners. Check out some of the fun flavors we've made:
📖 Recipe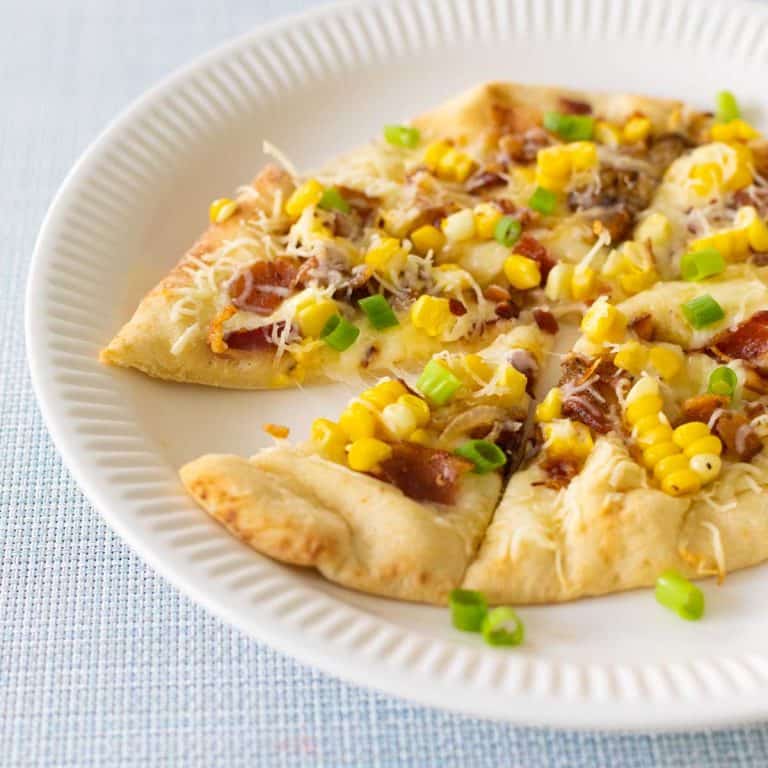 Sweet Corn Pizza
This easy sweet corn pizza is made with prepared naan flatbreads, crumbled bacon, and fresh corn on the cob. A quick and easy weeknight dinner for summer or use frozen corn to enjoy it any time of year.
Ingredients
2

ears

corn on the cob

or about 1 ½ cups frozen sweet corn, thawed

4

slices

cooked bacon

3

tablespoon

olive oil

divided

1

onion

sliced thin

4

naan breads

*see notes

2

cups

shredded mozzarella cheese

½

teaspoon

crushed red pepper flakes

2

green onions

chopped
Instructions
Prepare the Corn, Bacon, and Onion
If you do not already have leftover sweet corn, cooked bacon, and sauteed onion, these pizza toppings are easy to prepare all at the same time. First, get the oven preheated to 375°F.

Place the ears of corn in a large pot and cover them with water. Bring them to a boil and cook for 12 minutes.

Place the bacon strips on a large baking sheet lined with parchment paper. Bake the bacon for 9 minutes on the first side. Flip the bacon over and cook for 7 minutes on the second side.

While the bacon and corn are cooking, add just 1 tablespoon of olive oil to a saute pan over medium-high heat. Add the sliced onions and stir. Once the onions begin to soften, reduce the heat to medium and continue to cook until slightly charred and softened.

Slice the cooked sweet corn kernels from the cobs with a paring knife over a small plate. Crumble the cooked bacon.
Assemble and Bake the Sweet Corn Pizza
Increase the oven temperature to 425°F.

Lay the naan breads in a single layer on a large baking sheet. To cook all four breads at once, you will probably need two baking sheets. Brush the remaining 2 tablespoons of olive oil over the tops of the breads.

Sprinkle half of the shredded mozzarella over the breads.

Sprinkle the crumbled bacon, sliced sweet corn, and sauteed onions evenly over the breads. Sprinkle the crushed red pepper flakes over the top. Finish with the remaining half of the shredded cheese.

Bake the sweet corn pizzas for 10 - 12 minutes or until the cheese has melted and the breads are warmed through.

Serve immediately with a sprinkle of chopped green onions over the top.
Recipe Notes
Naan Bread Substitutes
Prepared naan bread is often sold in packs of 2 breads. You'll need 4 breads total for this recipe. 
If you can't find them at your grocery store, you can also use a prepared pizza crust and just put all the toppings on one single crust.
You could also make a batch of homemade dough, just use half of this bread maker pizza dough recipe. 
Save This Recipe to Your Recipe Box
Find this delicious recipe next time you visit by saving it to your very own recipe box on my site. All your favorites stored in one easy place!