This rich and creamy chicken spinach alfredo pizza is the most delicious way to use up leftover cooked chicken or Alfredo sauce. Sprinkle on fresh baby spinach and use a homemade pizza dough crust for the most delicious home baked pizza in under 30 minutes!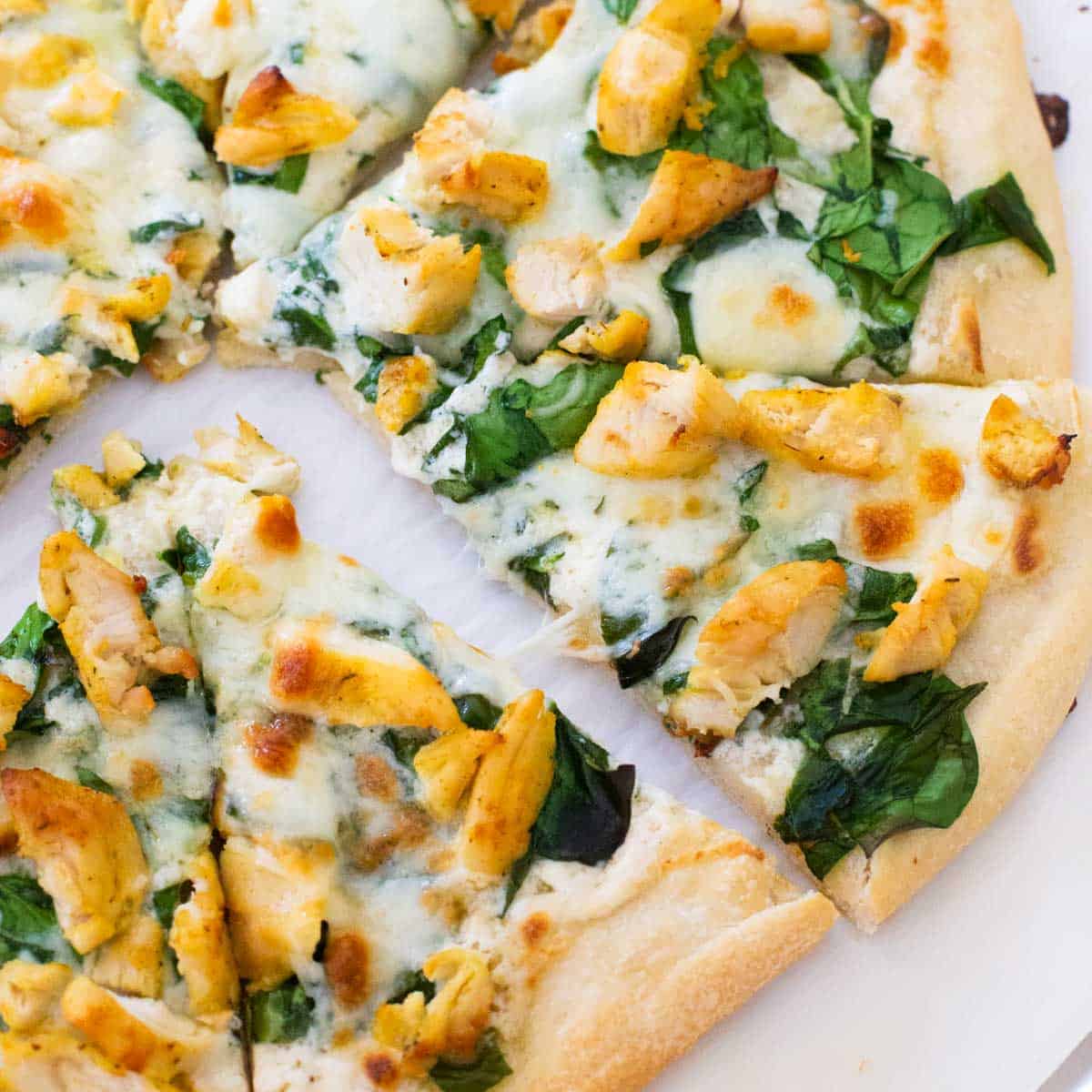 My daughter is simply obsessed with our quick and easy homemade Alfredo sauce. It makes a batch too big for one single pasta dinner so we usually have a cup leftover in the fridge.
I'm sure our family isn't alone with wondering what to do with that little bit of extra cooked chicken in the fridge that isn't enough for a full meal.
This homemade pizza recipe is the perfect solution for using up those little bits of ingredients hanging around.
But you know what?? It is so delicious that you just might find yourself making Alfredo sauce just so you can have this dinner!
What Do You Need To Make This?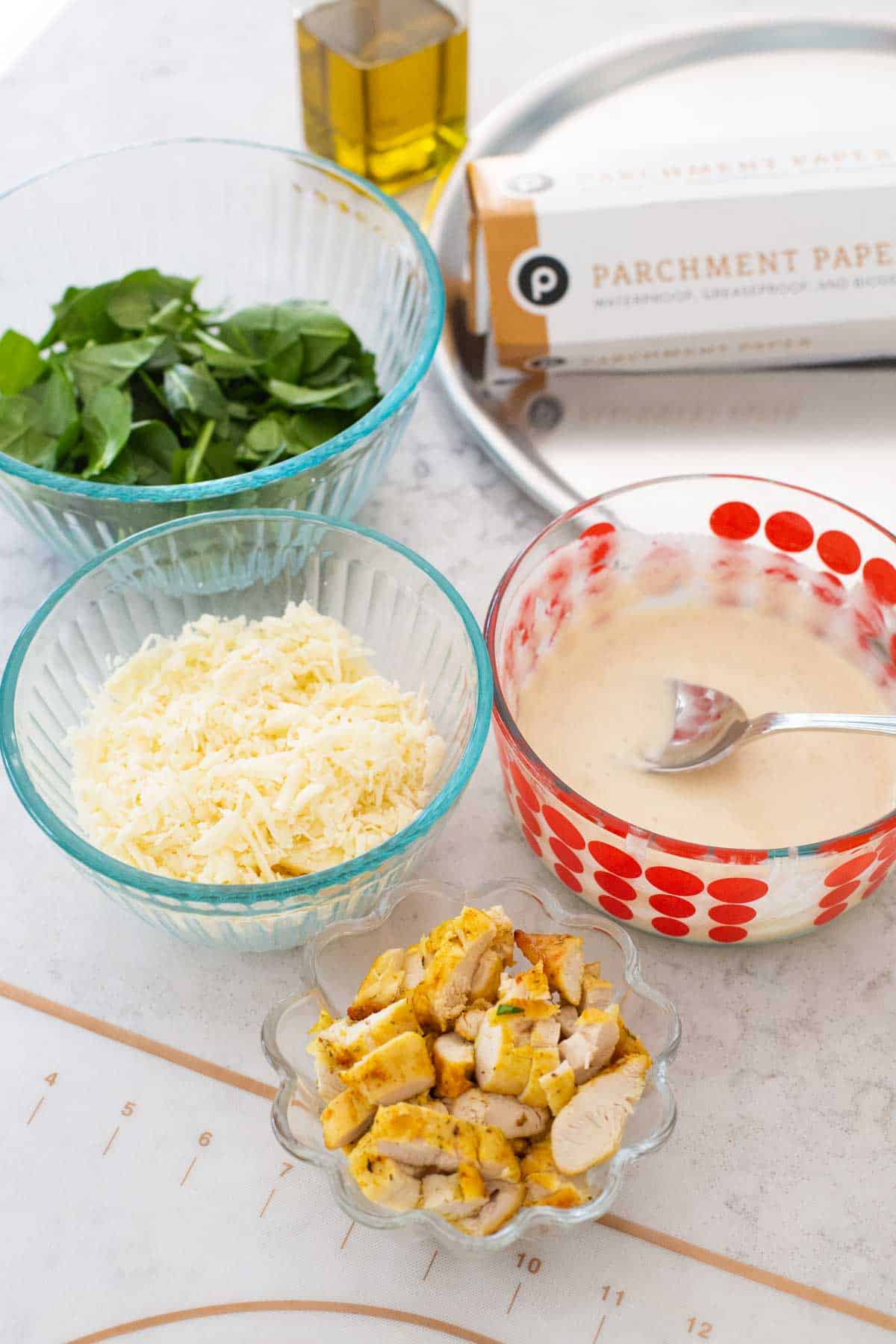 The ingredients for this chicken alfredo pizza couldn't be easier:
Alfredo sauce: I highly recommend making our favorite Alfredo recipe. It's so easy, the kids can do it. You'll only need a cup of it so you can save the rest for making this Creamy Pesto Alfredo Chicken Casserole or the classic Freezer-Friendly Chicken Alfredo Rice Casserole.
Cooked chicken: Grab a rotisserie chicken from the store, use whatever leftovers you've got, or take just 15 minutes to make these fantastic chicken tenderloins in the air fryer.
Fresh baby spinach: Grab a pre-washed tub or bag of spinach from the grocery store.
Shredded mozarella: You could use the bagged variety, but we love an easy-melt block of fresh mozzarella from the deli section. Grate it by hand in just a minute, it melts and tastes so much better.
Sliced provolone cheese: I keep a package of this in the fridge for all our pizza baking. It is the best pizza cheese ever.
Pizza dough: I highly recommend making your own, it only takes a few minutes of prep time, especially if you have a bread maker. However, you could also buy dough from the grocery or use a pre-baked pizza crust.
How Do You Layer the Ingredients?
First, roll out your pizza dough to a 12-inch circle.
Brush 1 tablespoon olive oil around the edges of the pizza.
Then spread 1 cup of Alfredo sauce over the pizza.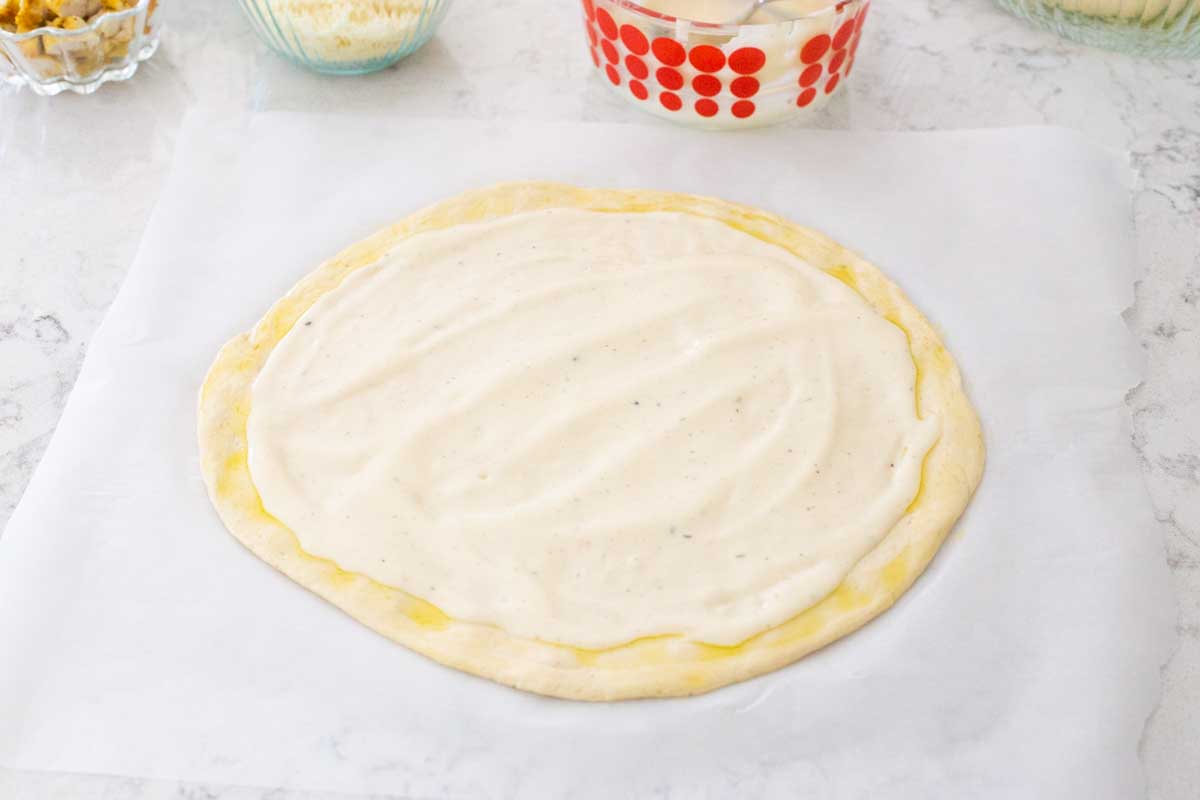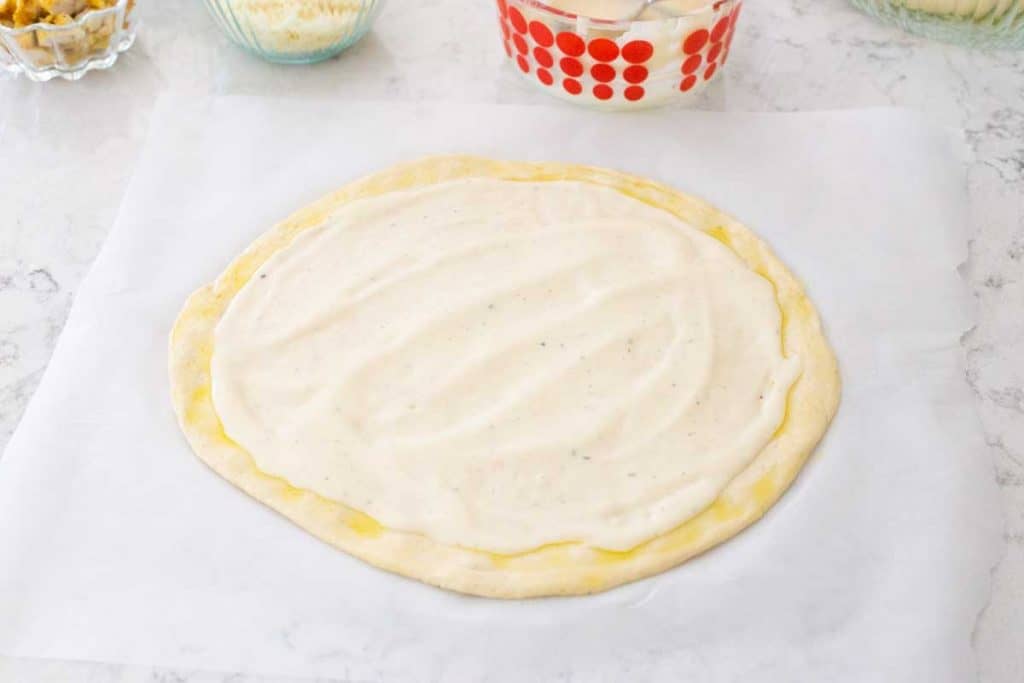 Sprinkle the chopped spinach over the sauce.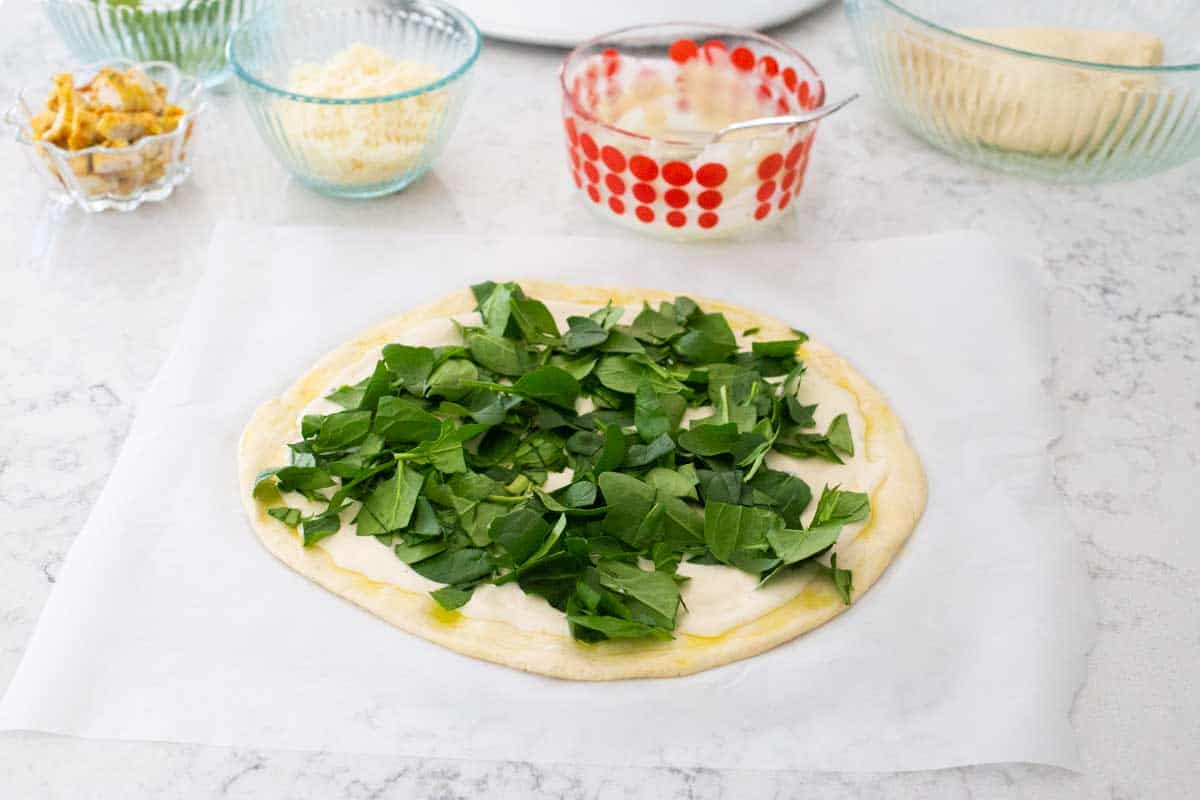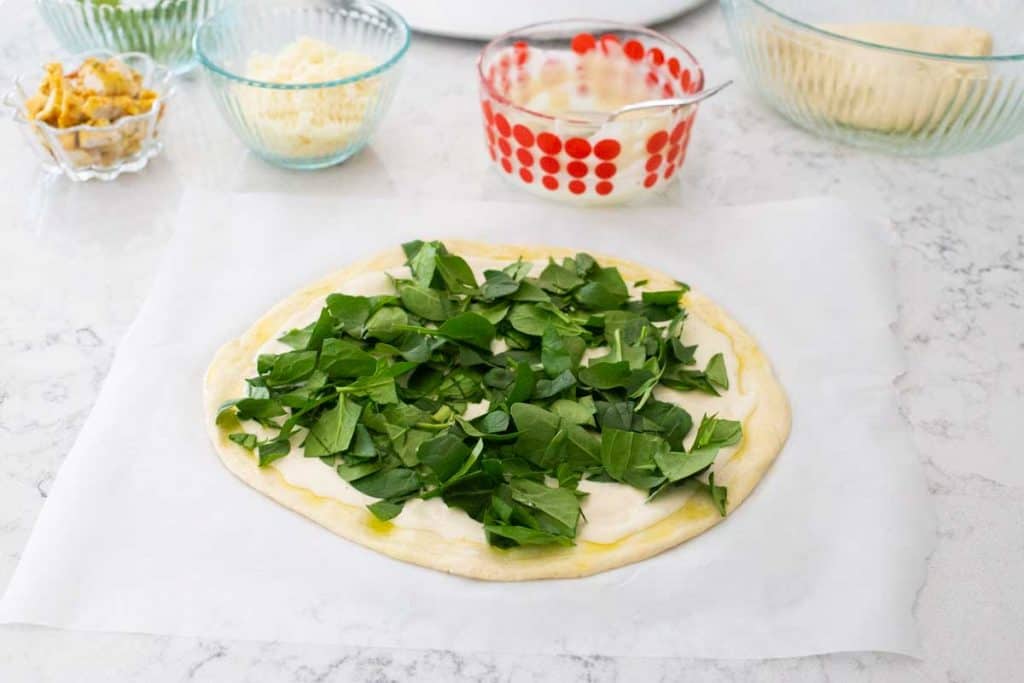 Sprinkle half the shredded cheese and all the chicken over the top.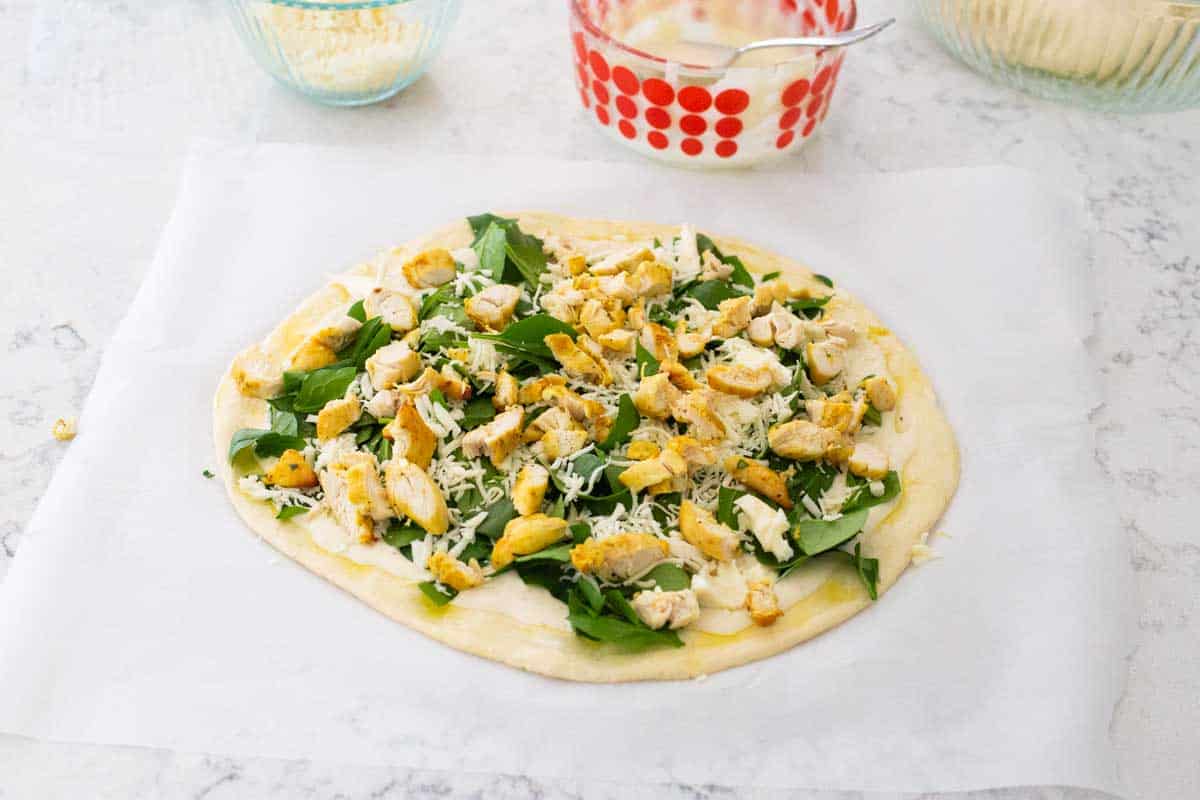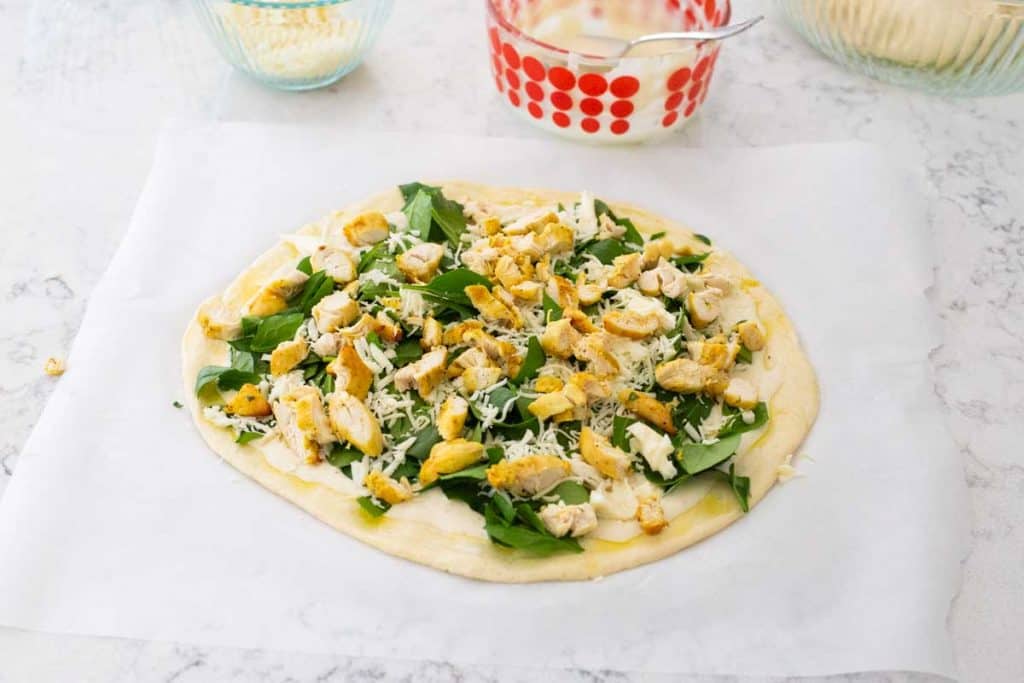 Sprinkle the remaining cheese and rip the provolone slices into chunks and nestle them in any open areas.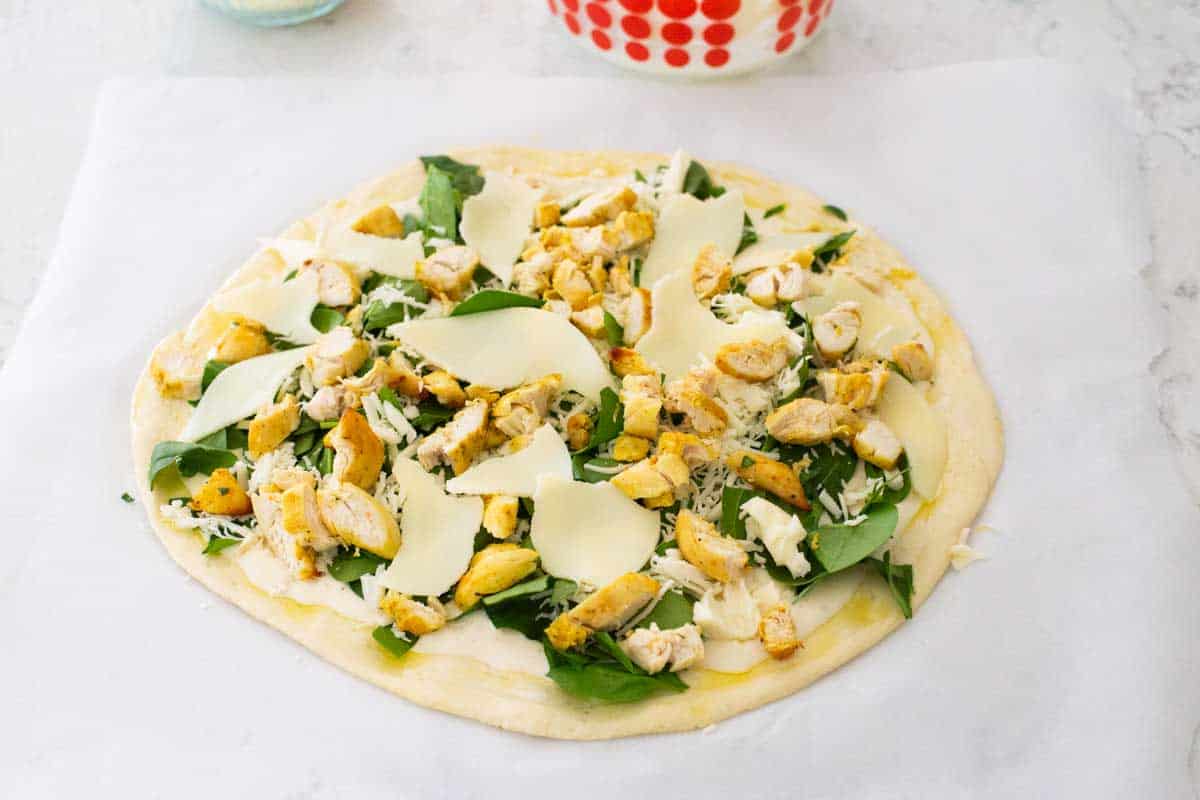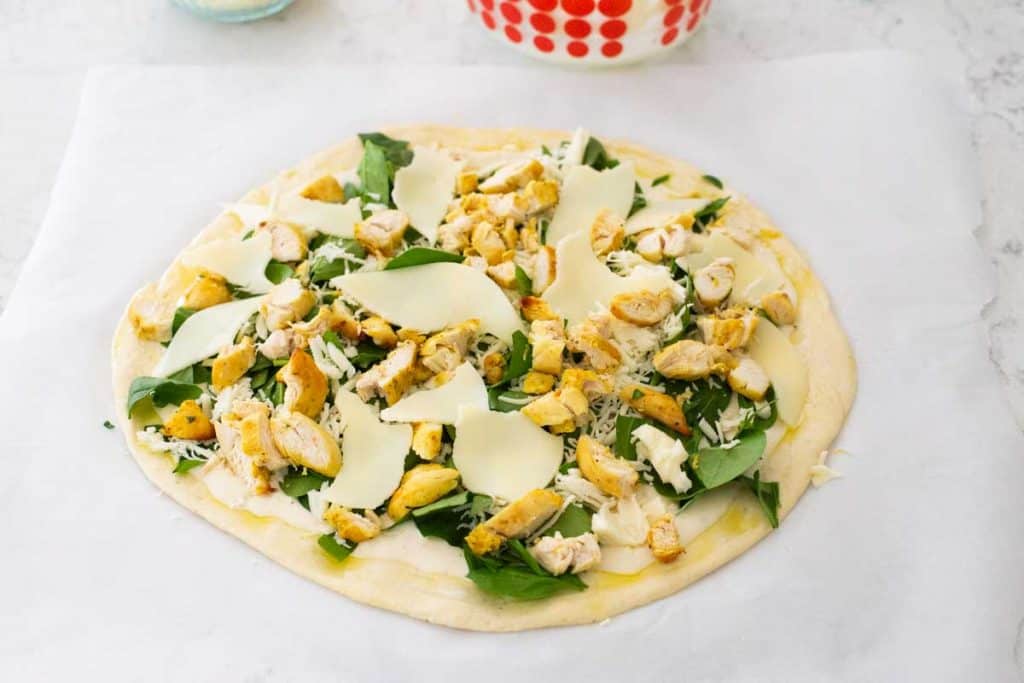 Recipe FAQs:
Is spinach on pizza healthy?
Absolutely, this fresh baby spinach is an excellent way to sneak in some dark leafy greens to your family's diet. The rest of the pizza is more of a treat but this can be a great way of introducing the flavor of cooked spinach to fussy eaters.
Can you put raw spinach on pizza?
Yes! You'll notice the amount of spinach that is called for in this recipe will look like a LOT but spinach wilts down as it cooks. By layering the spinach underneath the cheese, you're preventing it from burning. The hot cheese will help glue the spinach to the pizza.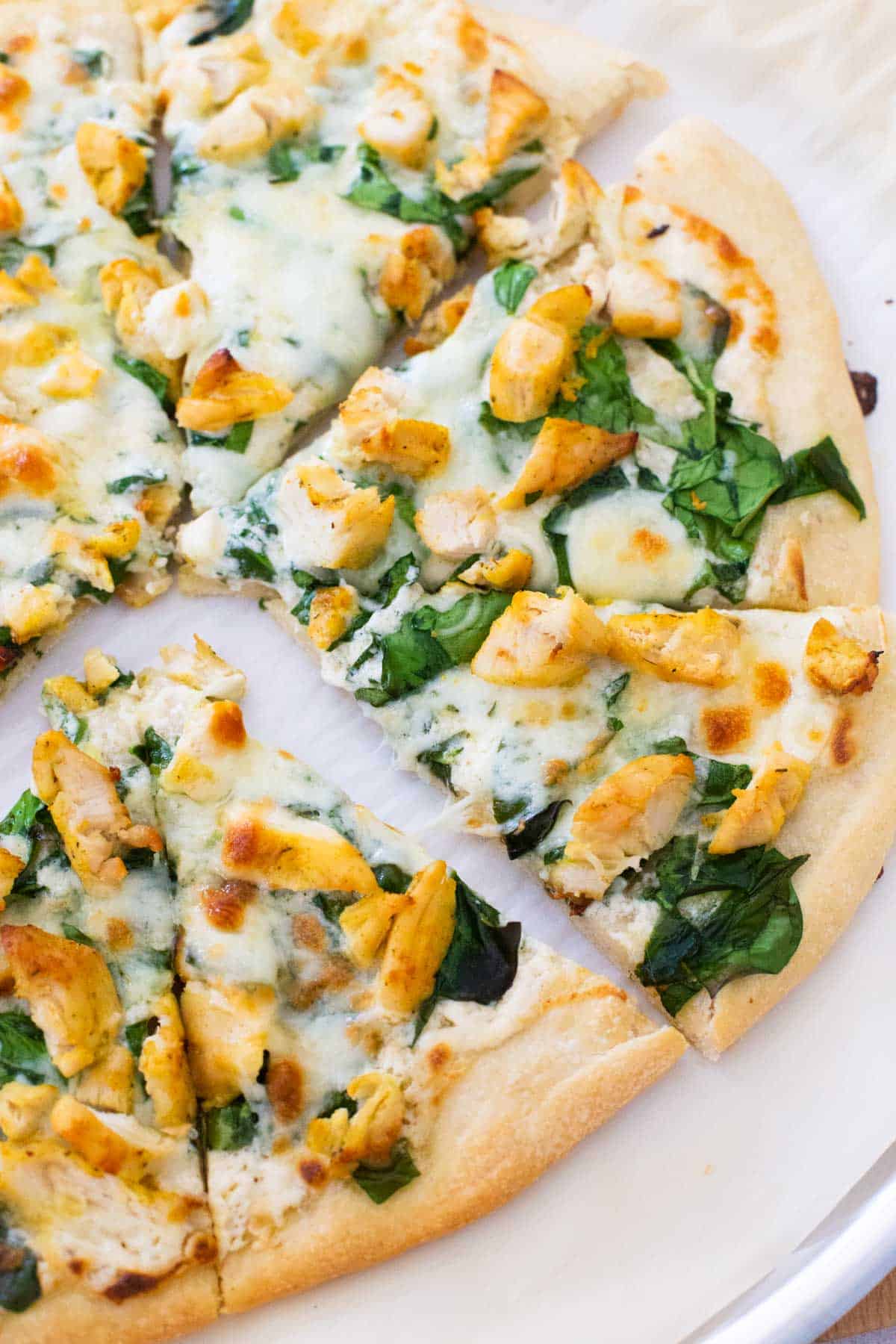 How Do I Get the Pizza In and Out of the Oven?
This method for baking homemade pizza will give you the crispiest crust but requires just a little care to avoid spillage in your oven.
Assemble the pizza on a piece of parchment paper and use a metal baking pan to transfer the pizza with the parchment on and off the hot pizza stone in your oven. The stone stays in the oven the entire time, the parchment is simply the delivery service.
Let the hot stone cool inside the oven to avoid any accidental burns.
Variations
We love this chicken alfredo pizza as is, but there's also room to change things up sometimes.
Chicken Spinach Alfredo Pizza Buns
Want to mix things up a little bit?
You can use all the same ingredients from this recipe to make a chicken spinach alfredo pizza bun variation of my easy homemade pizza buns recipe.
More Alfredo Sauce Recipes
My delicious alfredo sauce has so many more uses than just this easy pizza recipe!
📖 Recipe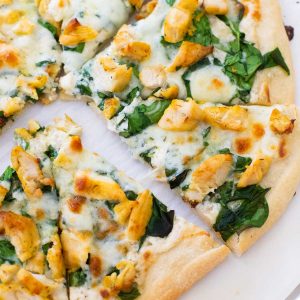 Chicken Spinach Alfredo Pizza
This rich and creamy alfredo base pizza is a great way to use up a little leftover alfredo sauce and cooked chicken. Chop up some fresh baby spinach and add shredded mozzarella and parmesan for a homemade pizza everyone will love.
Ingredients
1

batch homemade pizza crust dough

See notes

1

tablespoon

olive oil

1

cup

Alfredo sauce

See notes

1

cup

fresh baby spinach leaves

roughly chopped

1

cup

shredded mozzarella cheese

2

slices

of provolone cheese

1 ½

cups

cooked chicken

cut into small chunks
Instructions
Place a pizza stone on the center rack of your oven and preheat it to 450°F for at least 30 min.

Meanwhile, prepare the pizza. Roll your pizza dough out to a 12-inch circle and transfer it to a piece of parchment paper.

Brush a tablespoon of olive oil around the center edge of the dough to help the crust brown.

Spread the alfredo sauce over the middle of the pizza.

Top with the chopped fresh spinach.

Sprinkle half the shredded cheese over the spinach and sprinkle the cooked chicken evenly over the top. Cover with the remaining shredded cheese.

Tear the slices of provolone into smaller chunks and add them anywhere the top needs a little more cheese. Cover some of the chicken chunks but leave some exposed so you can see your toppings.

Slide the pizza on the parchment onto a metal baking pan. Use the pan to transfer the pizza to the hot stone in the oven. Carefully slide the parchment onto the stone directly and remove the metal pan.

Bake the pizza for 12 minutes or until the crust is golden brown, the cheese has melted and the pizza is nice and bubbling.

Carefully tug on the parchment paper to slide the pizza off the stone and onto the metal pan for bringing the pizza out of the oven. Let cool briefly, slice and serve warm.
Recipe Notes
Pizza Crust Notes:
I highly recommend making homemade pizza dough for this recipe. It takes just minutes in a bread machine and makes a world of difference in the quality of the final pizza.
However, you can substitute a fresh pizza dough or a pre-made pizza crust from your local grocery if you prefer.
Alfredo Sauce Notes:
I highly recommend making our favorite Alfredo sauce recipe from scratch. It only takes a few ingredients and a few minutes. You can use half of it for another dinner and one half for this recipe.
However, you can also substitute your favorite prepared Alfredo from the grocery.
Chicken Notes:
You can use whatever leftover cooked chicken you have on hand for this recipe. You could also use shredded rotisserie chicken but I highly recommend this super-quick healthy chicken tenderloin air fryer recipe.
Save This Recipe to Your Recipe Box
Find this delicious recipe next time you visit by saving it to your very own recipe box on my site. All your favorites stored in one easy place!