This easy garden salad recipe is the perfect prep ahead side dish for a week's worth of dinners or packed lunches. Serve it family salad bar style so the vegetables stay crisp and fresh all week long. Don't miss the delicious seasonal variations.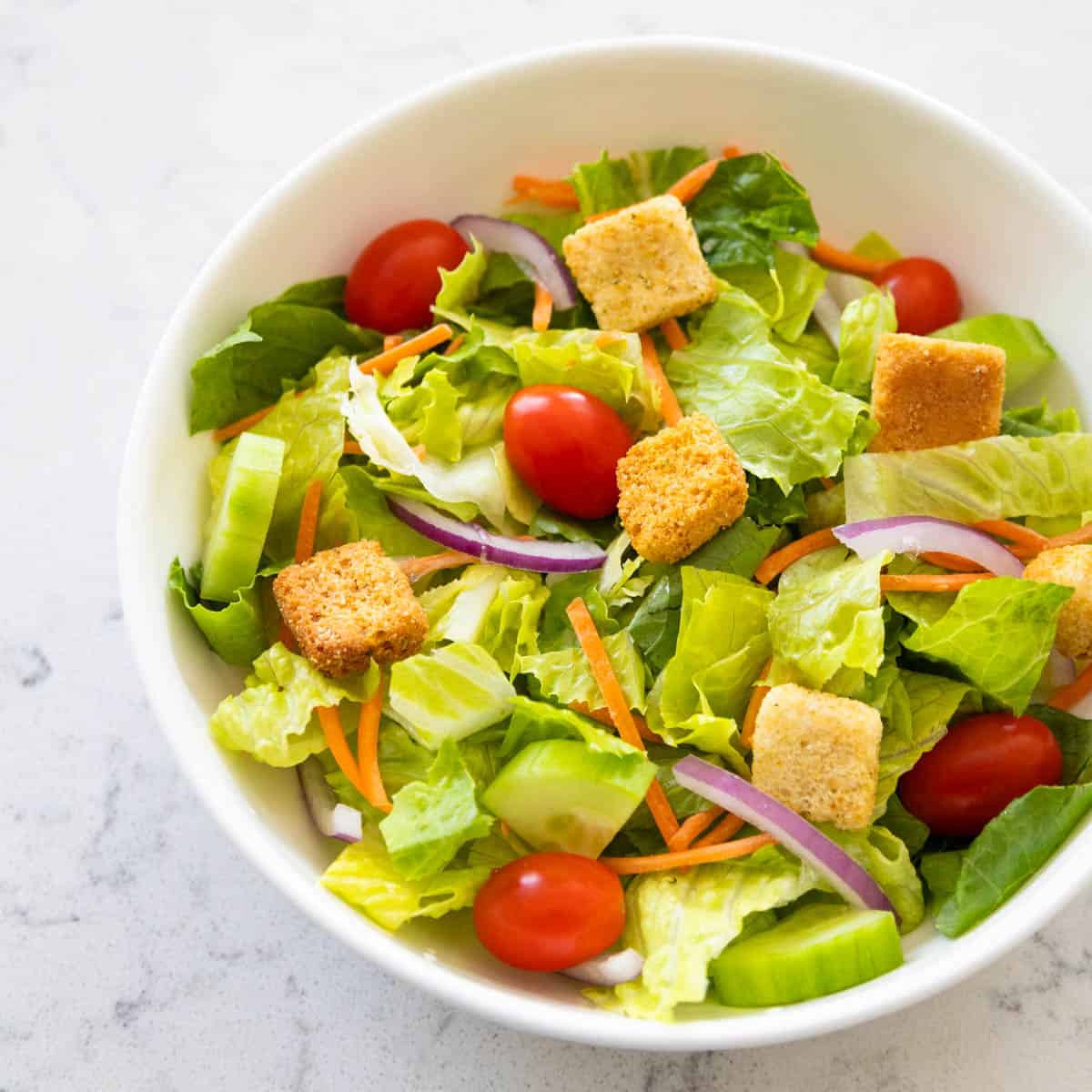 When it comes to nightly family dinner, the easiest way to add fresh vegetables to the plate is to prep a basic garden salad.
If you've only ever purchased prepared salad bags from the store, you are totally missing out on just how delicious a fresh and crispy salad can truly be.
The flavors and textures of a home prepped salad beat those wilted salad bags by a mile!
Use these easy tips for making a big batch of salad ingredients once for an easy family salad bar every night of the week.
Jump to:
Why This is the Best Recipe
Making family dinner more delicious and easier for you is the whole goal of this web site. After 20+ years of feeding my family, I know how tricky it can be to make sure that fresh vegetables are part of your nightly routine.
I think this is the best garden salad recipe because:
Big Batch Prep: Stock up on budget-friendly vegetables at Costco or your grocery store. Prep them in one session and have a week of easy side salads for your family dinner.
Easy to Customize: For picky eaters or just fussy veggie eaters, you can mix and match what goes into each individual salad bowl.
Fresh and Crispy: Use my make ahead prep tips and your dinner salads will stay fresh and crispy for an entire week.
Yummy Variations, No Boredom!: You can eat salad every night of the year and never get bored if you mix and match my 5 different seasonal variations. That's just the beginning! Once you get started, you'll come up with your own easy tweaks, too.
Ingredients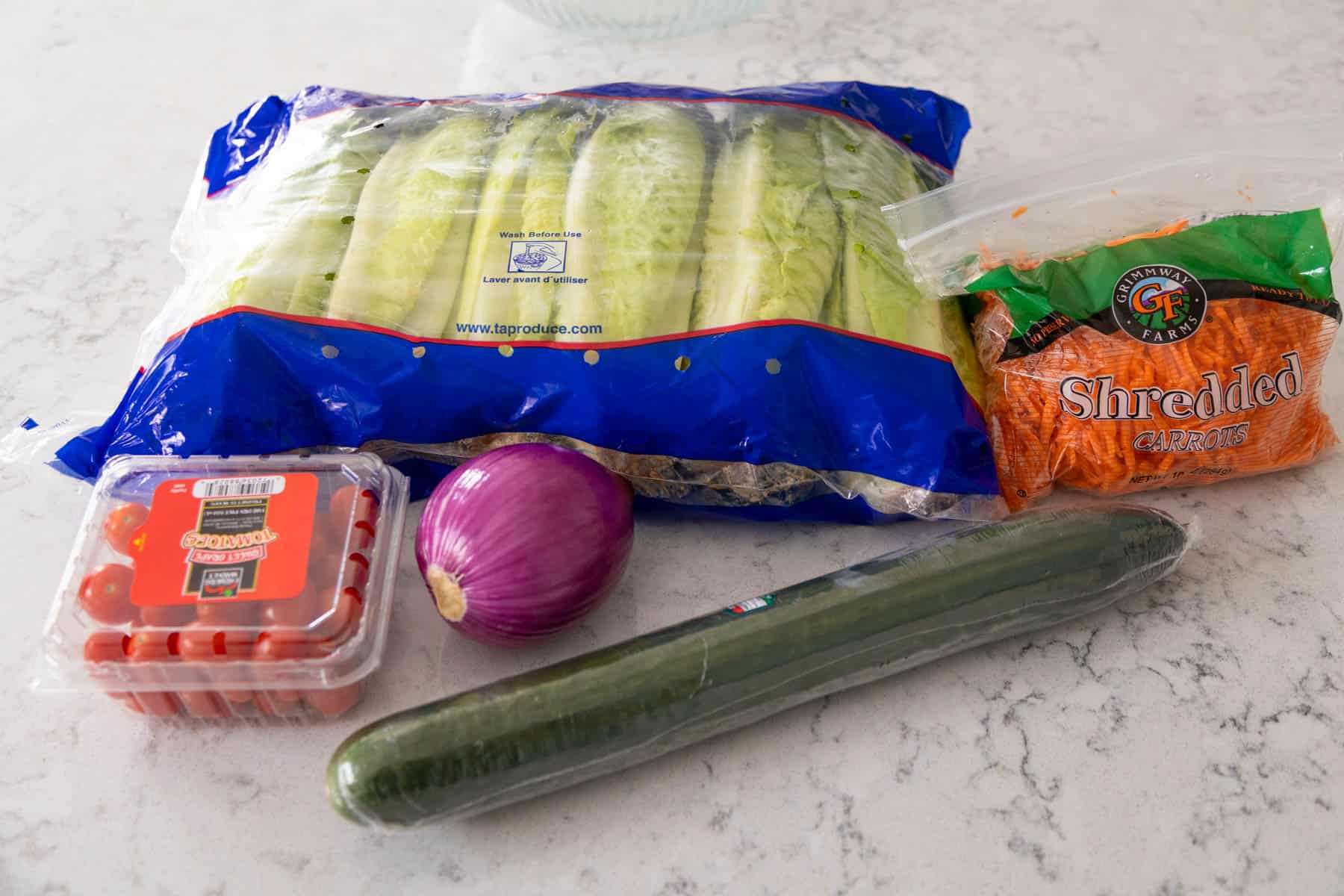 This basic garden salad recipe starts with just a handful of fresh ingredients:
Romaine Lettuce: I love the crispy texture of fresh romaine. You could use a big tub of baby spinach, spring lettuce mix, kale, iceburg lettuce, or a mix of the above.
Shredded Carrots: Prepared shredded carrots from the grocery store have a nice thick texture and hold up better for a week of servings than fresh grated carrots tend to do.
English Cucumber: This seedless cucumber holds up well because it is a little less watery than the seeded kind.
Cherry Tomatoes: Or grape tomatoes, whatever you can find at the store.
Red Onion: Or purple onion, however you call it!
To this garden salad base, we'll add a variety of salad dressings and interesting crispy toppings. Be sure to read through the variations listed below.
How to Prep the Vegetables
If you've only ever bought bagged salad, chopping fresh vegetables may be new to you.
To prep the red onion, slice off each root end and then cut the onion in half. Peel off the outer layer and discard.
Slice the onion in thin half moons.
I find it really helpful to soak the chopped onion in a bowl of ice water for 5 minutes since it helps take away that sharp bite of the onion.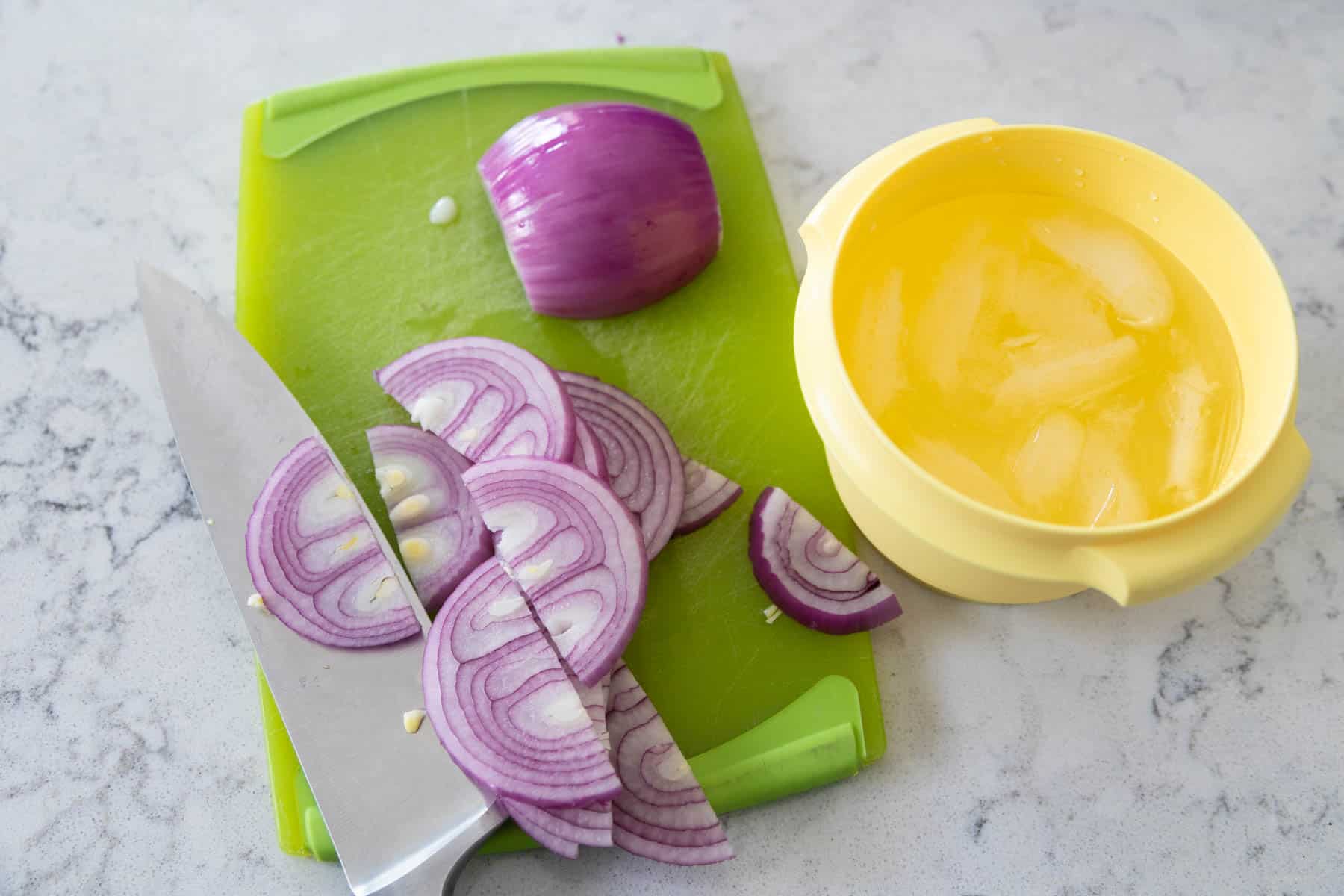 To chop the English cucumber, peel away the outer plastic wrapping.
Then use a vegetable peeler to remove the dark green skin.
Slice the cucumber in half lengthwise and then slice each half in half again so you have four quarters.
Chop the cucumber into ¼-inch thick pieces.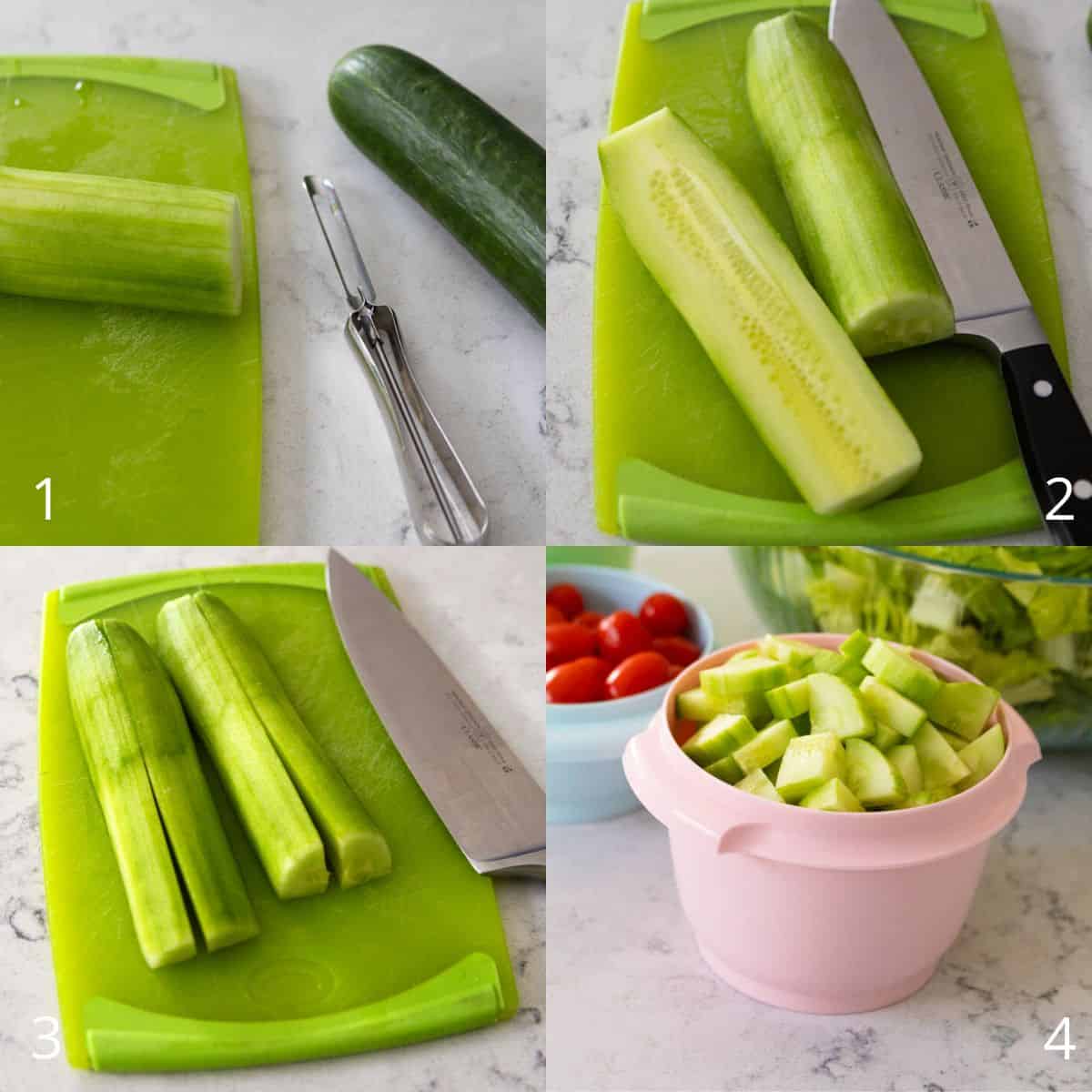 Chop and Wash the Lettuce
Chopping and washing fresh romaine lettuce takes a few minutes but is so worth it for the fresh and crispy texture you'll get vs. a bag of pre-chopped lettuce.
I chop the lettuce first and then wash the chopped pieces last since this is much easier than trying to wash a fluffy head of lettuce.
First, slice the romaine from the base to the tip with a large chef knife. (Photo #1 below.)
Rotate the head of lettuce a quarter turn and repeat that same slice from base to tip. This quarters the head of lettuce.
Then chop the lettuce into smaller pieces starting at the tips and working towards the base.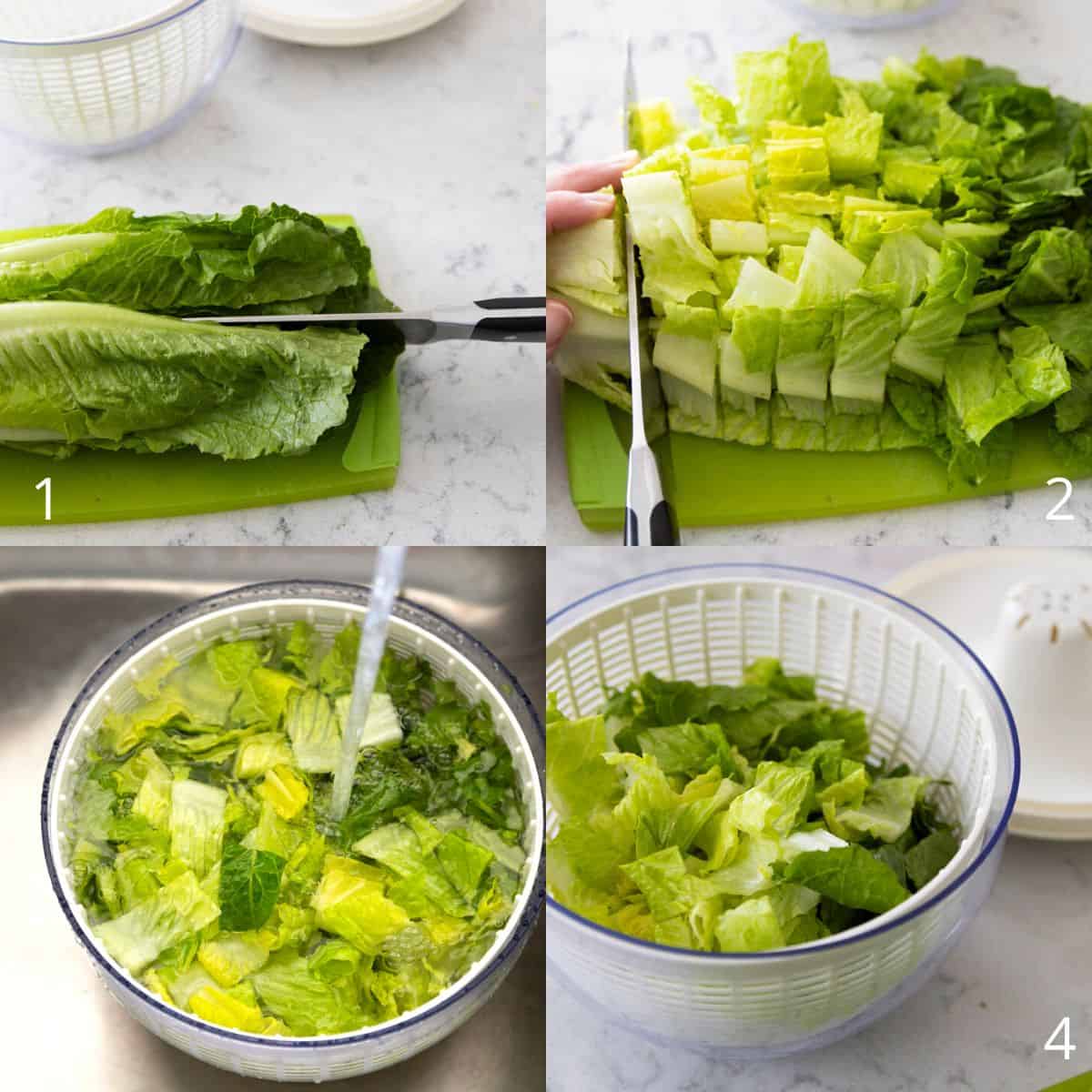 Gather all the chopped lettuce into a colander for washing.
I love using a small salad spinner for this. It only fits one head of romaine at a time so I have to work in batches, but it is easier to store in my kitchen cabinet and I think it does a better job of letting me thoroughly wash the lettuce.
I place the basket filled with lettuce into the plastic salad spinner bowl and I fill the entire thing with cold water in my sink.
I ruffle up the salad pieces my fingers to help all the grime settle to the bottom of the bowl.
Then lift up the colander basket and pour out the water from the bowl. Repeat this until the water left in the bowl is completely free of any dirt or debris.
You'll find that organic romaine may take 3 or 4 repeated rinses to get perfectly clean.
Non-organic romaine usually takes just 2 rinses.
Once the lettuce is rinsed, give it a spin in the salad spinner to dry.
How to Assemble the Garden Salad
How you assemble the final garden salad depends on when you plan to eat it.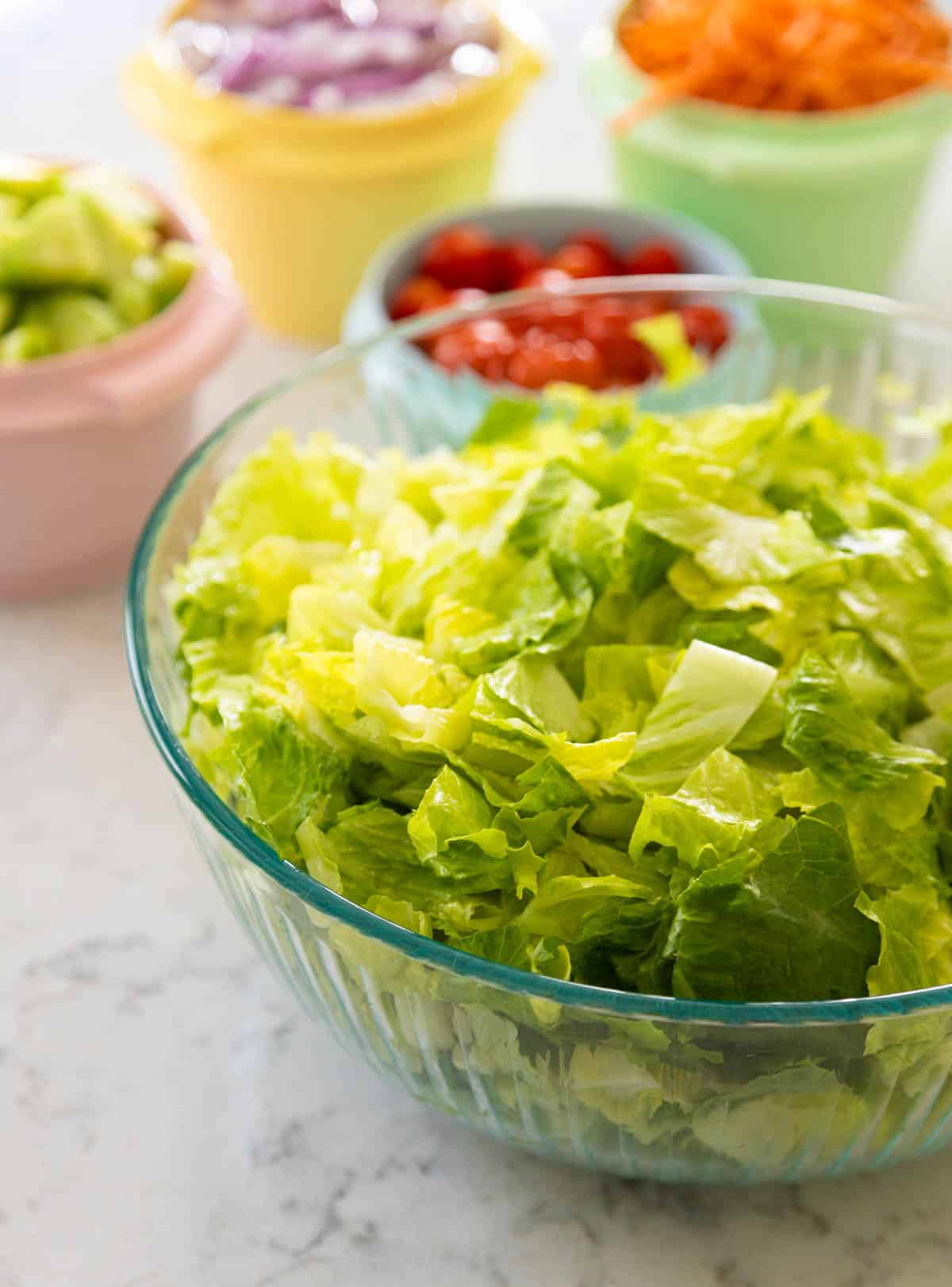 Family Salad Bar
I often set out all the garden salad toppings on my kitchen counter and let my family build their own salads just before dinner.
Prepared Salad
If you're serving the salad all at once for a big family dinner or special event, simply mix all the ingredients together in a large serving bowl.
Packed Lunches
You can assemble individual salads for a packed lunch into individual salad containers. Mix the ingredients together and divide among the meal prep containers. Just DO NOT add dressing until just before eating so everything stays fresh.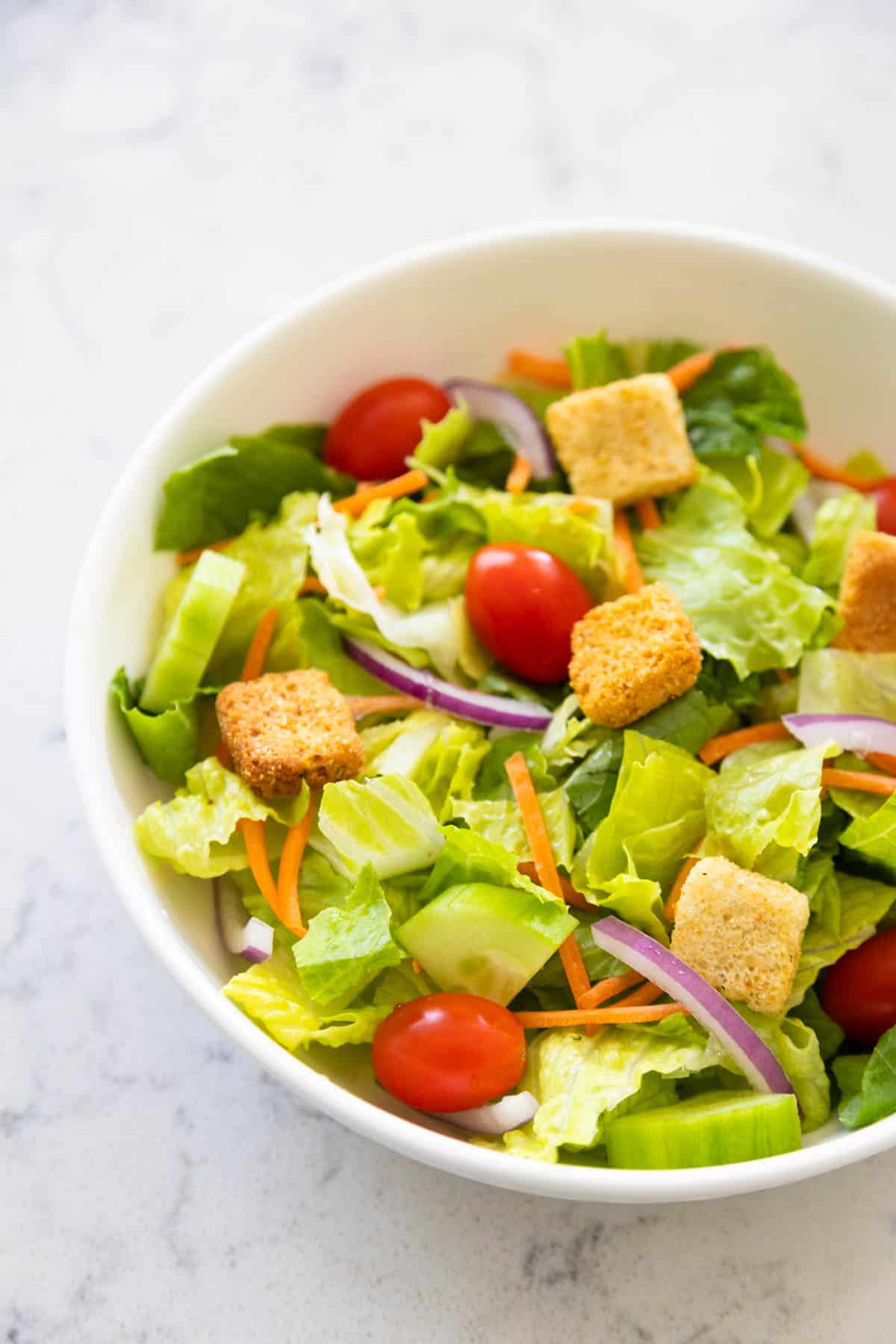 Our Favorite Homemade Salad Dressings
I love making homemade salad dressing. I think it tastes better, I know it is fresh, and I know exactly what is in it.
These easy dressings taste amazing with the mix of vegetables in this dinner salad.
That said, my kids and I don't always agree on our choice of salad dressing. The best part about this bag batch salad recipe is that you can use any salad dressing you like.
I always set out a few bottles of prepared salad dressing for the kids to choose from. Whatever it takes to get them to eat the salad!
Best Croutons
Hands down, the very best croutons for a dinner salad are homemade.
You can learn how to make croutons from bread right in your oven using any leftover bread you have on hand. It just takes 10 minutes!
If you've got leftover cornbread, I love the texture of these homemade cornbread croutons, too.
However, busy family life sometimes means you don't even have the 10 minutes to make homemade croutons. I totally get it.
I always keep a bag of prepared croutons in the pantry. Any flavor or brand you love will work just fine!
Olive Garden Salad Copycat
The most popular garden salad has got to be the delicious Italian Olive Garden salad.
Did you know they sell the prepared Italian dressing at the grocery store?? I've spotted it at Costco, too.
Pair the salad base I mentioned with the Olive Garden salad dressing, Italian herb seasoned croutons and a sprinkle of grated parmesan cheese and you've got the perfect copycat recipe at your finger tips.
Seasonal Variations
I try to serve salad with dinner as often as I can but it can start to feel a little repetitive.
The good news is, with just a few ingredients from your fridge or pantry, you can give whole new life to this easy dinner side dish.
Chopped Garden Salad
For a chopped salad taste, you could add diced hard boiled eggs, crumbled peppered bacon, and either a prepared ranch dressing or even my yummy Greek yogurt blue cheese dressing.
Zesty Garden Salad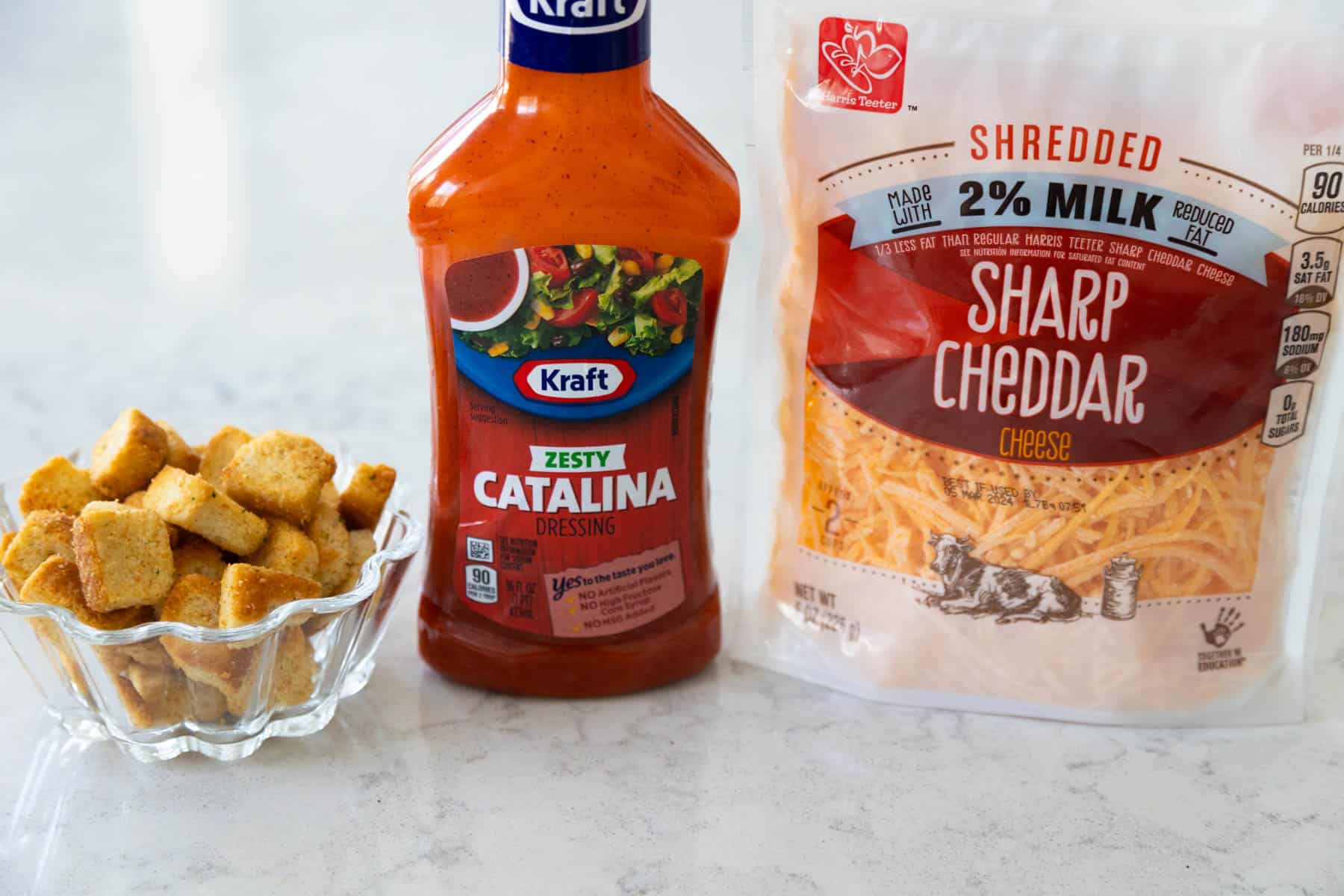 For a zesty salad, you could add shredded cheddar cheese, zesty seasoned croutons, and a spicy salad dressing like Zesty Catalina or Zesty Italian.
Fall Harvest Garden Salad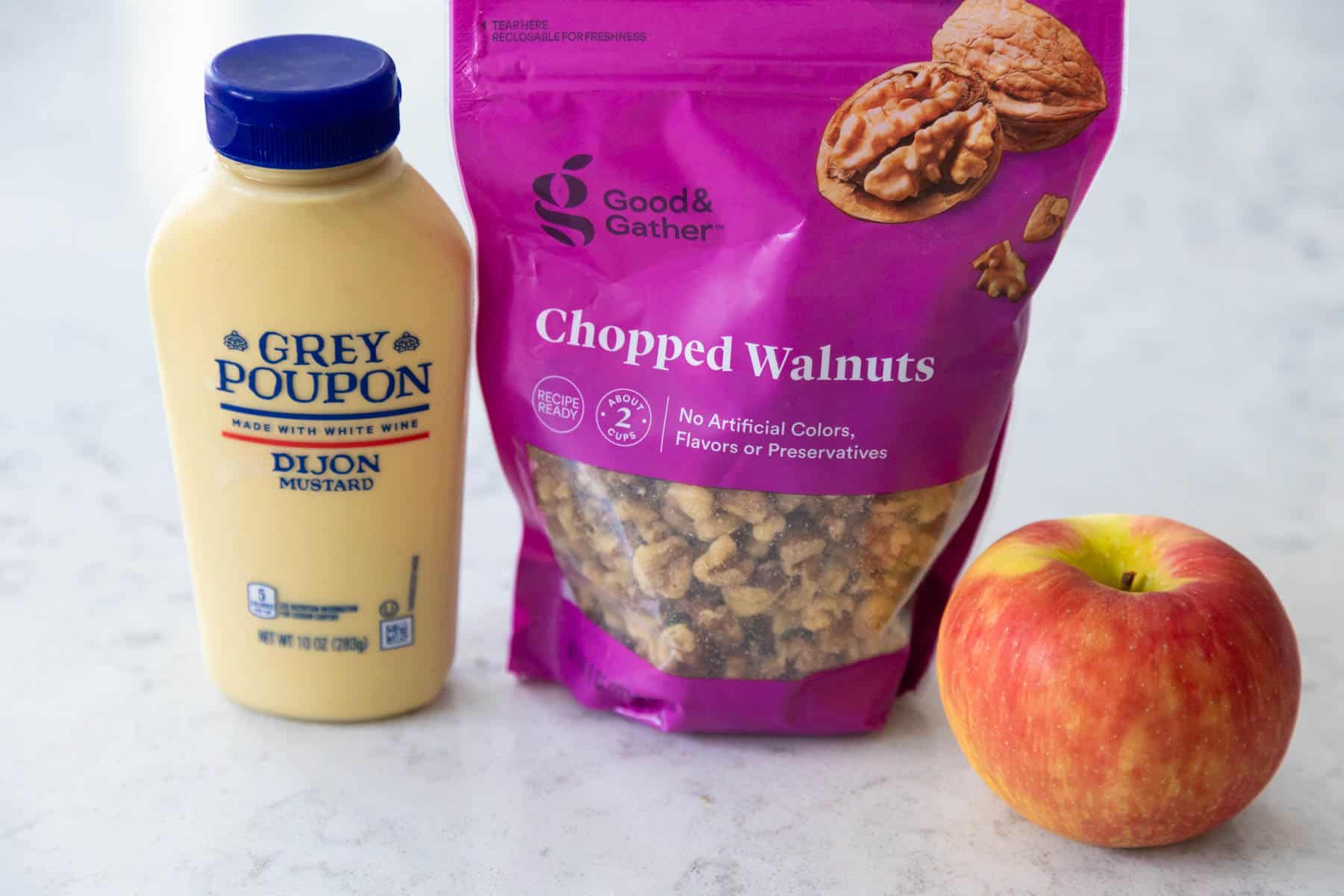 When fall rolls around, it is so easy to turn this garden salad into a fall harvest salad just by adding a chopped fresh apple, chopped walnuts and pairing it with a mustard vinaigrette.
Blueberry Garden Salad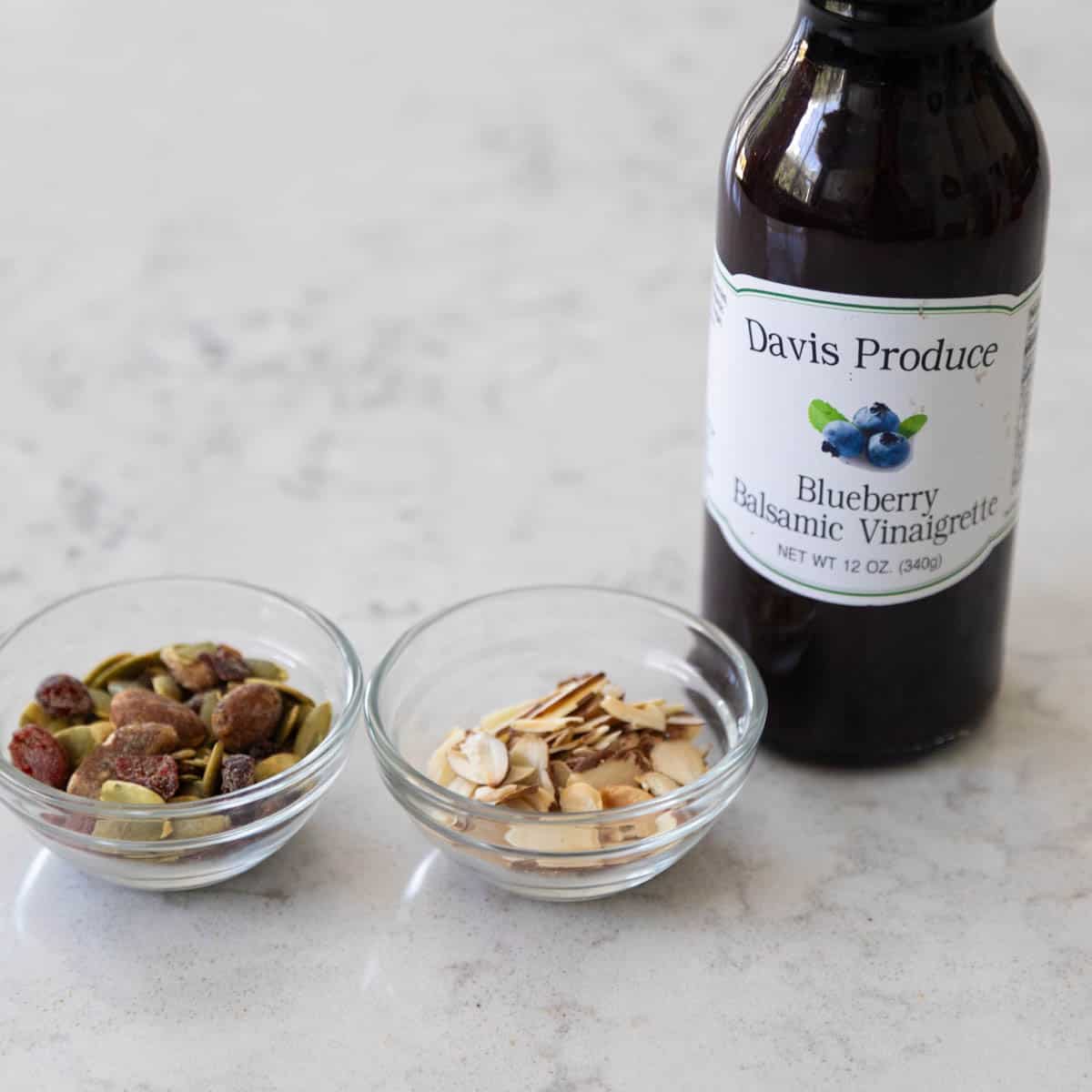 For late winter/early spring, I love to mix things up and add toasted almonds, dried cranberries, and a blueberry vinaigrette.
If you have some fresh blueberries in the fridge or even some fresh strawberries, they make a perfect addition, too.
Storage Tips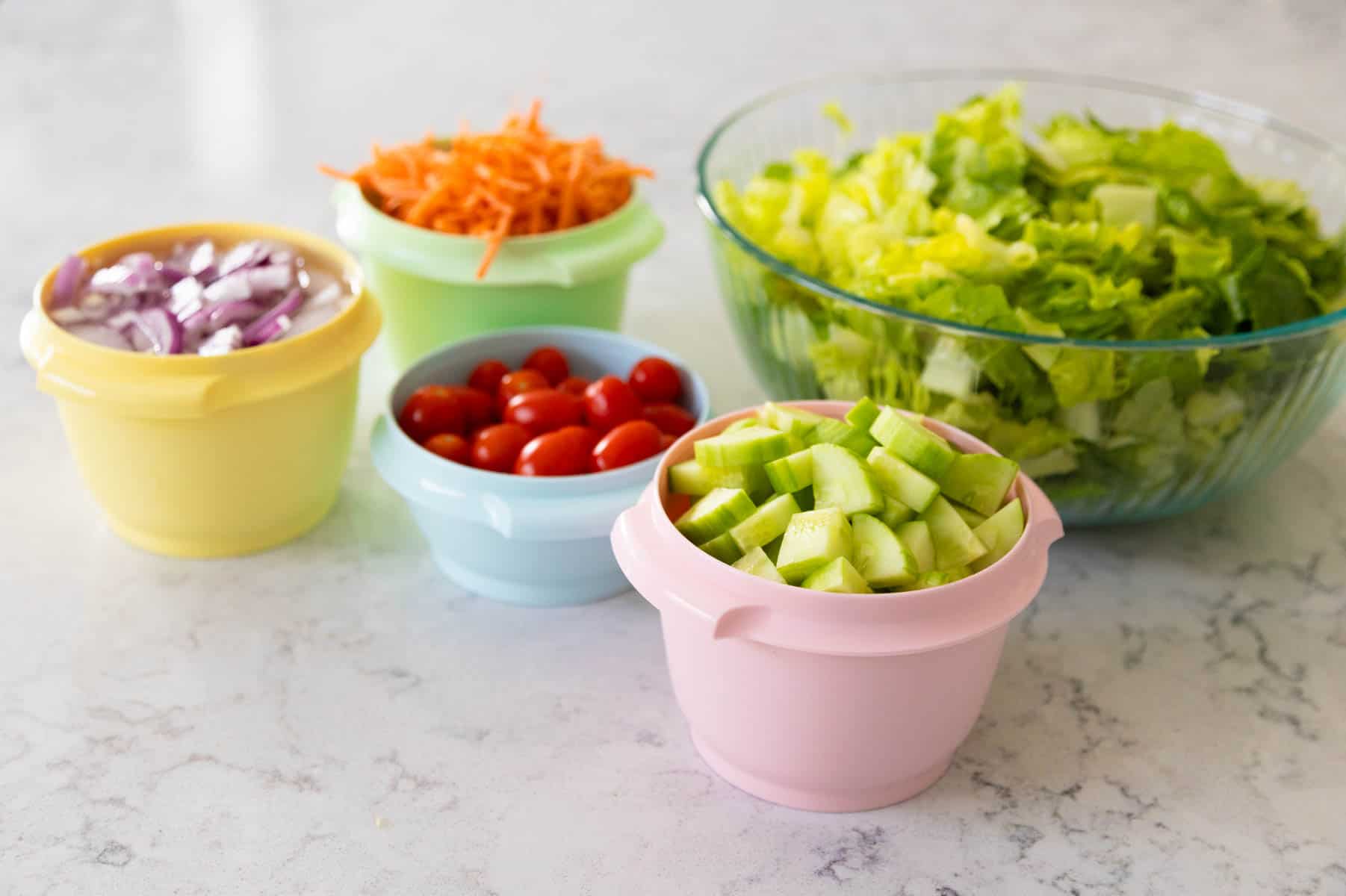 To keep your salad perfectly crisp and fresh, it is crucial that you keep any salad dressing and croutons away from the vegetables until just before you eat it.
If you plan to only store the salad for 24 hours, you could mix all the vegetables together in a bowl and store them in an airtight container in the fridge.
If you want to use this for a week of salad bar servings like I usually do, then you'll want to keep each of the vegetables stored in separate containers in the fridge.
Prep everything at once on the weekend and you'll have cold and crispy veggies all week long.
📖 Recipe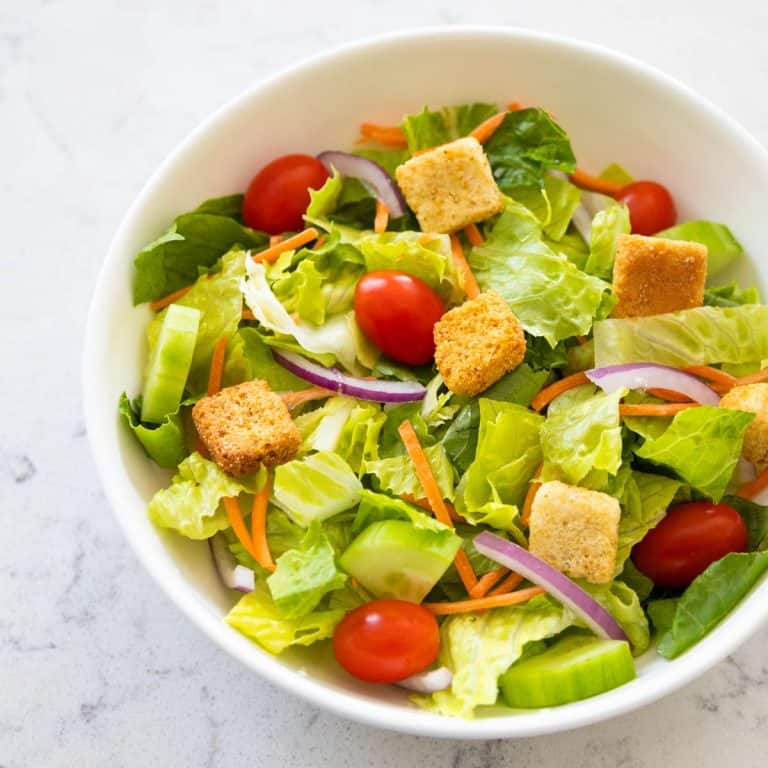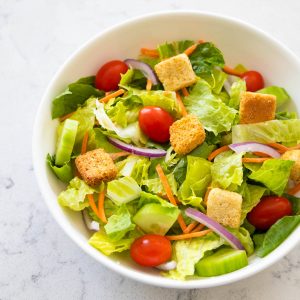 Garden Salad
Prep a large batch of garden salad for an easy dinner side dish all week long or for easy prep ahead work week lunches. Set out your family salad bar every night with your favorite salad dressings and toppings. Be sure to see my fun seasonal variations in the notes below.
Ingredients
3

heads

fresh romaine lettuce

1

English cucumber

1

red onion

1

(10 oz) bag shredded carrots

1

pint

cherry tomatoes

1

(5 oz) bag packaged croutons

1

bottle prepared salad dressing

see notes
Instructions
Chop the romaine lettuce and rinse it well in a colander or salad spinner basket. Dry the lettuce well and store in a large airtight container in the fridge for up to one week.

Peel the cucumber and cut it into small cubes.

Slice the red onion thinly and soak in a bowl of ice water for 5 minutes. Drain well.

Store the cucumber, red onion, shredded carrots, and cherry tomatoes in separate containers in the fridge for up to one week.

Assemble the garden salad just before serving. Toss all the vegetables together in a large bowl. Add the croutons. Drizzle your favorite prepared salad dressing over the top. Toss the salad together with a pair of serving spoons until everything is coated in dressing. Serve immediately.

Individual garden salads can be assembled up to 24 hours in advance as long as you don't dress it with the salad dressing until just before serving.
Recipe Notes
Garden Salad Variations
Olive Garden Salad: To make a Copycat Olive Garden Salad, use a bottle of prepared Olive Garden Italian salad dressing, Italian seasoned croutons, and grated parmesan cheese.
Zesty Garden Salad: Add shredded cheddar cheese and a zesty Catalina salad dressing.
Chopped Garden Salad: Add diced hard boiled eggs, crumbled bacon, seasoned croutons, and ranch dressing.
Fall Harvest Garden Salad: Add diced fresh apple, chopped walnuts, and a dijon mustard vinaigrette.
Blueberry Garden Salad: Use a blueberry vinaigrette and toasted almonds and dried cranberries.
Save This Recipe to Your Recipe Box
Find this delicious recipe next time you visit by saving it to your very own recipe box on my site. All your favorites stored in one easy place!