Make homemade cornbread croutons with leftover cornbread for the perfect salad topping to pair with chicken, seasoned pork, or spicy shrimp.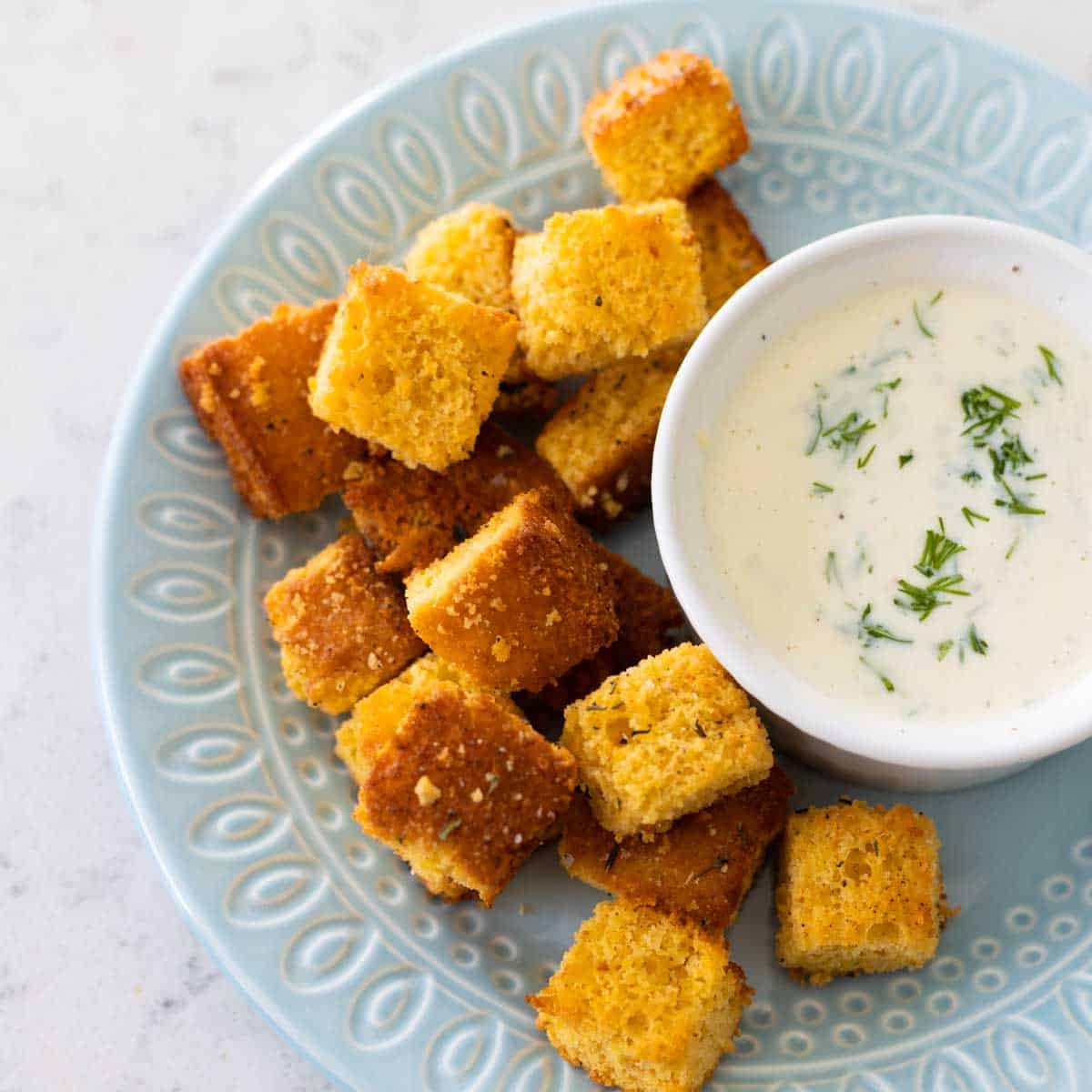 When we moved to the south, a friend recommended a local restaurant for us to try. They bring a simple house salad to the table that had crispy homemade cornbread croutons sprinkled over the top and it quickly became my favorite salad topping EVER.
If you've never tried them, cornbread croutons have a really unique texture that is completely addictive. They are crispy on the outside with a more tender chewy center, unlike traditional croutons that tend to be more dried out and crumbly.
I finally tried making homemade cornbread croutons when I had some leftover buttermilk cornbread and they were just as amazing at home!
They take just a few minutes longer to bake than my homemade croutons recipe for leftover bread machine bread but that's just so the outside gets nice and crispy.
You can use these croutons for topping a salad with chicken, pork, or shrimp. Or you could just use them as a new way to snack on cornbread cubes!
Jump to:
Why This is the Best Recipe
This cornbread crouton recipe is the best because:
Homemade Cornbread: It starts with leftover squares of homemade buttermilk cornbread. I love that recipe so much but I won't tell if you use Jiffy cornbread mix or a store bought cornbread from the bakery.
Melted Butter: Most croutons are made with olive oil but I used melted butter in this recipe so it tasted more true to the cornbread flavor. The butter makes nice golden brown croutons.
Herbs & Seasonings: Croutons should add lots of flavor to your salad so I seasoned these cornbread croutons with complementary herbs and a pinch of salt.
Perfect Texture: Once baked, they have a golden brown crispy outside but the inside stays tender and has just a bit of a chewy texture to it. They are perfectly fork-able for your salad.
No Waste!: I love that every last bite of your homemade cornbread is going to be used up. Even if the cornbread is a day or two stale, all the better! Baking it in the oven and turning it into croutons is the perfect answer.
The beauty of this easy recipe is how few ingredients you need to make it:
Leftover Cornbread: I use Grandma's buttermilk cornbread recipe as the base, but you could use prepared Jiffy cornbread mix or a store bought cornbread.
Butter
Dried Herbs: There are a few ways you could choose to season this recipe, be sure to see my notes below. But dried thyme is an amazing pick. Fresh herbs would work, too.
Salt
Prepare the Leftover Cornbread
First, cut your leftover cornbread into bite-sized cubes.
I sliced each cornbread square in half before cubing it so that the pieces are more square shaped and not long rectangles.
Add the cubes to a large mixing bowl that has room for you to gently toss the cubes.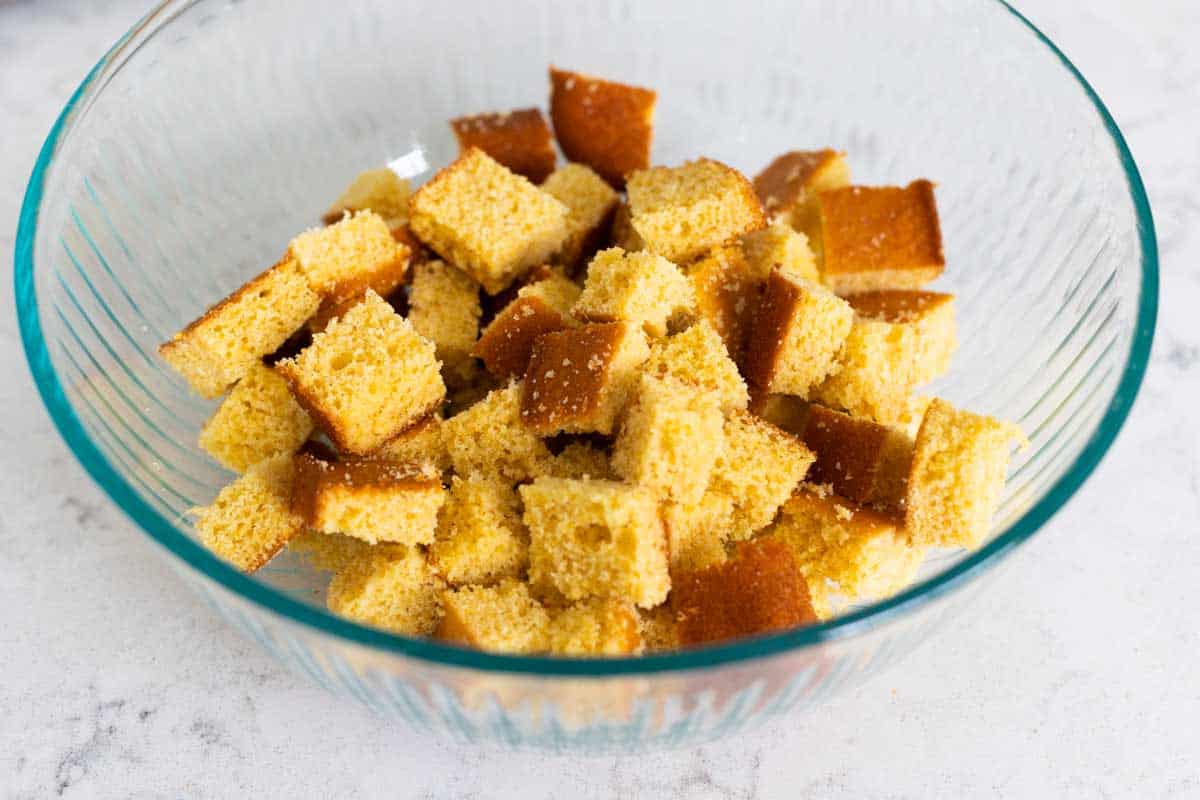 Drizzle with Butter
Melt the butter and slowly drizzle it all over the cornbread.
The bread is going to be a bit delicate so to avoid having it disintegrate into the butter, work quickly and try to drizzle as much of the butter over as much of the bread as possible rather than just dumping it in.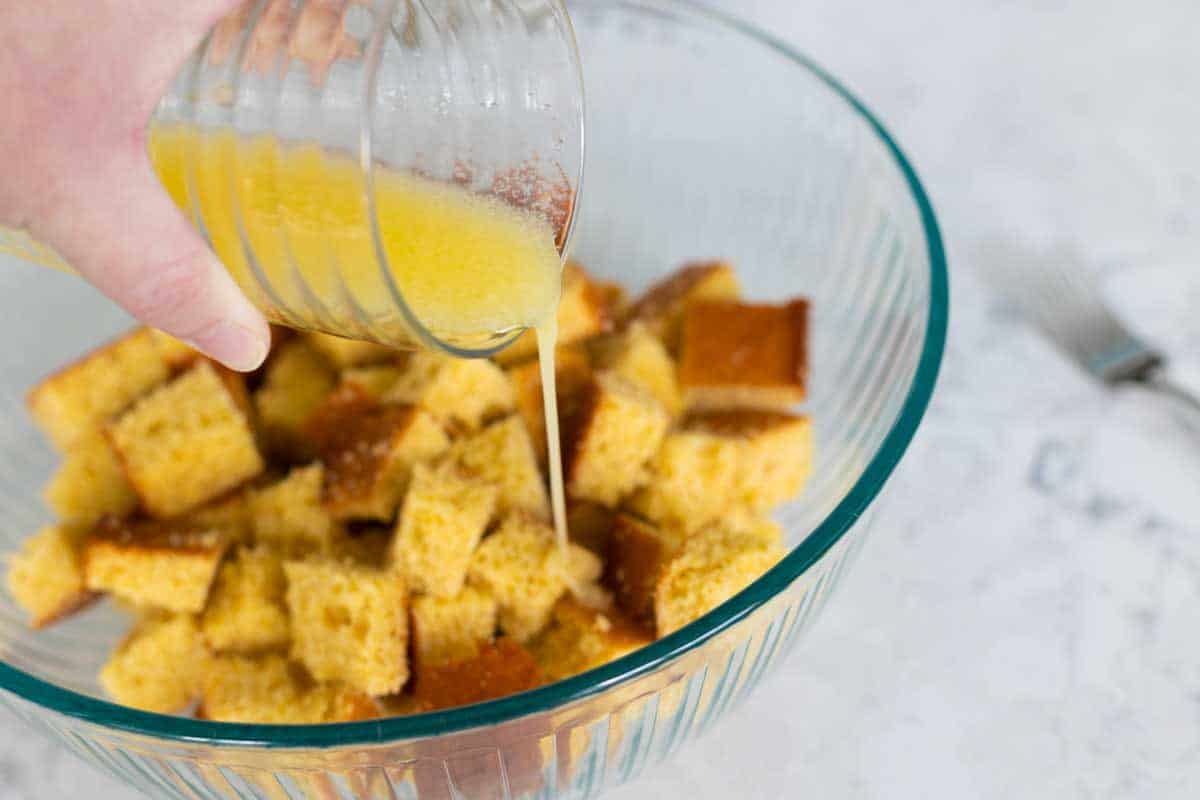 Use your hands to very gently toss the cubes of cornbread in the butter so that they soak up all the butter that ended up on the bottom of your bowl.
Don't work the bread too hard or it may fall apart in your hands.
Line a baking sheet with parchment paper and pour the cornbread cubes out onto the paper. Gently spread them out into a single layer with space between each cube for the hot air to circulate.
Flavor Variations
With the cornbread prepped and ready on your baking sheet, NOW is the time to season it.
You'll sprinkle the seasoning over the top rather than tossing it in the bowl. This helps keep your bread cubes intact.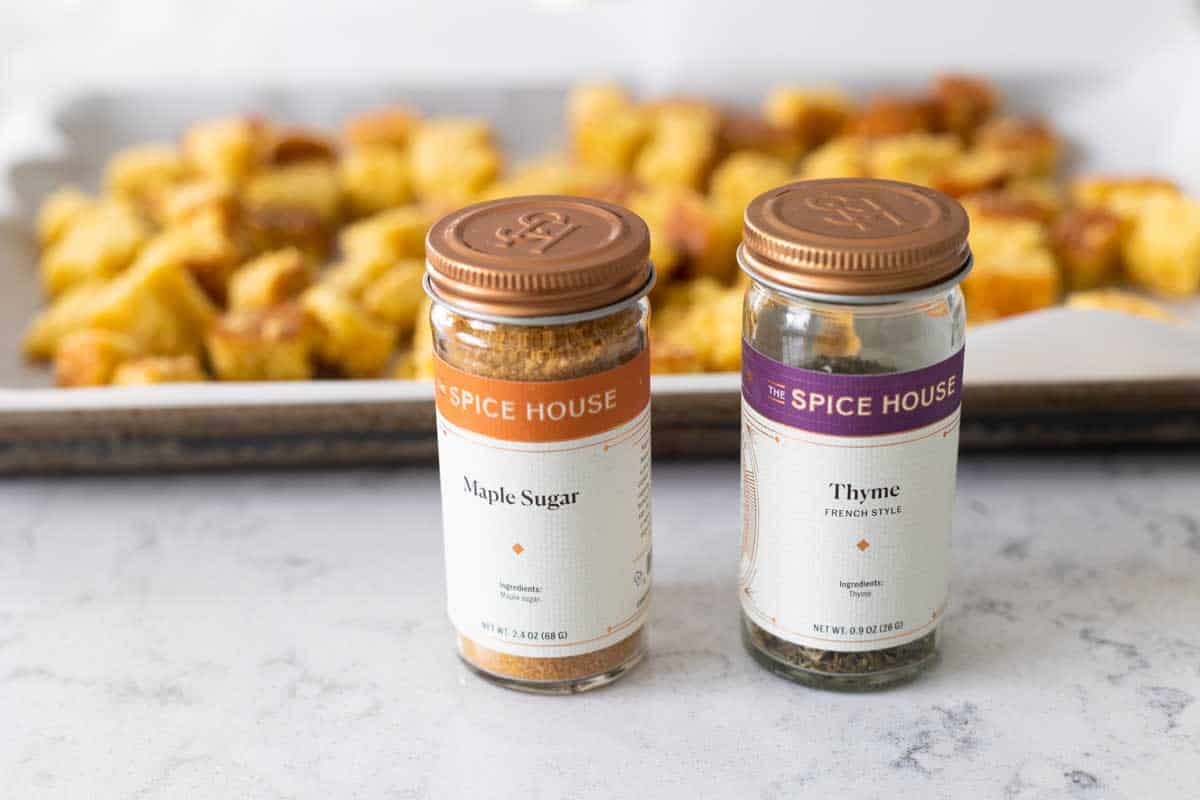 For my crouton recipe, I used a pinch of salt and dried thyme and it was AMAZING.
But you could also consider using:
Sweet Cornbread Croutons: A pinch of cinnamon or a sprinkle of maple sugar over the top.
Spicy Cornbread Croutons: A sprinkle of crushed red pepper flakes, salt, and pepper.
Herby Cornbread Croutons: A sprinkle of dried Italian herb blend and salt.
Cornbread Stuffing Croutons: A sprinkle of poultry seasoning, salt, and pepper.
Spicy Sweet Cornbread Croutons: A pinch of cinnamon and a sprinkle of crushed red pepper flakes, salt and pepper.
Baking Instructions
Preheat the oven to 400°F.
Bake the prepared cornbread croutons for 15 - 18 minutes or until the outsides have toasted and become golden brown like this: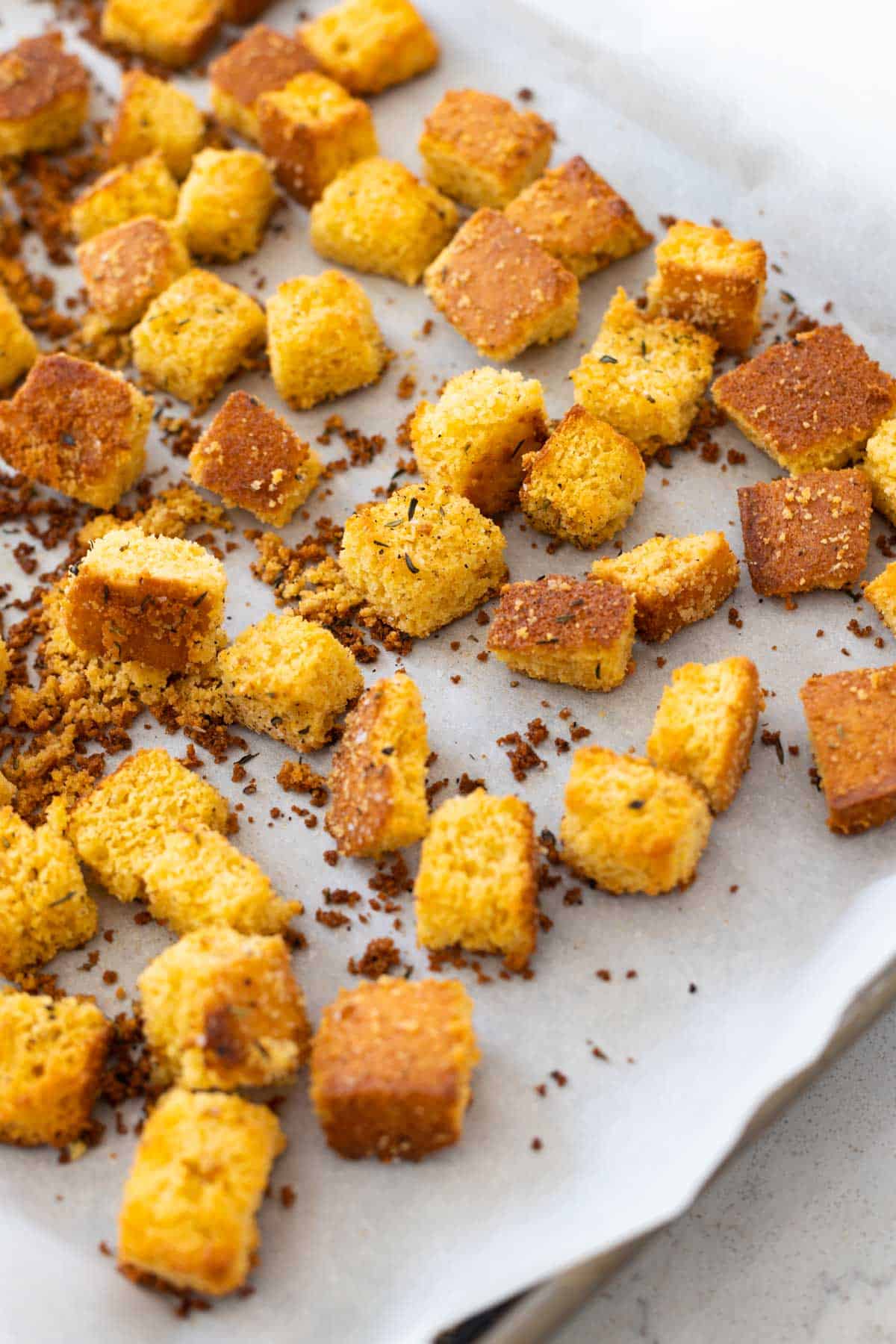 Serving Suggestions
Let the croutons cool completely before using them to top a salad.
This is super important because:
They need to firm up: The baked croutons will still be a little soft until they cool. They will get crispier as they cool down.
They taste better: When they're warm, they'll taste mostly like regular cornbread. Once they are cool, the buttery coating and herbs or seasonings will come through much better.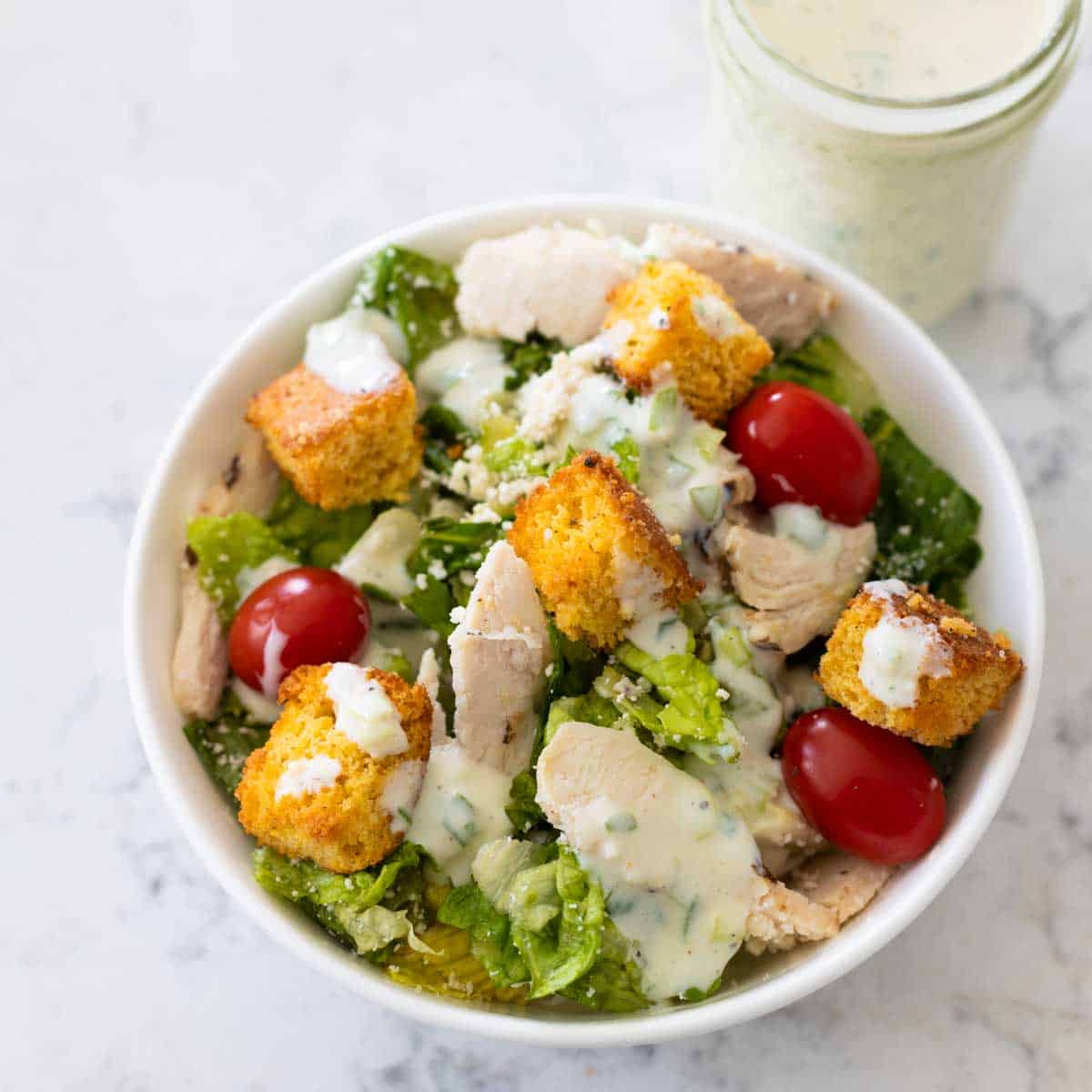 I made a simple salad with lettuce, leftover chicken, cherry tomatoes, cornbread croutons, and a drizzle of my homemade buttermilk herb dressing over the top.
It was fantastic.
You could also use cornbread croutons on your favorite chopped salad, or one with seasoned pork or spicy shrimp.
Storage Tips
Store the completely cooled cornbread croutons in an airtight container for up to 4 days.
You could freeze the croutons for later but be sure to let them thaw in the fridge overnight and then bake them again for 5 minutes to restore the texture.