Learn how to cook Smithfield pork tenderloins with just 5 minute prep for an easy family dinner in 30 minutes or less. I included 3 easy methods to help you get the roasted pork tenderloin to the table nice and hot alongside various side dishes.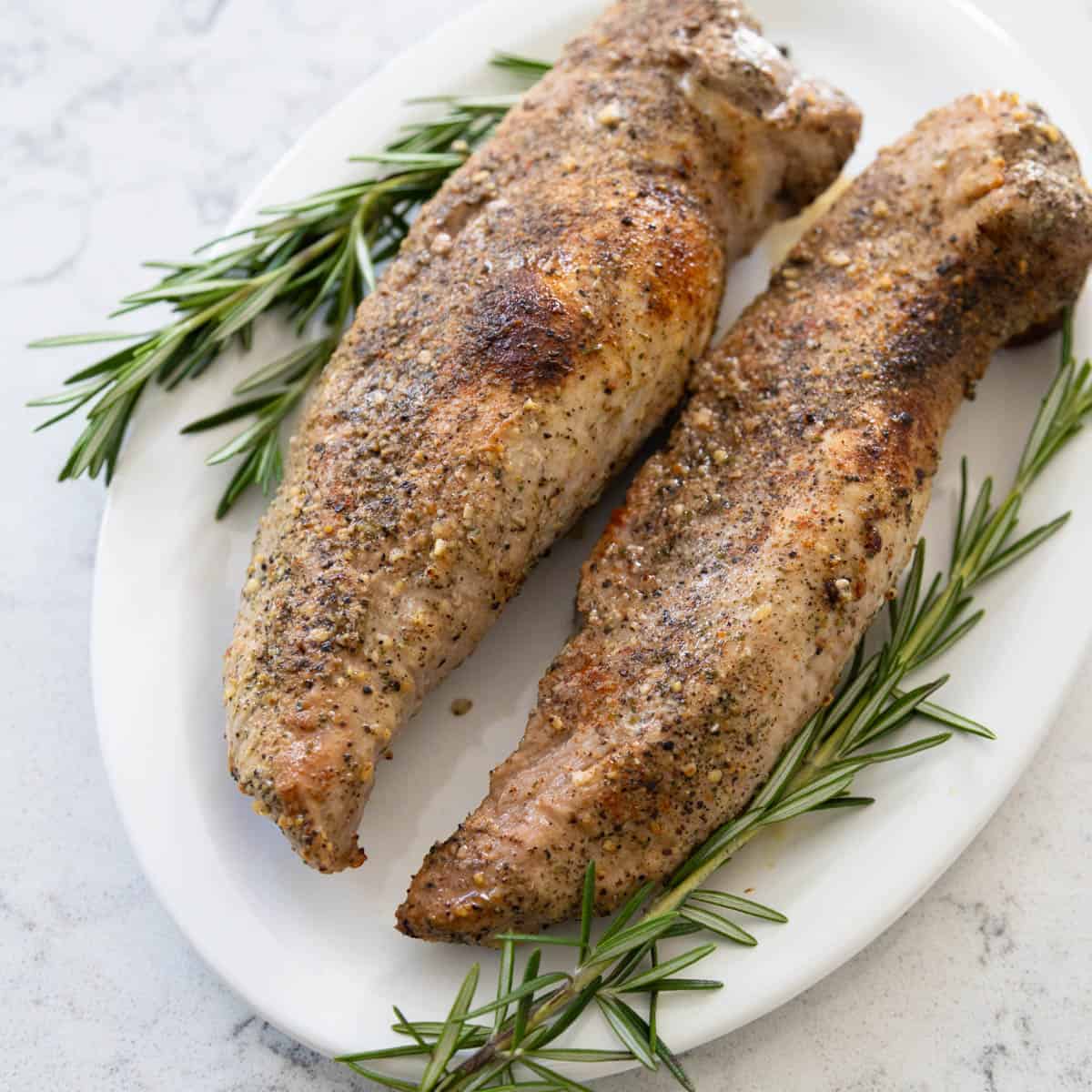 One of the easiest recipes my whole family loves is this simple roasted pork tenderloin.
I mix and match several seasonings and marinades for a wide variety of great flavors for easy dinners throughout the year.
Though years and years ago I did a small project with them, this post is NOT in behalf of Smithfield Pork or the National Pork Board, they have no idea I'm writing these helpful tips.
I truly do purchase plain Smithfield pork tenderloins at least once or twice a month for my family. It is a reliable and budget-friendly protein that I have learned how to make in a variety of ways for easy family meals.
To help you and your family save money the next time these tender pork loins go on sale, I wanted to share how I cook Smithfield pork and use it for light and tasty dishes.
Jump to:
Why This is the Best Recipe
Busy families need all the easy recipes they can get. This step-by-step guide will teach you how to make an original recipe in just minutes.
I think this is the best roasted pork tenderloin recipe because:
Fast and Easy: With less than 5 minutes of prep time, you've got dinner ready to go in the oven, air fryer, or slowcooker.
Tons of Variation: Use my tips for how to season pork and you'll never get bored of this delicious lean protein.
Budget-Friendly: Smithfield pork tenderloins are always going on sale at the grocery store for a buy one, get one free or discounted price. This is one of the easiest meats to stretch for a budget-friendly family dinner.
Dinner the Next Day, Too!: Use one pork tenderloin tonight, save the second one for dinner tomorrow.
Any Pork Tenderloin will Work: While I buy Smithfield, that brand may not be available to you. Truly, any brand of pork tenderloin will work with these instructions.
Ingredients
Cooking pork tenderloin for family dinner is such a quick fix because all you need are 3 easy ingredients:
Smithfield Pork Tenderloin: This unseasoned, un-marinated pork loin filet is my go-to choice at the grocery store because it allows me to make a variety of flavors from a brown sugar dry rub to a zesty marinade. When I make my own sauces and season blends, I know there are no artificial ingredients in the mix.
Olive Oil
Seasonings for Pork: There are lots of choices, be sure to read my notes below.
How to Cook Pork Tenderloin for Dinner
Actually cooking the pork is going to be the easiest part of this recipe!
Plain Smithfield pork tenderloins are a lot like basic chicken breasts -- they are popular because they go with so many different dinner ideas.
When you want to use one for a family meal, you just have to follow these 3 easy steps:
Plan Your Menu: Which side dishes are you adding to the pork? These will determine how you season the meat. Don't worry, I've got lots of ideas for you below.
Season the Pork: Add a dry rub or marinade that matches your menu.
Cook the Pork: Once the pork tenderloins are prepped, pop it in the oven, air fryer, or slowcooker. Easy peasy! The method is the same no matter how you seasoned it.
Best Seasonings for Pork Tenderloin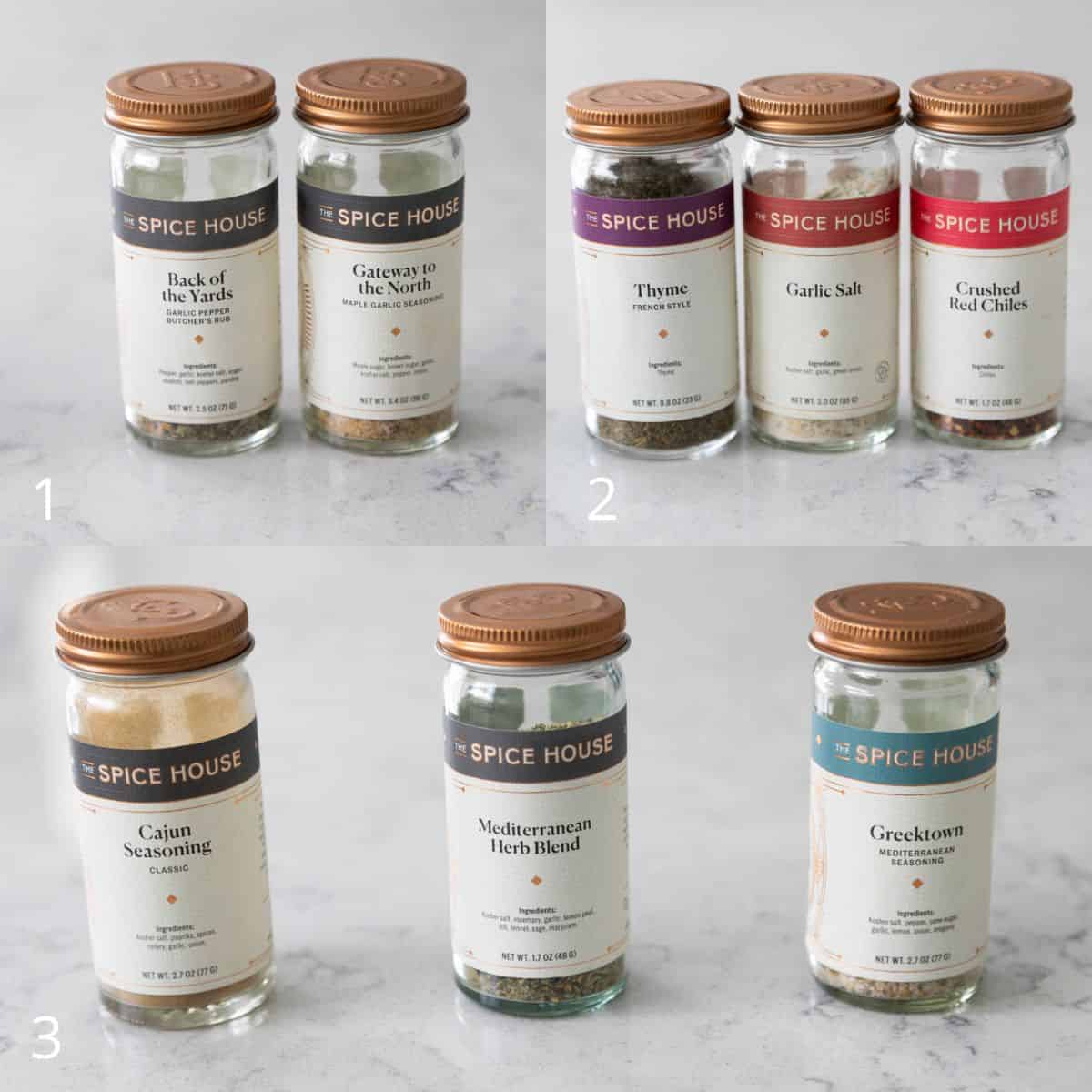 I use cooked pork tenderloin in so many different recipes for my family, I love to season it to match the final meal.
I start by picking my side dishes and then choose the spice blend that pairs the best.
I think the best seasonings for pork tenderloin include:
1. Basic Pork Tenderloin Seasoning:
I use 50-50 mix of Back of the Yards and Gateway to the North because a quick sprinkle of each and my pork is ready to cook with less than a minute of prep.
This tasty blend will match almost any side dish you plan to make.
You could mix your own dry rub by using:
Kosher Salt & Black Pepper
Garlic Salt
Onion Salt
Brown Sugar
Maple Sugar
2. All-Purpose Pork Seasoning:
Sprinkle dried thyme, garlic salt, and crushed red pepper flakes with a bit of kosher salt and black pepper over the pork.
This classic blend will pair with most dinner options and will have just a pinch of heat.
3. Ethnic Spice Blends for Pork:
I always keep a blackening seasoning or Cajun blend in my pantry, they go perfectly on pork. You could make a pork sandwich with remoulade sauce.
Mediterranean herbs or Greek seasoning let you do a pork tenderloin pita wrap with tzatziki sauce.
Italian herbs are great if you want to pair the pork with roasted primavera veggies.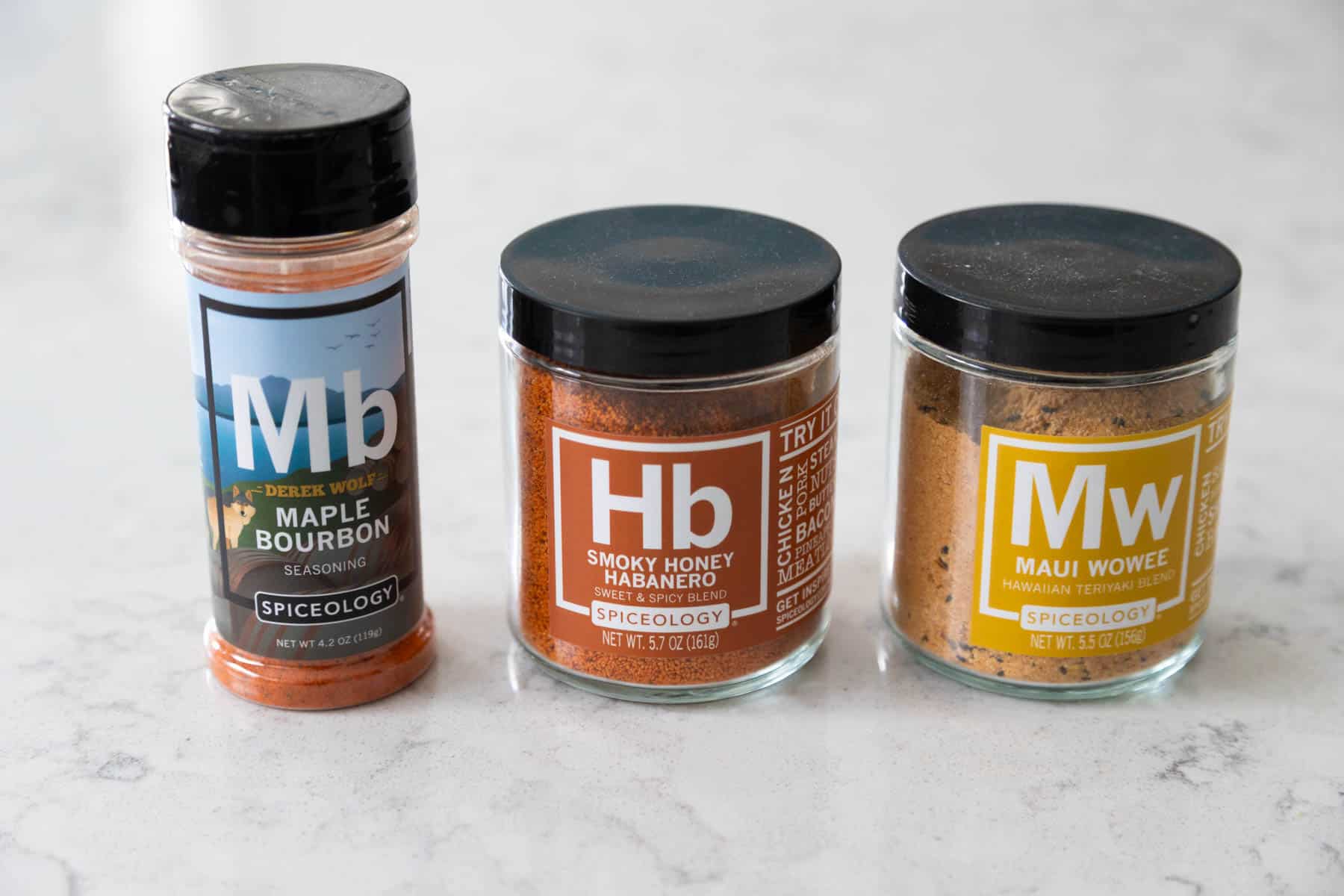 I also keep a few specialty spices in my pantry from Spiceology.
The maple bourbon seasoning paired with a bit of kosher salt and pepper is one of our very favorites and tastes great when I pair the pork with a sweet potato mash.
The smoky honey habanero is good for a sweet-spicy pork and tastes great with roasted mini potatoes and onions.
I use the Maui Wowee when I want to pair the pork with my roasted peppers and pineapple.
Best Marinades for Pork Tenderloin
When I have a little more time to plan ahead, I make a quick marinade for the pork tenderloins.
My favorite is this easy asian marinade which I use when I want to serve jasmine rice and roasted broccoli. It features soy sauce and brown sugar which both taste great on pork.
Both my zesty Cuban mojo marinade and my Dijon mustard marinade include citrus in the form of oranges, limes, or lemons. The acidity of the citrus brings so much more flavor to the plain pork.
I use the Cuban mojo when I want to make pork tortilla wraps and the Dijon mustard when I want to make sandwiches or pair it with potatoes.
Prep the Pork
Place the pork tenderloins in a large mixing bowl.
Drizzle the olive oil over the top and turn the pork to coat.
Then sprinkle the dry rub over the top. See how easy??
If you're using a marinade, simply pour it over the plain pork and turn to coat. Let it rest for at least 30 minutes or up to 24 hours in the fridge.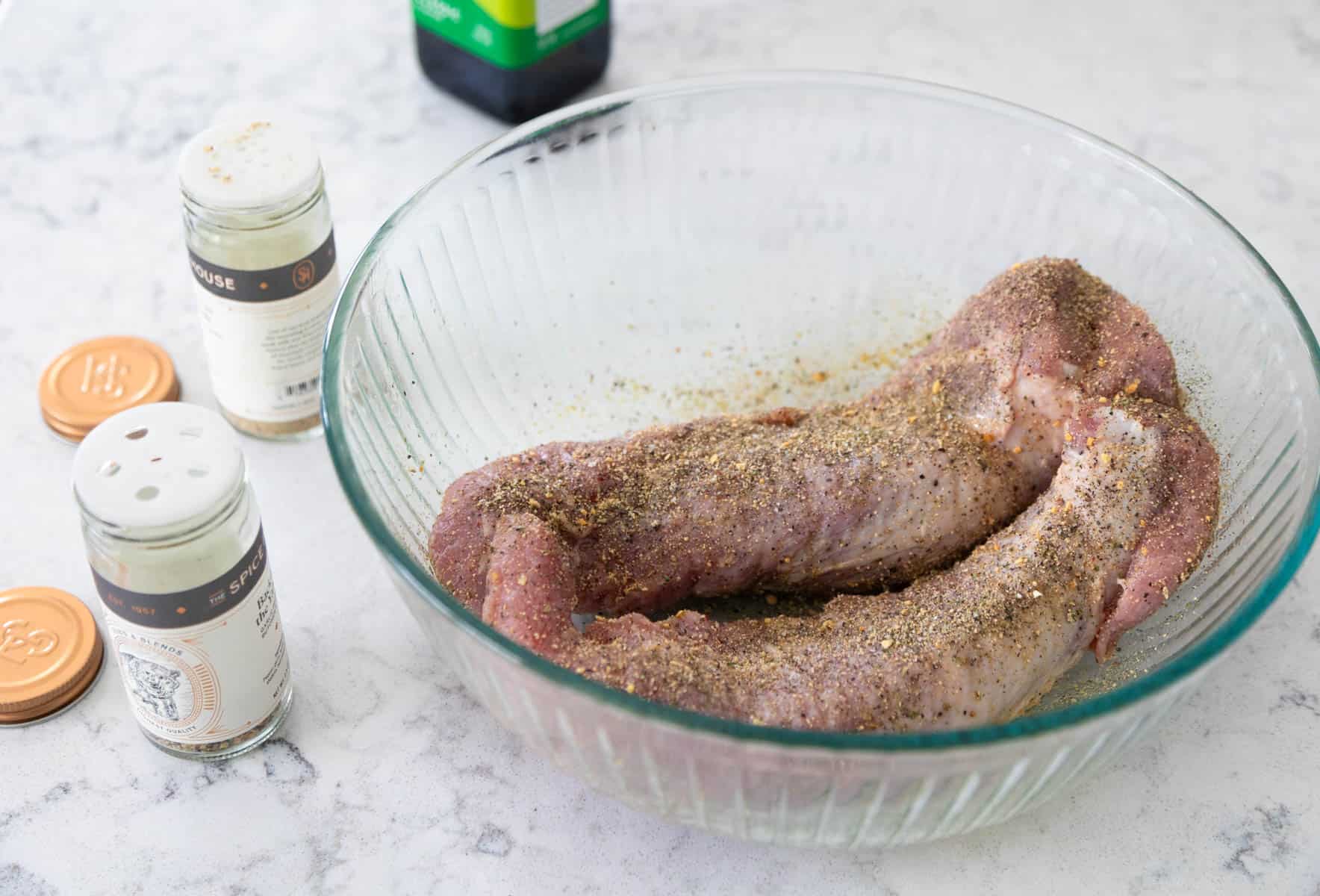 Roasted Pork Tenderloin Cooking Instructions
Roasting pork in the oven is my favorite way to finish the pork tenderloins.
You can use a baking dish or a baking sheet if you plan to make a pan meal with roasted veggies on the side.
I prefer using a baking dish when I used a liquid marinade, but it's handy with a dry rub, too.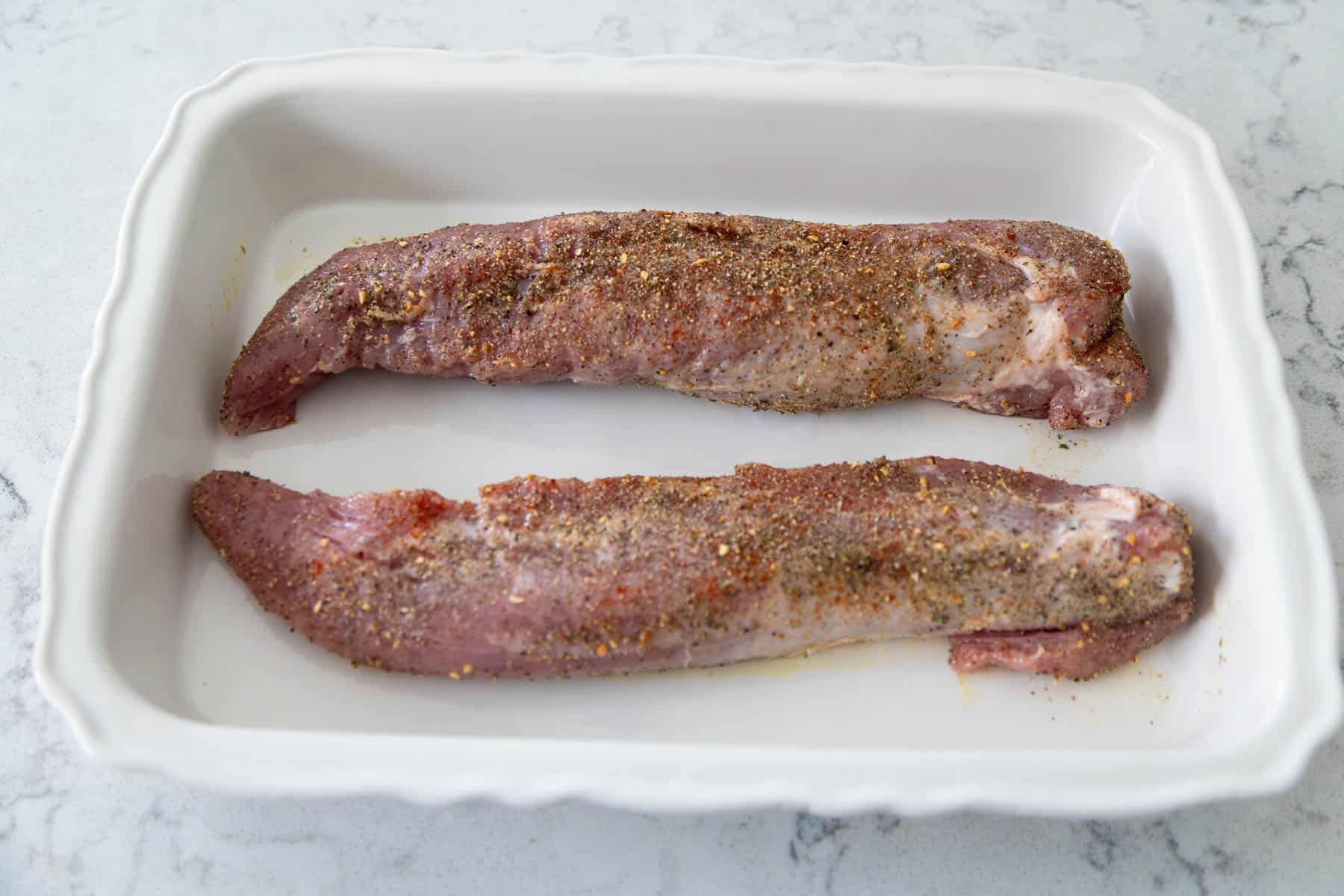 Preheat the oven to 425°F.
Pop the pork into the oven, there's no need to wait till it comes to room temperature first.
Roast the pork for 30 - 40 minutes or until they register 145°F at the thickest part of the meat with an instant-read thermometer.
I always turn my pork tenderloins over half way through the baking time so they brown properly on both sides.
How to Know the Pork is Done
The easy way to know the pork is finished roasting is to check that it has a safe internal temperature.
I always use a probe thermometer and test the thickest part of the meat.
The safe temp is 145°F but my family prefers the pork to be cooked a little bit longer. I usually pull it from the oven when it registers 160°F.
Air Fryer Cooking Instructions
I usually use my air fryer to make delicious side dishes to go with my pork like my air fryer green beans.
But you can actually cook the pork tenderloins in the air fryer if you prefer that over the oven.
Simply preheat the air fryer to 400°F.
Cook the pork for 30 minutes or until it is safely cooked to 145°F when tested at the thickest part of the meat.
Definitely plan to turn the tenderloins half way through baking so they brown on both sides.
Slow Cooker Cooking Instructions
Using a Crockpot to cook your pork tenderloin is a great option if you'll be out of the house all day and want to come home to a ready-to-eat dinner.
The cooking process naturally will make a tender pork but you will miss out on the crispy golden brown color the oven or air fryer give to the meat.
If that matters to you, you could sear the outside of the pork tenderloins in a skillet with a tablespoon of olive oil over medium high heat.
Brown the pork for 3 - 4 minutes per side and then add it to the slowcooker to finish cooking.
If you don't want that extra step, plan to cook the seasoned pork for 2 hours on low or 4 hours on high or until the pork reads 145°F at the thickest part of the meat.
Variations
While the methods I just mentioned are the basic ways to cook a Smithfield pork tenderloin, you don't have to stop just there.
I've used Smithfield pork in each of the following tasty recipes, too:
What to Serve with Pork Tenderloin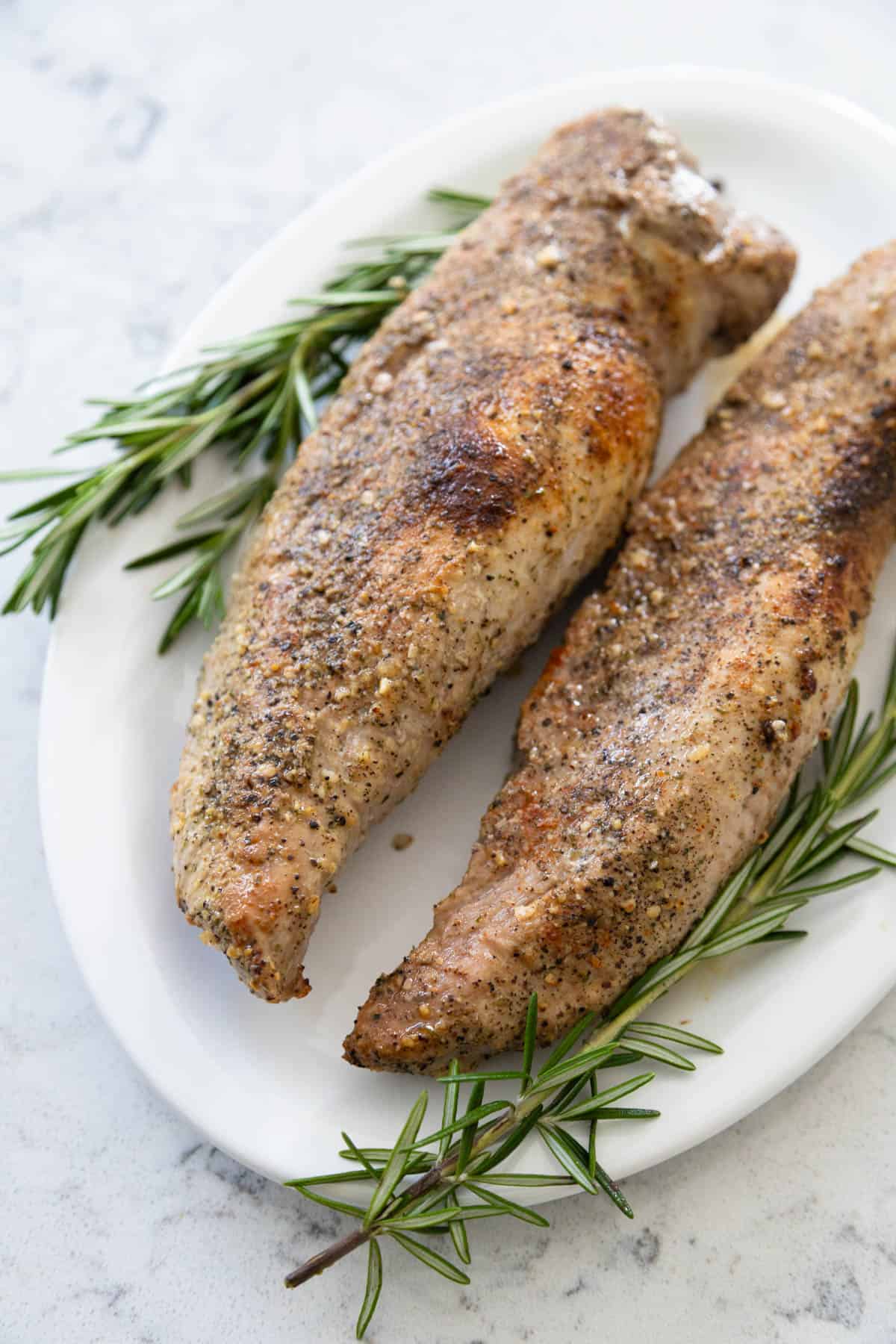 Roasted pork tenderloins make such an easy dinner protein at the end of the day.
I mix and match it with countless recipes from my site but here are a few favorites to get you started:
Pork goes perfectly with baby potatoes or sweet potatoes of all kinds. Whether you roast them, mash them, turn them into a potato casserole, pork is the perfect pick.
Roasted vegetables like green beans, broccoli, bell peppers, roasted carrots are all fantastic veggies to add to the plate with pork.
You can make a pork sandwich using a variety of sauces and condiments. My chow chow relish would be my top pick but so would caramelized onions and mustard or spicy sauce for sandwiches.
How to Use Leftover Pork Tenderloin the Next Day
Since a pack of Smithfield pork tenderloins includes two loins, I always bake both of them at one time but plan to use just one for dinner tonight and the second one for another dinner later.
There are so many delicious meals you can make from leftover pork but the most popular one on my site is my mom's Saucy Pork and Noodle Bake. This recipe is perfect for one leftover pork tenderloin.
You can also make my yummy Cuban sliders with leftover pork and pair it with some deli ham, pickles, and cheese or my roasted pork sandwich with caramelized onions.
📖 Recipe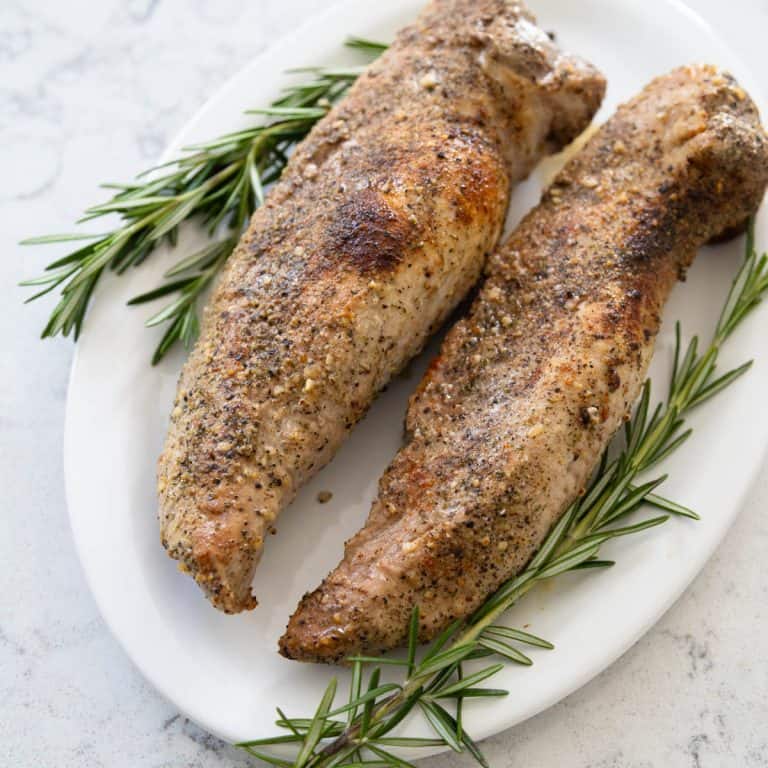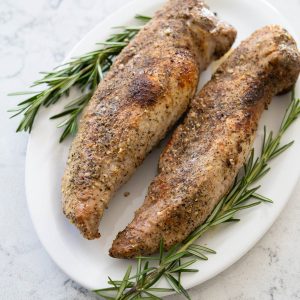 Roasted Pork Tenderloin
Learn how to cook Smithfield pork tenderloins in 3 easy ways for a fast prep family dinner. Mix and match the suggested seasonings to pair with your favorite side dishes for a custom family meal you can change up time and time again.
Ingredients
1

2-count package of Smithfield pork tenderloins

2

tablespoon

olive oil

2

tablespoon

seasoning blend

use the classic pork seasoning listed below or any one of the options listed in the notes
Classic Pork Tenderloin Seasoning:
2

teaspoon

kosher salt

1

teaspoon

brown sugar

1

teaspoon

dried thyme

1

teaspoon

garlic salt

½

teaspoon

crushed red pepper flakes

½

teaspoon

black pepper
Instructions
Place the pork tenderloins in a large mixing bowl or on a clean plate. Drizzle the olive oil over the top and brush it over the surface of each loin. Sprinkle the seasonings over the top and rub them into the meat.
Roasted Pork Tenderloin in the Oven:
Preheat the oven to 425°F.

Place the seasoned pork tenderloins in a baking dish and bake for 30 minutes or until the internal temperature reads 145°F with an instant read thermometer.
Air Fryer Pork Tenderloin:
Preheat the air fryer to 400°F for 5 minutes.

Roast the pork for 30 minutes, turning half way through cooking time so it browns on both sides. Pork should read 145°F at the thickest part of the meat.
Crock Pot Pork Tenderloin:
Place the seasoned pork in the bowl of a slowcooker. Cook on low for 2 hours or on high for 4 hours or until the meat registers 145°F at the thickest part.
Recipe Notes
Seasoning for Pork Tenderloins:
Pair your seasoning with the side dishes you plan to serve.
Here are a few delicious options:
Italian herb blend
Greek herb blend
Save This Recipe to Your Recipe Box
Find this delicious recipe next time you visit by saving it to your very own recipe box on my site. All your favorites stored in one easy place!