Homemade blackening seasoning takes cues from the rich and zesty Cajun cuisine. This seasoning rub is the ultimate game-changer for your grilled fish, chicken, steak, or pork. It's got just the right balance of sweetness and a spicy kick to make every bite better than the last.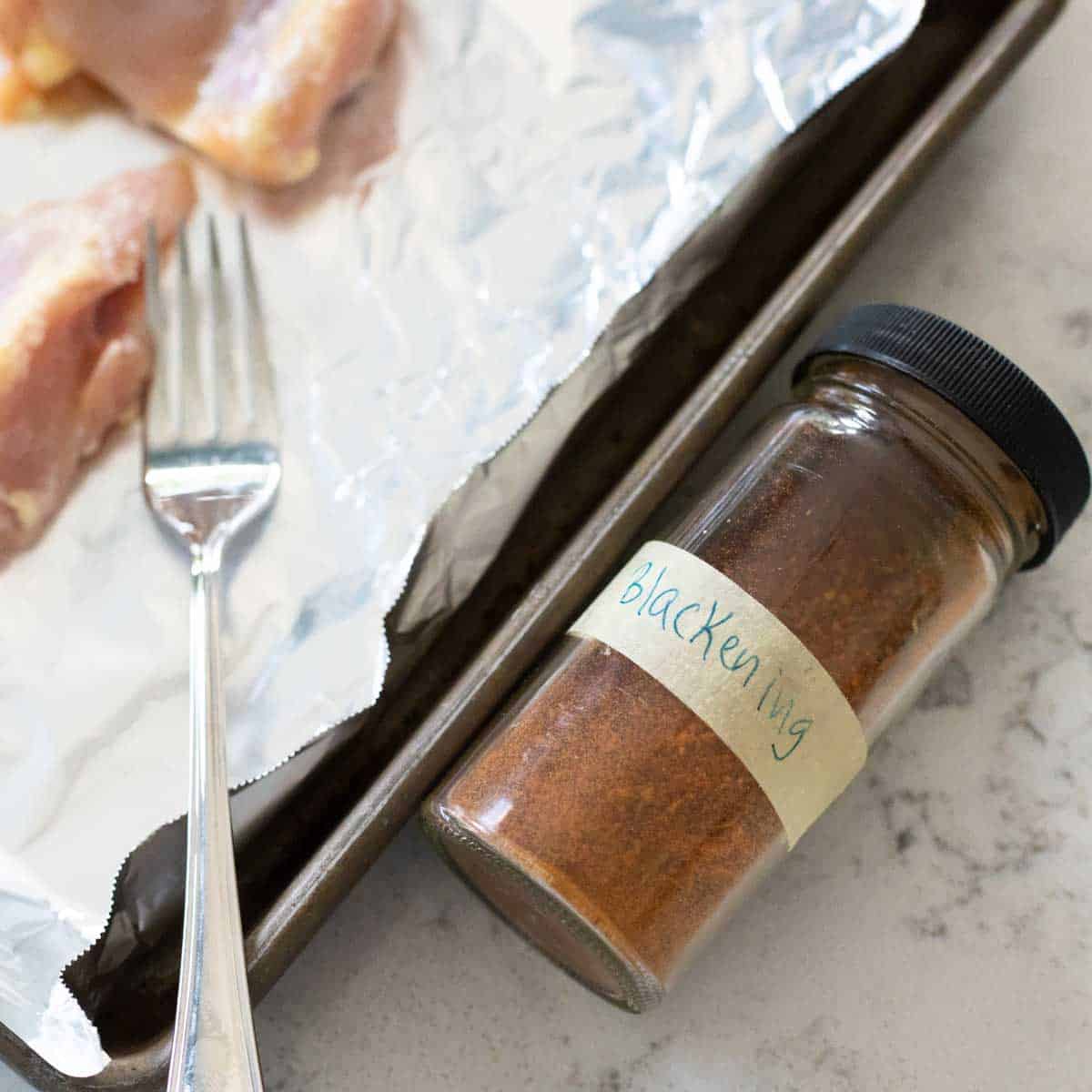 Blackening seasoning was a game changing spice when I first learned to like seafood as an adult.
My husband would always order a blackened mahi mahi sandwich whenever he found it on a restaurant menu. I couldn't resist that tantalizing aroma especially when it was served with a little cup of remoulade sauce for dipping. One bite and I was hooked.
Now I use this easy homemade spice blend to make blackened chicken, shrimp, or fish at home for dozens of tasty dinners for the family.
If you've never tried anything blackened before, you should know that it has strong hints of Cajun flavor, is a bold spice but isn't too hot on the spice scale, and has a delicate sweetness that complements anything you sprinkle it on.
Start out with a gentle sprinkle to test it out. Pretty sure you'll soon find yourself going much more heavy handed with the next batch!
Jump to:
Ingredients
Homemade blackening seasoning is a spice blend made of several individual herbs and spices you probably already have in your pantry:
Black Pepper: Fresh ground is best, I strongly encourage you to get a refillable pepper grinder and whole peppercorns for all of your meal seasoning.
Cayenne Pepper: This is the ingredient that brings the heat, but it also brings an awesome level of flavor enhancer. I encourage you to not skip it but if you're sensitive to things that are too spicy, you could reduce this ingredient a bit if you prefer.
Paprika
Powdered Onion
Powdered Garlic
Thyme
Oregano
Kosher Salt
Sugar: It is not a sweet spice blend but a bit of sugar does enhance the flavor of all the other seasonings.
Mix the Spices Together
In a small bowl, mix together all the seasonings with a spoon or fork. That's really it! So easy, it just takes a minute to measure everything and you're done.
I store my spice blend in an empty spice jar with a shaker lid for easy use. You can buy an empty glass spice jar or a set of empty plastic spice jars if you plan to make several homemade seasoning blends.
How to Use Blackened Seasoning
Now comes the fun part.
Blackened seasoning is one of my husband's and my favorite spice blends for fish and chicken but there are all kinds of delicious ways to use it.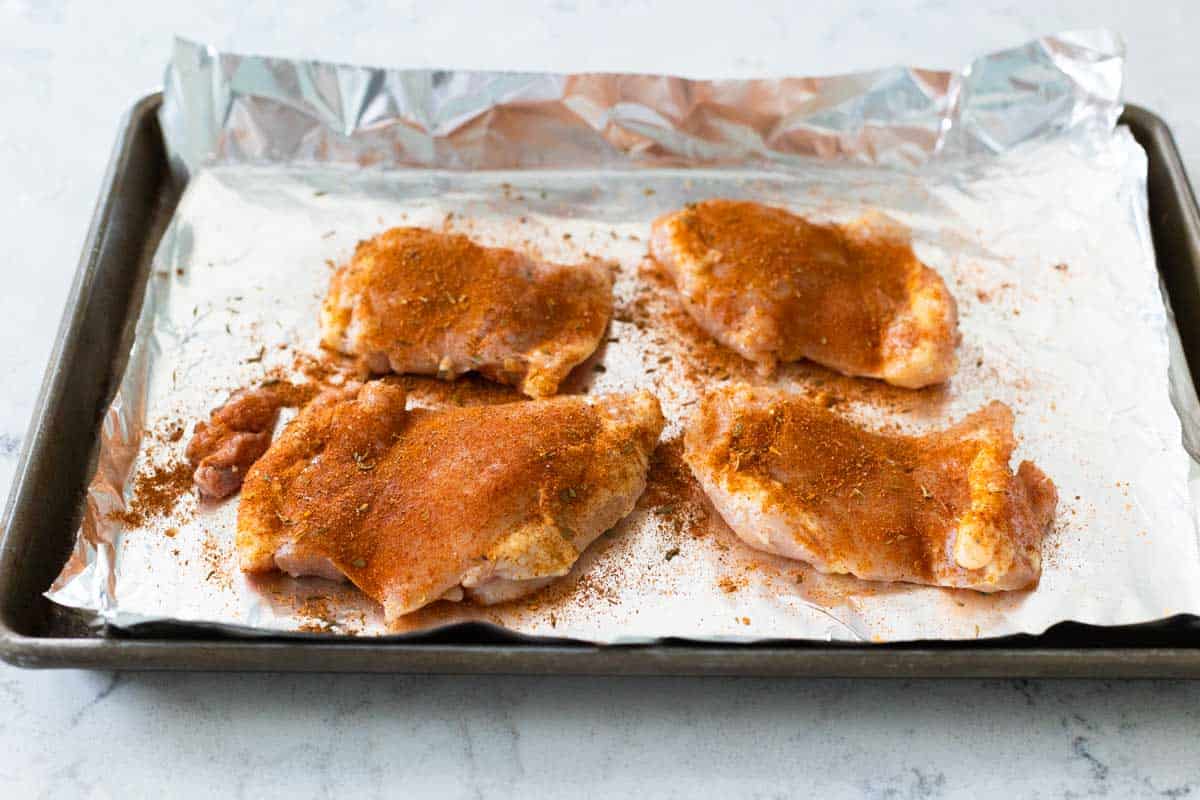 If you're a seafood lover like we are, you've probably spotted blackened mahi mahi, blackened swordfish, blackened snapper, blackened catfish, or blackened tuna on restaurant menus.
A blackened mahi sandwich is one of our all-time favorite restaurant items.
While those are all great fish to pair with blackening seasoning, cod, trout, sea bass, and shrimp work, too.
Some steakhouses will over a blackened steak on the menu, so this would be a great spice blend to use on a new york strip steak or ribeye.
But for basic family cooking at home, I use blackening seasoning the most often on chicken thighs, chicken breasts, or chicken tenderloins.
Blackened Seasoning Recipes
With your prepared spice blend in hand, you're now ready to make several delicious family dinners at home.
Here are a few of our favorites:
Blackened Salmon
Blackened salmon is one of the easiest variations for my easy oven baked salmon recipe. Just substitute this blackened spice for the salmon seasoning that recipe card calls for, the cooking instructions are the same.
Turn it into a full meal with one of these easy salmon side dishes.
Blackened Tilapia
If you prefer to grill fish outdoors, you could make a blackened tilapia using my seasoned grilled tilapia recipe.
The mild flavor of tilapia is definitely enhanced by this flavorful spice blend.
Blackened Shrimp
Use this spice blend on a batch of frozen shrimp in the air fryer to make easy blackened shrimp.
They are a great addition to a pasta dish like the homemade alfredo sauce I mentioned earlier.
You could also tuck them into a crispy roll with fresh lettuce, tomato, and a drizzle of my remoulade sauce for an easy homemade shrimp po'boy sandwich.
📖 Recipe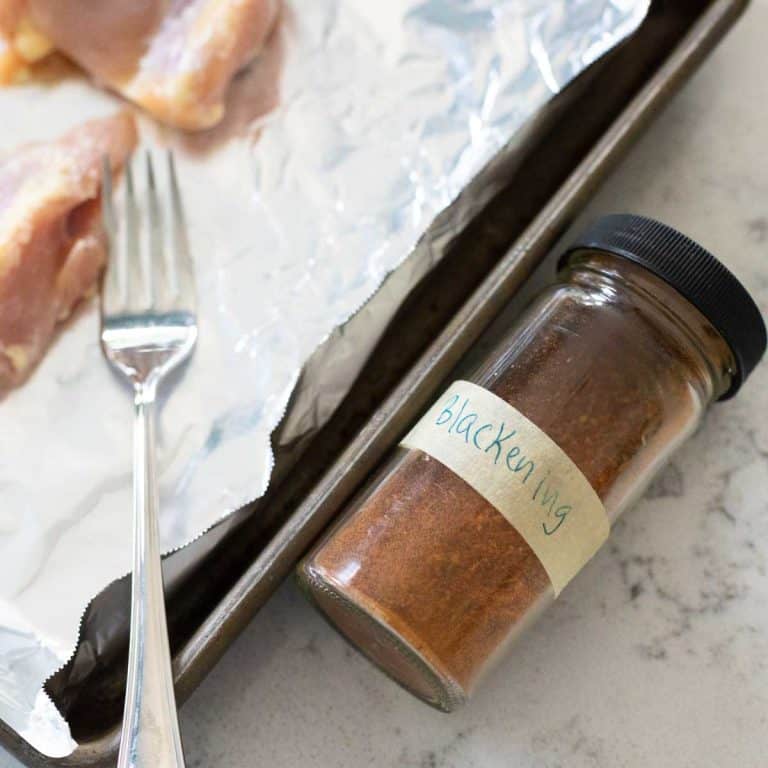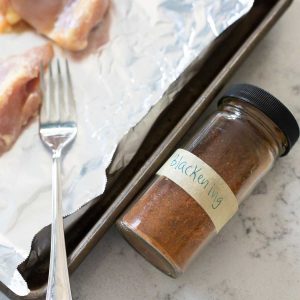 Homemade Blackening Seasoning
Get ready for a mouthwatering meal thanks to this incredible spice blend. Taking cues from the rich and zesty Cajun cuisine, this seasoning rub is the ultimate game-changer for your grilled fish, chicken, steak, or pork. It's got just the right balance of sweetness and a spicy kick to make every bite better than the last.
Ingredients
1

tablespoon

sugar

1

tablespoon

kosher salt

1

teaspoon

freshly ground black pepper

1

teaspoon

cayenne pepper

1

tablespoon

paprika

1

teaspoon

powdered onion

1

teaspoon

powdered garlic

1

teaspoon

thyme

½

teaspoon

oregano
Instructions
Stir all the ingredients together and store in an air-tight container like an empty spice jar with shaker lid for up to 6 months. The spice blend will not go bad but will lose the strength of its flavor after that time.
Save This Recipe to Your Recipe Box
Find this delicious recipe next time you visit by saving it to your very own recipe box on my site. All your favorites stored in one easy place!