Why buy a jar from the store when making a homemade Alfredo sauce with cream cheese is this easy?? Just 5 ingredients from your pantry make the real thing taste so much better. You can use fat-free dairy products to help make a lighter Alfredo sauce for your family.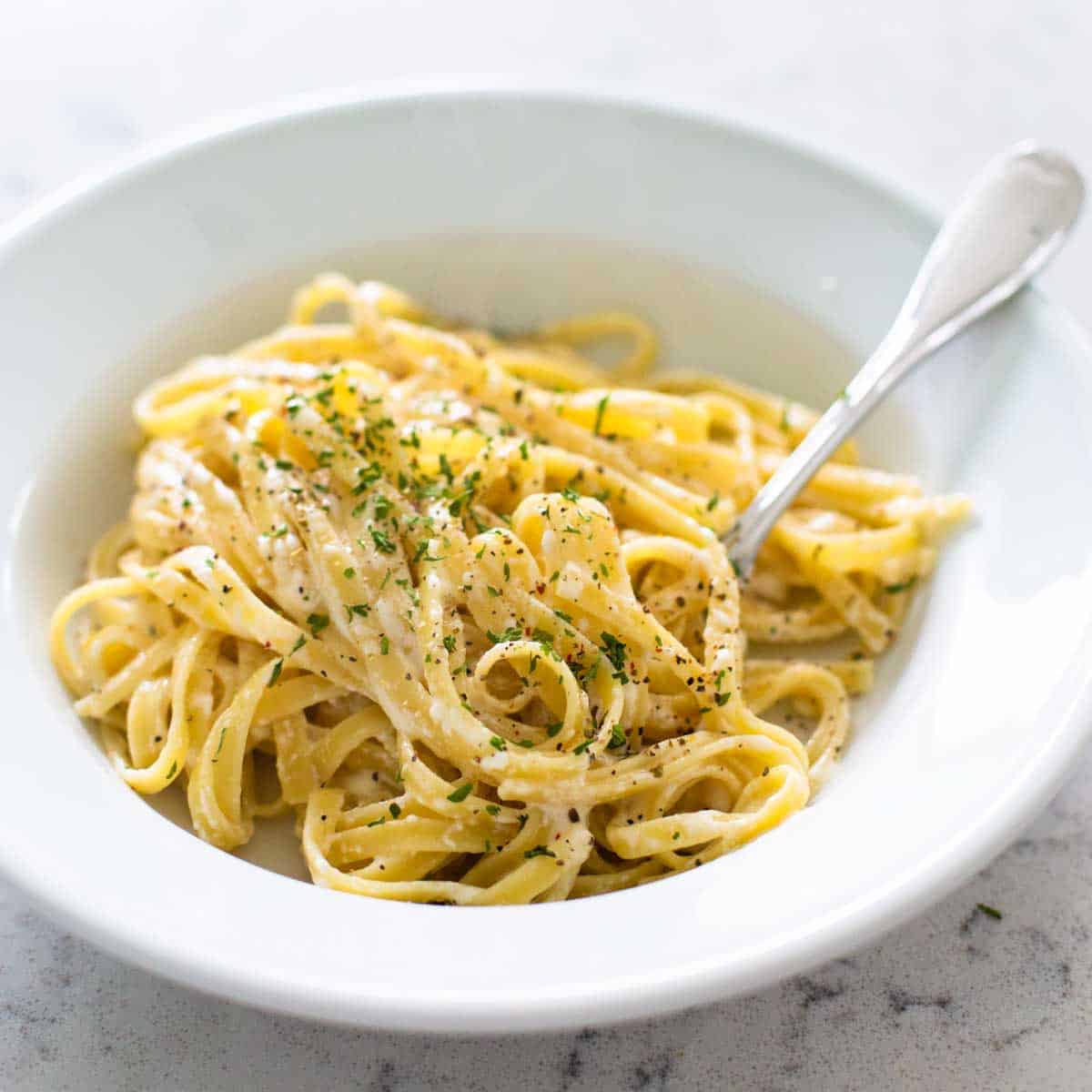 I first started making this recipe out of a Friday night desperate pantry raid.
We were trying to avoid meat because of Lent and I needed an easy dinner for the kids.
I remembered my friend Michelle mentioning an awesome Alfredo sauce she made that involved cream cheese. That sounded like such a fantastic trick to making a thick rich Alfredo sauce, I had to try it too.
My daughter and I literally devoured this dish.
It is by far the absolute best homemade Alfredo sauce I have ever had. The cream cheese makes it a touch tangier than restaurant versions, but this is pure comfort food heaven.
Since that first experiment so many years ago, this has become a dinnertime staple.
I use it as the base for several alfredo recipes like chicken alfredo rice casserole, my pesto alfredo chicken pasta, and easy chicken spinach alfredo pizza.
Jump to:
Why is this the best homemade Alfredo sauce?
This beats store-bought packaged sauce by miles and miles with just a fraction of the sodium and preservatives and only takes a few minutes to make.
I toned down the fat content by using fat-free cream cheese and milk, so I honestly don't even feel very guilty about this dish overall, especially when compared to traditional Alfredo sauce made with heavy cream.
For growing peanuts out there, especially ones who don't like to drink a lot of milk straight from a glass, it is a fantastic way to get extra calcium into them.
Once picky eaters discover this, the alfredo sauce is perfect for coating green veggies like peas or chopped broccoli.
Ingredients
As long as you have fresh milk, most of the ingredients can be kept on hand for a quick dinner fix: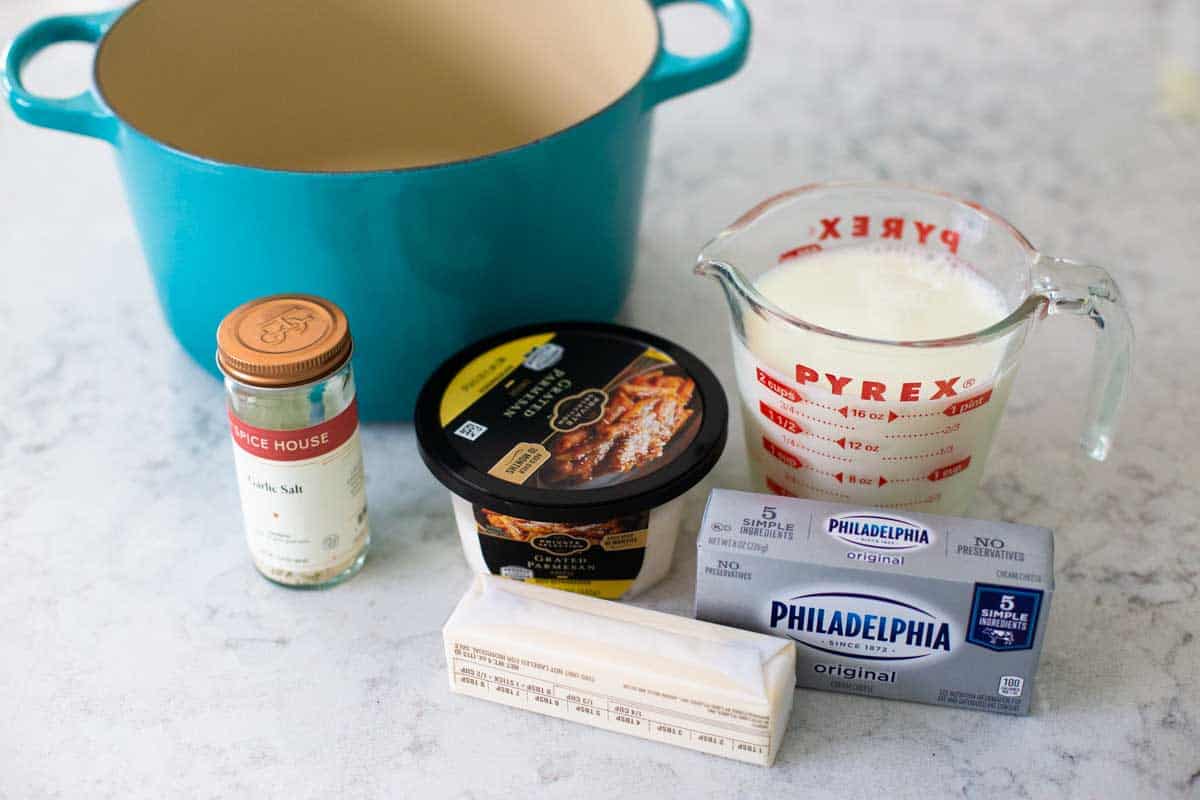 Cream cheese
Grated parmesan
Milk
Butter
Garlic salt
See recipe card for quantities.
Instructions
Set a large sauce pot over medium-high heat and add the butter to the pot to begin to melt.
Meanwhile, prep the milk and cream cheese.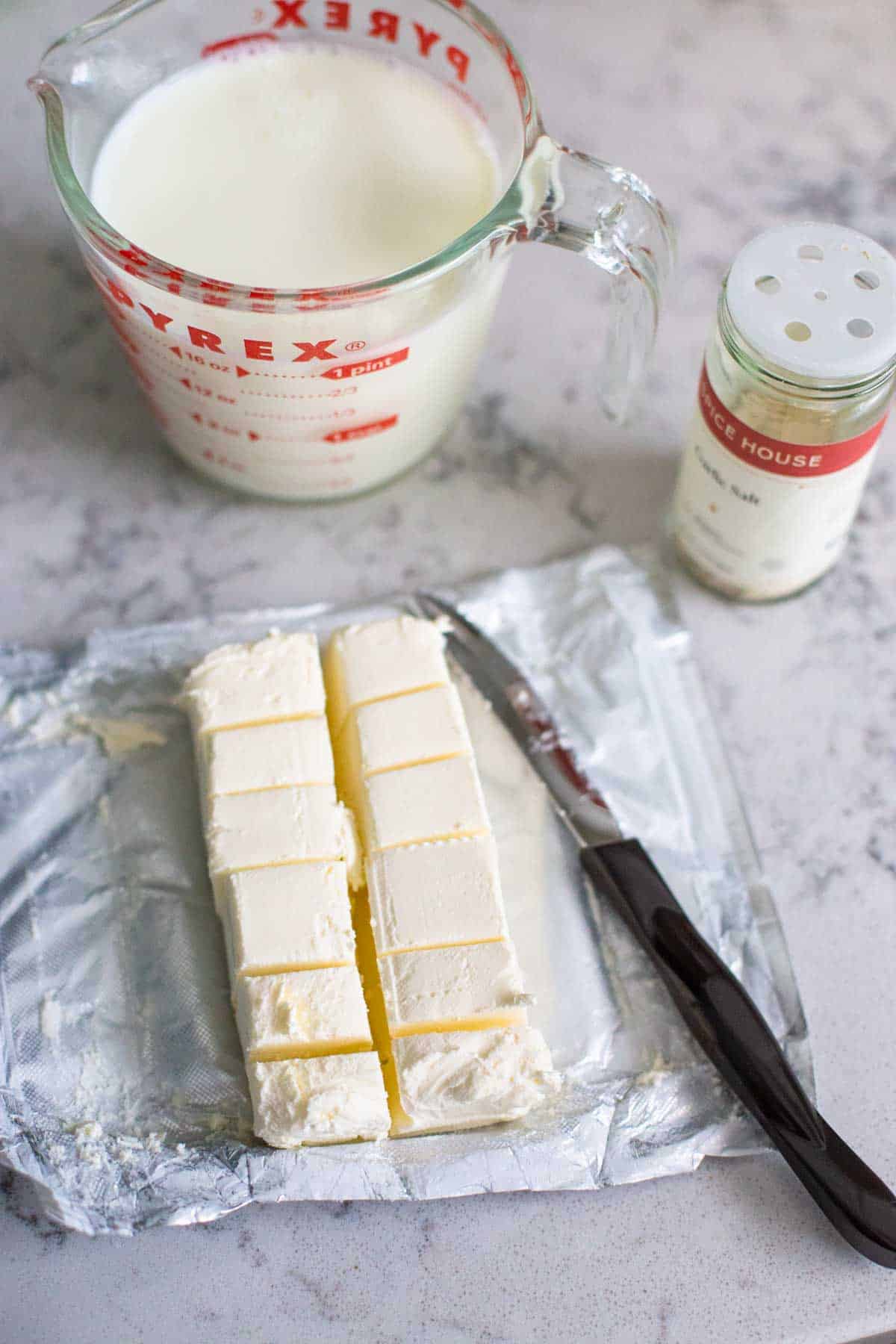 To help the cream cheese melt more smoothly, I cut the brick into smaller squares and set it by the stove for easy grabbing.
Pour and measure the milk and set it by the stove, too.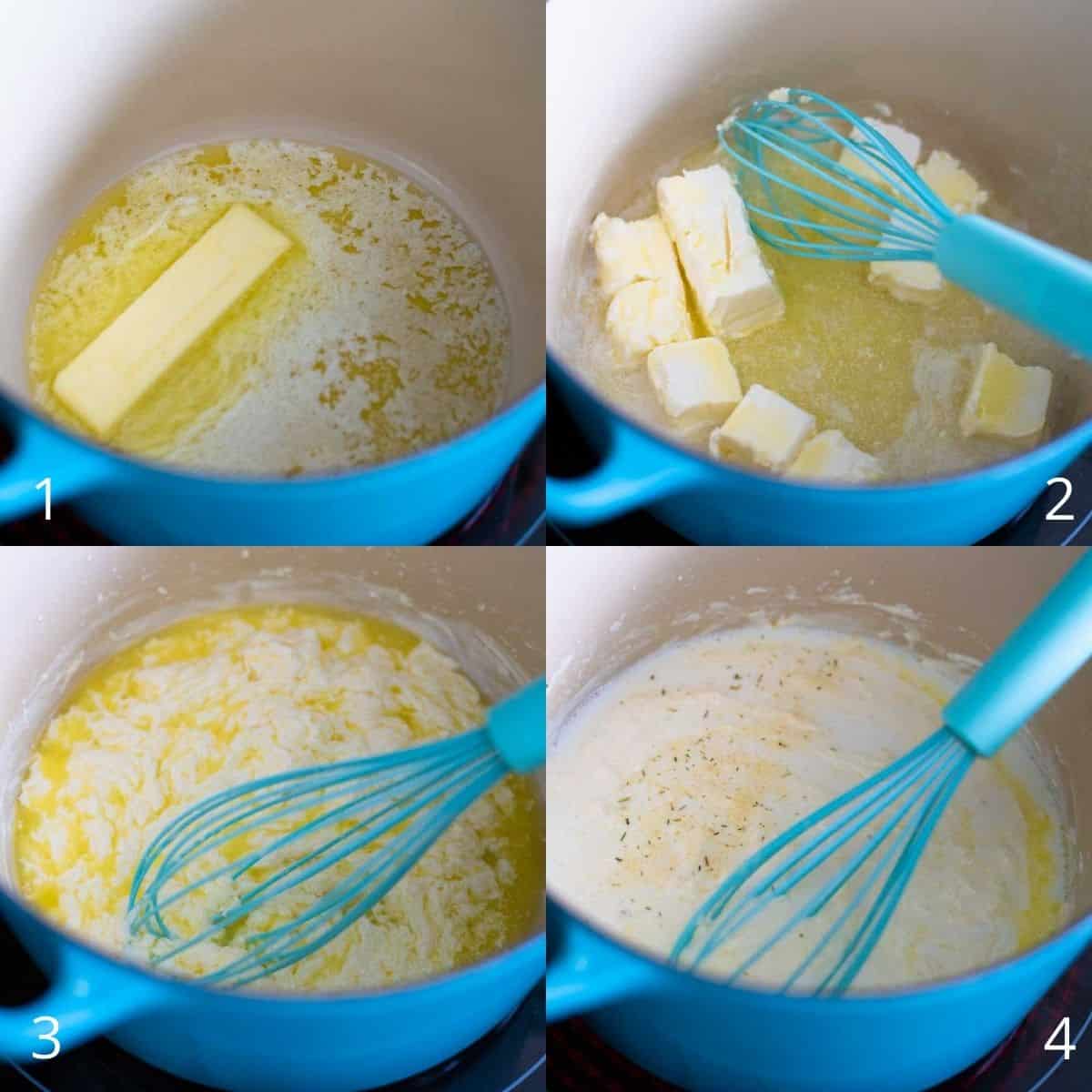 Once the butter has completely melted, add the squares of cream cheese to the pot and gently stir with a whisk.
As the cream cheese melts, the butter will make it look a bit curdled, don't panic. (See step 3 in the photo above.)
Just keep mixing and whisking and the butter and cream cheese will come together. (Step 4.)
Sprinkle in the garlic salt and pour in the milk. Whisk until smooth.
Continue to cook until the sauce begins to thicken slightly, about 5 - 7 minutes.
Finally, add the grated parmesan and whisk until smooth. This will help to thicken the sauce quite a bit.
Hint: If your alfredo sauce gets too thick, you can add a splash of milk to thin it out.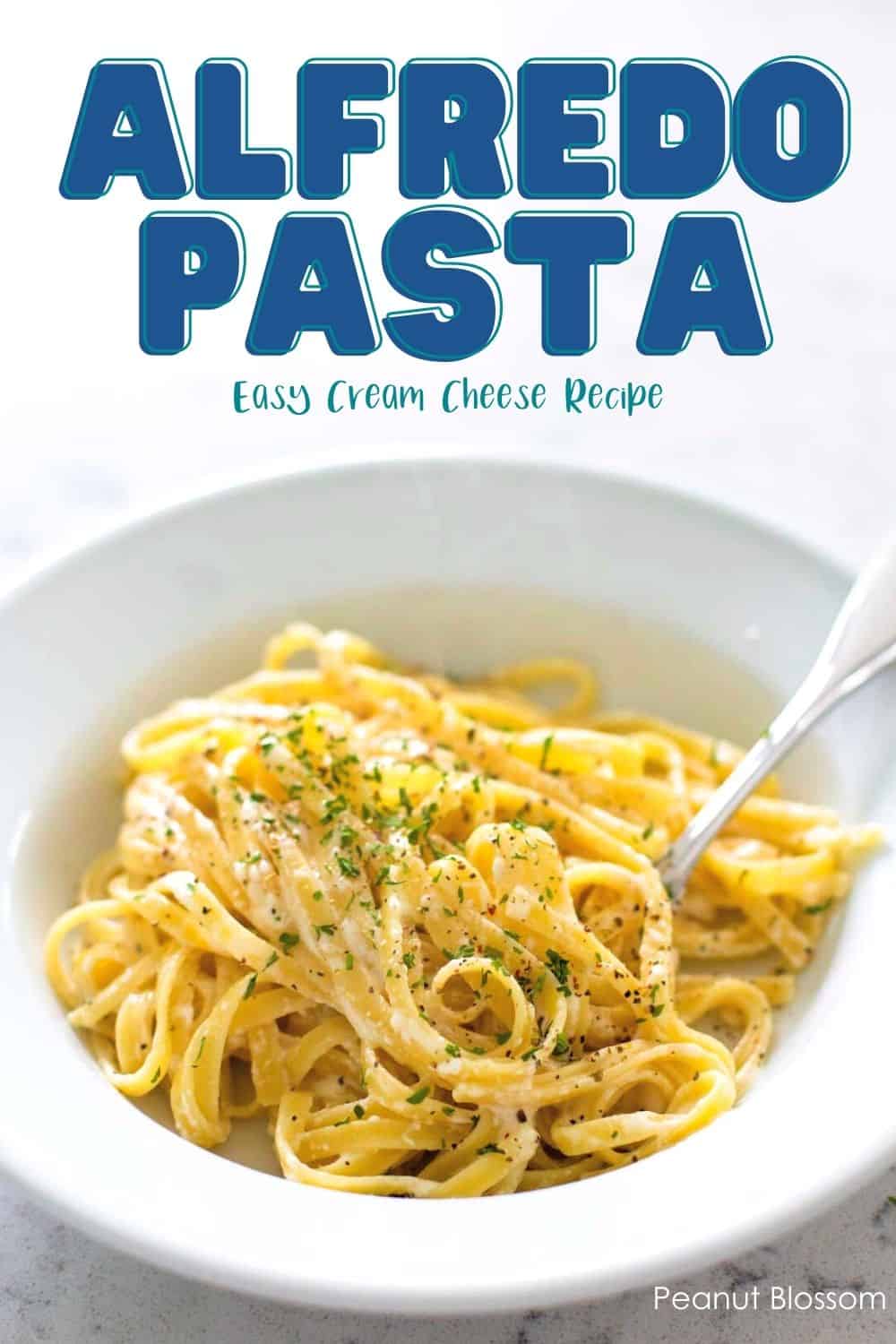 Top tip
Freshly cooked pasta will soak up the sauce quickly. I like to toss the pasta with the sauce and let it sit for a brief minute and then spoon a little more sauce over the top just before serving.
Variations
There are so many ways you could mix and match the ingredients you toss into alfredo pasta to create new dishes from the one sauce.
1. Vegetarian Alfredo Pasta
Toss in your favorite combination of these vegetables:
roasted or steamed broccoli
roasted or steamed asparagus
roasted bell peppers
roasted cherry tomatoes
frozen green peas
2. Perfect Protein Toppers
Cajun Chicken Alfredo - Season your chicken tenderloins with a simple Cajun seasoning blend. Toss in roasted bell peppers an onions with the pasta and aflredo sauce.
Spicy Shrimp Alfredo - Season your shrimp with your favorite herb blend or this simple seasoning mix and add your favorite veggies
Storage
Store any leftover sauce in the fridge for 3 - 4 days in an airtight container.
These ingredients don't stand up well to freezing and could easily separate and be unappealing once frozen.
Which other recipes can I use with this pasta sauce?
This easy recipe makes a very generous portion of Alfredo sauce but uses the entire brick of cream cheese. Even if you don't think you need all the sauce for one meal, go ahead and make the full recipe.
You can use leftover sauce in:
If you've tried this easy homemade alfredo sauce with cream cheese or any other recipe on PeanutBlossom.com please don't forget to rate the recipe and let me know where you found it in the comments below. I love hearing from you!
FOLLOW along on Instagram @peanut.blossom as well as on Pinterest and Facebook.