Why buy a jar from the store when making a homemade Alfredo sauce with cream cheese is this easy?? The real thing tastes so much better and you can use fat-free dairy products to help make a lighter Alfredo sauce for your family.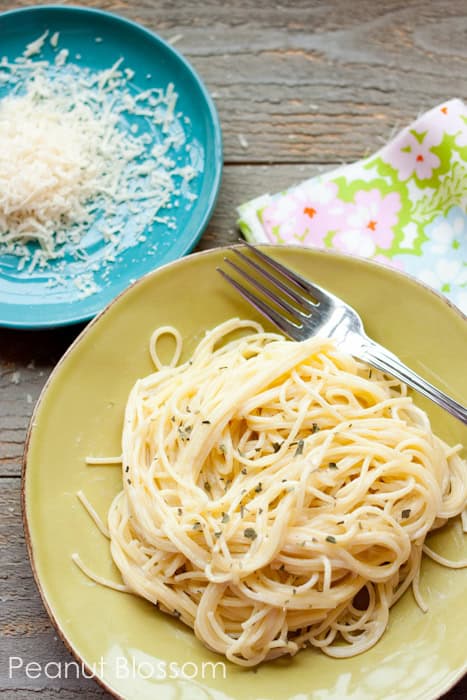 Because of my recent kitchen disasters, we've been eating far too much pizza, macaroni and cheese, and take-out. Friday night came super quickly this week and I just couldn't face those stand-bys. Since we are observing the Lenten fast from meat on Fridays, this made dinner all the more difficult last night.
Too tired to go to the store, I rummaged around in our pantry to see what I could come up with. I remembered my friend Michelle mentioning an awesome Alfredo sauce she made that involved cream cheese. That sounded like such a fantastic trick to making a thick rich Alfredo sauce, I had to try it too.
The peanut and I literally devoured this dish. It is by far the absolute best homemade Alfredo sauce I have ever had. The cream cheese makes it a touch tangier than restaurant versions, but this is pure comfort food heaven. To be fair, Handyman Tim does not approve of me sharing this recipe. He is barely tolerant of white sauces. This is the one time I feel it is crucial to override him and go ahead and post it.
We were lazy last night, but if you mixed in grilled chicken or shrimp and maybe some peas or broccoli, this would be an absolutely phenomenal and easy meal to whip up. Throw some chicken tenderloins in your air fryer for an even easier protein.
Why is this the best homemade Alfredo sauce?
I toned down the fat content by using fat-free cream cheese and milk, so I honestly don't even feel very guilty about this dish overall. For growing peanuts out there, it is a fantastic way to get extra calcium into them and probably a fair amount of green veggies since they'll be coated in that fantastic sauce.
This beats the store-bought packaged stuff by miles and miles with just a fraction of the sodium and preservatives!!
Which other recipes can I use with this pasta sauce?
This makes a very generous portion of Alfredo sauce but uses the entire brick of cream cheese. Even if you don't think you need all the sauce for one meal, go ahead and make the full recipe. You can use leftover sauce in: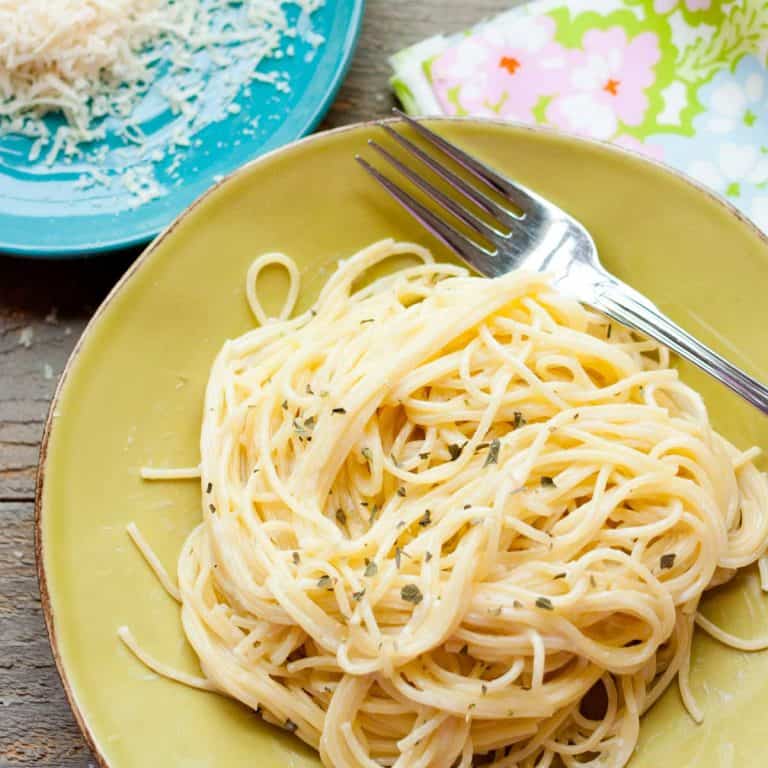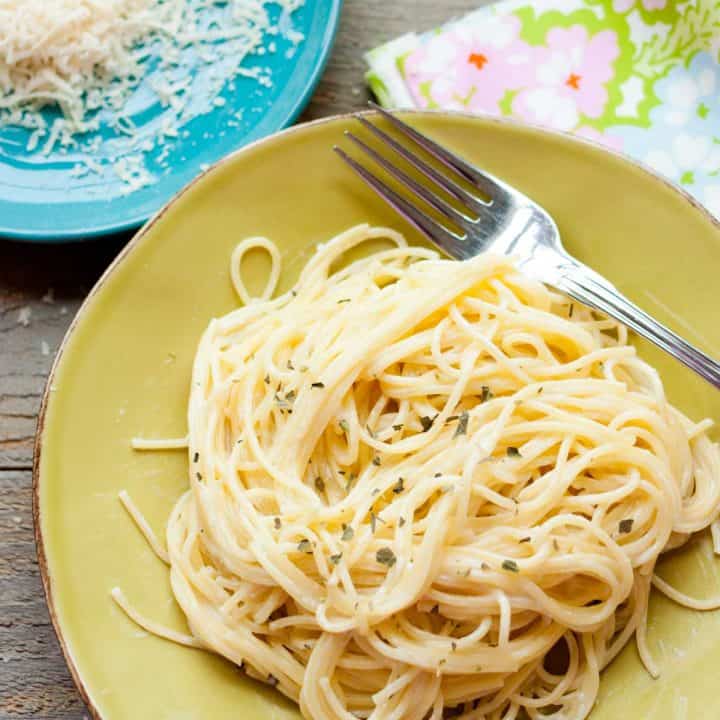 Quick and Easy Alfredo Sauce
This homemade Alfredo sauce is quick and easy to make on a busy weeknight. So much tastier and healthier than the jarred variety, it uses real ingredients you likely already have on hand!
Ingredients
½ cup butter
1 (8 oz) package of cream cheese (I used fat-free)
2 tsp garlic powder
2 cups milk (I used fat-free)
6 oz grated Parmesan cheese
Sprinkle of ground black pepper
Instructions
Melt the butter in a medium, non-stick saucepan over medium heat.
Add the cream cheese and garlic powder, stirring them together with a wire whisk until smooth.
Add the milk, a little at a time, whisking to smooth out any large lumps.
Stir in the grated parmesan and pepper. Remove from the heat when the sauce thickens.
Be careful: the sauce will thicken rapidly, if necessary you can thin it with a splash more milk if it has cooked too long and gotten too thick. Toss with hot pasta to serve.
Notes
This makes a generous portion of sauce. Leftovers can keep in the fridge for 3 - 5 days and used in other recipes. Freezing is not recommended since the dairy will separate when it thaws.