This light entree salad is perfect for a healthy lunch or light dinner. Frozen shrimp are roasted with fresh asparagus and red peppers and tossed in a lemon garlic sauce and served over crisp lettuce.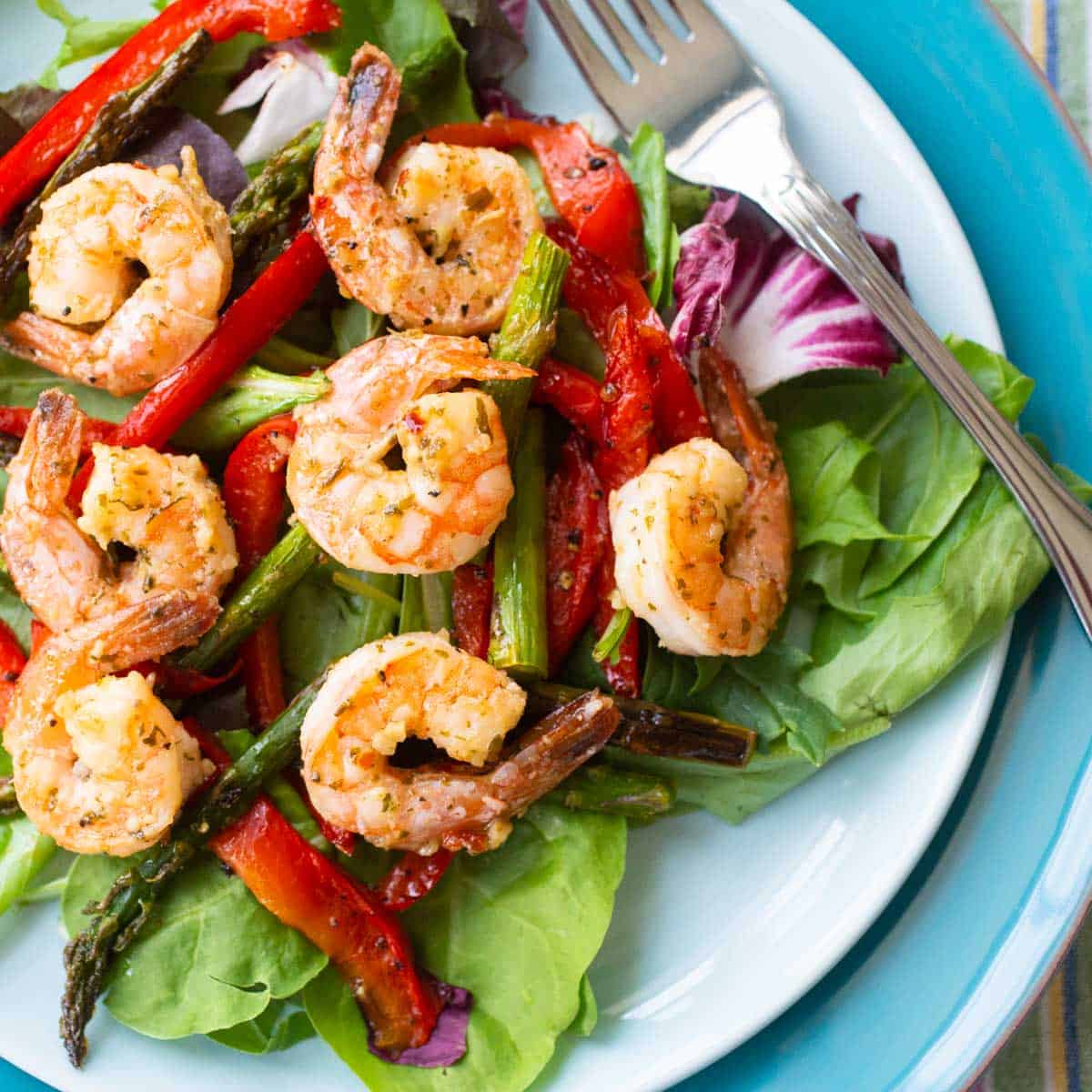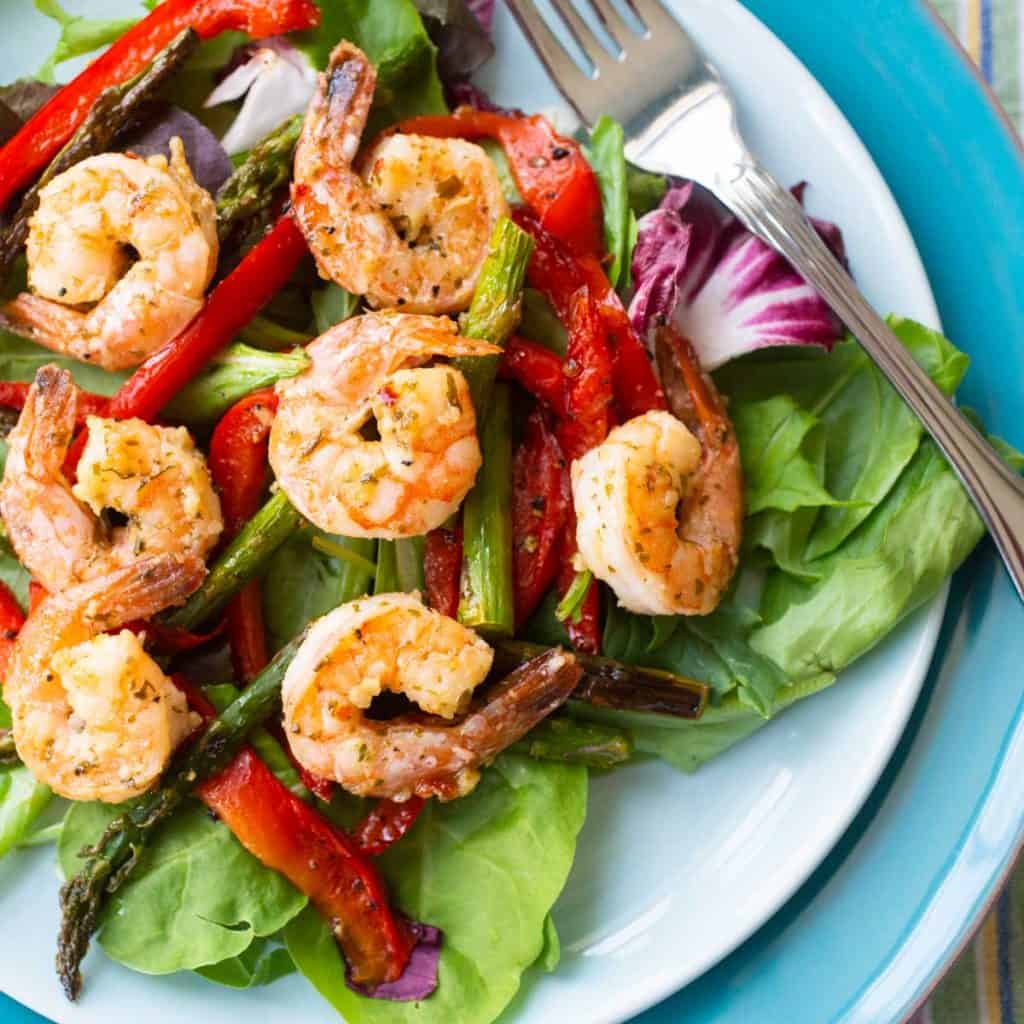 The Peanut is my little shrimp buddy and we love eating it any time of the day. Since Tim isn't as big of a fan, I love to make shrimp salads for us during the day for lunch.
To get perfectly tender shrimp, I just follow a few easy tricks. Most important is knowing exactly how to thaw frozen shrimp so it doesn't come out all soggy.
The precooked shrimp I've found at the grocery store is generally tough and chewy by the time I cook it some more with my favorite stir fry methods. I love to look for RAW frozen shrimp that holds up significantly better to the cooking process.
Since we love roasted shrimp, I wanted to bulk up our salad with a few additional roasted veggies in the mix. Asparagus and red peppers were the perfect choice.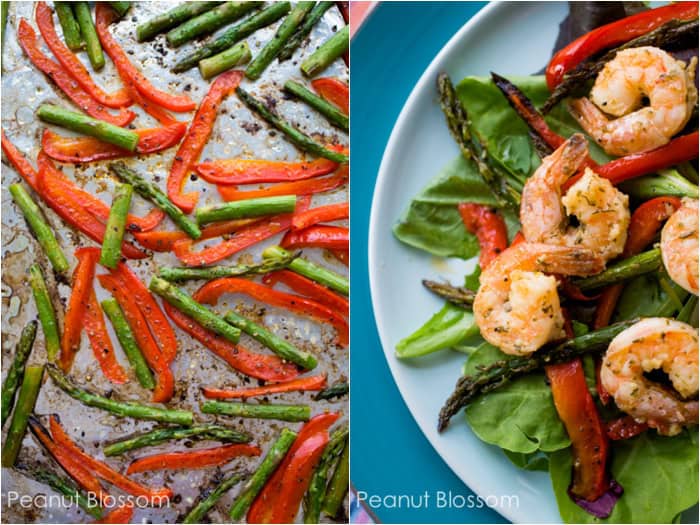 This was one of the quickest little meals ever to pull together and ended up tasting like something I would order at a restaurant. I don't normally go to the extra effort of roasting veggies to put on a salad, but since the prep time was so short for the shrimp, it only took an extra minute.
There's enough yummy lemon garlic sauce from the roasting pan to dress the salad, but if you feel the need for something a little more my lemon dijon dressing would be a perfect match.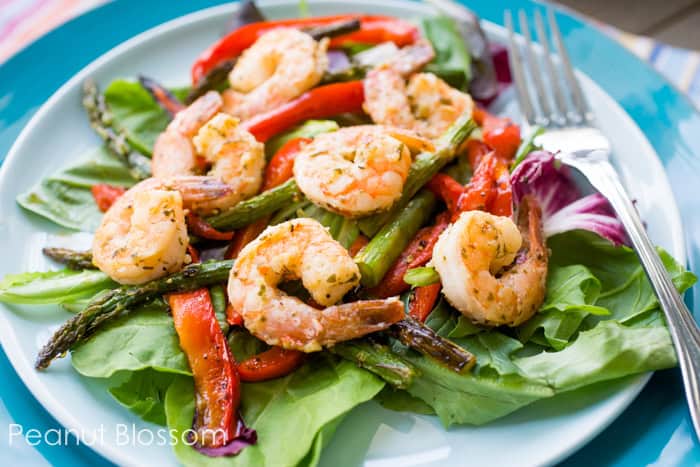 I would happily eat more salads for dinner if they involved as many warm ingredients as this recipe does. It's perfect for a super busy night!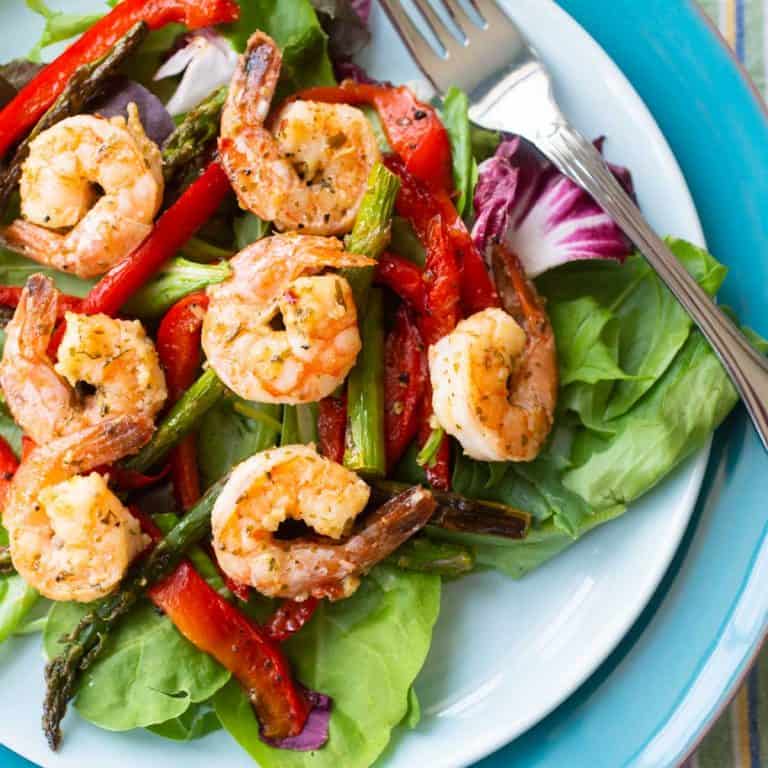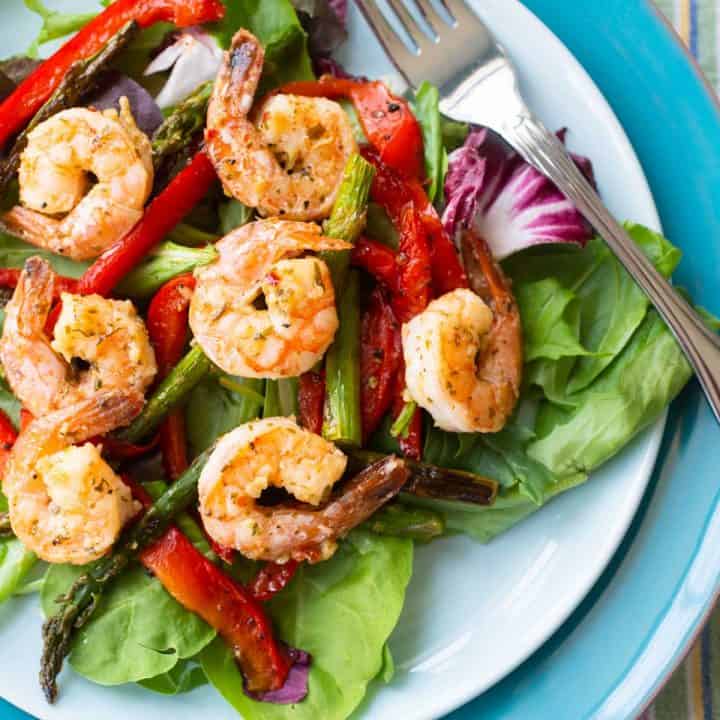 Roasted Lemon Garlic Shrimp and Veggies
This easy entree salad is perfect for a healthy lunch or light dinner. Lemon garlic shrimp is served with roasted veggies over crisp lettuce and drizzled with an olive oil & butter sauce.
Ingredients
12 oz frozen peeled and deveined raw shrimp, thawed
1 bunch fresh asparagus, trimmed and cut into 2-inch pieces
1 red bell pepper, seeds removed and cut into strips
2 tbsp olive oil
2 tbsp butter, melted
2 tsp minced garlic
Salt & Pepper to taste
Juice from one lemon
6 cups of your favorite salad mix (romaine, spinach, spring mix, etc.)
Instructions
Thaw the Shrimp:
Start with perfectly thawed shrimp that has been drained of excess water and patted dry. For full instructions, don't miss how to thaw frozen shrimp.

Roast the Shrimp & Veggies:
Preheat the oven to 425°F.
Line a cookie sheet with tin foil. Toss the shrimp, peppers, asparagus, and garlic in the olive oil and melted butter right on the sheet pan. Spread everything out in a single layer. Sprinkle with a pinch of salt and pepper.
Roast for 10 - 14 minutes or until the shrimp are pink and firm and the veggies are beginning to char.
Drizzle the lemon juice over the shrimp and veggies and toss to combine.
Build the Salad:
Place 1.5 cups of salad mix on each plate and add a generous spoonful of the shrimp and veggie mix. The garlic lemon sauce from the shrimp should be enough to dress your salad.
Notes
This dish can be served hot from the oven for a warm salad or you can let it cool to room temperature. It is best served the day it is prepared.