Frozen shrimp are roasted with fresh asparagus and red peppers and tossed in a lemon garlic sauce and served over crisp lettuce. This light entree salad is perfect for a healthy lunch or light dinner.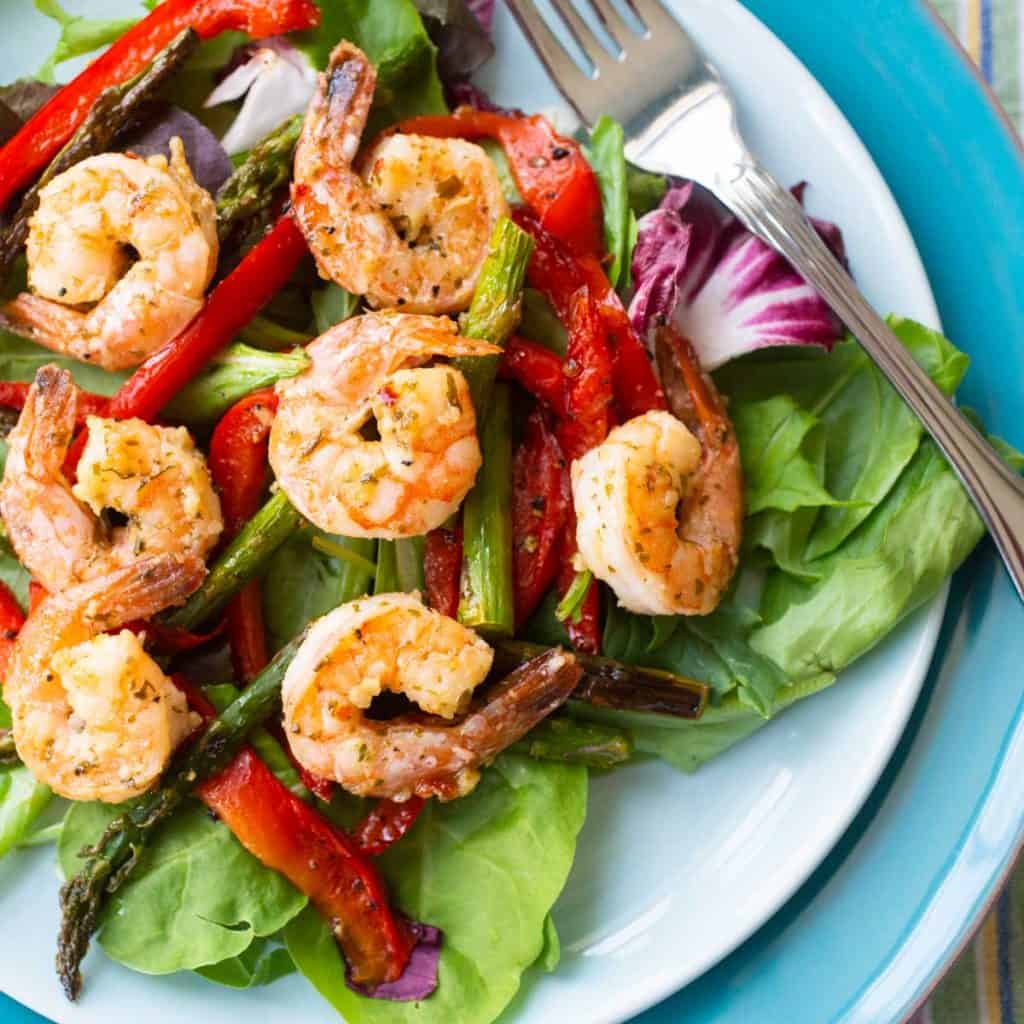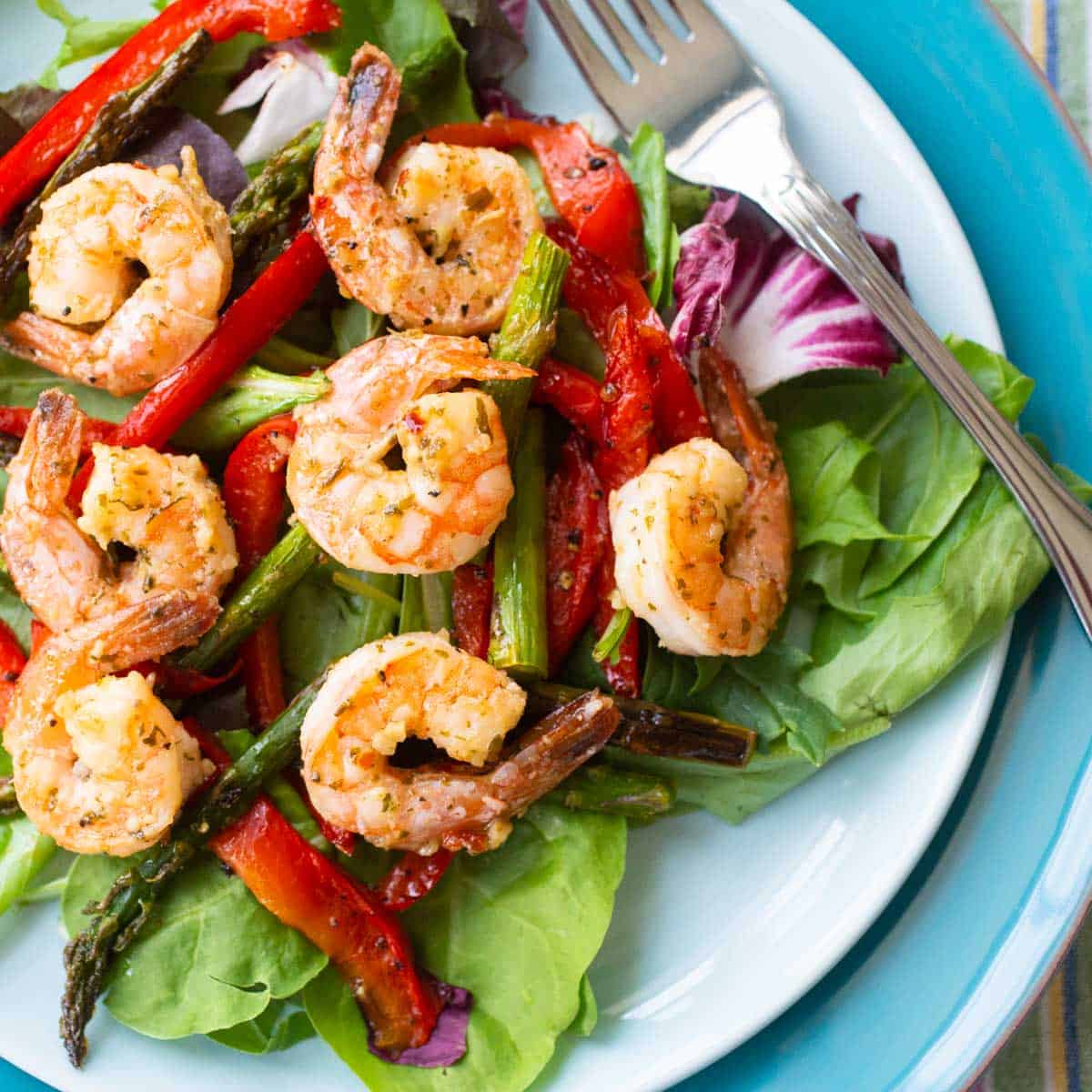 The Peanut is my little shrimp buddy and we love eating it any time of the day. Since Tim isn't as big of a fan, I love to make shrimp salads for us during the day for lunch.
To get perfectly tender shrimp for a simple meal, I just follow a few easy tricks. Most important is knowing exactly how to thaw frozen shrimp so it doesn't come out all soggy.
Since I knew we already love roasted shrimp, I wanted to bulk up our shrimp salad with a few additional roasted veggies in the mix. Asparagus and red peppers were the perfect choice.
This quick and easy recipe is perfect for a hearty lunch or a light dinner and takes just minutes to prepare.
Jump to:
Ingredients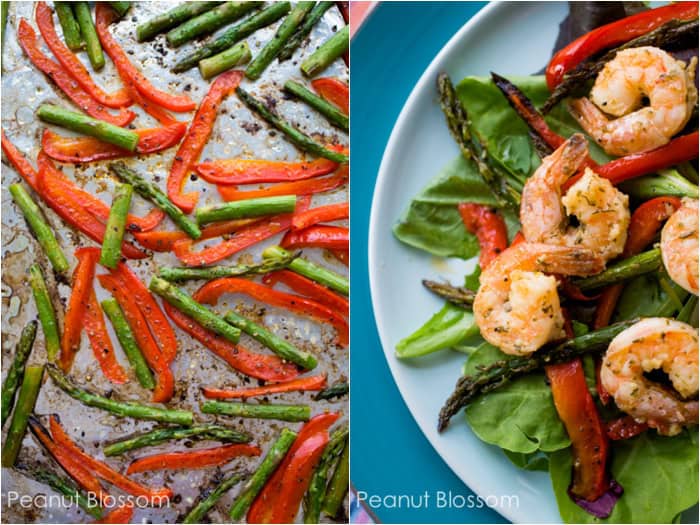 This was one of the quickest little meals ever to pull together and ended up tasting like something I would order at a restaurant.
To make it yourself, all you'll need is:
Peeled and deveined raw shrimp
Asparagus
Bell pepper
Lemon
Your favorite salad mix
Olive oil and butter
Minced garlic
There's enough yummy lemon garlic sauce from the roasting pan to dress the salad but if you feel the need for something a little more, either my lemon dijon marinade/dressing or lemon parmesan vinaigrette would be a perfect match.
Roast on One Pan
You will love how easy this sheetpan recipe is to make.
Toss the chopped red bell pepper, fresh asparagus and shrimp together with the minced garlic, melted butter, and olive oil on a baking sheet lined with aluminum foil.
It all bakes together at 425°F.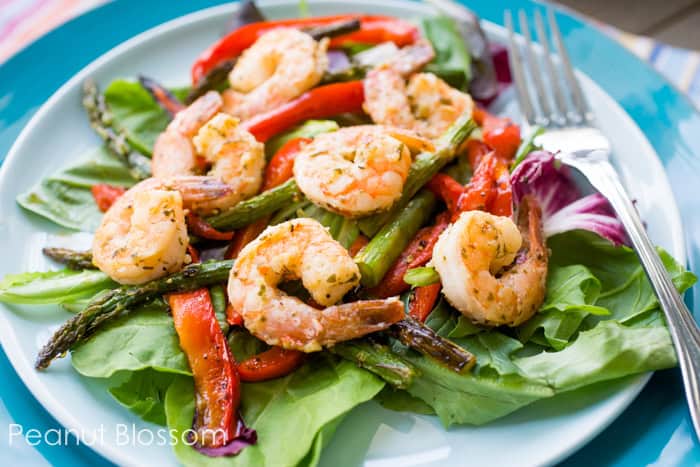 Build the Salad
Lay a bed of your favorite greens on your plate and then top with the cooked shrimp and veggies.
Drizzle with additional dressing as desired.
I would happily eat more salads for dinner if they involved as many warm ingredients as this recipe does. It's perfect for a super busy night!
Alternative Serving Suggestions
If you want a heartier meal than just a salad, you could easily use the shrimp and roasted veggies to top a rice bowl. My favorite herb butter rice or even this sticky butter rice would be perfect matches.
Warm homemade garlic bread would also make a perfect side dish.
In the mood for pasta? Top a bowl of this easy pasta with alfredo sauce with the shrimp and veggies for extra flavor.