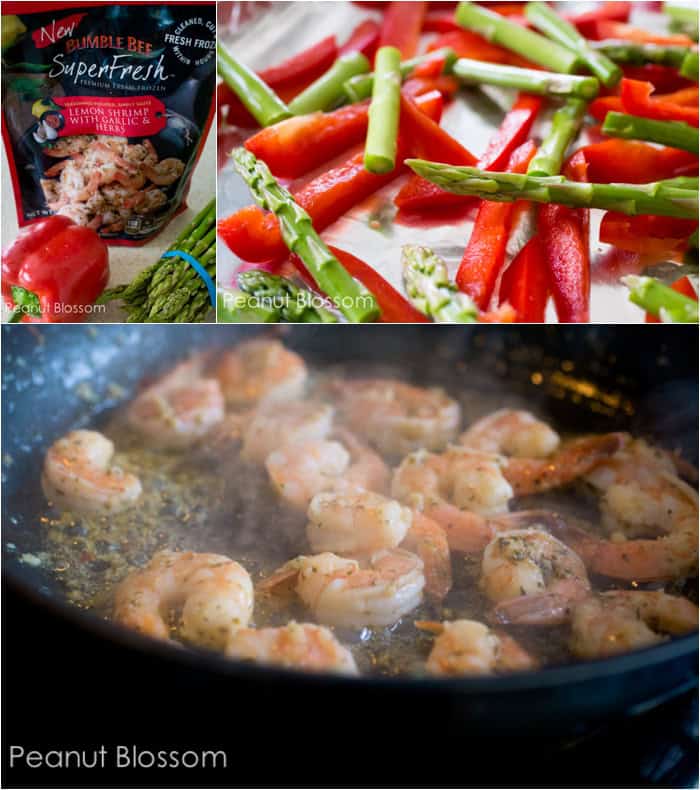 Want to know a secret? I could sooooo easily be a vegetarian if it weren't for one problem: I love eating seafood and meat.
What I don't love? Handling it in it's raw form.
I would say that handling and preparing raw meats was one of the biggest hurdles I had to overcome when I was a newlywed and started preparing real meals for Tim and myself. But though I figured out workarounds for chicken, beef, and pork, it was YEARS before I ventured into seafood territory.
I LOVE shrimp. I could eat it several times a week but cleaning it and shelling it?? omgnoway.
The precooked shrimp I've found at the grocery store is generally tough and chewy by the time I cook it some more with my favorite stir fry methods. I love to look for RAW frozen shrimp that holds up significantly better to the cooking process so when I was asked to sample the Bumble Bee SuperFresh® Lemon Shrimp with Garlic & Herbs for a spring recipe, I was absolutely intrigued.
The Bumble Bee SuperFresh® Lemon Shrimp with Garlic & Herbs comes with cleaned and prepared raw shrimp frozen in a separate pouch from a few pats of butter infused with garlic and herbs. I'm always skeptical of pre-made sauces because they usually have all kinds of preservatives, but the ingredient list on the package is absolutely pronounceable and sounds more like a recipe checklist:
shrimp
water
salt
butter
fresh lemon juice
garlic
extra virgin olive oil
white wine
fresh lemon peel
parsley
red pepper
sea salt
black pepper
That's IT. I typed that up reading directly off the package and am sharing it verbatim. That list looks frightening close to the exact recipe I use to make my favorite shrimp scampi.
Look at those pats of butter: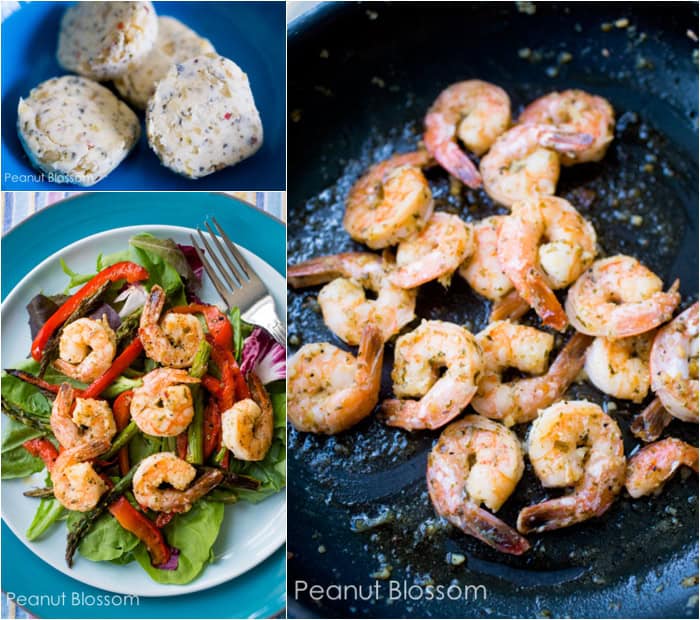 So a recipe?? For this yummy product? My Peanut is my "shrimp buddy" and the only other one in the family who loves it like I do. She saw me sautéing the shrimp for this project and begged to sample it. We could easily have just eaten them straight out of the pan, nothing else required.
But since woman cannot live on shrimp alone, I decided to pair it with my very favorite veggie side dish -- roasted asparagus. To add some extra color and flavor, I sliced up a red bell pepper to add to the mix.
We've been eating too much pasta lately, and it took all my strength to not toss these little beauties into a huge steaming pile of angel hair. Instead, I put them over a bed of spring herbs and lettuces.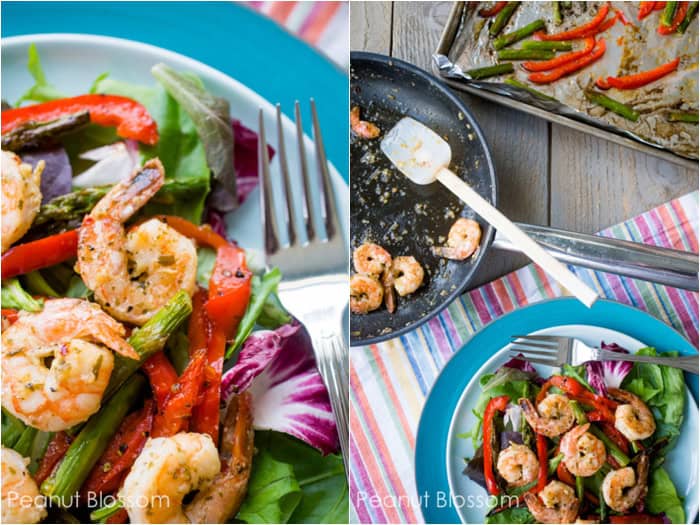 The veggies were perfection. So they cooked evenly and quickly, I sliced the pepper thinly and cut everything into 2 inch strips. They got the perfect amount of char on them: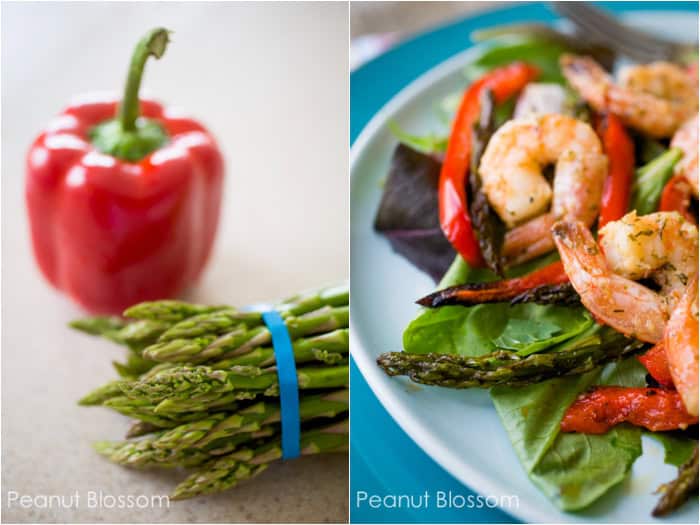 And knowing this would become a salad, I stressed over what dressing to make for it. In the end, there was SO much flavor from the shrimp and sauce and the roasted veggies, there was no dressing needed at all. If you really really insisted, I had a mustard and lemon vinaigrette waiting in the wings that would have been perfect.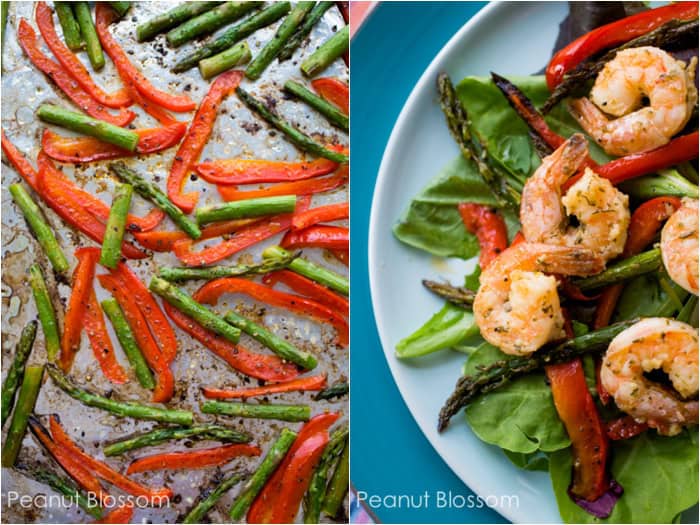 This was one of the quickest little meals ever to pull together and ended up tasting like something I would order at a restaurant. I don't normally go to the extra effort of roasting veggies to put on a salad, but since the prep time was so short for the shrimp, it only took an extra minute.
I would happily eat more salads for dinner if they involved as many warm ingredients as this recipe does and this is a grocery store product I can feel really good about feeding to the family. Perfect for a super busy night!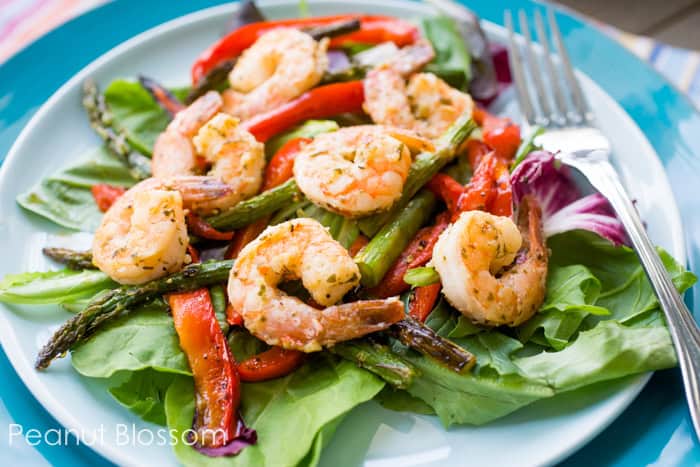 Roasted red pepper and asparagus side dish
Ingredients:
asparagus, trimmed into 2 inch pieces
red bell pepper, sliced thin and trimmed into 2 inch pieces
extra virgin olive oil
fresh squeezed lemon juice
salt & pepper
Preheat the oven to 450 degrees. Line a cookie sheet with tin foil. Toss veggies in a drizzle of olive oil and spread in a single layer. Squeeze half a lemon of the veggies. Sprinkle with salt and fresh cracked peppercorns.
Roast for 10-15 minutes while you prepare the shrimp. They take about the same amount of time and should finish together.