This homemade garlic bread is so much better than the stuff that comes in the freezer section and is easy to prep ahead of dinnertime.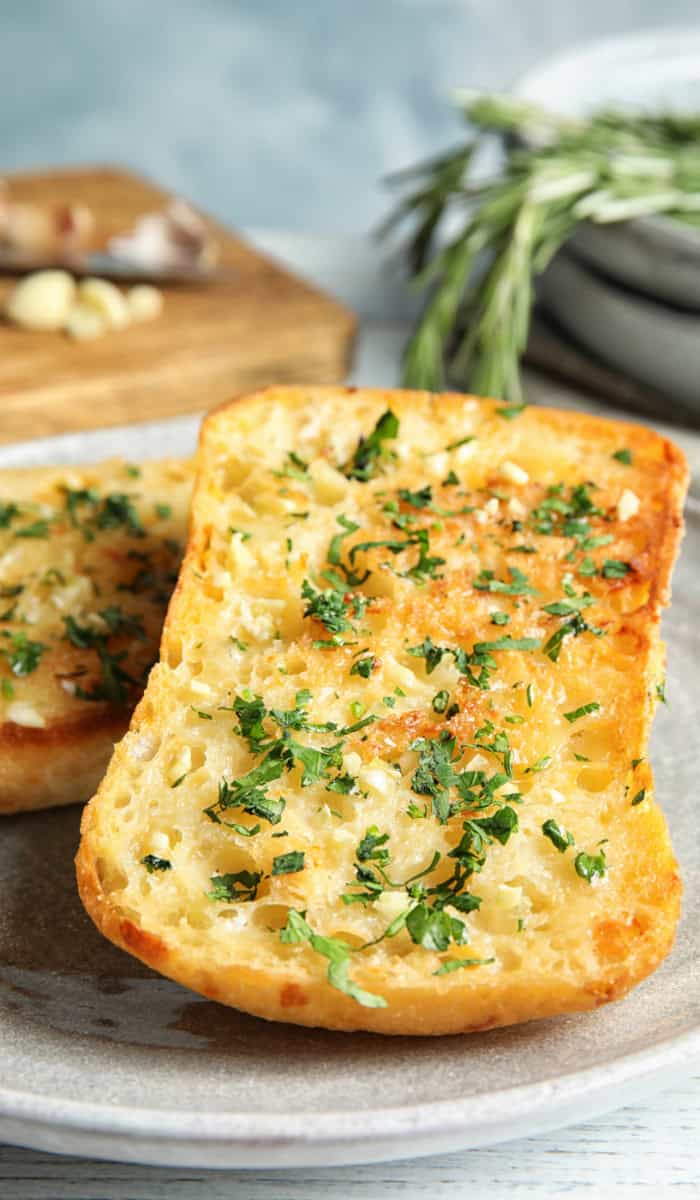 Garlic bread could practically be a dinner all by itself in our home. We all absolutely love dunking a buttery crispy slice of garlic toast into our pasta sauces.
You can find things that pass as garlic bread in the freezer section of your grocery store but there is absolutely nothing that tastes quite as good as the homemade kind. All you need is a quality loaf of fresh bread.
Fun Fact: We're going to be cooking an entire week of meals LIVE from the rental kitchen at our beach condo in North Myrtle Beach next month. This homemade garlic bread is an essential element of two of the six easy dinners I'll be demonstrating to inspire you to do a little cooking of your own this summer.
Get all the details on the week of beach house recipes here.
Fun variations for homemade garlic bread:
The classic garlic bread recipe below is nearly perfect as-is. However, if you want to mix things up a little bit, you may enjoy trying one of these variations:
Add 1 tsp crushed red pepper flakes to the butter to make a spicy version
Swap dried thyme for the parsley for a toasted bread that goes great with beef stew
Swap ¼ cup olive oil for the butter and rosemary for the parsley for a more Italian-inspired bread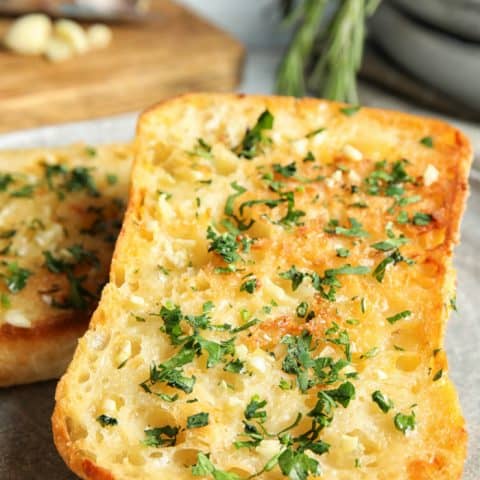 Homemade Garlic Bread
Easy homemade garlic bread is the perfect quick side dish for a busy weeknight dinner.
Ingredients
1 loaf crusty French or Italian bread
4 tbsp butter, softened
2 tbsp grated parmesan cheese
2 tbsp chopped fresh parsley
1 tsp minced garlic
Instructions
Preheat the oven to 400 degrees.
Slice the loaf of bread in half lengthwise and lay the pieces cut-side up on a large cookie sheet.
Use a fork to combine the butter, parmesan, parsley, and garlic together in a small bowl. Spread it evenly over both halves of the bread.
Bake the bread for 10 - 15 minutes or until it is golden brown and crispy.
Slice the bread into 2-inch pieces before serving.
Notes
Make-ahead Tips:
You can store prepared (but not baked) garlic bread in the freezer.
After you spread the butter mixture over the bread, put the two halves of bread back together sandwich-style. Wrap tightly in aluminum foil and freeze.
You can bake the bread from frozen but it works better if you thaw it for a few hours in the fridge so you can open the pieces up to let the butter surface brown properly in the oven.