This homemade garlic bread is so much better than the stuff that comes in the freezer section and is easy to prep ahead of dinnertime.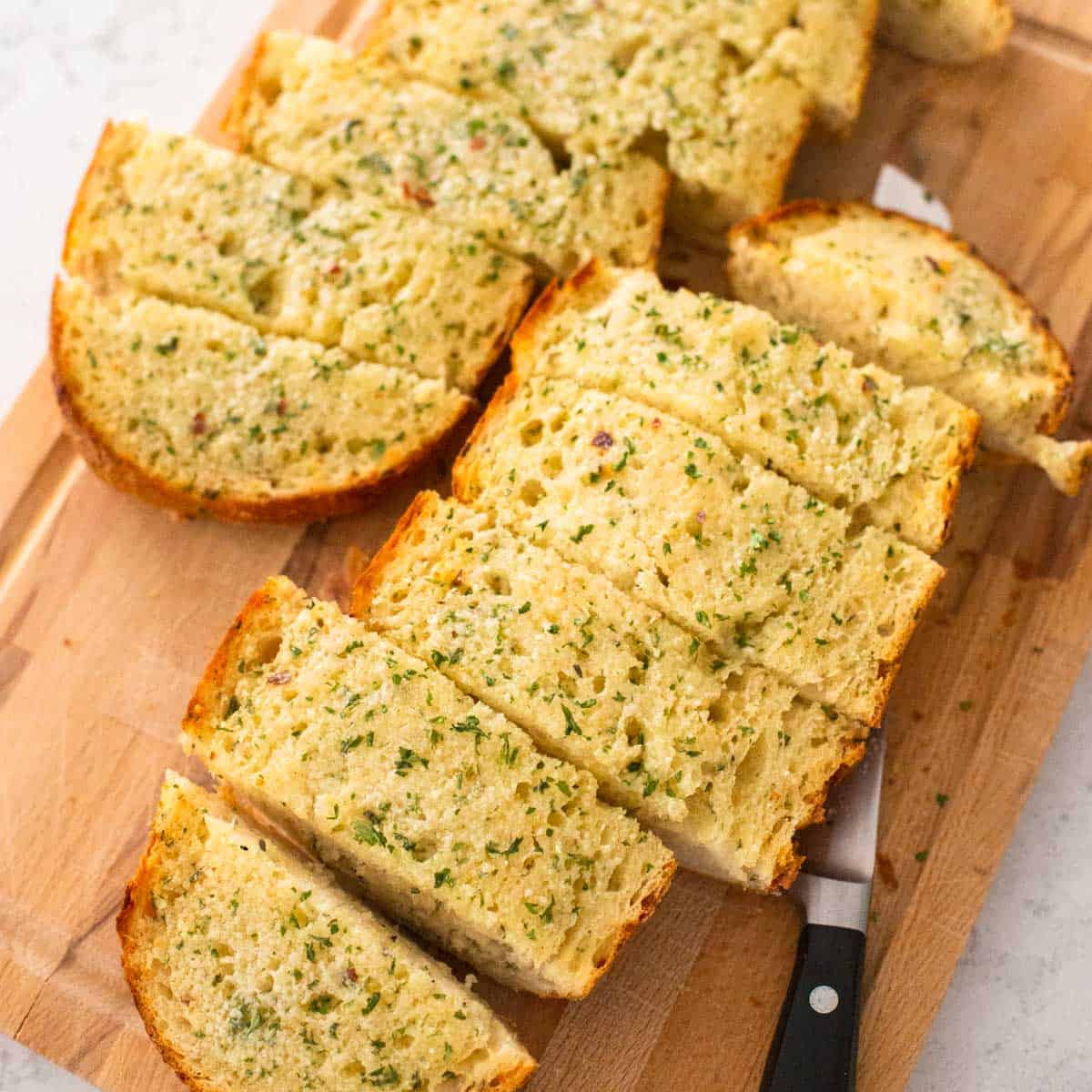 Garlic bread could practically be a dinner all by itself in our home. We all absolutely love dunking a buttery crispy slice of garlic toast into our pasta sauces.
You can find things that pass as garlic bread in the freezer section of your grocery store but there is absolutely nothing that tastes quite as good as the homemade kind.
All you need is a quality loaf of fresh bread and a bit of butter with some simple seasonings.
Fun Fact: We're going to be cooking an entire week of meals LIVE from the rental kitchen at our beach condo in North Myrtle Beach next month. This homemade garlic bread is an essential element of two of the six easy dinners I'll be demonstrating to inspire you to do a little cooking of your own this summer.
Get all the details on the week of beach house recipes here.
Jump to:
Ingredients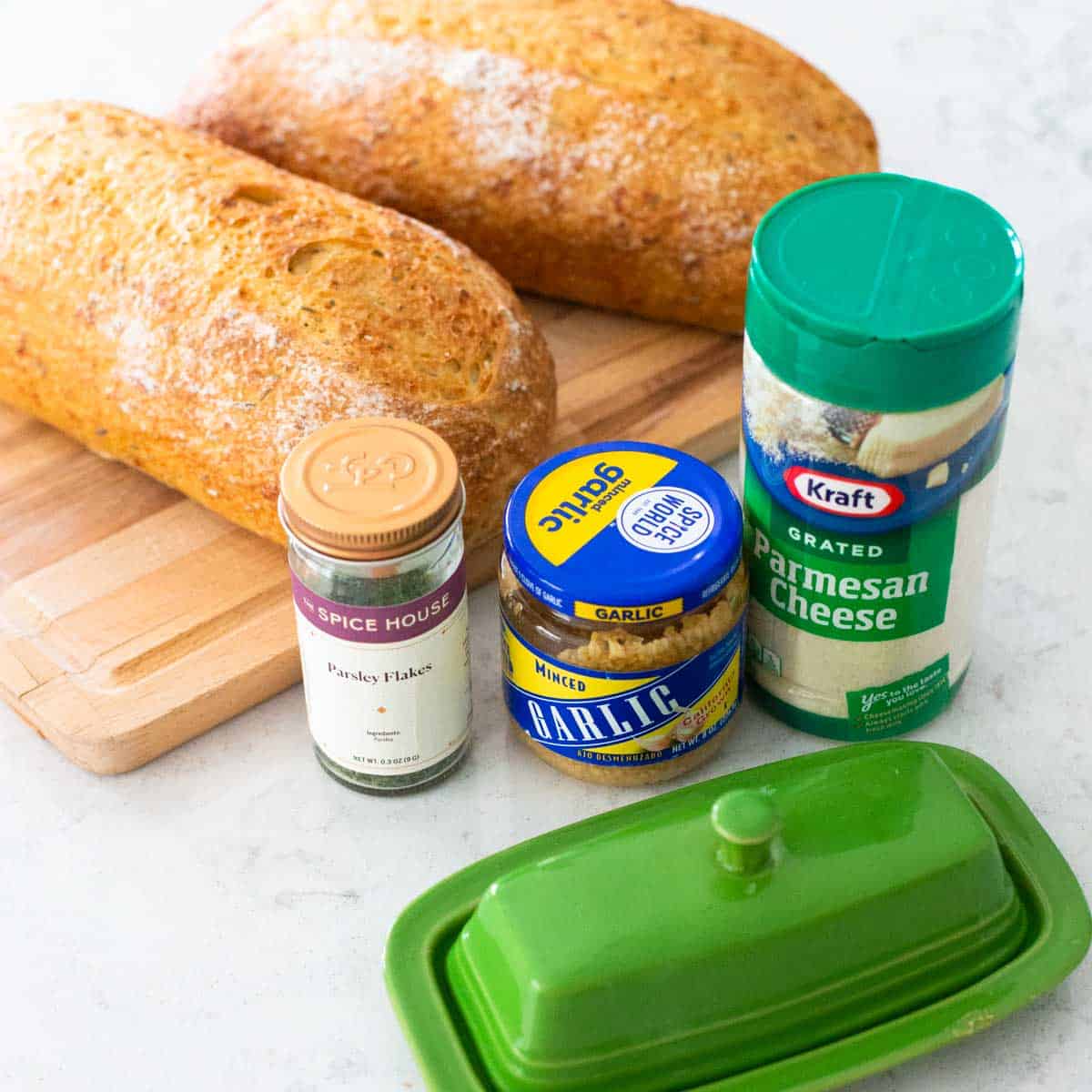 Fresh loaf of bread: I love to use a crusty French or Italian bread for this recipe. A ciabatta loaf would work well too. Costco sells an amazing 2-pack of Italian bread loaves that allow you to double the recipe and freeze one for later.
Butter
Grated parmesan
Fresh parsley (or dried parsley if you're in a rush)
Minced garlic
Variations
The classic garlic bread recipe below is nearly perfect as-is. However, if you want to mix things up a little bit, you may enjoy trying one of these variations:
Add 1 teaspoon crushed red pepper flakes to the butter to make a spicy version
Swap dried thyme for the parsley for a toasted bread that goes great with beef stew
Swap ¼ cup olive oil for the butter and rosemary for the parsley for a more Italian-inspired bread
How to Make the Garlic Bread
First, prepare the garlic butter by placing softened butter, minced garlic, parmesan cheese, and the herbs in a small mixing bowl.
Smash them all together with a fork until evenly combined.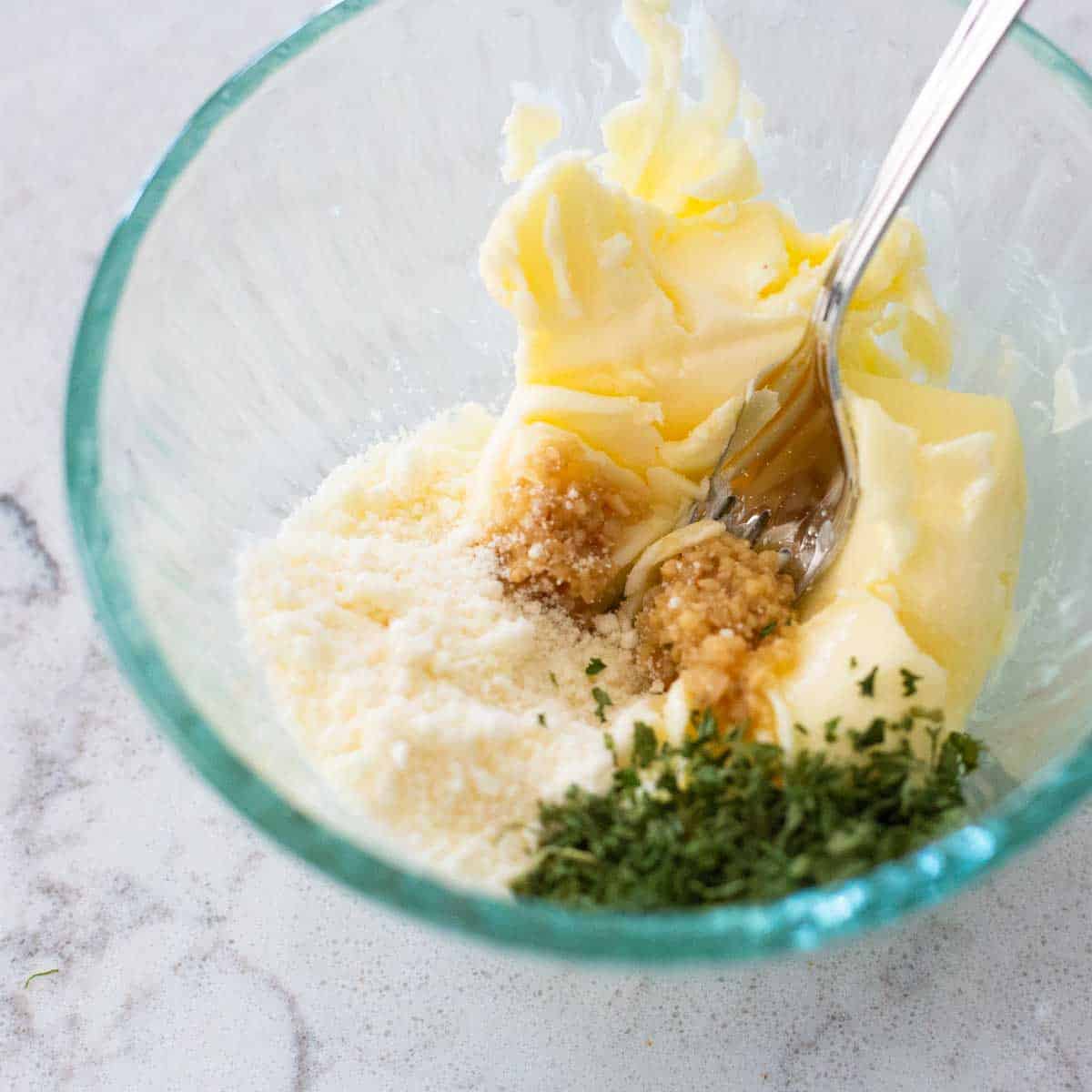 Slice the loaf of bread in half lengthwise, being extra careful to make each side the same thickness as you slice.
I had a 2-pack of bread loaves from Costco and prepared one for dinner and froze the second loaf for later.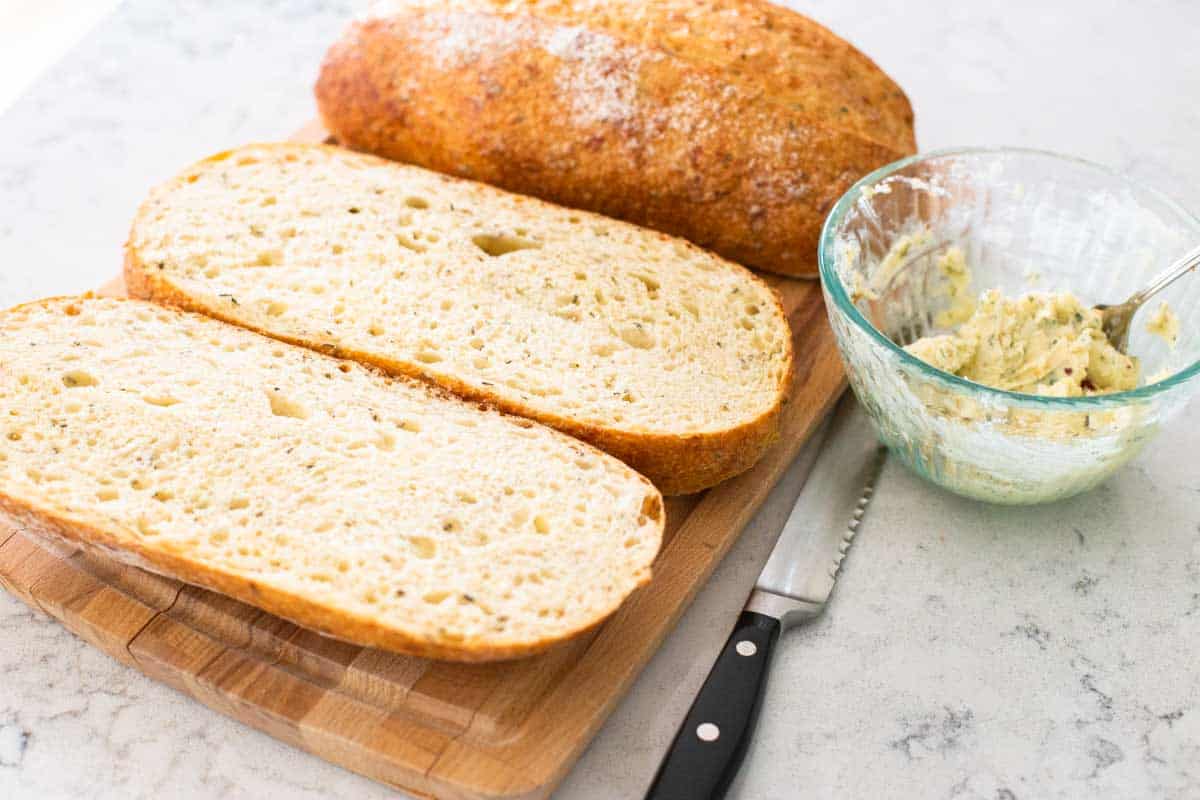 Divide the butter evenly among the bread halves.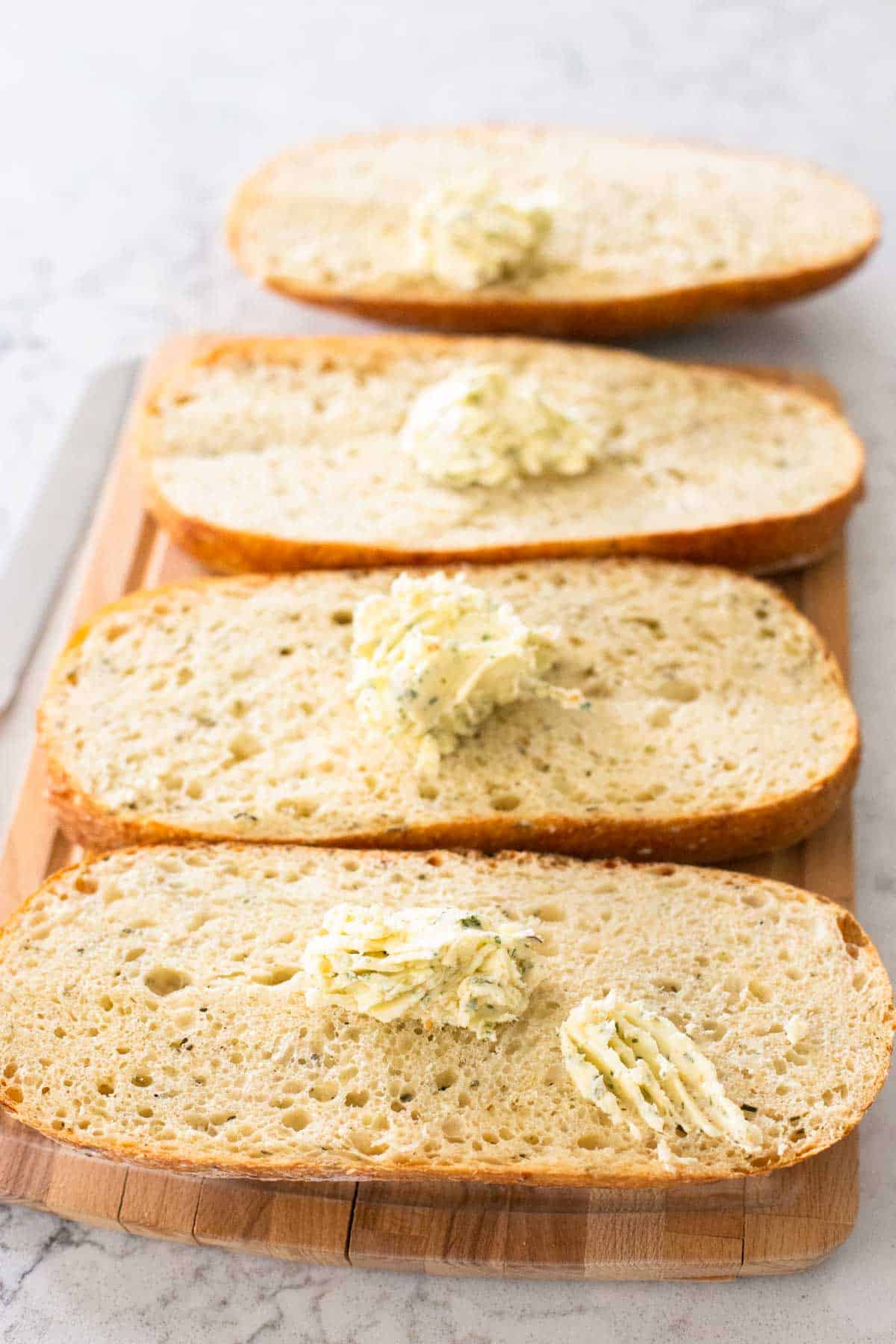 Spread the butter evenly across the entire surface of the bread. Edge to edge from side to side. I left no border empty from the butter.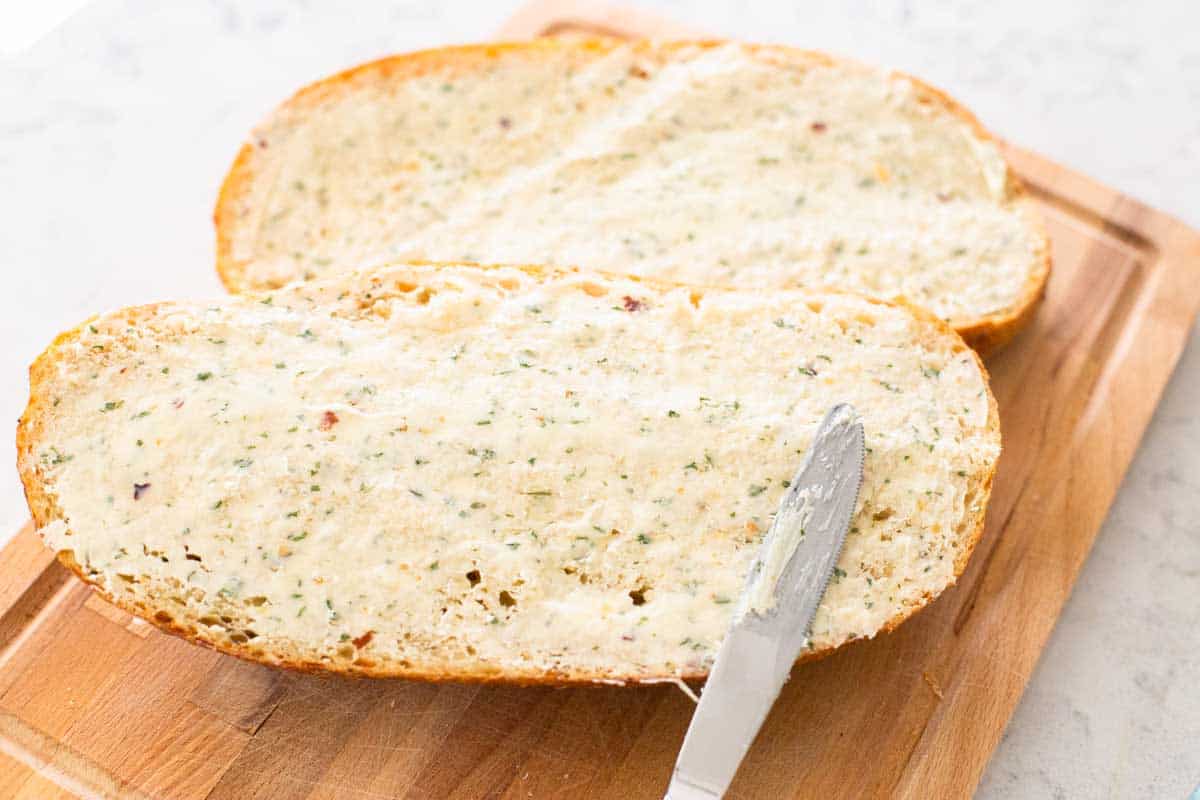 Place the bread cut side up on a large baking sheet and bake in the oven at 400°F for 10 - 15 minutes or until golden brown and crispy at the edges.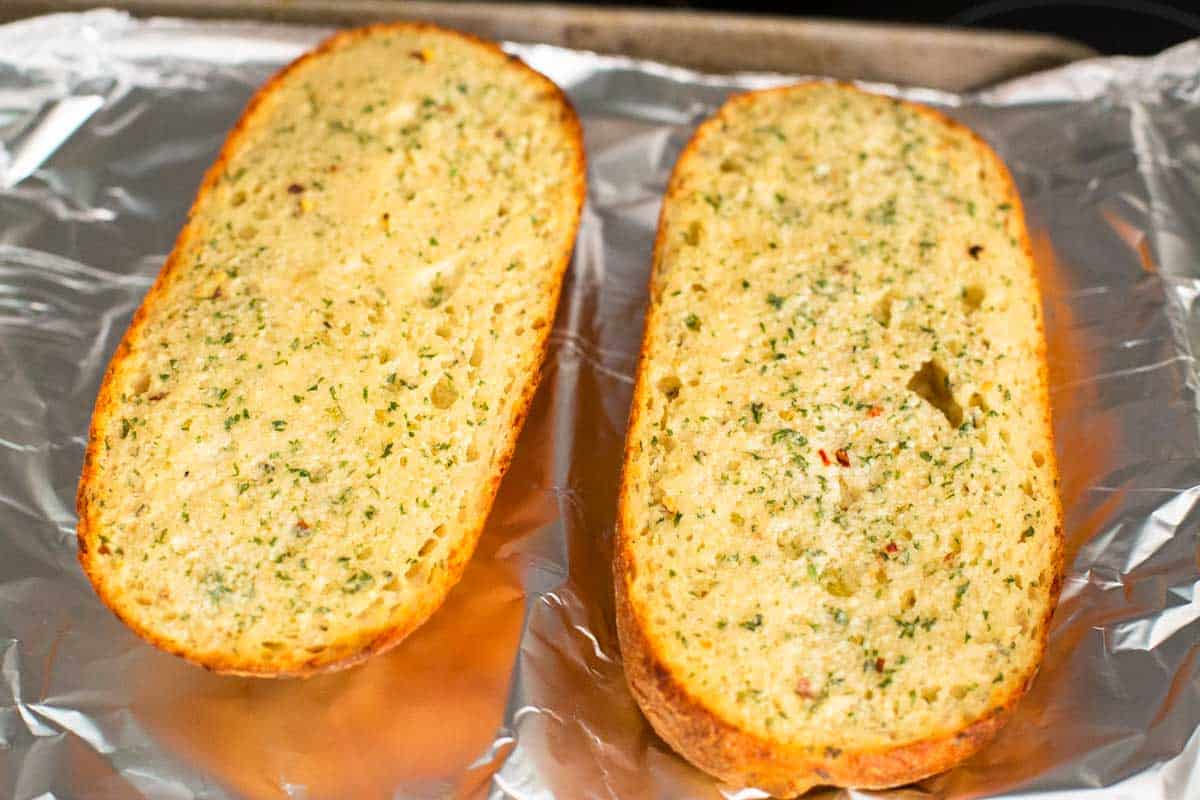 Make Ahead Tips
You can slice the bread, prepare the butter mixture, and spread it on the bread any time earlier in the day when you plan to bake it.
Cover the halves with plastic wrap and store them in the fridge until you're ready to bake.
You could also freeze the prepared garlic bread with a piece of waxed paper in between the buttered sides so that they don't freeze together into one solid loaf.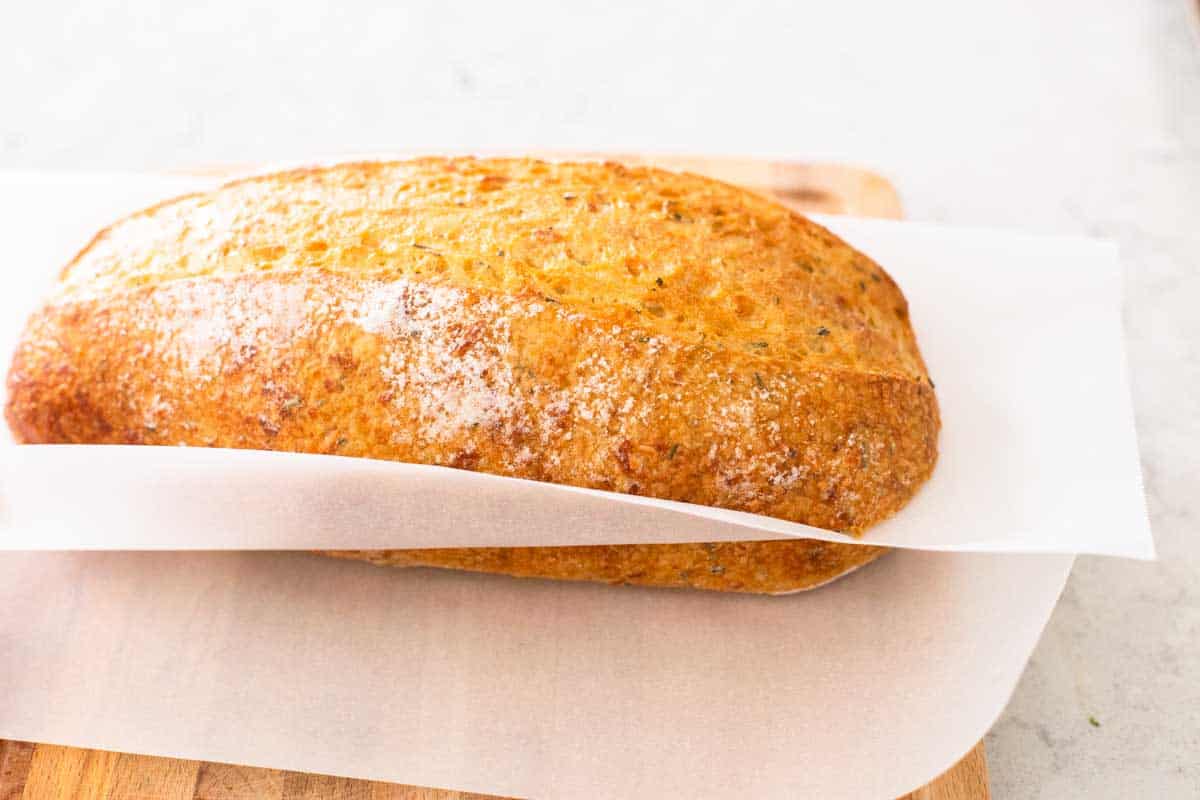 Wrap the prepared bread tightly in foil and freeze.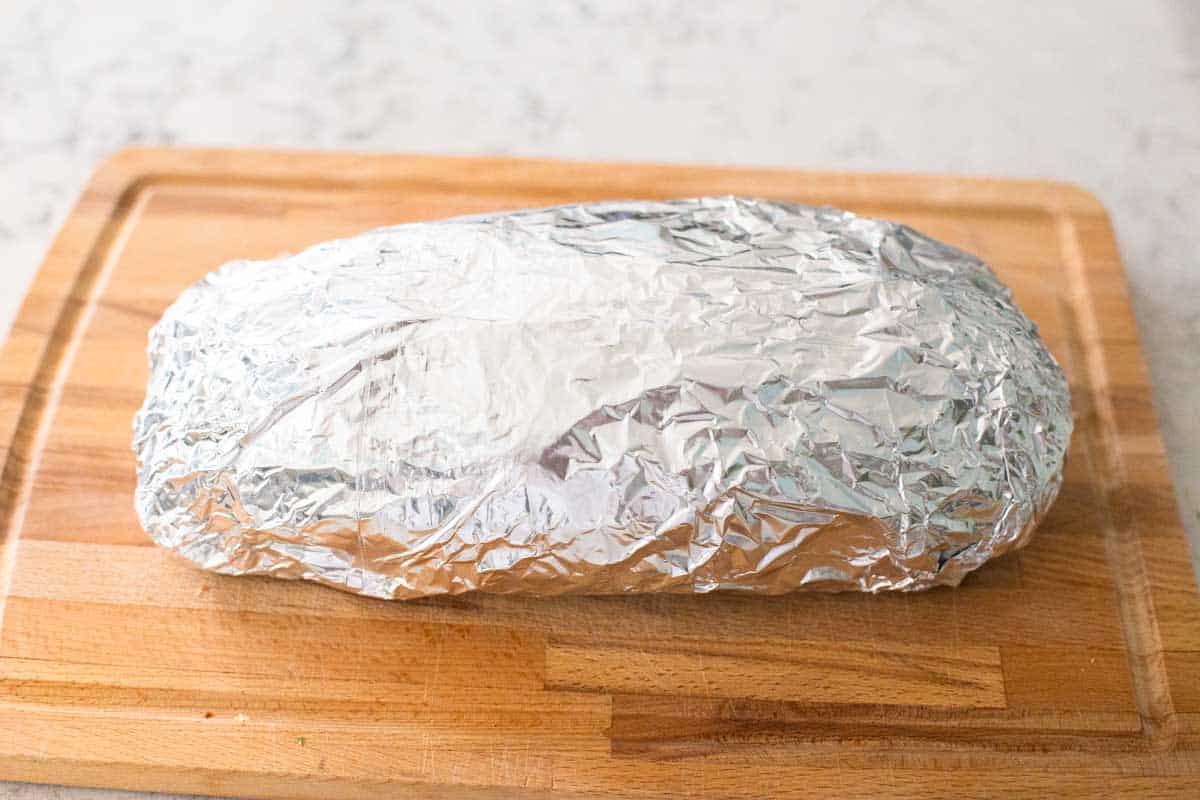 You can bake directly from frozen, you may just need to adjust the baking time to add a few minutes.
Simply unwrap the foil, remove the parchment paper from between the layers, and lay the bread cut side up on a baking sheet and bake.
Serving Suggestions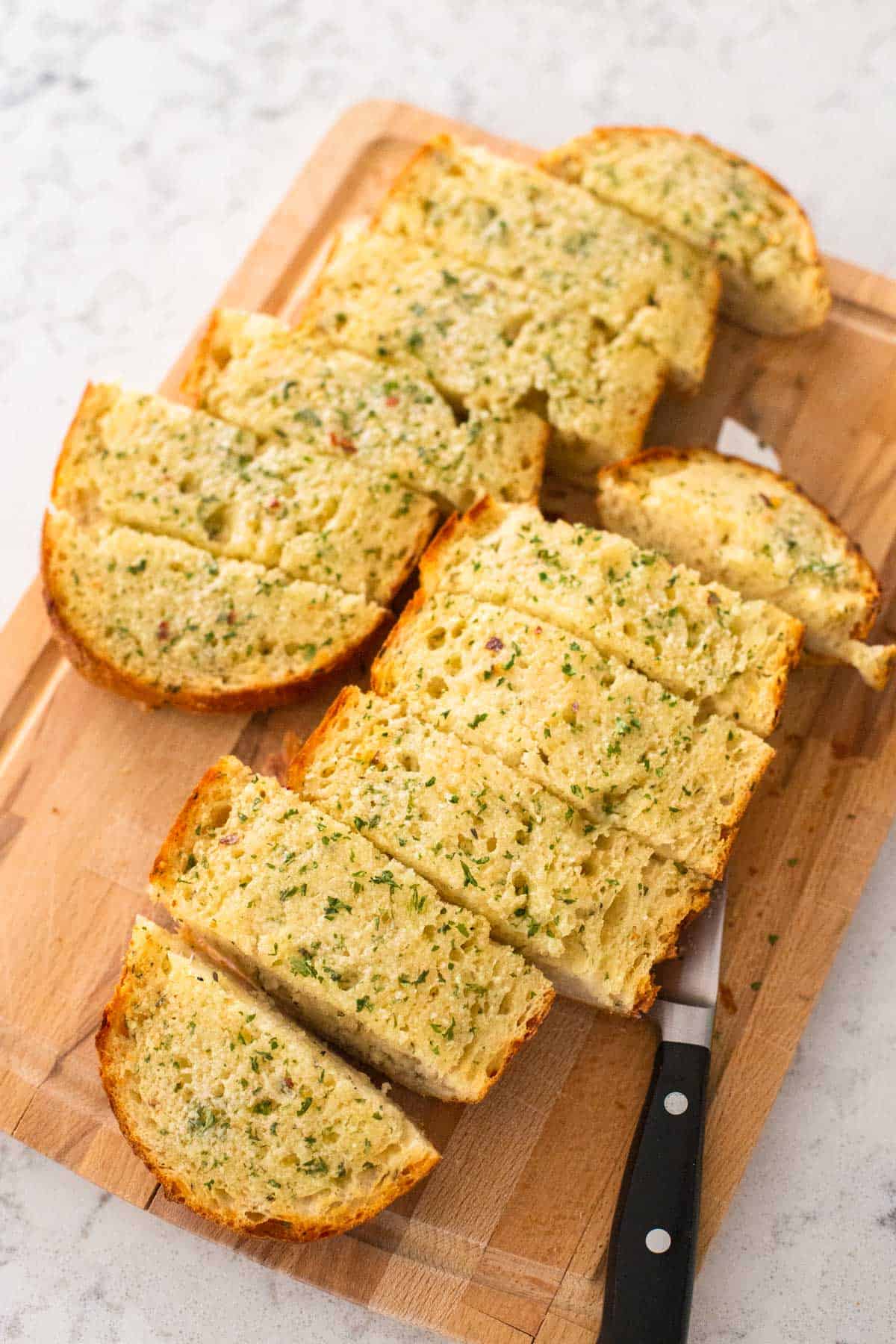 This crispy homemade garlic bread pairs perfectly with any pasta dish you want to dunk bread in the sauce. Here are some of our favorites: