If making dough in your bread maker and baking it in the oven worries you, this bread machine focaccia recipe is the perfect place to start with because you simply pat the focaccia dough out into a pan and bake it -- no roll forming required!
This recipe is featured in The Ultimate Bread Machine Cookbook.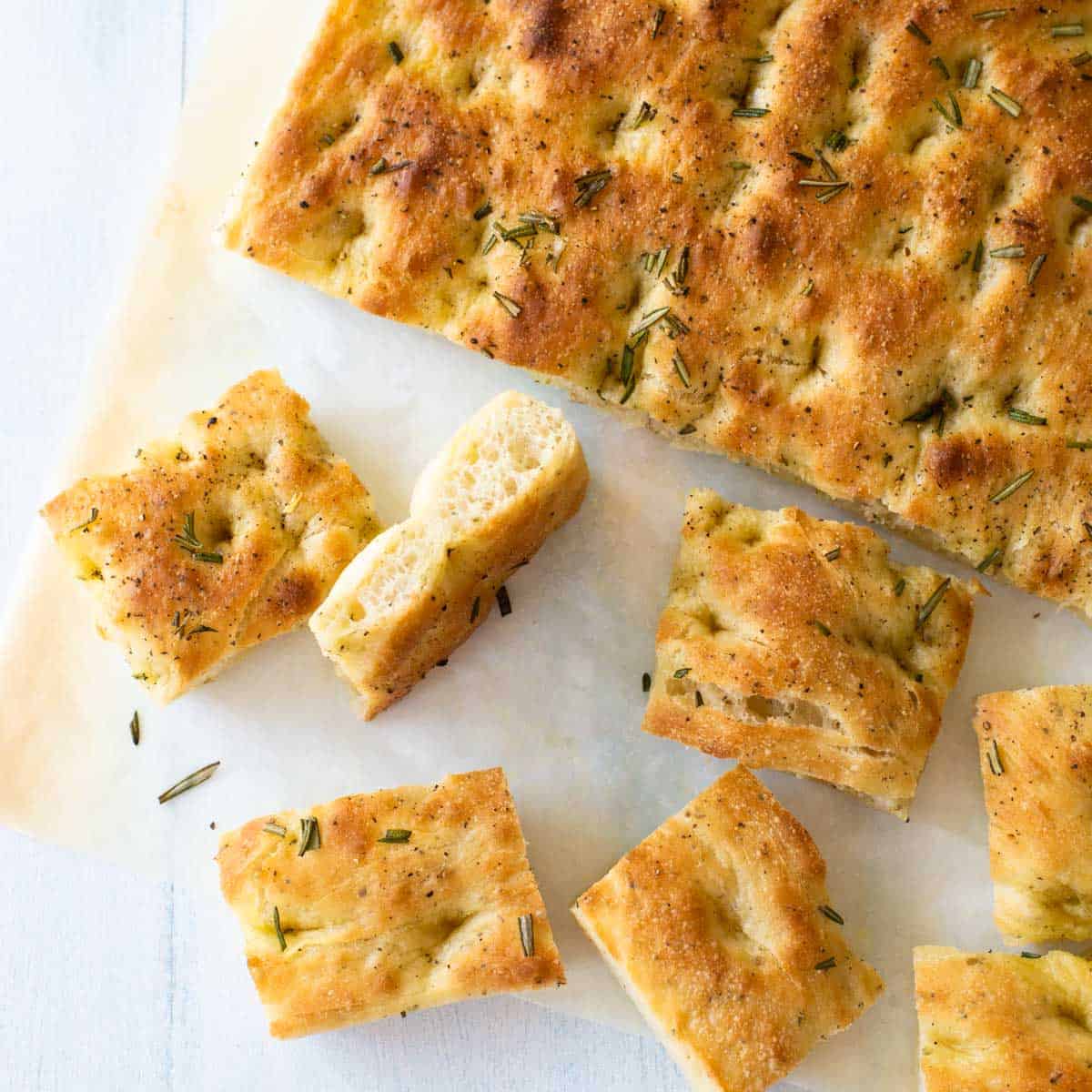 One of my favorite ways to use a bread machine is making super-easy bread dough.
Every bread maker we tested while writing The Ultimate Bread Machine Cookbook has a special program option for making dough for homemade dinner rolls, pretzels, cinnamon rolls, and so much more.
Just 5 minutes of prep and the press of a button and absolutely perfect dough is ready for you to bake in your oven!
If you've never made homemade dinner rolls before, you might feel intimidated by forming the dough into the proper shapes.
In that case, this bread machine focaccia recipe is the perfect place to start. Use your hands to pat the dough out to the proper shape on a baking pan and rub it down with olive oil. That's it!
It allows you to learn the Dough program on your bread maker with a foolproof recipe you can then bake in your oven.
Want an even easier bread to shape? Don't miss my ciabatta bread machine recipe. It is very similar to this focaccia but has an even heartier texture.
Jump to:
Ingredients
This simple focaccia recipe has one of the shortest lists of ingredients!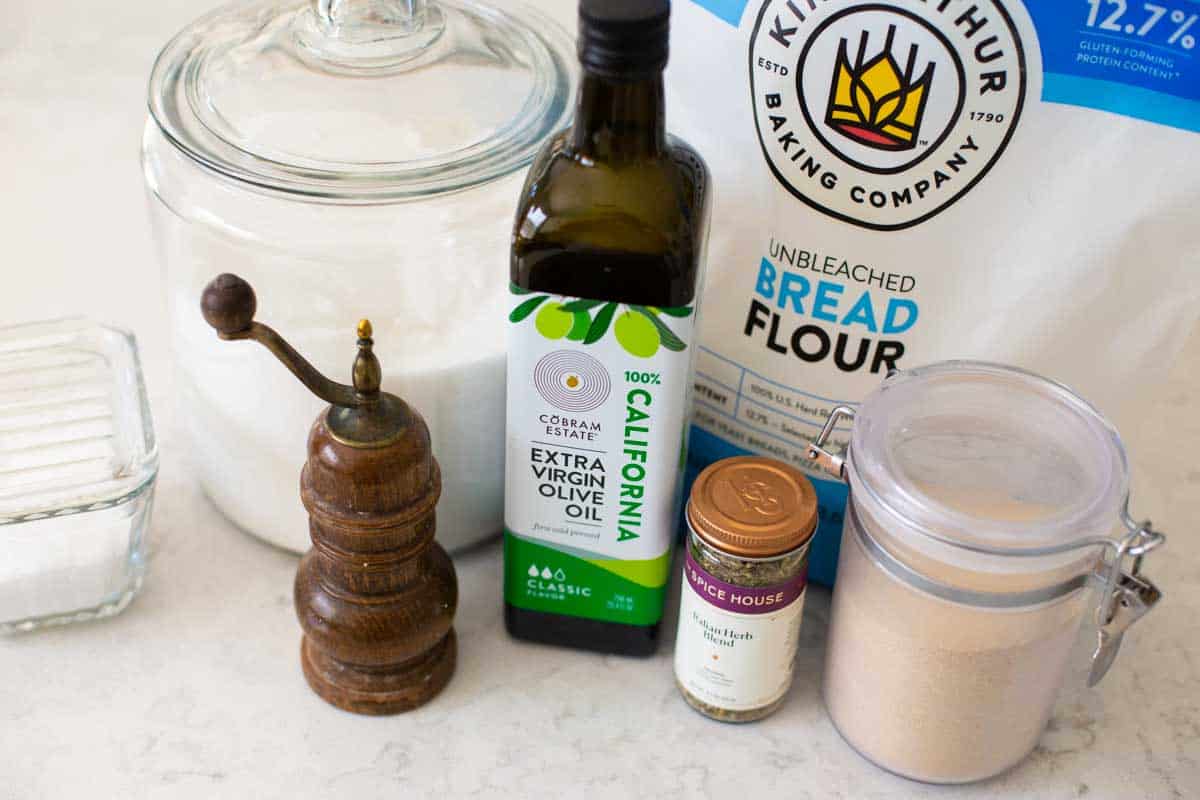 Bread flour
Olive oil
Sugar
Water
Italian herb blend
Salt & Pepper
Instant Yeast: Instant or Bread Machine Yeast
See recipe card for quantities.
Instructions
The focaccia bread starts just like all other bread machine recipes:
Add the liquid ingredients to your bread pan fitted with the paddle attachment.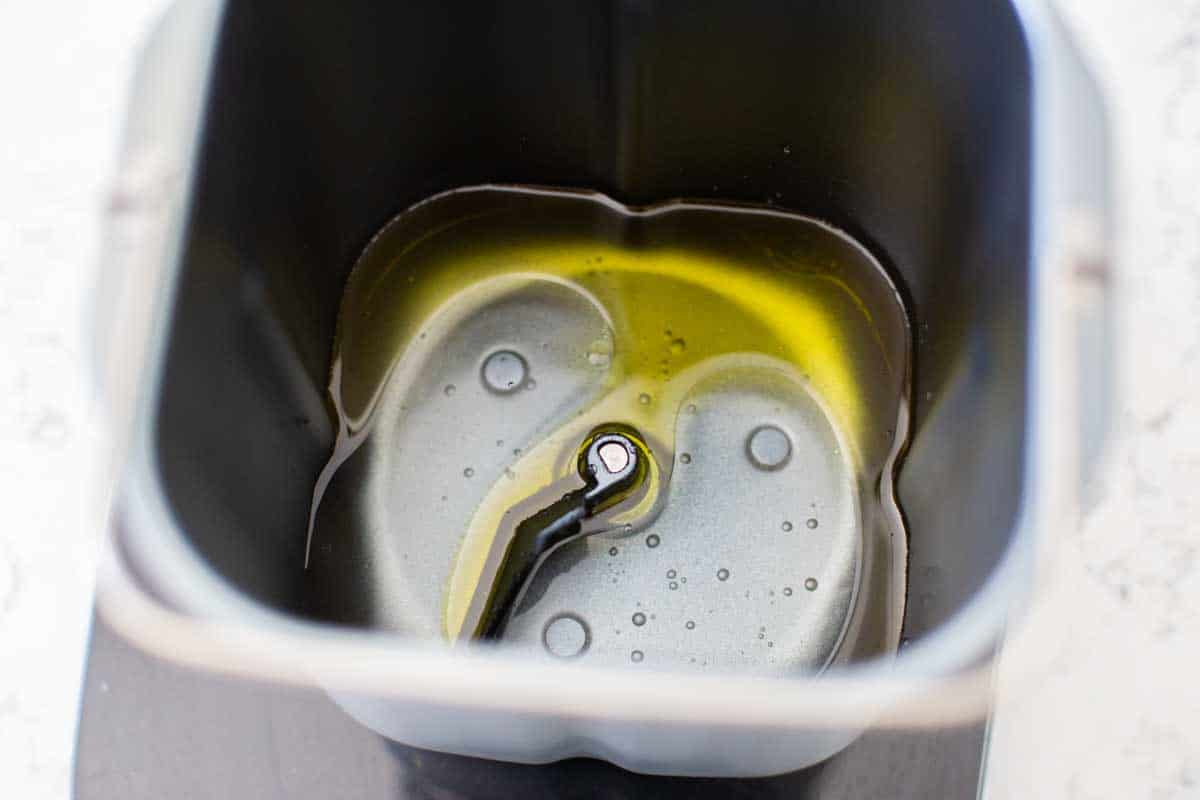 In this case, all you need is room temperature water and olive oil.
It's a great dairy-free bread recipe if your dinner guests need that accommodation.
Next, add the dry ingredients to your bread pan: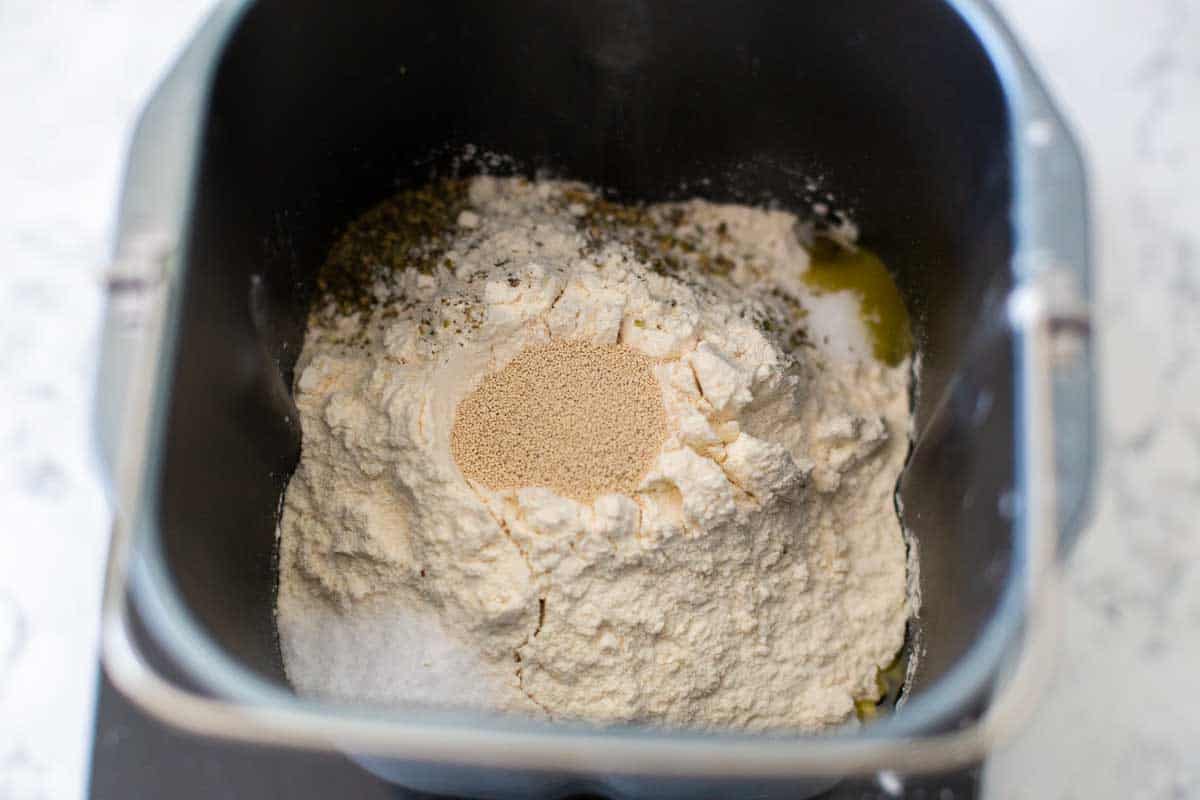 Add the flour, sugar, Italian herb blend, and salt right on top of the wet ingredients.
It is a best practice to sprinkle the sugar and salt around the perimeter of the bread pan so you can keep it away from the yeast until just the right time.
Use a spoon to make a well in the center of the flour, place the yeast in the well.
Place the bread pan back inside the bread machine and then:
Select the DOUGH program
Press START
The five bread machines we tested all took about an hour and a half to knead and rise the bread dough. You can read about the best bread machines for beginners here.
To be honest, my favorite machine for making bread machine dough is the Cuisinart bread maker. I love how the shape of the bread pan helps dough ingredients get mixed together quickly and easily with very little supervision.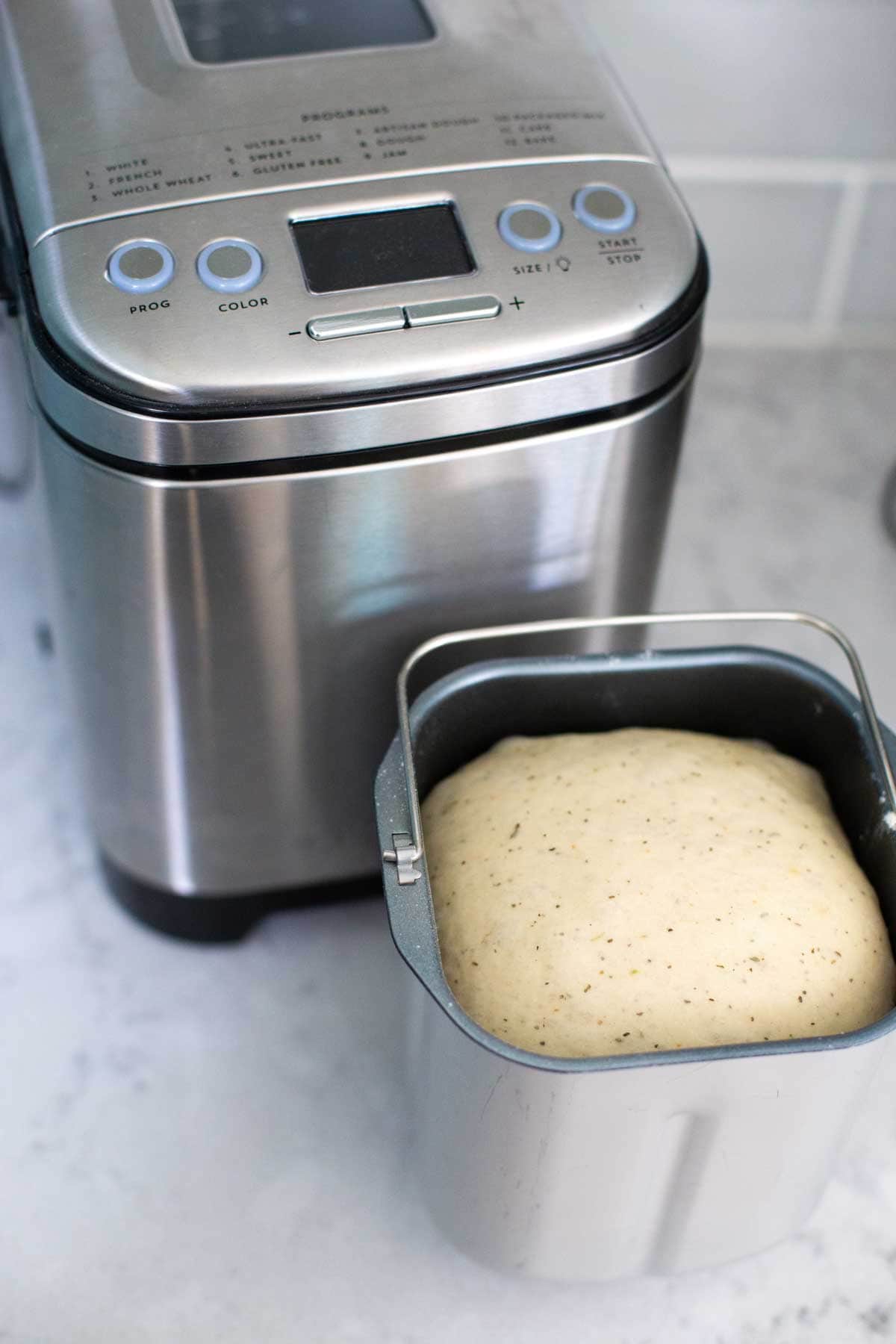 Once the dough program is completed, it's time to pat out the focaccia.
Brush a 9 x 13-inch rimmed baking sheet with olive oil.
Turn the focaccia dough out onto a lightly floured baking mat.
Punch the dough down and let it rest for 10 minutes. Yes, that's exactly as it sounds--firmly punch the ball of dough to form a flat round disc and let it rest.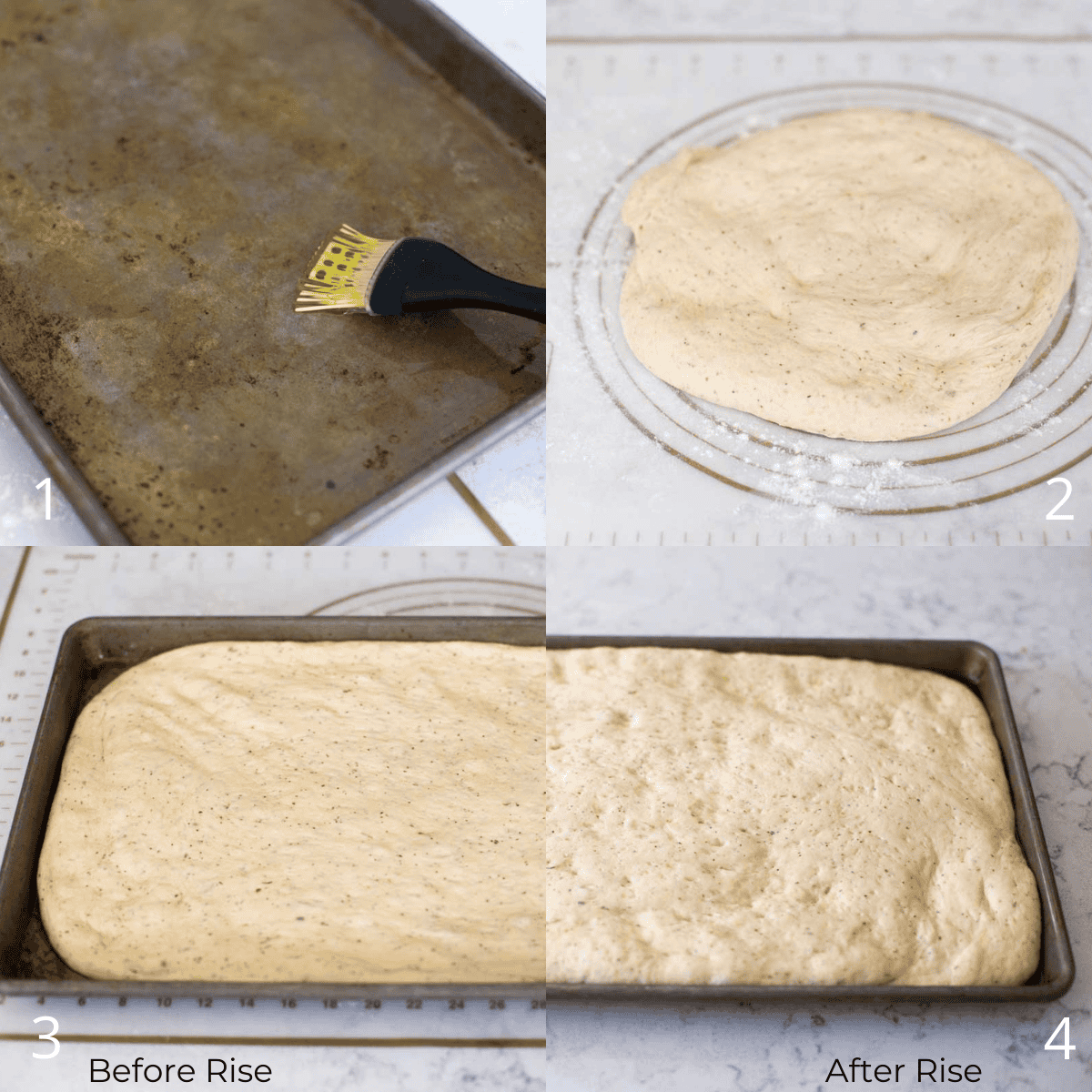 Once the dough has rested, pat it out into a 9 x 13-inch shape. You might find it easiest to do right on the baking pan so you don't have to measure.
If the dough keeps shrinking back, give it a few more minutes to rest and try again.
You can also read more about my tricks for rolling out pizza dough here. I use similar methods with my hands for the focaccia.
Once the dough is in place, cover it with plastic wrap and let it rise for 40 - 50 minutes or until it is evenly puffy all across the top.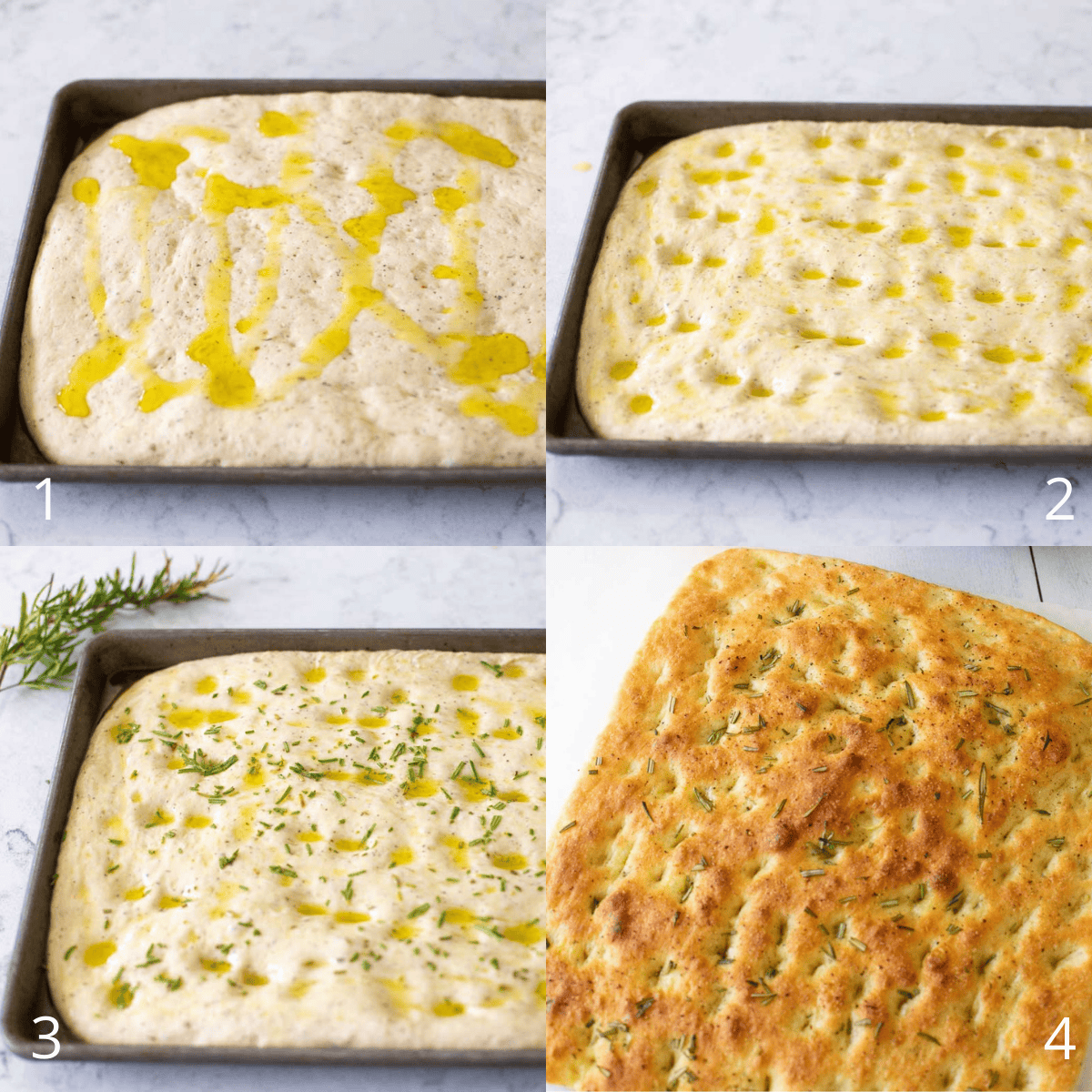 When you're ready to bake, preheat the oven to 450°F.
Peel the plastic wrap off the pan and drizzle 2 - 3 tablespoons of olive oil over the top.
Use your fingers to spread the oil all over the top and then gently press indentations with your finger tips across the surface.
Sprinkle chopped fresh rosemary and black pepper over the top and bake for 13 - 15 minutes or until the focaccia is golden brown.
Hint: With all that olive oil, the focaccia can get overdone quickly at the end. Keep an eye on it for the last 2 - 3 minutes so it doesn't get too dark.
To serve it, cut it into squares or thin dipping fingers of bread.
Or just dig in like my daughter tried to do! ?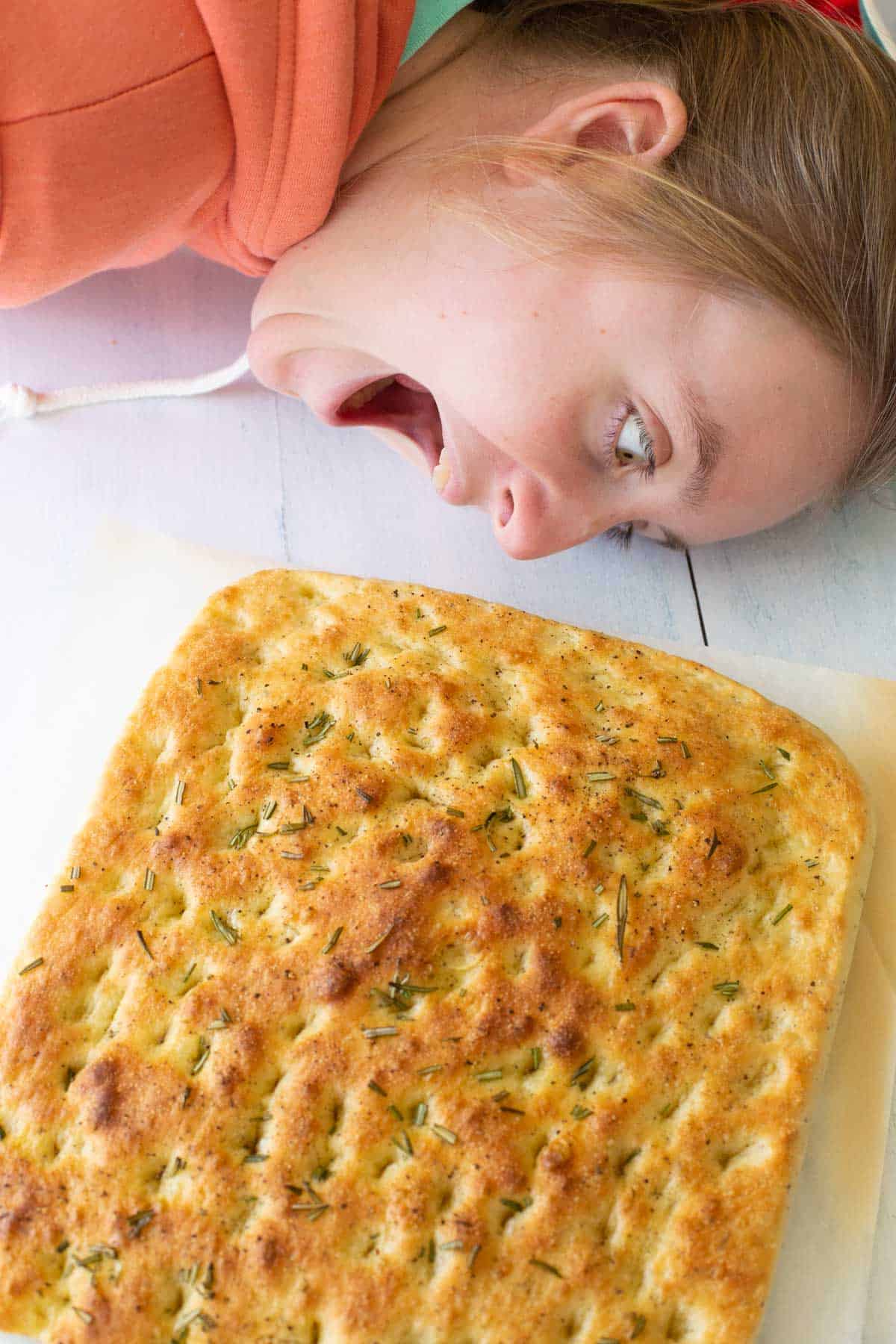 Fun Fact: My peanut insisted that this should be the cover of The Ultimate Bread Machine Book. She feels it truly encapsulates her feelings towards the recipes.
Equipment
This is a bread machine recipe and will require a bread maker to make it. If you don't have one, read our thoughts on whether a bread maker is worth it here.
Want to get a bread machine? Here are the reviews we did of the bread machines we tested while writing the best bread machine cookbook:
Storage
This bread is best served the day it has been baked, warm out of the bread machine.
You can also freeze the bread, just be sure to cool it completely before freezing and thaw it with the bag open to let moisture escape and prevent soggy bread. Heat it on a pan in the oven at 350°F for a couple of minutes to freshen it up and serve.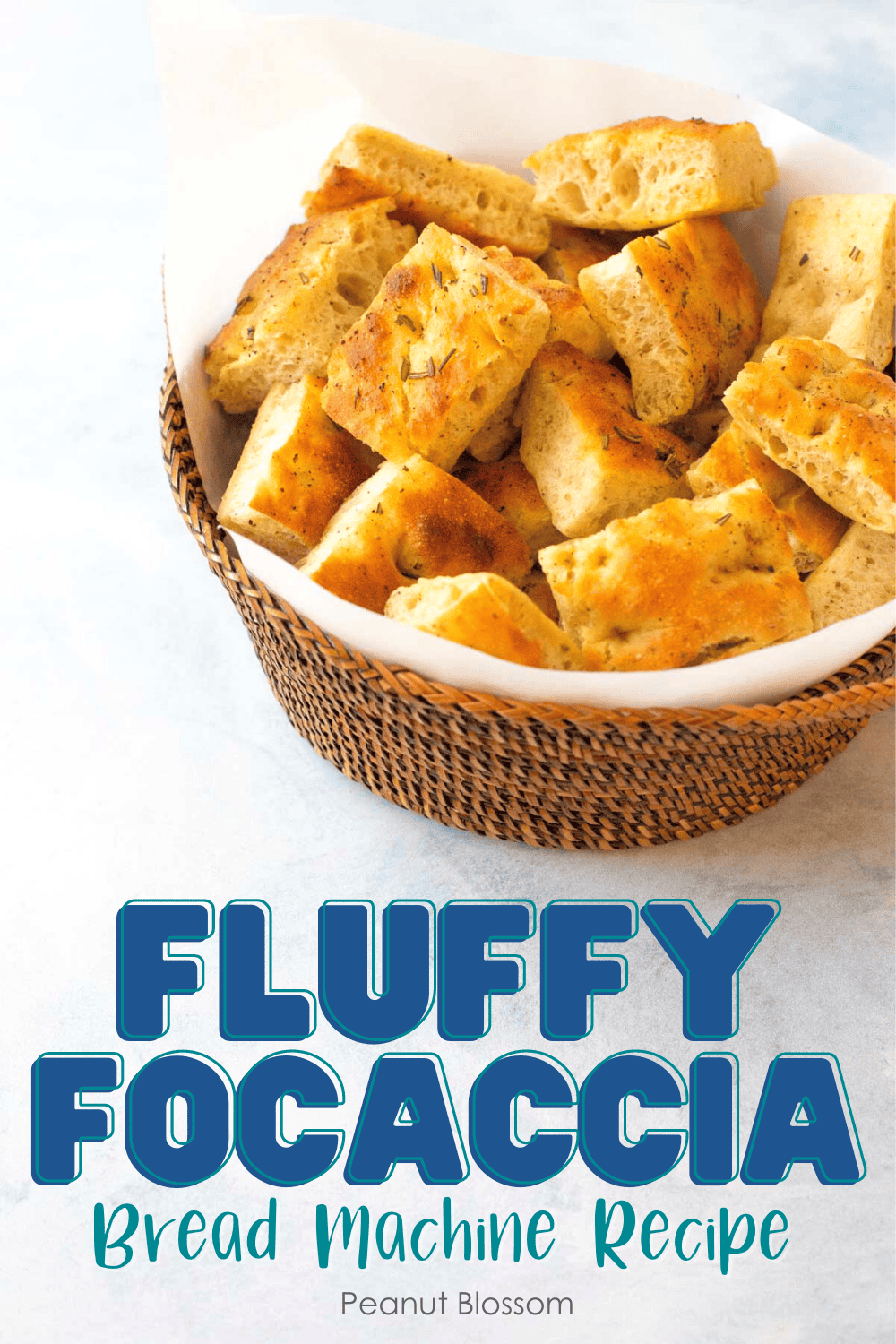 Serving Tips
My kids both think that the focaccia would make a fine meal all by itself. But it has appeared on our dinner table as part of several fun family Italian dinner menus.
Cut it into squares for dipping into rich tomato sauces or any of these delicious pasta and Italian soup recipes:
The Ultimate Bread Machine Cookbook Available Now:
If you've tried this easy bread machine focaccia or any other recipe on PeanutBlossom.com please don't forget to rate the recipe and let me know where you found it in the comments below. I love hearing from you!
FOLLOW along on Instagram @peanut.blossom as well as on Pinterest and Facebook.