This rich creamed tomato sauce pasta with spicy sausage is comfort food at it's finest. Easy enough for kids to make in just 20 minutes, it's a wonderful weeknight dinner or dressed up pasta for an elegant weekend meal.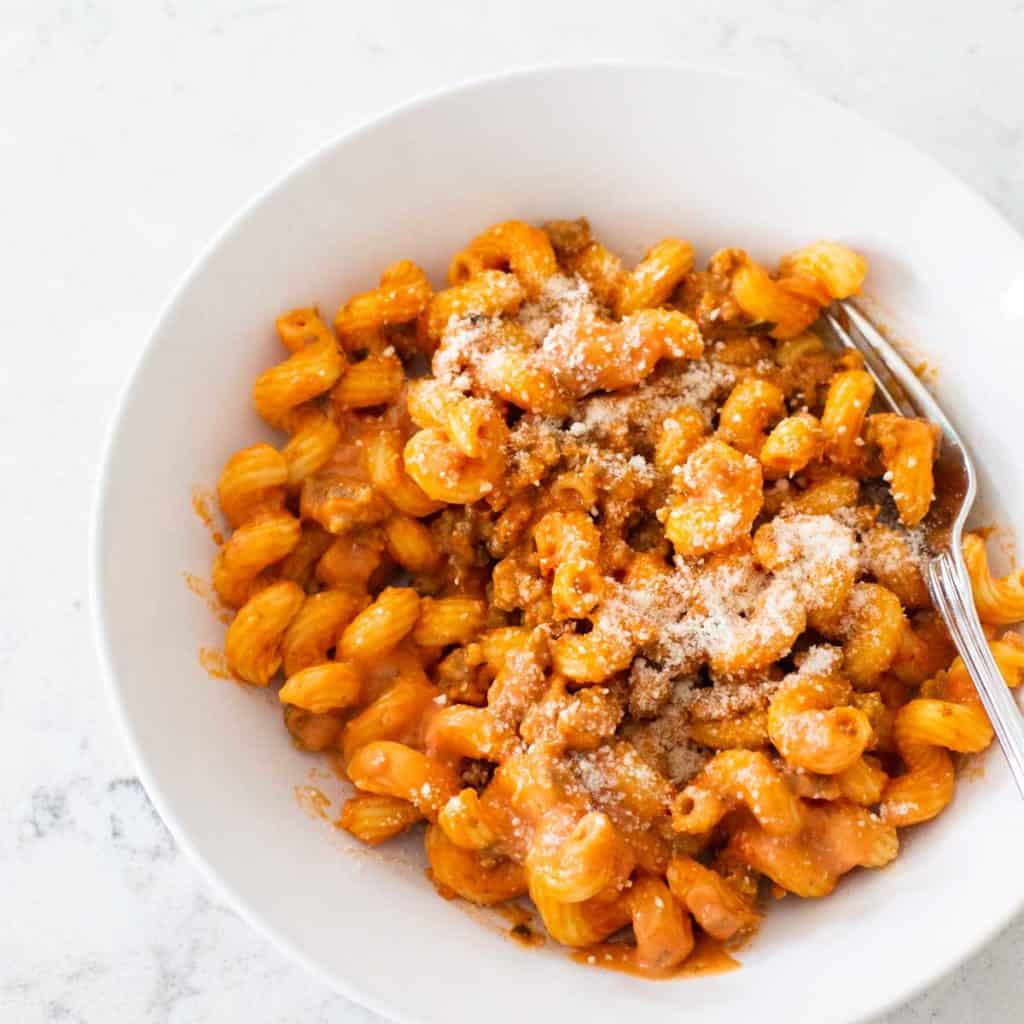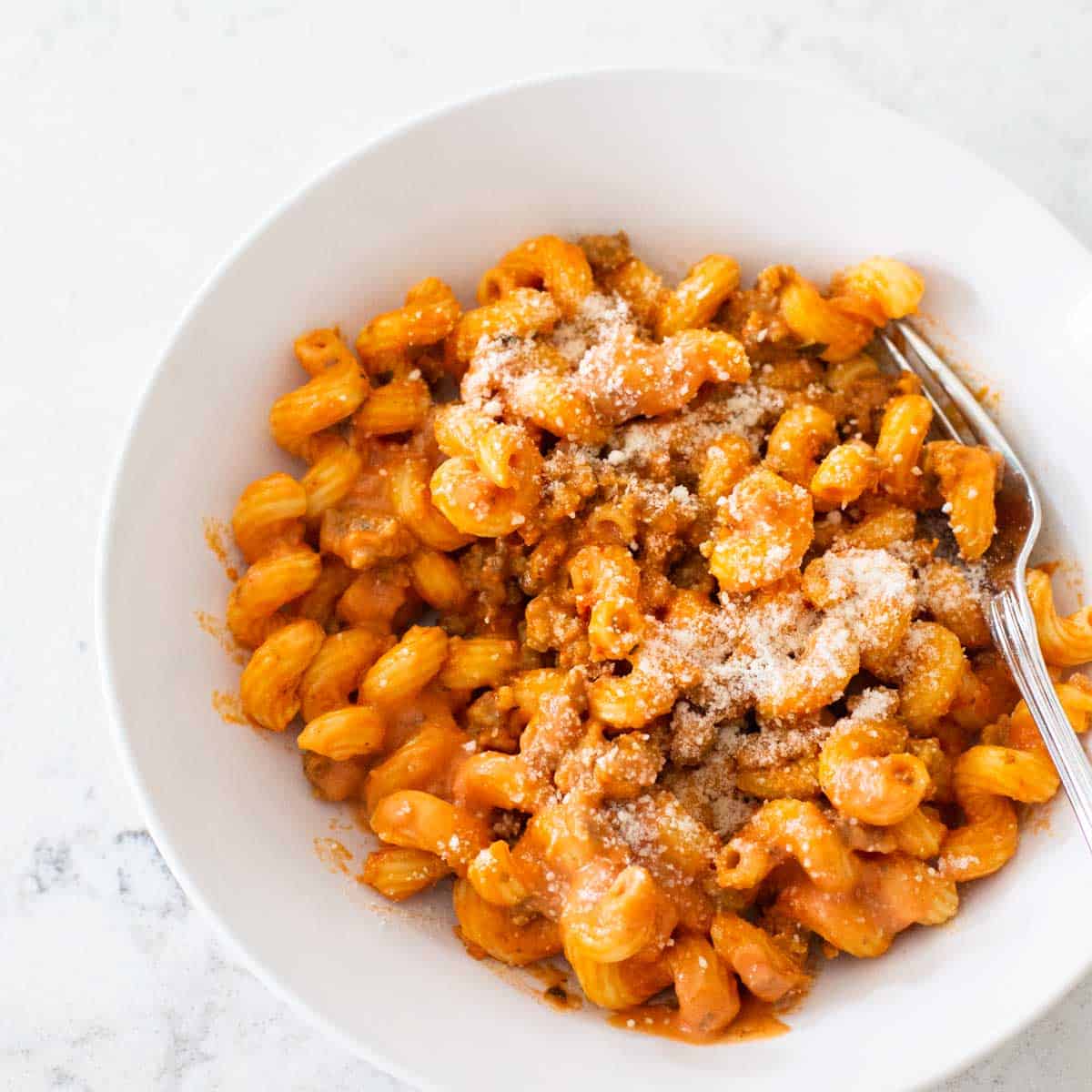 Italian food is popular with kids for the same reasons adults love it. Who could resist a comforting pasta dinner?
Our family makes a lot of the same pasta dishes over and over again. You can probably guess the line-up: spaghetti with meat sauce, pesto pasta, maybe a pasta salad or two.
But when we're feeling like we want something a little different, my daughter BEGS for penne rosa, or pink pasta as I've nicknamed it.
The savory, spicy sausage and the touch of cream brings a wonderful richness and flavor to the pasta dish that we don't usually have during busy nights.
BUT those extra ingredients don't add any more time than your easiest spaghetti dinner.
What Do You Need to Make This?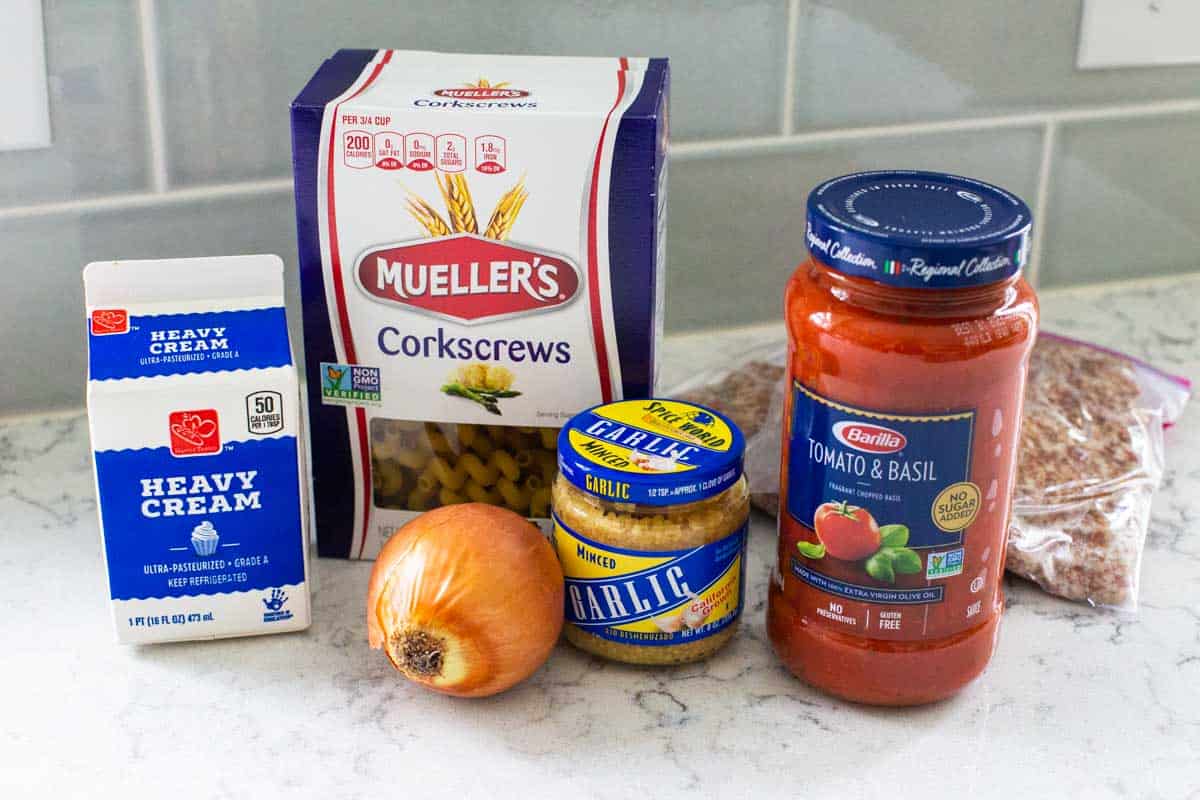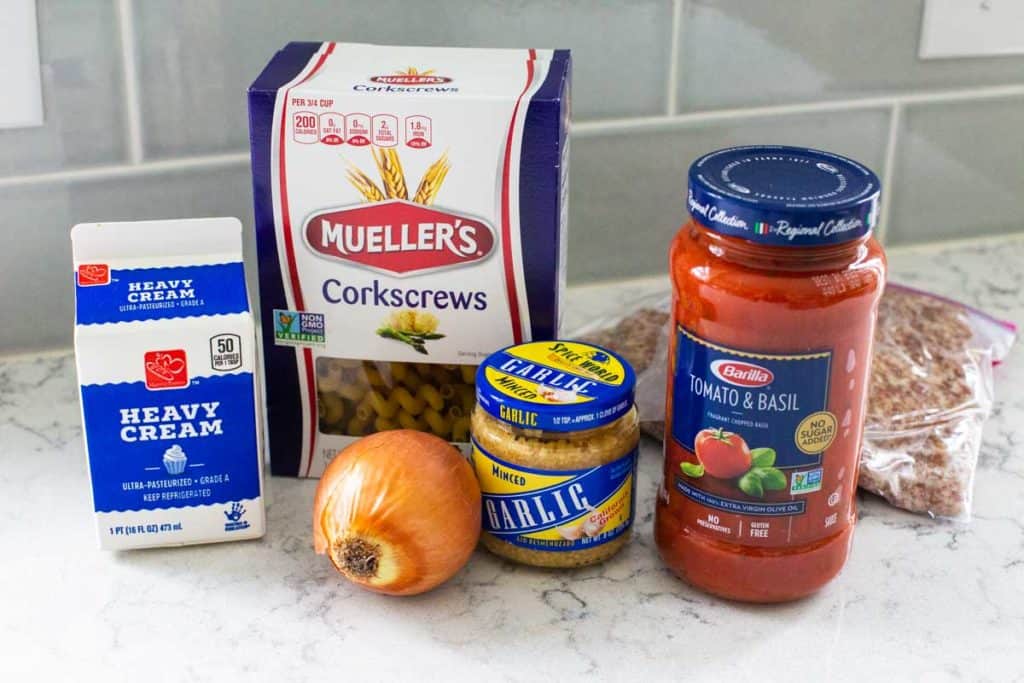 The ingredients for this pasta rosa with sausage couldn't be easier:
Your Favorite Pasta Shape: Use a short noodle for this. Penne, farfalle/bowties, or our favorite corkscrews are all excellent choices.
Your Favorite Tomato Sauce: I've used plain canned tomato sauce and I've tried seasoned prepared sauce. Both work equally well in a pinch. If you use the canned variety, be sure to add 1 - 2 teaspoon of Italian seasoning. This isn't necessary if you select a prepared jar.
1 Pound Bulk Sausage: Hot or Mild, it's up to you. We prefer it spicy.
1 Cup Heavy Cream: This is the signature ingredient and essential to the dish. If you don't want to use cream or you don't have any on hand, you could substitute milk and add 2 - 3 tablespoon of butter.
White Wine: You only need ⅓ cup. If you don't usually drink white wine, you could buy a package of mini bottles and just use one at a time. Keep the rest in your pantry for future recipe use.
An Onion & Garlic: You probably have both in your fridge right now. I always keep the jarred minced garlic ready to go.
How Do You Make The Pasta Sauce?
First, you need to decide whether you are making a One Pot Meal or want a faster 20-minute meal.
One Pot Instructions: You will have to cook the pasta in a large pot and then drain it before you can begin the sauce. You can cook the sauce in the pasta pot and then toss the cooked pasta back in to heat through but this will add an additional 20 minutes to your dinner.
Short-Cut 20-Minute Dinner Instructions: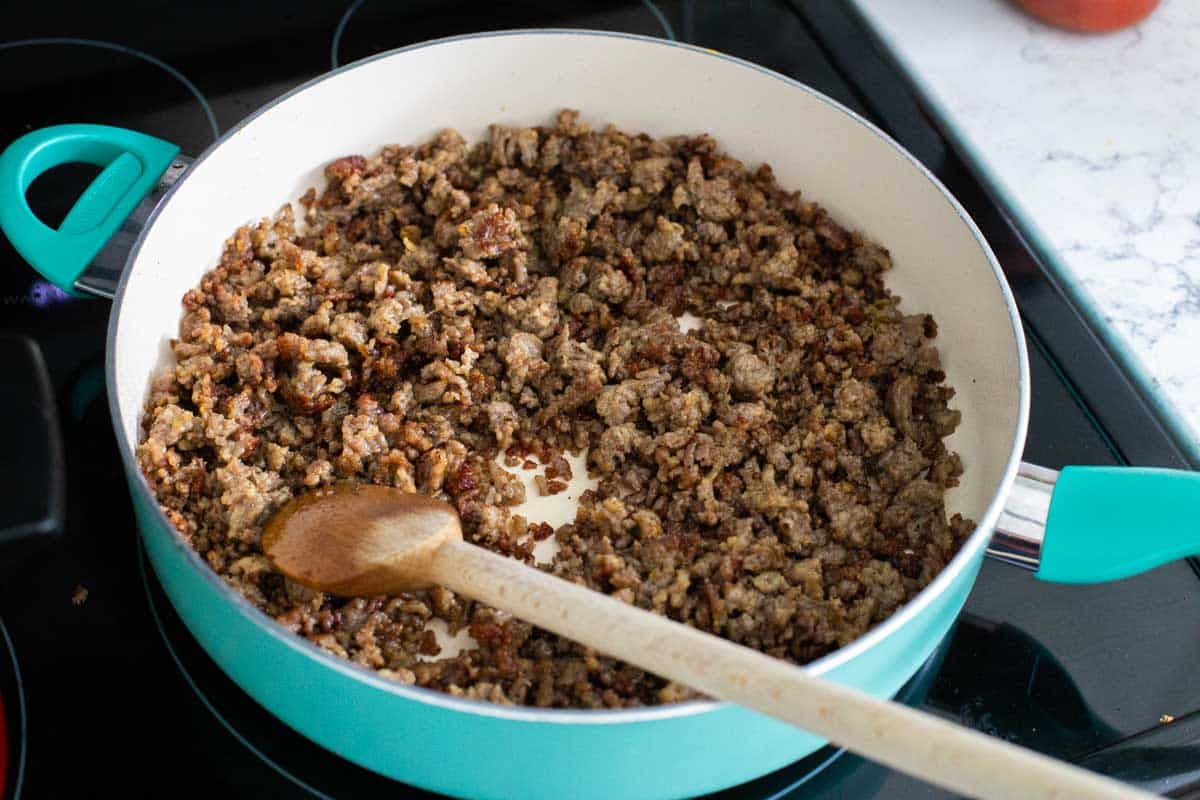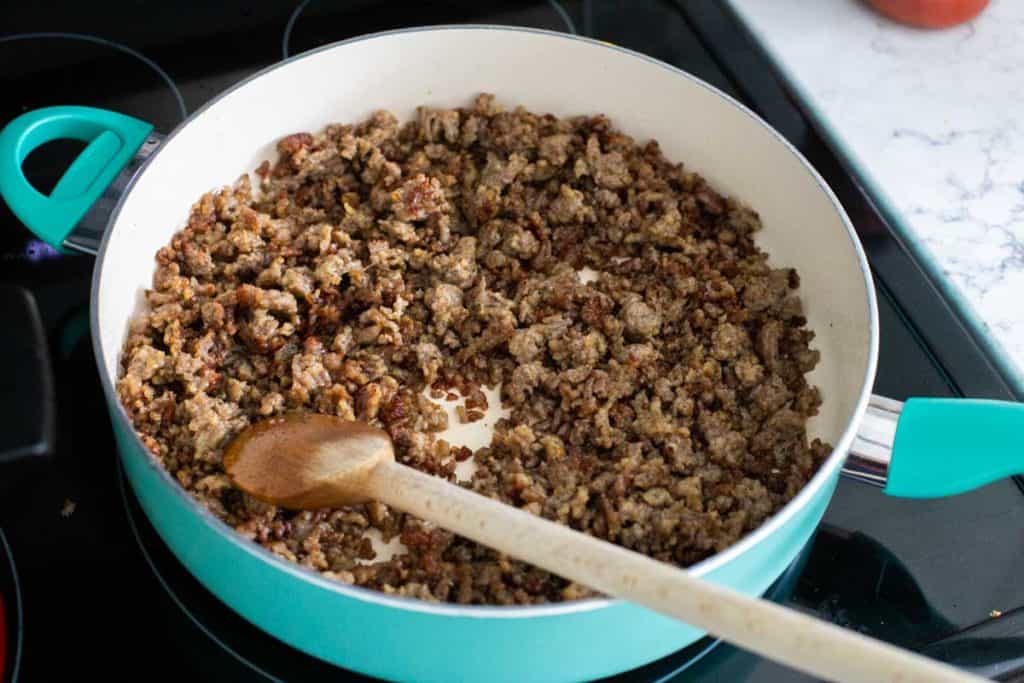 First, you'll need to brown the sausage in a large skillet over medium-high heat at the same time as your pasta is cooking in a separate pot.
Bulk sausage is not like ground beef. You're not simply cooking it till it is no longer pink, you're going to saute it until the meat has a toasted brown appearance.
If you don't cook the sausage long enough, it will be rubbery and chewy in your final dish.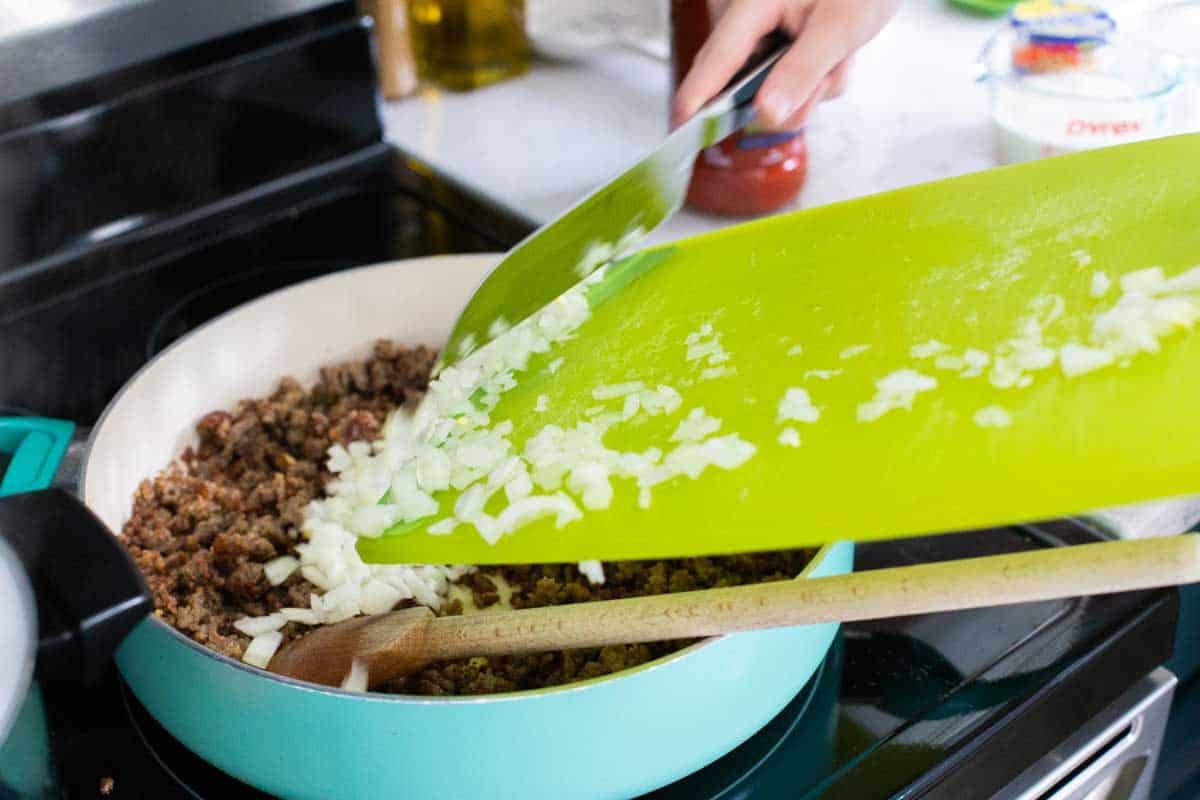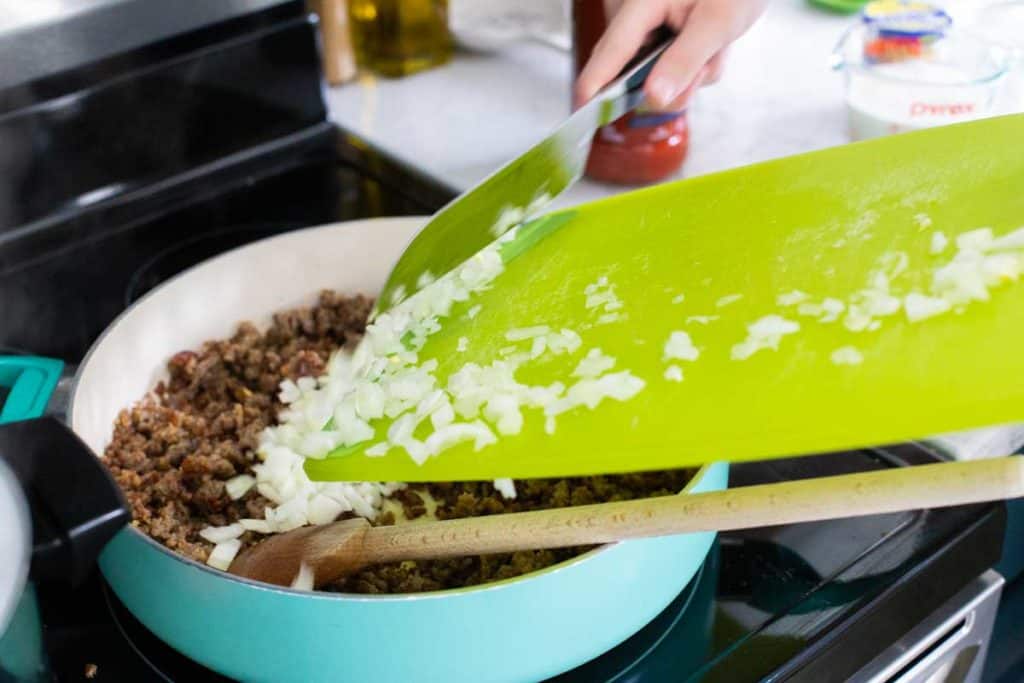 Once the sausage is properly toasted brown, add the chopped onion to the skillet.
Cook the onion with the sausage until it is softened and translucent or you'll have crunchy onions in the sauce.
Add the garlic to the mixture and stir for 30 seconds or until fragrant.
At this point, my pasta was finished cooking and I realized I wanted to finish my sauce in the now empty, larger pasta pot so that it was easier to toss together with the noodles at the end.
You can either:
A) Continue to cook your sauce in the original skillet and then pour it over the pasta in the pasta pot.
OR
B) Transfer the sausage and onions to the pasta pot now and finish the entire dish in the bigger pot.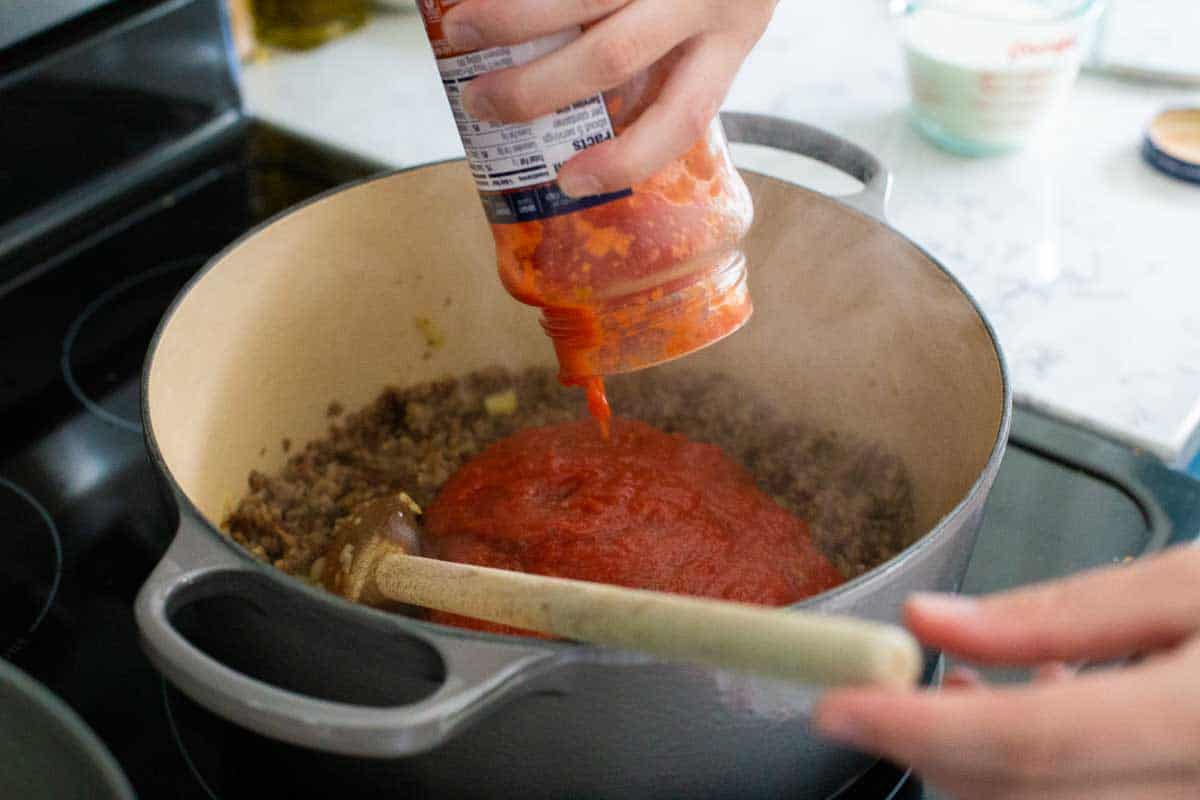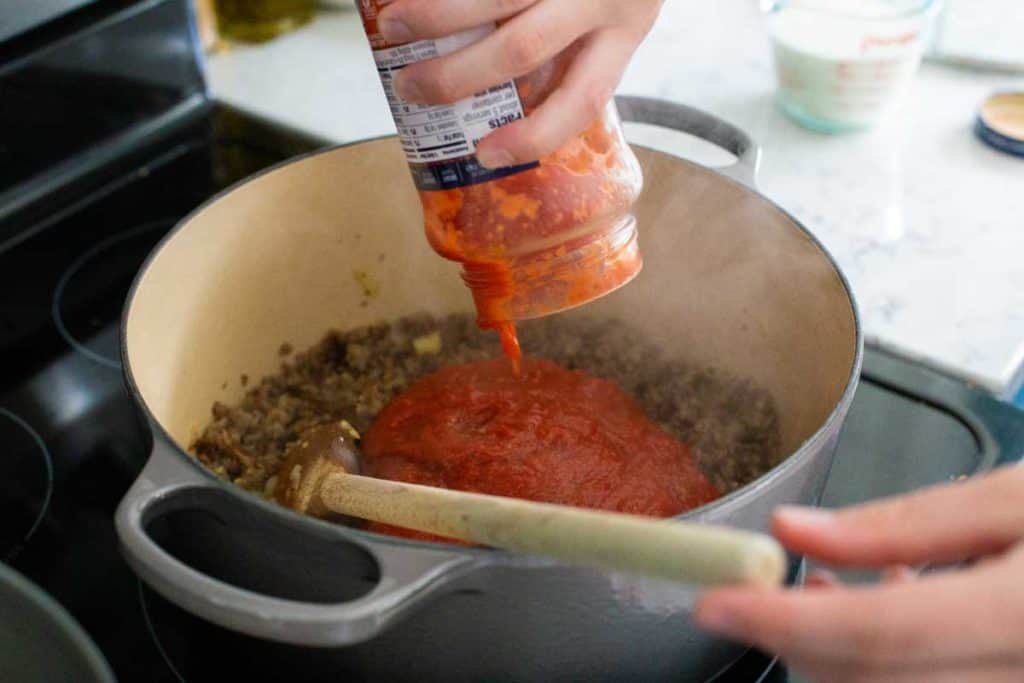 Reduce the heat to medium-low and add the jar of tomato sauce to the sausage and stir.
If you are using plain, canned tomato sauce, now is the time to add 1 - 2 teaspoon of Italian herb seasoning.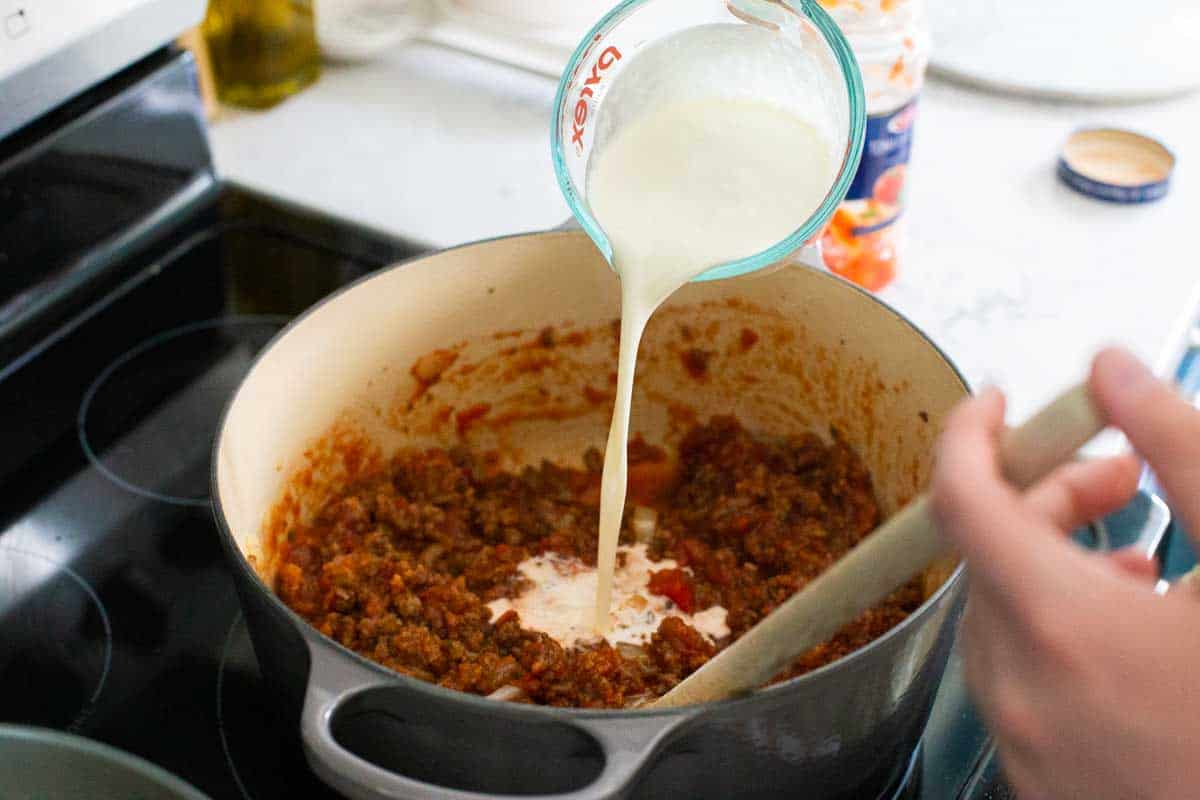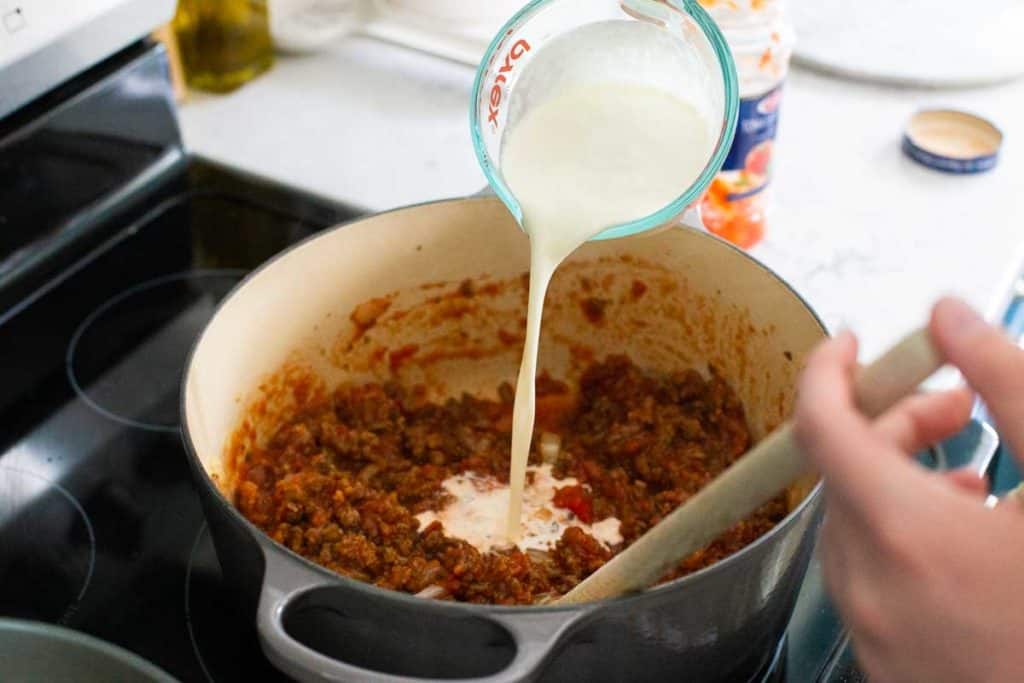 Let the tomato sauce simmer for a few minutes and then 2 minutes before you want to serve, add the heavy cream and stir it in.
Let the sauce cook for 2 minutes and then add the cooked pasta.
Toss gently together and serve.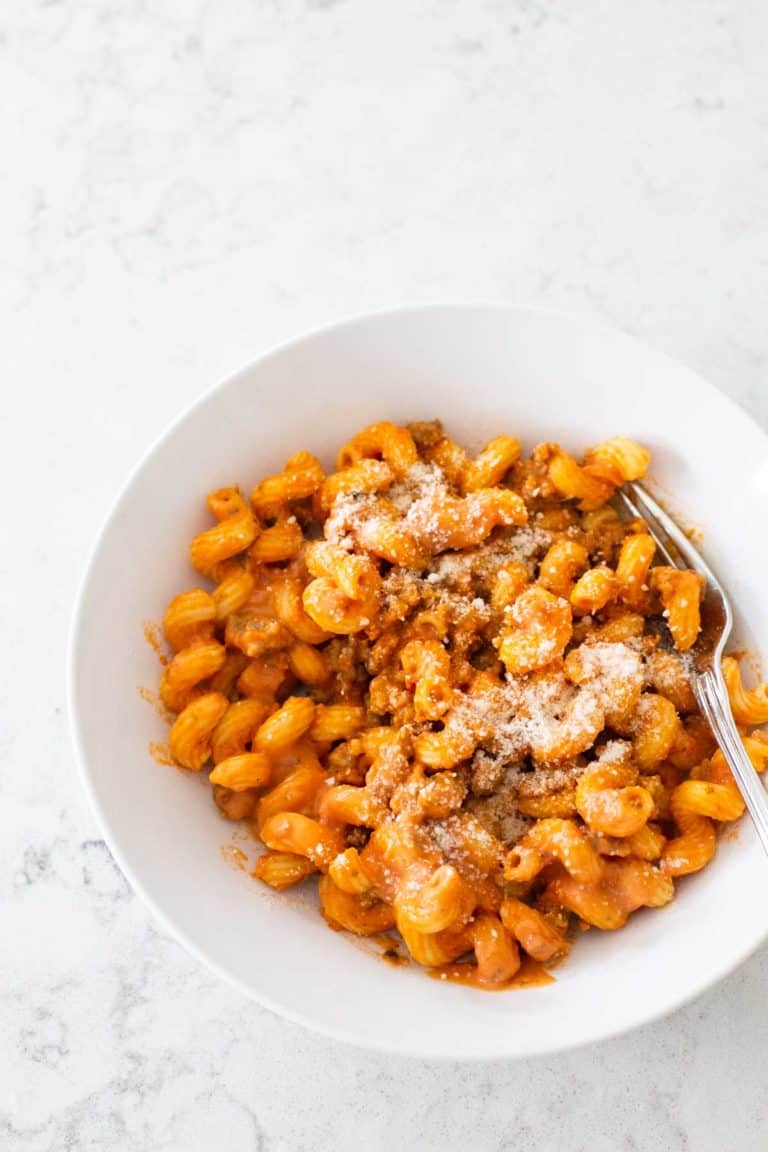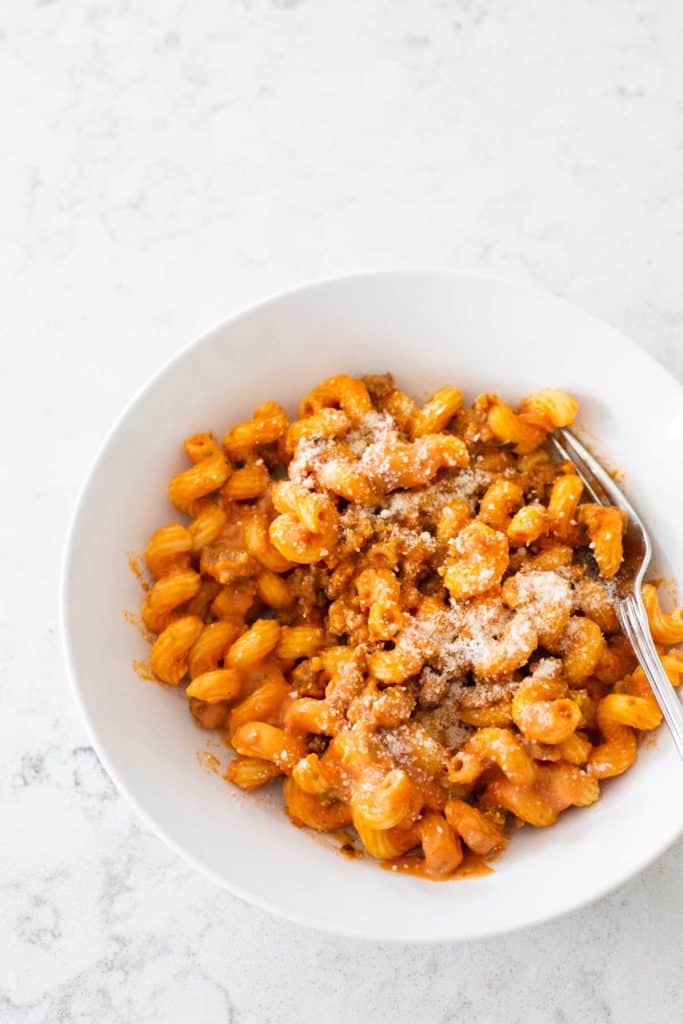 Recipe FAQs:
What can I substitute for heavy cream?
Heavy cream adds the richness to this dish and is very important to the final flavor. If you desire, you can substitute 1 cup of milk with 2 tablespoon of salted butter.
What can I substitute for bulk sausage?
We love the flavor sausage brings to this dish but if you prefer to lighten it up, you could substitute browned ground turkey with 1 teaspoon fennel seeds and 1 tablespoon olive oil.
What vegetables would taste good with this pasta sauce?
We love to serve a salad on the side rather than add additional veggies to the pasta sauce. However, you could add a bag of frozen sweet peas to the sauce at the same time as you add the cream.
Chopped fresh baby spinach would also be a good choice, also added at the same time as the cream.
Can pasta rosa be frozen?
Pasta sauces that have cream, milk, or other dairy stirred into a tomato base can be frozen but are likely to separate when thawed and recooked. The final dish is not very visually appealing but is safe to eat and will taste alright.
Can pasta rosa be made ahead?
Pasta sauces that have cream, milk, or other dairy stirred into a tomato base should generally not be made ahead because they are likely to separate when stored and recooked. If you want to prep the dish ahead, you could prepare the tomato sauce with everything BUT the cream and cook the pasta but store each item separately in the fridge. Before serving, heat the tomato sauce in a skillet, add the cream, and then warm the pasta in the finished sauce.
More Ideas for Pasta Night:
If you've tried this pasta rosa recipe or any other dish on PeanutBlossom.com please don't forget to rate the recipe and let me know where you found it in the comments below. I love hearing from you!
FOLLOW along on Instagram @peanut.blossom as well as on Pinterest and Facebook.
📖 Recipe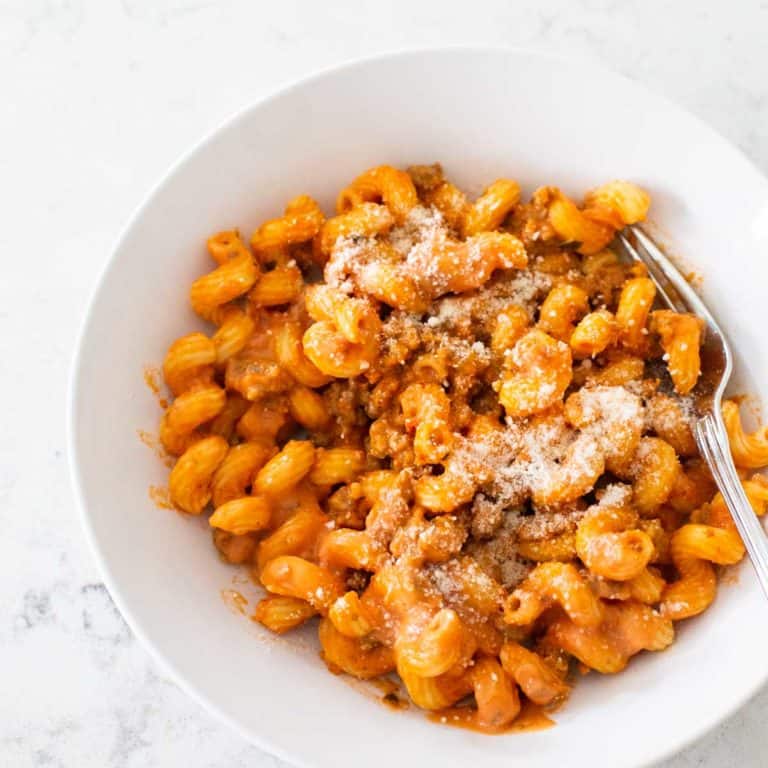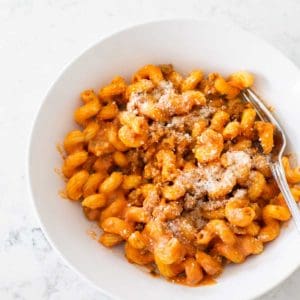 Pasta Rosa with Sausage
Toss your favorite pasta shape in this rich and creamy tomato sauce with sautéed sausage and onions. Top with grated parmesan cheese and serve for the ultimate comfort food.
Ingredients
1

(16 oz) box of pasta

a short noodle like penne, rigatoni, or corkscrews will work best

1

tablespoon

olive oil

1.5

pounds

bulk Italian sausage

sweet, mild, hot, or a mix

1

onion

diced

3

teaspoon

minced garlic

⅓

cup

white wine

1

(24 oz) jar tomato basil sauce

1

cup

heavy cream
Instructions
Cook the pasta according to the directions on the package using the shorter time listed so the noodles are firm. Drain and set aside.

Meanwhile as you're waiting for the water to come to a boil, begin the sauce.

In a large skillet over Medium-High heat, add the olive oil and let it heat up until it shimmers. Add the sausage and break it up into crumbles with a spoon as it cooks. Continue to cook and stir the sausage until it becomes golden brown and slightly toasted looking or the meat will be chewy.

Add the chopped onion and garlic to the hot skillet, stir and cook until the onions have softened and become translucent.

Add the wine to the skillet and stir until the liquid has mostly evaporated.

Turn the heat down to Medium-Low and then add the jar of tomato sauce. Stir to combine.

Wait to add the cream to the skillet until the pasta has been drained and is ready for tossing. Add the cream, stir it into the sauce. Let it cook for 1 - 2 minutes to heat through. Add the pasta to the skillet and gently toss to combine.

Serve immediately with grated parmesan for topping.
Recipe Notes
Make-Ahead Tips:
The tomato and sausage sauce can be made ahead of time and stored in the fridge up to 24 hours or even frozen as long as you save the cream for adding when you reheat it. The cream will cause the sauce to separate if stored overnight or frozen.
To serve: Boil the pasta fresh just before you want to eat. Reheat the sauce over Medium-Low heat in a large skillet. If the sauce is too thick, you can add a ladle of the water from the pasta pot. Add the cream just before the pasta and serve.
Variations:
When serving kids, a sweet Italian sausage is always popular. For more adventurous eaters, you could use hot Italian sausage or add several shakes of roasted red pepper flakes to sweet sausage as it browns.
Save This Recipe to Your Recipe Box
Find this delicious recipe next time you visit by saving it to your very own recipe box on my site. All your favorites stored in one easy place!