This easy make ahead baked mac and cheese recipe can be prepped ahead of time and baked in just 15 minutes. This makes it the perfect make-ahead holiday side dish.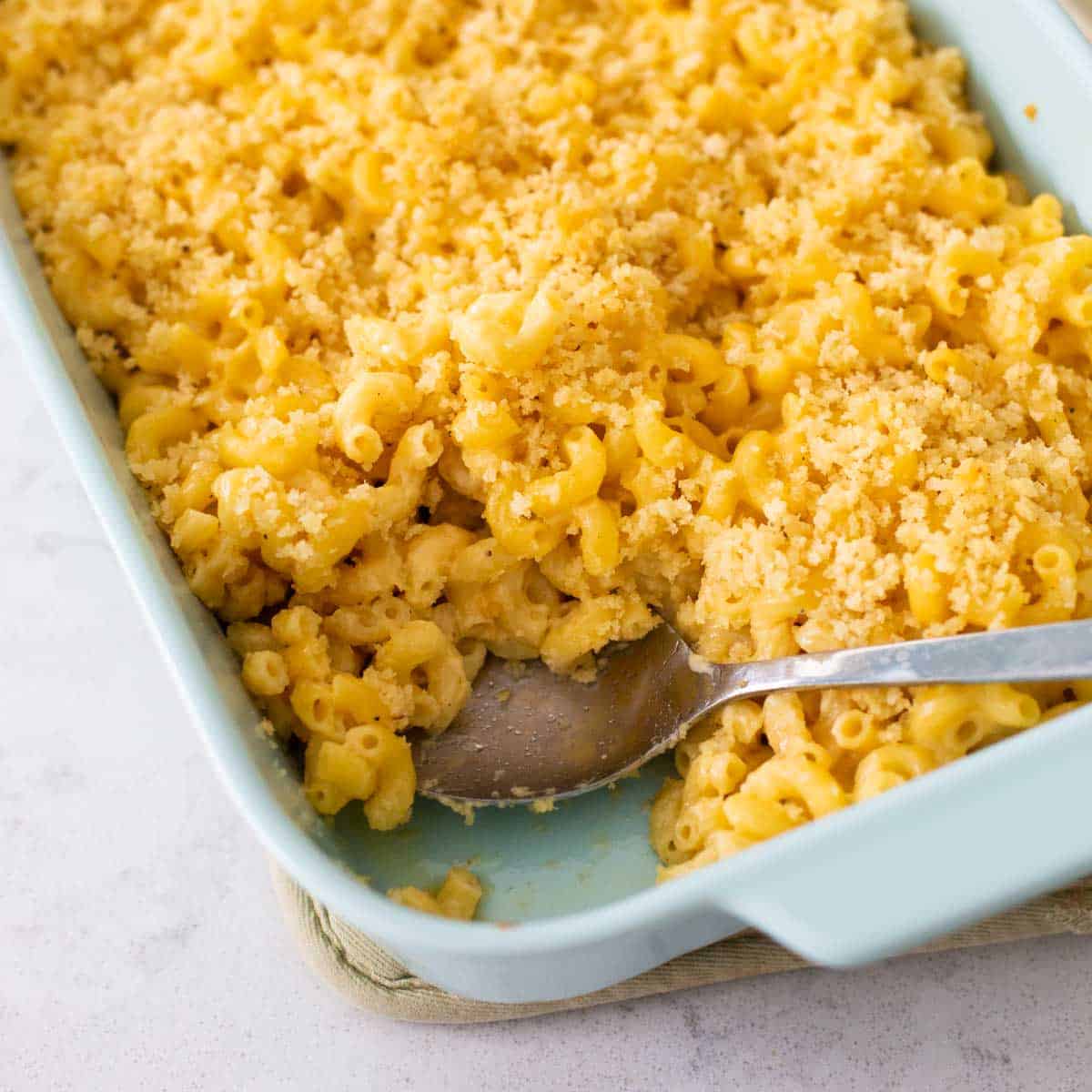 If you've got kids, you've probably made more mac and cheese dinners than you'd ever dare count.
Kids are funny little goobers though, aren't they?? They have such specific ideas about what counts as the "perfect" mac and cheese.
For years, my kids wanted nothing but the classic blue box.
Then, I swayed them over with my drool-worthy stovetop mac and cheese recipe. (You can find our recipe in The Ultimate Kids' Cookbook. BONUS: The kids can learn to make it themselves!)
But it wasn't until this year that I finally found The Best, The Most Perfect, The ONLY baked mac and cheese recipe we will ever make again.
Jump to:
Why This Recipe is the Best
My kids were intrigued. Those buttery, crispy bread crumbs on top called to them but it was the perfect ratio between cheese sauce and firm noodle that won them over.
We like our mac and cheese to be creamy, but there needs to be a good bite of firm pasta, not just an entire spoonful of cheese and mush. This recipe is pure bliss.
And the best part?? It takes only minutes to prep and bakes in just 15 minutes.
It fits right into your busy weeknight schedule but is delicious and easy enough to earn a place on your holiday table.
After 10 years in the south, we've adopted the tradition of serving southern-style macaroni and cheese as a Thanksgiving side dish. Kids often hate most Thanksgiving recipes, this gives them one thing to be extra-happy about at the holiday meal!
In that time, I've tried recipe after recipe looking for the winner, this mac and cheese is the absolute best ever. Pinkie swear.
Ingredients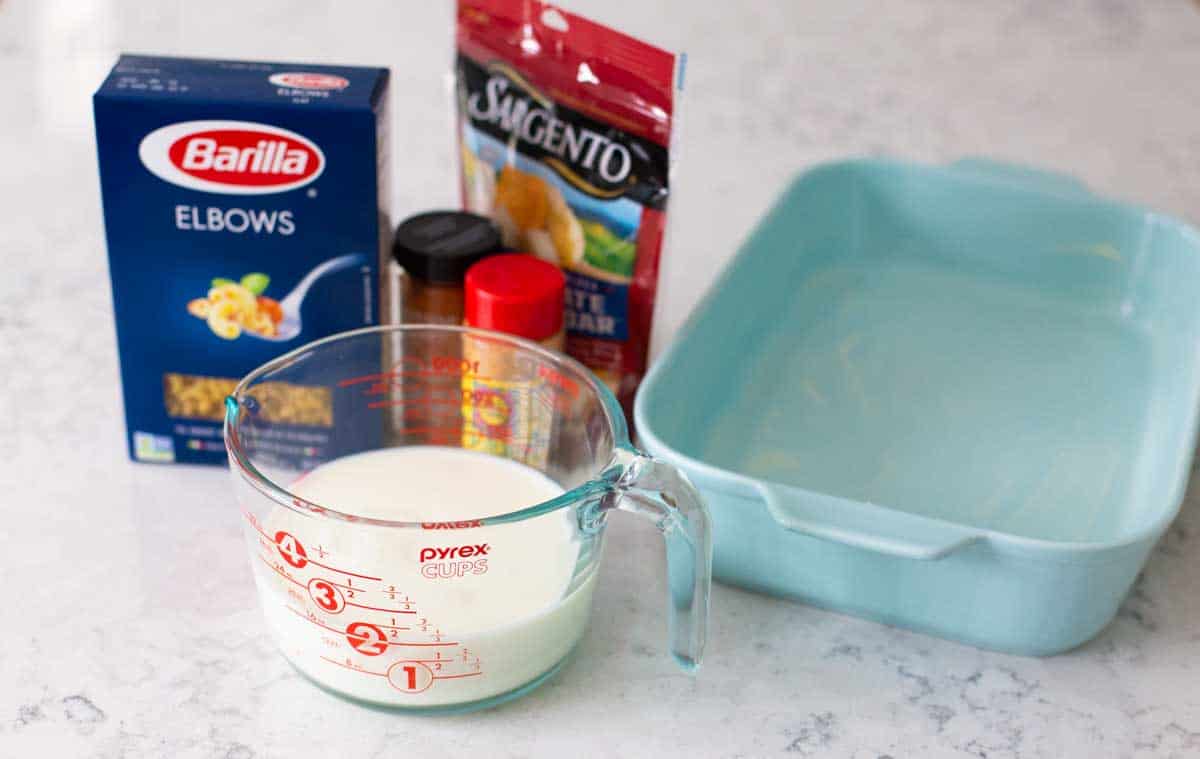 The list of ingredients is short and simple but several of these items are essential. I've listed substitutions wherever possible:
Elbow macaroni: You could make this with medium shells, cavatappi, or mini penne if you prefer.
Panko breadcrumbs: Essential for that light, crispy topping. In a pinch, you could substitute plain breadcrumbs if you had to.
Sharp cheddar cheese: For a holiday dish, buy the brick and grate it yourself. It will melt and taste SO much better. But, for busy nights a bag of pre-shredded cheese works just fine.
Cayenne pepper or Hot sauce: There's only a tiny dash and it is essential for the flavor. Your kids won't even know it is there but you'd miss it if it wasn't.
Flour
Milk
Butter
Seasoned salt: You can use any brand you like or make my homemade seasoned salt.
Perfect Shredded Cheese
Most tv chefs will tell you to shred a fresh block of cheddar for the best cheese because it doesn't have the powdery coating that pre-shredded packaged cheddar has to prevent clumping.
They aren't wrong, but we're all super busy. If you don't have the time or energy to shred your own cheese, you can still find a pre-shredded cheese that will work wonderfully in this recipe.
We prefer the thick-cut shreds vs. finer cuts. Try to find a bag that doesn't have visible powdery coating on it, some are worse than others.
We've tested varieties from both Tillamook and Sargento with great success.
Make Ahead Tips
You don't have to make this dish ahead of time, you could assemble it and bake it immediately.
I just love that you have the option to save time later by making it ahead if you prefer.
If you do want to make it ahead, here are the crucial tricks to ensuring it comes out perfectly.
DON'T Overcook the Pasta
This is the most common mistake cooks make when preparing baked mac and cheese. It is absolutely essential that you don't overcook the pasta.
In order to control the texture of the pasta, our recipe calls for you to boil the pasta PART WAY before tossing in the cheese sauce and baking. This gives you complete control over the final texture.
Keep in mind:
The pasta will absorb some of the liquid from the sauce while baking and soften.
If you prep the casserole ahead of time and let it sit, it will absorb the liquid while chilling AND even more while baking.
Serving Immediately Pasta Cook Time:
When I prepare the entire casserole and bake it for serving immediately, I subtract two minutes from the lowest cooking time on the pasta box.
Make Ahead Pasta Cook Time:
If I want to prepare the casserole ahead of time and bake it off later in the day, I subtract 3 minutes from the lowest time on the package.
If you want to assemble the mac and cheese the night before Thanksgiving, I'd recommend 3 minutes less.
Make the Cheese Sauce
Once your pasta has been cooked and drained, you can make the cheese sauce right in the same pasta pot.
Add the butter to the pan and melt it. Whisk in the flour and cook until it bubbles.
Pour in the milk and whisk in the seasoned salt and cayenne.
Finally, add the shredded cheese and whisk until smooth.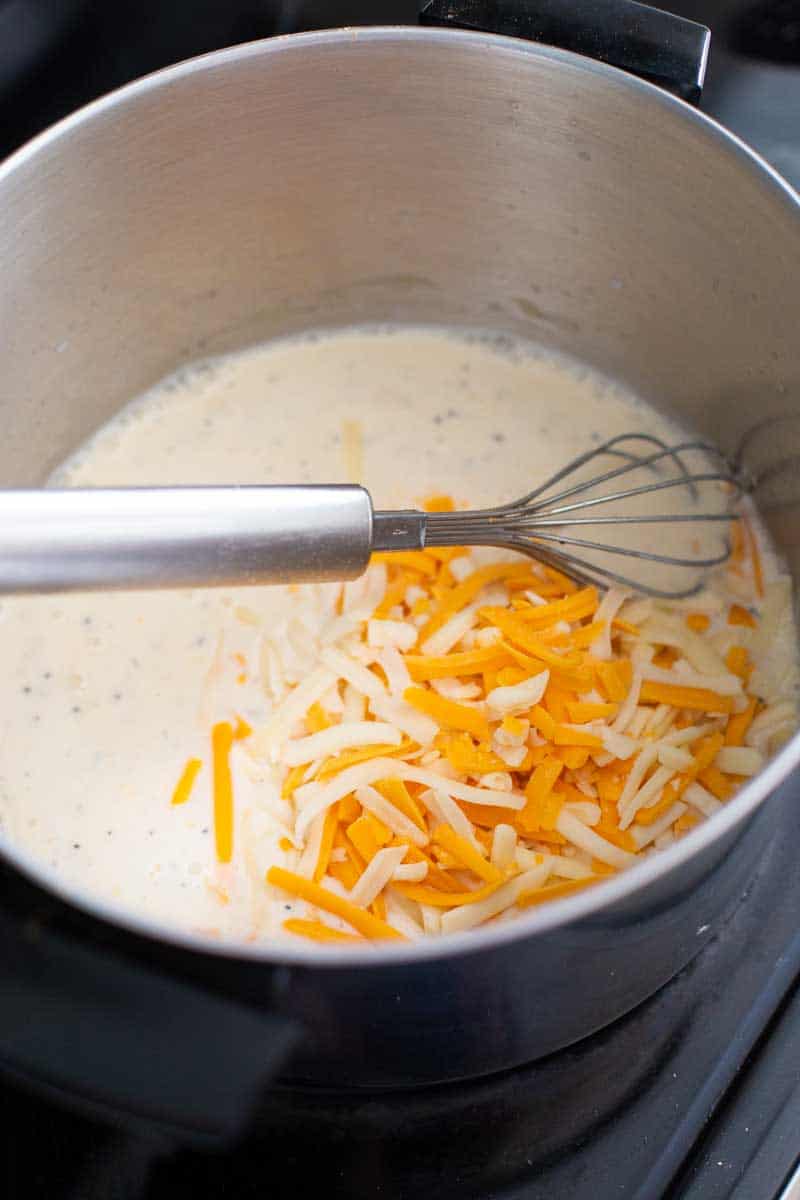 Add Cayenne or Hot Sauce
Don't panic! This is NOT a spicy dish, I promise.
My kids don't even know I include that dash of heat in this macaroni recipe. The hot pepper simply gives the mac and cheese a little more depth of flavor.
I've used both cayenne powder and my husband's favorite Texas Pete hot sauce when testing. I can't say we have a favorite, they've both been great.
Tim shakes even more Texas Pete over his serving at the table and I always keep a shaker of cayenne handy for a little extra kick.
Toss the Pasta and Sauce
Once the cheese sauce is smooth, add the strained pasta back to the pot and stir it together gently.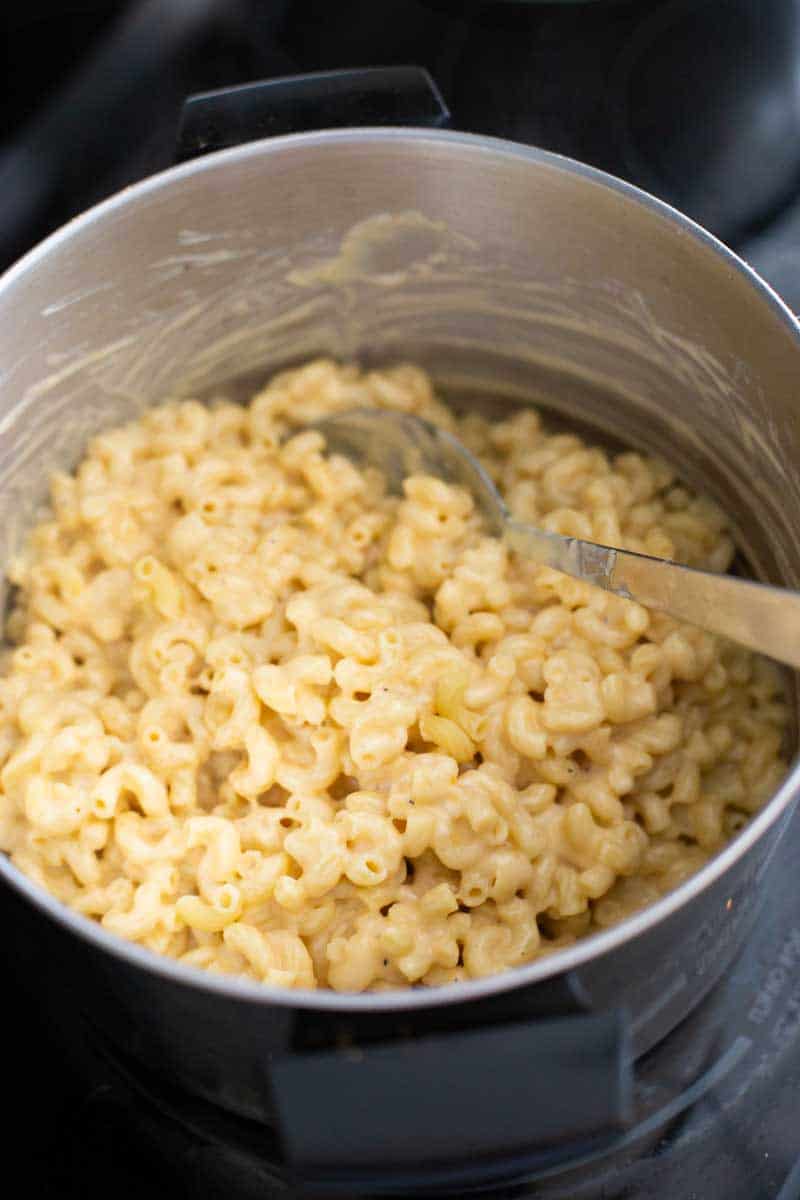 Prep the Baking Dish
Rub some softened butter all around the inside of a 9 x 13-inch baking dish before you add the prepped mac and cheese.
This will give the casserole a delicious, buttery, crispy outer edge.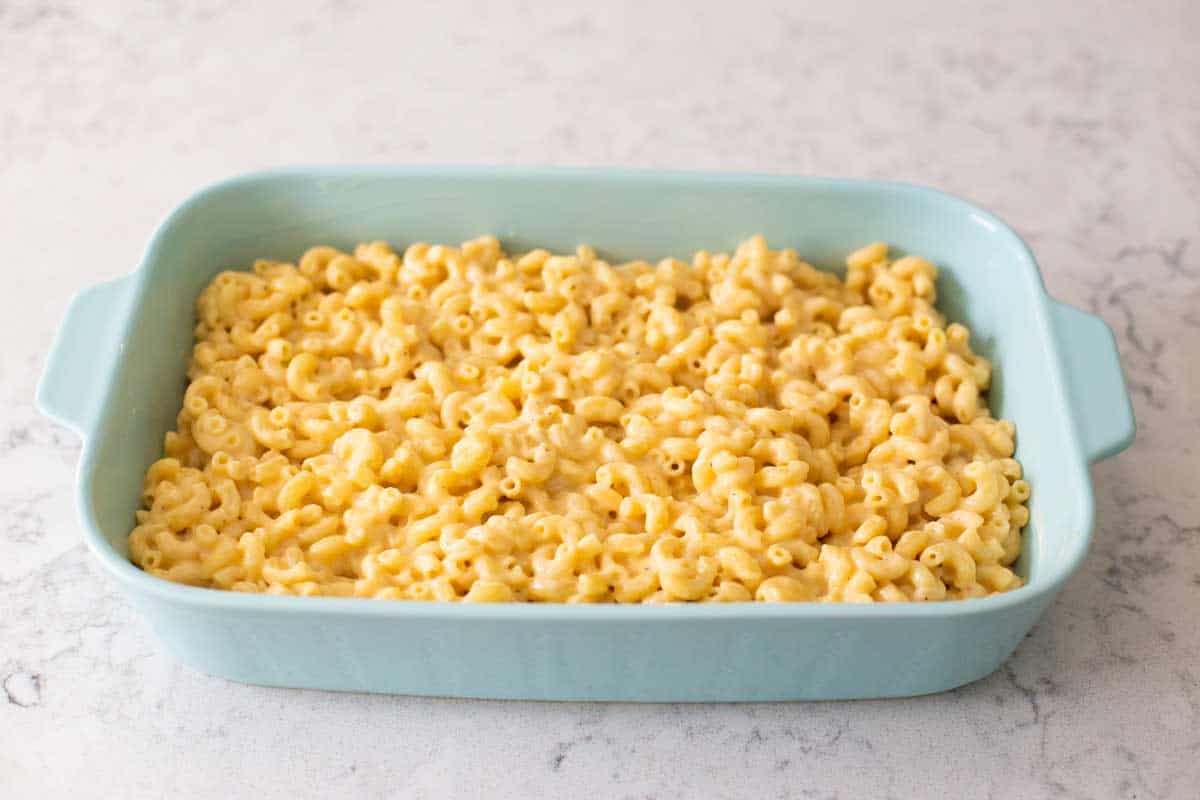 Pour the prepared mac and cheese into the dish and then spread it into an even layer.
At this point, you can either:
Top with bread crumbs and bake immediately.
Cover the dish with foil and keep in the fridge for baking up to 24 hours later.
If you plan to cover the dish and bake later, be sure to store the bread crumbs separately.
If you top with bread crumbs before storing, they will absorb the liquid from the cheese sauce and get soggy.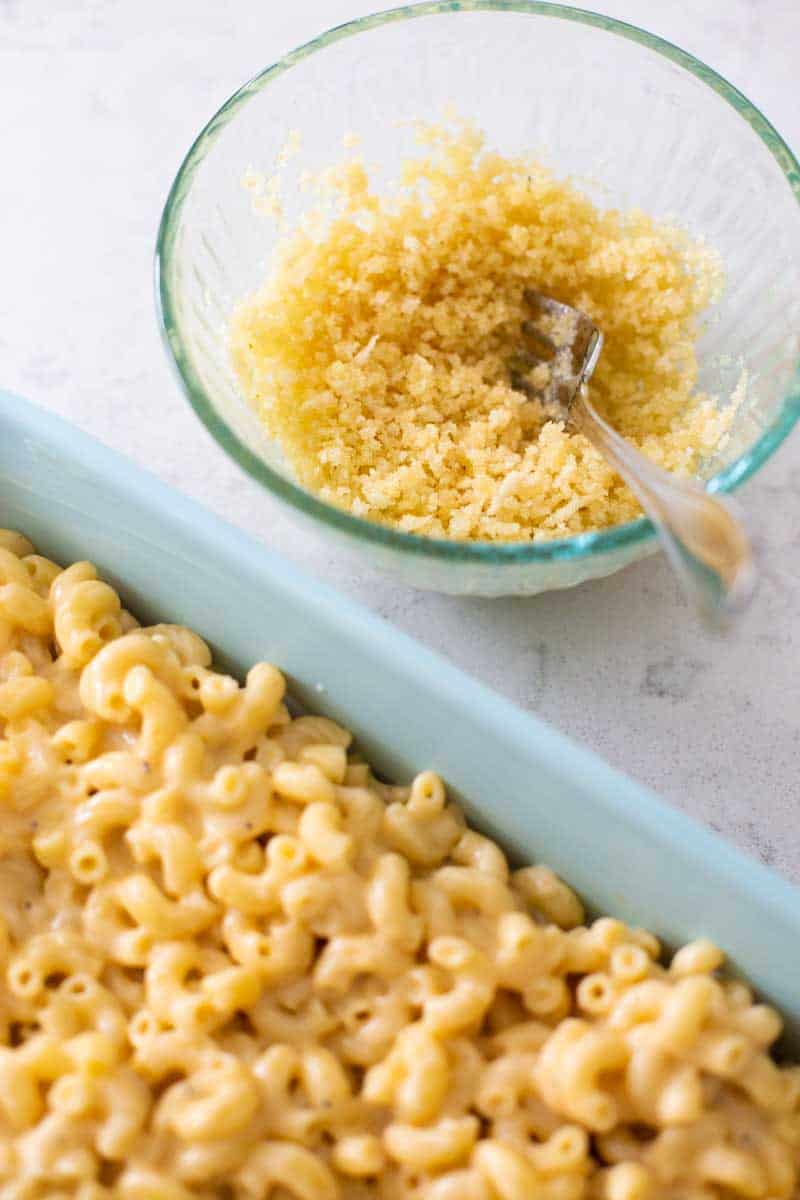 Use Panko Breadcrumbs
Speaking of crunchy breadcrumbs . . . Panko breadcrumbs are lighter in texture than regular dried breadcrumbs from the grocery store.
They are easily found right in the same section. You'll find that the individual panko crumbs are slightly larger and soak up all that melted butter wonderfully.
The final breadcrumb texture on top is light and practically flaky. It is definitely our favorite part!
To keep the breadcrumbs from absorbing liquid before it bakes, I always store the breadcrumbs separately from the prepared mac and cheese.
Just sprinkle them over the top before putting the dish in the oven to bake.
How to Time Baking as a Holiday Side Dish
The entire recipe comes together in a single pot on the stovetop but is transferred to a casserole dish for baking. It is super easy to sneak into your cooking schedule for a busy holiday meal.
Assemble the Day Before:
Up to 24 hours ahead of time, you can assemble the macaroni and cheese and store it in a casserole dish. Be sure to follow these make-ahead tips:
Undercook the pasta by 3 minutes so it doesn't get too soft overnight.
Prepare the cheese sauce and toss with the noodles, store in a casserole dish in the fridge.
Store the breadcrumb topping separately and just sprinkle it over the top before baking.
You will need a little extra time for the dish to heat through, watch so your breadcrumbs don't burn. Cover with aluminum foil if they start to get too dark.
More Make Ahead Recipes
Make ahead side dishes are perfect for busy holiday meals. Here are some of my other favorite dishes to make the day before:
📖 Recipe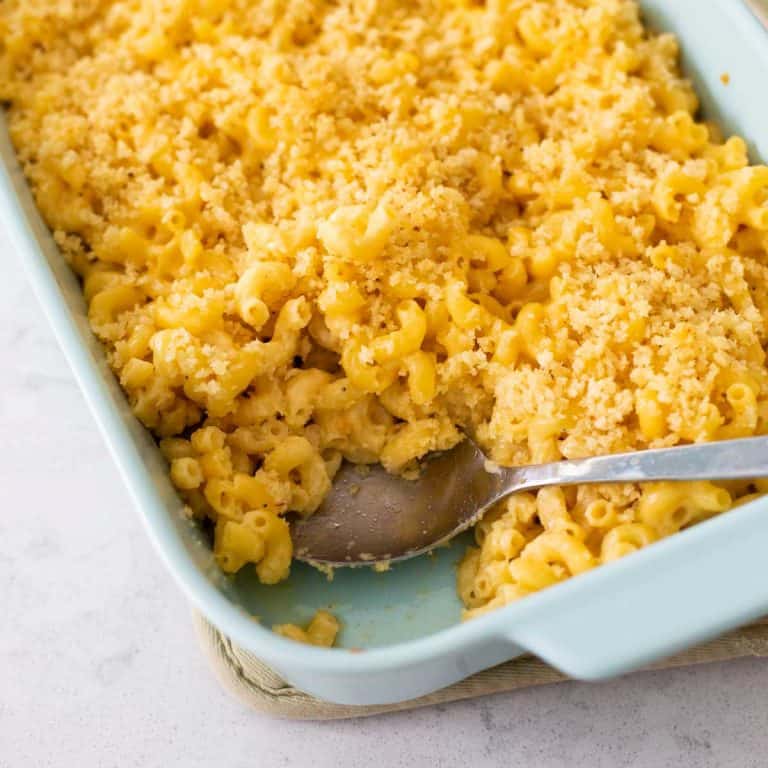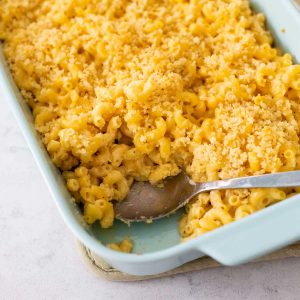 Make Ahead Mac and Cheese
This easy baked mac and cheese recipe is the perfect side dish or dinner fix. Topped with plenty of crunchy breadcrumbs and perfectly cooked pasta, it will be your go-to recipe at the holidays.
Ingredients
1

tablespoon

softened butter for the baking dish

1

pound

elbow macaroni

4

tablespoon

butter

melted for the breadcrumb topping

½

cup

panko or plain breadcrumbs

4

tablespoon

butter for the cheese sauce

4

tablespoon

all-purpose flour

2

cups

milk

1

teaspoon

seasoned salt

¼

teaspoon

cayenne pepper OR several dashes of your favorite hot sauce

2

cups

grated sharp cheddar cheese
Instructions
Preheat the oven to 350°F.

Bring a large pasta pot filled with water to a boil. Sprinkle several pinches of salt into the water and then add the pasta. Cook the pasta for 2 minutes shorter than the package recommends to avoid mushy mac & cheese. (Between 5 - 8 minutes, depending on your brand of pasta.)

Meanwhile, rub a pat of softened butter around the inside of a 9x13-in baking dish and set aside. In a small bowl, melt 4 tablespoon of butter on HIGH heat for 30 seconds. Add the breadcrumbs to the bowl and stir together with a fork until the mixture is evenly damp, set aside.

Drain the noodles and set aside. In the now-empty pasta pot, prepare the cheese sauce. Melt the butter over medium heat. Whisk in the flour and continue to stir until the mixture bubbles and turns light brown, about 2 - 3 minutes.

While whisking constantly, slowly pour the milk into the pan. Continue to whisk until the sauce has thickened and no lumps remain, about 2 - 3 minutes.

Add the seasoned salt and cayenne pepper or hot sauce to the pan. Add the shredded cheese and whisk until the cheese has melted.

Add the pasta to the pan and gently stir to combine the noodles with the cheese sauce. Pour the macaroni into your prepared baking dish and spread it out evenly. Be sure to scrape all the cheese sauce into the dish.

Sprinkle the reserved breadcrumbs over the top of the mac and cheese.

Bake until the mac and cheese bubbles around the edges and the breadcrumbs are toasted, about 15 minutes.
Save This Recipe to Your Recipe Box
Find this delicious recipe next time you visit by saving it to your very own recipe box on my site. All your favorites stored in one easy place!