This easy baked mac and cheese recipe can be prepped ahead of time and baked in just 15 minutes. This makes it the perfect make-ahead holiday side dish. You'll find the firm elbow noodles are coated in just the right amount of cheese sauce and everything is topped with crispy, buttery panko breadcrumbs that will simply melt in your mouth.
If you've got kids, you've probably made more mac and cheese dinners than you'd ever dare count. Kids are funny little goobers though, aren't they?? They have such specific ideas about what counts as the "perfect" mac and cheese.
For years, my kids wanted nothing but the classic blue box.
Then, I swayed them over with my drool-worthy stovetop mac and cheese recipe. (You can find our recipe in The Ultimate Kids' Cookbook. BONUS: The kids can learn to make it themselves!)
But it wasn't until this year that I finally found The Best, The Most Perfect, The ONLY baked mac and cheese recipe we will ever make again.
My kids were intrigued. Those buttery, crispy bread crumbs on top called to them but it was the perfect ratio between cheese sauce and firm noodle that won them over.
We like our mac and cheese to be creamy, but there needs to be a good bite of firm pasta, not just an entire spoonful of cheese and mush. This recipe is pure bliss.
And the best part?? It takes only minutes to prep and bakes in just 15 minutes.
It fits right into your busy weeknight schedule but is delicious and easy enough to earn a place on your holiday table.
After 8 years in the south, we've finally adopted the tradition of serving southern-style macaroni and cheese as a Thanksgiving side dish. Kids often hate most Thanksgiving recipes, this gives them one thing to be extra-happy about at the holiday meal!
In that time, I've tried recipe after recipe looking for the winner, this mac and cheese is the absolute best ever. Pinkie swear.

How to make the best baked mac and cheese in just minutes: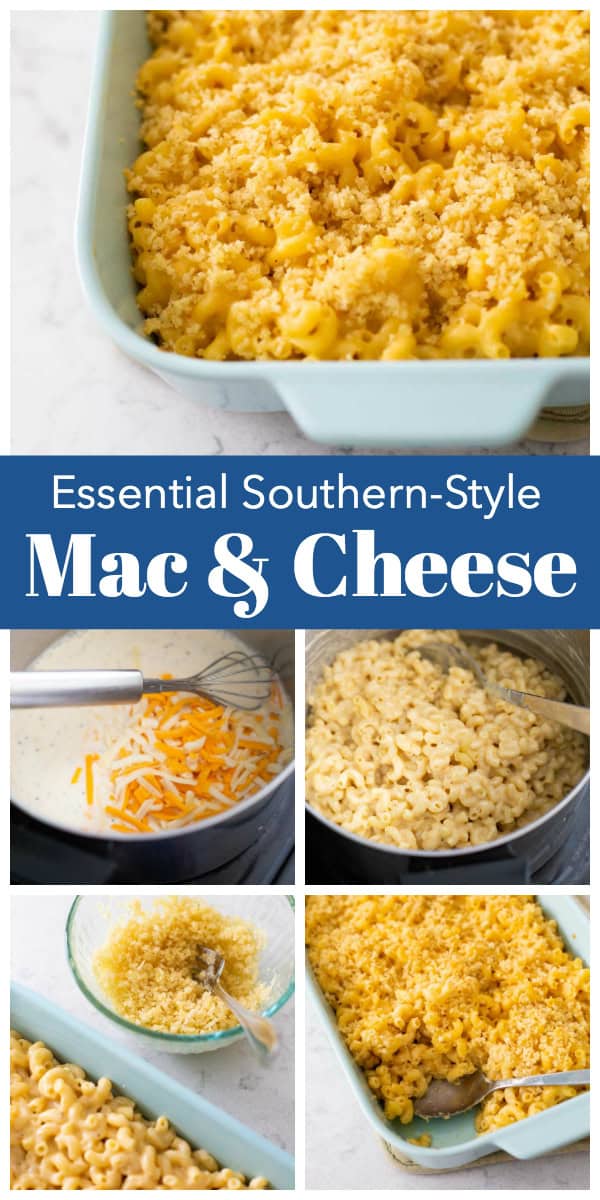 Step 1: Do NOT overcook the macaroni!!
This is the most common mistake cooks make when preparing baked mac and cheese. It is absolutely essential that you don't overcook the pasta.
In order to control the texture of the pasta, our recipe calls for you to boil the pasta PART WAY before tossing in the cheese sauce and baking. This gives you complete control over the final texture.
Keep in mind:
The pasta will absorb some of the liquid from the sauce while baking and soften.
If you prep the casserole ahead of time and let it sit, it will absorb the liquid while chilling AND even more while baking.
When I prepare the entire casserole and bake it for serving immediately, I subtract two minutes from the lowest cooking time on the pasta box.
If I want to prepare the casserole ahead of time and bake it off later in the day, I subtract 2.5 - 3 minutes from the lowest time on the package.
If you want to assemble the mac and cheese the night before Thanksgiving, I'd recommend 3 minutes less.
Step 2: Use best-quality shredded cheese, or shred your own
Most tv chefs will tell you to shred a fresh block of cheddar for the best cheese because it doesn't have the powdery coating that pre-shredded packaged cheddar has to prevent clumping.
They aren't wrong, but we're all super busy. If you don't have the time or energy to shred your own cheese, you can still find a pre-shredded cheese that will work wonderfully in this recipe.
We prefer the thick-cut shreds vs. finer cuts. Try to find a bag that doesn't have visible powdery coating on it, some are worse than others. We've tested varieties from both Tillamook and Sargento with great success.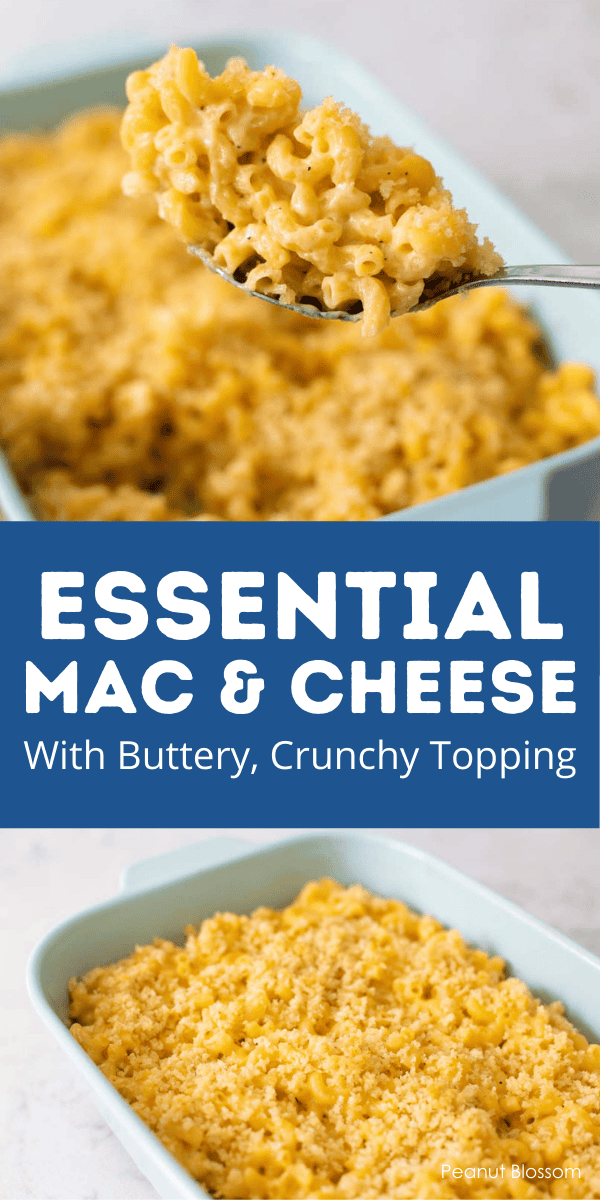 Step 3: Cayenne or hot sauce are essential for a southern-style mac and cheese
Don't panic! This is NOT a spicy dish, I promise. My kids don't even know I include that dash of heat in this macaroni recipe. The pepper simply gives the mac and cheese a little more depth of flavor.
I've used both cayenne powder and my husband's favorite Texas Pete hot sauce when testing. I can't say we have a favorite, they've both been great. Tim shakes even more Texas Pete over his serving at the table and I always keep a shaker of cayenne handy for a little extra kick.
Step 4: Make just the right amount of cheese sauce
Is it just me, or do many baked macaroni and cheese recipes have just way too much cheese sauce?? Not only does that make a mushy casserole, you easily miss the entire macaroni part!
This recipe has the perfect ratio of cheese sauce to pasta. Each noodle is perfectly coated in cheese sauce but as you dig your fork into your serving you'll still see each individual pasta shape.
If your kids tell you they don't like baked macaroni and cheese, you absolutely need to try this version. It is just perfect for stovetop mac and cheese lovers but with the addition of buttery breadcrumbs for extra crunch!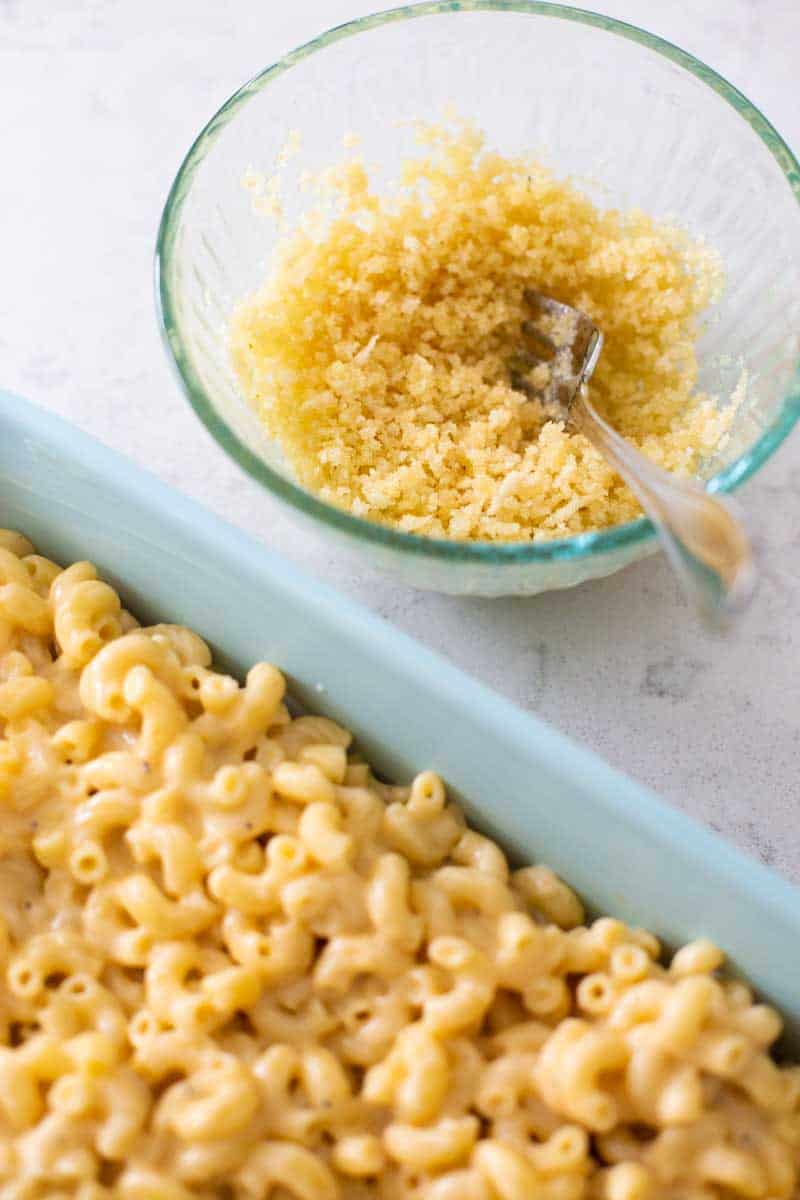 Step 5: Use panko breadcrumbs instead of regular if you can
Speaking of crunchy breadcrumbs . . . Panko breadcrumbs are lighter in texture than regular dried breadcrumbs from the grocery store. They are easily found right in the same section. You'll find that the individual panko crumbs are slightly larger and soak up all that melted butter wonderfully.
The final breadcrumb texture on top is light and practically flaky. It is definitely our favorite part!
Make-ahead tips for serving this baked mac and cheese as a Thanksgiving side dish:
The entire recipe comes together in a single pot on the stovetop but is transferred to a casserole dish for baking. It is super easy to sneak into your cooking schedule for a busy holiday meal.
Assemble it the day before:
Up to 24 hours ahead of time, you can assemble the macaroni and cheese and store it in a casserole dish. Be sure to follow these make-ahead tips:
Undercook the pasta by 3 minutes so it doesn't get too soft overnight.
Prepare the cheese sauce and toss with the noodles, store in a casserole dish in the fridge.
Store the breadcrumb topping separately and just sprinkle it over the top before baking.
You will need a little extra time for the dish to heat through, watch so your breadcrumbs don't burn. Cover with aluminum foil if they start to get too dark.
Looking for more easy make-ahead Thanksgiving recipes?
Don't miss these other easy holiday recipes that are perfect for making ahead of time: