Planning a holiday menu filled with Easter recipes for kids helps to ensure that even the pickiest of eaters at your spring table will dine happy.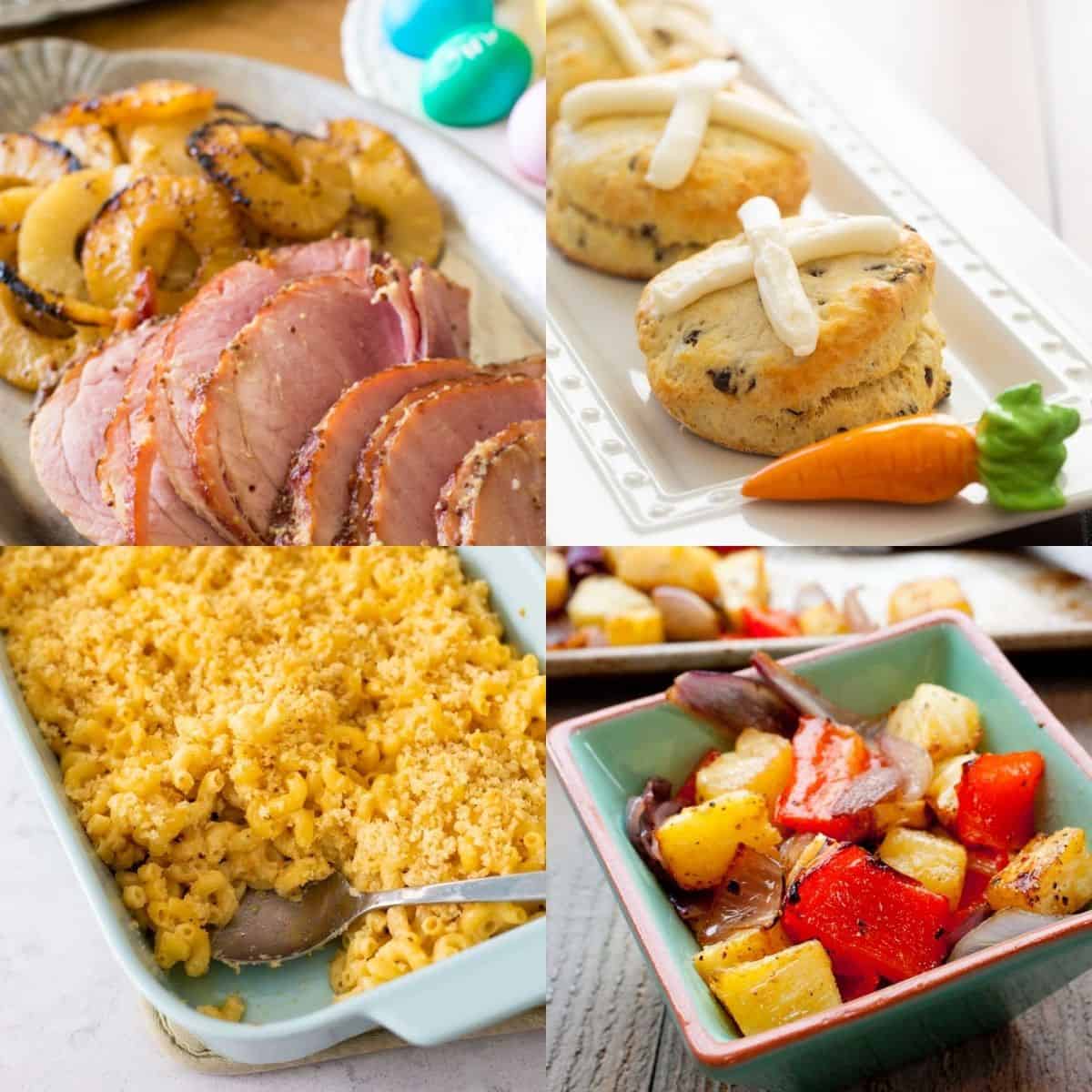 I have great sympathy for kids who don't like Easter ham. Even now as an adult, I'm not a fan of a big thick slabs of it on my dinner plate.
It took me a long time to realize that thinly sliced spiral-cut ham covered in a sweet pineapple-mustard glaze is actually a super-delicious way to celebrate Easter.
But, there just would have been no convincing me of that when I was a kid.
Now that I prepare Easter dinner for my family, I try hard to make sure that there are several dishes on the table I know the kids will eat.
After all, it is a whole-family holiday, it doesn't hurt to add in a few things you know will be surefire winners!
Jump to:
Tips for Planning a Kid Menu
I don't cater to my children with cliche kid recipes like hot dogs or pb&j. I simply try to work around what their aversions are and find new ways to use the seasonal flavors that they will love.
Be Flexible:
If your kid really doesn't like Easter ham? Why not switch to a roast pork or fish this year? I have several perfect spring recipes for these main dishes that may be just the change your family needs this year.
Load Up on Side Dishes:
The side dishes are a great place to add a wide variety of offerings to your Easter buffet. It's ok if your kids don't like one or two items if there are plenty of options available to sample.
If your kids turns up their noses at potatoes? There are always hot cross biscuits or scones.
If your kids groan at asparagus? You could switch to a citrus salad or roasted peppers!
You could challenge the kids to try at least 2 or 3 things that get passed to ensure they have a little variety.
Easy Easter Dinner Ideas
From traditional spiral-cut Easter hams to more unique macadamia crusted halibut, these elegant and easy main dishes are perfect for your Easter dinner.
Mustard Glazed Ham
This mustard glazed ham was the winning recipe that convinced adult-me that Easter ham is delicious. The roasted pineapples on top are amazing but can be served on the side for picky eaters.
Ooey Gooey Ham Sliders
f you must have ham but your kids can't stand the whole roast, gooey ham sliders are a fun twist on the traditional dinner. They are also great for using up leftovers of the spiral ham the next day.
Ham Pot Pie with Biscuits
Another great way to incorporate ham in a way that is friendly to kids--all chopped up and hidden inside ham pot pie with biscuit topped crust.
For the pickiest of eaters, you could serve the biscuit on the side and the pot pie filling in a bowl so they can eat them separately.
Make Ahead Pork Loin
One year we swapped the ham for Easter and made this recipe for an oven roasted pork loin instead. It might be my favorite Easter dinner ever, but I get vetoed by my husband and mom for our traditional ham every year since.
You can serve the green peppercorn sauce in a pitcher at the table and just let the adults drizzle it over their servings if peppercorns make your kids anxious.
Macadamia Crusted Halibut
This recipe for macadamia crusted halibut with lemon butter sauce is SO delicious that we've made it for birthdays, Christmas, Valentine's Day, and Mother's Day. If it's a party, you will likely find this on our table. It would be a perfect Easter recipe for anyone who doesn't like ham.
The light and crispy coating is a hit with kids and the whole dish can be made in advance.
Mustard Roasted Salmon
Another delicious spring recipe, mustard roasted salmon is such a happy pink color for your Easter table. My kids lovingly call it "pink fish."
The sweet mustard glaze gives an amazing texture to the flaky fish.
Roasted Shrimp
Do your kids love shrimp? This simple recipe for roasted shrimp would be a quick and easy dish to accompany your ham for the kids. Don't forget to add a few yummy dipping sauces for the shrimp for kids who love to dunk.
Or, you could make a bigger batch of the recipe and feed it to the whole family with plenty of side dishes to round out a full meal.
Easy Easter Brunch Ideas
If you prefer to celebrate with an early day Easter brunch, you'll want a mix of savory Easter recipes and sweet Easter baked treats.
Eggs are the obvious answer but you could also add an item or two from the Easter dinners section, too!
Egg and Sausage Casserole
This recipe for egg and sausage casserole is also a huge hit on Christmas morning. Sprinkle some fresh spring green onions over the top of each serving rather than swirling them into the batter if you've got kids who don't like onions.
Cheesy Egg Pie
I love quiche because you can mix and match whatever fillings your family loves most but the next best thing is a 2-crusted egg and ham pie. You could add chunks of ham, sausage, cheese, peppers, broccoli, or onions, whatever your kids will love. And it will all be tucked away inside the flakiest butter pie crust you've ever had.
French Toast Casserole
For kids who want something a little sweeter at the table, how about a baked French toast casserole? My favorite version has a pecan bourbon twist, but I included 14 flavor variations for easy swaps. You're sure to find one the kids will love.
Blueberry Scones
This recipe for blueberry scones is easy enough the kids can make it all by themselves. You could swap the dried blueberries and use currants for a hot cross bun-inspired treat.
Easy Quick Bread
Choose your child's favorite flavor and serve a sweet quick bread recipe sliced in a bread basket. Almond poppyseed bread is great for spring, the kids won't even taste the zucchini in the banana bread, and you could leave the almonds off the top of the peach bread if you need to.
Homemade Chocolate Croissants
These bite-sized chocolate puffs taste just like chocolate croissants but are easy enough for the kids to make. They are an adorable and easy Easter brunch idea.
Easy Easter Side Dishes
From simple spring veggie sides to buttery and decadent biscuits and potatoes, these Easter recipes for side dishes are a huge hit with kids:
Make Ahead Mac and Cheese
Since we moved to the South, our family has adopted the tradition of serving baked mac and cheese as a holiday side dish for family gatherings. I found the perfect make ahead mac and cheese that is easy to sneak into the oven while the ham is resting.
That way, not matter what else I serve, my kids know there will be at least one thing on the table they are super excited to eat.
Roasted Pineapple & Peppers
A perfect complement to the Easter ham, these roasted pineapple and peppers are perfectly sweet and tangy and a fun twist on a veggie side for kids.
Citrus Salad
This sunny citrus salad would be perfectly pretty on the holiday table. My kids gobbled it up when I served it this winter.
If you've got picky eaters, you can easily serve it in deconstructed separate dishes and let them nibble on the citrus, nuts, and cheese separately on their own.
Roasted Carrots
My kids tend to prefer carrots cold, raw, and crunchy but I think they they also love them when I roast carrots since the oven makes them even sweeter.
Hot Cross Biscuits
Since moving to the South, I've become obsessed with perfect biscuits. I make these hot cross biscuits once every year for Easter and they are my favorite. The kids can't resist the cream cheese cross on top.
Potato Pancakes with Applesauce
Looking for a new potato side dish for Easter? Try my make-ahead potato pancakes. Serve them with a 10-minute homemade apple sauce. Your kids can eat them together or separately.
Cheesy Cornflake Potatoes Casserole
Kids can't resist that crispy cornflake topping on these delicious funeral potatoes. This is a little like serving mac and cheese, but so much better.
Hard Boiled Eggs
Hard-boiled eggs: Our Easter Bunny always hides real hardboiled eggs for the Easter egg hunt. He has since I was a little girl. I simply place a bunch of pretty ones on an egg tray for the table and it's always a hit with the kids.
Crescent Roll Veggie Pizza
One part appetizer, one part side dish. My kids gobble up this easy cold veggie pizza and you can top it with pretty spring veggies including chopped asparagus or baby peas, too.
Easter Dessert Recipes
If there's one thing your kids are sure to eat at Easter, it would be just about anything off the dessert table.
Even still, some Easter desserts are more popular with picky eaters than others. Here are some of my kids' favorites.
Butterfinger Pie
This Butterfinger Pie is a HUGE hit with my kids. This creamy, crunchy, chocolate-y pie is inspired by our favorite Easter candy.
Carrot Cake with Cream Cheese Frosting
The original version of this amazing carrot cake is a 2-layer masterpiece. It is one of our very favorite cakes so I dialed it down to make it easier (and smaller) for a smaller crowd at Easter.
Lemon Torte
This Simple Lemon torte is one of my favorite make-ahead Easter desserts. It is so light and refreshing! My youngest daughter loves to eat each layer, one at a time. Ha!
Strawberry Lemonade Cake
This strawberry lemonade cake is Little Pea's favorite cake. She requested it twice last summer. It is so moist and delicious. In my opinion it is the best cold right out of the fridge. You can definitely make it the day before and just keep it chilled until serving.
Easter Treats for Kids to Bake
7 Super-Simple Easter Treat Ideas To Bake With Kids: And if your kids really want to get in the kitchen to help, don't miss these simple ideas for sweet Easter treats the kids will have so much fun making!
Chocolate Flourless Torte
If your kids just can't get enough chocolate, everyone at the table is sure to love this rich, fudgy chocolate flourless torte. I serve it with my vanilla cream sauce, but this Amaretto cream sauce would be perfect for the adults at the table.
Orange Chocolate Chunk Bundt Cake
This stunning chocolate ganache covered orange chocolate bundt cake is a huge hit with kids but adults love it because the fresh orange zest helps keep it from being too sweet.