Just a few guests at your party? This easy cream cheese carrot cake is just the right size. Made in a single layer 8x8 baking dish and frosted with a small batch of cream cheese frosting, it is perfect for a small crowd.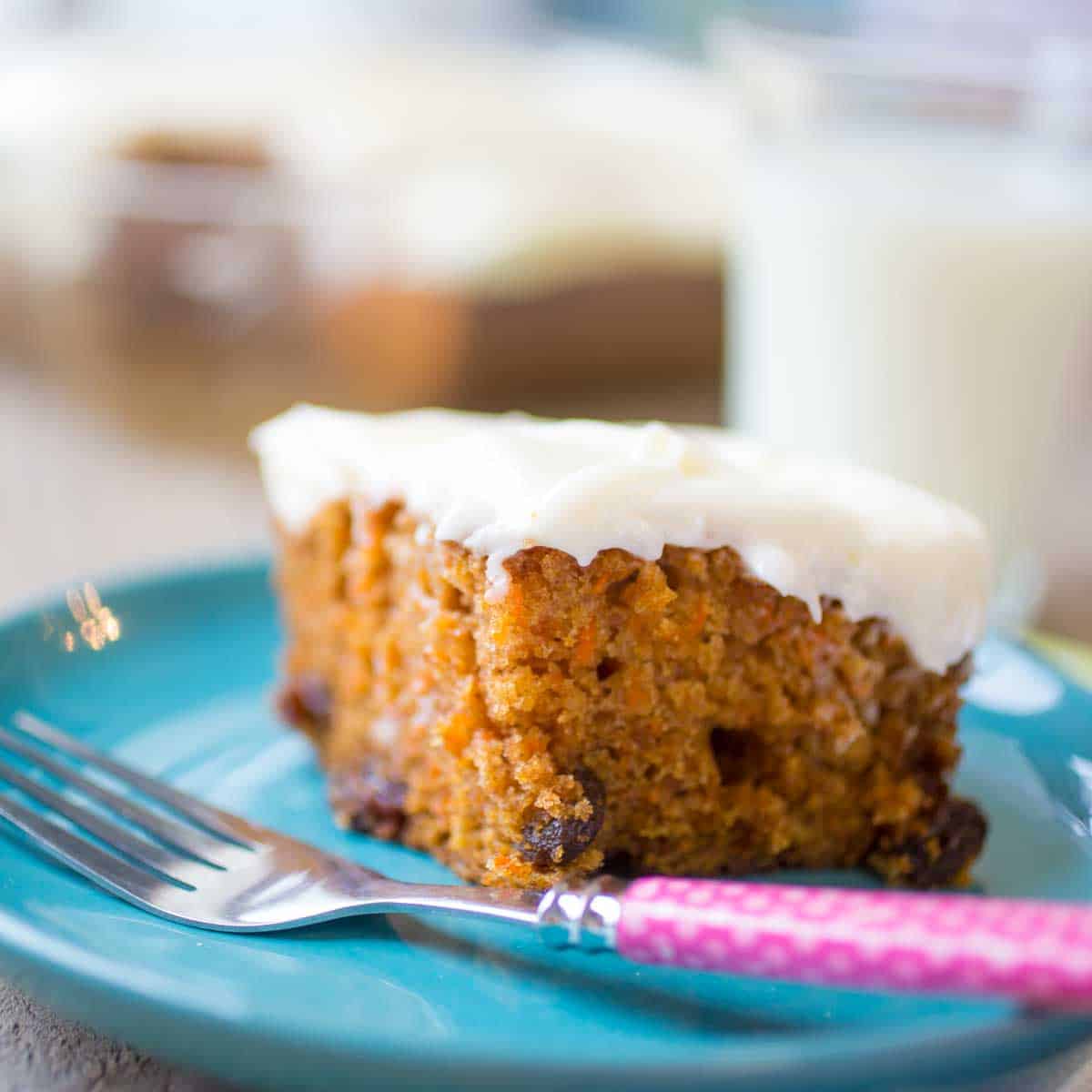 If I ever meet Ina Garten in person, I am going to give her a great big hug. Her cookbooks have been the source of countless party and holiday's worth of desserts and menu ideas at our table.
Years ago I fell in love with her carrot cake recipe. Featured in one of my all-time favorite cookbooks: "Barefoot Contessa Parties!" her carrot cake is written to be baked as carrot cake cupcakes. They are To Die For.
There's just one problem. . .
Ina Garten ran a catering company and bakery. She consistently feeds armies of people. Her recipes are HUGE.
Her cupcake recipe makes two dozen cupcakes.
I reworked her recipe and turned into a much easier single layer carrot cake with cream cheese frosting that is sized just right for a smaller family or a simple weekend treat.
Jump to:
Why This Recipe is the Best
Why Smaller is Better:
With my few simple adjustments to the giant recipe, this petite cake fits perfectly into a one layer 8x8 pan.
This smaller size means:
No fancy cake layers that need fussy decorating
No dozens of cupcake liners to wrangle and store awkwardly
Bakes just as fast as a box cake mix, but so much more delicious
Sized perfectly to let you have a variety of treats on a dessert buffet table
Ingredients
Most of these carrot cake ingredients are likely hiding in your pantry right now! I was so happy to discover I had everything on hand for easy weekend baking.
Flour
Sugar
Vegetable Oil
Eggs
Fresh Carrots: I strongly recommend grating your own fresh carrots with a box grater rather than buying pre-shedded carrots. The texture is much better with fresh grated.
Raisins: These are an optional ingredient but I believe they are essential!
Baking Soda
Cinnamon
Vanilla Extract
OPTIONAL: You could also mix in ½ cup of chopped walnuts or pecans if you like nuts in your carrot cake.
You could simply dust the cooled cake with a little powdered sugar in a pinch or you could top it with cream cheese frosting or vanilla glaze:
Make Ahead Tips
You can bake the cake a day in advance and frost it with your preferred icing. Cover it and store in the fridge.
The carrot cake tastes amazing ice cold from the fridge, but can also be set out to thaw a bit before serving if you like your cream cheese frosting soft.
You can bake the cake and freeze it unfrosted for up to 3 months. Thaw in the fridge overnight and then frost it as desired.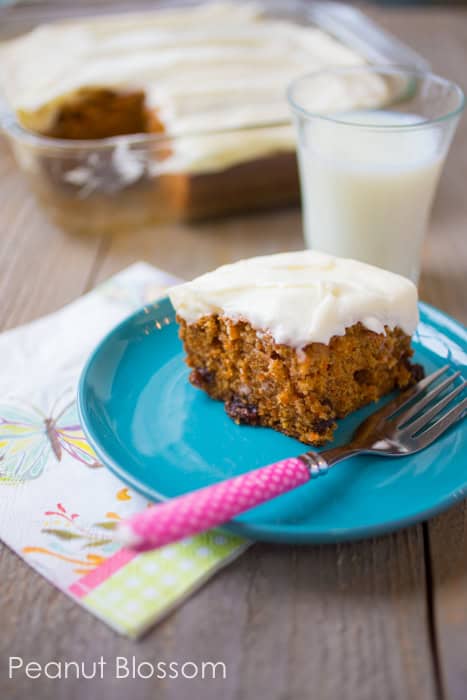 Easy Easter Desserts
This easy carrot cake is so fun to bake, but don't miss some of our other favorite Easter recipes: