Just a few guests at your party? This easy cream cheese carrot cake is just the right size for a small gathering. There won't be a single bite left and it comes together so quickly.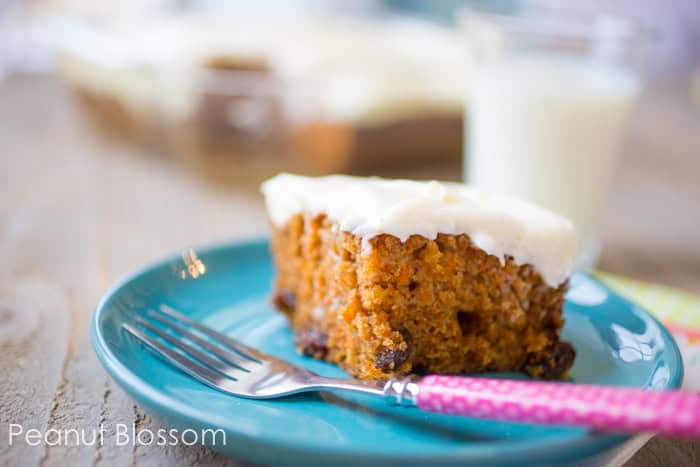 If I ever meet Ina Garten in person, I am going to give her a great big hug. Her cookbooks have been the source of countless party and holiday's worth of desserts and menu ideas at our table.
Years ago I fell in love with her carrot cake recipe. Featured in my all-time favorite cookbook: "Barefoot Contessa Parties!" her carrot cake is written to be baked as carrot cake cupcakes. They are To Die For.
There's just one problem. . .
Ina Garten ran a catering company and bakery. She consistently feeds armies of people. Her recipes are HUGE. Her cupcake recipe makes two dozen cupcakes. I've taken that batter and turned it into a gorgeous 2-layer cake for Easter, but we can feed off of it for weeks.
As much as I adore this easy carrot cake with cream cheese frosting, it has been reserved for only very special occasions because my waistline doesn't need a 2-layer carrot cake sitting around.
Over the weekend, the girls and I were having fun with some Easter crafts. Spring is coming and thoughts of this carrot cake appeared. It was a rainy Sunday and housebound as we were, baking sounded like it would be fun. I was craving the cream cheese carrot cake but didn't want that big of a treat.
I've owned this darn cookbook for nearly 14 years and Sunday was the first time I thought to HALVE THE RECIPE, silly!!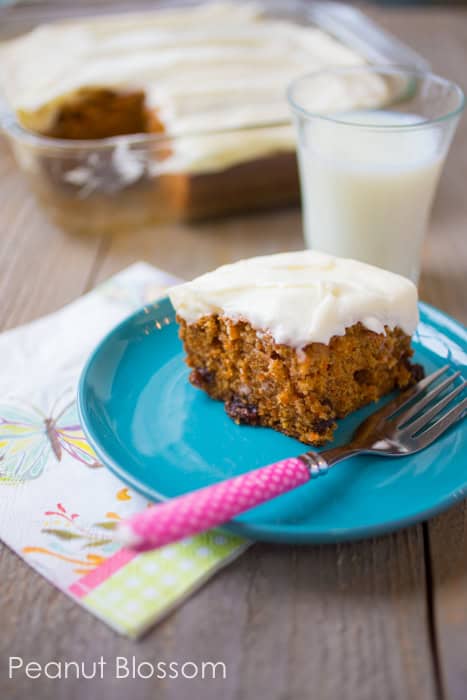 A few simple adjustments and the cake fits perfectly into a one layer 8x8 pan. No fancy layers to decorate or pipe, no dozens of cupcake liners to wrangle and store awkwardly. Just a plain old glass pan with a simple sheet cake and cream cheese frosting.
I feel ridiculous that this never occurred to me before. I just got caught up in the fancy-schmancy Pinterest-worthy baked confections gorgeousness that is the Ina Garten cookbook. Sometimes we can do with a little less schmancy.
And with the smaller quantities of everything, I had all the ingredients on hand already and it came together almost as fast as a box cake mix but soooooo much more delicious.
I highly recommend adding this to your spring rotation. It would be the perfect dessert for an Easter buffet too if you want to have a variety of treats without too much leftover of any one thing!

Super easy carrot cake with cream cheese frosting recipe: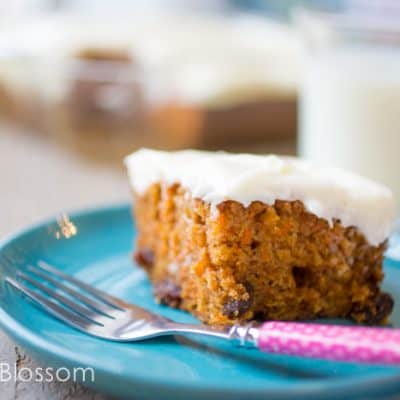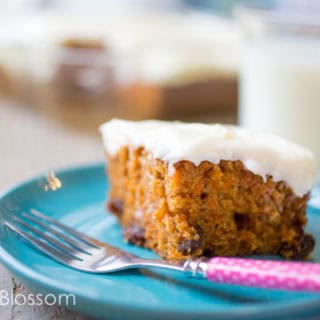 Easy Carrot Cake with Cream Cheese Frosting
Total Time:
1 hour
5 minutes
This dainty single-layer carrot cake is perfect for feeding a small party. The delicious cream cheese frosting is the perfect finishing touch.
Ingredients
For the cake:
1 cup granulated sugar
⅔ cup vegetable oil
2 large eggs
1 tsp pure vanilla extract
1 cup all-purpose flour
1 tsp ground cinnamon
1 tsp baking soda
¾ tsp kosher salt
3 large carrots, grated
½ cup raisins
For the Frosting:
8 oz cream cheese at room temperature
1 stick of butter
½ tsp vanilla extract
½ pound confectioners' sugar
Instructions
For the cake:
Preheat the oven to 400 degrees. Grease an 8x8 pan with butter.
Beat the sugar, oil, and eggs in the bowl of an electric mixer with the paddle attachment until they are light yellow. Add the vanilla and mix.
In another bowl, combine the flour, baking soda, cinnamon, and salt, stir to combine. Add the dry ingredients to the wet in the mixer bowl.
Toss the carrots and raisins with an additional tbsp of flour to help prevent them from clumping. Add to the batter and combine.
Spread the batter into the baking pan. Bake for 10 minutes and then TURN THE HEAT DOWN TO 350 DEGREES and bake for an additional 20-25 minutes.
Please note: If you are using a glass baking dish, Preheat the oven to 375 and then turn it down to 325.
FOR THE FROSTING:
Beat the cream cheese, butter, and vanilla in the bowl of an electric mixer with the paddle attachment until just combined. Add the powdered sugar in batches and mix until smooth.
Looking for more easy Easter recipes?
This easy carrot cake is so fun for kids to bake, but don't miss some of our other favorite Easter recipes: