Once I realized the power of the 8×8 pan, I went a little freezer-stocking-crazy. I've been filling our freezer with little half pans of casseroles whenever possible. I love seeing them pile up knowing all those easy dinners are ahead of us but what I really wanted was a freezer friendly apple crisp!
We had friends over a couple weekends ago and I wanted to serve them a little tasty dessert. Handyman Tim requested my apple crisp but since it is a Barefoot Contessa recipe it serves a small army. I was hesitant to make the full 9×13 but just as I was debating whether or not to halve it, I remembered the 8×8 pan! Quick little google search and yes it is true–Apple crisp makes a fantastic freezer dessert!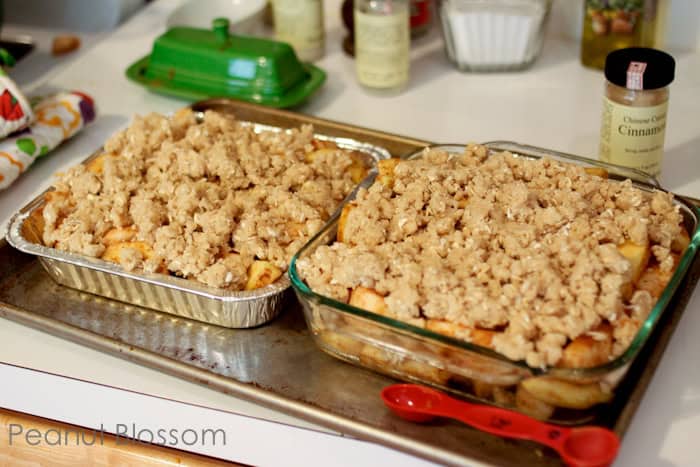 Image of the unbaked crisps. I was too excited by the aroma of the finished crisp to remember to photograph the final product!
My halved crisp was more than plenty for the 4 adults and one picky toddler we were trying to feed that day. I may or may not admit to eating it for breakfast for a couple days afterward. (All the more reason I'm so relieved I didn't make the full 9×13 at once!!) Now I have the second half to be ready on the fly for an entertaining emergency. It is probably more likely to reappear come Thanksgiving weekend. I just don't have the knack for apple pie, so this is my go-to apple dessert for Tim. It will also be one less thing I need to prepare as we host the holiday.
Whether you make the whole thing at once or decide to split is as I did, this is an awesome apple crisp recipe. The topping has just the right crunch, the apples melted in our mouths. It isn't overly sweet because of the citrus zest and juice it calls for. It is just right for a nice heaping topping of vanilla ice cream.
__________________________________
Freezer Friendly Apple Crisp
from Barefoot Contessa Parties!
serves 10
Ingredients:
5 pounds apples, I used a half and half mix of McIntosh and Honeycrisp and it was the perfect balance
Grated zest of 1 orange
Grated zest of 1 lemon
2 tbsp fresh squeezed orange juice
2 tbsp fresh squeezed lemon juice
1/2 cup granulated sugar
2 tsp ground cinnamon
1 tsp ground nutmeg
For the topping:
1 1/2 cups all-purpose flour
3/4 cup granulated sugar
3/4 cup light brown sugar, packed
1/2 tsp kosher salt
1 cup oatmeal
1/2 pound cold unsalted butter, diced
Method:
Preheat the oven to 350 degrees. Butter a 9×13 baking dish (or 2 8×8 pans like I did!)
Peel, core, and cut the apples into large wedges. I peeled the apples and then used a handy apple slicer tool to make quick work of this. Combine the apples with the zests, juices, sugar, and spices. Pour into the dish.
To make the topping, combine the flour, sugars, salt, oatmeal, and cold butter in the bowl of an electric mixer fitted with the paddle attachment. Mix on low speed until the mixture is crumbly and the butter is the size of peas. Scatter evenly over the apples.
Place the crisp on a sheet pan and bake for one hour until the top is brown and the apples are bubbly. Serve warm with vanilla ice cream and caramel sauce if you're really feeling sassy.