Everyone should have an easy apple crisp recipe in their pocket for fall baking. This is the VERY BEST apple crisp recipe you will ever find and needs to be the first thing you bake after a trip to the apple orchard.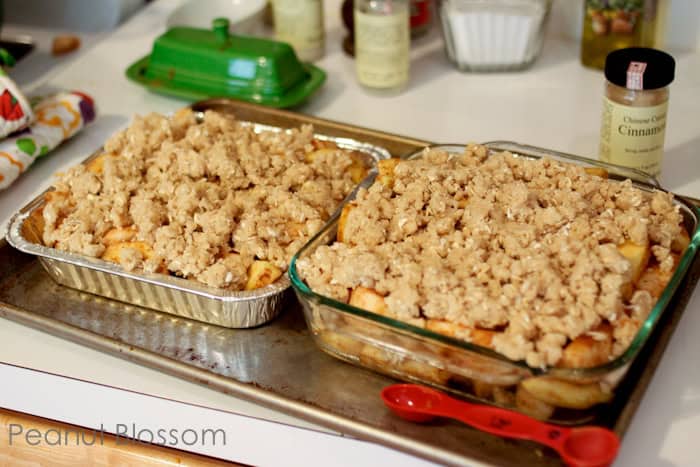 My mom is a fussy lady when it comes to desserts. She can easily pass by a buffet of treats with little stress. But all I have to say is that I've got one of my famous apple crisps in the oven and she will drop everything to race over to our house.
Once, I made this easy apple crisp recipe for my mother-in-law when she came to visit. I noticed the pan disappearing faster than usual and when I caught her red-handed with another helping, she blushed and said, "I just can't help myself! This is AMAZING."
Moral of the story: If you want to make a mom in your life super duper happy? Then you need to whip up this apple crisp STAT!
What makes this the best apple crisp recipe?
First, it's the all about the apple crisp topping. My version has just the right amount of crunch to it because I use old fashioned oats with the butter. The recipe makes a very generous portion of the crisp topping so the ratio of apples to crunchy topping is pure perfection.
Second, the secret is in the citrus. Most apple crisps are far too sweet. One bite and you're overwhelmed. This apple crisp recipe has a touch of lemon and orange zest which balance out the sweet apples and sugar and makes the dish just a little bit brighter.
Third, this is an easy make ahead dessert you can stash in your freezer. Prepare the apple crisp now and freeze it so you have one dessert all ready to go for Thanksgiving! It's so much easier than an apple pie and I bet your guests will love it even more.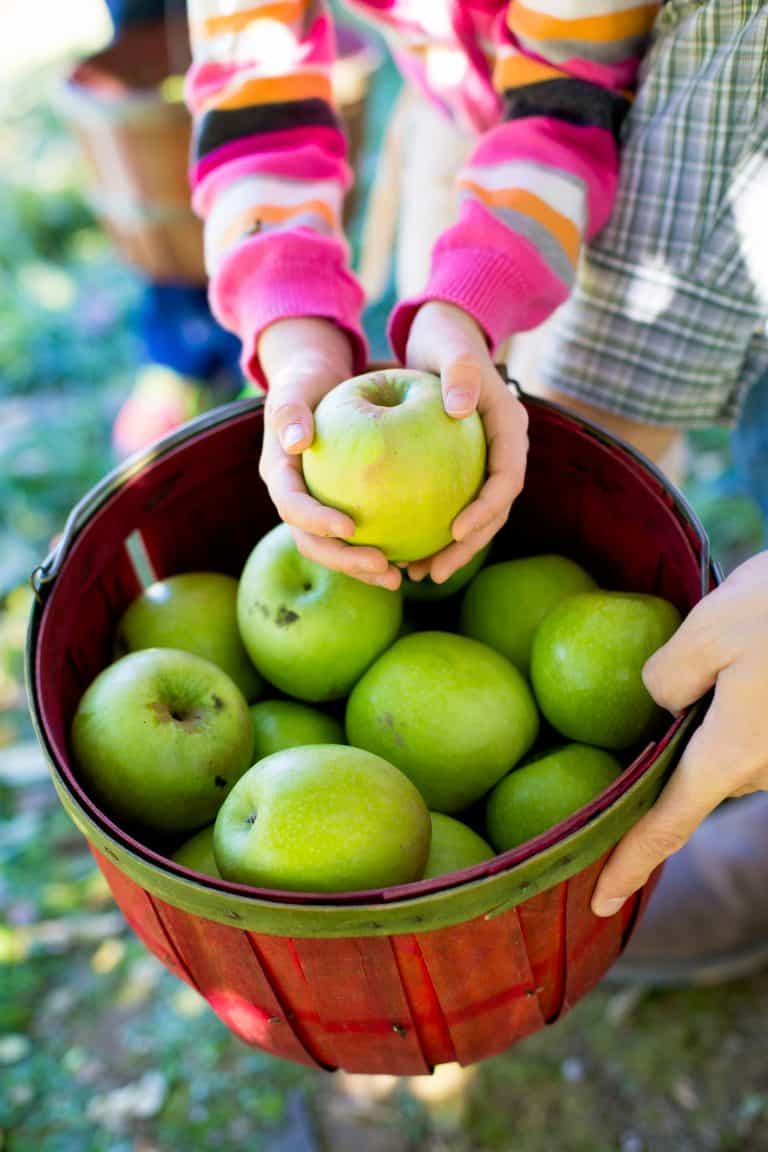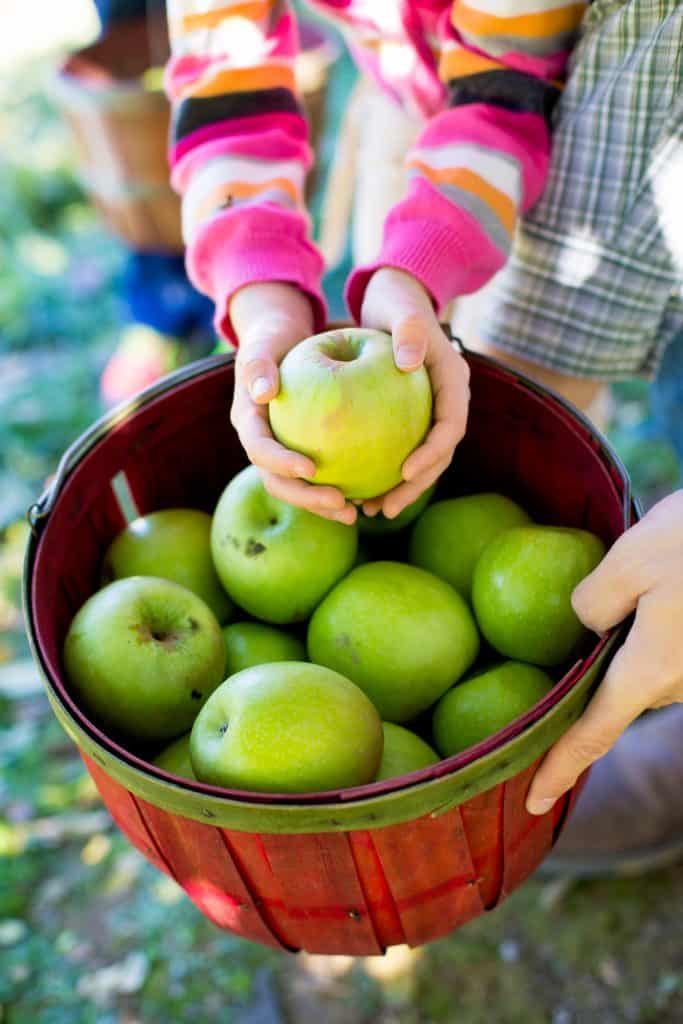 How to make apple crisp:
I usually use fresh apples from a trip to the apple orchard near us. Wherever you get them, start with good baking apples like McIntosh or honeycrisp. I've also used Granny Smith apples, my mom's favorite.
Wash, peel, and core the apples. Using this handy apple spiralizer makes it super easy. I just run the apple through the machine and then use a paring knife to cut it in half. It makes the perfect thin slices.
Toss the fresh apples with the sugar, spices, and citrus and let them rest while you prepare the apple crisp topping with oats. I love that the topping requires cold butter, so you are ready to make this on a whim -- no waiting for butter to soften.
I use my stand mixer to beat the butter, sugar, flour, and oats together until they are coarse and crumbly.
Layer the apples and crisp topping with oats in your baking dish and you're ready to go.
Can you freeze apples crisp?
Yes! You can absolutely freeze apple crisp and that is what makes this recipe so perfect. Once I realized the power of the 8x8 pan, I went a little freezer stocking crazy. I used to make this apple dessert in a big 9 x 13 pan for company but we always had leftovers and it was just a little too much.
I finally decided to split the recipe into two 8 x 8 inch pans so I could bake one now and freeze the other for later. This is especially handy for the holiday season because you have a dessert ready in a pinch and it is just the perfect size to mix and match with other treats on a buffet table.
My halved crisp are more than plenty for 4 adults and one picky toddler. You could likely get 6 servings from each pan.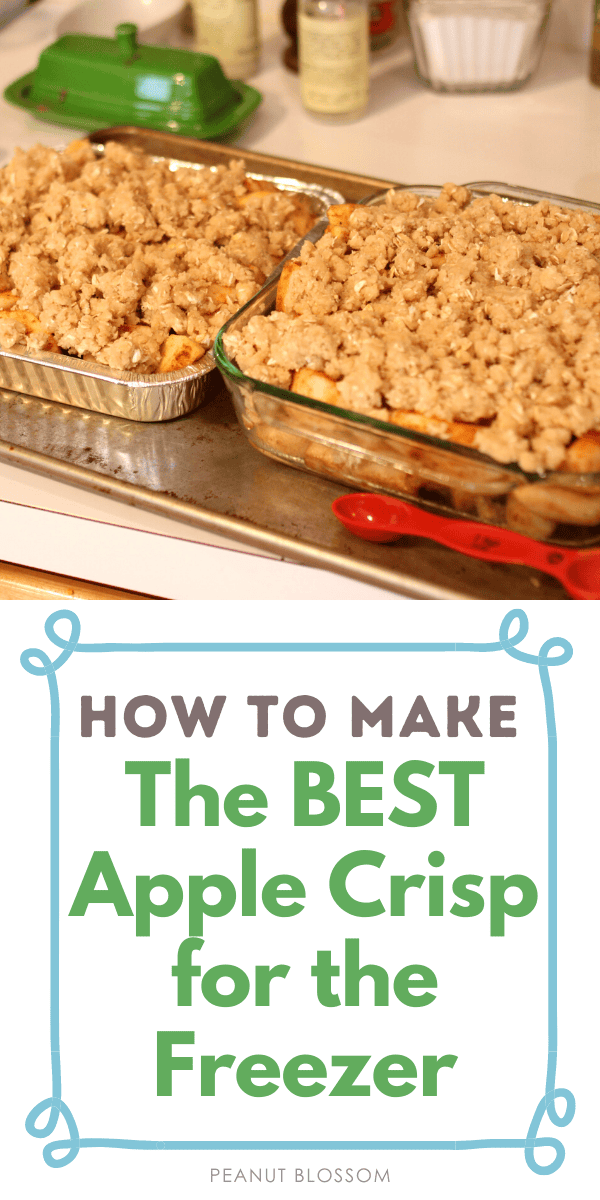 Whether you make the whole thing at once or decide to split it into two 8 x 8 dishes as I did, this is the best apple crisp recipe you will find. The topping has just the right crunch, the apples melt in your mouth. It isn't overly sweet because of the citrus zest and juice it calls for. It is just right for a nice heaping topping of vanilla ice cream.
Handy tools for making freezer friendly apple crisp:
This handy apple slicer tool helps you peel and core the apples in a flash. My kids both love running it each fall. It practically lives on our counter for after school snack time, too.
Freezer friendly baking dishes: I always have two of these in the cabinet ready to go.
Microplane zester: this is perfect for getting just the right amount of citrus zest.
Print this easy apple crisp recipe for stashing in your freezer:
📖 Recipe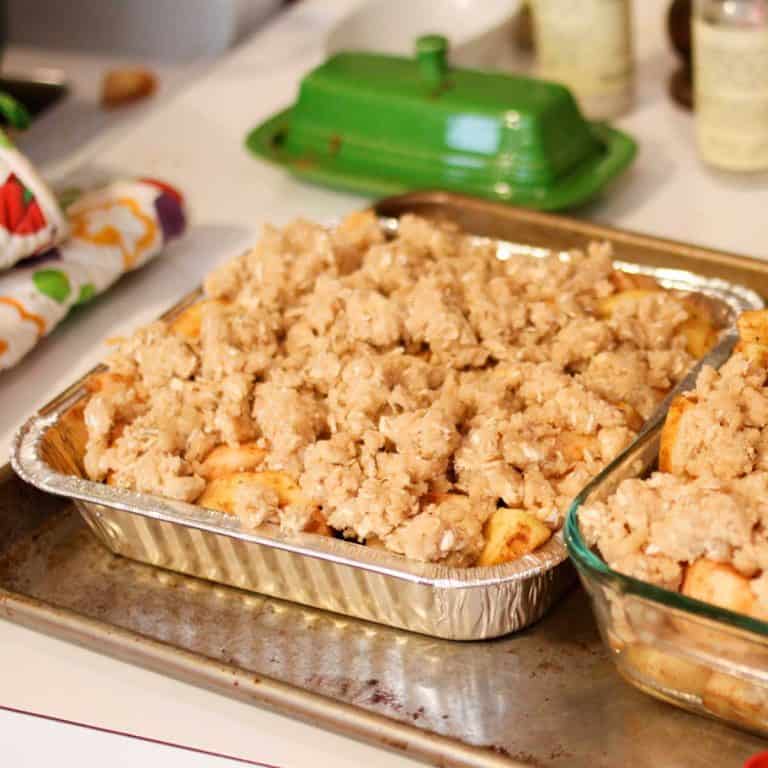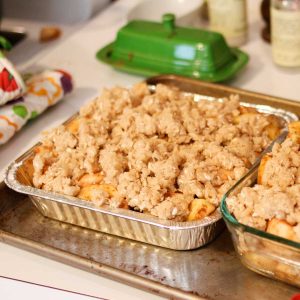 Freezer Friendly Apple Crisp
This freezer friendly apple crisp will change your holiday baking forever. Make one big batch but split it into two smaller desserts -- one to bake now and one to stash in your freezer for later. Perfect quick and easy dessert for Thanksgiving. 
Ingredients
5

pounds

apples

I used a half and half mix of McIntosh and Honeycrisp and it was the perfect balance

Grated zest of 1 orange

Grated zest of 1 lemon

2

tablespoon

fresh squeezed orange juice

2

tablespoon

fresh squeezed lemon juice

½

cup

granulated sugar

2

teaspoon

ground cinnamon

1

teaspoon

ground nutmeg
For the topping:
1 ½

cups

all-purpose flour

¾

cup

granulated sugar

¾

cup

light brown sugar

packed

½

teaspoon

kosher salt

1

cup

oatmeal

½

pound

cold unsalted butter

diced
Instructions
Preheat the oven to 350°F. Butter a 9x13-inch baking dish. (or 2 8x8-inch pans)

Peel, core, and cut the apples into large wedges. I peeled the apples and then used a handy apple slicer to make quick work of this. Combine the apples with the zests, juices, sugar, and spices. Pour into the dish.
To make the topping:
Combine the flour, sugars, salt, oatmeal, and cold butter in the bowl of an electric mixer fitted with the paddle attachment. Mix on low speed until the mixture is crumbly and the butter is the size of peas. Scatter evenly over the apples.

Place the crisp on a sheet pan and bake for one hour until the top is brown and the apples are bubbly. Serve warm with vanilla ice cream and caramel sauce if you're really feeling sassy.
Recipe Notes
How to freeze apple crisp:
You can choose to freeze the apple crisp from the prepared & unbaked stage or you can bake it and then freeze it. I prefer to freeze it unbaked so that the topping doesn't get over browned.
Once you've assembled the crisp, wrap it in two layers of aluminum foil and mark it with the date you assembled it. Freeze for 3 - 6 months.
To bake a frozen apple crisp:
Unwrap the foil from the crisp and place the dish on a cookie sheet. Cover the top loosely with a piece of foil and bake as directed. After 20 minutes, remove the foil and continue to bake until the apples are bubbling hot and the crisp is golden brown.
HELPFUL TOOLS
Save This Recipe to Your Recipe Box
Find this delicious recipe next time you visit by saving it to your very own recipe box on my site. All your favorites stored in one easy place!
Looking for more great apple recipes to bake with your kids this fall?
We love cooking with apples, don't miss some of these family-favorites:
This post was originally published in November 2010, we've updated it since it is so popular with our readers. You may have seen this classic pin on Pinterest: