Making homemade caramel sauce is so much easier than you might think. This sea salt and vanilla bean caramel sauce is the perfect match for any fall dessert or for adding to your morning coffee.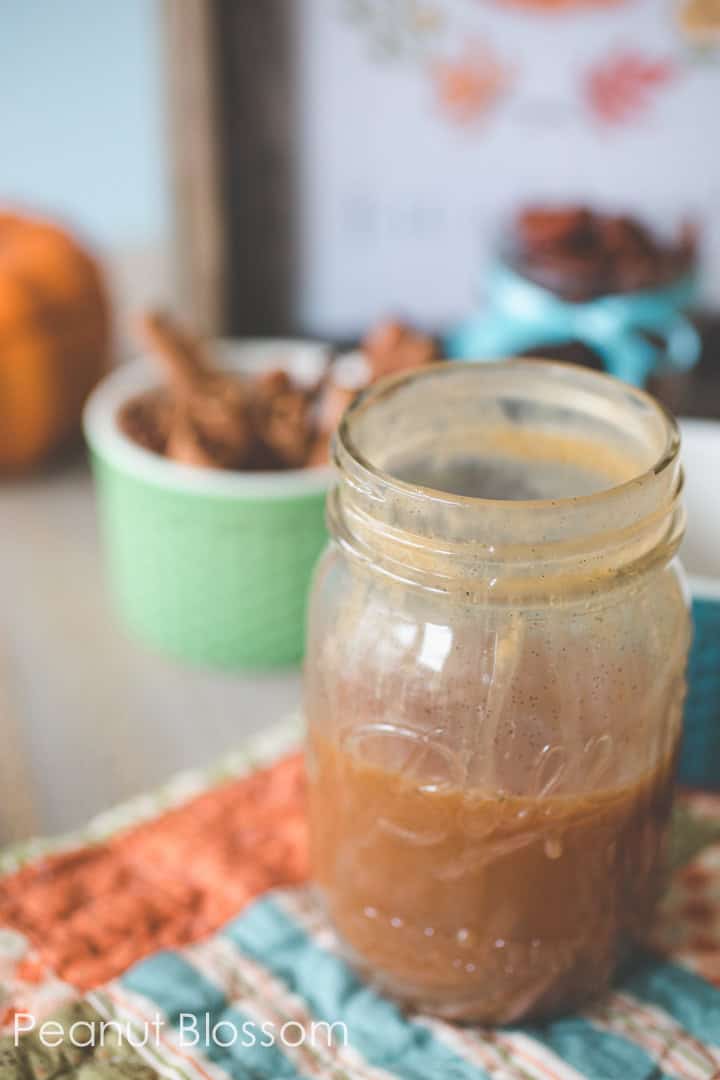 Sea salt and vanilla bean caramel sauce.
That's pretty much all I have to say, right? I mean, do you really need me to sell you on the idea of this recipe?
Yes? Easy enough. . .
Keep a jar of this magical homemade caramel sauce in your fridge so you can:
pour it into your morning coffee
drizzle it over vanilla ice cream
jazz up your morning yogurt along with maybe some of these pumpkin spice pecans (Thanks for the idea, Kristi!)
drink it with a straw. . .
The homemade version will ruin you for store-bought caramel forever. It is heaven in a mason jar. And you will not believe just how easy it is to make.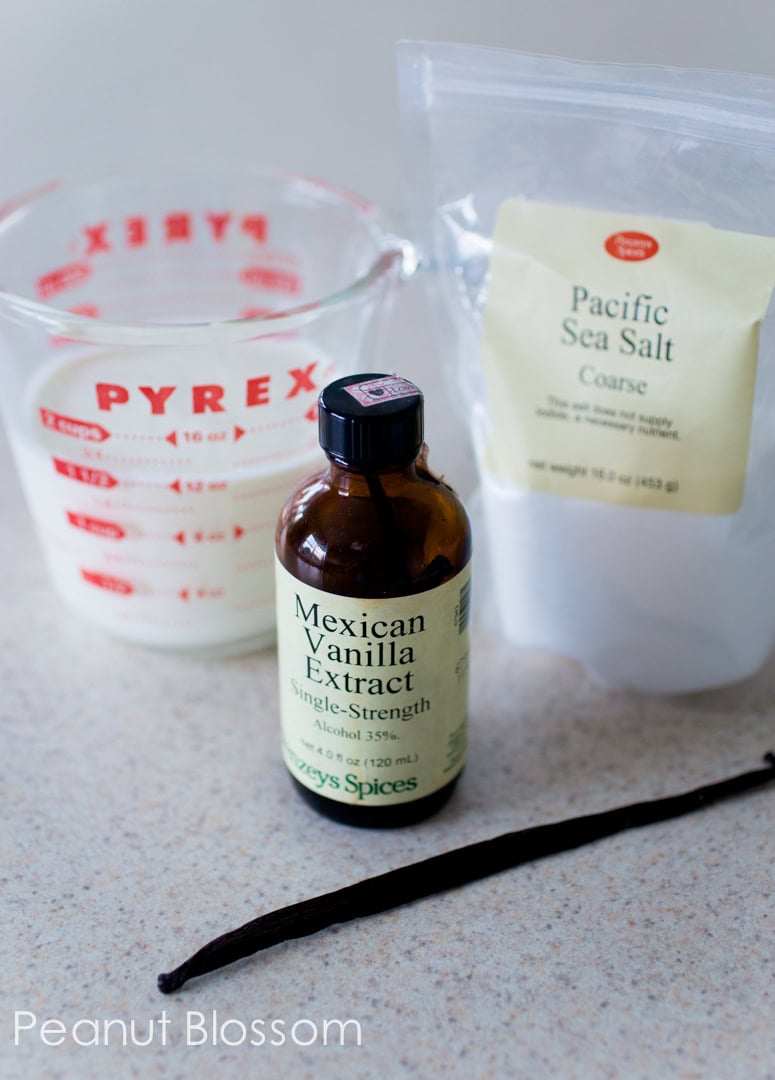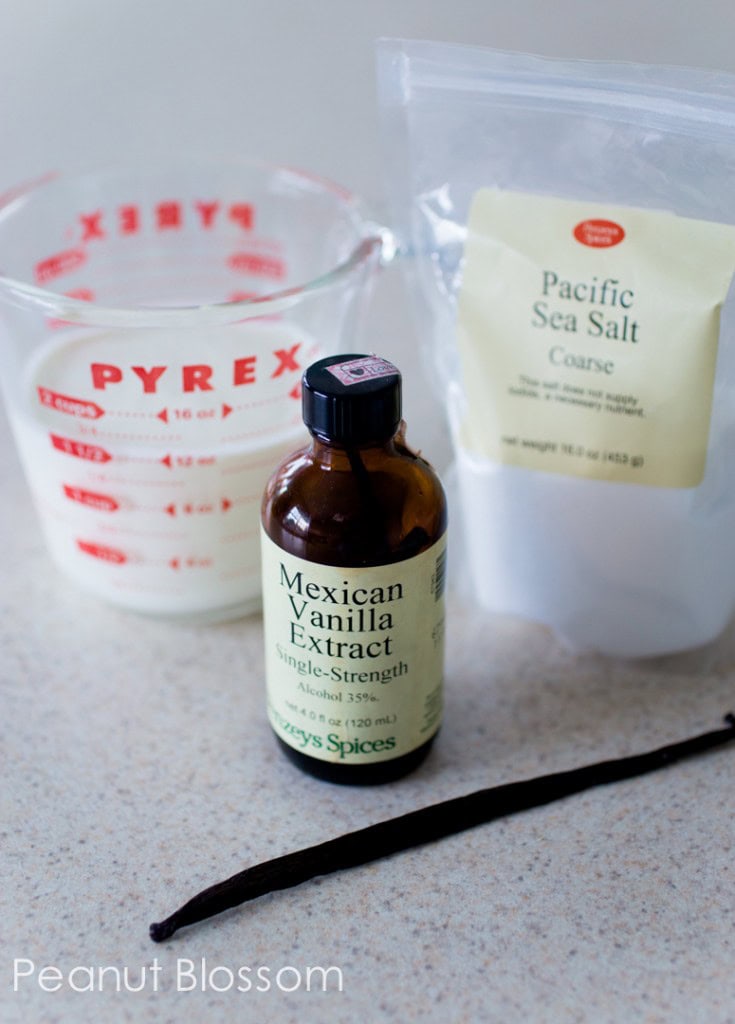 The ingredients are real and so very simple: cream, sugar, vanilla (extract & bean), salt (I used sea salt but Kosher works great too), and water. All pronounceable and obviously lacking in the traditional thickeners, stabilizers, and preservatives the store stuff has.
I keep a stash of vanilla beans in my pantry. I got them cheaply from Amazon ages and ages ago. SO much cheaper than the grocery store and it allows me to make unlimited caramel guilt-free. I also like to make my own vanilla extract. Definitely worth the purchase of the big bulk bag.
I measure and prep my ingredients including seeding my vanilla bean pod. If you haven't done this, just run your paring knife down the length of the pod, open it up and use the flat end of the knife to scrape down the inside to get the seeds: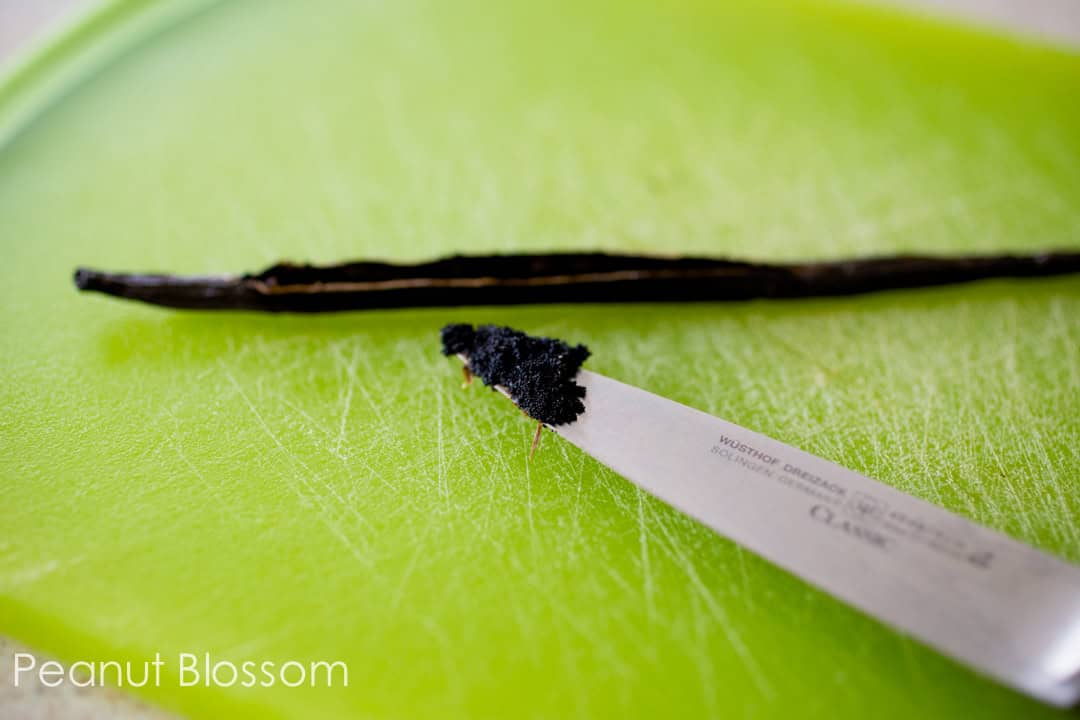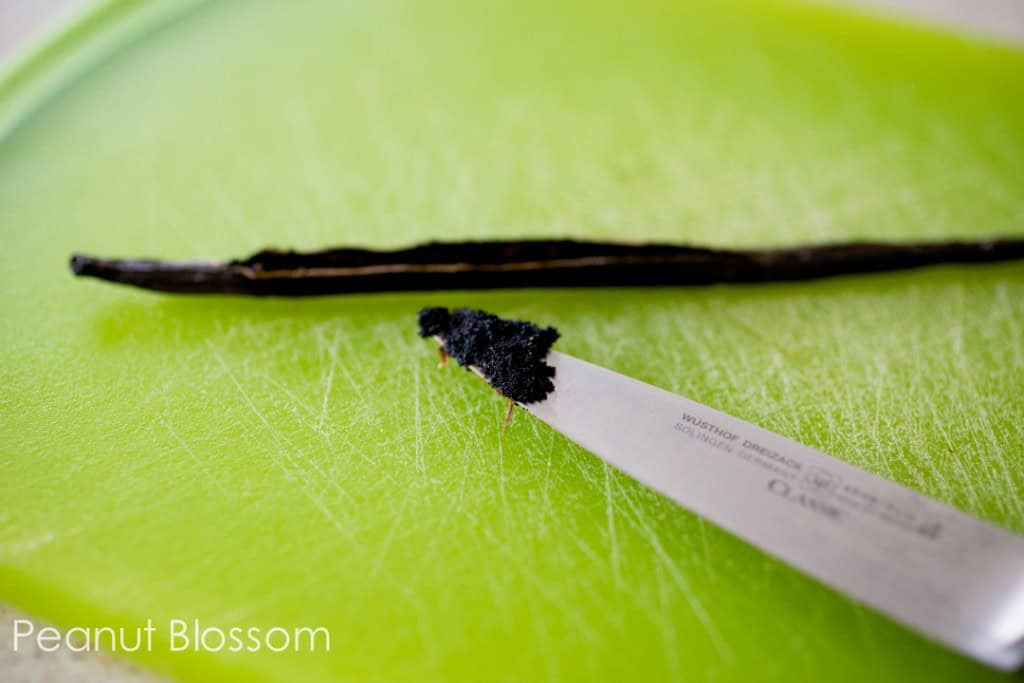 I measure the cream into a cup, add the salt, vanilla extract, and vanilla seeds to the cup so it is ready to go: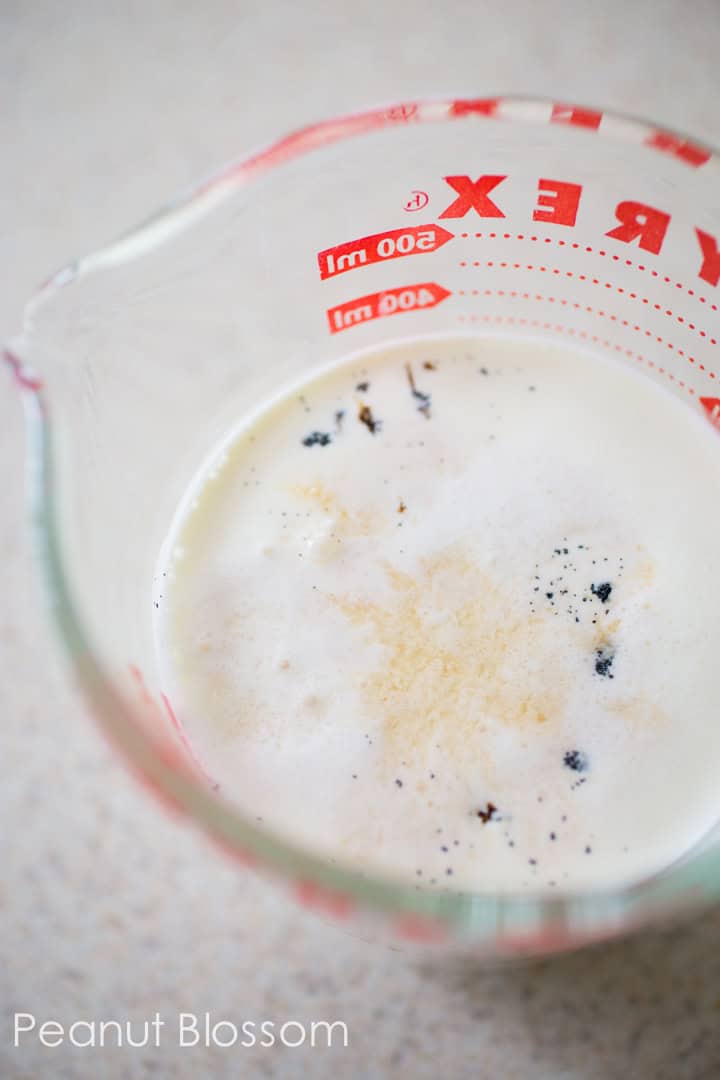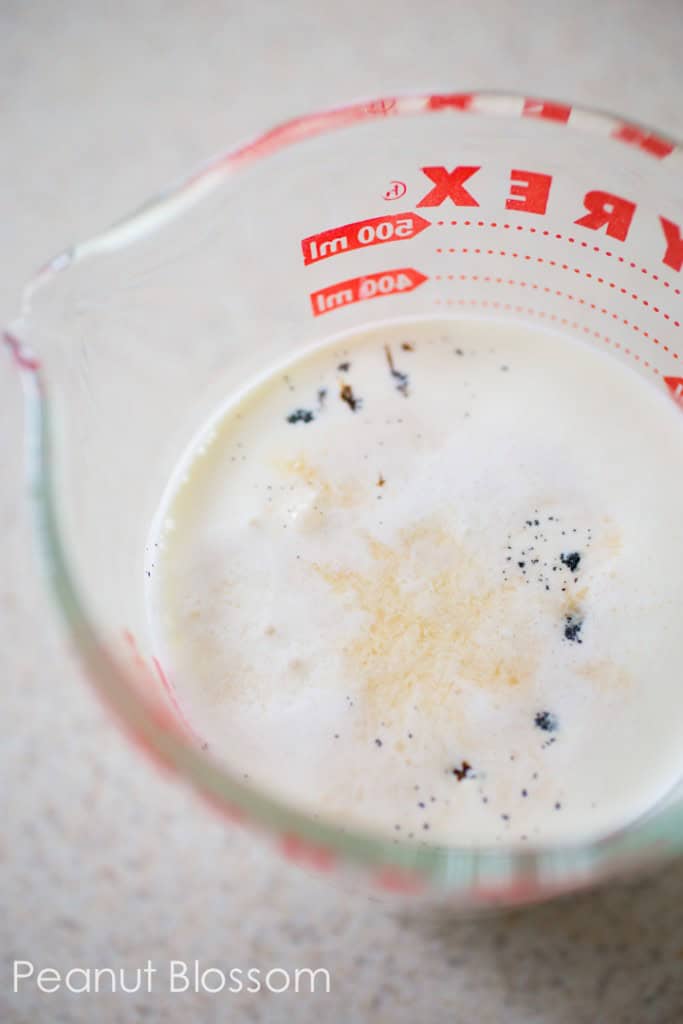 Add the water and sugar to a large pot. You want the taller walls because one of the stages is going to bubble up high and you want it contained. Stir the water and sugar together until combined and then turn on the heat to medium-high: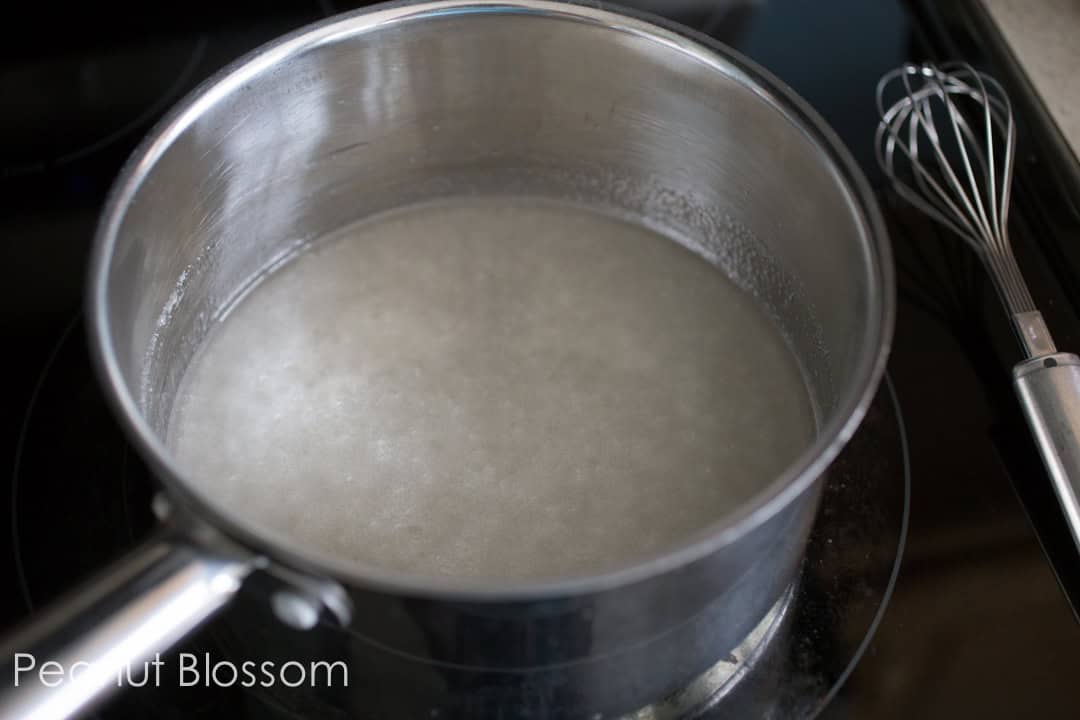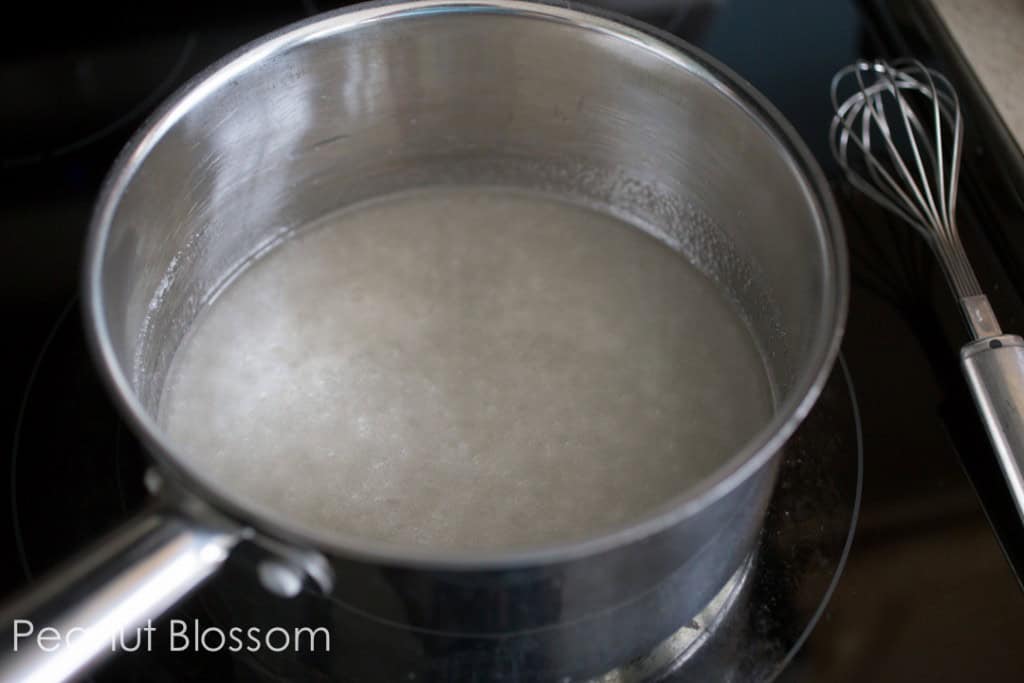 Do not stir the mixture at this point. Just every now and then swirl the pan a bit. It will start to boil and bubble a bit. You let it do it's thing until it turns a deep amber color. It takes a while for that to happen but then it goes fast. Watch so it doesn't burn on you.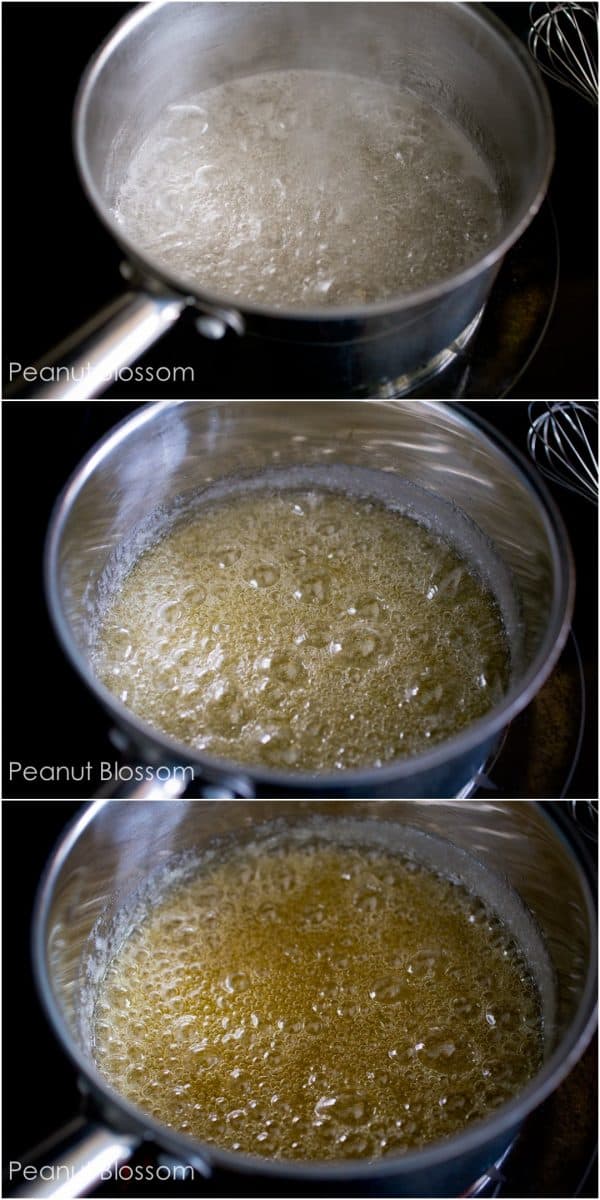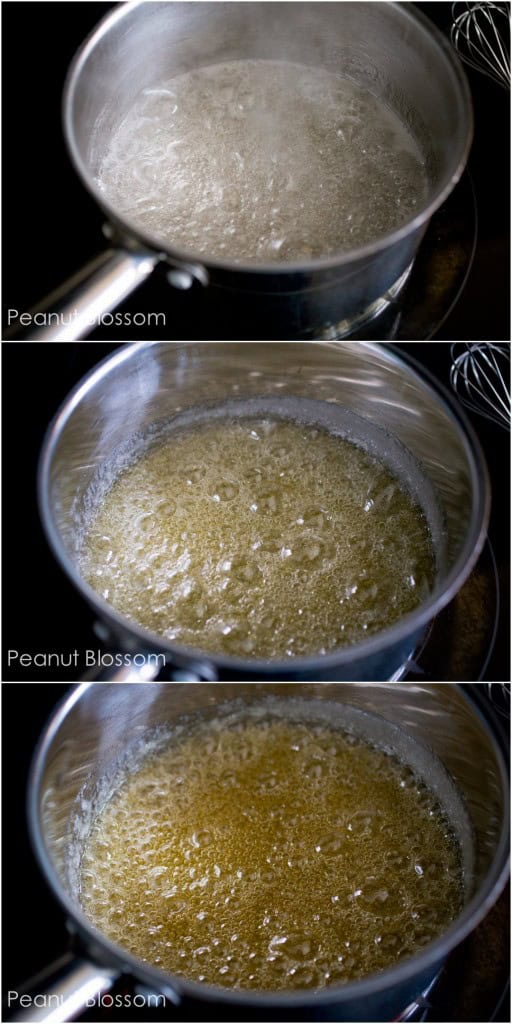 When the sugar is the proper amber color, reduce the heat to low and then CAREFULLY pour the cream into the pan, scraping the salt out of the cup with a spatula as you go. It likely settled to the bottom of your cup while you were working on the sugar. Get all the good stuff in there.
The very second the cream hits the sugar, your mix is going to BUBBLE UP like crazy town. It is VERY hot and sticky. If you get it on your hands the burn can be painful. So just be super cautious. This is the step you want to make sure your kids are not right next to you for.
Very carefully start to whisk the cream into the sugar. You may feel hard chunks under those bubbles. It will feel crunchy or gritty or odd and you'll think you screwed it up. You didn't. It will come together. Just continue to whisk carefully until it all blends in properly.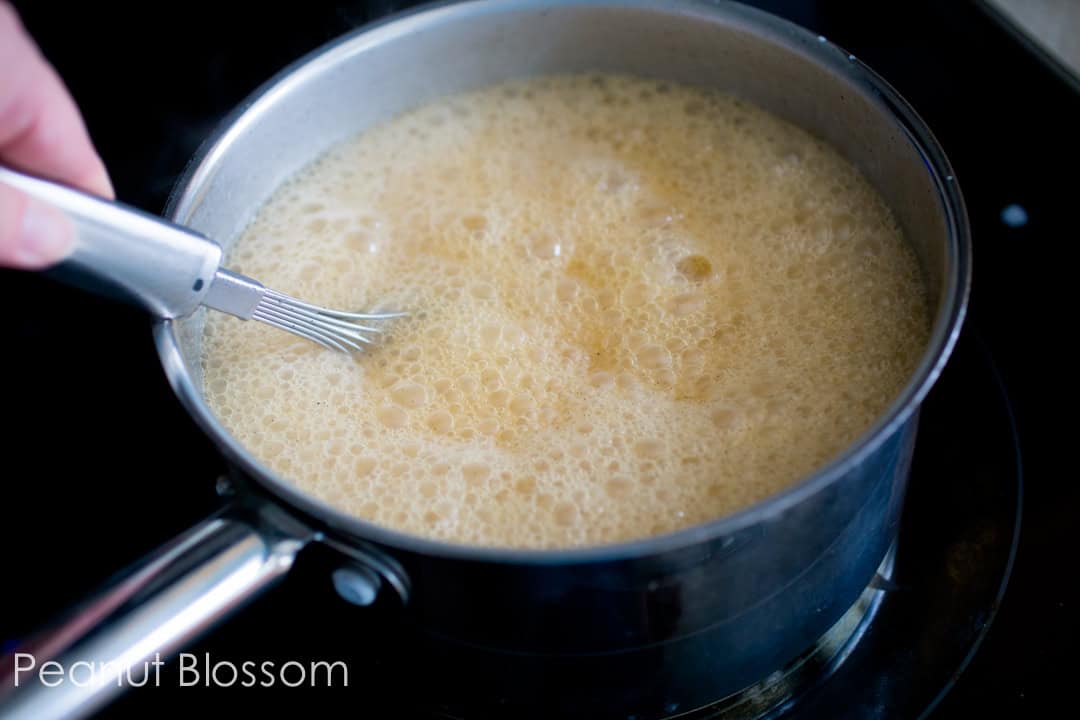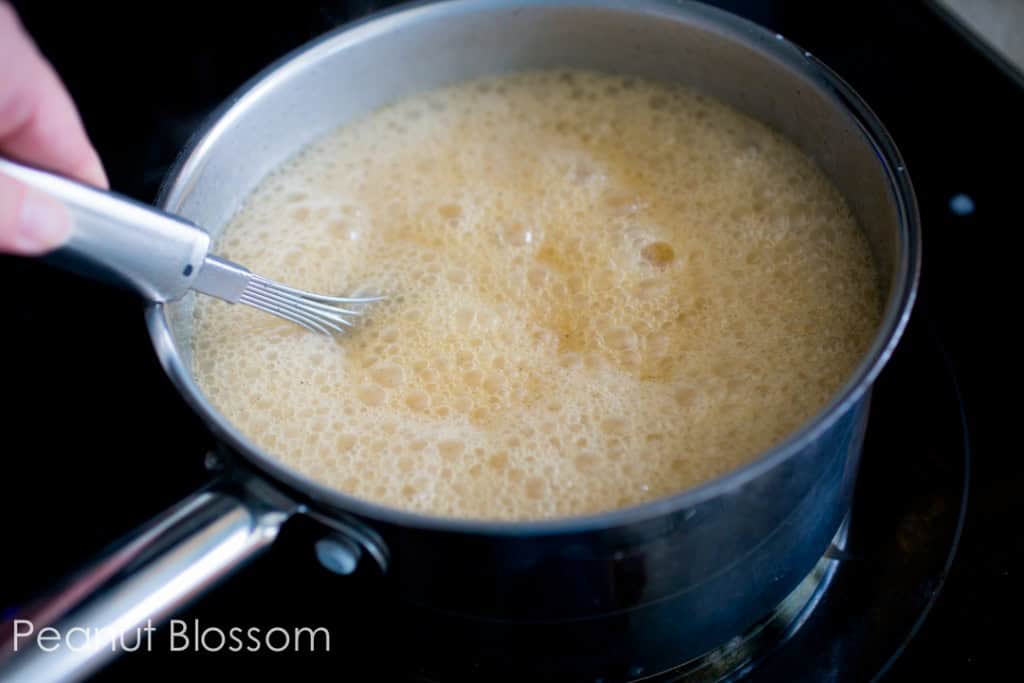 If the bubbles just refuse to calm down, remove the pot from the heat and just keep whisking gently until it forms the sauce. It will be thin and runny at this temperature but will thicken up in the fridge when it is cold. But, it never gets that super thick texture of the dip you may have bought in the tubs at the store. It is more of a drizzly sauce than a goopy one.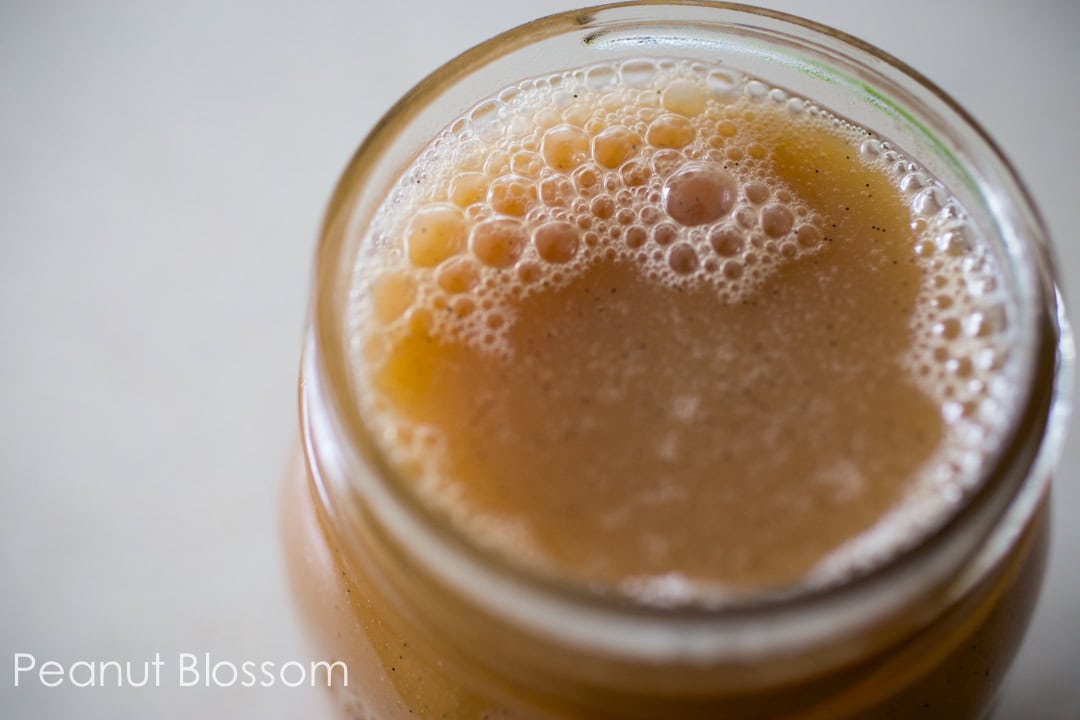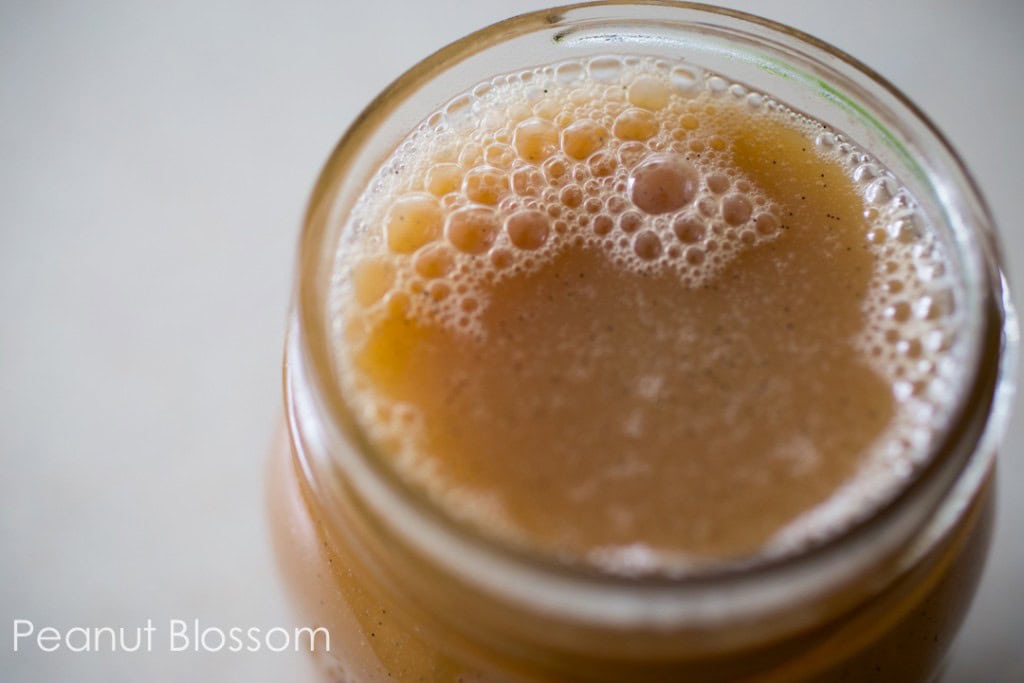 This is the caramel moments after I poured it into my mason jar for cooling. The bubbles will settle from the top and you'll be left with a nice creamy sauce.
Now, off you go to caramel all the things! Be sure to check out the recipe below!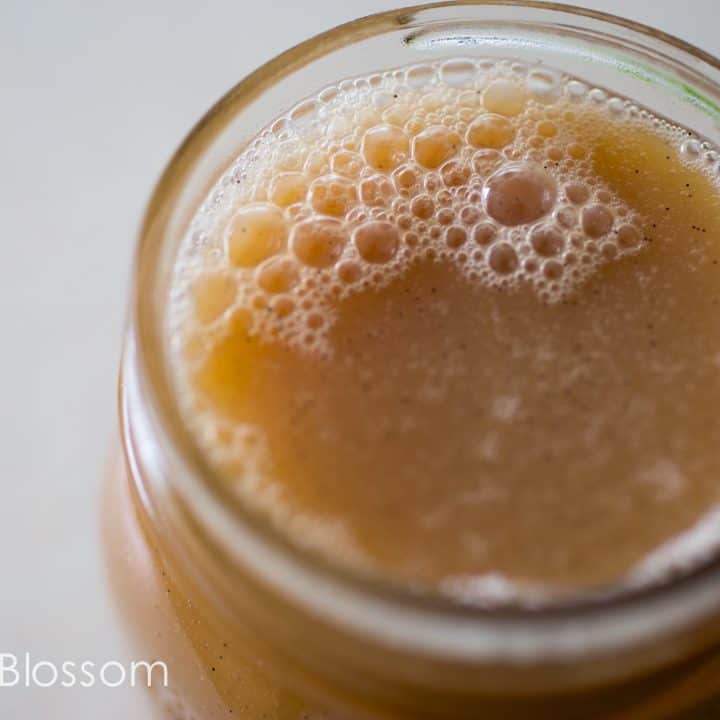 Sea Salt and Vanilla Bean Homemade Caramel Sauce
This addictive homemade caramel sauce makes an excellent ice cream topping or dessert sauce for fall treats.
Ingredients
1 ½ cups sugar
⅓ cup water
1 ¼ cups heavy cream
½ tsp vanilla extract
1 vanilla bean, sliced and seeded
1 tsp sea salt
Instructions
Measure and prep your ingredients: put the water and sugar in a large pot and set aside on your stovetop, combine the cream, vanilla extract and seeds, and salt in a measuring cup and set next to the stove.
Heat the sugar/water mixture over medium-high and swirl until the mixture becomes amber in color.
Reduce heat to low and CAREFULLY pour the cream mixture into the sugar, scraping the cup to get all the seeds and salt. It will bubble up like crazy and is very very hot. Carefully whisk the mixture until it forms a smooth creamy sauce.
Pour into a jar and keep in the fridge for up to a week.
Desserts made even better with a drizzle of caramel sauce:
While this caramel sauce is utterly delicious all by itself, once you have a jar in the fridge you won't be able to stop yourself from drizzling it over these fun recipes.