Sink your teeth into the ultimate caramel apple pizza dessert. This loaded sugar cookie is covered in all the ooey-gooey chocolate caramel toppings you can imagine.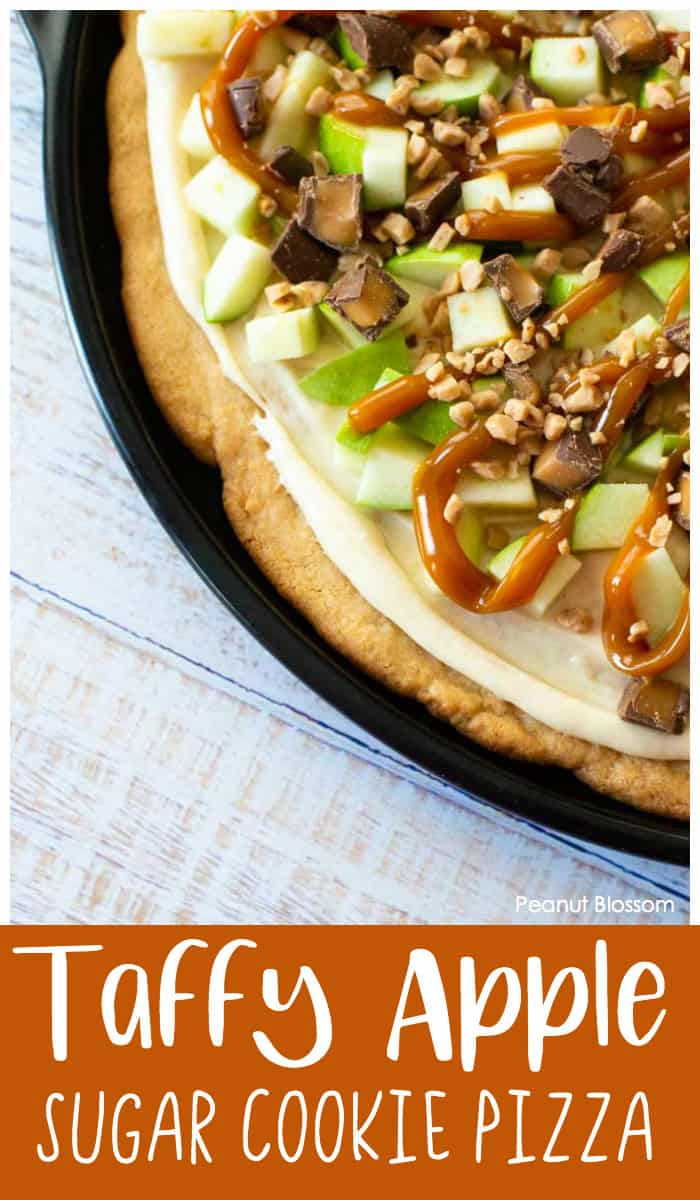 Yesterday was a momentous day for our Peanut: after two years, her braces finally came off!
For sure, the thing she missed the most from this list of things you shouldn't eat with braces was the ooey-gooey caramel we all love.
I wanted to surprise her when she got home with the ULTIMATE in chewy, crunchy desserts for her to sink her freshly bracket-free teeth into.
As I strolled through the candy aisle at the grocery store to see what I could collect, I started dreaming about the insanely over-the-top candy-coated caramel apples they sell at the gourmet candy shops in tourist towns. You know, the kind you need a knife and fork to work your way through.
I decided to take some of our favorite chewy caramel treats and make a completely loaded caramel apple pizza. It turned out perfectly and was so ridiculously easy.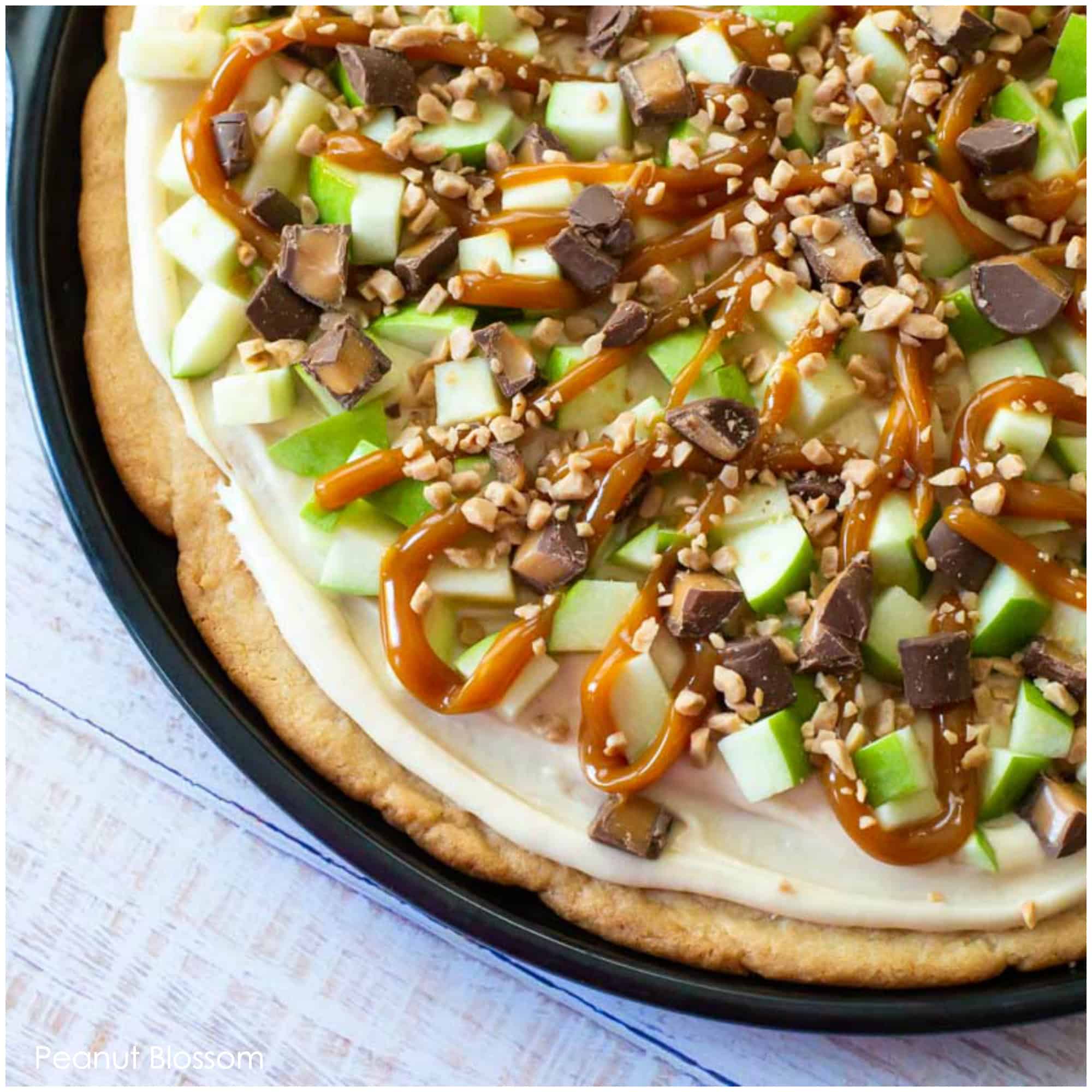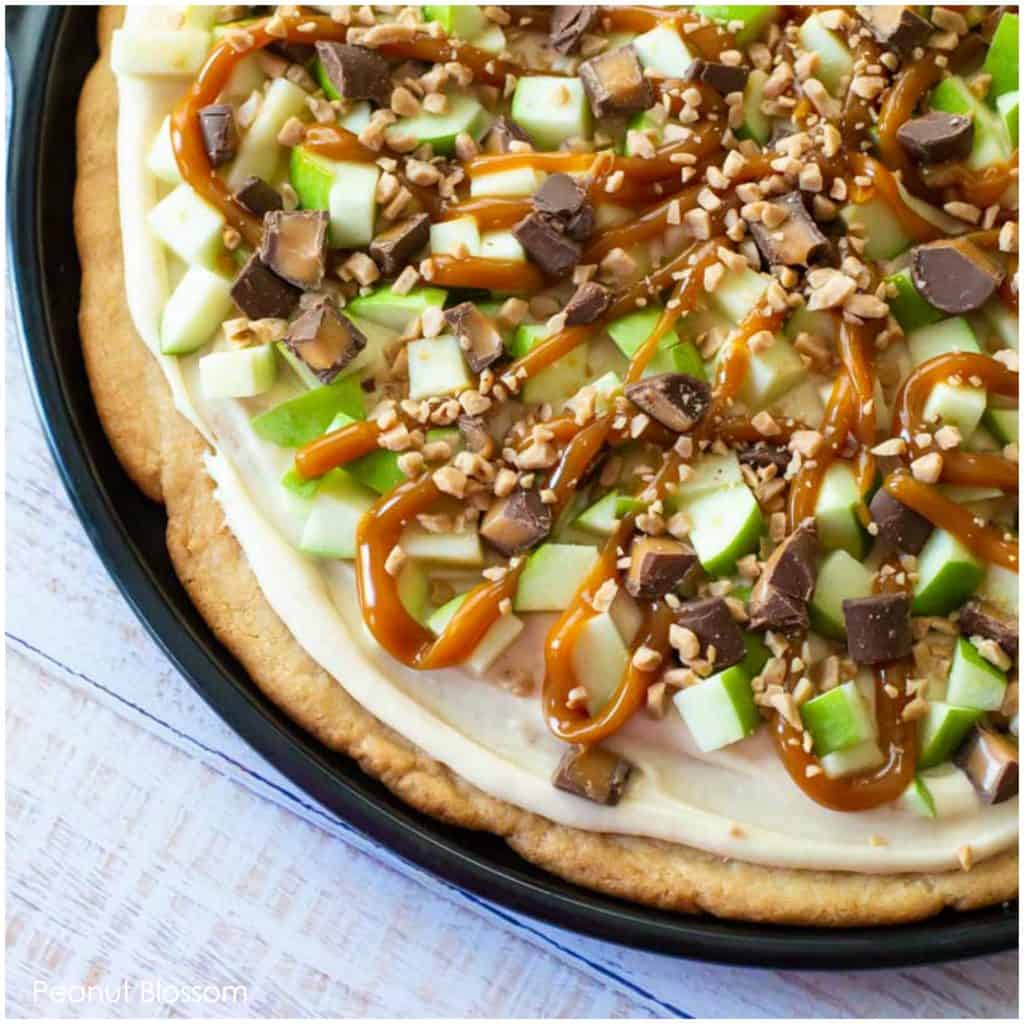 How to make a caramel apple pizza:
The trick is to balance the ingredients so it isn't too sweet. I know that sounds insane by the look of how much candy is on top of this dessert pizza, but trust me. You need a balance of tart and salty to hold up to the caramel and chocolate.
How to make the caramel apple pizza crust:
The crust is made out of a giant sugar cookie. I used a Betty Crocker sugar cookie mix to save some time. I simply dropped the entire batch of cookie dough onto a pizza stone and rolled it out. Bake the sugar cookie at 350 degrees for 15 minutes or until golden brown and crunchy. Let it cool completely before you try to top it.
What's in the apple pizza "sauce"?
You need something to help all those chopped Granny Smith apples to stick to the cookie crust. I made a super easy cream cheese frosting with brown sugar and vanilla to add a new twist to one of our all-time favorite frostings. The consistency is much runnier than normal frosting and is perfect for spreading all over the apple pizza crust.
NOTE: When you first make the cream cheese frosting, the brown sugar will leave a gritty crunch to the texture. DO NOT panic! As the pizza sits in the fridge, the sugar dissolves into the frosting. I don't know if it is the juices from the apple that help it along or just time, but when we ate our apple pizza dessert, there was no grit to the frosting.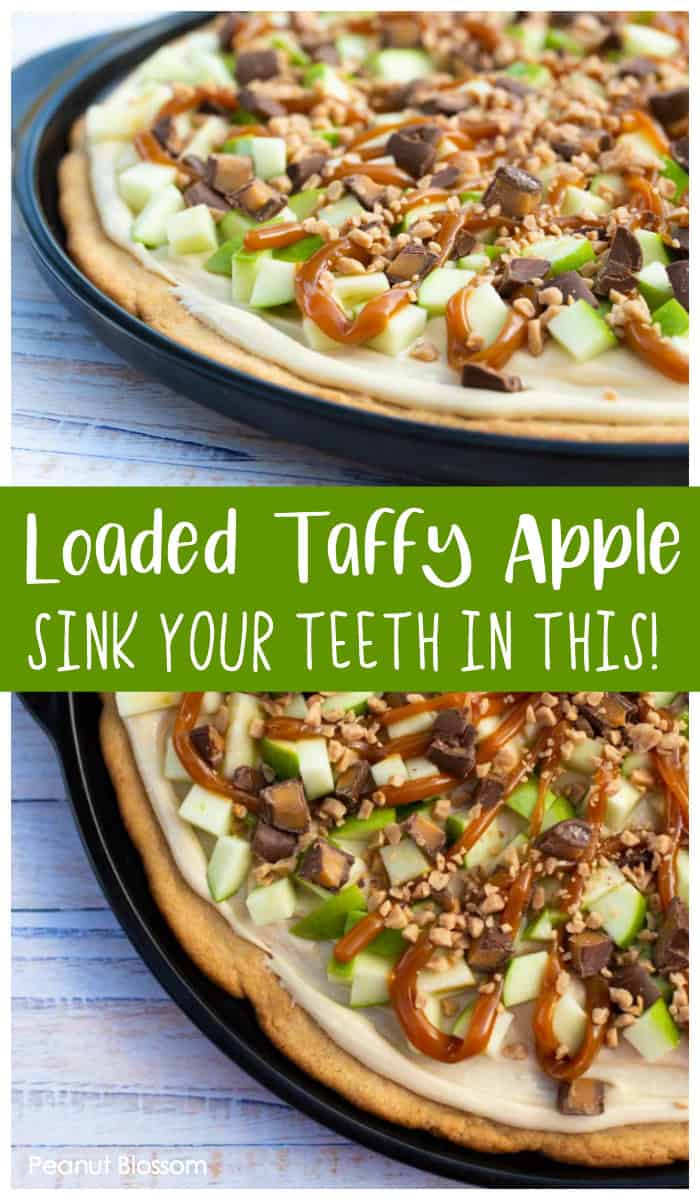 Which toppings go on a caramel apple pizza?
This is where we had the most fun. There are oodles of options for your own candy-covered caramel apple pizza, but I was specifically looking for things my little lady loved the most and would provide the greatest chewy-crunch. I went with:
Chopped up Rolo candies
Chopped up Heath toffees (found in the baking aisle by the chocolate chips)
Drizzled caramel apple dip from the produce section: This dip is MUCH thicker than traditional caramel sauces found in the ice cream aisle and the drizzle held its shape so well on the pizza, even after spending a couple of hours in the fridge. I spooned a few dollops into a plastic baggie and then snipped the corner to pipe it onto the apple pizza.
More apple pizza topping ideas:
Mix and match any of these to make a perfect-for-you apple pizza:
Chopped Snickers (would taste JUST like our Snickers Salad recipe!)
Chopped pecans
Mini chocolate chips
Mini M&Ms
Butterscotch chips
Broken pretzel pieces
Chopped peanuts
Reese's Pieces candies
Peanut Butter chips
Chopped Reese's peanut butter cups
Chopped Twix cookie bars
You could almost take anything from your kids' Trick or Treat baskets and chop it up for this apple pizza. It would make such a fun Halloween dessert, too!
📖 Recipe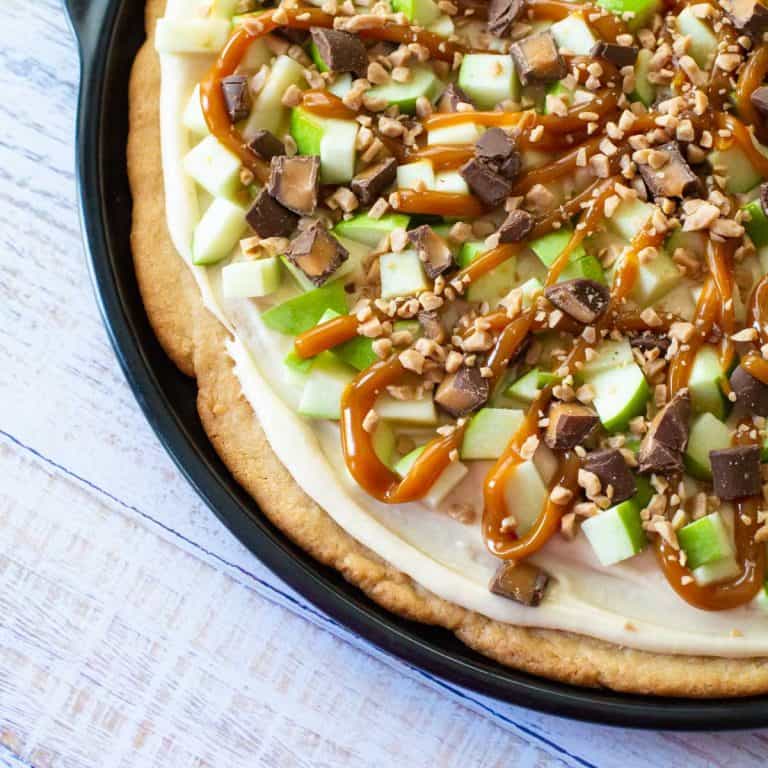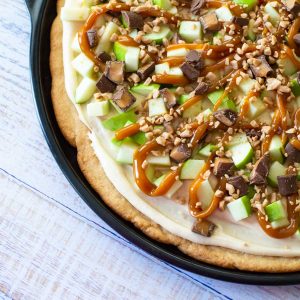 Caramel Apple Pizza
This ooey-goey caramel apple pizza is such a fun way to use up leftover Halloween candy for a dessert your kids will love. 
Ingredients
1

pouch of Betty Crocker sugar cookie mix

plus 1 stick of butter & 1 egg to make the dough

1

(8 oz) package of cream cheese

1 ⅓

cup

powdered sugar

⅓

cup

brown sugar

2

teaspoon

vanilla

2

large Granny Smith apples

1

tablespoon

juice from 1 fresh lemon

1

tub of prepared caramel apple dip from the produce section

½

cup

chopped Rolo candies

½

cup

chopped Heath bar bits
Instructions
Preheat the oven to 350°F. Prepare the sugar cookie mix according to the package instructions. Drop the dough onto a pizza stone and roll it out smoothly to form the round pizza crust. Bake for 15 minutes or until the crust is golden brown and crispy. Let it cool completely before topping with frosting.

In a large mixing bowl, beat the cream cheese and sugars together until smooth. Add the vanilla and continue to beat until the filling is light and smooth. Spread evenly over the pizza crust.

Chop the green apples into small bite-sized chunks. Add the apples to a clean mixing bowl and gently toss with 1 tablespoon of the lemon juice. This will help keep the apples from turning brown. Sprinkle the apples evenly over the top of the pizza.

Spoon several large dollops of caramel apple dip into a plastic baggie. Snip a tiny corner from the bag and use it to pipe the caramel in a pretty pattern over the pizza.

Sprinkle the Rolo candies and Heath bits over the top of the pizza.

Store the pizza in the fridge until ready to serve. Tastes best the day you make it. 
Recipe Notes
This is an extremely chewy apple pizza dessert. You may want to let it rest at room temperture for 10 minutes before serving so the caramel candies have a chance to slightly soften.
Save This Recipe to Your Recipe Box
Find this delicious recipe next time you visit by saving it to your very own recipe box on my site. All your favorites stored in one easy place!
Looking for more fun apple recipes for your family?
Don't miss some of our favorite apple recipes to make with your kids this fall: