This classic Snicker Salad recipe comes from the heart of Minnesota and is a staple Thanksgiving side dish for families.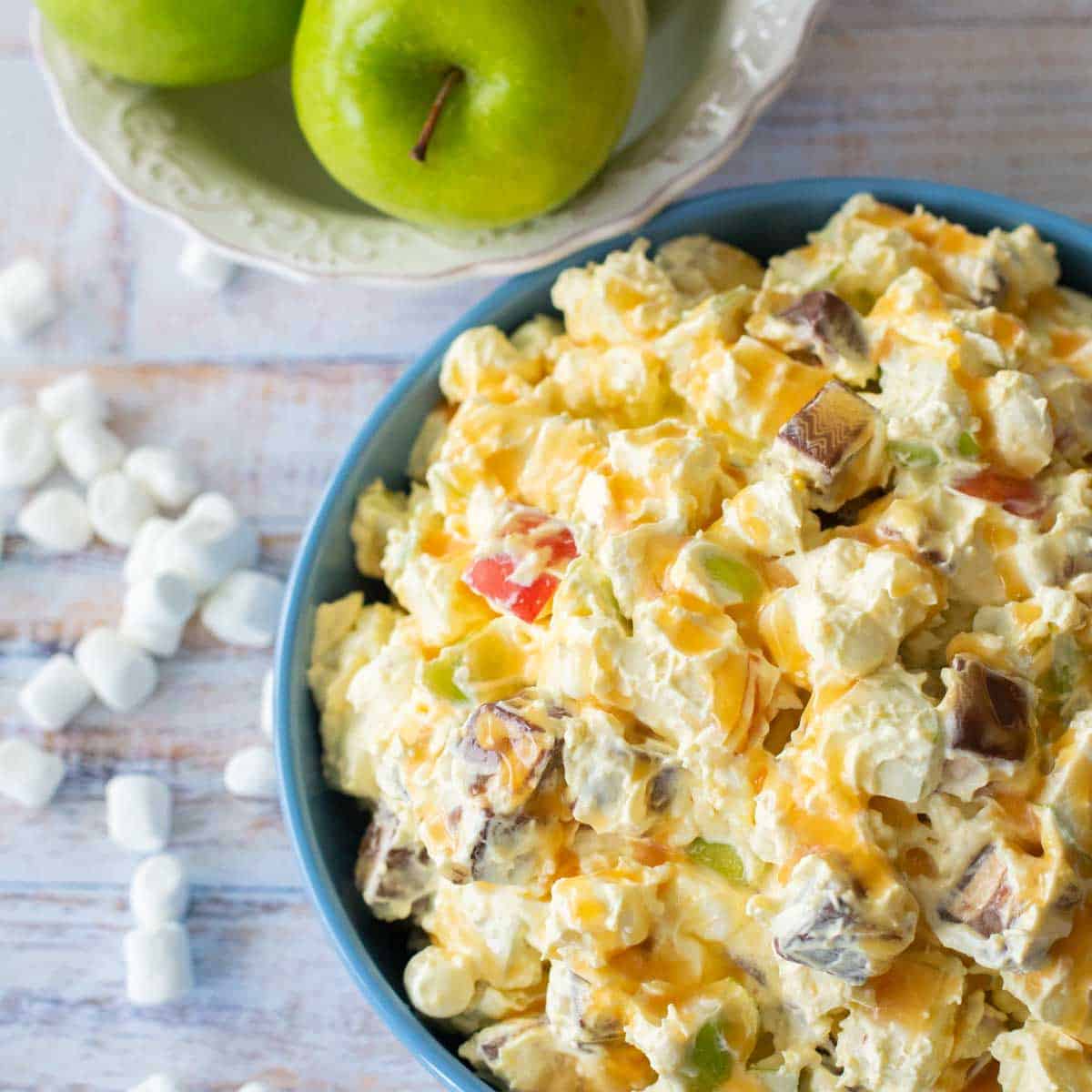 Looking for an easy Thanksgiving side dish to bring for the holiday?
This classic Minnesota salad recipe for Snickers Salad was the first thing I brought to my mother-in-law's Thanksgiving many years ago.
Learn all about the history of this popular recipe and how easy it is to make on your own! It's a great recipe to let the kids make for Thanksgiving, too.
Jump to:
The Story Behind Snicker Salad
Once upon a time, there was a young Wisconsin girl who fell in love with a Minnesota boy.
When things got serious between our darling lovebirds, the tall strapping lad invited his special lady to travel to his homeland and join his kin for the great Thanksgiving feast.
Like the proper guest she was raised to be, the girl thoughtfully called ahead to ask her future mother-in-law what she could bring to help with the fall bounty.
And the sweet Minnesota lady responded to the young Wisconsin girl:
"How about something easy, would you like to bring a salad?"
And the girl paused, for her family had never served bowls of green lettuce at the Thanksgiving table. She was confused and scrambling to suggest an idea that fit such an occasion.
The mother-in-law helpfully filled the deafening silence with infamous words heard round the kingdom:
"You know, like a Snickers Salad."
Friends, despite their close proximity, not every state in the Midwest has similar culinary traditions.
Minnesota and Wisconsin are next-door neighbors and at 20-something years old I swear to you I had NO IDEA what a "Snickers salad" was or what on Earth "Snickers" and "salad" could possibly have to do with one another.
We were engaged long before Pinterest was a thing. I couldn't just hop on the web to solve this particular problem. The internet itself was just barely a thing!
What IS a Snickers Salad?
For the uninitiated, Snickers salad is one part side dish, one part dessert and is often served at a holiday gathering.
I remember my panicked phone call to Tim to clarify what goes into a traditional Snickers salad and like your oh-so-stereotypical clueless guy, his description of it was fairly terrifying.
He was convinced there was mayo in it (there is not) and I just couldn't fathom why this was something they would eat. On purpose.
Now that we've been married 20+ years, I've had my fair share of Snickers salad at family reunions and get-togethers with our Minnesota loved ones.
It really was the perfect suggestion for my mother-in-law to give me, had I only known what it was at the time.
Ingredients
Snickers salad, which also goes by the name Taffy Apple Salad, ingredients couldn't be easier: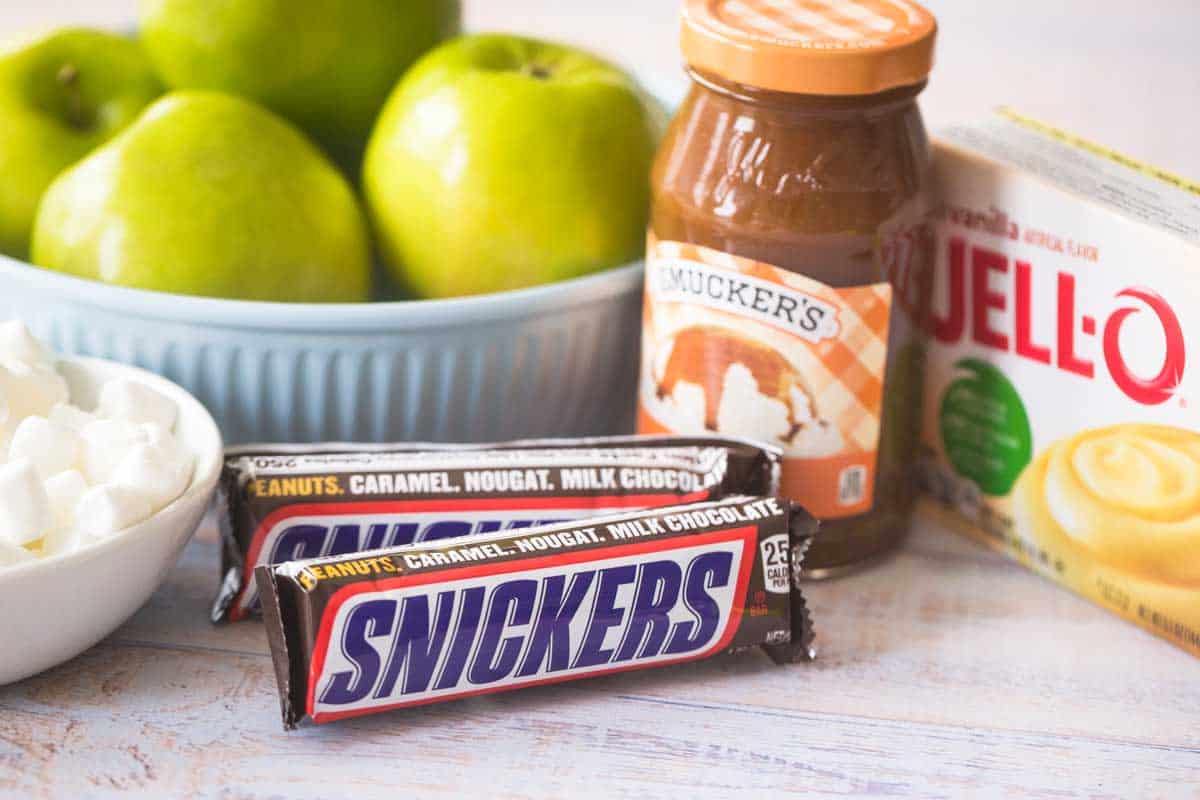 Chopped Snickers bars
Vanilla pudding mix
Cool Whip topping
Chopped fresh apples
Mini Marshmallows
Caramel sauce drizzle
Keep It True To Minnesota
According to my mother-in-law, the truly TRULY authentic Minnesota Snickers Salad involves fresh whipped cream instead of pudding + Cool Whip but according to my husband, the pudding variety keeps longer in the fridge.
I sent my husband to the store to get the supplies and asked him to pick up a picture-perfect bottle of caramel. He stopped in his tracks, turned around and glared at me:
"I'm getting Smucker's. Is this supposed to be a Minnesota recipe or no??"
He squashed all my highfalutin food photo dreams right there, but he was totally right.
Smucker's caramel is totally the way to go with this homey classic.
Tart Granny Smith apples are our preferred choice for the apple, but honestly, you could use whatever fresh apples your family loves.
When to Serve Snicker Salad
This super simple Snicker salad recipe is such a fun and delicious Thanksgiving side dish idea.
You could also make Snickers apple salad as a special Halloween dessert for the kids as a way to sneak some fruit in among all the Trick or Treat candy.
With both those holidays approaching, I thought it would be fun to share. It isn't something I've made outside the Minnesota borders before, but when I mentioned it to Tim he got so excited to have a little taste of home.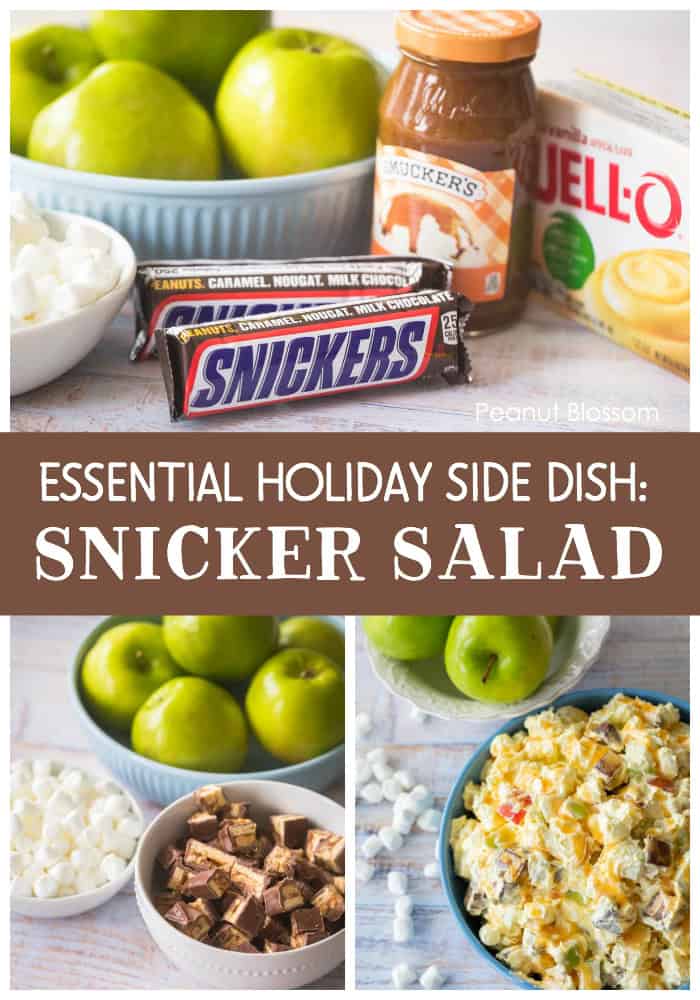 How to Make It
This recipe is easy enough for the kids to make, but I've found a few little tricks make it even better.
Prep the Ingredients
Chop each Snickers bar into 8 - 10 tiny pieces. I cut it length-wise in half first, then into bite-sized pieces. This will help stretch the candy out farther in the mix and makes sure you don't get a too-big bite of the candy.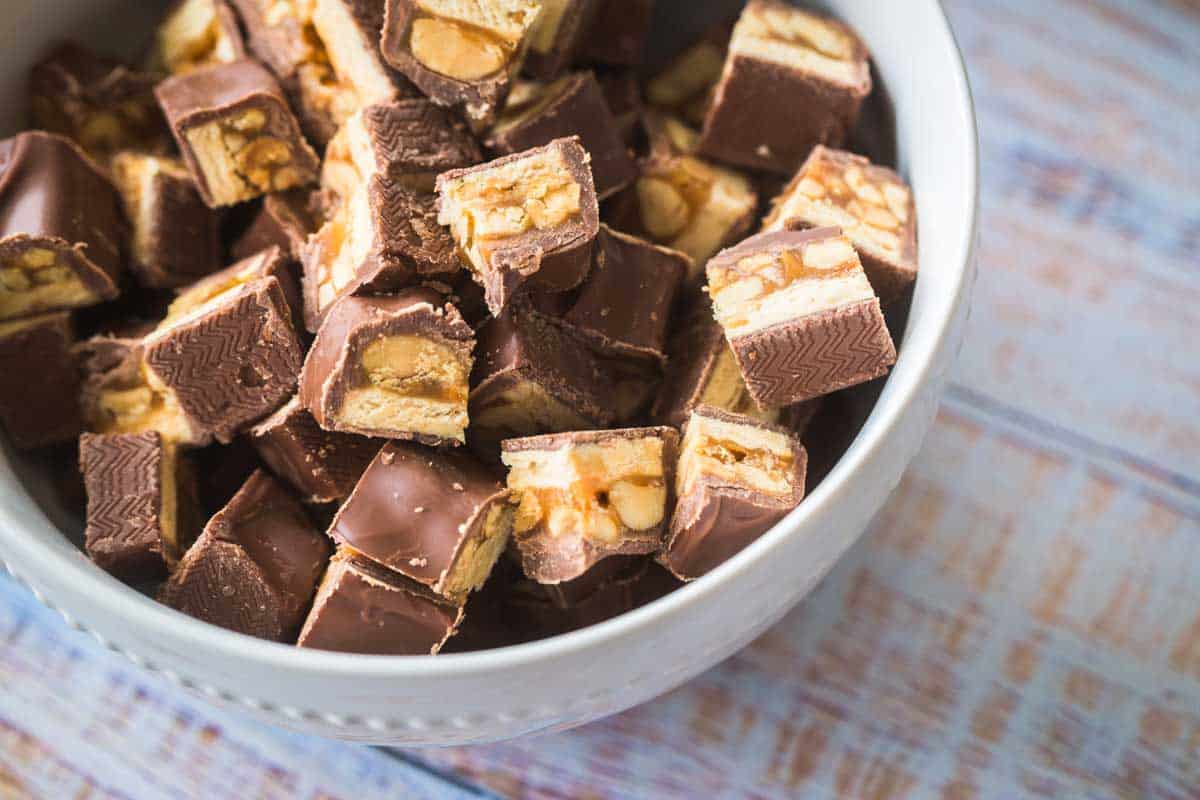 Choose between marshmallows or pecans: The marshmallows are the classic ingredient, but I personally prefer the crunch of chopped pecans. Choose your preference, but I wouldn't use both.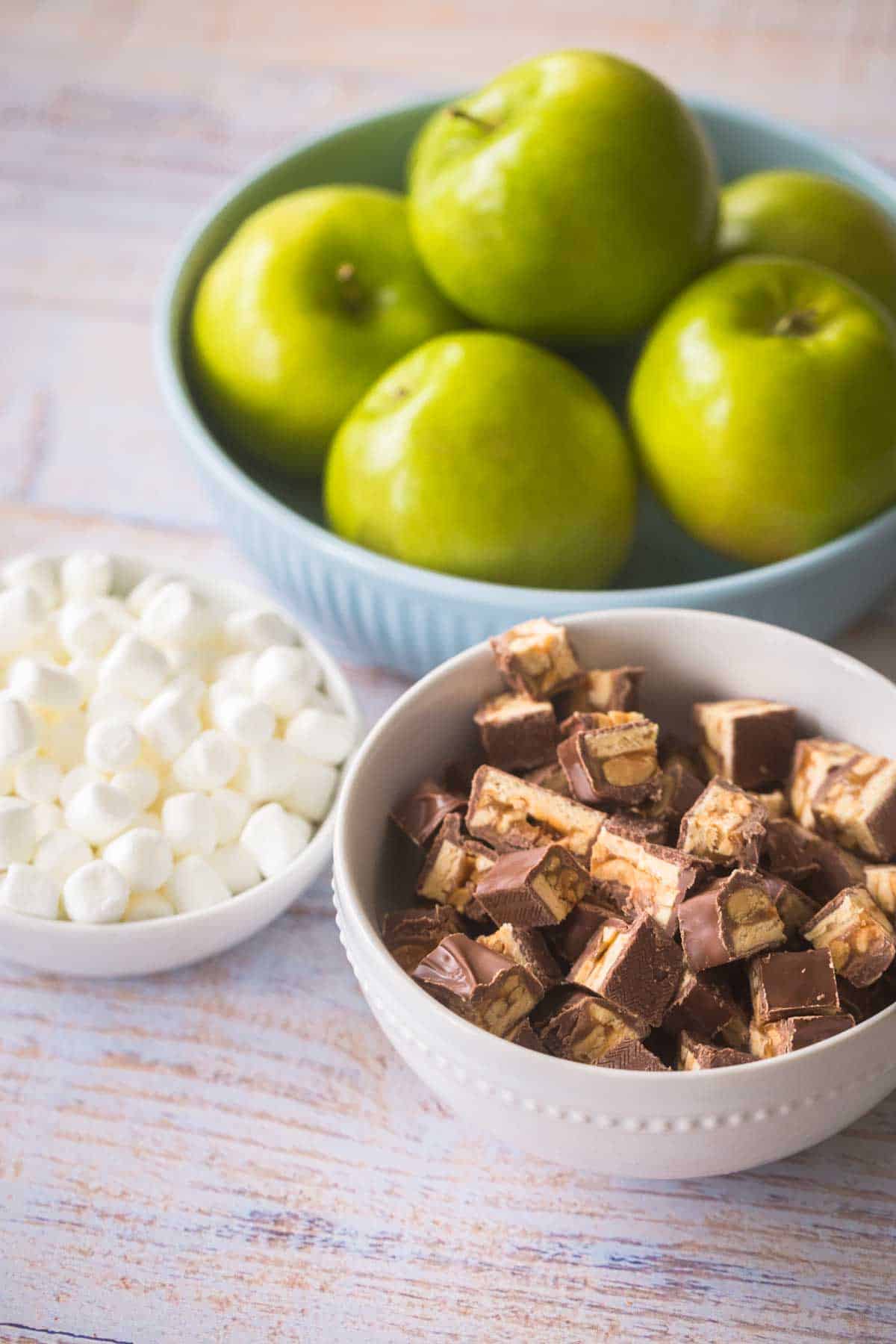 Prepare the pudding and fold the Cool Whip into it immediately: If you let your pudding sit for even a couple minutes, it will start to set and it will be difficult to incorporate the Cool Whip properly. Be ready to mix them together right away.
Add the chopped snickers and marshmallows or pecans to the pudding mixture and stir.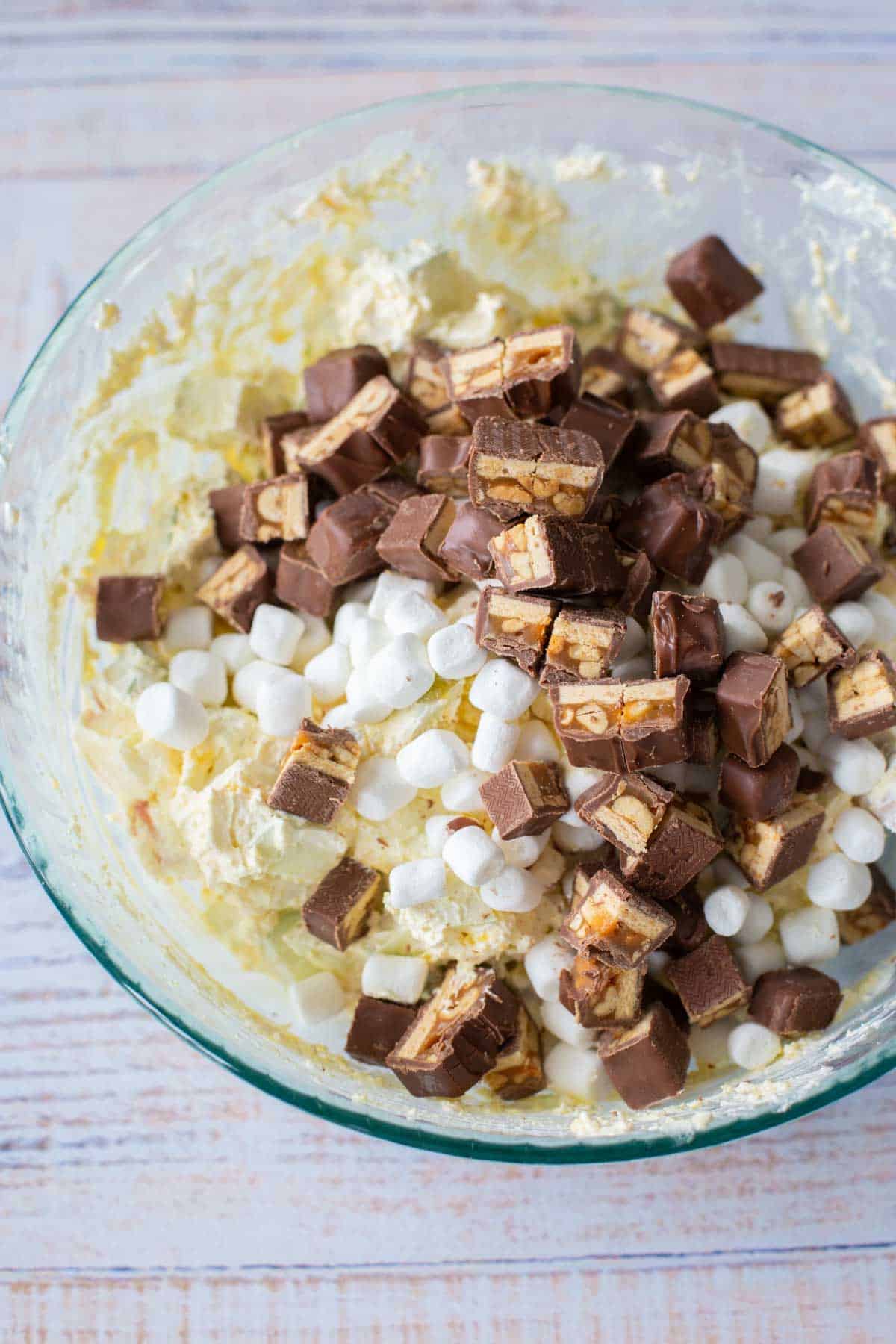 Don't peel the apples. The green or red skins peeking through give the salad a much-needed burst of color. They also add a nice texture.
Chop the apples last. If you chop the apples too early, they could turn brown before you can stir them into the pudding mixture. Do this step last.
Drizzle the caramel over the top just before serving: It will melt into the salad once it has sat long enough. If you want to have that pretty garnish over the top at the table, drizzle it on right at the very end before taking it to the table.
More Easy Thanksgiving Recipes
You don't have to wait for Thanksgiving to make a Minnesota salad, in fact you could pair it with my Minnesota tater tot hotdish for a weeknight dinner just to be fancy.
But we do love serving Snicker salad for Thanksgiving, so here are a few more easy recipes I know you'll love:
📖 Recipe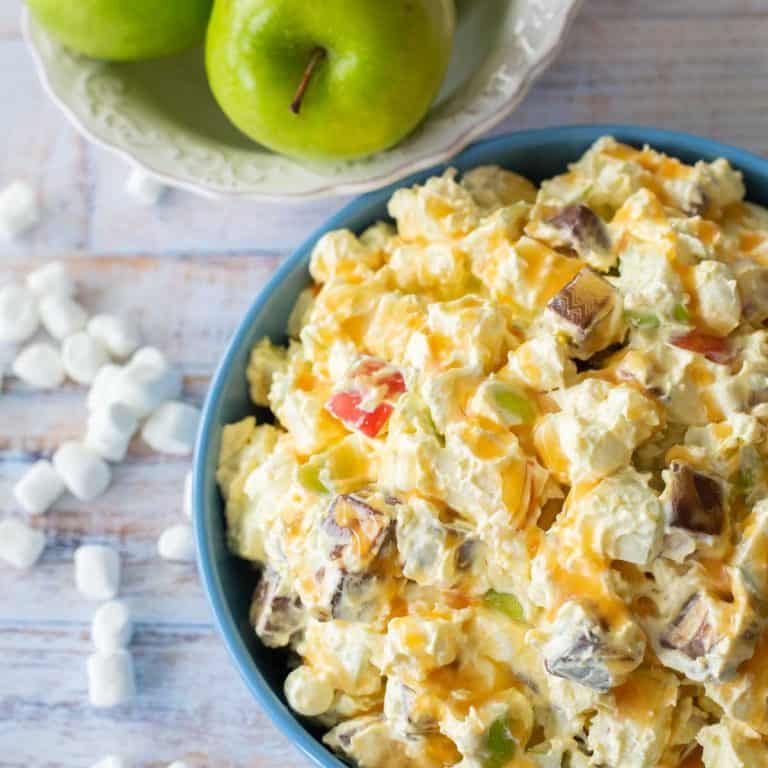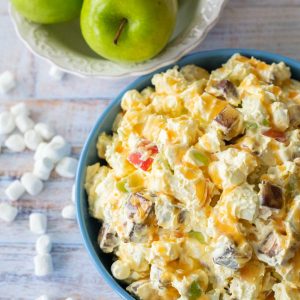 Snicker Salad
Snicker salad is right at home on your holiday table. Is it a side dish or is it a dessert? No one knows for sure, but no matter what it is a tasty part of your holiday meal.
Ingredients
1

(3.4 oz) box of instant vanilla pudding mix

¾

cup

milk

1

(8 oz) container Cool Whip topping

4

apples

Granny Smith is our favorite, but whatever you have will work

6

Snickers bars

1

cup

marshmallows OR ½ cup chopped pecans

Caramel Sauce for drizzling over the top
Instructions
In a large mixing bowl, combine the pudding mix and milk. Beat them together with a hand mixer or whisk for 2 minutes.

Gently fold in the entire container of Cool Whip into the pudding. By preparing this first, you can add the apples as you chop them so they don't turn brown in the air.

Chop the Snickers bars into 8 – 10 pieces each. Add them to the pudding mixture and gently fold them in.

Add the marshmallows (or the chopped pecans) and fold them into the mixture. Stir everything until all the crunchy ingredients are coated in the pudding mix. 

Wash the apples thoroughly and then chop them into bite-sized pieces. Add them to the pudding mixture as you go. Stir everything together once more.

Chill until ready to serve. Drizzle the caramel sauce over the top just before bringing it to the table.

Best enjoyed the day it is made. 
Save This Recipe to Your Recipe Box
Find this delicious recipe next time you visit by saving it to your very own recipe box on my site. All your favorites stored in one easy place!