Worried about foods to avoid with braces? Check out this great list of foods you should skip along with the yummy substitutions that will make your life with braces so much easier.
This post is sponsored by Hull & Coleman Orthodontics, our favorite of the South Charlotte orthodontists. We are proud to be partnering with Dr. Hull and Coleman to bring you useful tips on surviving the world of kids & braces.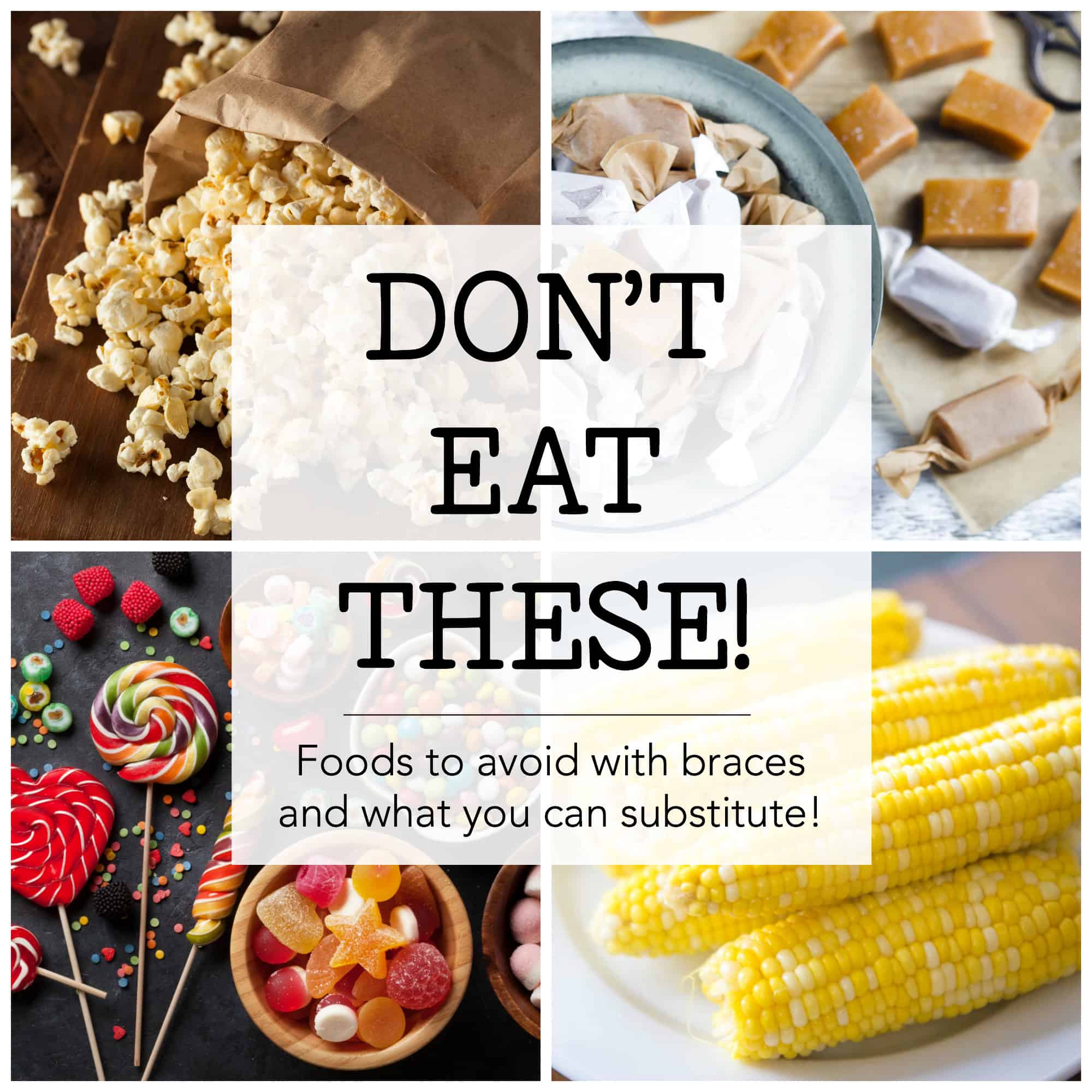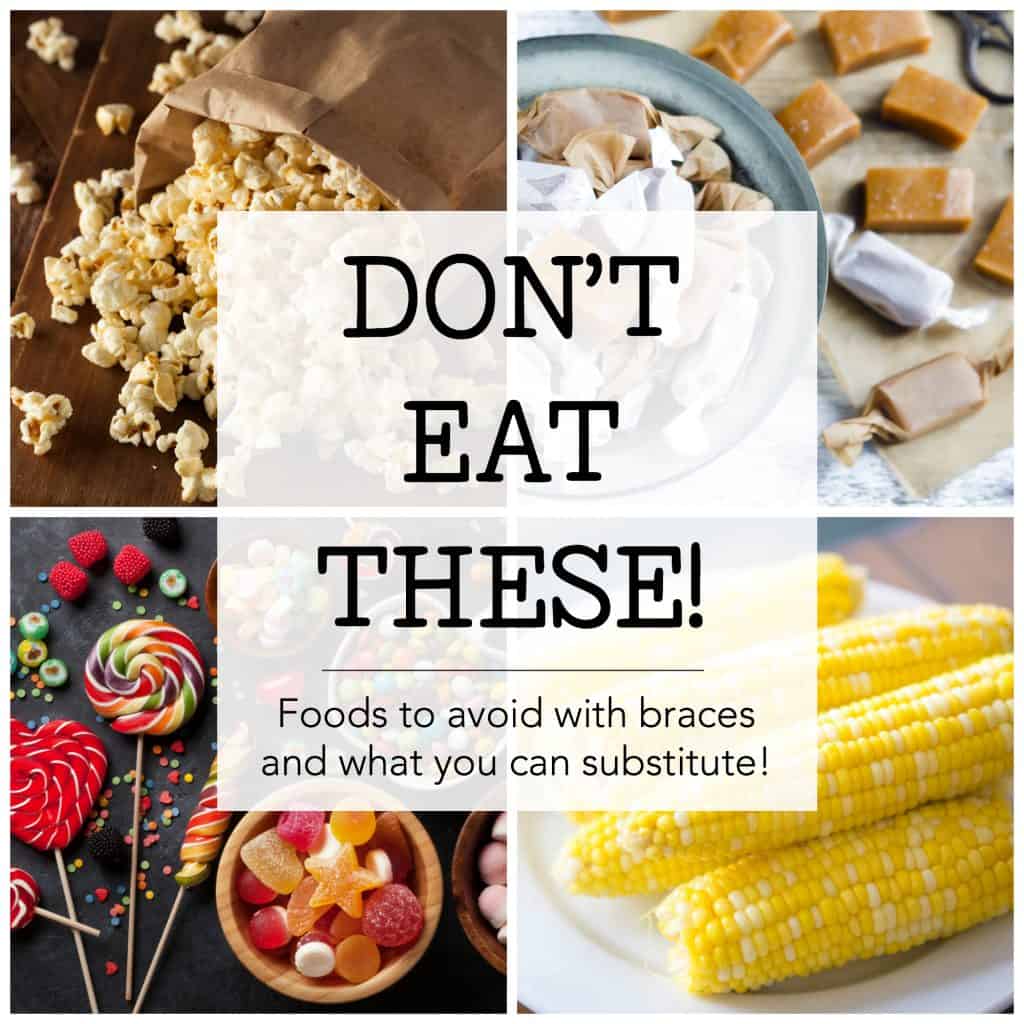 As a former metal mouth myself, I knew it was only a matter of time before the Peanut was going to need braces. This summer we visited several South Charlotte orthodontists to hear their plans for correcting her teeth. The opinion that her mouth was over crowded was unanimous but I was surprised to see the variations in methods of correction. Our decision was made much easier by our first visit to Hull & Coleman Orthodontics in South Charlotte.
Dr. Hull immediately put my very worried Peanut at ease and had the soundest and least aggressive treatment plan laid out for us. We were not interested in pulling teeth unnecessarily or using large intense head gear. Her course of treatment may take a few months longer, but I believe she will be far more comfortable over the long haul.
We took the big plunge in August. Check out her official "before" and first day with braces photos! I can't wait to see the transformation over the next two years.: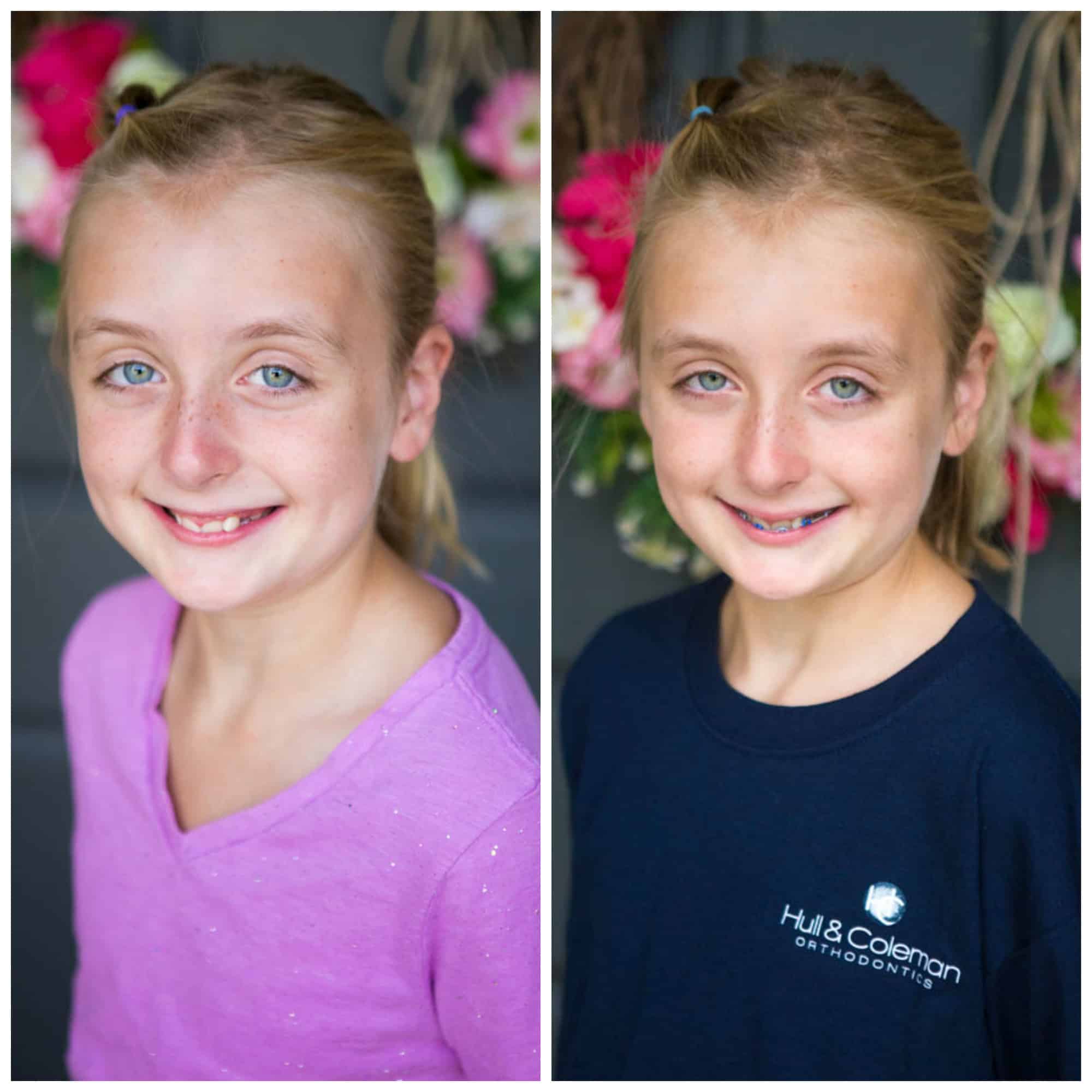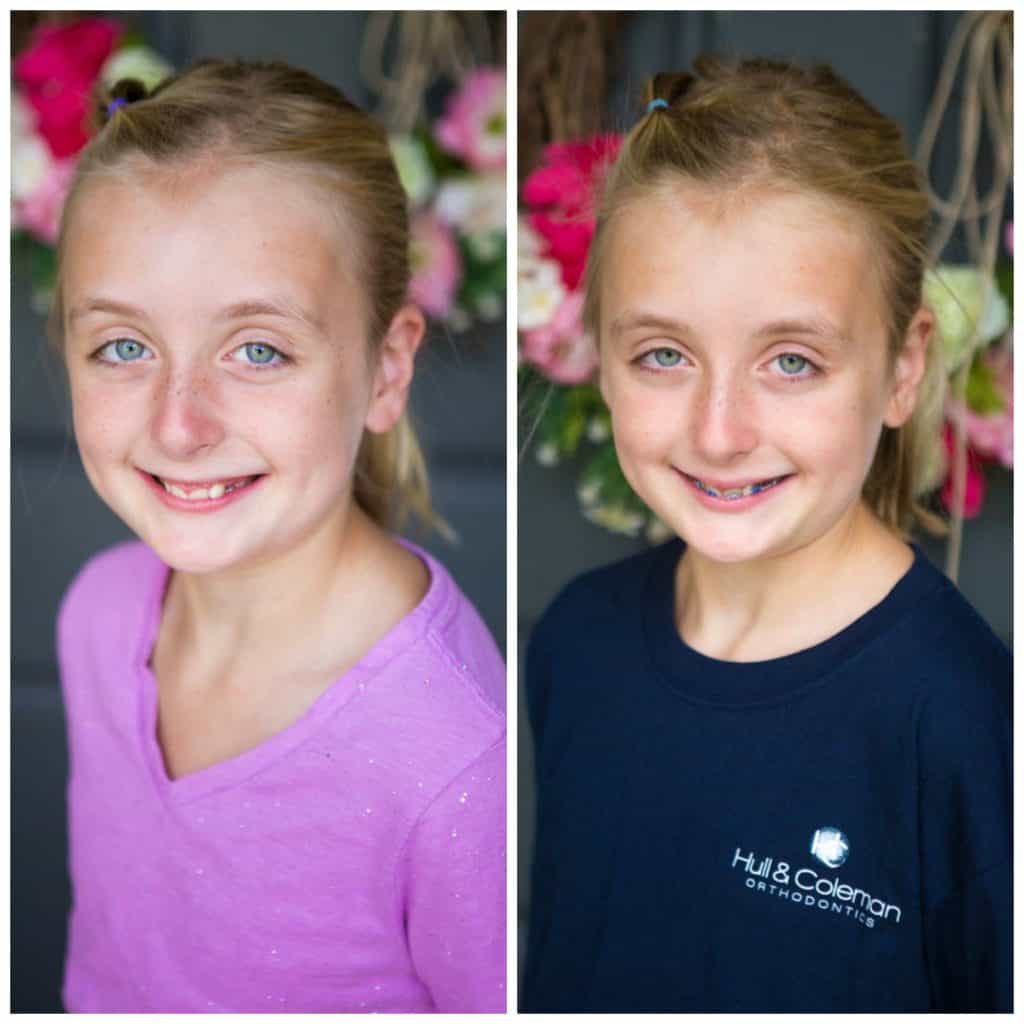 Over the coming months, Dr. Hull and the team at Hull & Coleman are going to help me share useful tips for you to help your own kids get through the modern world of orthodontics. We had so many questions and concerns this summer so I'll be sharing:
Questions to ask when visiting an orthodontist for the first time
Great food ideas for sore mouths after getting braces adjusted
How to keep teeth clean while wearing braces
How to treat canker sores caused by braces
How to keep kids motivated to care for their braces and wear their rubber bands
and more!
What to know how we selected Dr. Hull? Read How to pick the best orthodontist in Charlotte, NC here. (Hint: The tips work no matter where you live!)
But for today, the biggest concern out of everything for my girl was:
What can I eat with braces? What foods are you not allowed to eat with braces?:
Gum, Jolly Ranchers, popcorn, and corn on the cob are a few of my daughters favorite treats. She was so nervous that the list of foods to avoid with braces was going to be a mile long. Here is the advice we were given by the team at Hull & Coleman: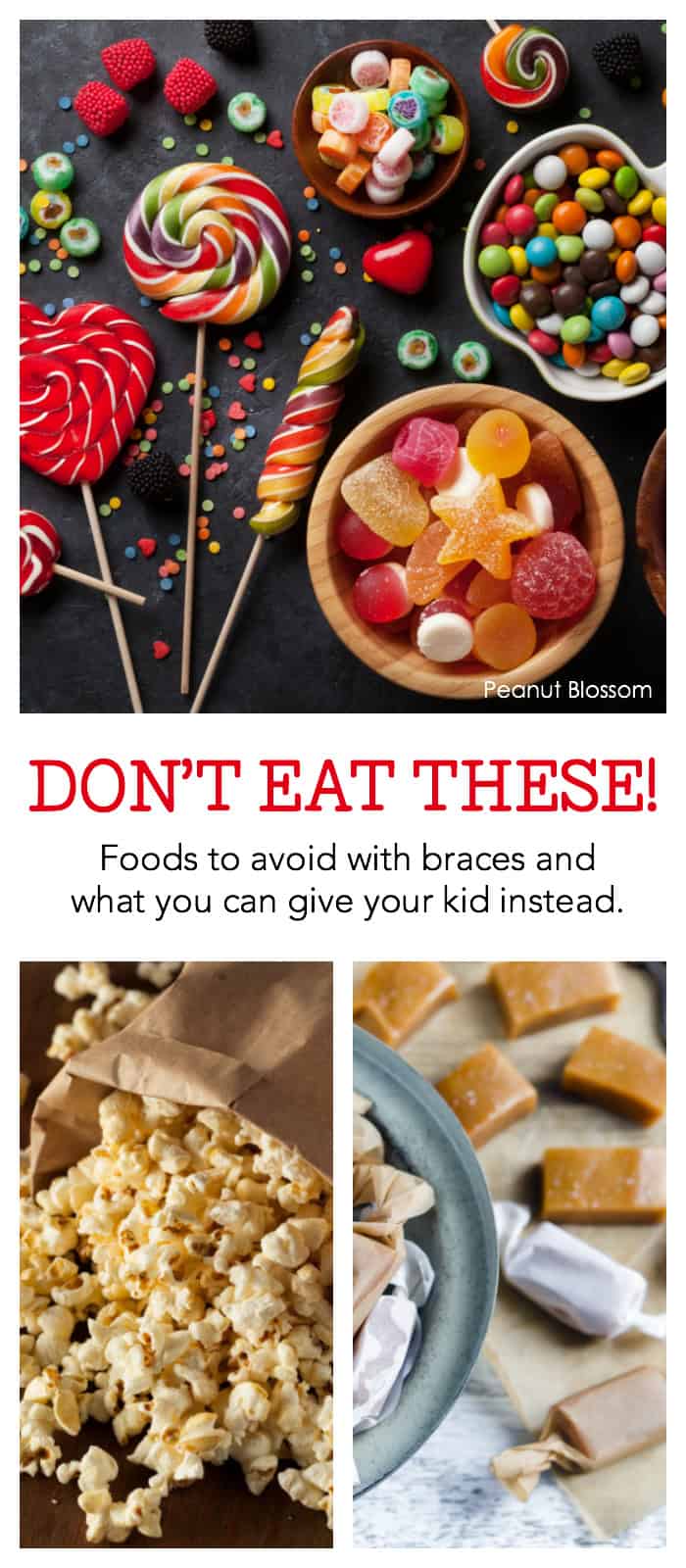 FOODS TO AVOID WITH BRACES:
Popcorn: the hulls and kernels can get caught under brackets or pop a bracket off if you bite them.
SUBSTITUTION: Pirate's Booty is a great substitution for popcorn during braces. We also love the airy white cheddar puffs from Trader Joe's.
Regular chewing gum: This is not a big surprise. Gum is on the no-no list for sure BUT. . .
SUBSTITUTION: Sugar-free gum is ok! Sugar-free gum is less sticky and approved.
Corn on the cob / Whole apples / raw carrots / foods you have to "bite into": You could pop a bracket or cause problems with the wires if you bite into overly hard/crunchy foods.
SUBSTITUTION: Cut them up! The Peanut was relieved to hear that I could cut the corn off the cob or cut her apples up into chunks.
Jolly Ranchers / Lolipops / Hard candies including peppermints: This was a tough one to take but it is true. These candies could easily get stuck on the brackets and that would be no fun at all.
SUBSTITUTION: Skittles! For that same fruity candy experience, as long as your child simply sucks on ONE at a time and doesn't chew into them, Skittles will give that same flavor without the stick factor.
Caramels / caramel filled candies: Halloween without Snickers, taffy, or Milky Ways are going to be tough for the Peanut but Christmas time without my annual vanilla bean caramels will be even harder. We love all things caramel but it's not a risk worth taking.
SUBSTITUTION: Homemade caramel sauce! This smooth runny sauce tastes just like a melted version of my Christmas caramels and is SO EASY to make. Get the caramel sauce recipe right here. I promised vanilla ice cream sundaes with it which are easy on her sore jaws, too!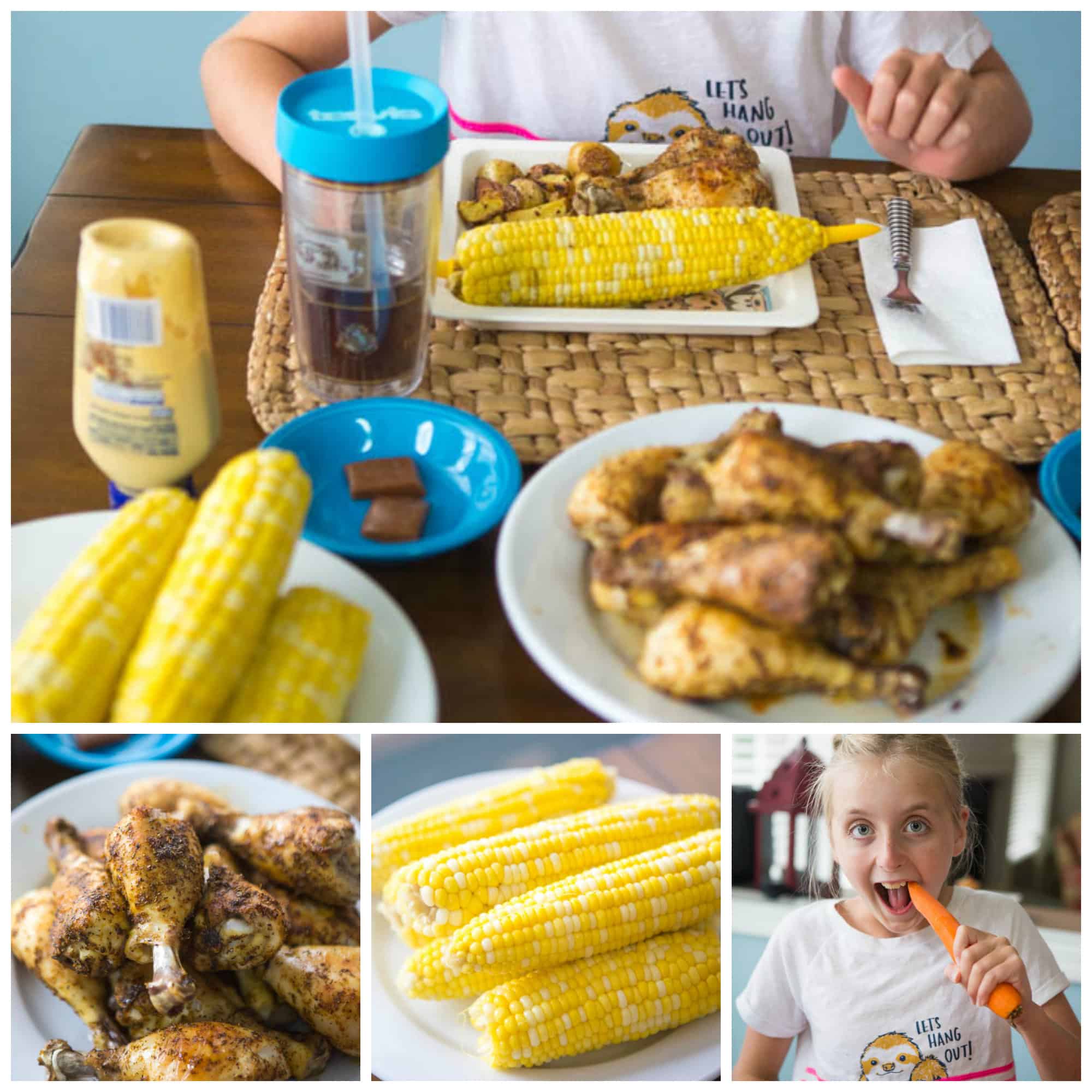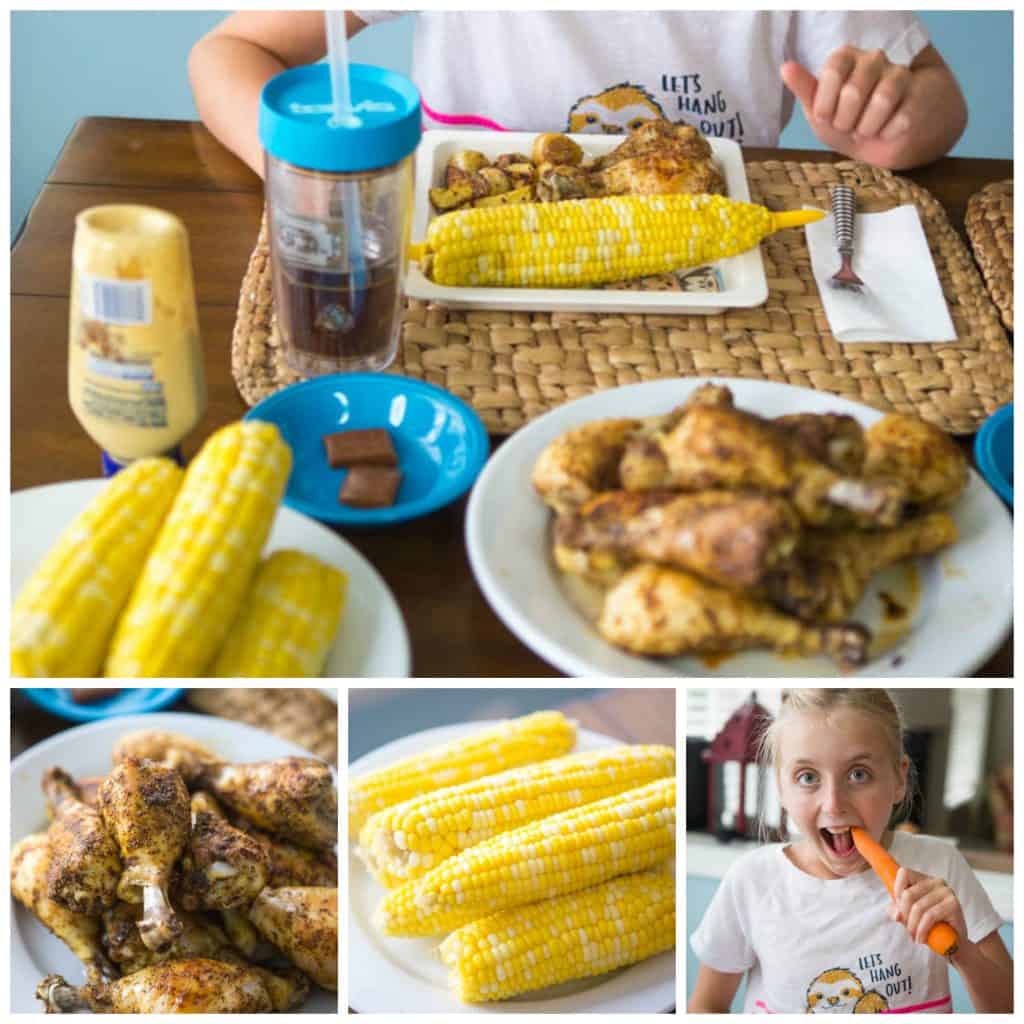 So the night before we headed in to get her braces on, we hosted a "Last Supper" meal of all the things she would miss the most:
Corn on the cob
HUGE raw carrots
Chicken legs (not exactly forbidden, but she was worried about chomping into them after)
Christmas caramels came early
It was a lighthearted send-off to foods she knew she'd be able to enjoy again in just 2 years and it kept her mind off the worry about what the braces would feel like.

The next morning we arrived at Hull & Coleman in South Charlotte right and ready to get things started. She was so nervous but I couldn't have been prouder of how brave she was through it all. It didn't hurt that their staff is over the top friendly and reassuring to the kids.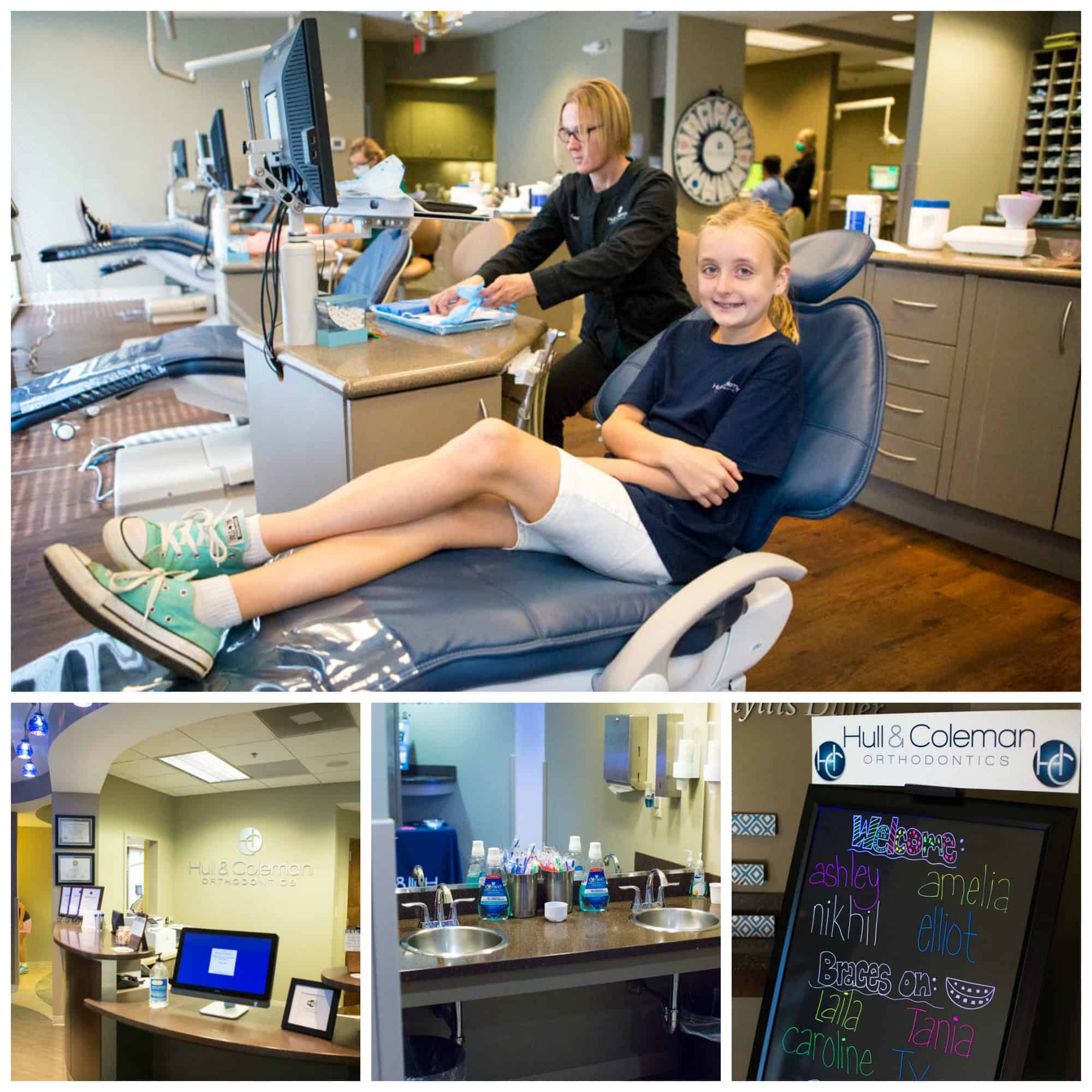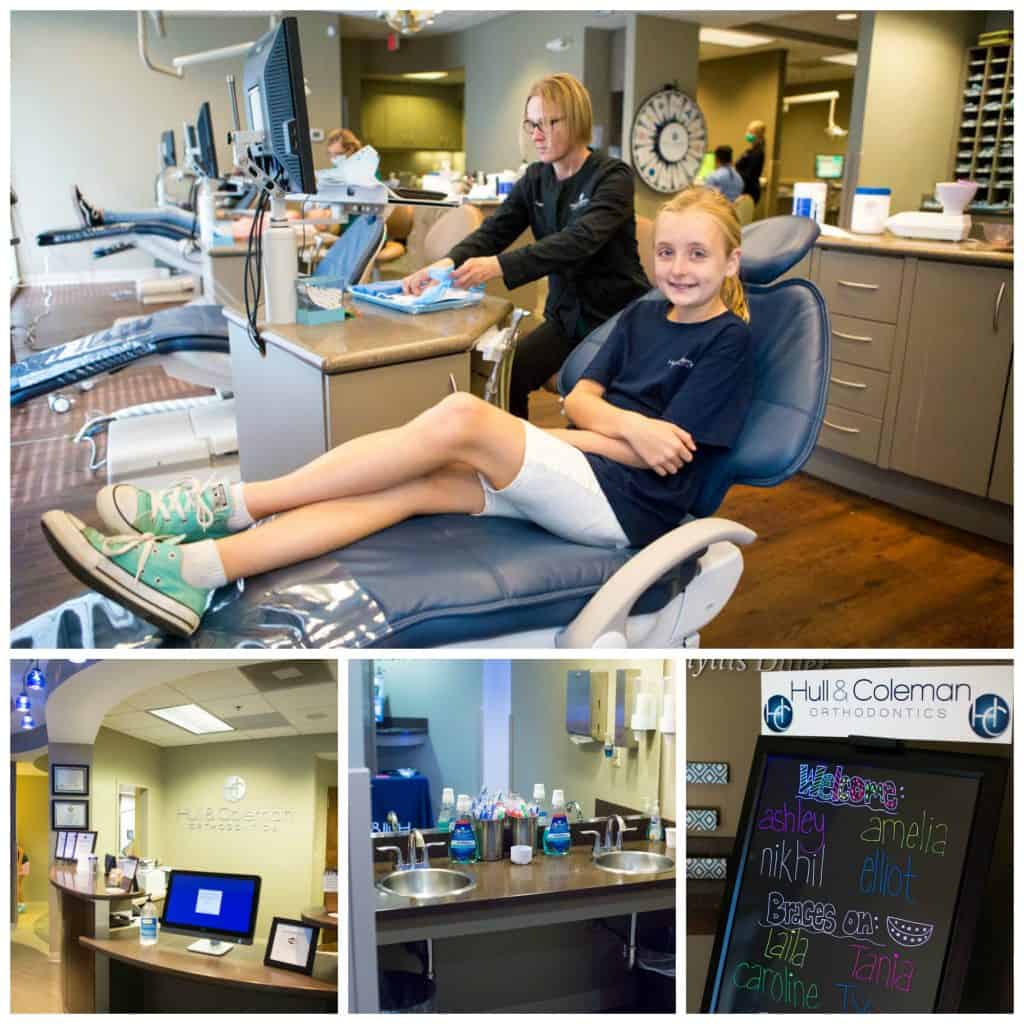 From the moment we walk through the door, Hull & Coleman makes it clear that this is the KID'S responsibility to manage their orthodontics. There's a big welcome sign with their name on it on the day they get the braces on and off, the kids check in for their appointment by themselves on the computer at a kid-level desk at reception. And if you've come straight from school, they even have an awesome sink area where the kids can quickly brush up on their own before the appointment.
It felt bizarre to finally be sending my big girl back for her appointment while I waited in the lobby. 10 years of hand holding and sitting right by her side for every dentist and doctor visit, and now here we are. Time really does fly!
What are your questions about kids with braces? Anything you'd like me to ask Dr. Hull and Coleman for you? Just let me know in the comments!

You can find both offices for Hull & Coleman Orthodontics at:
Arboretum Office
7800 Providence Road, Suite 201
Charlotte, NC 28226
704-334-7203
Wesley Chapel Office
5941 Weddington Road, Suite 103
Wesley Chapel, NC 28104
704-684-8080
You can always find them on Facebook, too.