Looking for the best book club picks for 2024? This is our TENTH year of picking the best books to read with your book club. Join us as we work our way through fun books that will help you relax and make more time for yourself in the coming year.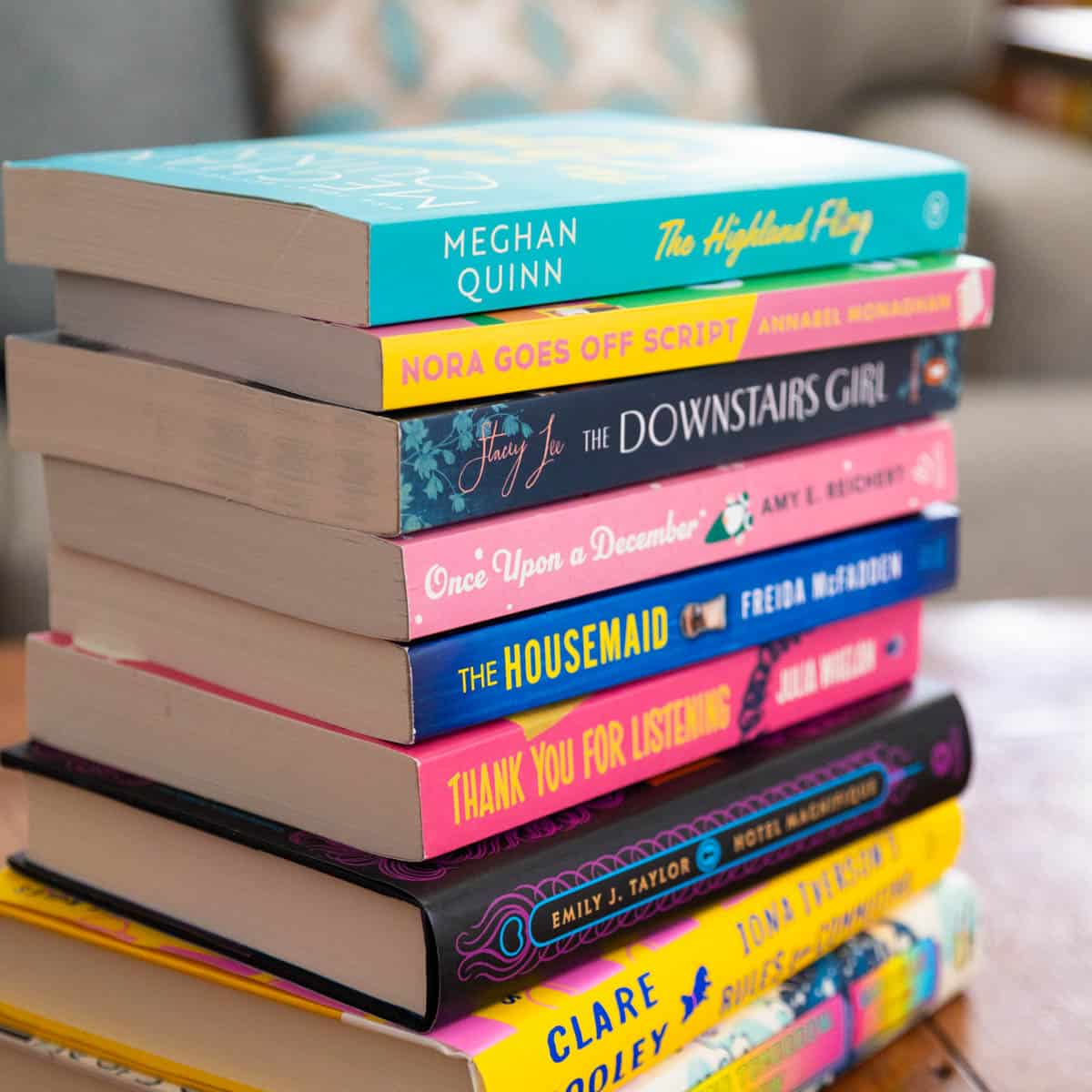 Would you like to read more FUN books in the new year than you have in ages?
This is the Peanut Blossom Book Club for Recovering Readers 10th year of picking awesome book club books for women who love to read.
If reading used to be your passion but somewhere along the path of adulthood life got in the way, you're in the right place.
We are a group of 10,000+ amazing members who love to chat about books on Facebook and we want you to join us.
How Do I Pick the Books?
Our group only reads FUN, light-hearted books.
We avoid tear jerkers.
We don't take our book picks too seriously, we believe reading is for pleasure.
We read a wide variety of genres throughout the year: romance, historical fiction, magical realism, young adult, and mystery all make the rotation year after year.
We look for a variety of voices in both authors and characters.
How To Join Our Book Club
1. Follow along on Facebook:
Every month, I post monthly discussion threads for each book inside our private Facebook book club. Join us here.
You'll discover our group is filled with kind, upbeat people who just love to share their new favorite reads.
We talk about all books, not just the official monthly picks. It's a great place to get new recommendations all year long.
2. Sign up for email updates:
Nothing is worse than having an exciting announcement and knowing that social media algorithms will filter and prevent me from getting the news to you. I don't want Facebook deciding what you see and what you don't.
When you sign up for my email newsletter, I will send you all the reminders you need for our book list all year long. I've got lots of goodies planned for 2024, you won't want to miss out.
GET ON THE LIST HERE:
---
---
Now that you're in the club, just grab the next book in the list that calls your attention and get reading!
Grab Your Book Journal
Our super popular Official Book Club Journal is back for 2024!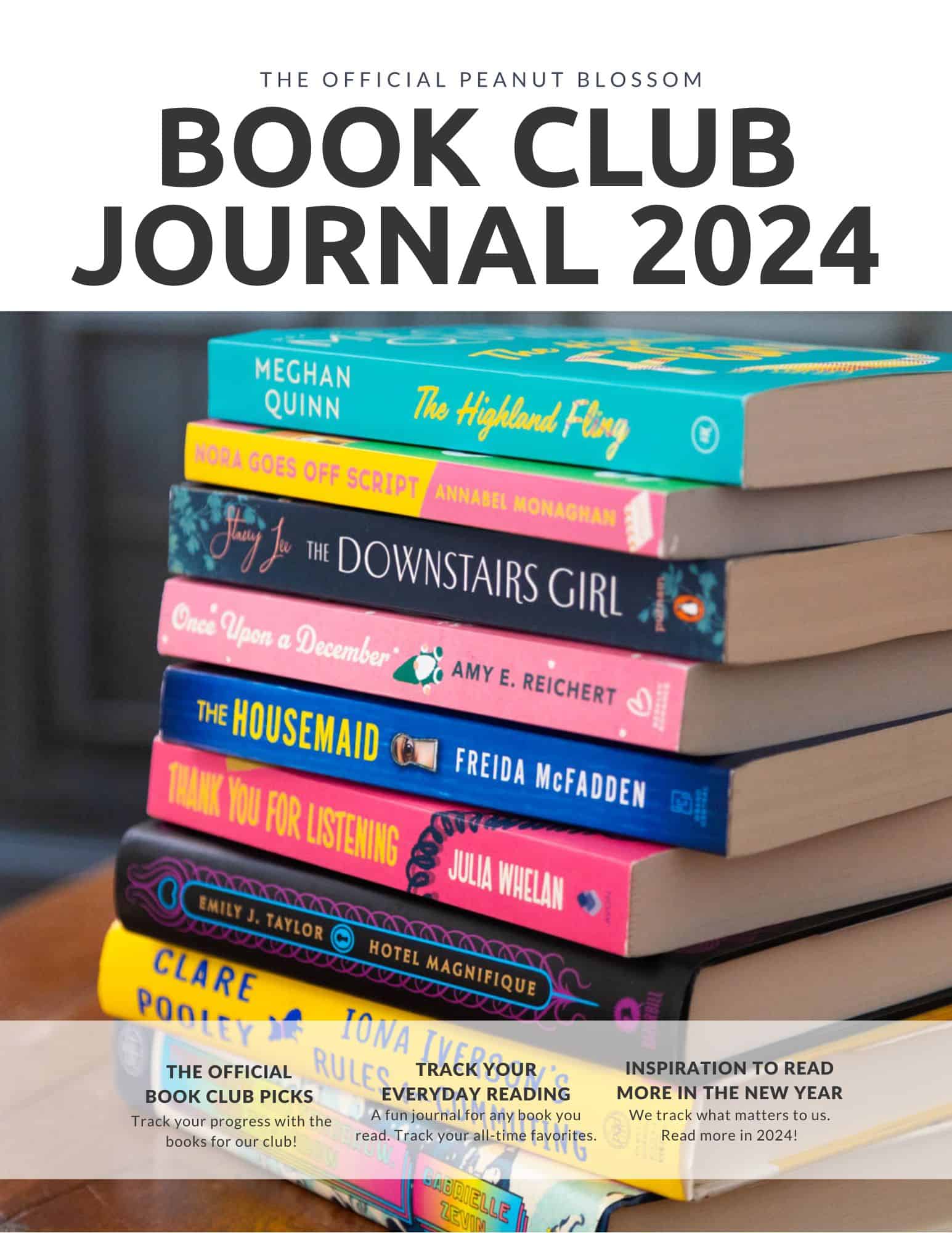 Created with our book club members in mind, this 70-page downloadable journal is filled with printables for you to mix & match the perfect reading journal just for you.
A peek inside:
There is a 2-page spread customized for every book in our 2023 lineup. Plenty of space for you to brainstorm questions to ask about the book and record your favorite moments.
A monthly reading log to track your reading time and keep you motivated.
Several daily reading journal pages for you to track your in-between books or even books you're reading with another book club.
The ALL NEW 3x3 Reading Challenge Tracker
An entire section of Top Favorites for you to make lists of your favorite books of all time in different categories.
And so much more.
GET THE NEW 2024 BOOK CLUB JOURNAL HERE
NEW for 2024: 10th Anniversary Edition!
Whether you're joining us for your first year or a nostalgic OG Member who's been around since Year 1, you may be interested in grabbing the 10th Anniversary ULTIMATE Book Club Journal Bundle.
This bundle includes absolutely everything from the 2024 book club journal and EVERY accessory kit from every single year of book club since 2015!
3x3 Reading Challenge
Looking to get even more out of this year's reading? You could take any one of our new books and use them for the start to a 3x3 reading challenge.
Other Optional Picks
The annual December "reader's choice" month has been a tradition since the book club started. I believe it is important to give you space to choose something just for yourself.
We always celebrate together with our popular Pay it Forward Book Exchange on Facebook, too.
If you don't want to read the December pick from my list, here are some alternative ideas to inspire you:
Books We've Read Other Years
Love this list? Want to dig in on our backlist?
You can find EVERY book we've ever read at our new home: the Peanut Blossom Book Club web site.