When you are looking for the best orthodontist in Charlotte NC, the choices can feel overwhelming. Head into your first consultation prepared with these excellent questions to ask the orthodontist before getting braces. Thanks to the team at Hull & Coleman Orthodontics for sponsoring this post.
Don't miss our free printable questions list at the end of this article!
Print it out and bring it to your first orthodontist consultation.
As we head into summer, I know this is the time many families choose to finally meet with one (or a few) orthodontists to get consultations on whether or not your child is ready for braces. Getting braces can be an intimidating thing for young kids, you really want the first appointments to put their minds at ease but you also need to have your own concerns as a parent fully addressed.
Last year, I wanted to find the best orthodontist in Charlotte, NC for the Peanut. We took the time to meet with three of the top orthodontists in Charlotte before making our decision to go with the amazing team at Hull & Coleman.
How we found the best orthodontist in Charlotte using tips that will work wherever you live.
There's no need to feel overwhelmed by choosing an orthodontist for your kids, I'm here to help hold your hand through the first steps of finding a doctor that will work well with you and your family over the course of treatment.
1. Start with finding referrals for great orthodontists in Charlotte (or your area.)
STEP 1: Ask your dentist.
We love our pediatric dentist and I trust her opinion. When she mentioned that the Peanut really should get an orthodontist consultation, I knew it was finally time for braces. She gave us the names of two different orthodontists in the Ballantyne area that she recommended.
STEP 2: Ask your mom friends.
Often dentists will have a relationship with certain orthodontist offices, so I wanted to branch out and talk to the moms in our neighborhood to see which ortho office they used as well. Many of my mom friends raved about the two ortho names I already had, but they suggested a third one I added to my list.
2. Make appointments for consultations at 2 - 3 orthodontist offices in your area.
While we needed the best orthodontist in Charlotte, these tips apply no matter where you live. It really is so important to get more than one consultation if you can. The good news is that each of the consultations are FREE for you.
I was able to schedule all 3 of our orthodontist consultation appointments within a two week period. Even with our appointments so close together, I found it to be an overwhelming amount of information. Take as many notes at each session as you can because it will be easy to forget who said what after a few appointments.
To help you out: 
We created a free printable questionnaire for you to bring along to each orthodontist consult.
Get your copy here, print it and bring it along each time so you don't forget what to ask.
3. What to expect at your first orthodontic consultation:
You will find that at each orthodontist consult, their team will take some x-rays before meeting with you and your child. They will discuss the specifics of their plan of treatment and all the costs involved with getting braces.
This is your time to ask about why they think their treatment plan is the best for your child and any other questions and concerns you may have about getting braces. Be sure to reference your question printable!
The orthodontist should not ask for any money from you at this point. They may suggest getting on their treatment calendar, but don't sign on for anything until you've gotten at least one or two more opinions.
We had an excellent feeling about Hull & Coleman from the moment we met with Dr. Hull. It was very tempting to just sign on with them right away and save time by skipping our other two consultation appointments. I'm glad we stuck with it because I feel even more confident we made the right choice because I was able to compare Dr. Hull's plan to the other two well-respected orthodontists in South Charlotte.
A good orthodontist office will respect your desire to go home and consider the information they gave you before making any commitment. If you are feeling pressure from them, that should definitely be a red flag of warning.
We were pleased that each of the orthodontist offices we met with here in Ballantyne understood that we'd want 2nd and 3rd opinions.
4. How to choose the best orthodontist in Charlotte for your family:
One orthodontist we met with had a very aggressive treatment plan that made me nervous and uncomfortable for the Peanut. Then we met with Dr. Hull and Hull & Coleman who's treatment plan would take an additional six months but would avoid having teeth pulled or expensive devices.
Comparing those two choices, I worried I was leaning towards an easy way out with Dr. Hull. Meeting with a third doctor gave me a great sense of relief when he had a plan that closely mirrored Dr. Hull's recommendations.
5. How to choose between two orthodontists that have the same treatment plan:
There are so many factors behind the decision to pick one orthodontist over another. When the orthodontic treatment plan is the same, there are many other things to consider. Here's how we made our choice:
Cost: I think this is every parents' worst nightmare when it comes to choosing an orthodontist. Braces are definitely not inexpensive, but they are an investment in your child's health not just a cosmetic choice. Straight teeth are easier to keep clean and less prone to decay and bite problems as you age. You can read more about the benefits of braces from the American Association of Orthodontists right here.
The two orthodontists we narrowed our choice down to quoted us the exact same price, so thankfully price was not a deciding factor for us. If one had been significantly more affordable, it may have trumped one or more of the other deciding factors below:
Location: Hull & Coleman has two offices, one happens to be 15 minutes closer to our home than the other orthodontist we considered. 15 minutes may not sound like a lot, but when you're taking your child out of school for an appointment, that time really can add up. I did like that there were two offices available if we ever had need in an emergency for the other location.
Personality: Dr. Hull immediately put the Peanut at ease. He was the only doctor we met with who had her smiling and laughing throughout the consultation. You will be seeing plenty of your ortho over the course of treatment which can take up to two years or more if you have a complex plan or additional kids. You want to feel comfortable with the doctor you'll be working with.
The office: Both offices were welcoming, clean, and fairly high-tech but the office at Hull & Coleman is just outstanding.
Comforts for the patients: They have a tooth brushing station for the kids to use if they are coming straight from school and want to freshen up before their appointment, a welcome sign with their name on it, a fun check-in screen at kid height for the patients to use themselves, and a mini-fridge with water bottles.
Assistance with keeping younger siblings occupied: The lobby features an enormous fish tank Little Pea loves to go see but they also have iPads with a few game apps she is allowed to borrow when she has to tag along. There are a few toys and books for the preschool aged little ones, too.
Comforts for mom & dad: There's a beverage stand with hot coffee and tea while you're waiting, comfy chairs, and wi-fi if you need it.
The treatment room: Clean, modern, and nicely lit with natural light from big windows. The Hull & Coleman office is bright and welcoming.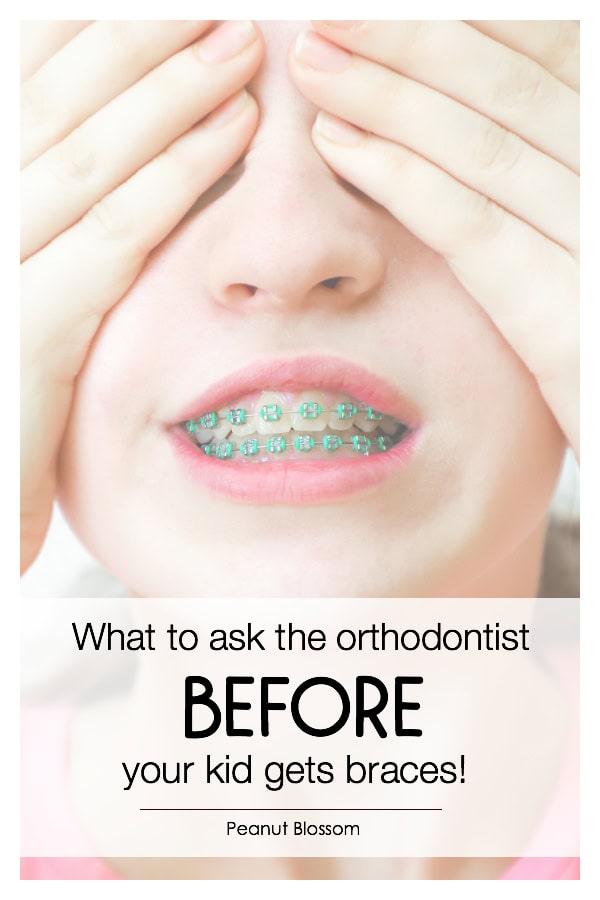 6. Questions to ask your orthodontist before getting braces on:
We had a lot of concerns before our first consultation, most of these were immediately addressed by the very patient staff at Hull & Coleman.
How old do you have to be to get braces?
How long do braces take to put on?
Does it hurt when you get braces?
How long do I need braces?
What to eat when you get braces? (Check out our 'last supper' dinner idea for the night before you get braces!)
What can't you eat with braces? (We actually already answered this last fall! Read about which foods to avoid with braces here.)
What insurance do they take?
When is a good time to get braces? How do we know if it is too soon or too late?
Who will we see from visit to visit? Will we always see the doctor or just the assistant?
What are the payment plans you can offer?
What do I do with different opinions?
How long is your treatment plan?
How involved am I as parent, how much responsibility will be required of my child?
How long will each appointment take?
How much time can we expect to be away from school?
Don't miss your free printable where we've organized these thoughts into a simple questionnaire for you to fill out while you meet with each potential orthodontist. We left some room at the bottom for notes of your own, too!
DOWNLOAD MY FREE PRINTABLE QUESTIONNAIRE HERE
And for those of you looking for an orthodontist in Charlotte, you can find Dr. Hull and Dr. Coleman at one of their two Hull & Coleman Orthodontics offices:
Arboretum Office
7800 Providence Road, Suite 201
Charlotte, NC 28226
704-334-7203
Wesley Chapel Office
5941 Weddington Road, Suite 103
Wesley Chapel, NC 28104
704-684-8080
You can always find them on Facebook, too.