This sweet Chex Mix recipe combines butter and pie spices with fresh apple cider to make a hot apple pie Chex Mix inspired by the classic fall dessert. This addictive mix is a great way to use apple chips and yogurt covered raisins and is guaranteed to be your new favorite fall treat for lunch boxes or movie watching.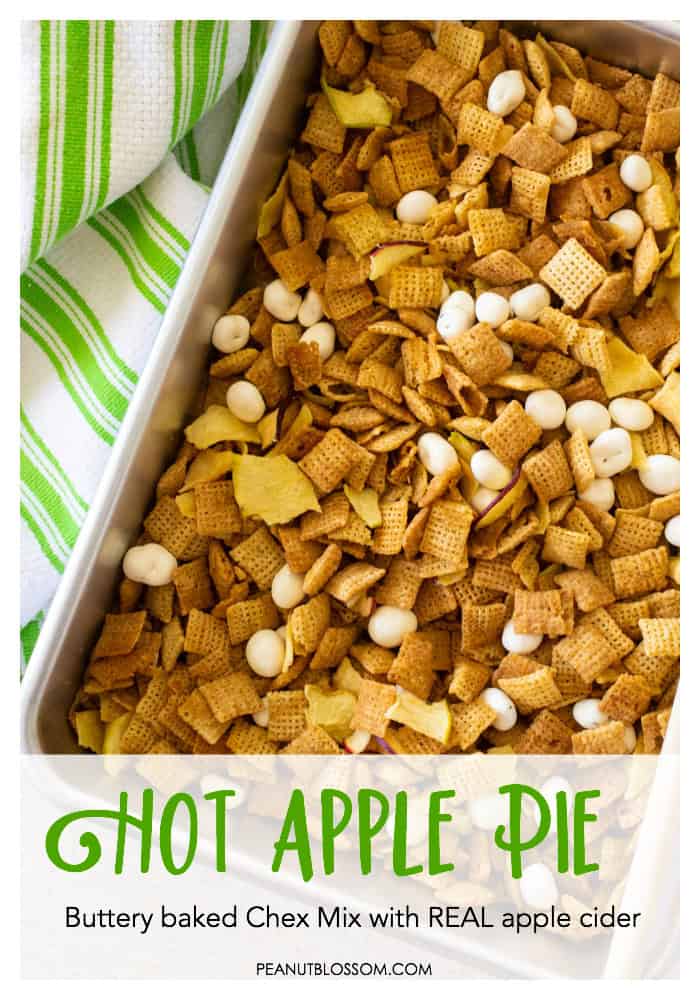 I love having homemade snack mixes on hand for my kids as a special lunch box surprise or after school snack. They both love my favorite sweet & spicy honey sriracha Chex Mix recipe but I wanted to try something a little different this fall.
Little Pea is currently obsessed with green apples but the Peanut can't stand them. I've tried apples in all different forms in an attempt to get her to eat them:
straight up raw but cut into all manner of shapes (spiraled, wedges, slices, etc.)
covered in peanut butter
dipped in caramel
apple sauce (both warm and hot)
The only thing she likes is apple cider -- COLD, most definitely not hot. I seriously do not understand.
I decided to make this sweet Chex Mix recipe as a way to sneak in the dried apple chips in yet another attempt of getting her to enjoy apples.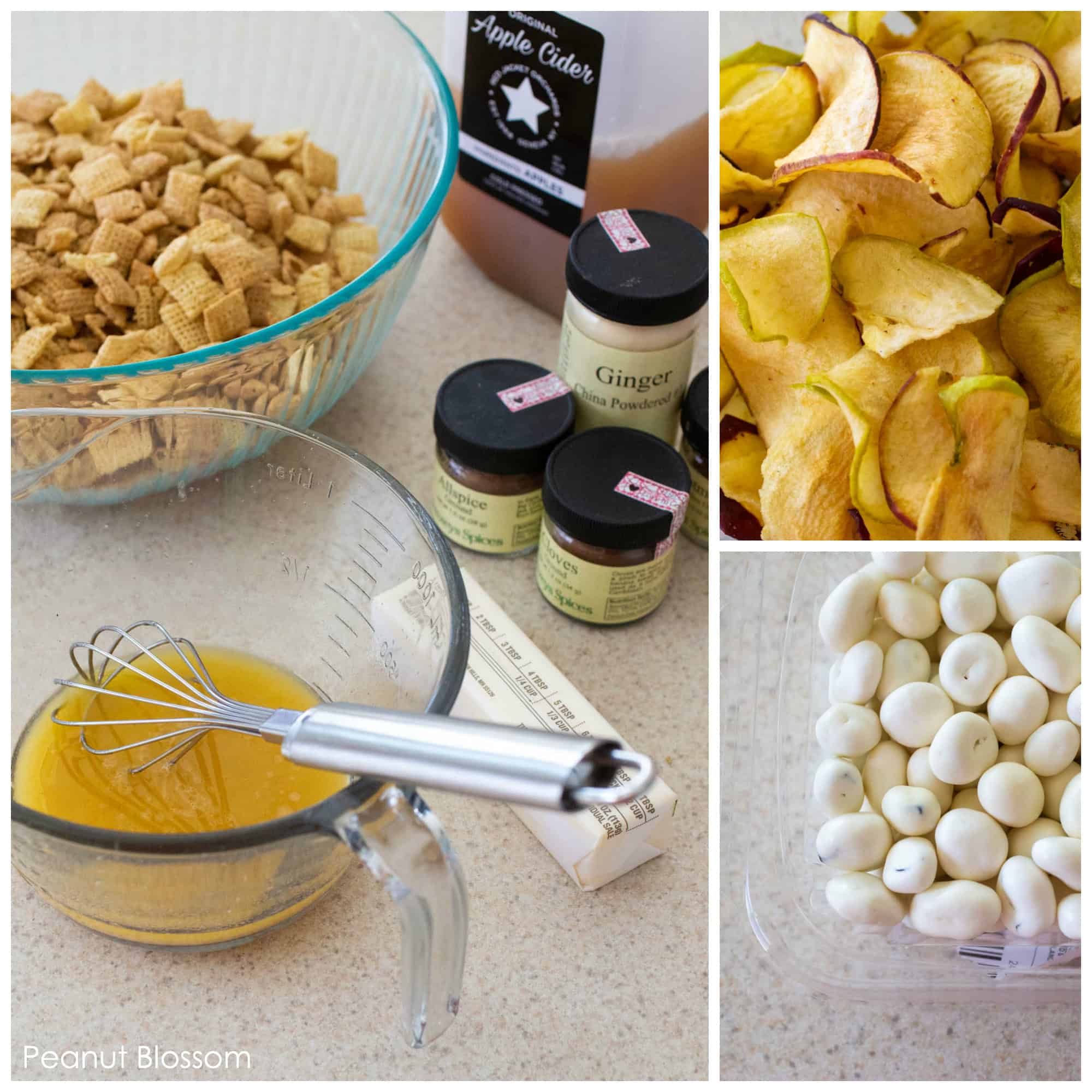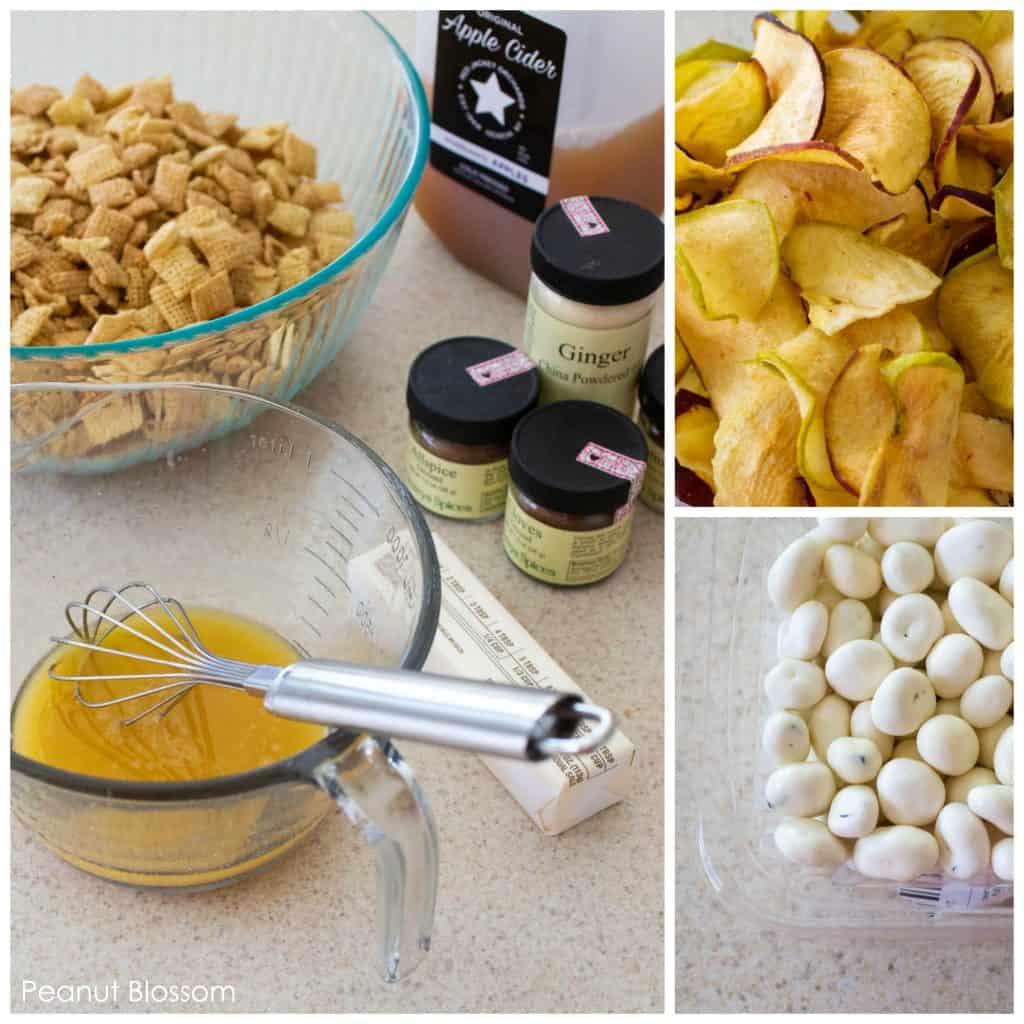 To keep things extra easy, I started with a box of Cinnamon Chex since it is lightly sweetened and already has plenty of cinnamon mixed in.
Then I melted some butter and added a few more pie spices to give the sweet Chex Mix a little depth. I added ginger, nutmeg, cloves, and allspice to mimic what goes into an apple pie.
To bring in the apple flavor, I added 2 tablespoon of fresh apple cider -- the thick and spiced kind from the grocery store, not just apple juice.
Can you microwave this sweet Chex Mix recipe?
You could, but I wouldn't microwave this Chex Mix. The dry heat of the oven helps make sure the Chex stay nice and crispy. When I added the apple cider, I was a little nervous it would end up chewy, or even worse wet. Thankfully, it was just the right amount to add flavor without moistening the cereal too much. I'm not sure you'll get the same affect in the microwave.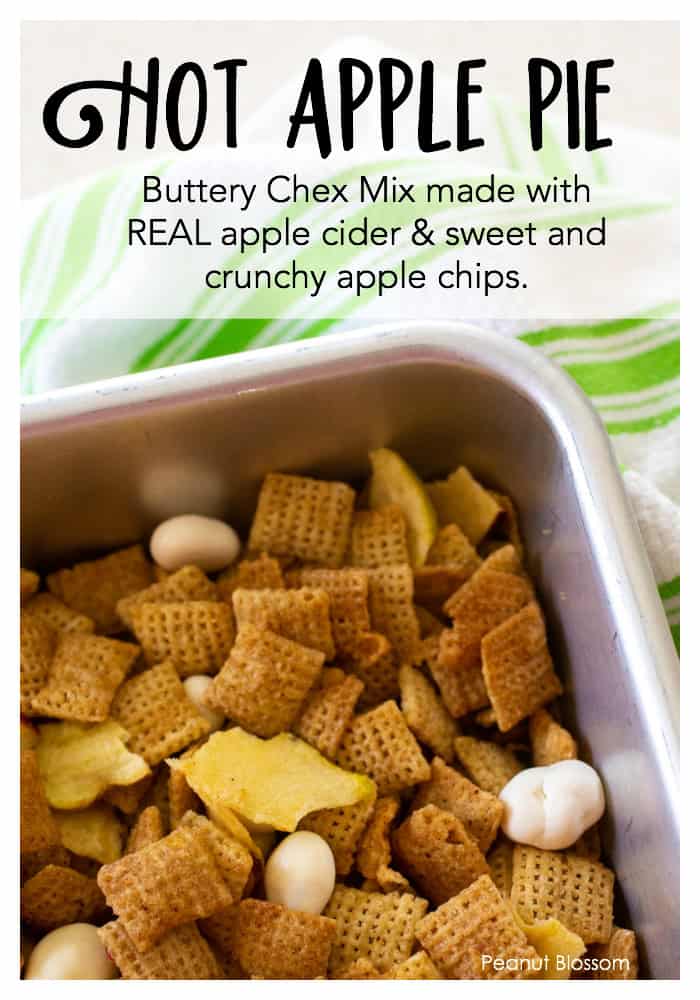 What should I mix in with the Cinnamon Chex to make the best sweet Chex Mix recipe?
Once the cereal has completely cooled, I added crunched up apple chips and yogurt covered raisins to mimic the flavors of apple pie a la mode. They added a wonderful crunchy and chewy texture to the snack mix.
You could also make your own custom sweet Chex Mix recipe by mixing in:
mini marshmallows
chopped pecans, toasted
cheddar crackers (for apple pie + cheddar twist)
butterscotch chips
More great Chex Mix recipes you might enjoy: