Easy Halloween snacks are what turn a normal movie night into a festive family party! We found 9 not-so-spooky kid-friendly Halloween movies based on books for you to enjoy along with our favorite Halloween recipes for kids.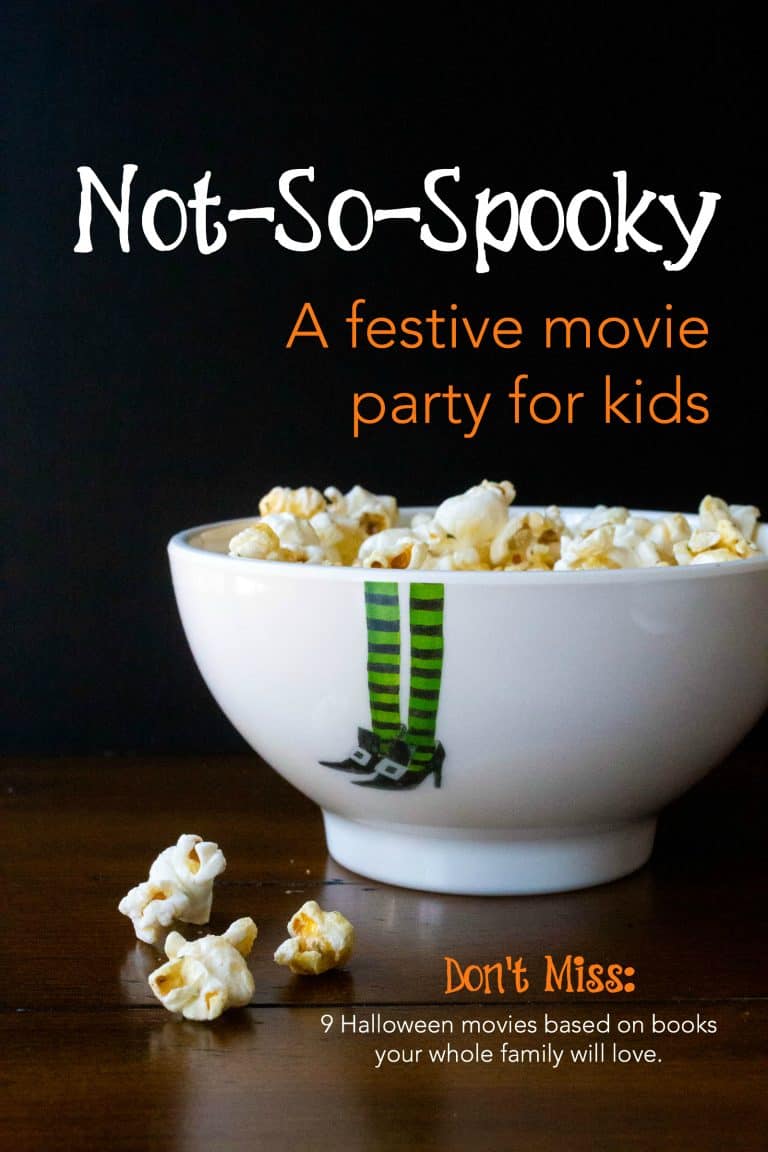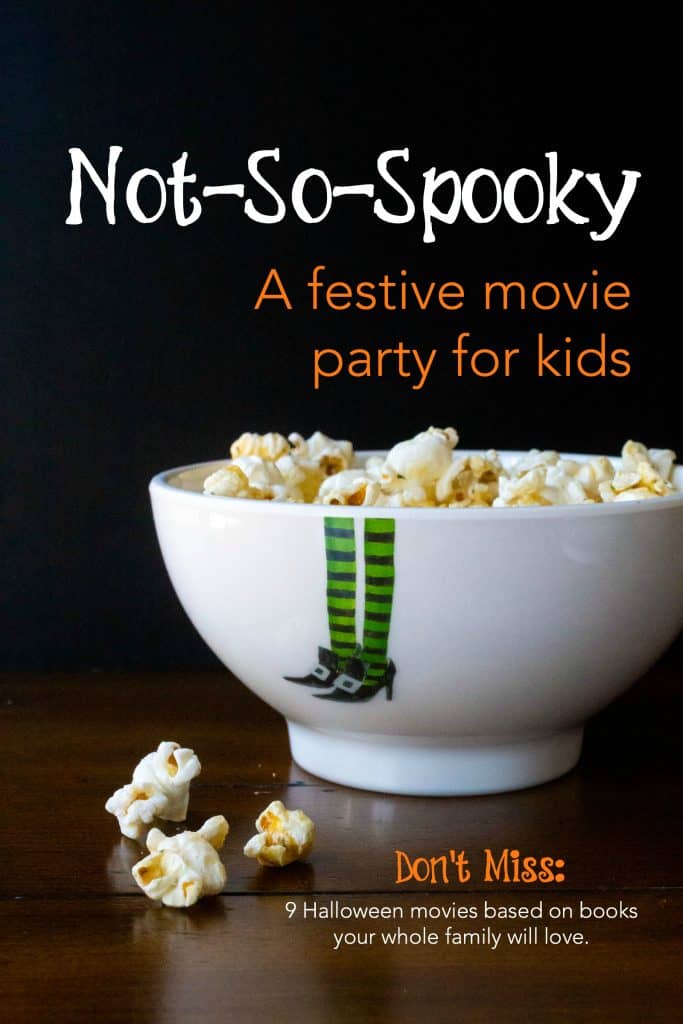 For the last few months, our family has been reading books out loud together thanks to the Read Aloud Family by Sarah Mackenzie. (In fact, I was so excited about this new approach to reading together, I sent out a whole email about it in August. Didn't get? Be sure to get on my list here.)
We may not read together every single day, but we have been LOVING this special family time. Our next favorite thing to do together is having a big family movie party on the weekend. I pop popcorn, we snuggle up, it's an event.
Sarah Mackenzie mentions in her book that one of the ways to grow passionate readers is to develop a "book club feeling" in your family. Books are supposed to be fun, watching a movie based on a book you read together only enhances the experience.
For fall, I thought it would be fun to pull together our favorite "Read the book, Watch the movie" combos for Halloween!
To make memorable Halloween memories for your own family, you just need two easy steps:
Announce you're reading a book before you watch the movie together. Let your kids know this is A Special Thing.
Plan to have easy but delicious seasonal Halloween snacks to go with your family time! I've got a list for you to keep this extra simple.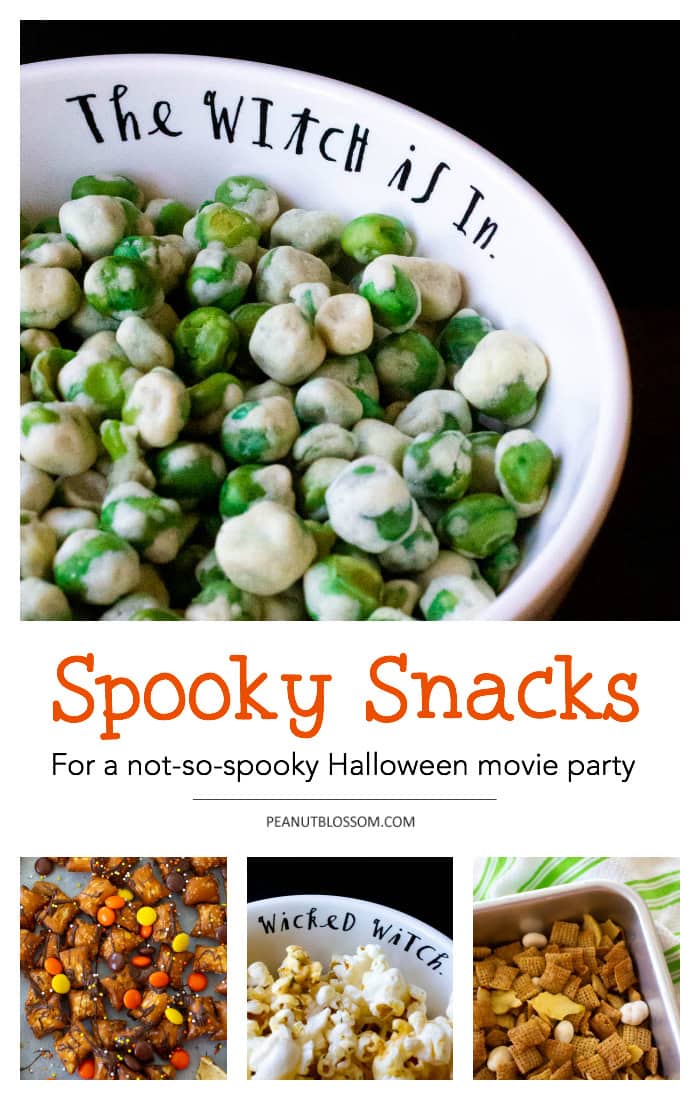 5 simple Halloween snacks for your family movie party:
9 not-too-scary Halloween movies based on books:
For this list, I definitely have kids age 8 and up in mind. There are plenty of cute cartoony Halloween movies for the littlest ones, but finding something a little more thrilling but not full blown horror is a lot harder for the bigger kids and tweens in your life. These movies have varying degrees of scary but are still meant for kids.
What scares every kid is a little different, so be sure to do a double check on CommonSenseMedia.org for your own peace of mind.
1. The Witches: This might be my favorite book/movie combo on this whole list. I'm an enormous fan of Roald Dahl. The Witches is one of my favorite books. The movie has a few intense moments but the witches are deliciously scary. We'll be watching this movie this year and I can't wait.
Get the book here | Get the movie here
2. Harry Potter: Obviously. This wasn't too much of a stretch. You can never go wrong with everyone's favorite boy wizard. Little Pea hasn't finished the first book yet, so we are still holding off on the movie for her. (Wondering if your kid is ready? My thoughts on when to read Harry Potter to kids here.)
Get the book here | Get the movie here
3. Coraline: My girls both think this movie is quite a bit intense on the creepy scale, but the animation of it is amazing. I had no idea that it is based on a book, too. I think we have to do this movie/book combo in reverse. WE've already seen the movie but I'd love to check out the book.
Get the book here | Get the movie here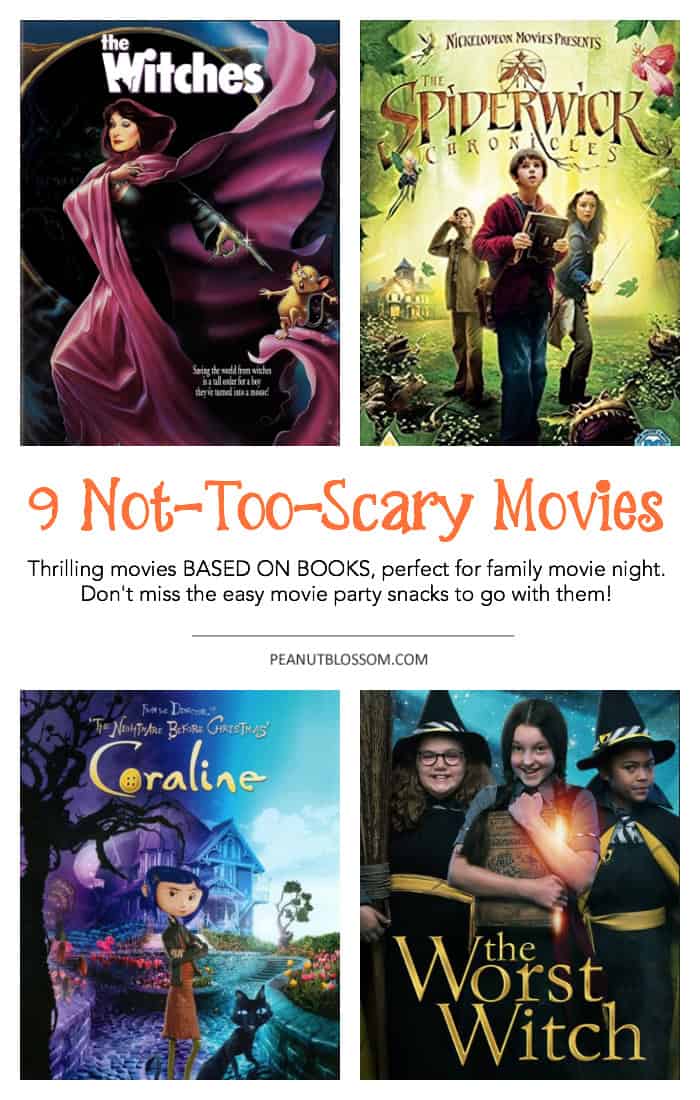 4. The Spiderwick Chronicles: We stumbled upon this movie on Amazon a few weeks ago and I had forgotten how enjoyable it is. (It comes as part of the Starz subscription if you're an Outlander fan!) My girls were riveted and the movie is still a ton of fun for the adults. They were definitely inspired to look up the book, it's actually a trilogy.
Get the book here | Get the movie here
5. A Wrinkle in Time: On the surface of it this doesn't seem like a "Halloween" movie, but A Wrinkle in Time is perfect for the season. It opens with the famous line: "It was a dark and stormy night. . . " and features a trio of witches and plenty of magic. Bonus points: It was one of my most favorite books when I was in 4th grade and my girls loved listening to it before the movie came out this year. If you haven't read it with your kids yet, we highly recommend it.
Get the book here | Get the movie here
6. Series of Unfortunate Events: Ok, this isn't really a "movie" but it would still make for a phenomenal family movie party. Have you seen the series on Netflix with Neil Patrick Harris?? OMG, it is sooooo well done. The girls and I listened to the fantastic audio version of book 1 this summer and they were tickled pink with the Netflix show after. They are faithfully making each of the books into the show, so this is a great series for your family, Halloween or not.
Get the book here (And the audio version here is fantastic) | Get the movie here
7. The Worst Witch: This super cute series is a Netflix Original. The girls and I have really enjoyed the show and I was happy to discover it is based on a series of books. The book may be a better choice for independent reading for your kids, but the storyline is totally fun for those who enjoy Harry Potter but would like to see more girl characters.
Get the book here | Get the movie here
8. Goosebumps: I asked friends over on Instagram about their favorite Halloween movies to watch with kids and a reader suggested Goosebumps with Jack Black as her family's favorite. I loved the books as a kid, so this is a natural fit for the list!
Get the books here | Get the movie here
9. The House with the Clock in its Walls: Ironically, another Jack Black movie hits this list with this year's latest. Have you had a chance to see it yet? You'll have to head to a movie theater this year to enjoy it but I'm including it for next year's at-home movie enjoyment! ha!
Get the book here | Get the movie at home next year!
Looking for more Halloween fun? Don't Miss:
If you enjoyed this post, you definitely want to get on my email list.
I send FREE weekly ideas for celebrating the season with your kids and easy family recipes all year long. Don't miss a single thing:
GET ON THE LIST