Homemade seasoned pretzels are the perfect party snack to bake during the holiday season. Mix and match one of the fifteen flavor variations and add a couple easy pretzel dips for a simple snack you can set out for family gatherings.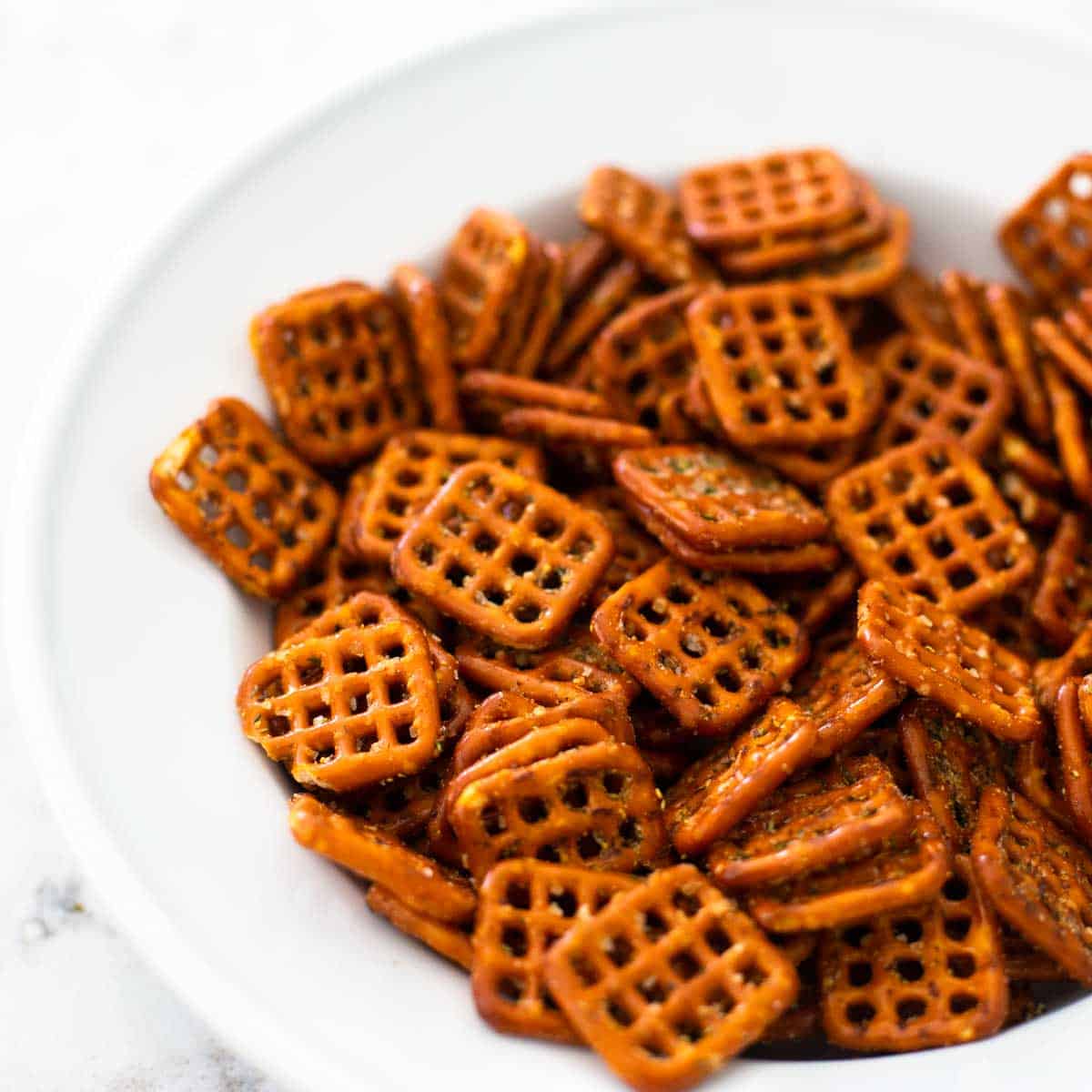 I always knew it was the holiday season when my mom would come home from the store with a fancy bag of gourmet seasoned pretzels and honey mustard dip.
When the price of that famous bag skyrocketed, I went hunting for a way to make something similar for just pennies at home.
I couldn't believe just how easy it is to make homemade seasoned pretzels, we'll never look back!
The best part? You're not trapped with just one flavor, you can mix and match an endless variety of seasonings your family loves to make custom pretzels that match their preferences perfectly.
From sweet to savory, you'll find the perfect pretzel flavor to pair with an easy pretzel dip like my favorite cold spinach dip or easy raspberry mustard.
Jump to:
Ingredients
The base recipe for these seasoned pretzels includes a simple garlic ranch flavor. I'll show you how to make them and then you can switch up the seasonings as you desire.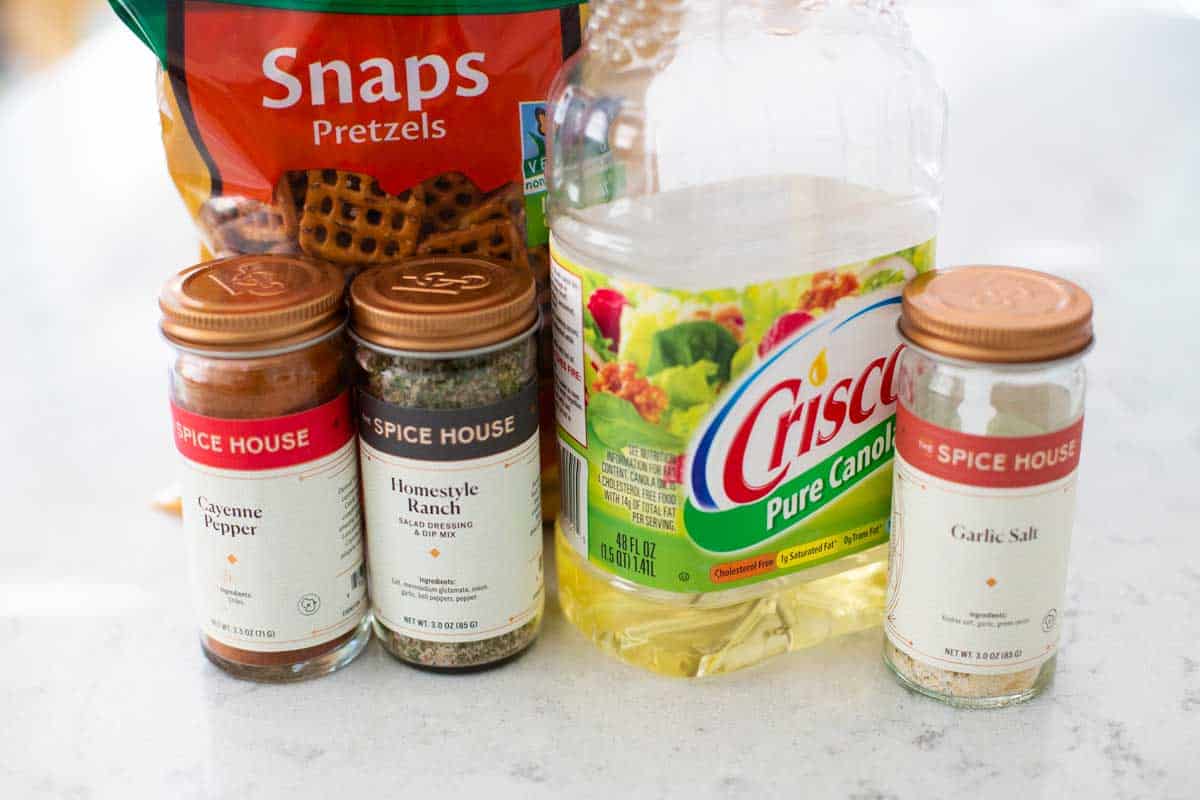 A Bag of Pretzels: I used pretzels snaps, the square waffle-like shape. You could use twists, sticks, or any pretzel shape you love but I think the holes on this shape trapped the seasonings perfectly.
Vegetable Oil: You definitely want a lighter oil for these pretzels. Olive oil would be too strong of a flavor to use unless you're going for an Italian Seasoning-flavored pretzel.
Seasoning Blend of Choice: There are fifteen flavors to choose from in the Variations section below. For the base garlic ranch pretzels you'll need Ranch Seasoning, Garlic Salt, and Cayenne Pepper.
Make Your Own Seasoning Mix
In my opinion, this is what makes this pretzel recipe so much fun. The sky is the limit when it comes to choosing your seasoning flavors.
You could use any spice blend you love from endless spice stores on the web or at your grocery store, or you can mix your own.
The benefit of mixing your own seasoning blend, is you can adjust the flavors to suit your family perfectly.
Want it extra spicy? Add more cayenne. Don't like it spicy at all? Skip the heat altogether.
I prefer to mix the spice blend in a small amount for just the one batch of pretzels. This lets me play with a new combination next time without having to store a custom spice blend.
15 Fun Flavor Variations
I bet if you dig around your pantry, you could come up with even more seasoning ideas, but this list should definitely get you started!
Spicy Garlic Ranch: 3 tablespoons of dried ranch seasoning + 2 teaspoons of garlic salt + ¼ teaspoon cayenne powder
Cajun Heat: 2 tablespoons of cajun seasoning + ¼ teaspoon cayenne
Italian Herb: 2 tablespoons of Italian herb mix + 2 teaspoons garlic salt + ½ teaspoon crushed red pepper flakes (Consider using Olive Oil instead of Canola)
Honey Mustard: 1 tablespoon dried mustard + add 1 tablespoon honey to the oil
Greek Herb: 2 tablespoons Greek herb mix + 2 teaspoons garlic salt
Hot Wasabi: 1 teaspoon wasabi powder + 1 teaspoon brown sugar + ⅛ teaspoon cayenne
Old Bay: 1 tablespoon Old Bay seasoning + add 2 tablespoon melted butter to the oil *reduce the oil by 2 tablespoon so they're not too greasy
Cinnamon Sugar: 2 tablespoons cinnamon + 2 tablespoon sugar
Pumpkin Spice: 2 tablespoons pumpkin spice seasoning + add 2 tablespoon melted butter to the oil *reduce the oil by 2 tablespoon so they're not too greasy
Everything But the Bagel: 2 tablespoons of Everything But the Bagel seasoning + ½ teaspoon crushed red pepper flakes
Sweet BBQ: 2 tablespoons dried barbecue rub + 1 tablespoon brown sugar
Peppered Maple: 2 tablespoons California Bold Pepper + 2 tablespoons maple syrup
Caribbean Citrus: 2 tablespoons jerk seasoning + 1 teaspoon dried orange zest
Cheddar Cheese: 3 tablespoons dried cheddar cheese mix + ½ teaspoon garlic salt + ¼ teaspoon cayenne
Buffalo Ranch: 3 tablespoons dried buffalo ranch seasoning + add 2 tablespoon melted butter to the oil *reduce the oil by 2 tablespoon so they're not too greasy
How to Make Seasoned Pretzels
First, preheat the oven to 200°F and pour the entire bag of pretzels into a large zip-top plastic bag.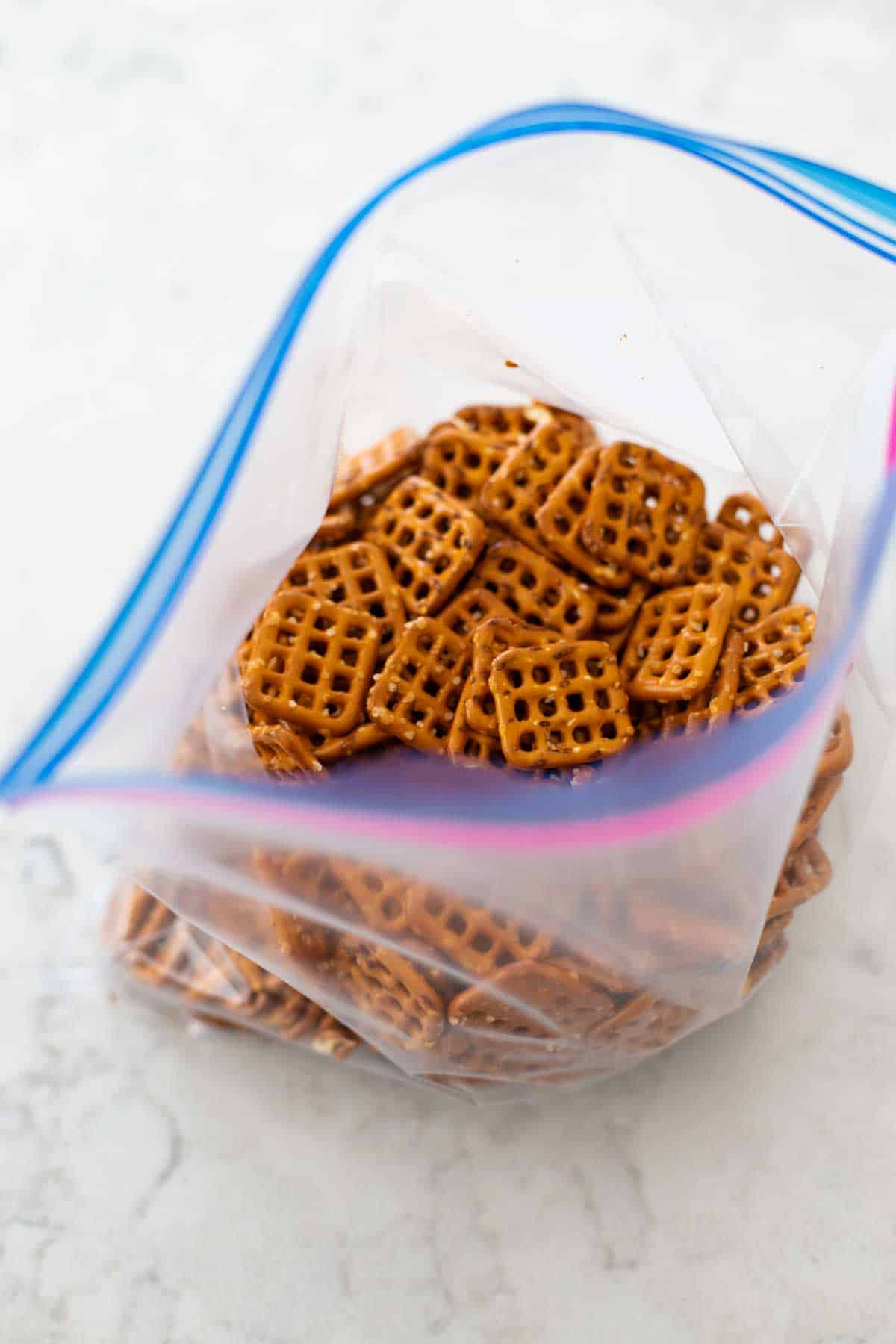 Add the seasonings of your choice and then pour the cooking oil over the top.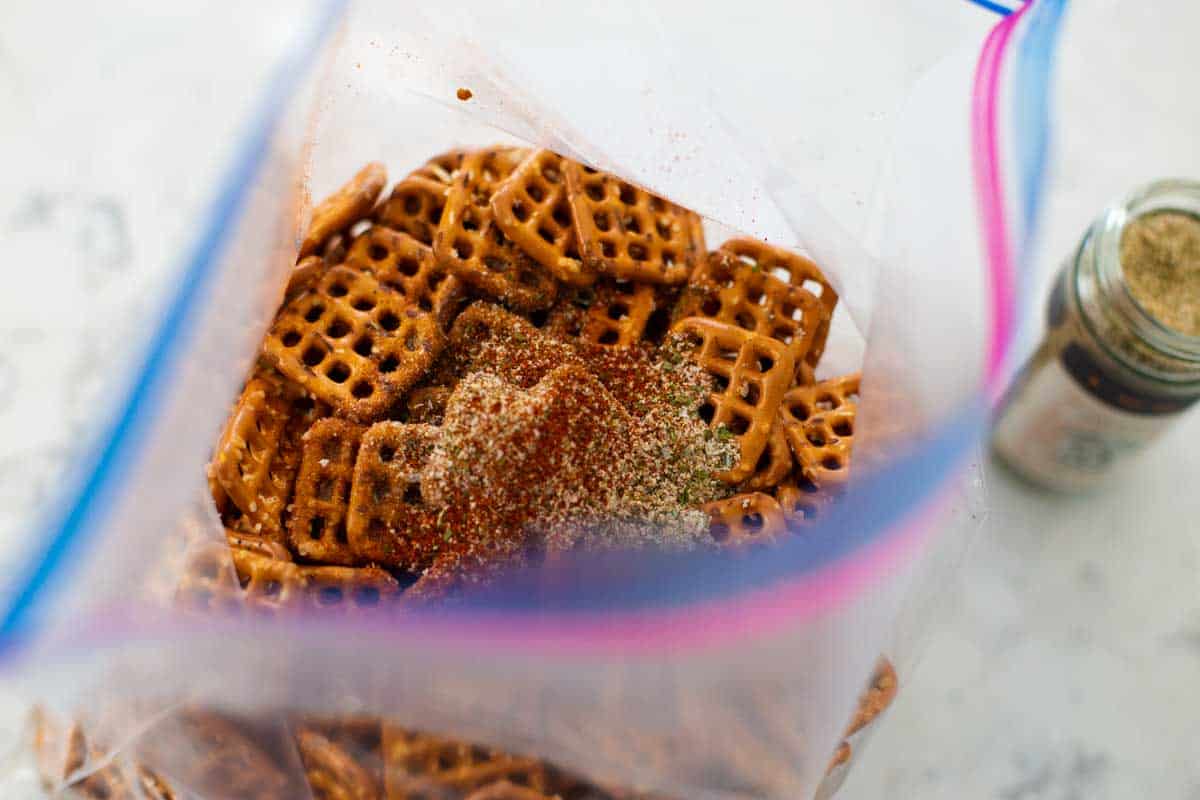 Shake, shake, shake the bag until all the pretzels are evenly coated in oil and spices.
At this point, you may want to eyeball it. It's a good time to add a little more seasoning if you don't feel they have enough flavor coating.
Spread the pretzels in an even layer on a large baking sheet. Depending on your pretzel shape, you may need to spread them out over two pans.
If they are overcrowded, they'll steam and not get as crispy as you want.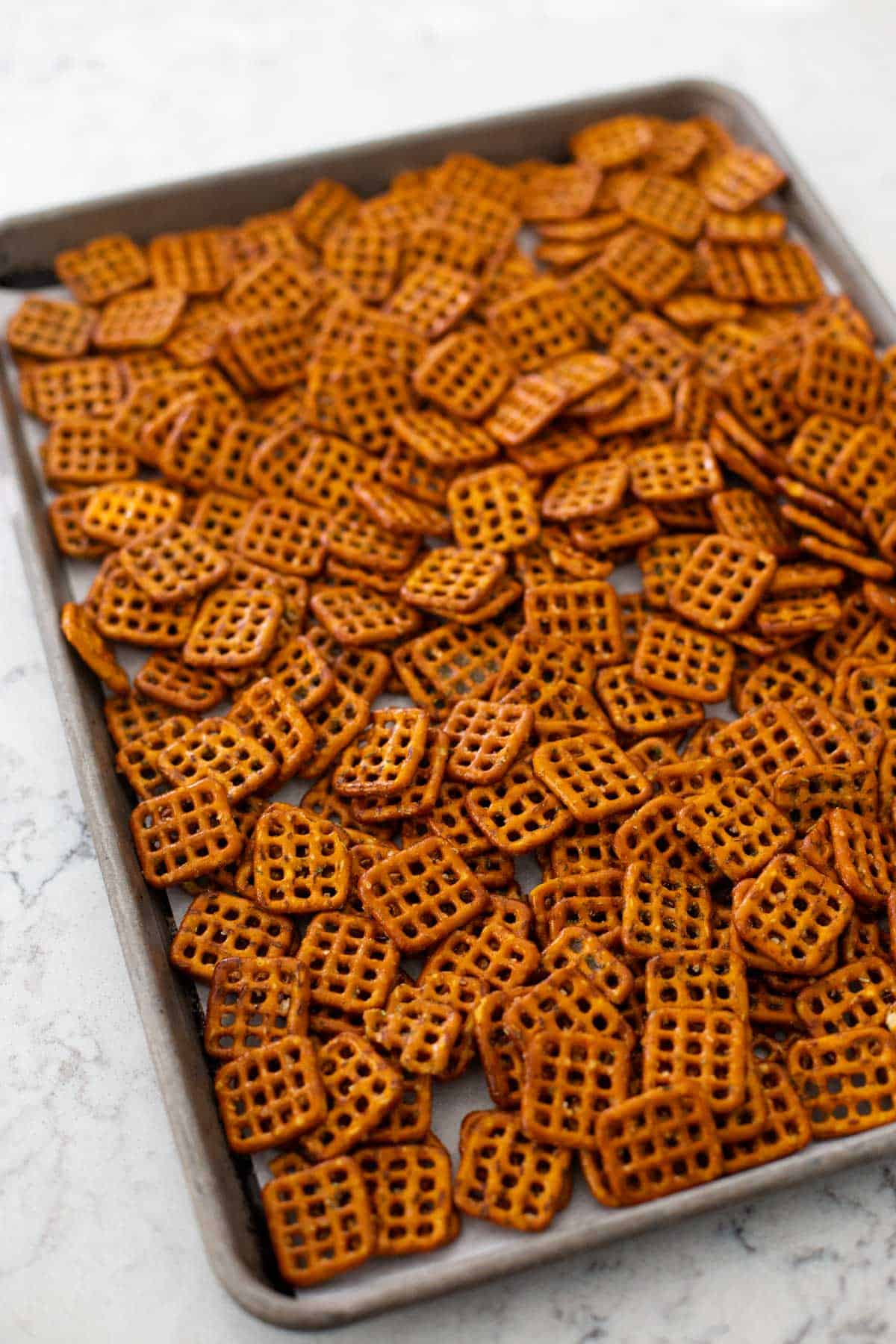 Bake the pretzels, gently tossing them with a spatula about half way through the baking time.
Let cool and serve.
Make-Ahead & Storage Tips
This is the perfect make-ahead party recipe because you can bake the pretzels days in advance and simply store them in an airtight container for up to two weeks.
Pretzel Dip Recipes
Depending on the flavor of seasoned pretzels that you decide to make, you can pair it with one of these fantastic pretzel dips. From sweet to savory, your pretzels are going to be the perfect party snack!
If you've tried these easy seasoned pretzels or any other recipe on PeanutBlossom.com please don't forget to rate the recipe and let me know where you found it in the comments below. I love hearing from you!
FOLLOW along on Instagram @peanut.blossom as well as on Pinterest and Facebook.