This 10-minute easy spinach dip recipe is the perfect party appetizer to whip together in a pinch. Simply stir thawed frozen spinach into a seasoned cream cheese filling and serve with bagel chips or tortilla chips for a creamy snack.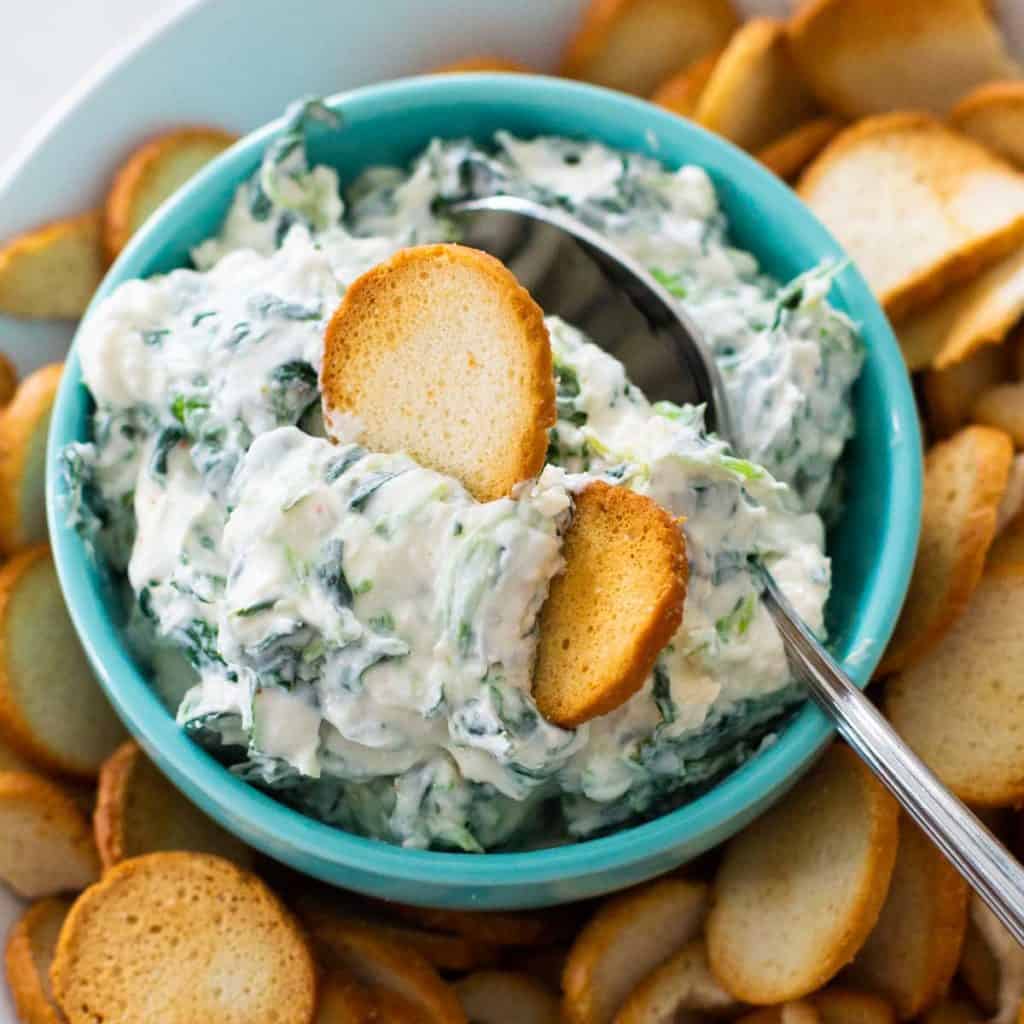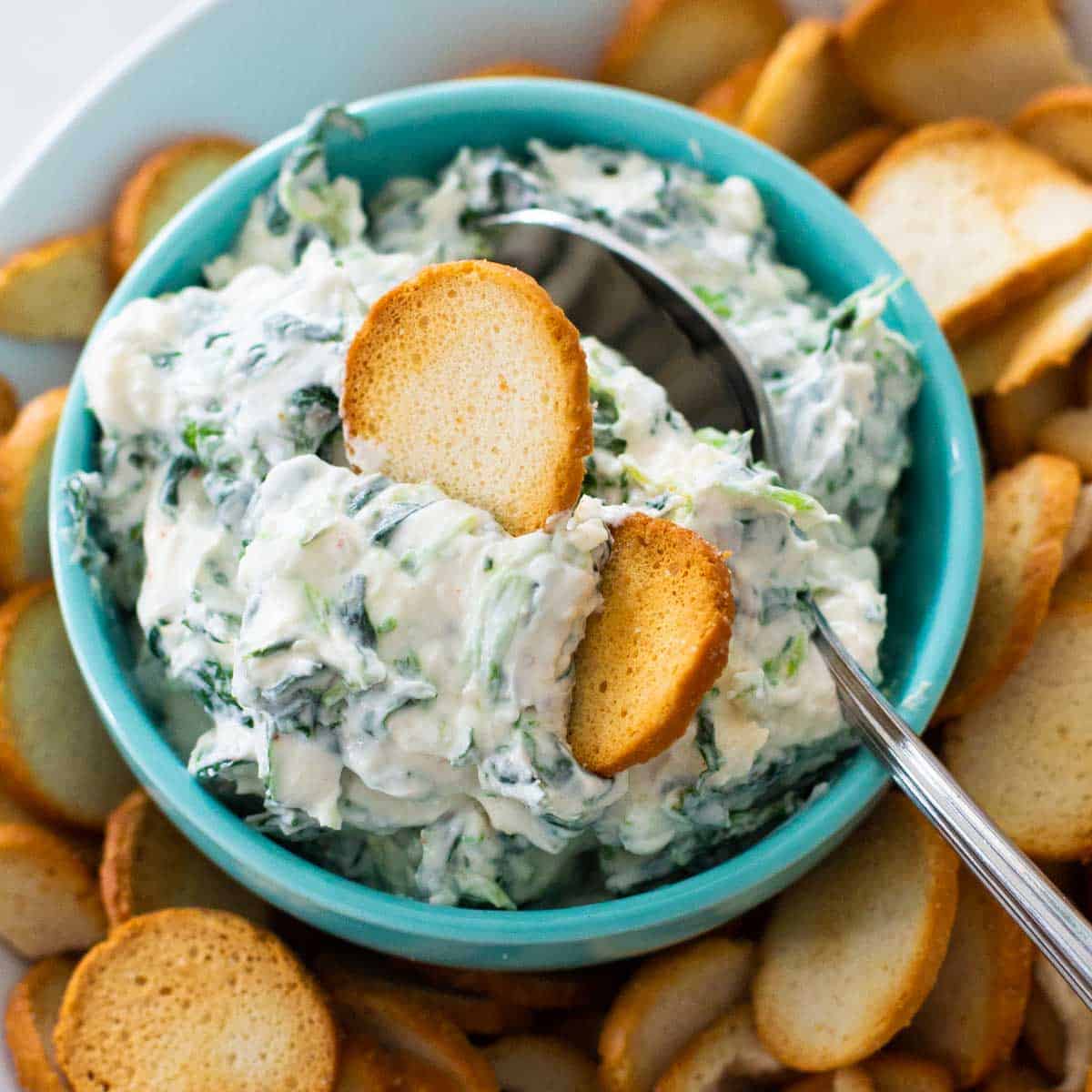 If you keep a package of frozen spinach and a brick of cream cheese in your fridge, you'll have the perfect last-minute appetizer to serve for any celebration from family movie night to a book club party or impromptu happy hour with your neighbors.
With just a 10 minute prep-time, cold spinach dip is a great way to round out any holiday appetizer menu.
Add it to a snack board or charcuterie tray with hearty crackers, tortilla chips, and crispy celery and baby carrots.
While I love prep-ahead hot appetizers like our favorite spicy artichoke dip and savory Swedish meatball sausage dip, this spinach dip is the perfect recipe to keep because there's no cooking involved!
Jump to:
Ingredients
The ingredients for this cold spinach dip are easy to keep on hand for quick assembly: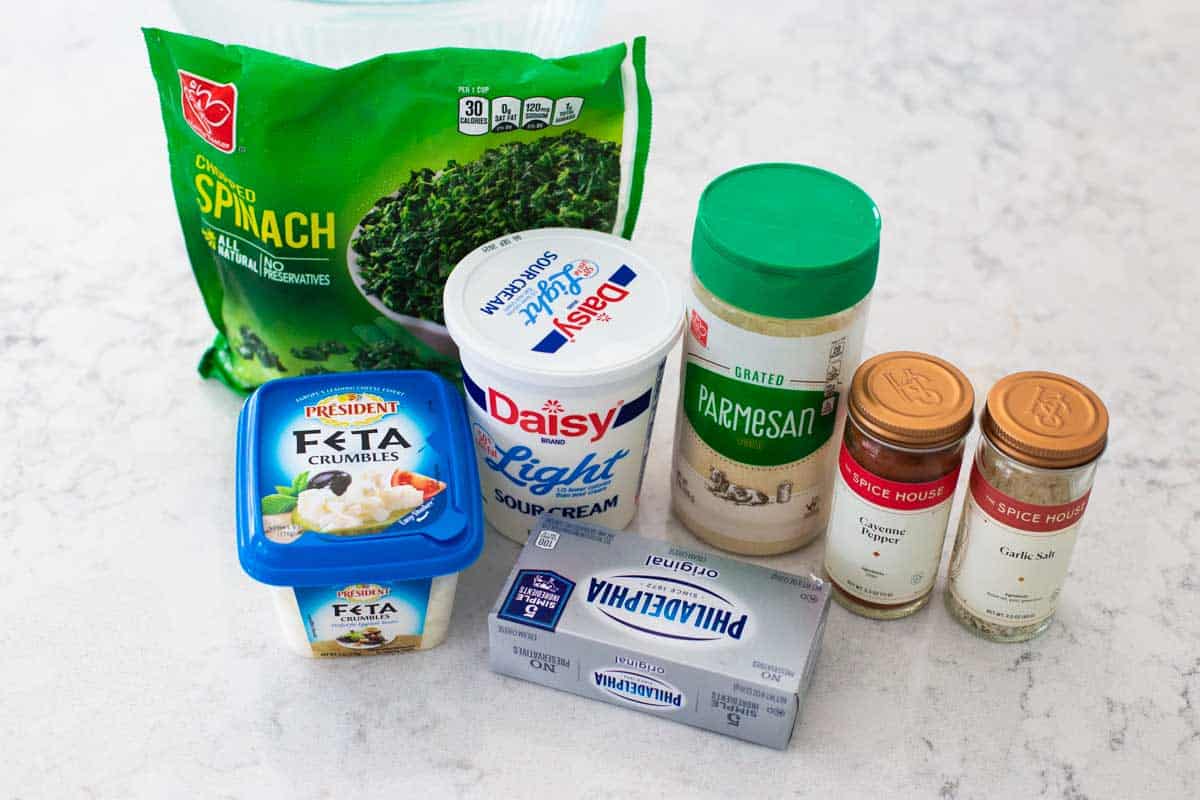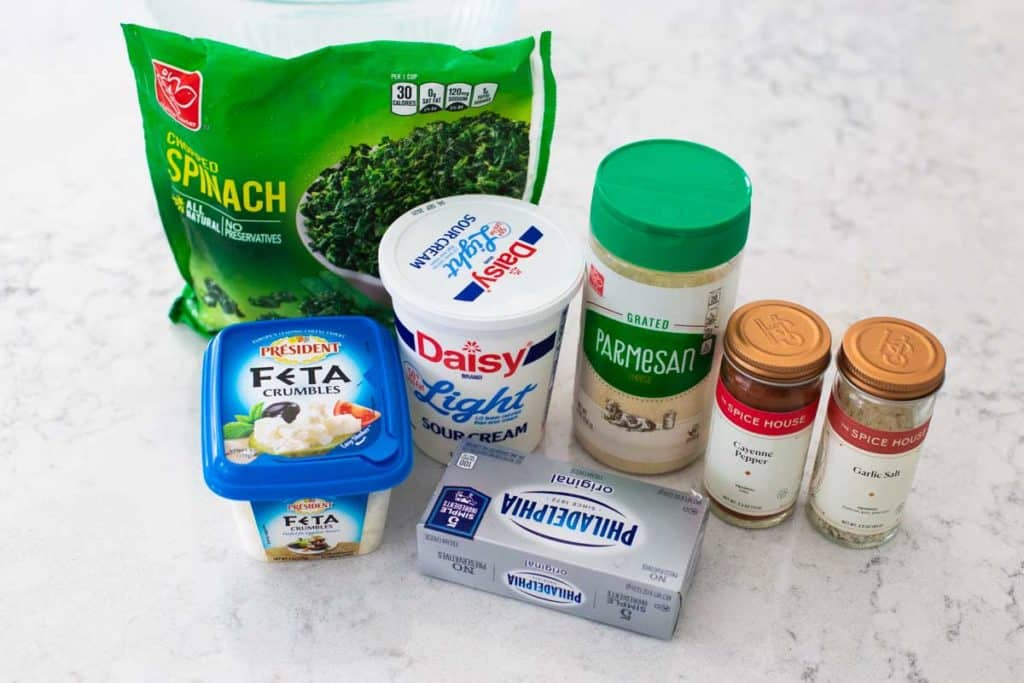 Frozen chopped spinach
Cream cheese
Sour cream
Grated parmesan
Feta cheese crumbles
Garlic salt & Cayenne pepper for a kick
Instructions
Before you begin, be sure to thaw your frozen spinach. You can easily defrost the spinach in the microwave if necessary.
To prevent your dip from getting watery, you need to squeeze as much liquid from the spinach as possible.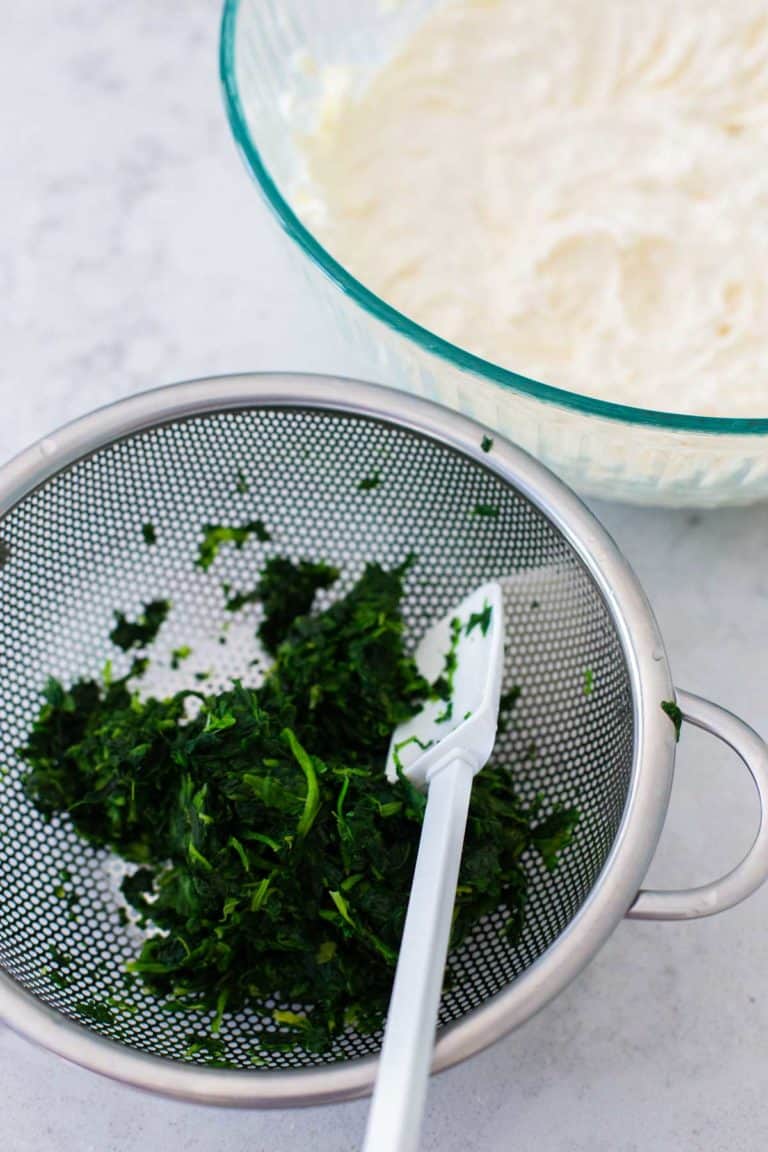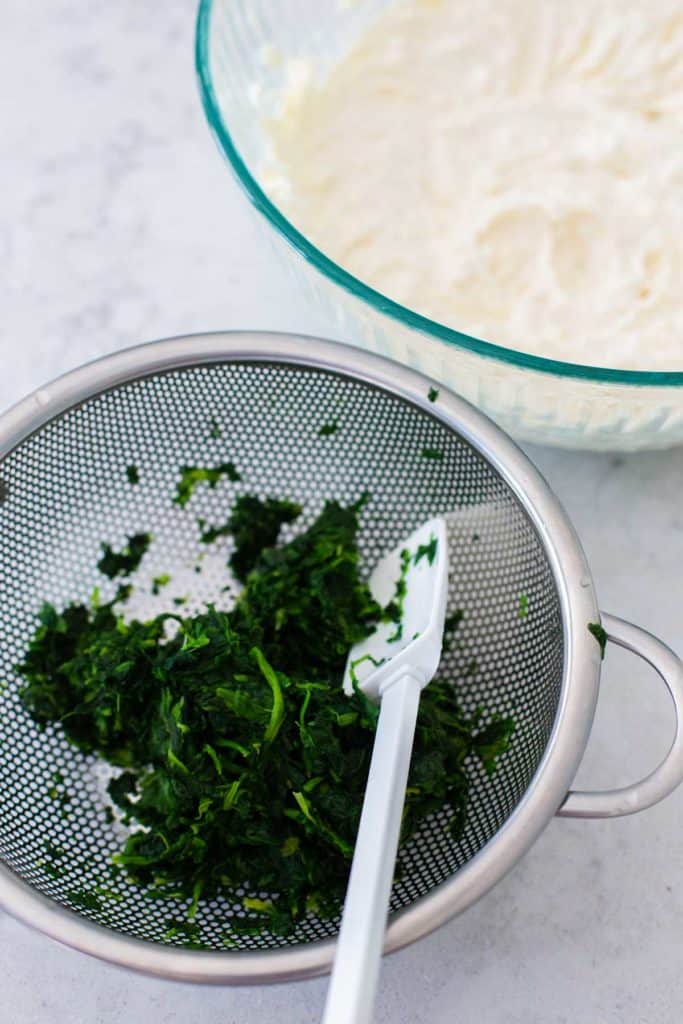 Line a kitchen colander with paper towels. Add the thawed spinach and press and squeeze as much liquid as you can from the spinach.
Set the spinach aside while you prep the cream cheese base.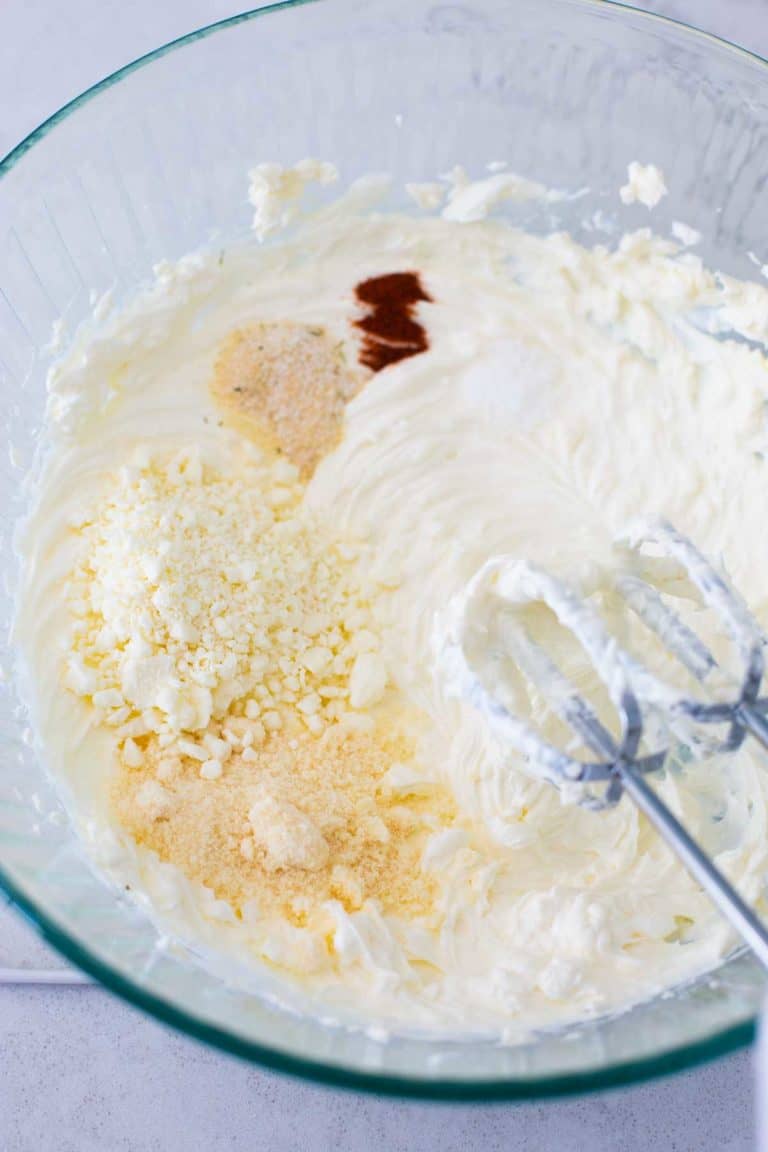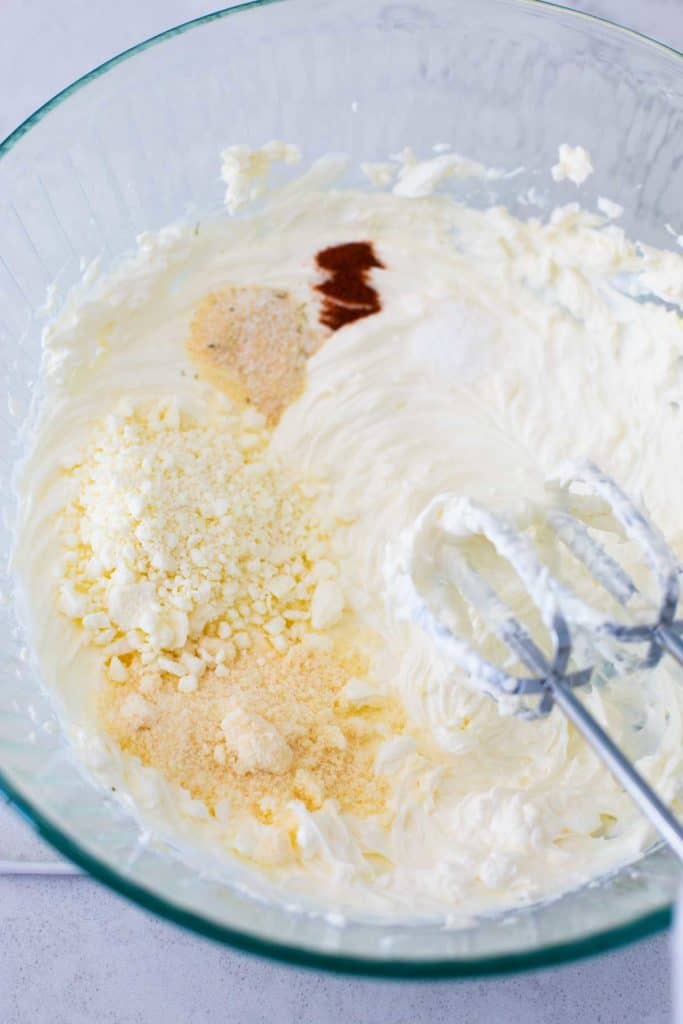 Beat the softened cream cheese with a hand mixer in a medium bowl until smooth.
Add the parmesan cheese, feta cheese, garlic salt, cayenne pepper, and salt to the bowl and beat it until smooth.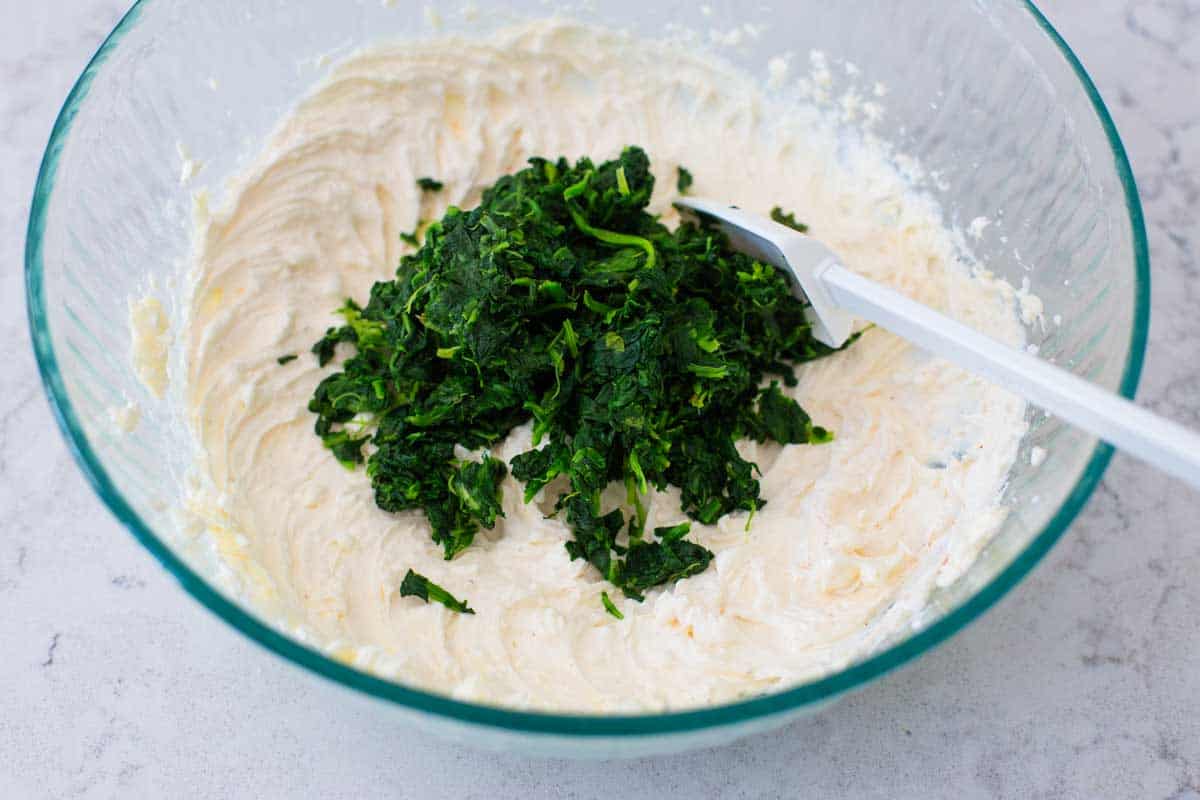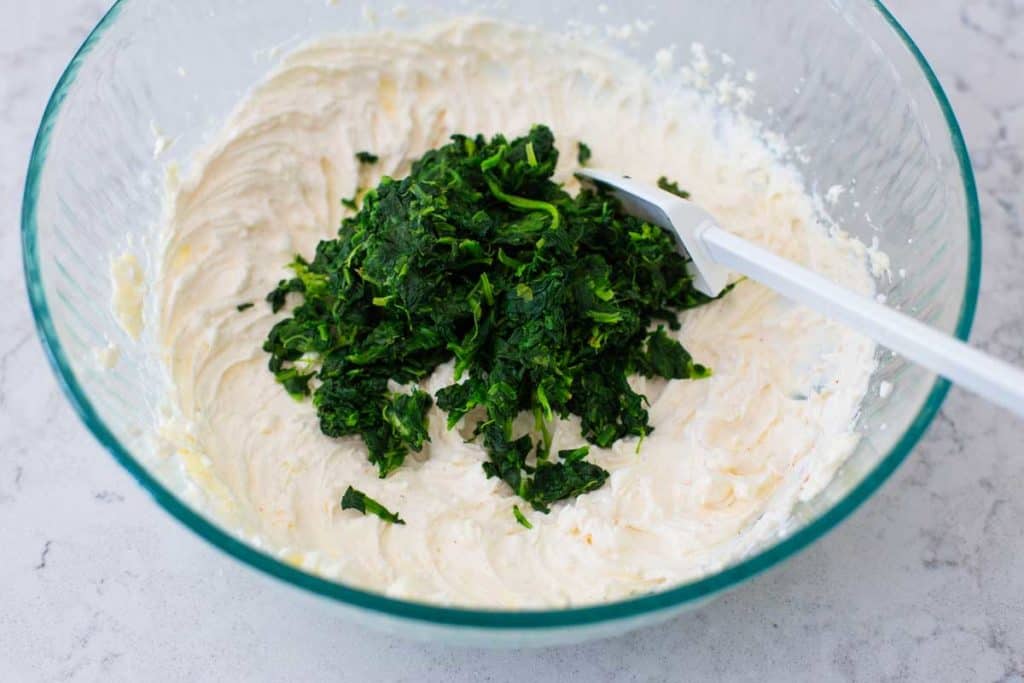 Add the drained spinach to the bowl and simply stir it in with a spatula.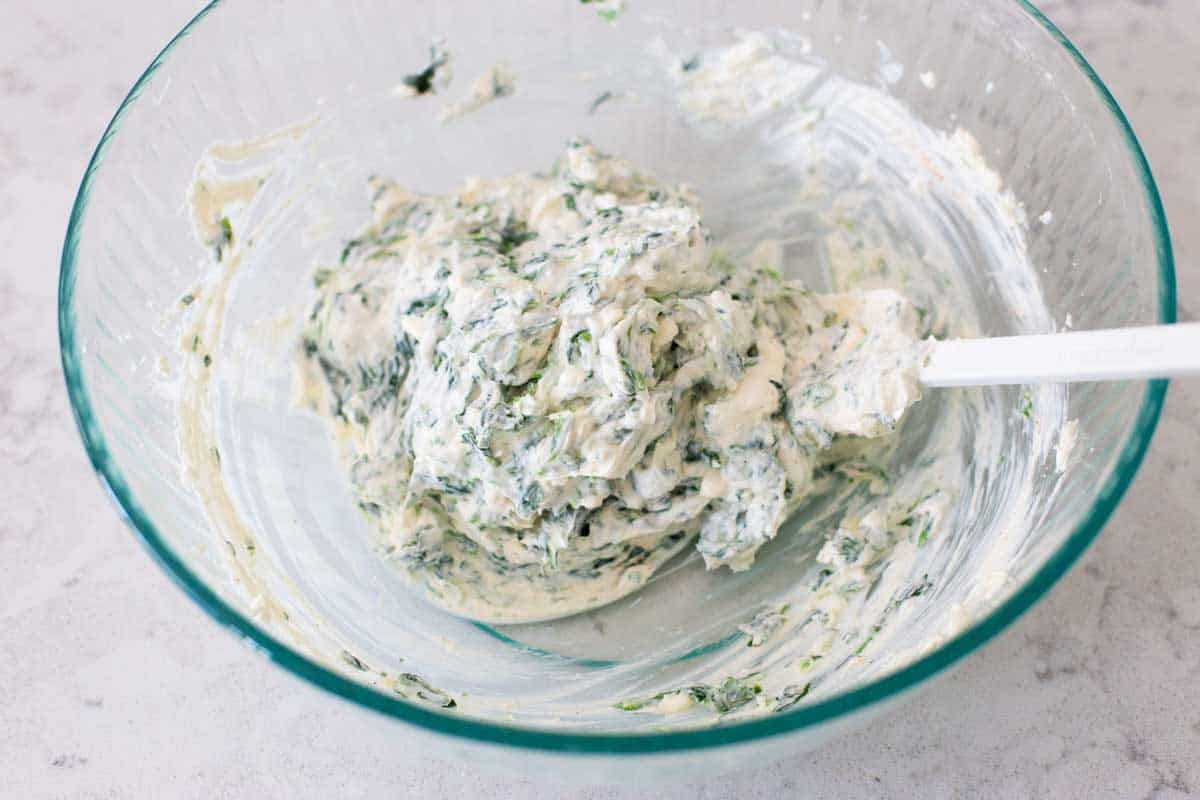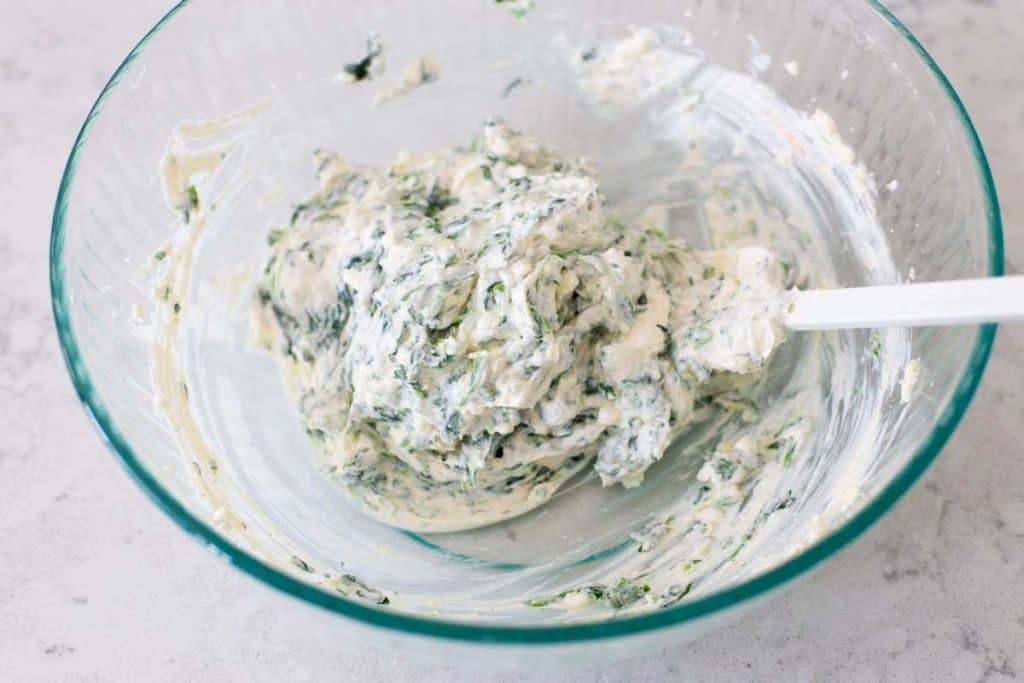 Hint: The spinach leaves can tend to clump together a little bit once they are dry. Just keep stirring and folding the dip until the spinach breaks apart and is evenly combined with the cream cheese base.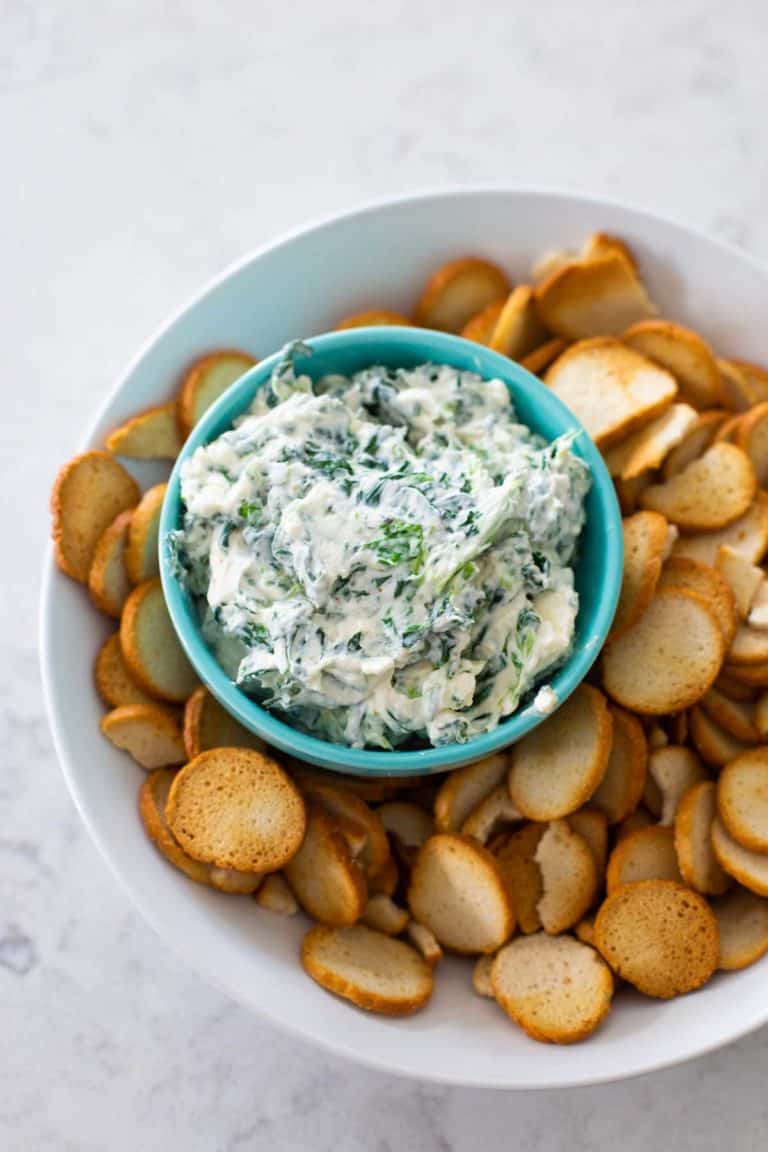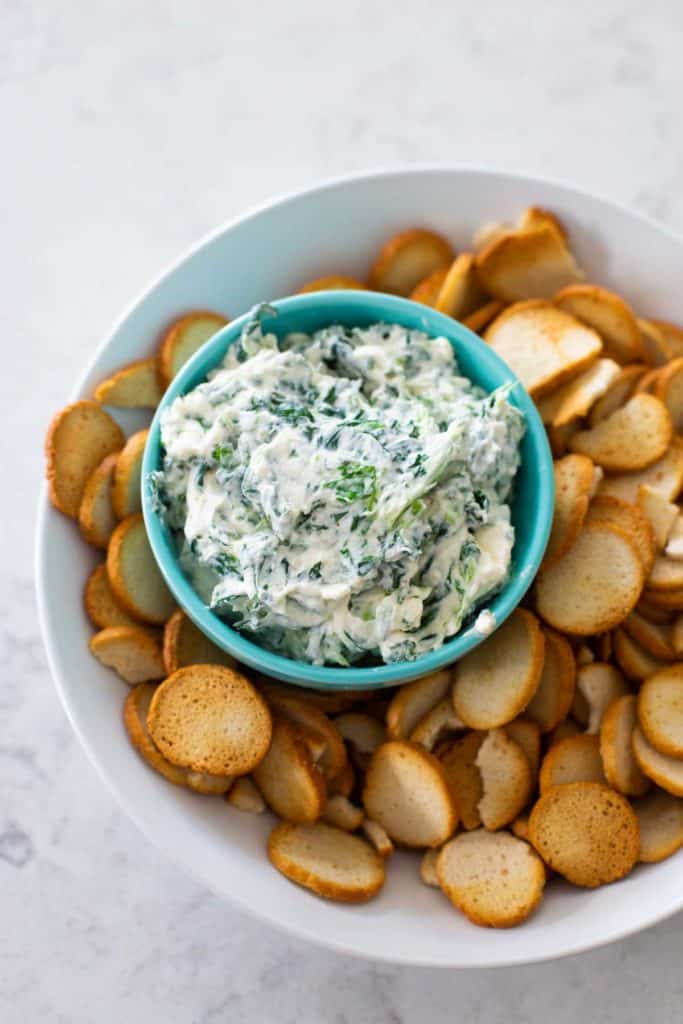 Variations
This is a classic spinach dip with a very mild savory flavor. You could also try these fun variations:
Extra Spicy - add a few drops of your favorite hot sauce or increase the amount of cayenne pepper
Blue Cheese - substitute blue cheese for the feta crumbles, consider adding a buffalo sauce drizzle over the top before serving
Storage
This easy dip can be made up to 24 hours in advance and stored in your fridge in an air-tight container.
Leftovers will keep for 2 - 3 days.
Top Tip
Make sure to serve this cold spinach dip with hearty crackers or thick tortilla chips. It is a very creamy and thick dip and needs a strong dunker to hold up to the weight of the cream cheese.
More Fun Dip Recipes
Looking for more easy appetizers to serve for your party? These are some of my very favorites:
If you've tried this easy cold spinach dip or any other recipe on PeanutBlossom.com please don't forget to rate the recipe and let me know where you found it in the comments below. I love hearing from you!
FOLLOW along on Instagram @peanut.blossom as well as on Pinterest and Facebook.