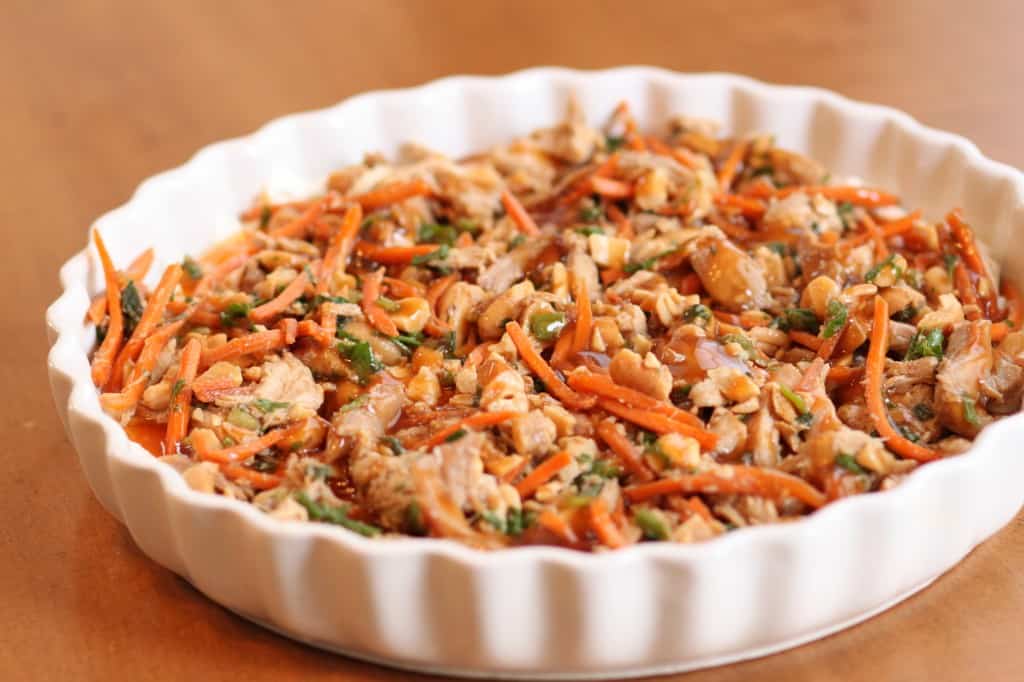 You know I can't make mention of Book Club without following up with party recipes. Jodie and I decided to play off of her book choice for the menu. Since we gathered the day after Easter Sunday, I had to keep things super easy for my half of it. I picked up a box of frozen spring rolls (gasp!) and popped them into the oven. But I did take the time to make this appetizer from scratch.
This recipe has been in my to-make file for 11 years. It is kind of an oddball dish that never seems to go with the rest of my menu. I guess I don't do Oriental themed parties all that often. Thankfully it fit right in for this event and I pulled it out of the reserves.
This Oriental layer dip is a great make-ahead party dish. You can make the topping mixture, sauce, and cream cheese base the day before. (I'd spread the cream cheese into your serving dish and cover in plastic wrap.) Then just assemble the three elements before serving. I assembled it early in the day and let it mingle even more and I really think it helped the flavor sitting together for a full 24 hours.
I was a little worried the dip wouldn't live up to my 11 year memory but the platter was virtually cleared by the end of the evening and all the ladies requested the recipe. Score! I will definitely be making this again.
____________________________
Oriental Layer Dip
courtesy of an old manager of mine from long long ago. I have no idea where she found this.
Ingredients:
For the topping:
3/4 cup shredded rotisserie chicken (Regular readers, you just know I used my Costco freezer stash for this!)
1/2 cup shredded carrots
1/2 cup chopped cashews
3 tbsp sliced green onions
1 tbsp chopped parsley
1 clove garlic, minced
2 tbsp soy sauce
1/4 tsp ginger
Zippy sweet and sour sauce:
1/4 cup packed brown sugar
2 tsp cornstarch
1 cup water
1/4 cup ketchup
2 tbsp vinegar
1 tbsp Worcestershire sauce
3 drops hot pepper sauce
Cream cheese base:
16 oz cream cheese
2 tbsp milk
Method:
In a small bowl, combine all the ingredients for the topping, mix. Cover and refrigerate overnight. (Super important! The chicken eventually absorbs all the liquid. I periodically stirred it up before assembling the final dish.)
In a small saucepan, combine brown sugar and cornstarch, mix. Stir in remaining sauce ingredients and cook over medium heat until thickens. Approximately 5 minutes. Stir or whisk frequently so it doesn't burn from all the sugar. Set aside to cool.
In a small bowl, combine the cream cheese and milk. Beat with a hand mixer until smooth and fluffy.
Spread cream cheese mixture into the bottom of a pie pan or serving dish. Spoon the chicken topping evenly over the cream cheese and then drizzle a 1/2 cup of the sweet and sour sauce over the top. The remaining sauce can be used for marinating chicken or a tasty dip for other appetizers.
Serve with crackers.