This sweet and spicy layered Asian dip features shredded rotisserie chicken, a homemade sweet and sour sauce, salty cashews, and spicy green onions on a light and fluffy cream cheese base. Serve with crackers at your next book club party.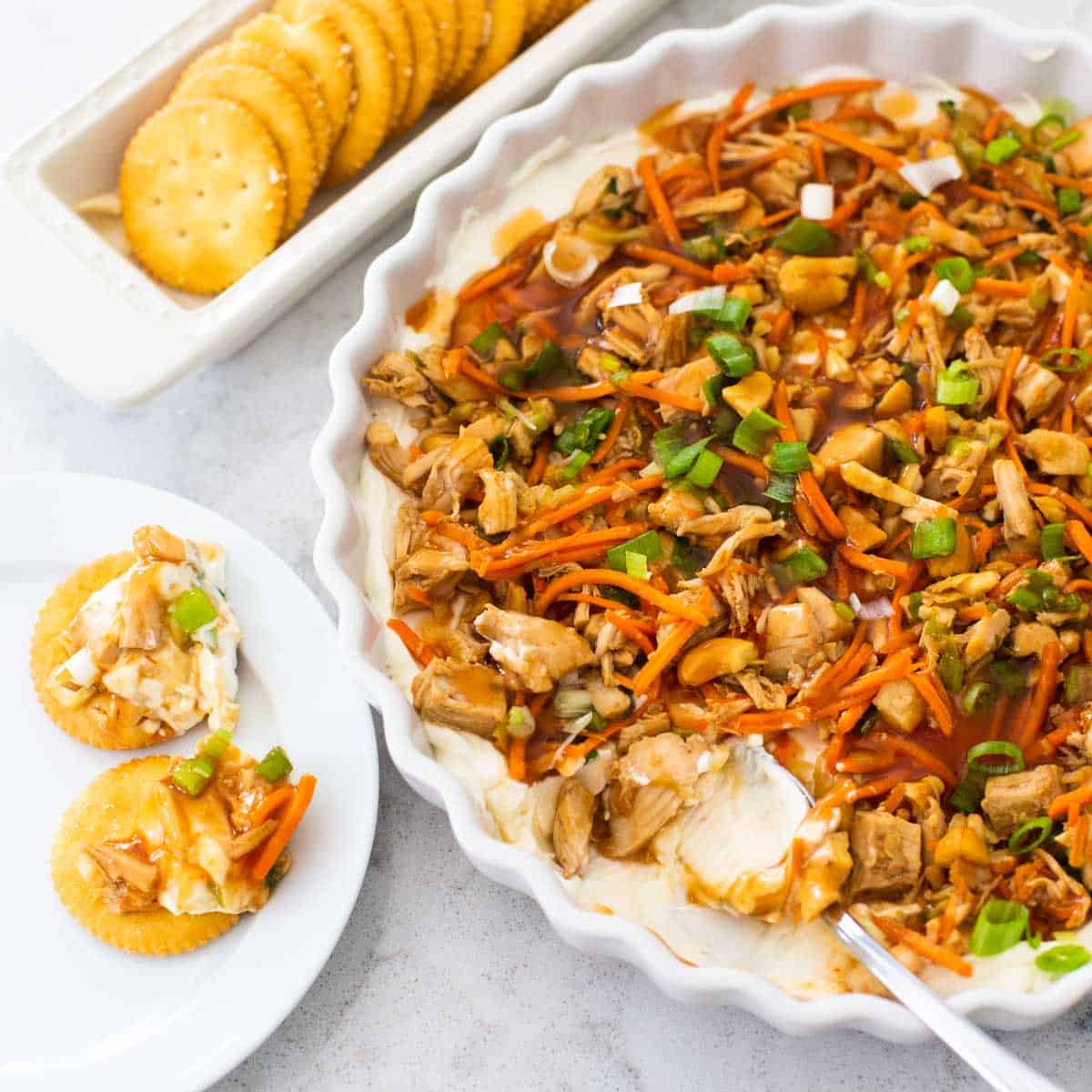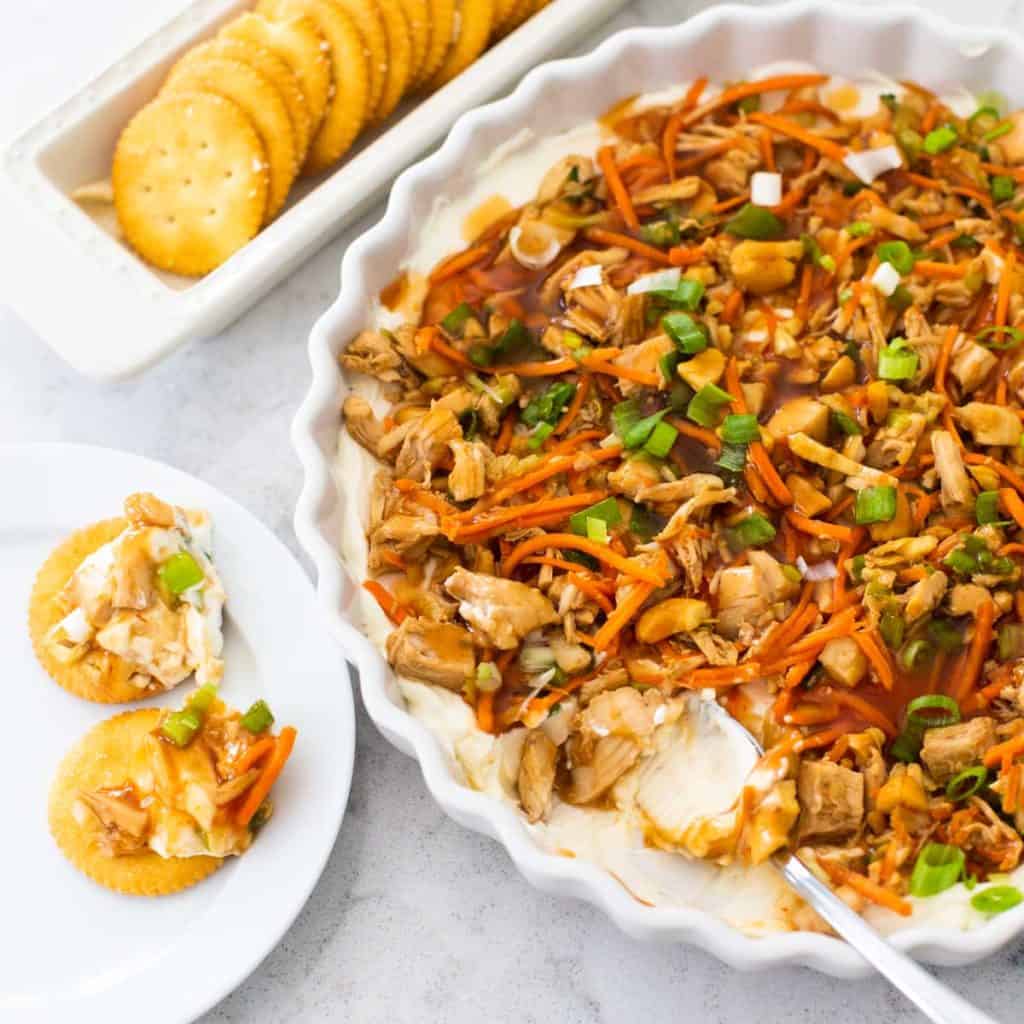 Make-ahead appetizer recipes are always essential during the busy holiday season.
When you need something different, this delicious Oriental chicken layer dip is a huge hit for book club or other parties with your friends.
I brought a pan of this classic recipe to a bunko party and the ladies there inhaled it and begged me for the recipe.
❤️Why This Recipe Works
Make-Ahead: The flavors are even more delicious when the ingredients have had time to sit. Make the elements up to 24 hours in advance and simply assemble before serving.
Zippy & Unique: The homemade sweet and sour adds just the right zip to the dip. Everyone loves a good layered taco dip, this is similar but with an Asian flair.
Full of Flavor: The topping is loaded with veggies and a simple rotisserie chicken.
Jump to:
🥕What You Need
The ingredients for the layer dip are very easy: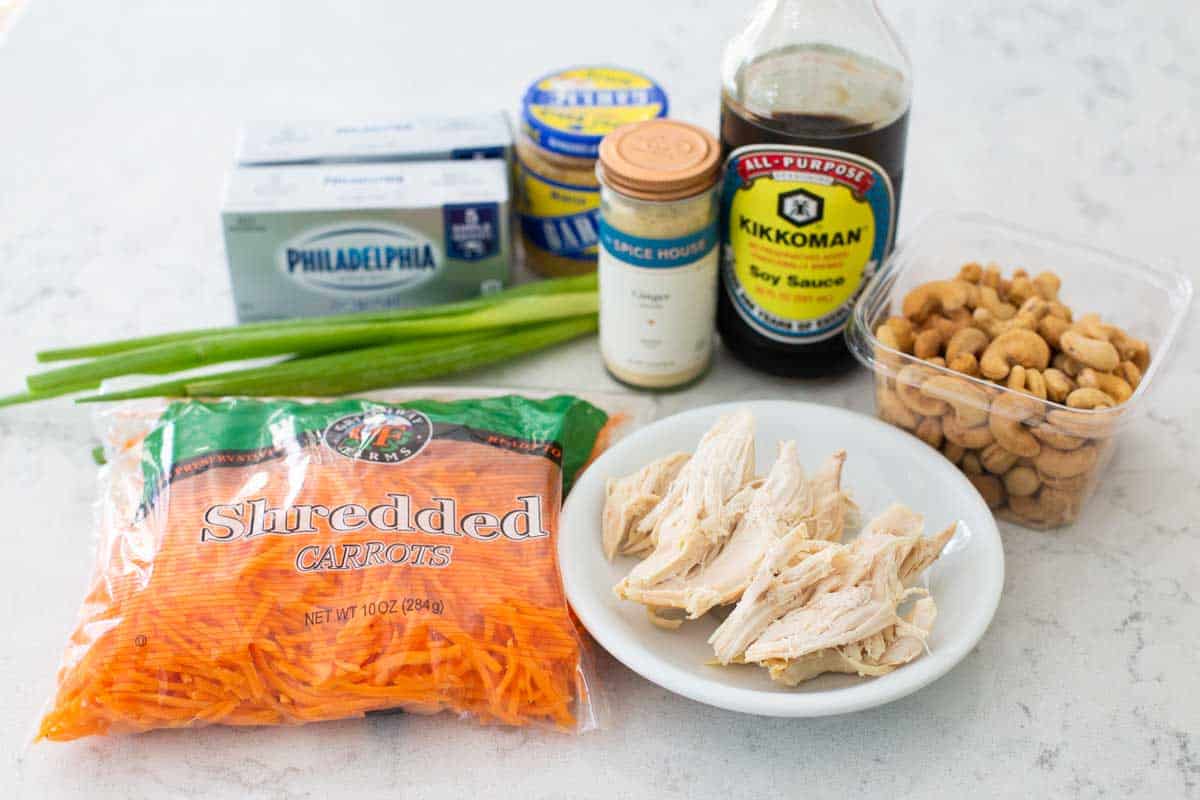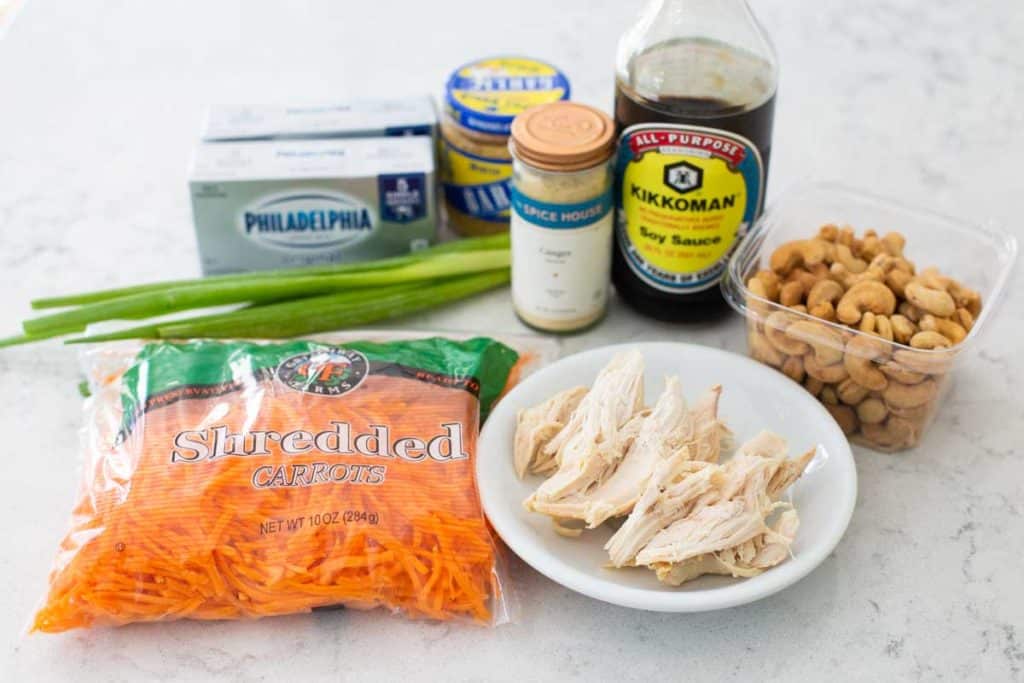 1 Rotisserie chicken
Pre-shredded carrots
Green onions
Salted cashews
Cream cheese
Soy sauce
Ginger & minced garlic
📋Instructions
There are just 3 easy layers to assemble for this Asian layered dip:
Chicken & veggie topping
Homemade sweet and sour sauce drizzle
Cream cheese base
Each one can be prepped and stored separately in the fridge. Assemble before serving.
🍗Layer 1: The Chicken Topping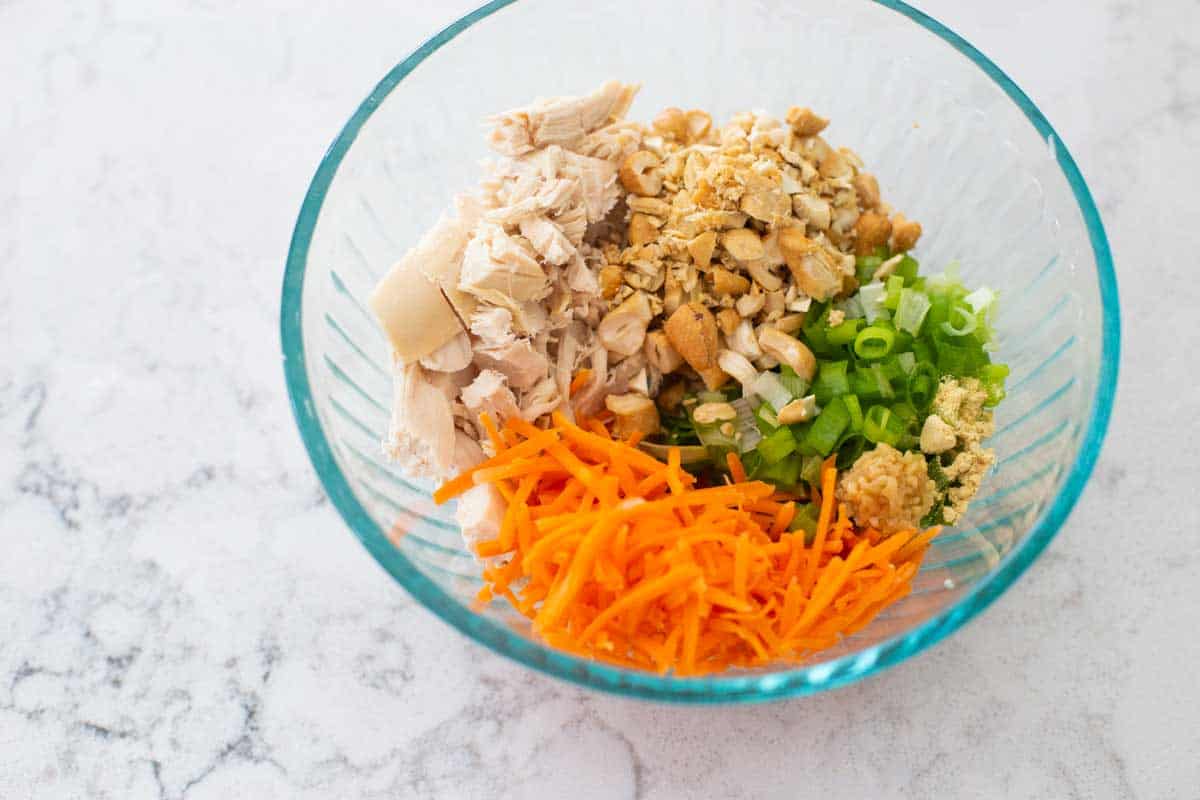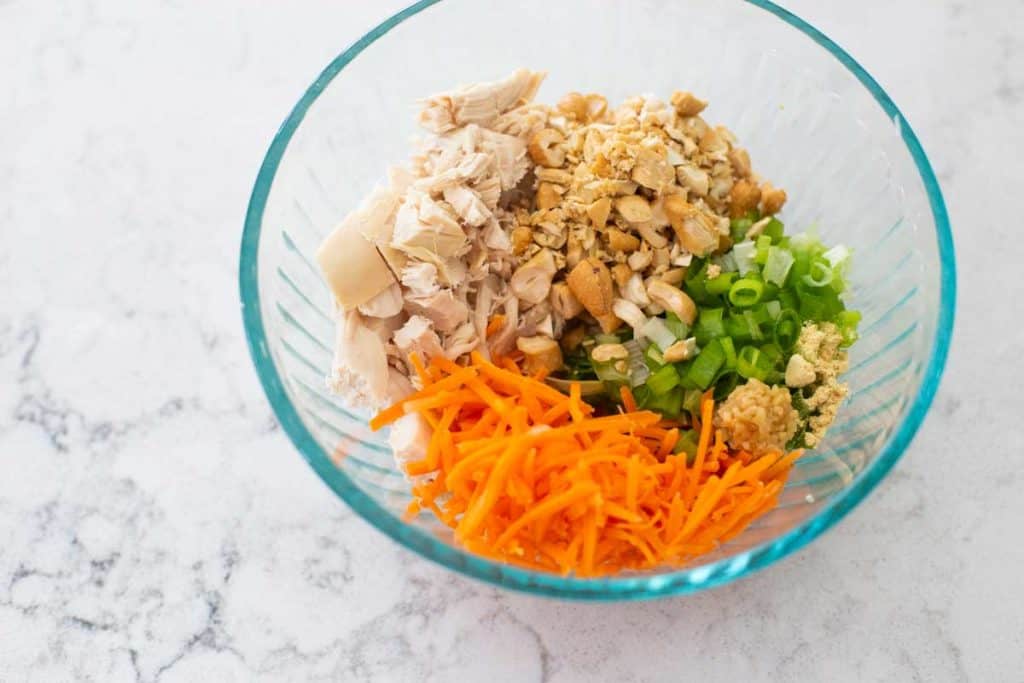 Mix together the shredded rotisserie chicken, shredded carrots, chopped green onions, chopped cashews, garlic, ginger, and soy sauce with a fork in a medium size mixing bowl.
Cover and chill.
🌶️Layer 2: Sweet and Sour Sauce
You probably have all the sauce ingredients in your pantry right now: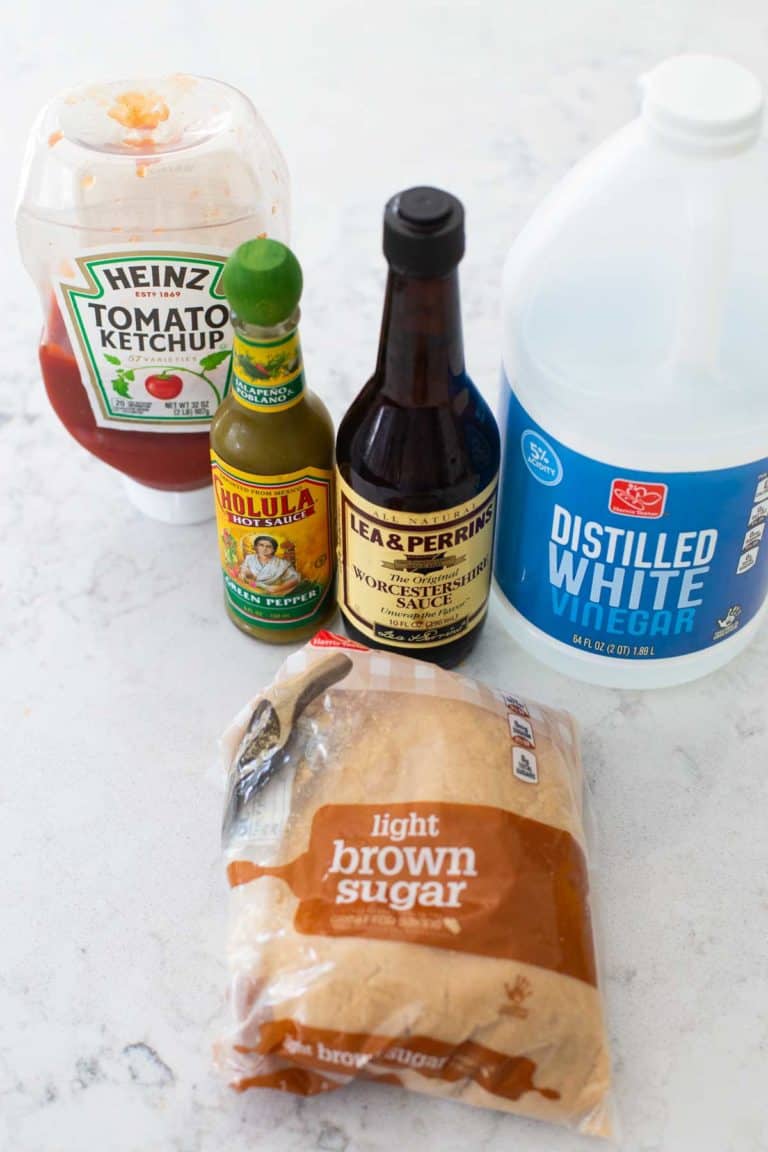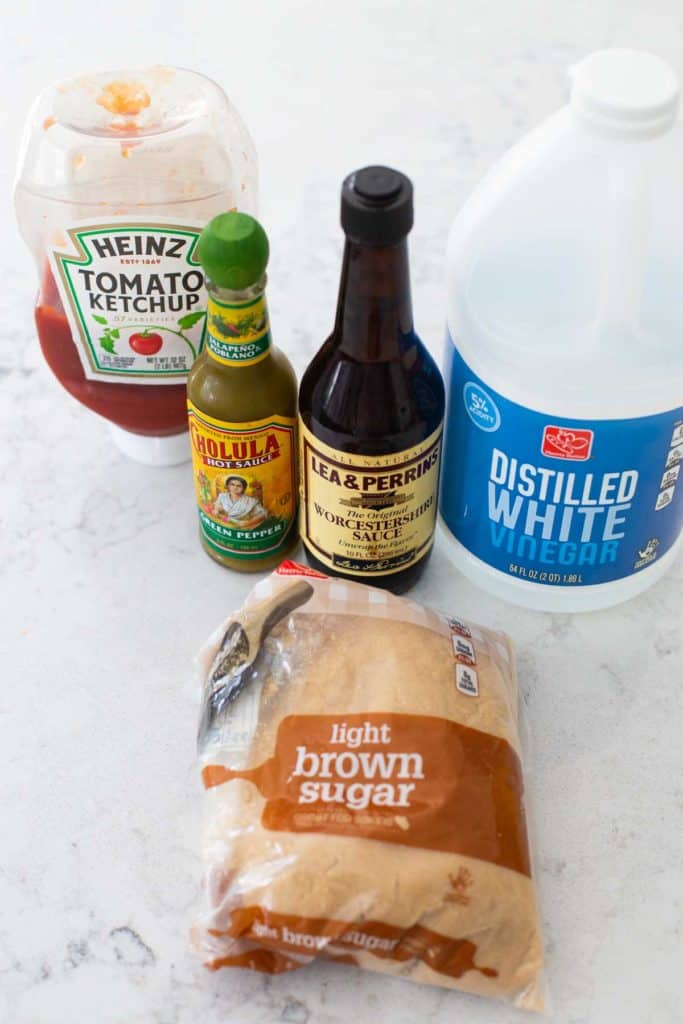 Ketchup
White vinegar
Worcestershire Sauce
Hot sauce
Brown sugar
Cornstarch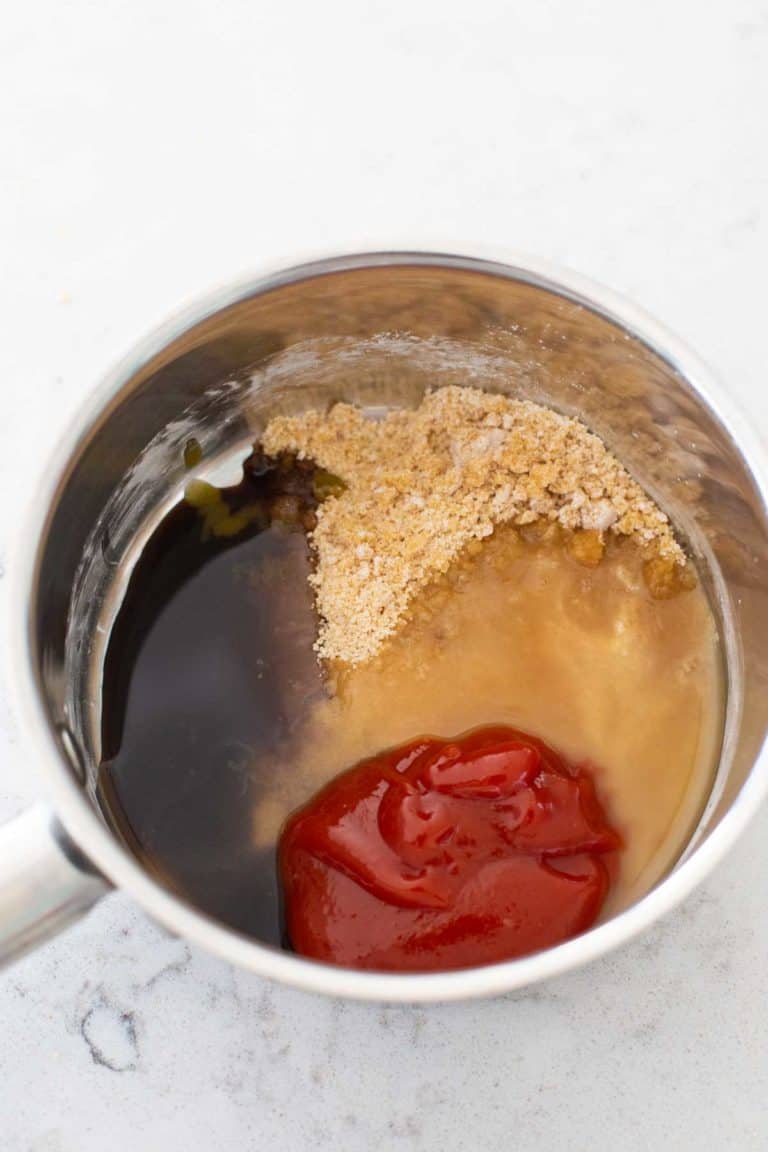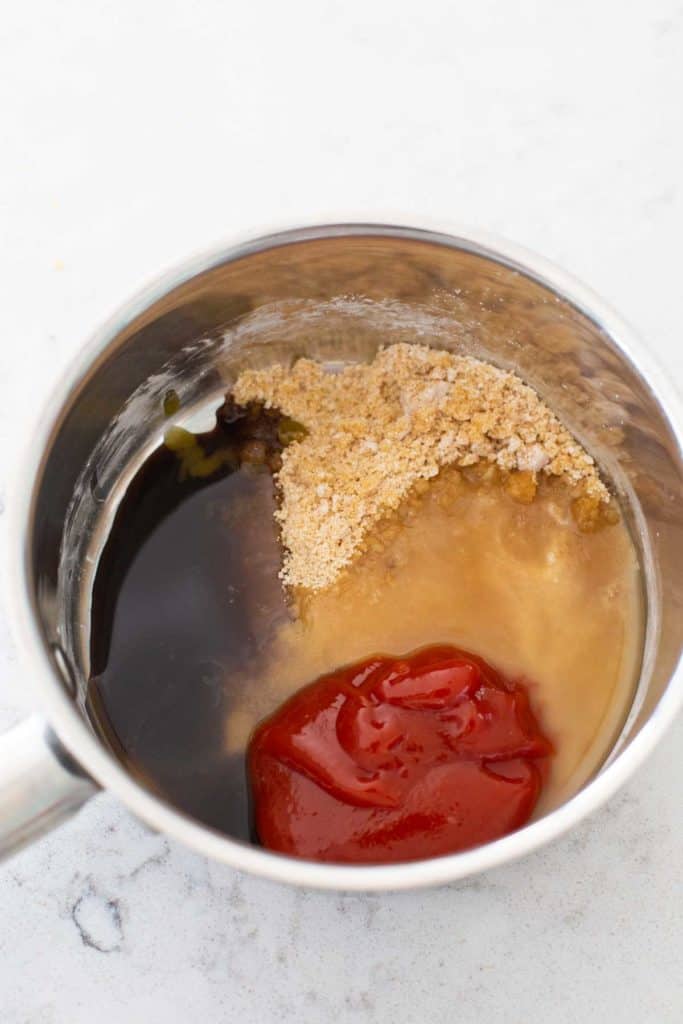 Add all the ingredients to a sauce pan and whisk together.
Heat over medium-high heat until the sauce has come to a gentle boil and has thickened.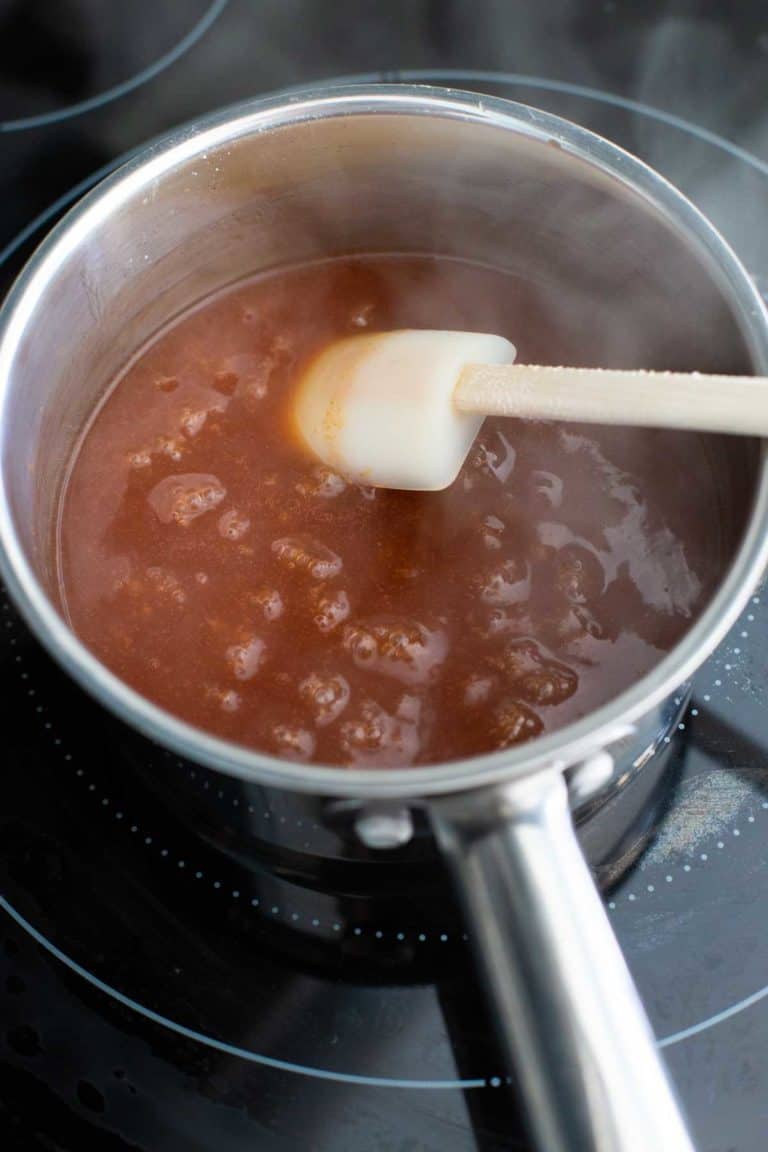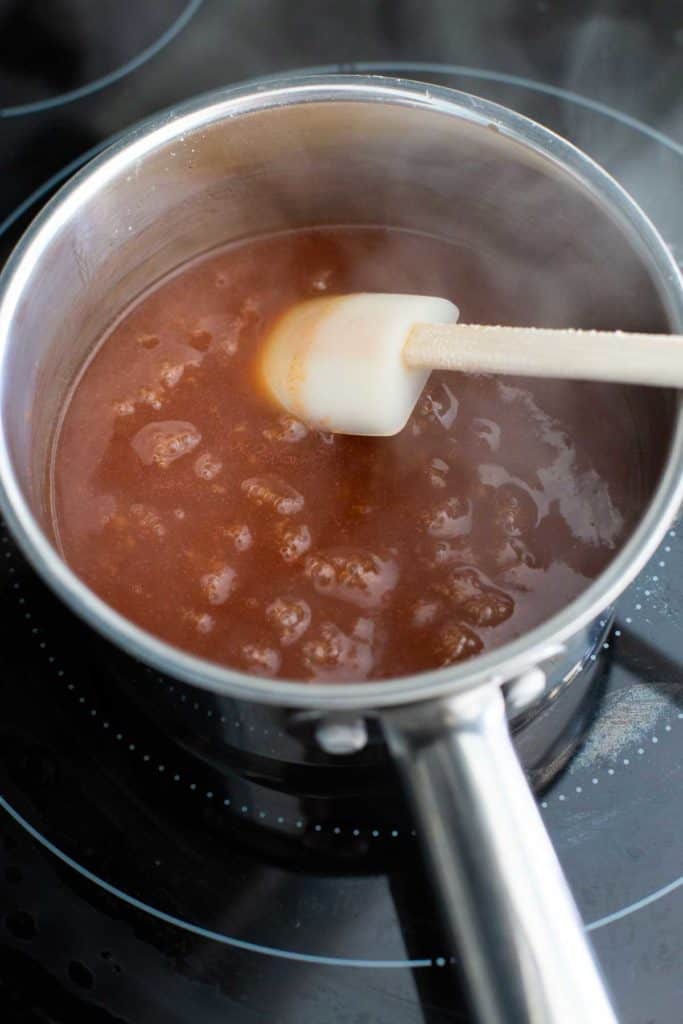 Set the pan aside to let the sauce cool.
🍶Layer 3: Cream Cheese Base
This is the easiest layer of all! You simply need two 8 oz bricks of cream cheese softened.
Beat them together with a hand mixer until smooth. Add 2 tbsp milk and beat until smooth.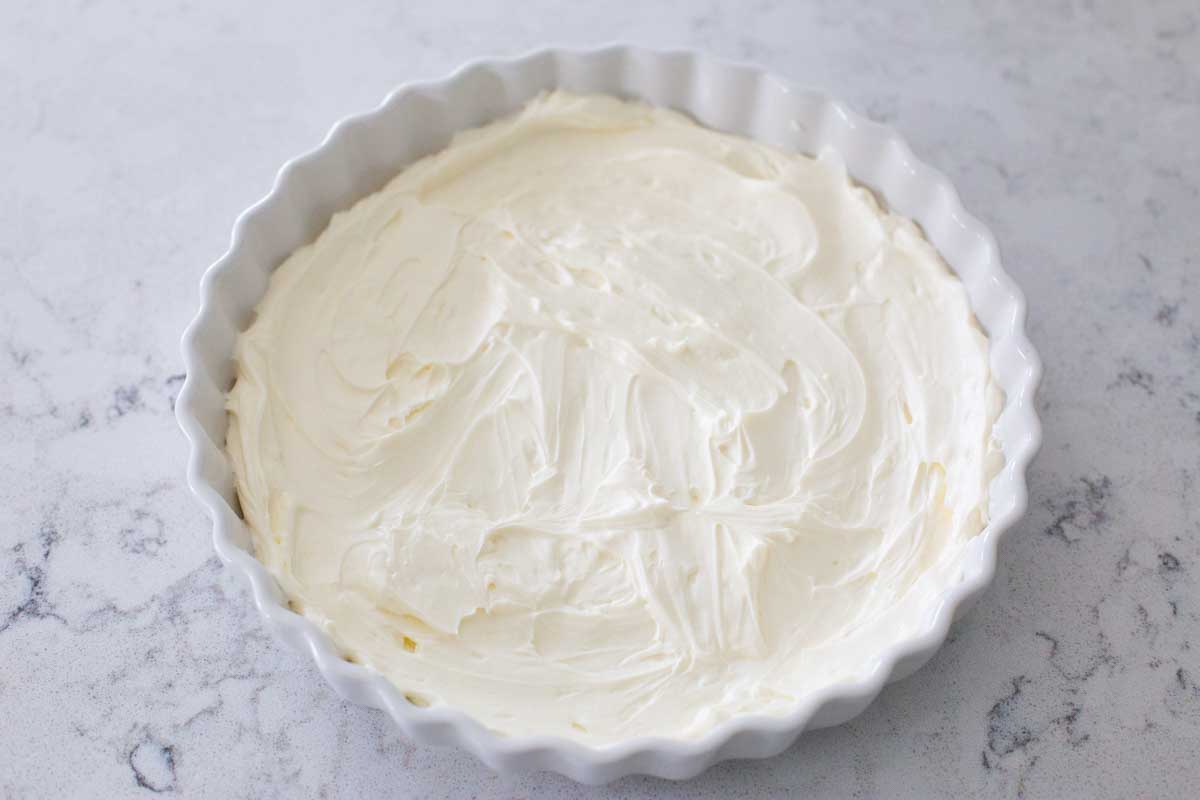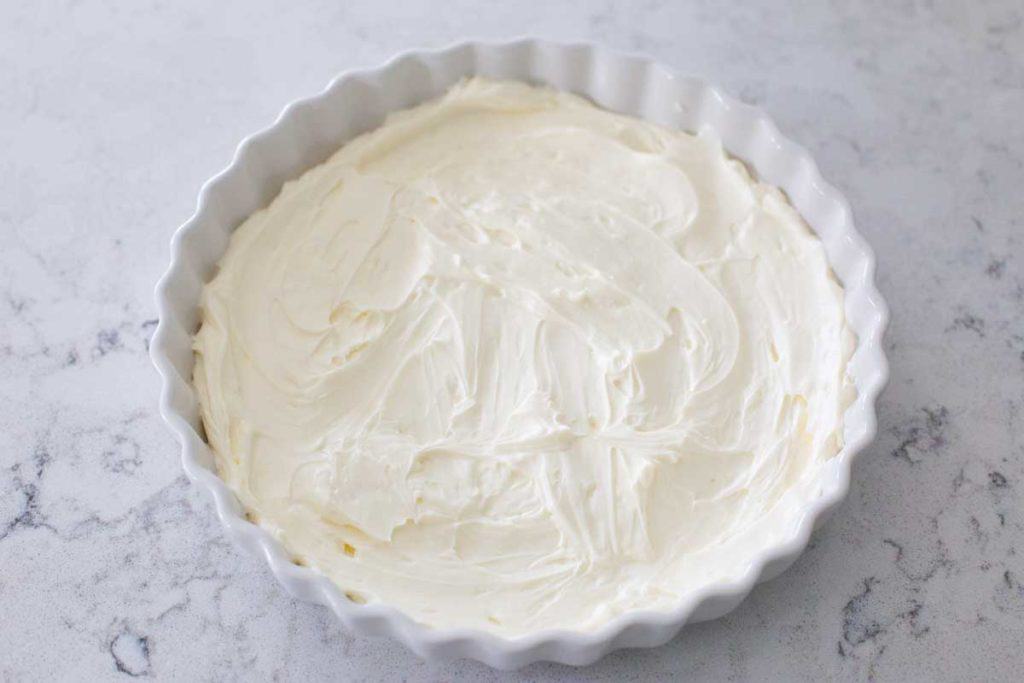 Spread the cream cheese base into a large pie plate.
I prefer to use a ruffled-edge quiche pan because it has a slightly larger diameter than my pie plates. The 10-inch diameter and 2-inch depth is perfect for this dip.
If making ahead, cover the base with plastic wrap and store in the fridge until ready to assemble.
🥄Assemble the Layers
Before serving, assemble the dip: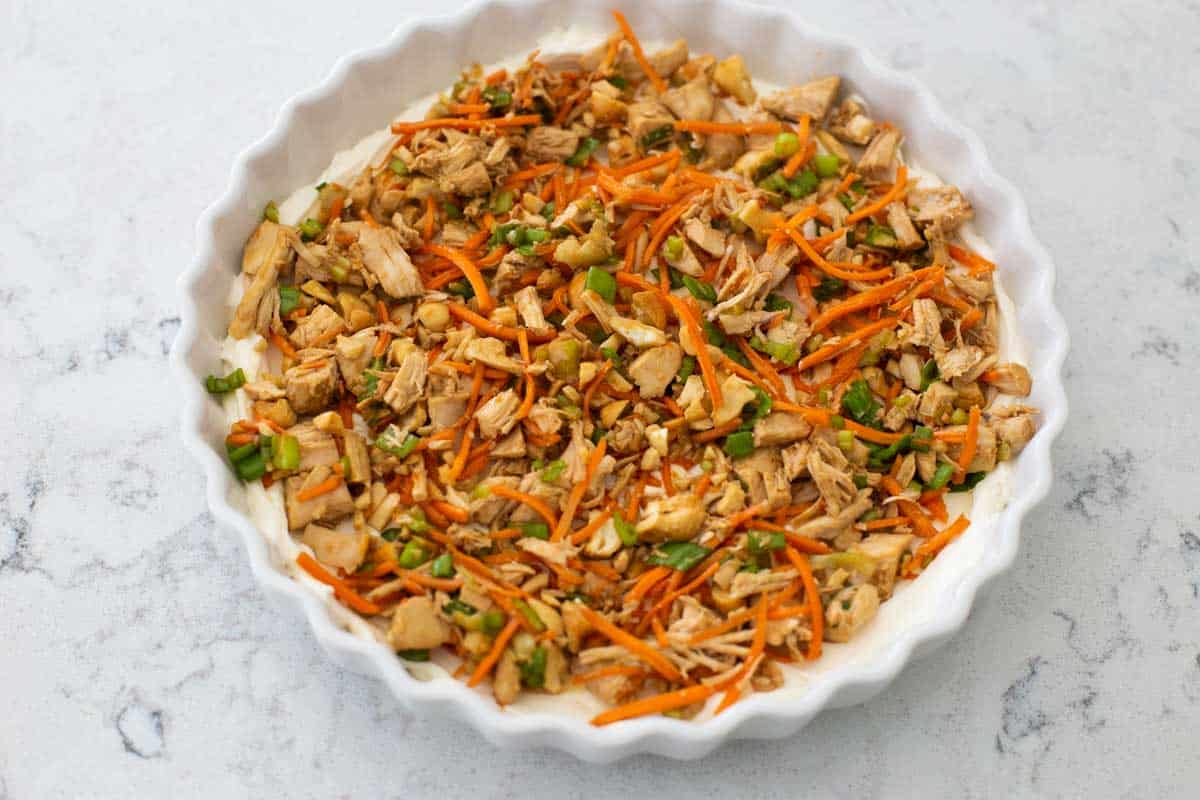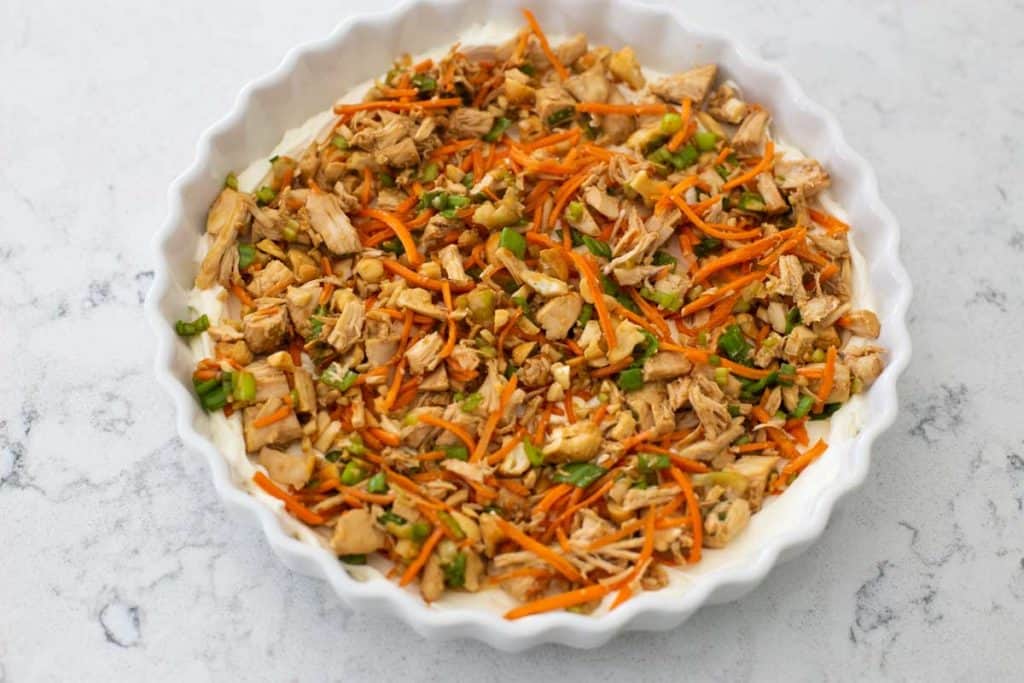 Spread the chicken layer evenly over the cream cheese base.
Drizzle half of the sweet and sour sauce over the top.
📌Top Tip
Serve the remaining half of the sweet and sour sauce in a little pitcher on the side and let guests add more as they desire. This helps prevent the dip from getting too soggy.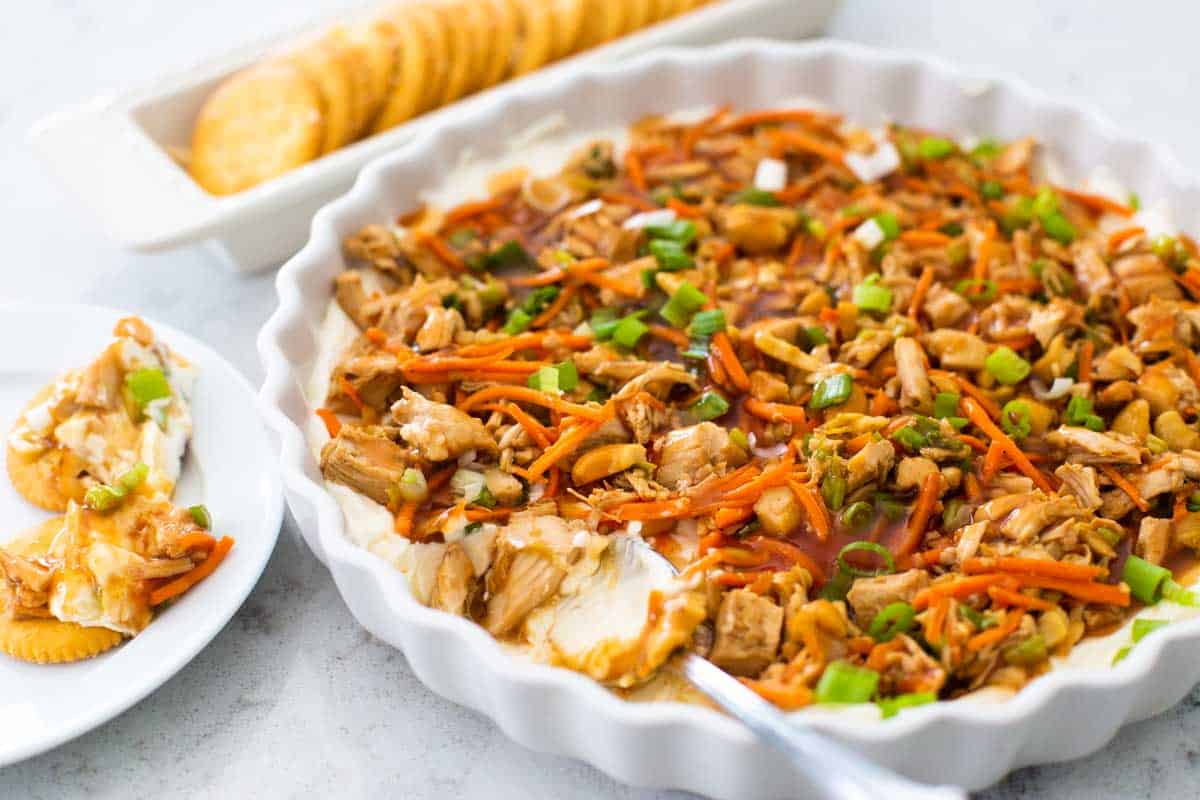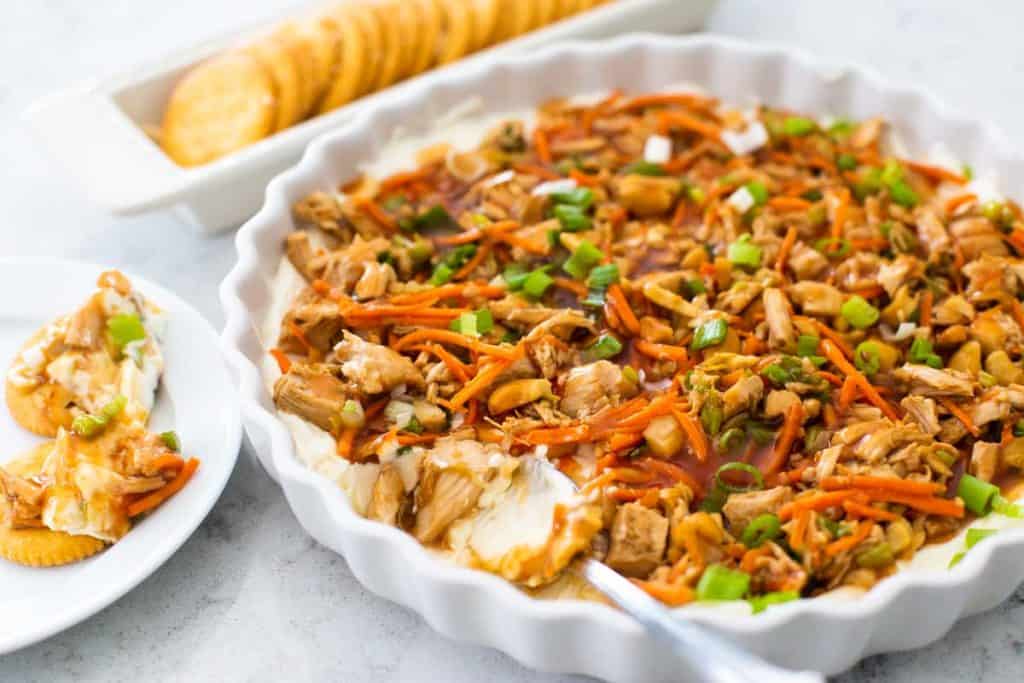 ❄️Storage
If making the day ahead, store all three layers separately and then just assemble before serving.
If you're prepping the day you want to serve the dip, you can assemble it immediately and just cover with plastic wrap to store in the fridge.
🎉More Easy Dip Recipes
If you've tried this Asian layer dip or any other recipe on PeanutBlossom.com please don't forget to rate the recipe and let me know where you found it in the comments below. I love hearing from you!
FOLLOW along on Instagram @peanut.blossom as well as on  Pinterest and Facebook.
📖 Recipe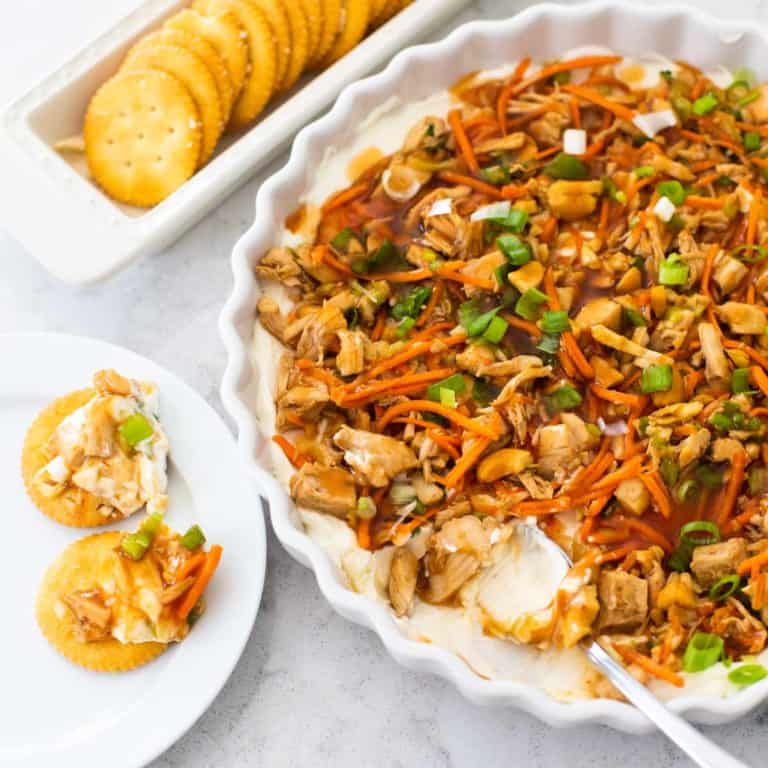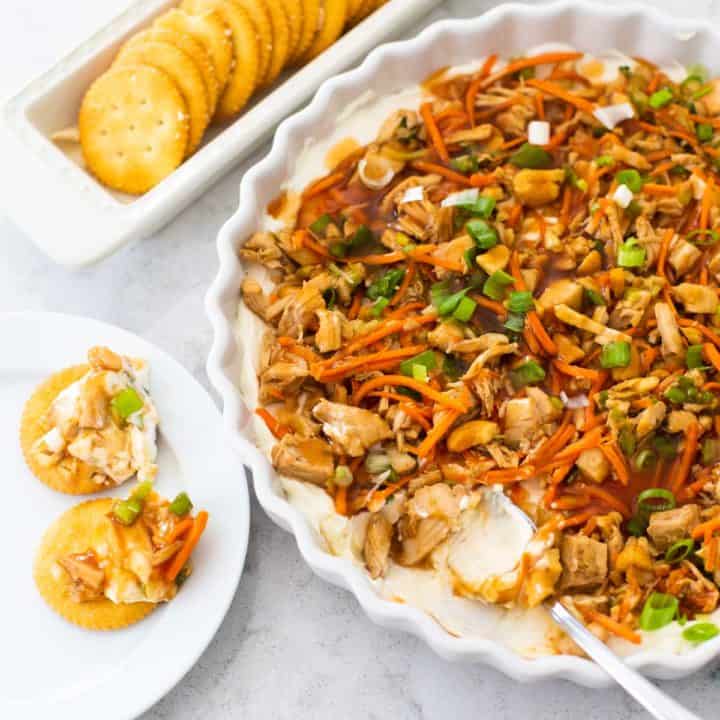 Oriental Chicken Layer Dip
Additional Time:
12 hours
Total Time:
12 hours
25 minutes
This sweet and spicy layered Asian dip has a homemade sweet and sour sauce, savory cashews, and spicy green onions over a cream cheese base.
Ingredients
¾ cup shredded rotisserie chicken
½ cup shredded carrots
½ cup cashews, chopped
3 tbsp green onions, sliced
1 tbsp parsley, chopped
1 tsp minced garlic
2 tbsp soy sauce
¼ tsp ginger
Zippy Sweet and Sour Sauce
¼ cup brown sugar, packed
2 tsp cornstarch
1 cup water
¼ cup ketchup
2 tbsp vinegar
1 tbsp Worcestershire sauce
3 - 4 drops hot pepper sauce
Cream Cheese Base
2 (8oz) bricks of cream cheese, softened
2 tbsp milk
Instructions
The Day Before You Want to Assemble:
In a small bowl, combine all the ingredients for the topping from the chicken through the ginger and mix. Cover and refrigerate overnight. This is super important! The chicken eventually absorbs all the liquid and will prevent the appetizer from being too watery.
The Day of Assembly:
In a small saucepan, combine the brown sugar and cornstarch, mix. Stir in remaining sauce ingredients and cook over medium heat until thickens. Approximately 5 minutes. Stir or whisk frequently so it doesn't burn from all the sugar. Set aside to cool.
In a small bowl, combine the cream cheese and milk. Beat with a hand mixer until smooth and fluffy.
Spread the cream cheese mixture into the bottom of a pie pan or serving dish. Spoon the chicken topping evenly over the cream cheese and then drizzle a ½ cup of the sweet and sour sauce over the top.
The remaining sauce can be used for marinating chicken or a tasty dip for other appetizers.
Serve with crackers.