This spicy taco dip with cream cheese is the perfect example of how moms have all the best kitchen secrets! Such a simple appetizer recipe, but with one tiny twist to make it the best Mexican party recipe you've ever had.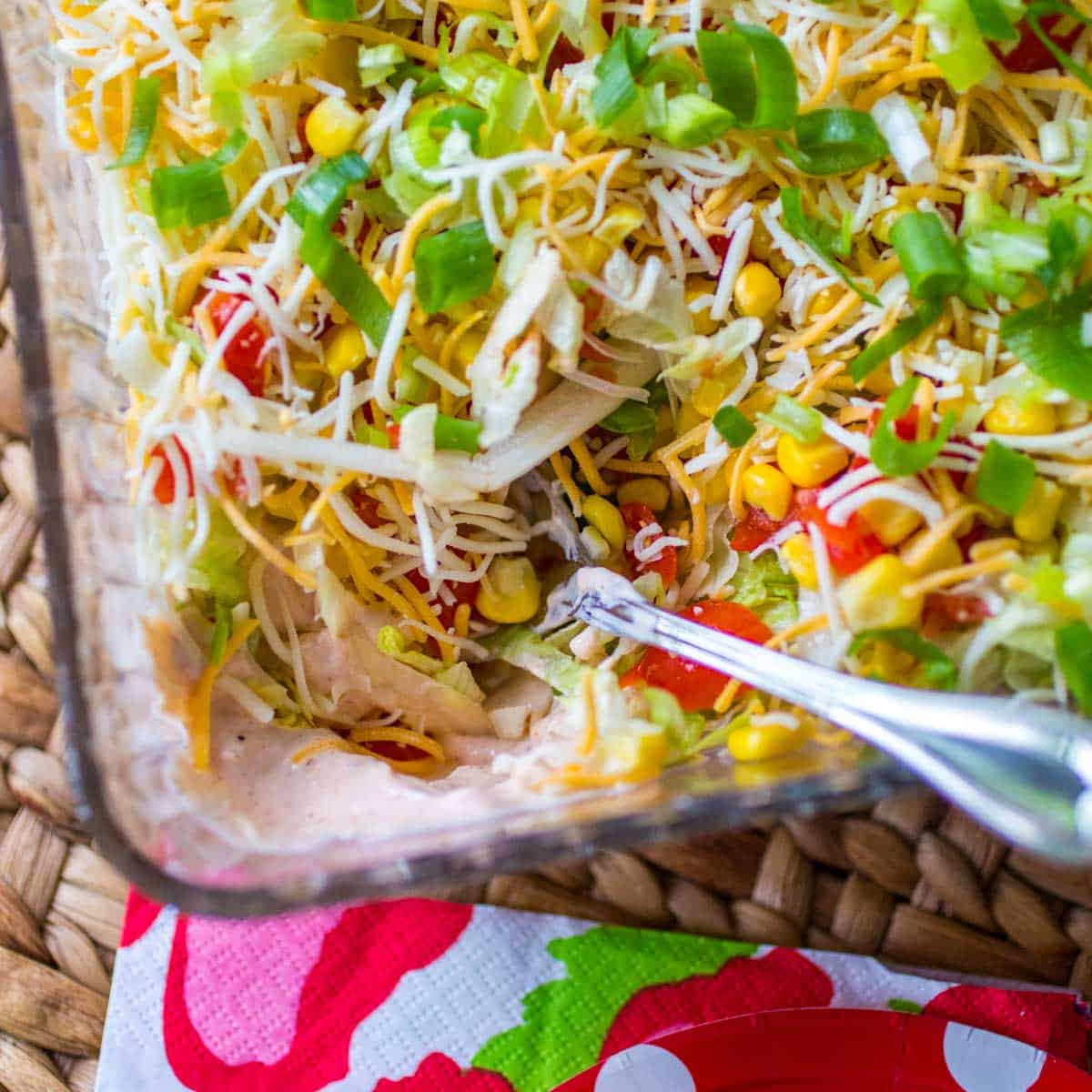 When I was in college and a bunch of friends were getting together for a party, it was never a matter of "if" and simply a matter of "who" would be in charge of bringing the taco dip. I've enjoyed countless servings of this party classic in my 40 years. Each version of this Mexican layer dip is just a little bit different depending on the hostess's personal spin on assembly and ingredients. My opinion? Olives have no place on top, thank you very much.
Of all the spicy taco dips I've enjoyed, there is one that rises to the very top of the list. The Gold Medal winner. The Taco Dip to End All Taco Dips. Who is behind such a winning recipe??
A Mom.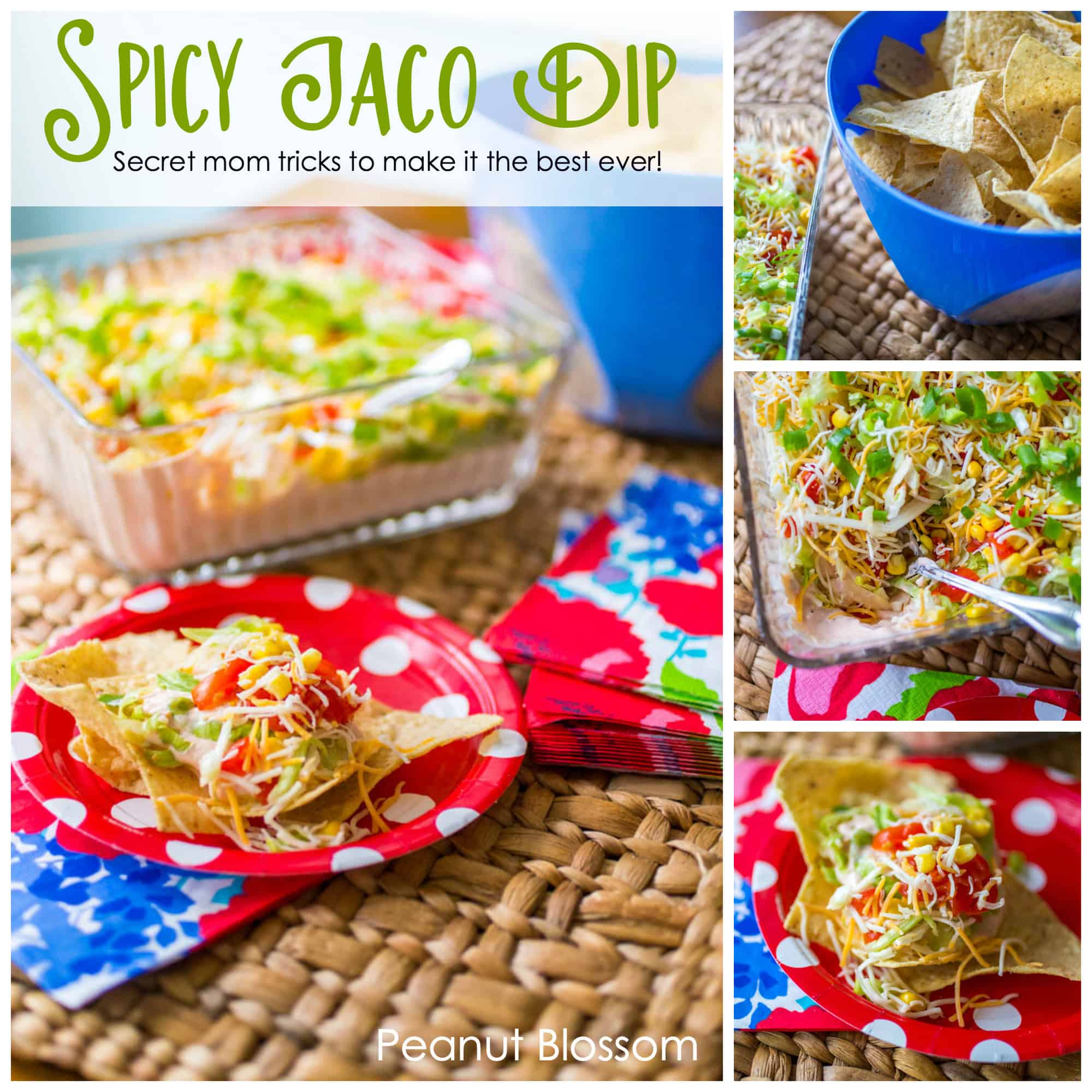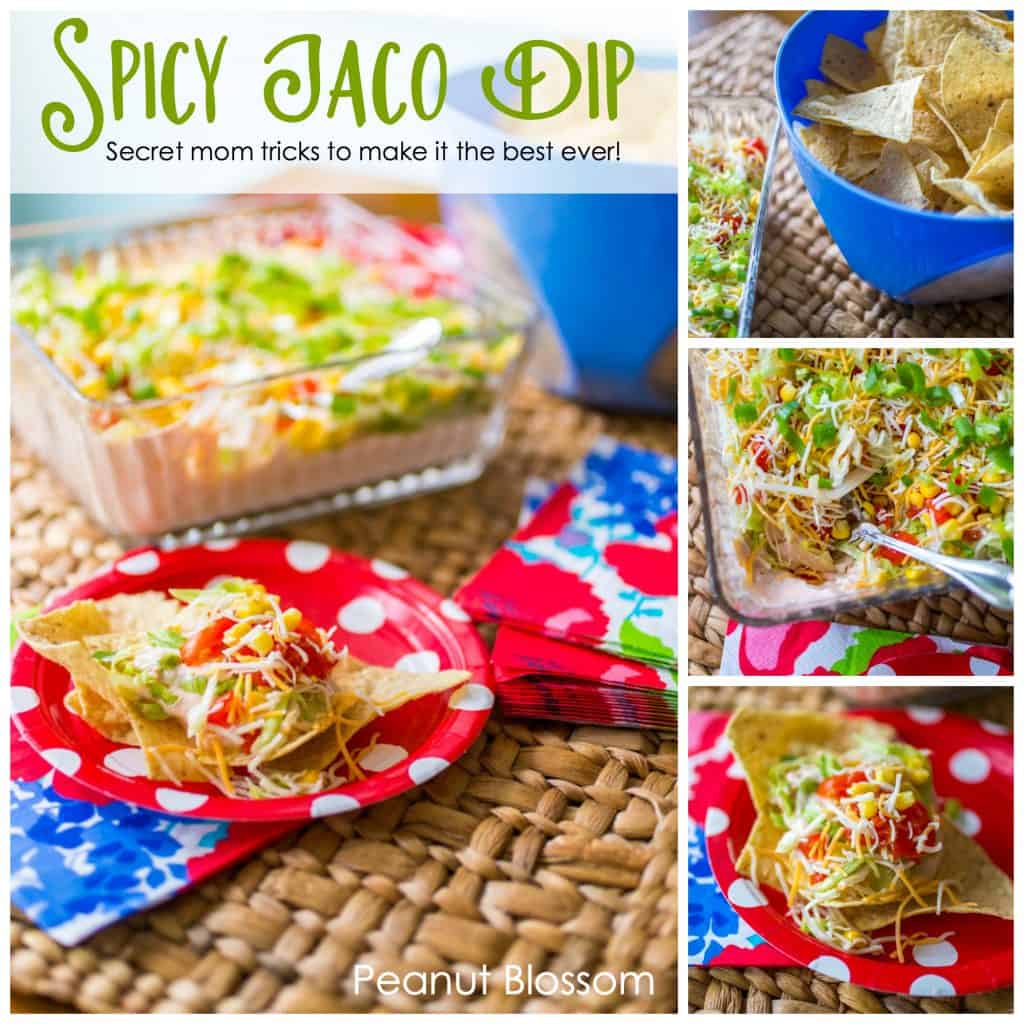 Because isn't that always the answer to such a question? Moms are the ones in the thick of it. Feeding their families. Planning the party menus. Knowing what their kids like best and customizing everything that passes through their kitchens to make sure it goes over well with the ones they love.
Moms are the ones who have all the best secret tricks. When you log that many hours prep chef-ing the party foods, you know how to make something really easy and reallllyyyyy good.
With Mother's Day coming up this weekend, you should take the time to ask your mom some of her favorite kitchen tricks. Who knows what kind of golden nuggets you might get passed down!
Now that I'm part of the mom ranks, I love sharing my own tricks with you. And even though this taco dip with cream cheese is a classic, one you've probably already made countless times, you have never had it quite like this.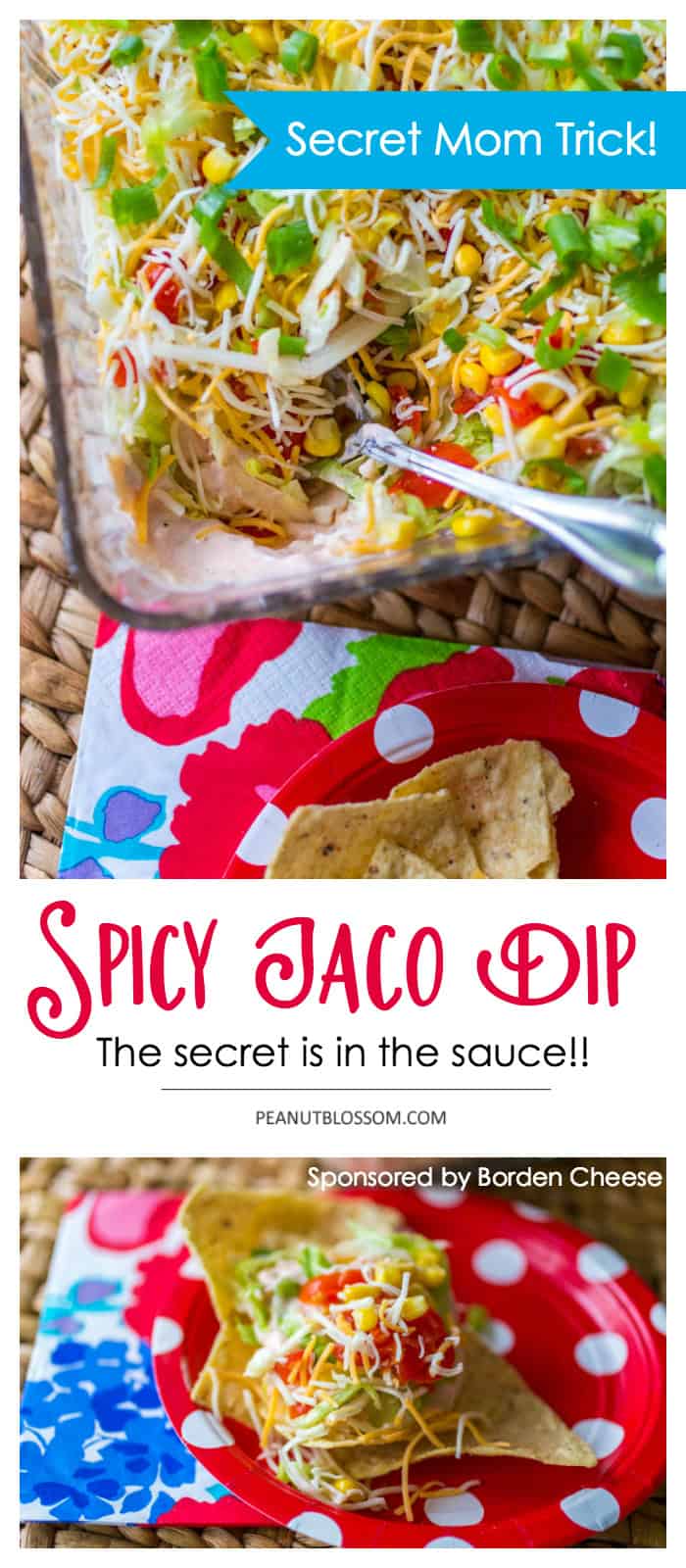 Top Tricks for Making the Best Taco Dip
The ingredients for a layered taco dip couldn't be easier. You blend a chunk of cream cheese with a container of sour cream. Mix in the taco seasonings, and top with veggies and shredded cheese. The secret mom tricks are all in HOW you blend the sauce and the choice of ingredients you use. I use a Four Cheese Mexican blend for my taco dip.
Let's take a look at how to put these mom secrets into action:

Secret #1: Light and fluffy base
Be sure to use a hand mixer to beat the cream cheese before you blend in the sour cream. Work out any of the big chunks and whip some air into the cheese. This makes the base light and fluffy and completely dippable for your chips.
Secret #2: Smooth seasoning
Traditionally a packet of taco seasoning is used to flavor the cream. NO! The mom behind this recipe insists on using prepared taco sauce to avoid that gritty texture a powdered seasoning can leave behind. Buy the spiciest bottle of taco sauce your family will eat--it will be cooled down significantly in the dip, so you need the extra kick!
Secret #3: Add the shredded cheese TO THE SAUCE!!
This is the most genius trick of them all. Once the party gets going and people are digging in on this dip, the toppings tend to get get moved around. If you want to be sure that every single bite has some of that awesome shredded cheese texture and flavor, put the cheese in the dip itself! I used half the bag of the creamy, delicious Four Cheese Mexican blend inside the dip and reserved the other half for garnishing the top of the finished dish.
📖 Recipe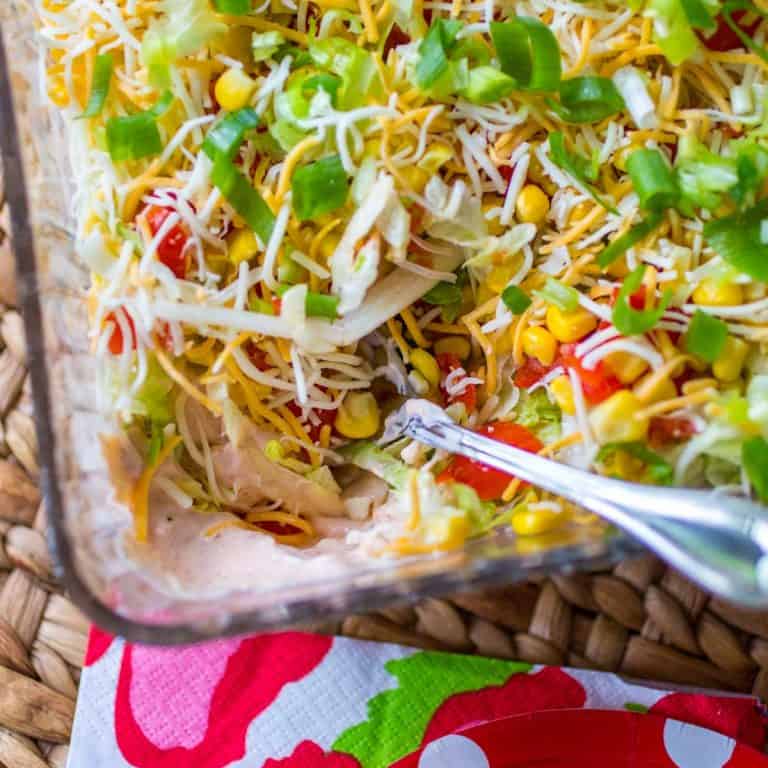 Spicy Taco Dip with Cream Cheese
This is the best ever spicy taco dip with cream cheese because of Mom's secret tricks! Serve it at your Cinco de Mayo party or for Taco Tuesday. At a party, you'll find the pan practically licked clean by your guests.
Ingredients
1

(8 oz) brick of cream cheese

softened

16

oz

sour cream

8

oz

bottle of SPICY taco sauce

2

cups

shredded Mexican cheese

1

bag of shredded lettuce

2

cups

cherry tomatoes

chopped

1

cup

of frozen corn

thawed

2

green onions

chopped

Tortilla chips for serving
Instructions
Using a hand mixer, whip the cream cheese until smooth. Blend with the container of sour cream until light and fluffy. Pour in the entire bottle of taco sauce. Stir in 1 cup of shredded cheese.

Spread dip into serving dish. Top with shredded lettuce, chopped tomatoes, corn, remaining 1 cup shredded cheese, and chopped green onions. Chill until serving.
Save This Recipe to Your Recipe Box
Find this delicious recipe next time you visit by saving it to your very own recipe box on my site. All your favorites stored in one easy place!