Baked buffalo chicken dip is one of the most popular party appetizers ever! You can prep the spicy chicken filling in advance and bake it in the oven just before serving.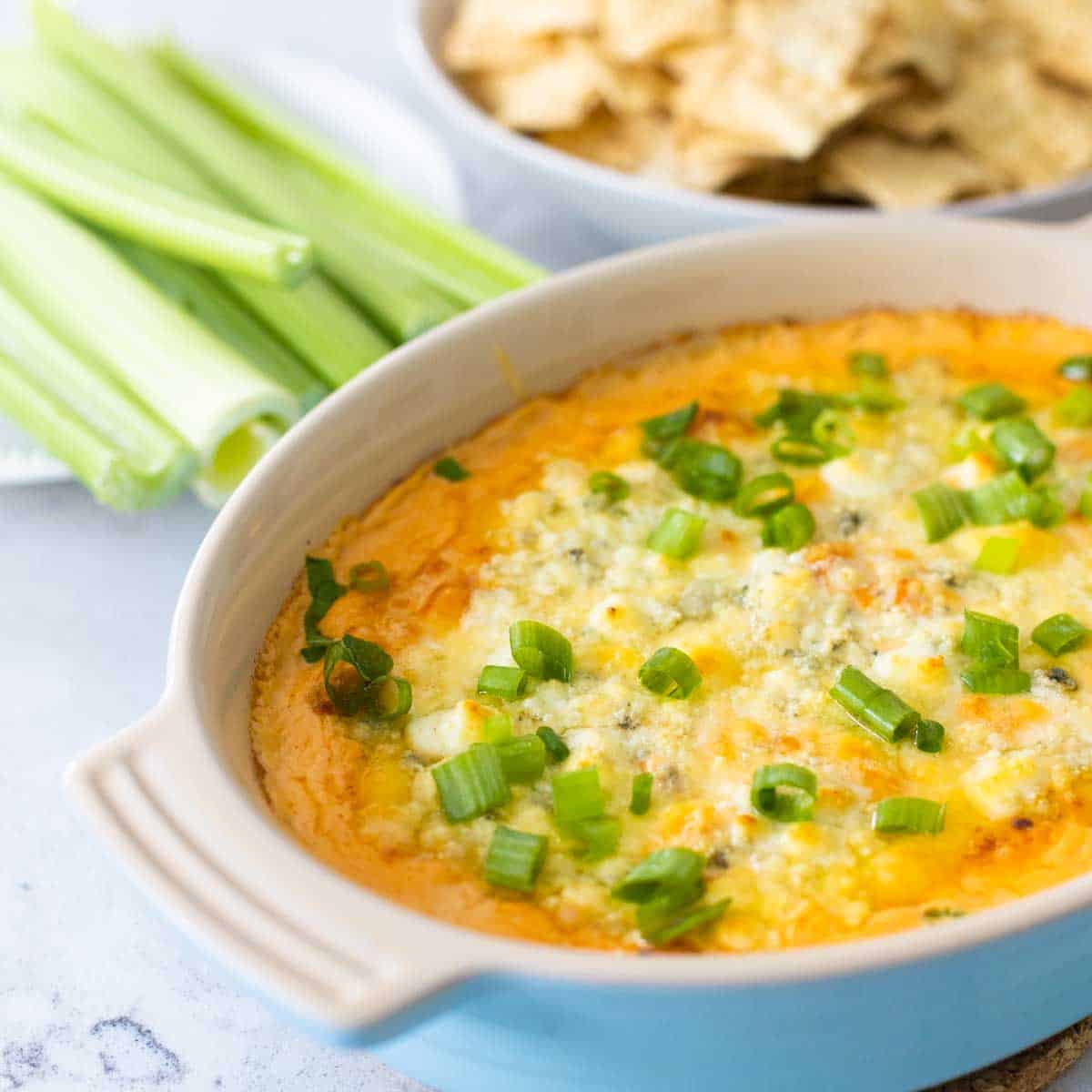 My husband eagerly ordered the buffalo chicken dip appetizer on the menu during a recent dinner out.
I was surprised to see just how excited he was to get it, apparently it has become a recent favorite and I had no idea. Two decades of marriage and he still surprises me.
I told him it would be super easy to make at home so we gave it a try on a Sunday afternoon just for fun.
He came home from a long run just as I was just pulling the buffalo chicken dip out of the oven. He loved it so much, nearly the entire pan was gone in minutes. He just couldn't stop dunking those salty tortilla chips in the creamy chicken dip.
This is for sure going to be making a repeat appearance as soon as football Sundays start up again.
Jump to:
Why This is the Best Recipe
I've always been a huge fan of make ahead dips for parties, but I think this is the best buffalo chicken dip recipe because:
SO Easy to Make: You basically just stir a few things together and pop it in the oven.
Make Ahead Friendly: You could prep the dip the day before and store it in the fridge. Just bake it before serving.
Perfect Flavor: I've got the best wing sauce suggestion for you. Balanced with ranch seasoning and blue cheese crumbles, this dip tastes the best.
Perfect Texture: Some cheese baked dips can have a funny texture, but this one is absolutely perfect and creamy.
Good Hot or Cold: We had some chicken dip leftover. I ate it spread over crackers the next day, still cold from the fridge, and it was delicious.
Ingredients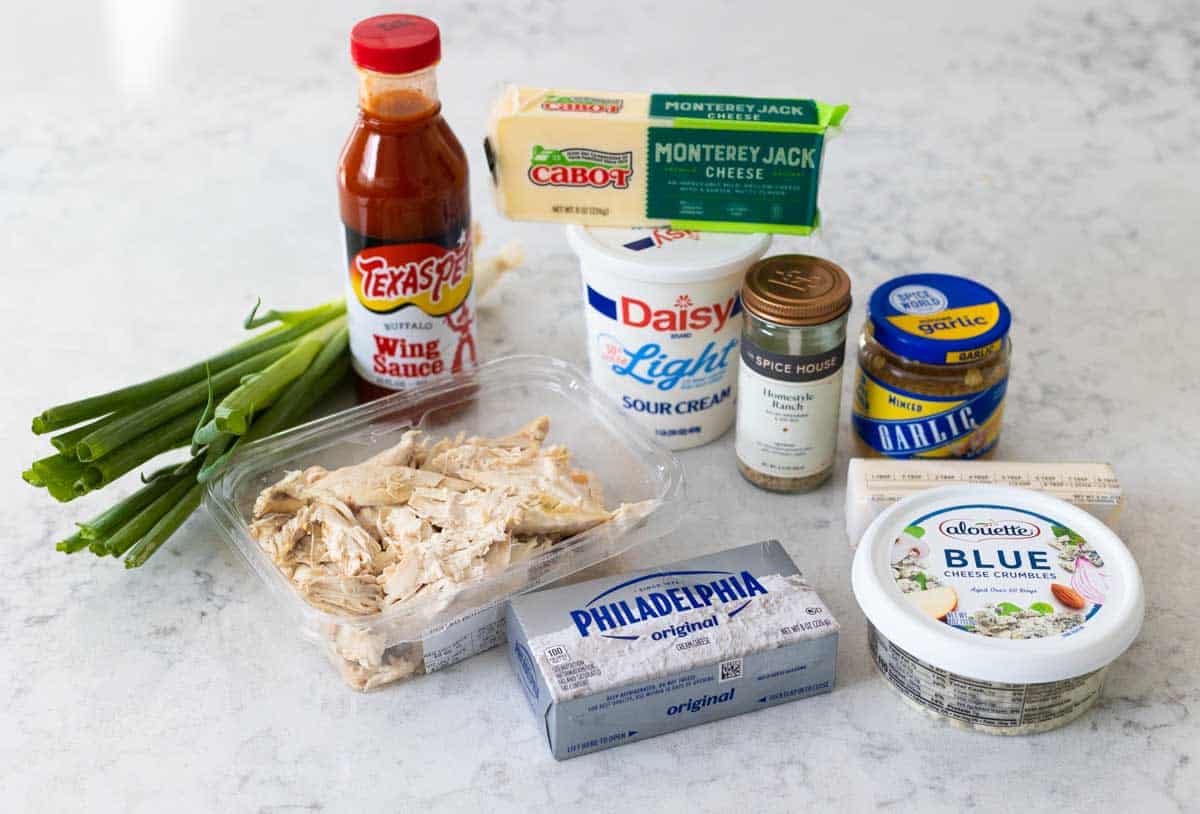 The best buffalo chicken dip starts with the best ingredients. These are all very easy to find!
Cooked Chicken: I recommend a rotisserie chicken. Our store had containers of the white meat already shredded from the bones. Honestly, next time I'd use the entire chicken but see my notes below before you decide.
Cream Cheese: I recommend using full fat cream cheese because it bakes better. Lower fat cream cheeses can separate during baking.
Sour Cream: I almost always use light cream cheese. It works fine in this recipe. Fat free cream cheese would likely be too watery.
Wing Sauce: We are big fans of Texas Pete in this house. I was thrilled to see they had a wing sauce of their own. If you can't find it, you could make my homemade buffalo sauce using Texas Pete.
Monterey Jack Cheese: I recommend shredding a brick of cheese instead of buying pre-shredded cheese because it melts so much better. But, in a pinch, the pre-shredded will work just fine.
Dried Ranch Seasoning
Minced Garlic
Blue Cheese Crumbles: These are optional, but I do strongly encourage you to try them.
Fresh Green Onions
Prep the Chicken and Green Onions
This buffalo chicken dip recipe only calls for 2 cups of chopped chicken.
My husband and I both agreed that next time we will make it with closer to 4 cups of chicken so it is extra chunky and meaty. The chicken was our favorite part!
I'm leaving the recipe card at 2 cups because it is a more affordable way to make the dip, but you can decide how hearty you want your final dish to be.
In either case, you want to cut the chicken meat into small cubes like this: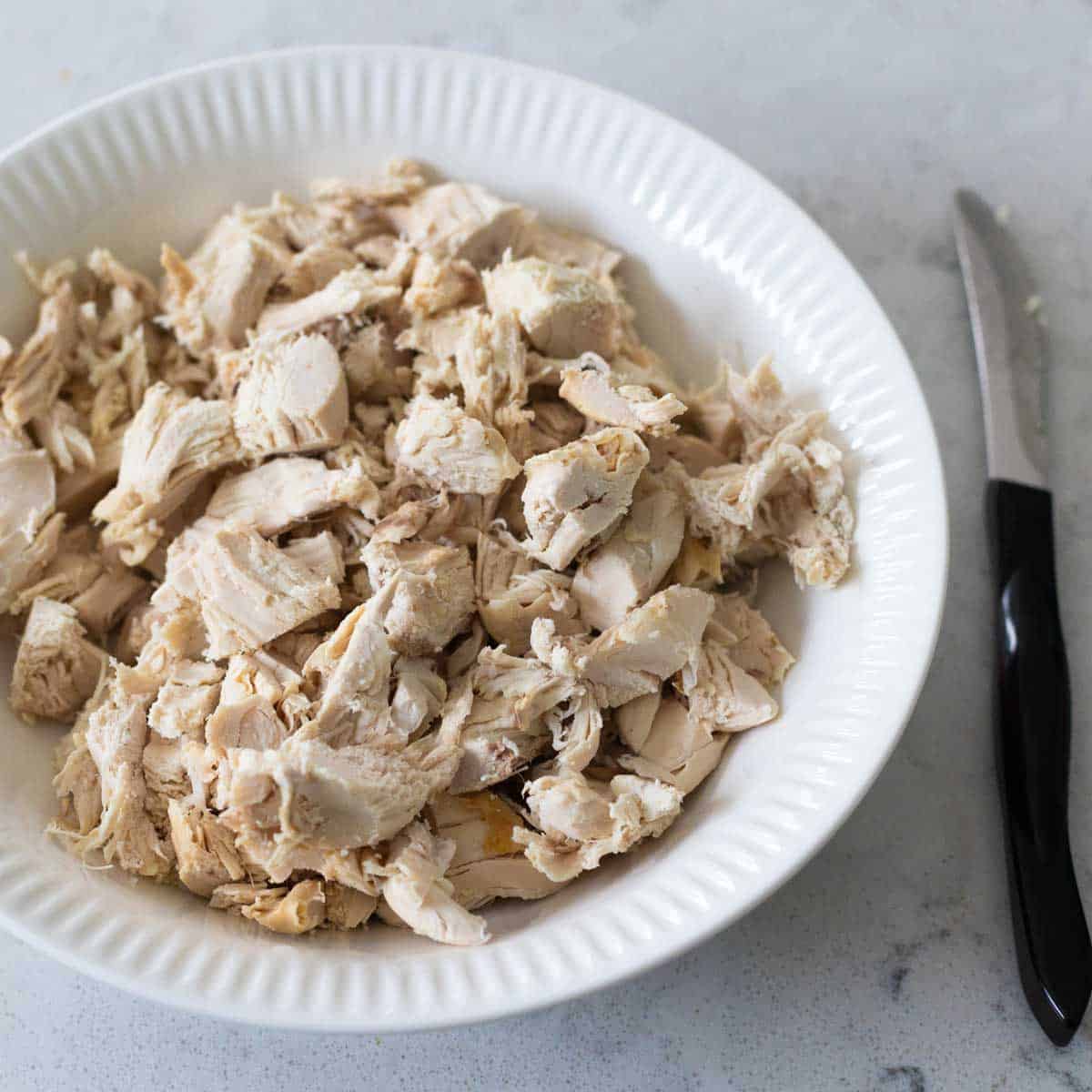 Cooked chicken is very delicate. If you shred the meat before you begin, your final dip will be very stringy since the chicken will likely fall apart completely once you stir it into the hot buffalo sauce.
By cutting it into cubes, your chicken will retain shape better throughout the baking process and make your final dip nice and chunky.
Whenever I want fresh green onions sprinkled over the top of a dish, I try to find a way to use the white part of the onion in the recipe so nothing goes to waste.
Slice the green onions at the point where the white turns to green.
Chop the white part and use it IN the dip, reserve the green half for sprinkling on top just before serving.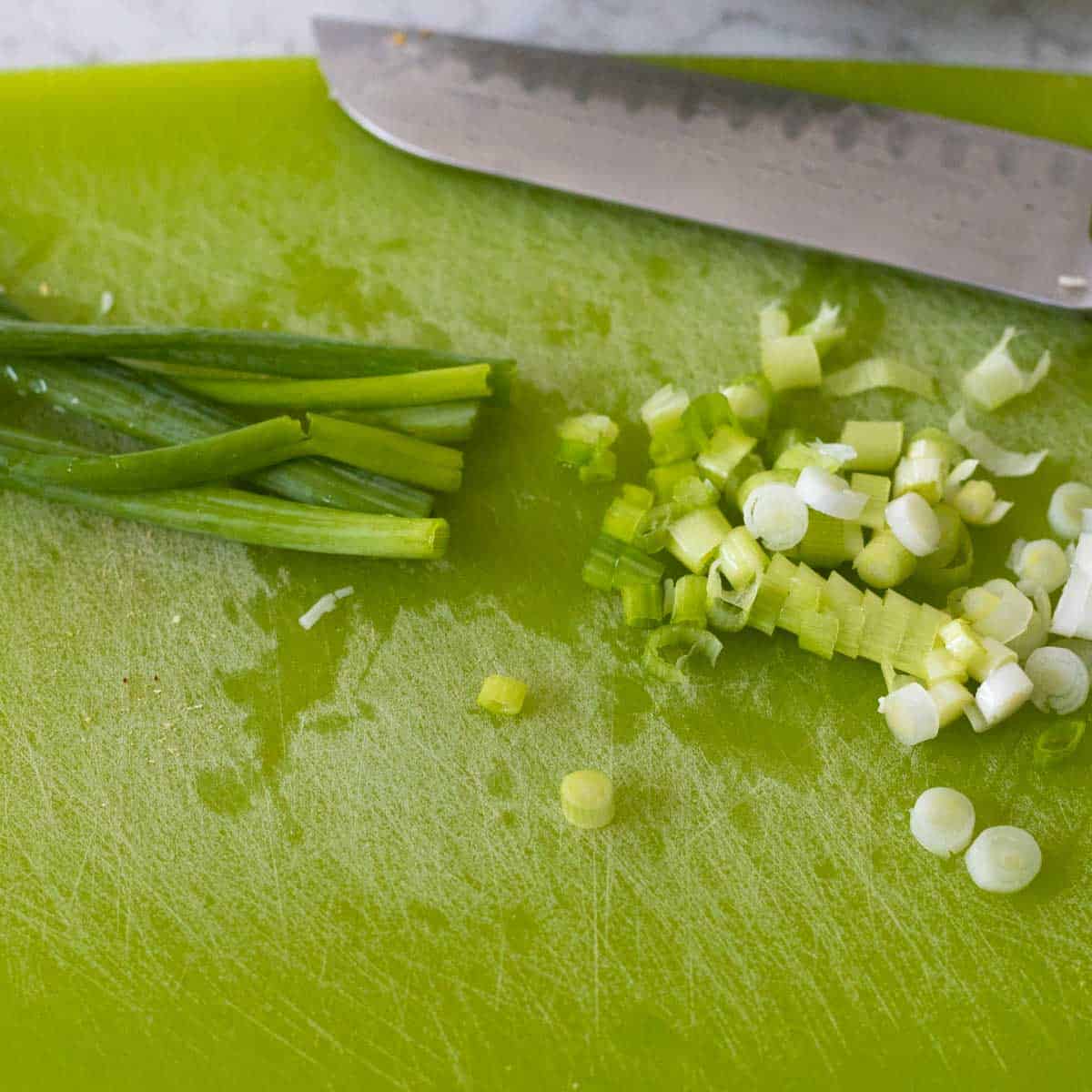 Make the Buffalo Chicken Base
You can absolutely use store bought wing sauce for this recipe. I did, it tasted great.
However, if you can't find wing sauce, there's no reason to skip the recipe!
You can make this easy homemade buffalo sauce in just a couple minutes:
In a large skillet, melt the butter until it bubbles over medium-high heat.
Add the minced garlic and the chopped white part of the green onions. Stir and cook until the onions are softened and the garlic is golden brown.
Add the wing sauce to the skillet and stir. Add just HALF of the chicken meat to the skillet and gently stir to coat.
Let the chicken and sauce sit until it starts to bubble.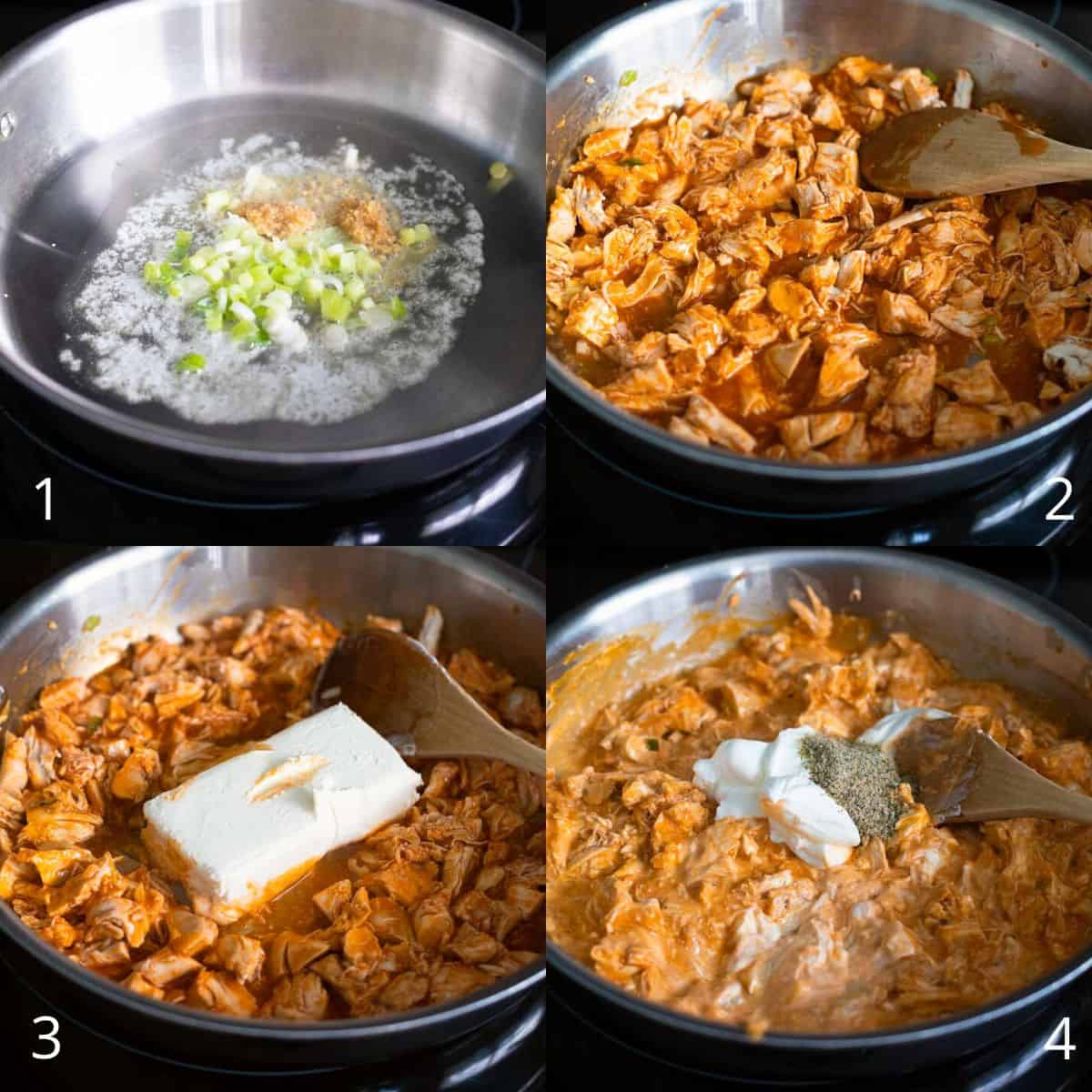 Turn the heat down to medium-low and add the brick of cream cheese.
Break the cheese up with your cooking spoon as it melts. Gently stir it into the sauce being careful to not stir the chicken too much so it doesn't fall apart.
Add the sour cream and ranch seasoning to the skillet and fold them in until combined.
Add the remaining half of the chicken to the sauce and gently fold in.
Baking Instructions
Preheat the oven to 375°F.
Spread the prepared buffalo chicken dip into a 1 quart baking dish.
Sprinkle shredded Monterey Jack cheese over the top.
Bake for 10 minutes or until the cheese has melted and is starting to turn golden brown and the dip is bubbling hot.
Sprinkle the blue cheese crumbles over the top and bake or broil for 1 - 2 minutes.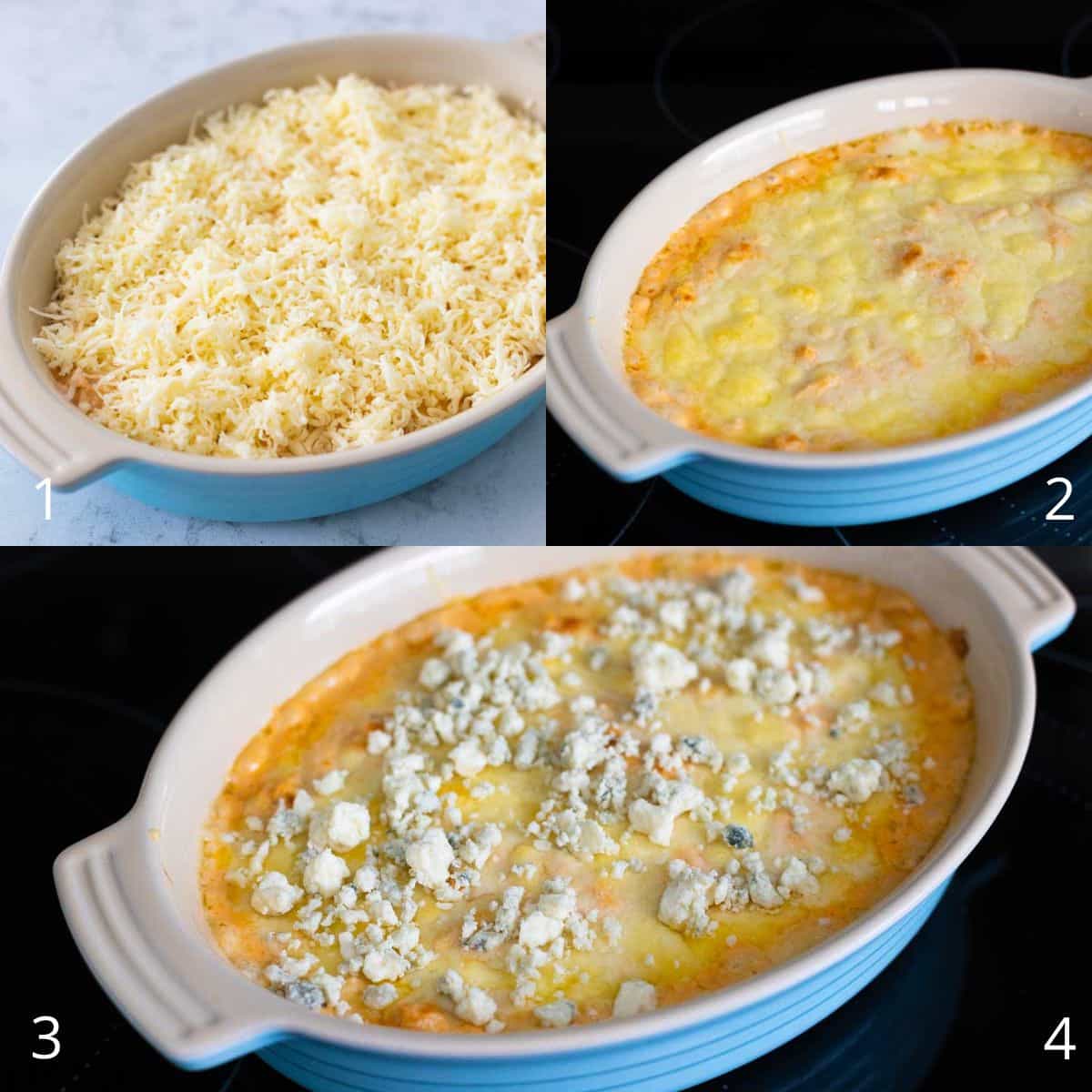 The dip is ready when the cheese looks toasted and the dip is bubbling hot.
Be Very Careful! It will be blazing hot to eat. It is best to let it sit for at least 5 - 10 minutes before trying to put it in your mouth.
Make Ahead Tips
This is a fantastic make ahead dip for a party. You could prep the buffalo chicken dip right up to the point where you spread it in the baking dish.
Then just cover it with plastic wrap or foil and store in the refrigerator for up to 24 hours.
Let it sit on the counter for 30 minutes before baking so the baking dish isn't so cold.
You'll need to add a few more minutes of baking time for it to warm all the way through.
Do not try to freeze the dip. All that cheese and sour cream will become watery when it thaws.
Serving Suggestions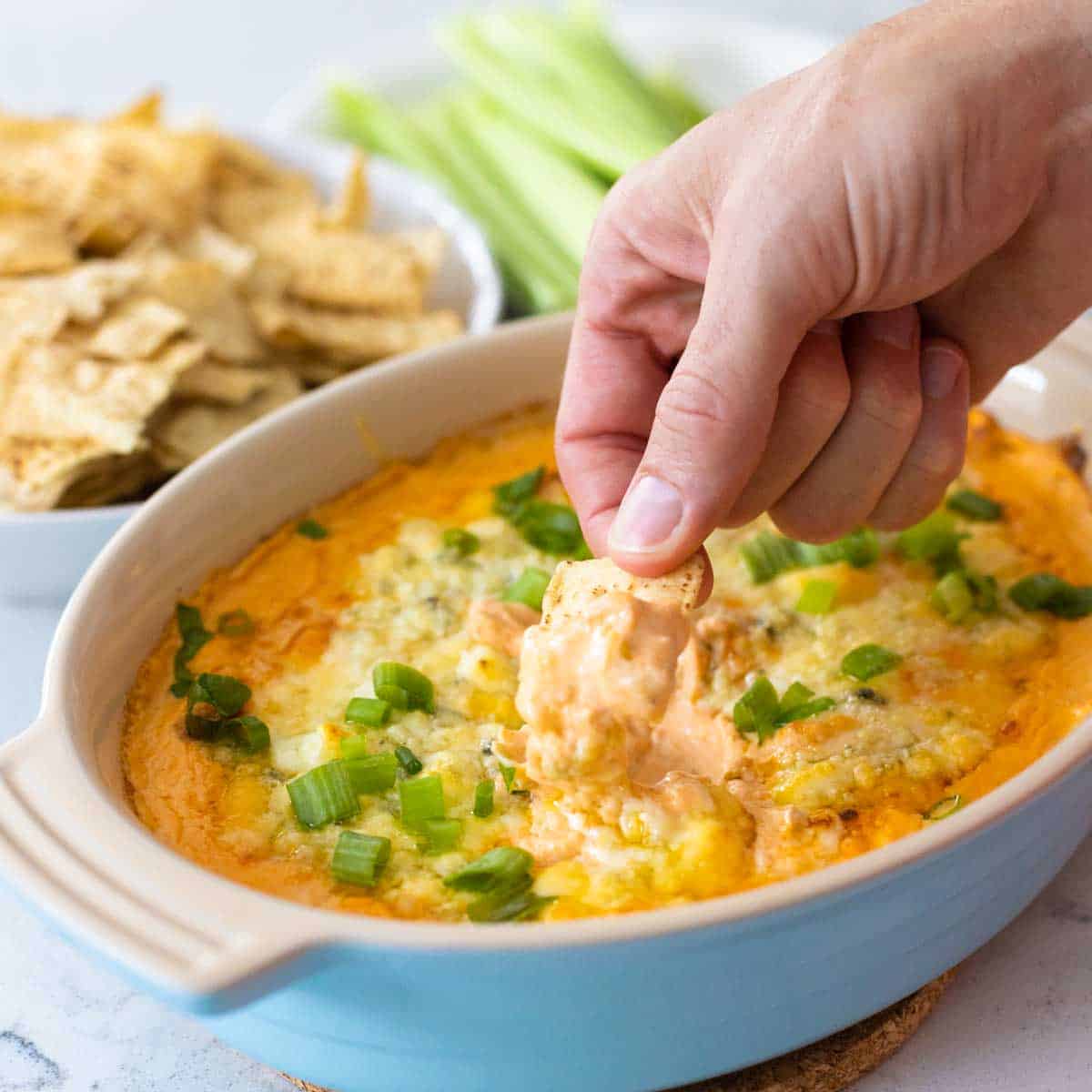 I served our dip with crispy tortilla chips, fresh celery sticks, and a sprinkle of green onions over the top.
You could also serve it with pita wedges, buttery crackers, baby carrots, or baguette slices.
Remember to remind your friends to wait to try to eat it until it has had a chance to cool for a few minutes. Bubbling cheese can quickly burn your mouth.
We actually think the dip tastes even better when it has cooled down and is just luke warm. This dip will sit on your party table for a long time and be utterly delicious.
More Buffalo Chicken Recipes
If you love buffalo chicken as much as we do, don't miss these other fantastic ways to enjoy that flavor combination:
More Baked Dips
If you're looking for more hot dips to serve at your next special event, don't miss these other family-favorites:
📖 Recipe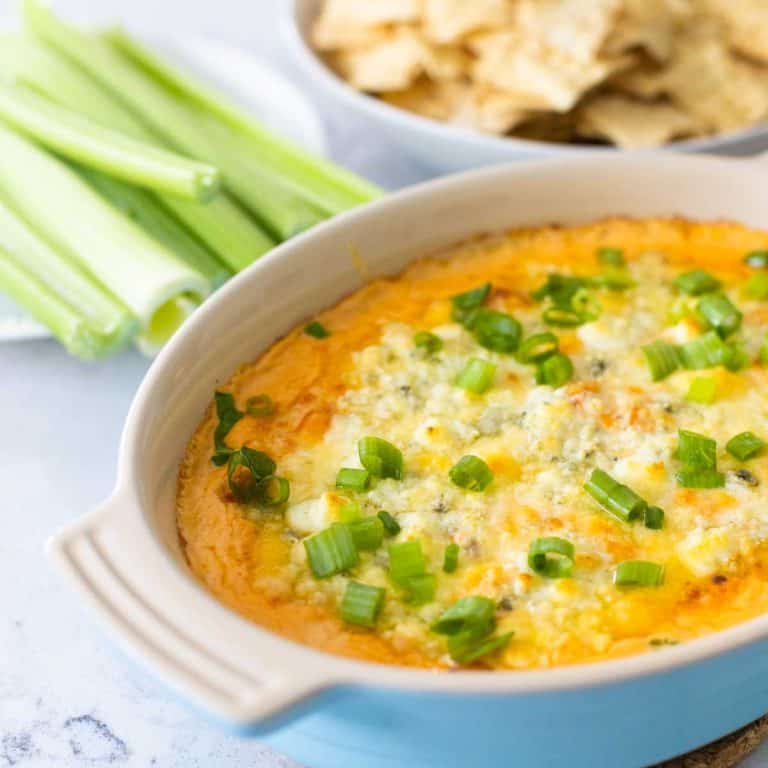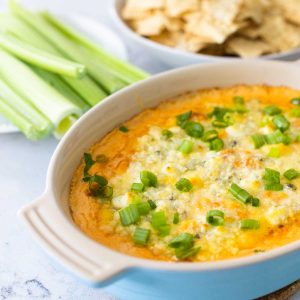 Buffalo Chicken Dip
This chunky buffalo chicken dip is loaded with meat and over the top with flavor. Spicy buffalo wing sauce heats up a thick and creamy ranch flavored base and is baked to a golden, bubbly perfection. Serve with tortilla chips or pita wedges, and crispy celery.
Ingredients
For the Buffalo Chicken Dip:
1

tablespoon

butter

2

teaspoon

minced garlic

2

green onions

white and greens separated and then chopped

2

cup

cooked chicken breast

chopped and divided

¾

cup

Buffalo wing sauce

homemade or prepared like Texas Pete Wing Sauce

1

(8 oz) package of cream cheese

½

cup

sour cream

½

tbsp

dried Ranch seasoning

1 ¾

cup

shredded Monterey Jack cheese

⅓

cup

crumbled blue cheese
For Serving:
Baguette slices, Tortilla chips, Pita wedges, Hearty Crackers

pick 1 or 2

Raw celery sticks

optional

Baby carrots or Carrot sticks

optional
Instructions
Preheat the oven to 375°F.

Preheat a large skillet over medium-high heat. Add the butter and melt it until it bubbles. Add the garlic and the chopped white part of the green onions. Stir them and cook for 30 seconds or until fragrant and the garlic starts to turn golden.

Add the wing sauce to the pan along with just half of the chopped chicken. Stir gently. Bring the mixture to a simmer and cook until the sauce is bubbly. Let cook for 1 minute without stirring.

Reduce the heat to low and add the cream cheese. Break it up into chunks as it warms through and gently fold it into the hot buffalo sauce. Turn the heat off the burner.

Fold in the sour cream and dry ranch seasoning. Gently fold in the remaining half of the chopped chicken. Transfer the mixture to a 1 qt baking dish. Sprinkle the shredded Monterey jack cheese over the top and transfer to the oven.

Bake the dip for 10 minutes or until the cheese has melted and the dip is bubbling hot.

Place the baking dish on the stovetop and turn on the oven's broiler. While the broiler preheats, sprinkle the blue cheese over the top. Broil the dip for 1 - 2 minutes until the top is bubbly and starting to turn a golden brown.

Just before serving, add the remaining green parts of the chopped green onions. Serve along with the pieces of bread, chips, or crackers and crispy celery sticks. The dip tastes best once it has been allowed to cool for 10 minutes after baking. It will be blazing hot right out of the oven.
Recipe Notes
Extra Chunky Buffalo Chicken Dip
For extra-hungry times or if you prefer a really meaty chicken dip, double the amount of chopped chicken to a full 4 cups. You won't need to adjust the rest of the sauce.
Add 2 cups with the wing sauce and fold in the remaining 2 cups after the sour cream.
Make Ahead Tips
This is a perfect make ahead party dip. You can prepare the base sauce up to 24 hours in advance. Spread it into the baking dish and cover with aluminum foil. Store the dip in the fridge.
Before baking, sprinkle the Monterey Jack cheese over the top. You may need to add a few minutes of baking time for the dip to warm through completely.
Save This Recipe to Your Recipe Box
Find this delicious recipe next time you visit by saving it to your very own recipe box on my site. All your favorites stored in one easy place!