Spicy buffalo chicken salad is a great lunch recipe to prep ahead and enjoy all week long. Make the salad dressings and chicken salad once and have a quick lunch at your fingertips.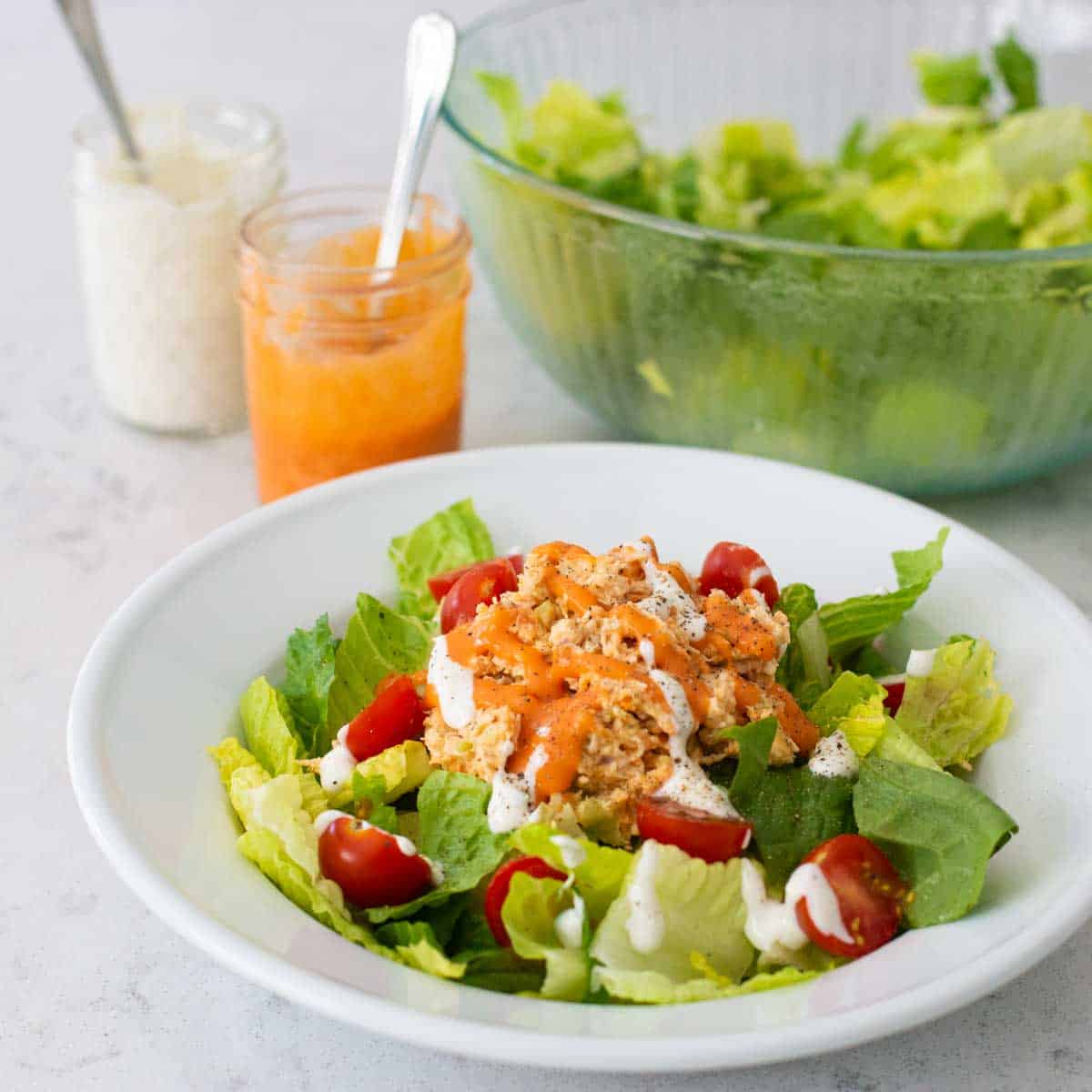 When the weather heats up, I love to keep salad fixings ready to go in the fridge for easy dinners that don't require heating up my oven.
This spicy chicken salad could easily be made with a rotisserie chicken. Mix together the easy buffalo sauce and blue cheese dressing in minutes and there's no cooking involved!
I actually prepped this chicken salad on a Monday morning so I could have easy lunches all week long. I loved being able to grab all the ready-to-go ingredients for a delicious lunch in minutes during a busy week.
Jump to:
Why This is the Best Recipe
This is the best buffalo chicken salad recipe because:
Easy Prep: You don't even have to turn on the oven. The prep just involves some chopping and measuring.
Control the Spice: You can adjust the buffalo sauce to be extra spicy or very mild depending on the hot sauce you use. You can also adjust just how much of the buffalo sauce you drizzle over your own salad.
Loaded with Flavor: The chicken salad is mixed with more veggies including celery and carrots for great texture and tons of flavor.
Big Batch or Small: The recipe provides 4 generous servings but is easy to double if you'd like to make more to have on hand for your family.
Ingredients
The chicken salad has four main parts:
Bed of Greens: I used romaine but you could use any crunchy salad greens you prefer or a container of spring mix.

Buffalo Chicken Salad: The chicken salad itself has a little buffalo sauce mixed in. It tastes a lot like my baked buffalo chicken dip but is healthier with all the veggies mixed in. You could use this chicken salad for a wrap or sandwich or eat it on it's own with crackers. I just think it tastes great on top of an actual bed of lettuce, too!

Buffalo Sauce: For extra kick, drizzle a little extra buffalo sauce over the salad greens. I prefer using homemade buffalo sauce because I can control the heat and the ingredients are so much better than what comes in the prepared bottle. My recipe only takes 5 minutes to make and is super easy!

Blue Cheese Dressing: This healthy blue cheese dressing is made with Greek yogurt and comes together in just minutes.
How to Make the Chicken Salad
The dressings should take you five minutes or less. If you use pre-washed lettuce, there will be no work there.
The only ingredient that requires a little more hands-on time is the buffalo chicken salad itself.
Start with Cooked Chicken
If you want to keep this recipe super easy, I suggest you start with a shredded rotisserie chicken.
If you don't want to use a rotisserie chicken, you could poach chicken breasts or use my favorite air fryer chicken tenderloins.
Chop the Veggies
The veggies you need include:
Celery stalks
Baby carrots
Red onion
Lettuce
Cherry tomatoes
I used a food processor to keep this extra easy, but you could chop everything by hand with a knife if you prefer.
Chop the celery and carrots into fine, minced pieces. This helps the texture of the chicken salad to be more bite-friendly. Especially if you plan to use it in a wrap or with crackers.
PRO TIP: Avoid Heartburn from the Red Onion
Does raw onion give you heartburn like it does for me? The best trick is to thinly slice the red onion and soak it in a small dish of ice water for 5 minutes.
Drain the onion from the water and then mince it for the salad. The ice bath helps take away the harshness of the onion.
Chop the lettuce as you would for a salad, in larger bite sized pieces.
Wash and slice the cherry tomatoes in half.
Mix the Chicken Salad Together
Once the veggies are prepped, mix together the cooked chicken, celery, carrots, red onion, mayonnaise, and just ¼ cup of buffalo sauce in a medium sized mixing bowl.
I used light mayo made with olive oil to help lighten up this recipe.
Assemble the Salad
When you're ready to serve, place a generous serving of lettuce greens in your bowl.
Top with a scoop of the buffalo chicken salad.
Scatter the chopped tomatoes.
Drizzle a little more buffalo sauce over the top for color and to dress the greens.
Drizzle a little blue cheese dressing over the top.
OPTIONAL: You could also sprinkle chopped green onions over the top.
Prep Ahead Tips
The lettuce, buffalo sauce, and blue cheese dressing, and chicken salad mixture can all be prepped in advance and kept in the fridge.
In fact, I think the chicken salad tastes even better the next day!
The cherry tomatoes do better if you slice them fresh before serving rather than chopping them in advance.
Variations
There are a few ways you could play around with fun variations for this recipe:
Spicy Ranch Chicken Salad: Substitute your favorite ranch dressing instead of the blue cheese.
Deconstructed Chicken Salad: Rather than assembling the mixture of chicken salad, you could chop the celery and carrots into larger pieces and serve everything separately. This would be a great option for serving kids and would let them build their own salad with the elements they enjoy most.
Buffalo Chicken Salad Wraps: Assemble all the ingredients as directed and then roll green lettuce topped with the chicken salad and sauces into a large burrito sized tortilla for homemade wrap sandwiches.
Buffalo Chicken Sandwiches: You could serve a scoop of the chicken salad topped with a drizzle of sauce on a toasted hamburger bun.
Buffalo Chicken Flatbread: You could use my pizza dough recipe and this buffalo chicken mixture as a warm or room temperature flatbread.
Storage Tips
I recommend storing all the elements of the salad separately so the lettuce texture remains crispy.
I kept each of the sauces in their own separate mason jars in the fridge.
I keep my washed and chopped lettuce in a big glass bowl with a lid.
Store the chicken salad in an airtight container in the fridge.
Everything tasted as great on Day 5 as it did on Day 1, but I wouldn't plan to keep it any longer than that.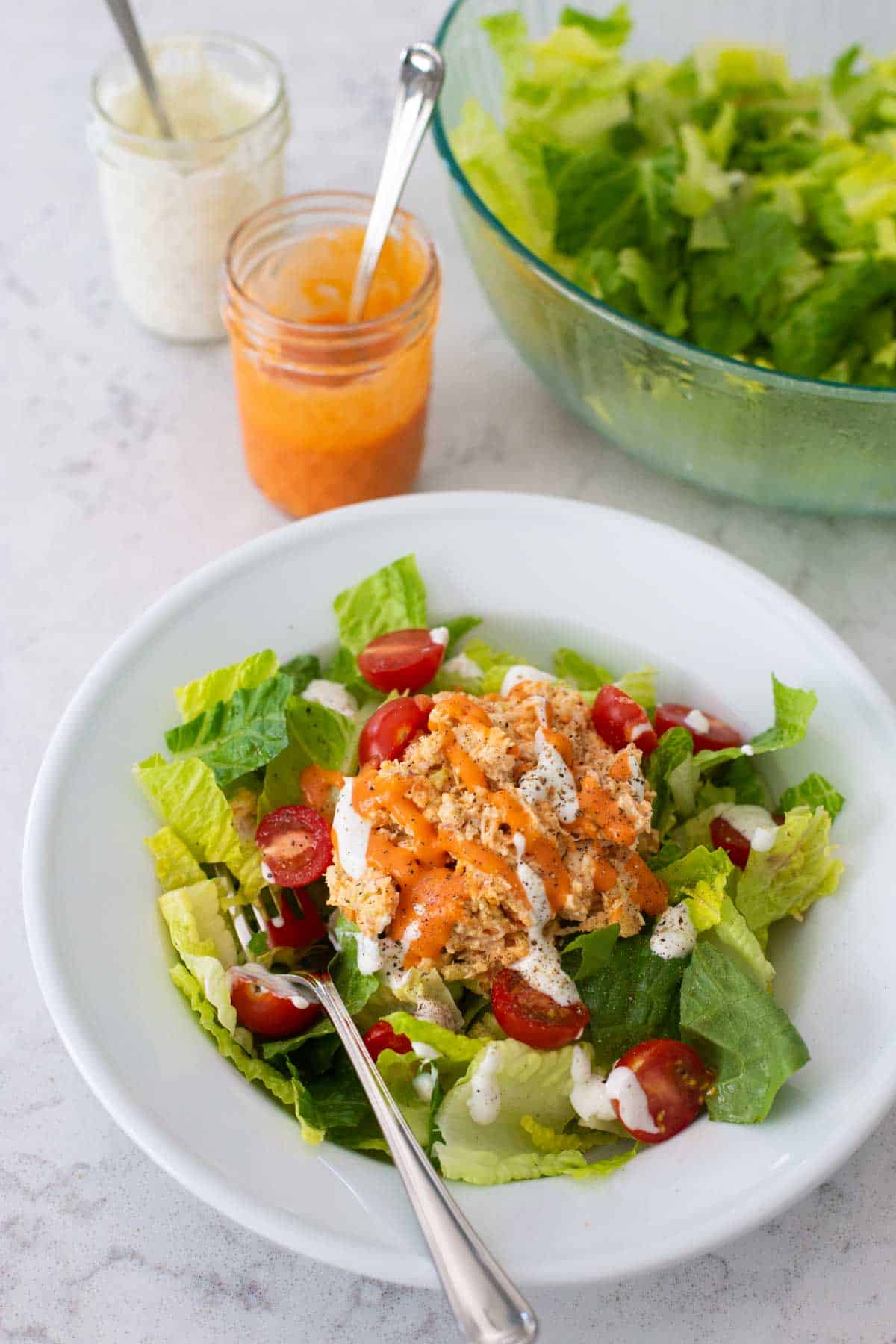 Serving Suggestions
I love how this is a hearty, satisfying low carb lunch option for me.
But if I wanted to serve this for family dinner I would probably add one of these tasty homemade breads on the side.
This easy brown bread or whole wheat hamburger buns are just sweet enough to balance the spicy chicken salad if you wanted to turn the chicken salad into a buffalo chicken salad sandwich.
You could tuck a few pieces of homemade crostini or sprinkle these easy homemade croutons over the salad itself.
More Chicken Salad Recipes
If you love chicken salads for lunch, don't miss these other tasty recipes:
📖 Recipe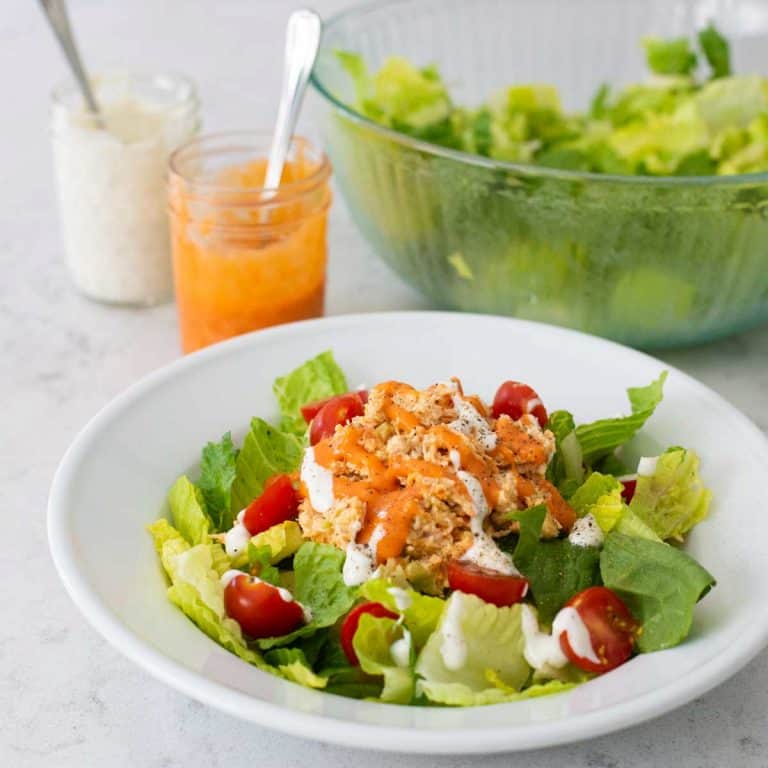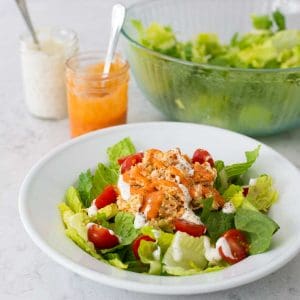 Buffalo Chicken Salad
This spicy chicken salad makes a great low carb lunch idea but could be turned into an easy family dinner with a side of homemade bread or crunchy croutons.
Ingredients
2

chicken breasts

cooked and shredded *SEE NOTE

2

stalks celery

4

baby carrots

¼

red onion

¼

cup

light mayonnaise made with olive oil

¼

cup

buffalo sauce

*SEE NOTE

Romaine lettuce

Cherry tomatoes

Light blue cheese dressing

*SEE NOTE
Instructions
Shred the cooked chicken and place it in a medium sized mixing bowl.

Mince the celery and carrots in a food processor or by hand with a chef knife and add them to the bowl.

To avoid heartburn, thinly slice the red onion and soak in a small dish of ice water for 5 minutes. Drain and then mince and add to the mixing bowl.

Add the mayonnaise and buffalo sauce to the bowl, stir to combine all the chicken and veggies.
TO SERVE:
Place a serving of romaine lettuce in a bowl. Top with a scoop of prepared chicken salad. Slice the cherry tomatoes in half and sprinkle them on top. Drizzle with additional buffalo sauce as desired and a drizzle of blue cheese dressing.
Recipe Notes
FOR THE COOKED CHICKEN:
You could use:
FOR THE BUFFALO SAUCE:
You could use either a prepared bottle of buffalo sauce from the store or make this easy 3-ingredient homemade buffalo sauce in under 5 minutes. This lets you control the heat.
FOR THE BLUE CHEESE DRESSING:
You could use either your favorite prepared bottle of dressing from the store or make this easy healthy blue cheese dressing recipe made with Greek yogurt. It has just 6 ingredients and is made in just a minute.
Save This Recipe to Your Recipe Box
Find this delicious recipe next time you visit by saving it to your very own recipe box on my site. All your favorites stored in one easy place!