This healthy blue cheese dressing is made with blue cheese crumbles, creamy Greek yogurt, light mayonnaise, and fresh lemon juice. Packed with flavor for topping a salad but makes a great blue cheese dip for spicy chicken wings, too.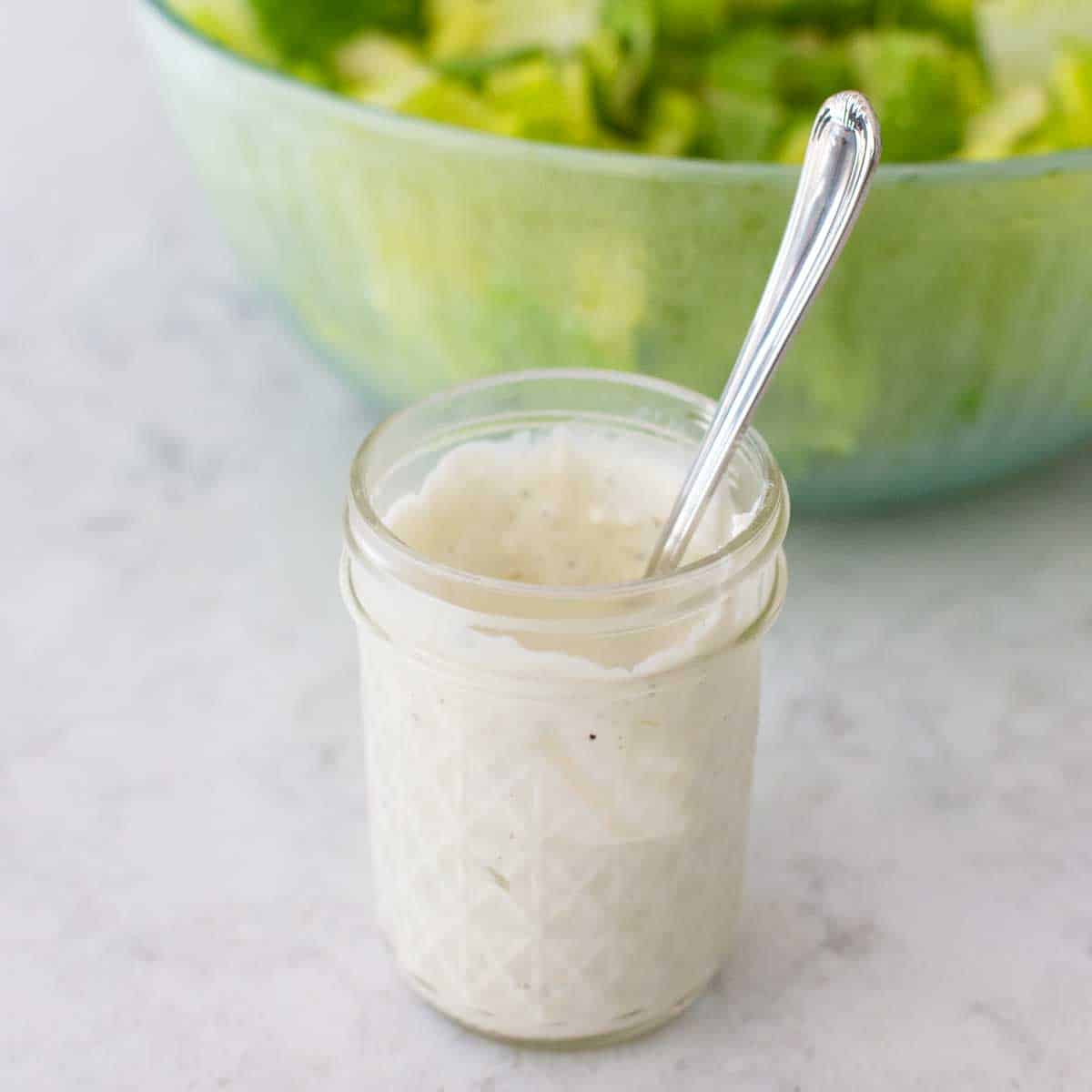 Blue cheese dressing is an excellent choice for topping your salad because it is so filled with flavor that a little goes a long way.
All you need is a little dollop of this creamy blue cheese dressing to pair with your lettuce and chicken.
The flavorful blue cheese crumbles are combined with thick and creamy Greek yogurt and then thinned out for drizzle consistency with fresh squeezed lemon juice and white wine vinegar.
I enjoyed this as a salad dressing for a spicy buffalo chicken salad all week long but it would make an amazing topping for a buffalo chicken sandwich or as a blue cheese dip for spicy chicken tenders or wings.
Jump to:
Why This is the Best
This is the best blue cheese dressing recipe because:
Short List of Ingredients: You only need a handful of things to make homemade blue cheese dressing, it is so easy!
Budget-Friendly: I love that it uses up an entire container of yogurt with no leftovers. Since there is no buttermilk in this recipe, you won't be stuck with half a carton you're not sure how to use.
Lighter and Healthy: The light yogurt and mayo helps to keep this dressing balanced and truly, a little goes a long way. You only need a little dollop to taste big blue cheese flavor.
Ingredients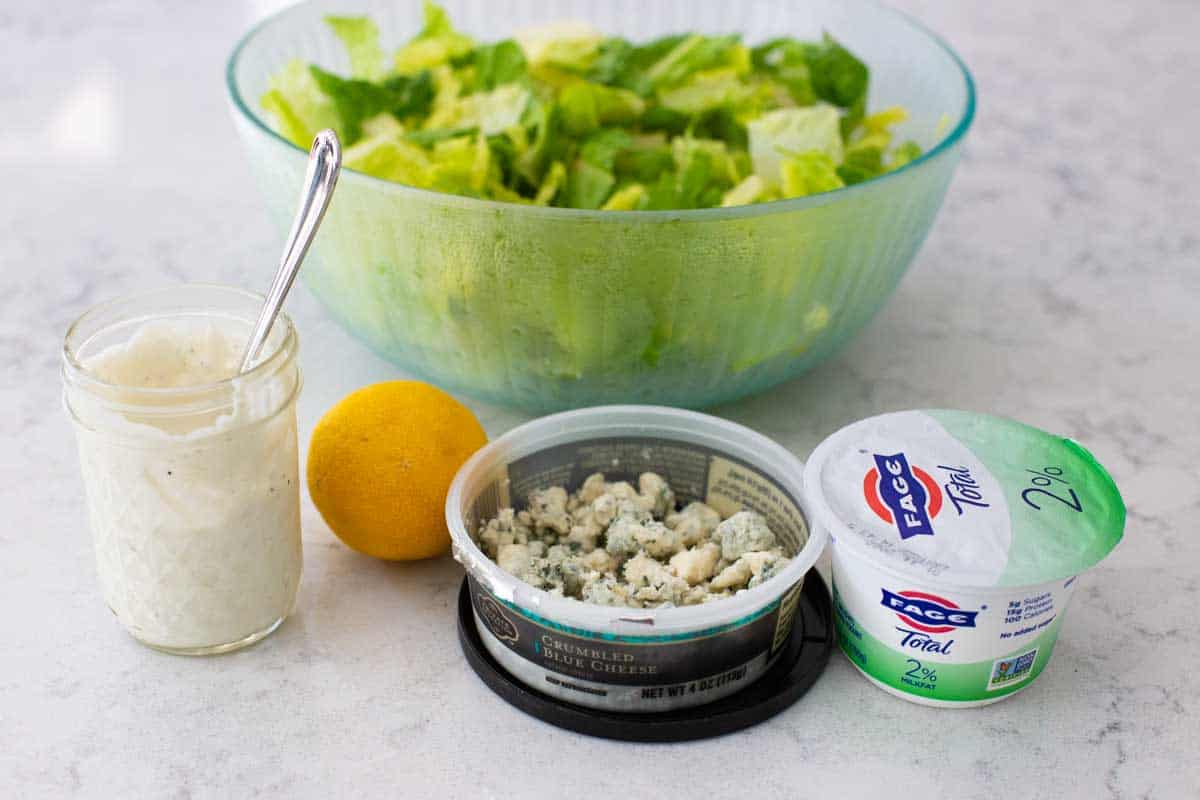 You probably have most of what you need in your pantry, there are just a few things to pick up fresh from the store:
Blue Cheese Crumbles: You could buy a wedge of blue cheese if it is on sale and just crumble it yourself, but I love the convenience of buying the pre-crumbled cheese container.
Container of Greek Yogurt: I always buy the 2% fat version so my recipes are a little lighter. You could buy the fat free variety if you prefer.
Light Mayonnaise: I buy the kind that is made with olive oil.
Fresh Lemon
White Wine Vinegar
Garlic Salt
How to Make It
If you've never made homemade salad dressing before, this is going to be your favorite part.
To make this dressing, you simply mash the blue cheese crumbles into the yogurt with a fork. Then stir in the remaining ingredients.
The whole thing should take five minutes or less!
Storage Tips
I transfer the prepared dressing into a small mason jar with a lid.
It will keep well in your fridge for up to a week.
Serving Suggestions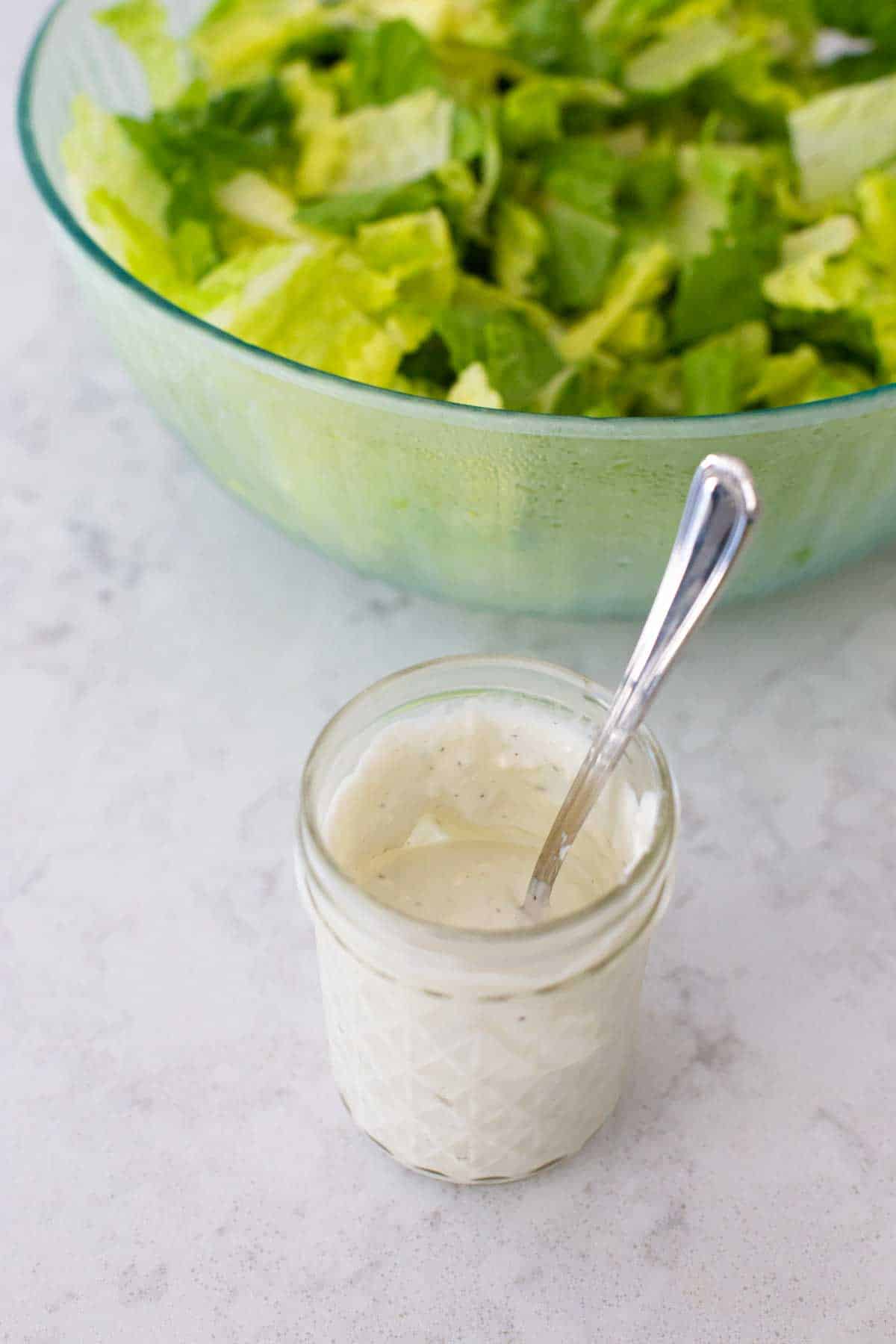 I made a batch of this dressing for my daily lunch salads on a Sunday and enjoyed it all week long on this yummy buffalo chicken salad recipe.
It would also be delicious in place of cheese on your favorite burger, drizzled over these yummy buffalo blue cheese chips, topped on a chicken slider, or dunked with your favorite healthy chicken tenderloins.
More Healthy Salad Dressings
Once you see how easy it is to make homemade salad dressings, and how much better they taste compared to the bottled kind from the store, you'll be eager to try more recipes!
Don't miss my favorite 3-ingredient lemon parmesan vinaigrette or this easy strawberry vinaigrette!