Grilling season passed you by? Learn how to make the best turkey burgers in your oven all year long!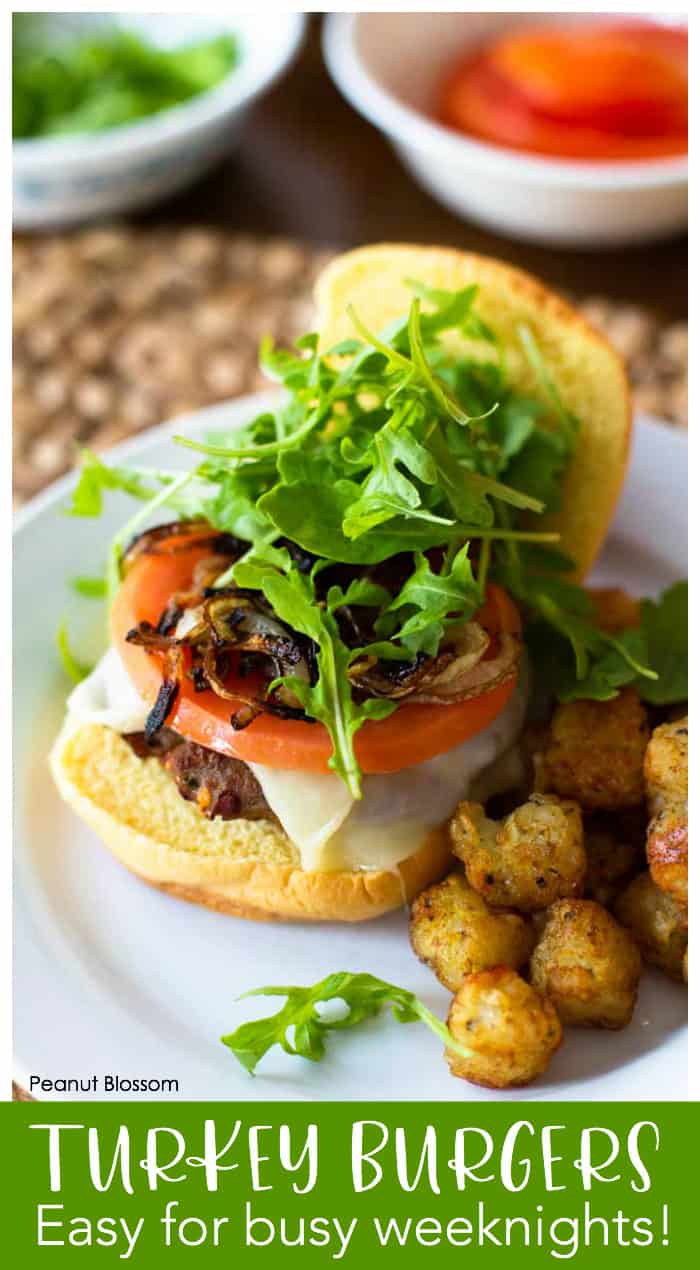 I do almost all the cooking for our family but I just don't grill, that is Tim's domain. Since he gets home fairly late and we don't want to hold up dinner for him to arrive to cook, we miss out on a lot of grilled recipes. Burgers are generally a weekend treat during the summer.
Additionally, we are trying to reduce how much red meat we eat and choose turkey and pork more when we tire of chicken. I'm always on the lookout for new recipes that are easy enough to make mid-week.
Last Sunday I spotted an awesome recipe from the "What's Gaby Cooking" cookbook I purchased earlier this year. Many of her recipes require a few extra elements that need significant prep work, so I tend not to think of them for busy weeknights.
But when I took a closer look at this recipe, I realized that with a few of my own shortcuts, I could easily prep this for the whole family even on the busiest night of our entire week.
Turkey burgers get a bad reputation for being very dry. This recipe mixes them with flavorful, fresh ingredients that help boost the moisture. By broiling them in the oven, they get a quick flash of heat but it isn't quite as intense as our outdoor grill.
The kids absolutely devoured them. Our only regret was that I didn't double the recipe so we could have leftovers the next day.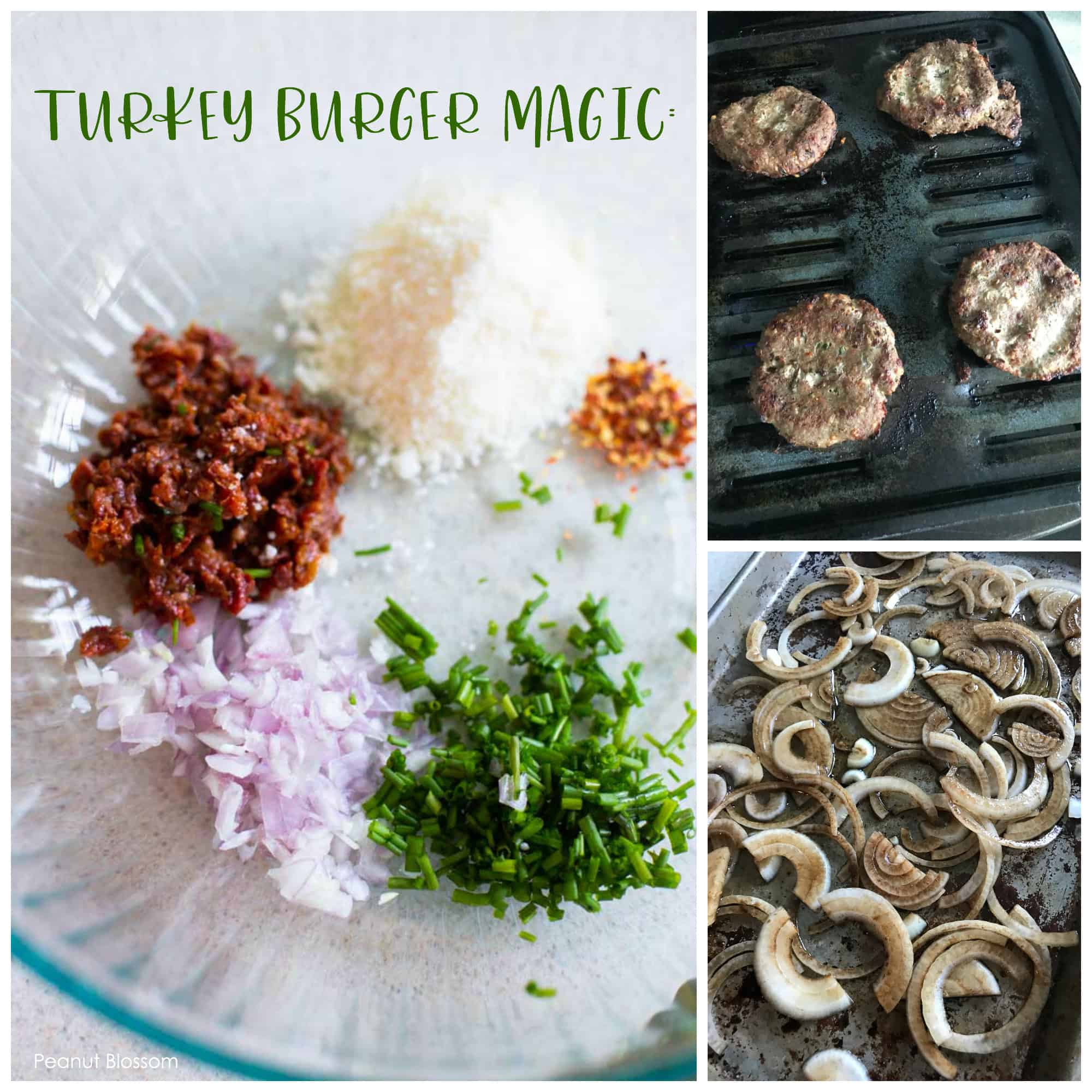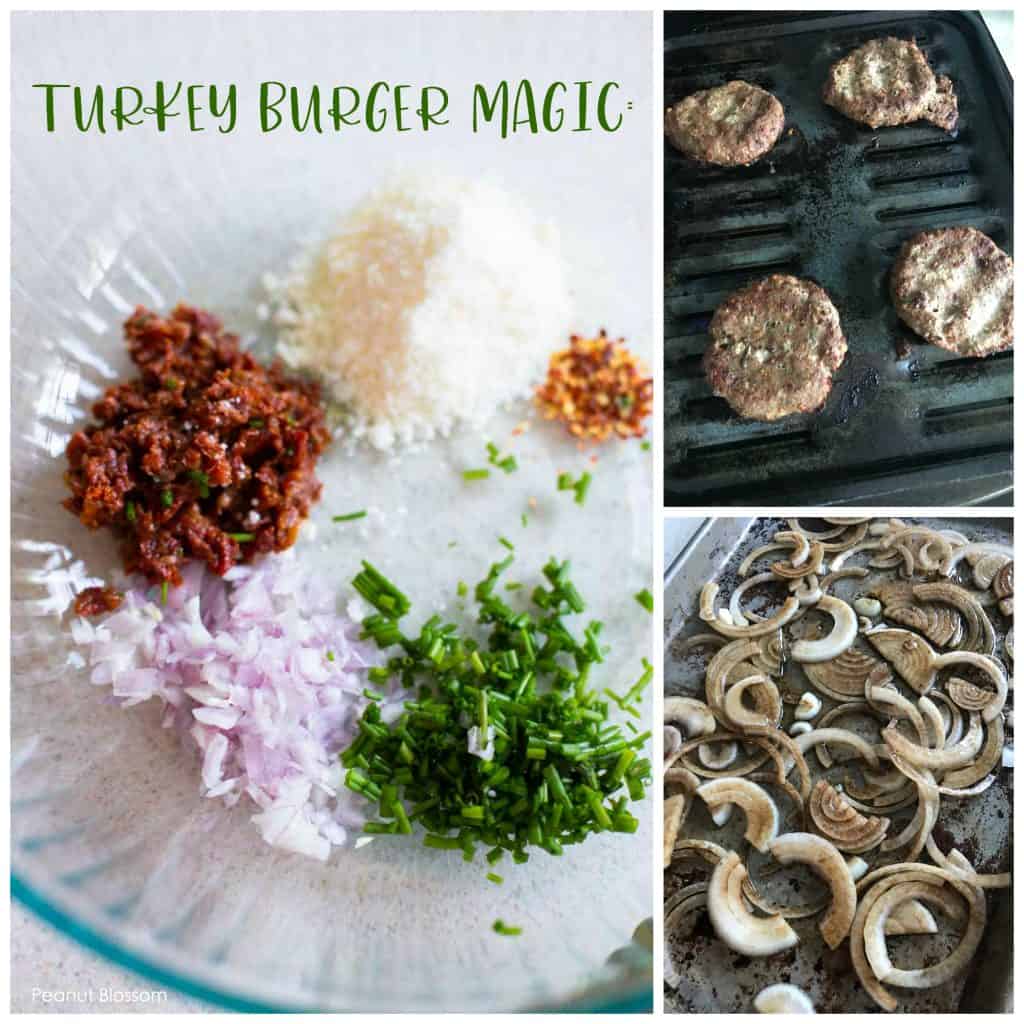 How to make turkey burgers in oven:
I LOVE our broiler pan, it lets me mimic grilled food right in my oven. It is a two-piece pan with a grated top. I line the bottom with aluminum foil for easy clean-up since the fat tends to cook off and drip down into the bottom collection pan. This makes our burgers crispy on the outside because of the airflow and juicy on the inside because they don't have to cook too long to cook all the way through.
How to time baking the entire turkey burger meal:
We served our Italian turkey burgers with Gabby's balsamic onions, fresh tomato, and arugula. My girls requested tater tots as the side dish. To prepare everything in a timely manner, this was my workflow:
Make the onions. You can slice the onion and have them roasting in almost no time at all. While they cooked, I prepped the rest of the meal. They are SO good, they are worth the extra 2 minutes at the front end.
Prepare the turkey burger patties: Prep all the ingredients and form the patties. Store them on a plate or pan until you are ready to cook them.
Bake the tater tots (optional): If you're baking a side dish, I recommend doing so BEFORE you finish the turkey burgers. The burgers cook so quickly and are best served warm. I simply put an aluminum foil tent over the finished tots while we waited for the burgers.
Broil the turkey burgers in your oven: It should only take 9 minutes total-- 5 minutes on the first side, 4 on the other side.
Top the burgers with the cheese so it melts and serve
A note on making Italian turkey burgers for kids:
There is a lot of "suspiciousness" going on with these burgers. I was super worried my kids wouldn't like them. I used some of my mom super-power tricks but in the end I was worried for nothing. The kids LOVED them and agreed it is absolutely a make-again recipe.
If you're worried about making these turkey burgers for your kids, I suggest these tricks:
Chop the veggies for the burger patties SMALL! You can't even see the sun-dried tomatoes in the patties, they almost melt right in if you chop them tiny enough. The green of the chives might be easier to spot, but hopefully it will be buried under the bun. The shallot shouldn't even add any crunch-factor if you cut it small enough. The ingredients inside the patties went completely unnoticed by my kids.
Serve all the toppings at the table in separate bowls: My girls did not want the fresh veggies on top of their burger, but that was our main veggie serving for the meal. I suggested they make a side-salad instead and they ended up eating a lot more arugula than they would have on their burger. Win-win.
Let them use ketchup: I preferred topping my burger with balsamic glaze, but ketchup still really does complement this particular burger patty. If it means your kids will eat it, go for it.
Looking for more easy weeknight dinners?