Making homemade hamburger buns with your bread machine is even easier than you might think. These healthy whole wheat hamburger buns come together in a snap and are perfect for enjoying with our favorite sun dried tomato turkey burger recipe.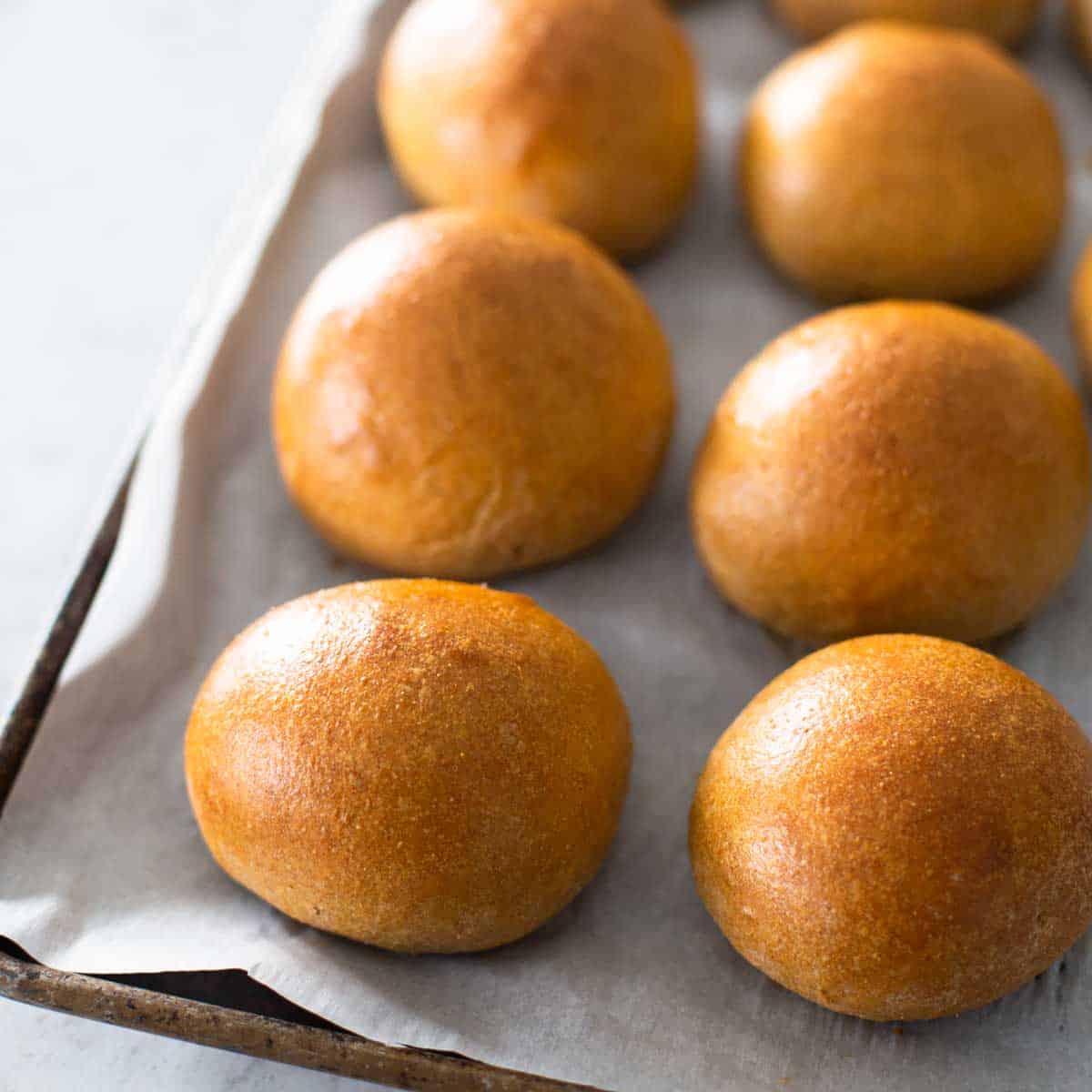 Once I discovered just how easy it is to make shaped breads out of dough from our bread machine, I immediately knew we had to tackle homemade whole wheat hamburger buns.
Any time I've purchased store bought packaged whole wheat buns, my family all agreed they taste more like cardboard. The from-scratch whole wheat bread from our bread machine proved just how delicious whole wheat breads can actually be.
Inspired by the honey whole wheat bread machine recipe in The Ultimate Bread Machine Cookbook, I wanted to create a bun that would pair better with our favorite hamburgers. I love the rich, nutty taste of the whole wheat and the hearty texture of these buns.
You can easily pop the ingredients for the dough into your machine at lunchtime and have fresh baked hamburger buns for a grill-out by early evening.
Jump to:
Why This is the Best Recipe
This is the best homemade whole wheat hamburger buns recipe because:
Easy: Use a bread machine to make the dough and you can bake them so easily!
Healthy: No preservatives are needed when you make them from scratch.
Hearty Texture: These delicious buns will hold up to your heartiest burgers and toppings.
Deep Flavor: The nutty flavor of the whole wheat is the perfect accent for a burger!
Ingredients
The ingredient list for this recipe is fairly short and uses things you will likely already have on hand in your pantry.
The unique items you may need to pick up include:
Whole wheat flour: My husband and I both prefer baking with the King Arthur 100% whole wheat flour. It has a 13.8% protein content and provides consistent results from bake to bake. You can likely find it at your grocery store or local Target but it can also be ordered on their web site for delivery.
A packet of instant yeast: You can use individual packets for ease but you won't need the entire packet for this recipe. If you think you'll enjoy doing a lot of baking in the next 3 - 6 months, it's better to invest in a full jar of instant yeast and simply measure 2 teaspoon of yeast for this recipe. Store the remaining jar in your fridge or freezer for the longest keep.
Equipment You Need
This is specifically a bread machine recipe but it doesn't matter which bread maker you have so long as it has a Dough program.
You will be baking the hamburger buns in your oven and forming the rolls by hand. These tools will come in handy and make your task easier:
Pastry scraper or pizza wheel for cutting the portions of dough
A pastry brush for the egg wash
A baking mat for working with the dough and protecting your counter
A half sheet pan lined with parchment paper
How to Make Hamburger Bun Dough in Bread Machine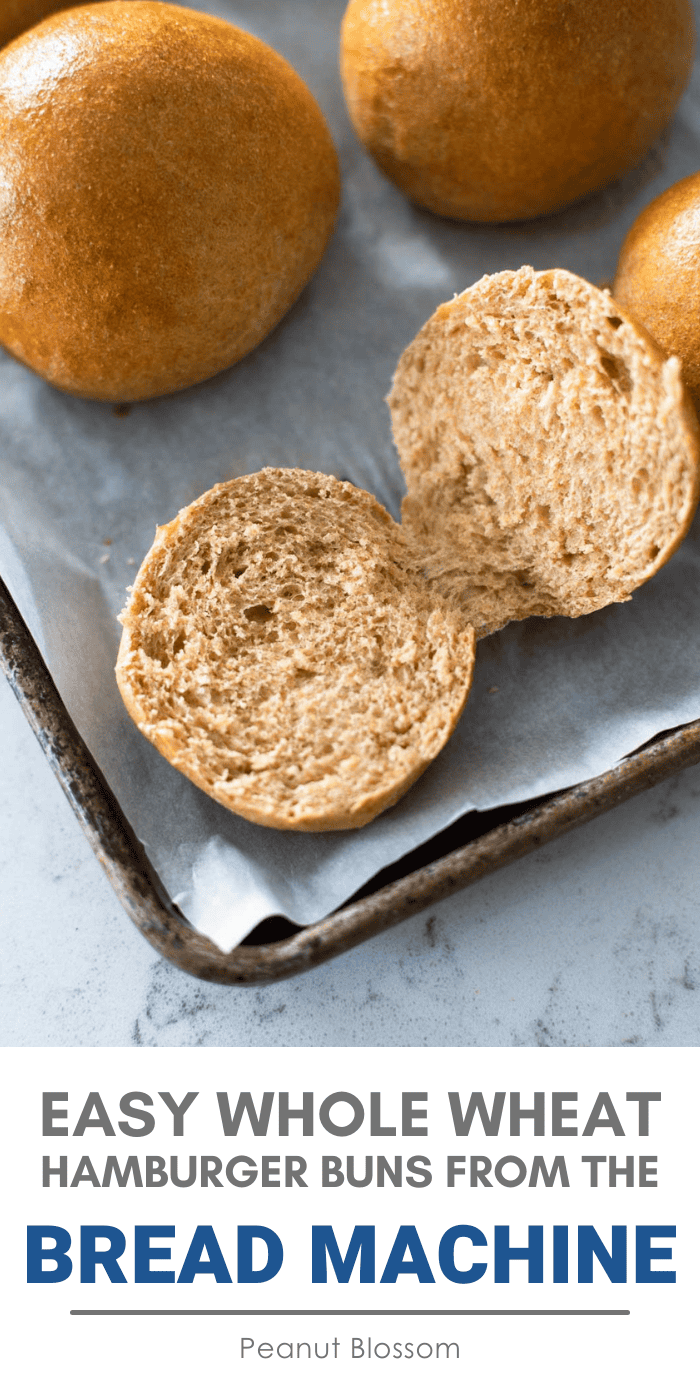 Make the Dough
If you've never used the Dough program on your bread machine before, there are a few useful things to keep in mind:
Add the ingredients in the order listed in the recipe:
For the dough to mix properly, this is a crucial first step.
Cut the butter into pieces:
If you try to drop a solid chunk of 2 tablespoon of butter into your bread machine, the small paddle will struggle to incorporate the butter evenly throughout the dough.
To help the bread maker do its job, cut the butter into 4 smaller pieces and scatter them in the bread pan.
Keep the yeast away from the salt:
When filling a bread machine pan, the yeast is the last ingredient to be added. Use the back of a spoon to form a well in the top of the flour for the yeast.
This helps keep the yeast away from the salt until it is time to be blended together. Direct contact with the salt can kill the yeast and prevent a nice rise.
Watch the first knead:
Not all bread makers are equal when it comes to forming the dough. Take a peek during the first knead cycle and scrape down the sides of the bread pan if you find dry pockets of flour collecting in the corners.
Serving Suggestions
The hearty nature of the whole wheat in the hamburger bun makes these rolls best served warm. At room temperature, the texture can have a very thick chew.
There are a few easy tricks for keeping the texture light and fluffier:
Plan to bake them 30 - 40 minutes before you plan to eat them. Slice and serve them when they are just cooled enough to touch.
Bake them ahead of time and reheat them in the oven. Simply place them on a pan in the oven and reheat at 350°F for 3 minutes.
Bake them ahead of time. When you want to serve them, slice open each roll and place them open face on a broiler-safe baking pan. Toast them under your oven broiler until golden brown.
📖 Recipe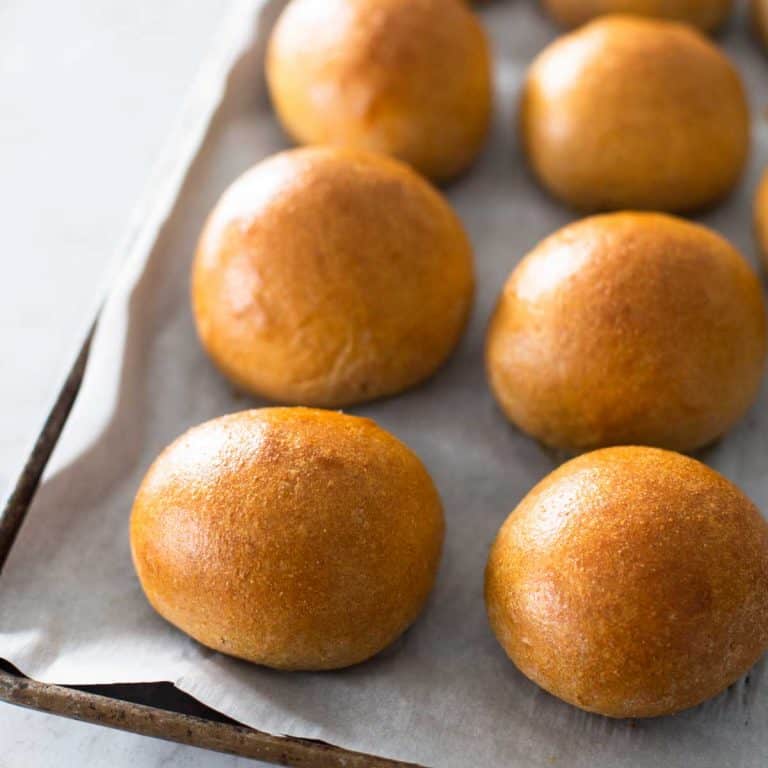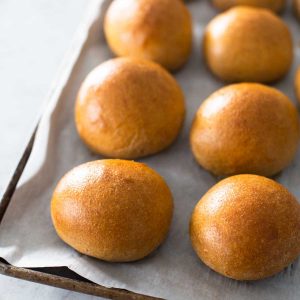 Whole Wheat Hamburger Buns
Use your bread machine to make a batch of easy whole wheat hamburger buns. The deep flavor and texture of these whole wheat buns are so much better than anything from the grocery store.
Ingredients
1

cup

+ 3 tablespoon 2% milk

1

large egg

2 ½

tablespoon

butter

softened and cut into pieces

2

cups

(274 g) whole wheat flour

1 ⅓

cups

(183 g) bread flour

2 ½

tablespoon

sugar

1 ½

teaspoon

salt

2

teaspoon

instant yeast
For the Egg Wash:
1

large egg

1

tablespoon

water
Instructions
Add the ingredients to your bread machine in the order they are listed, starting with the milk and ending with the yeast.

Set the machine to the Dough setting, most machines take about 1 hour and 30 minutes to finish the cycle.

Once the dough cycle is complete, transfer the dough to a lightly floured work surface. Use a pastry scraper tool or knife to divide it into 10 equal portions. Shape them into round buns by folding the dough up underneath each ball and pinching the seam closed. Spread the rolls evenly on a baking pan lined with parchment paper.

Cover the shaped buns with plastic wrap and let rise for 1 hour and 30 minutes or until they have almost doubled in size. It helps to keep them on top of the stove while the oven preheats.

Preheat the oven to 400°F.

Whisk together the second egg and tablespoon of water to form an egg wash. Use a pastry brush to brush evenly over the top of the buns to add shine and color.

Bake the buns for 10 - 13 minutes or until the internal temperature reads 200°F. They will brown very quickly at the end, watch carefully so they don't burn.
Recipe Notes
To Freeze:
Completely cooled buns can be frozen in an airtight bag for up to 3 months. Let them thaw overnight before you intend to use them. Reheating briefly in the oven will help restore their texture.
Save This Recipe to Your Recipe Box
Find this delicious recipe next time you visit by saving it to your very own recipe box on my site. All your favorites stored in one easy place!