This rum glazed pork tenderloin is one of our all-time favorite grilling recipes during the summer. Serve it with fresh grilled peaches as a simple side dish.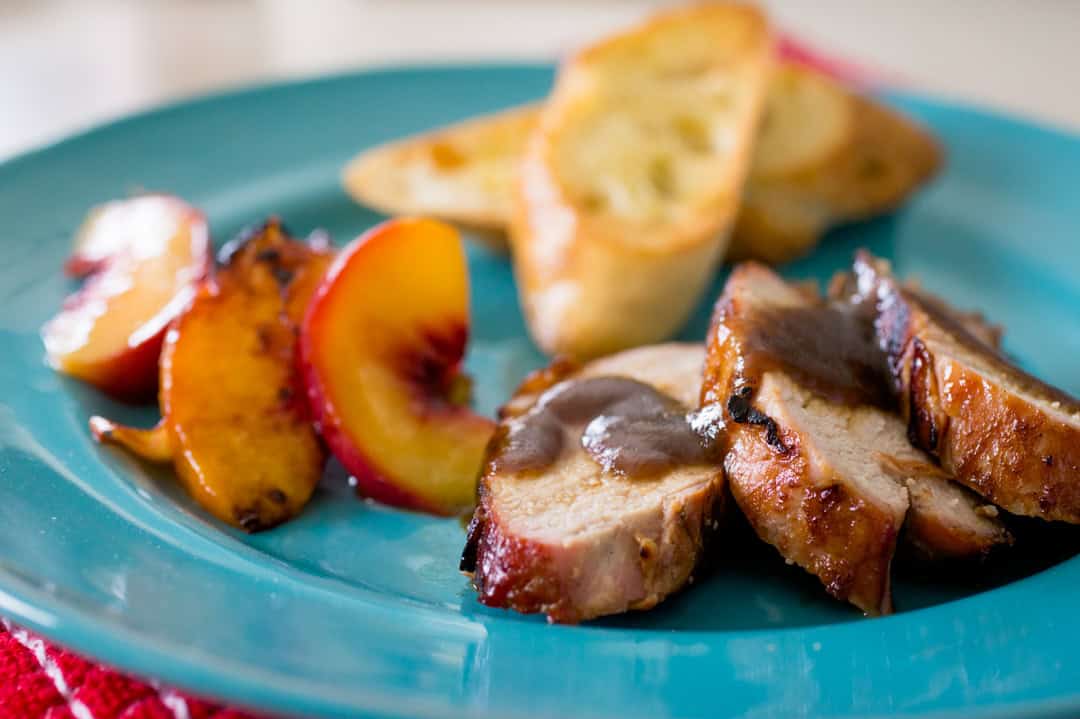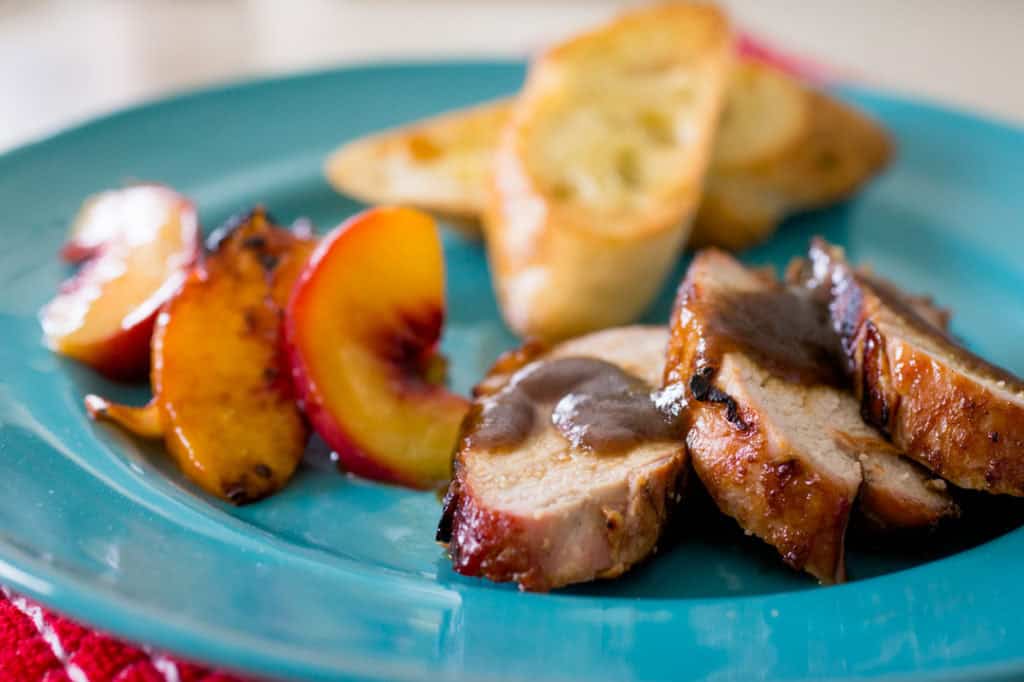 We are far enough into grilling season that the usual hamburgers and bbq chicken are losing their thrill. We wanted to play around with a new recipe for the grill as part of a challenge from the North Carolina Pork Council.
At first, I was a bit overwhelmed. I imagined doing kabobs of some kind but those things tend to be so fussy to make! I always worry that the meat and veggies will cook at different times and not come out properly. Then I stumbled across the inspiration for this easy peasy pork tenderloin in Dinner: A Love Story.
Their version involves bourbon, which blech not a fan, but the concept was brilliant. Marinate the whole darn tenderloin, grill 'er up, and use the marinade to make a sauce to drizzle over the top when you're done! We are a family of dippers, so the idea of having the marinade to serve up on the side was super appealing.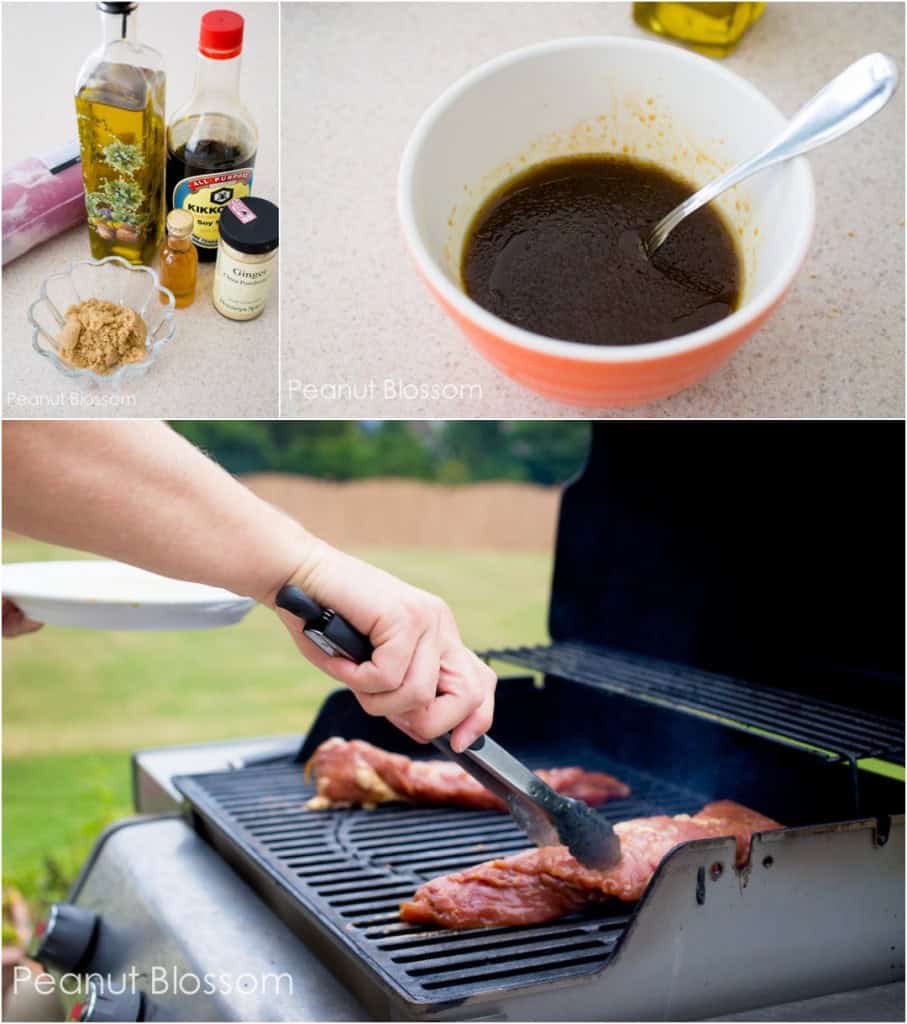 I mixed up the easy marinade which involves rum, soy sauce, ginger, brown sugar, and olive oil and let the 2 pork tenderloins soak in it for 2 hours.
Handyman Tim gets all the credit for the masterful grilling of these beauties: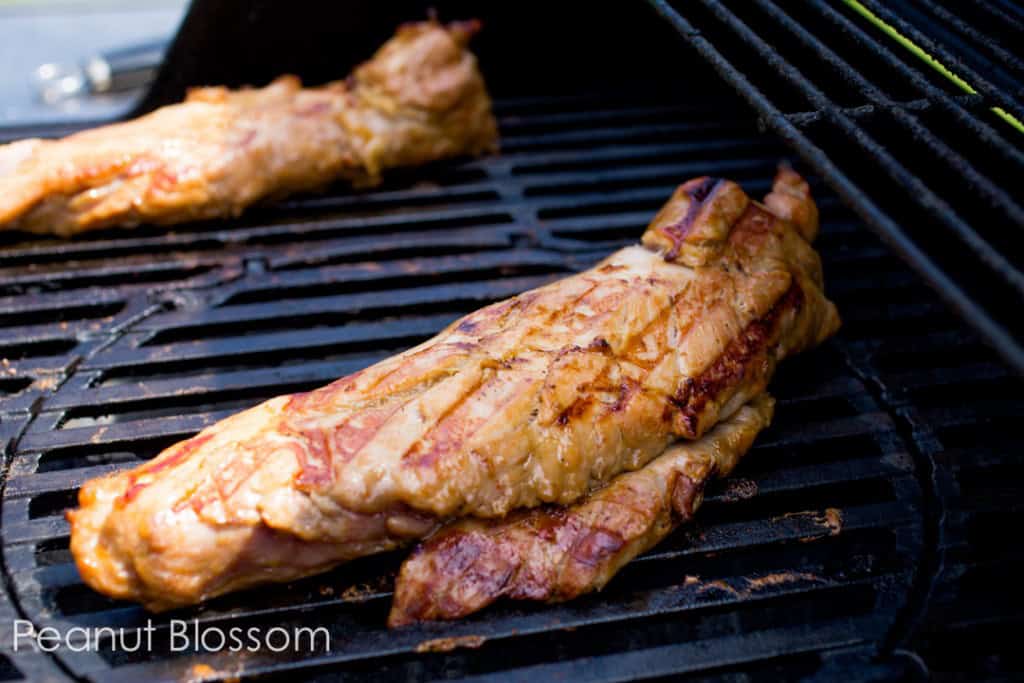 He commented on how they got such a lovely brown color as they cooked. I suspect the soy sauce was at work.
We decided to serve it up with a side of grilled (in this case broiled) peaches and some toasted crostini with goat cheese. It was the perfect combo for this summery dish! The sweet juicy peaches were just the right complement to the savory pork.
But the sauce that went over the top was definitely over the top. Be sure to bring it to a rolling boil for at least 2 minutes to be sure it is safe to use. And then the real trick is to let it sit and settle down for a while before using it over the pork. The oil and soy were initially separated after boiling but once it cooled slightly, it came together as a perfect drizzly sauce.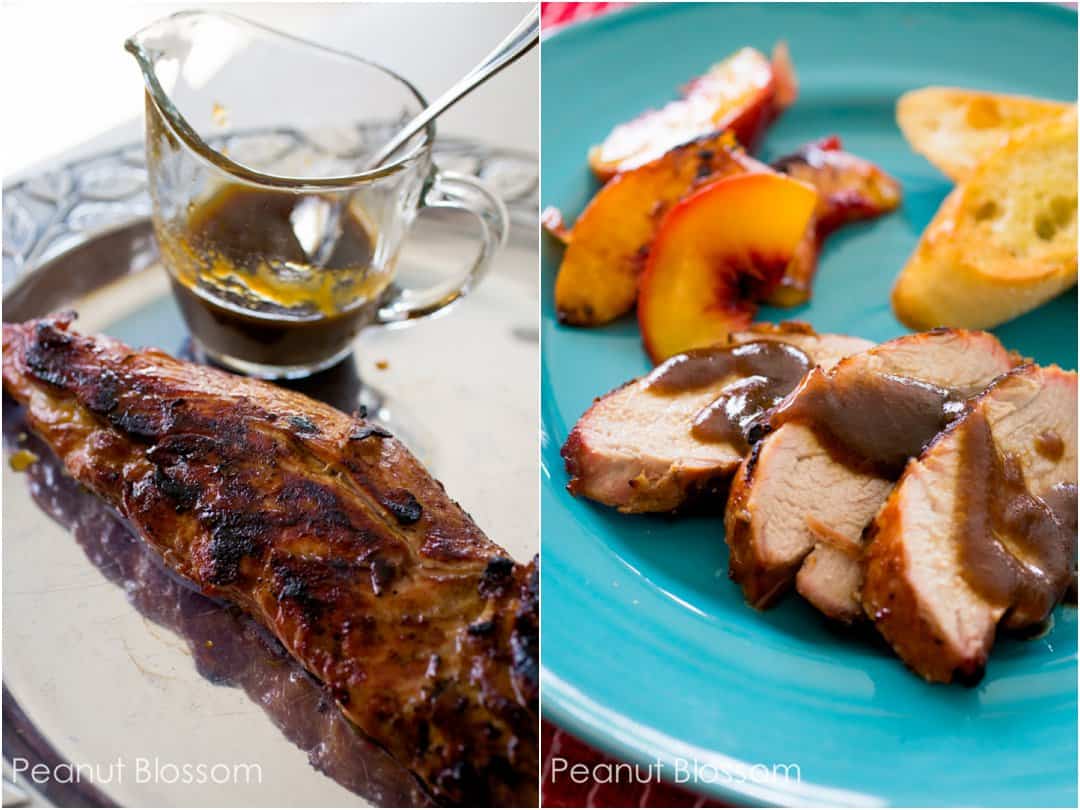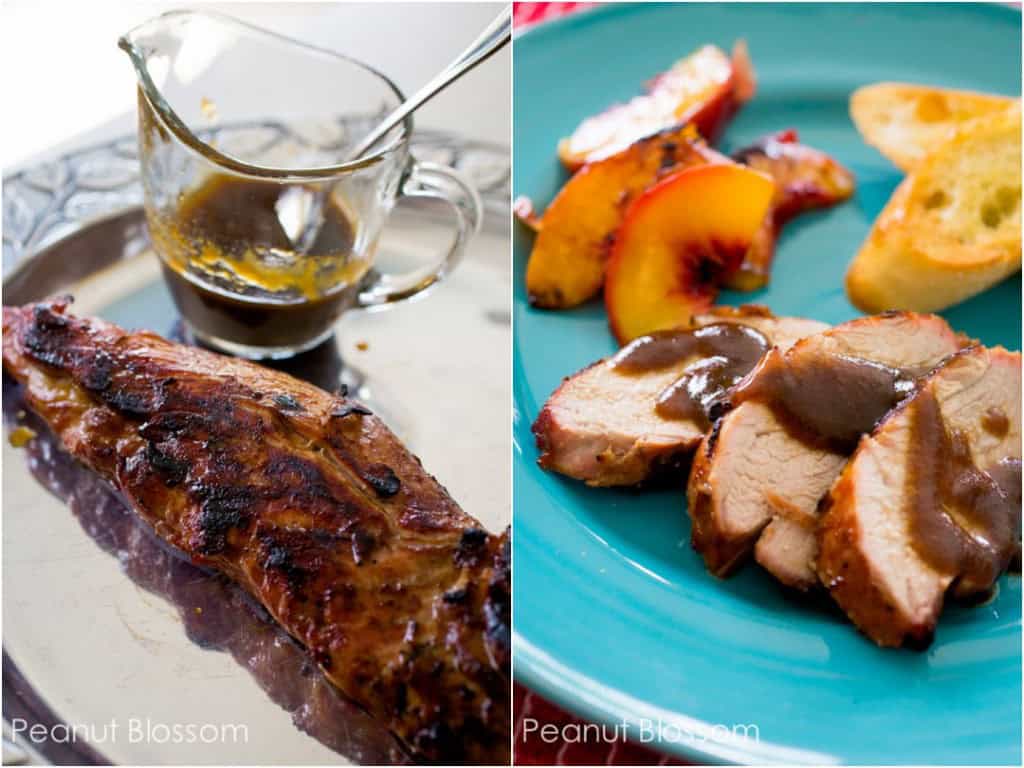 The pork was grilled to a temperature of 145 degrees which left it at a safe to consume yet juicy and moist texture. Tim used his new iGrill thermometer I got him for Father's Day and was able to watch the temperature on the pork from an app on his phone!
It came off the grill just perfect and didn't need the sauce but we loved it this way anyhow.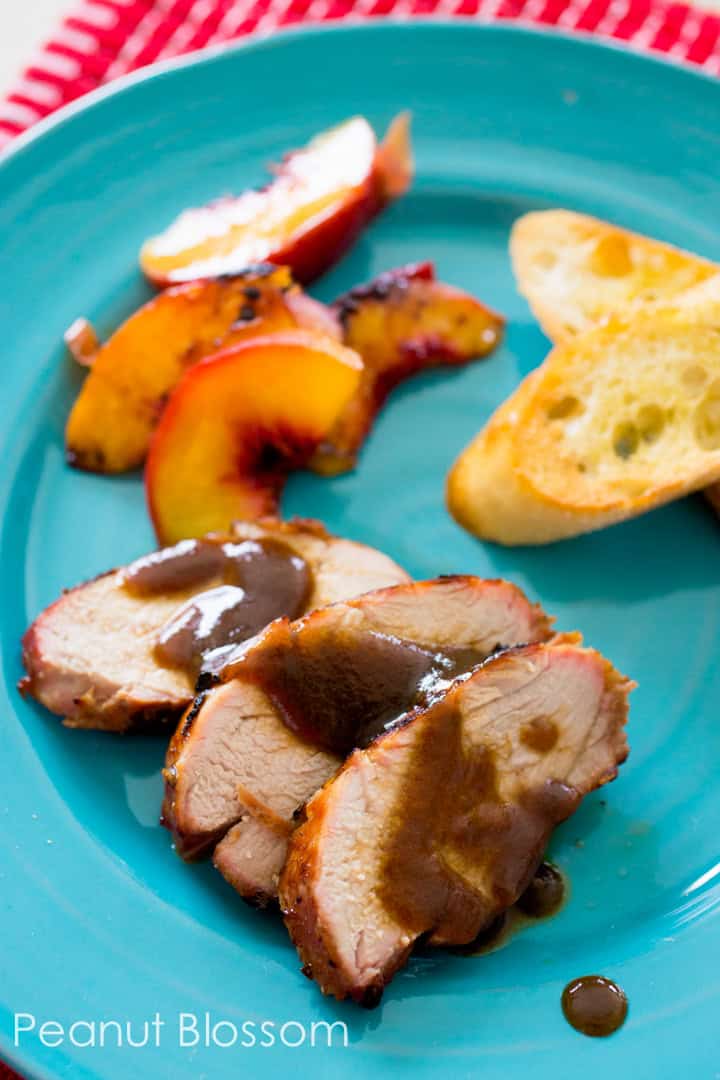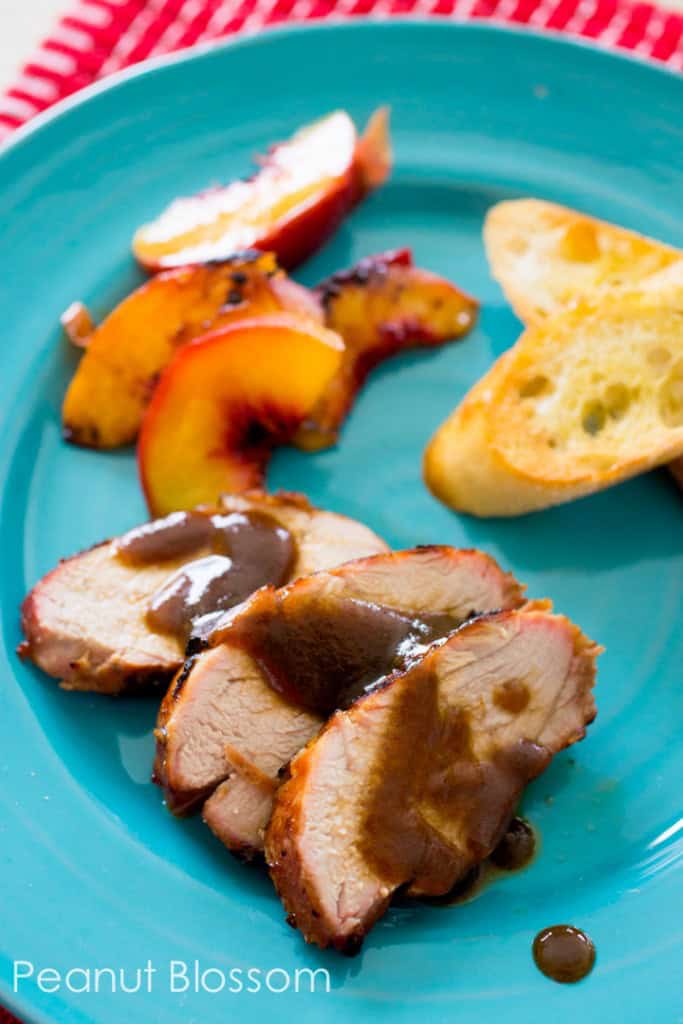 Every last member of my picky eating family inhaled this dish. The kids even begged for seconds. We had to cut them off when the first tenderloin was gone so that we'd have enough for leftovers the next night! This will most definitely be making the dinner rotation again soon.

P.S. If you want to do the grilled peaches, you can find the recipe here.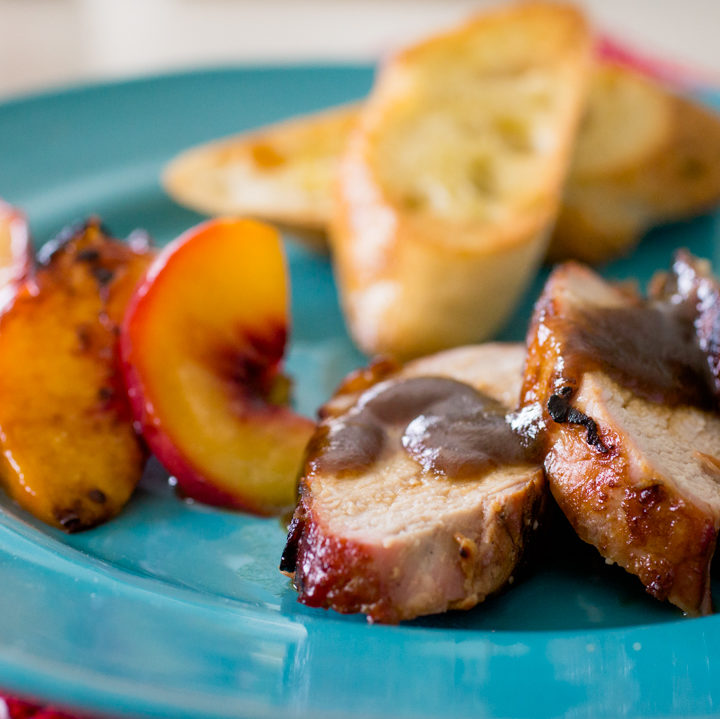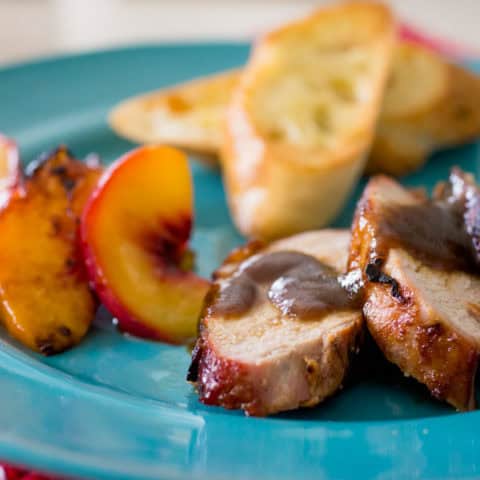 Rum Glazed Pork Tenderloin
Marinade Time:
4 hours
2 seconds
Total Time:
4 hours
25 minutes
2 seconds
This rum glazed pork tenderloin is one of our all-time favorite grilling recipes during the summer. Serve it with fresh grilled peaches as a simple side dish.
Ingredients
¼ cup rum (the little sample size bottle of rum I had was exactly enough for this marinade)
¼ cup soy sauce
3 tbsp olive oil
2 tbsp brown sugar
1 tsp dried ginger
2 pork tenderloins (approximately 3 pounds)
Instructions
Whisk together the marinade ingredients in a small bowl until the brown sugar has mostly dissolved.
Place the pork tenderloins in a gallon-sized plastic bag, pour the marinade in, press the air out and close. Store in the fridge for 2-4 hours.
Remove pork from the marinade and carefully transfer the marinade to a small saucepan to reserve.
Grill the pork over medium heat for 15-20 minutes until the center reads 145 degrees.
Meanwhile, bring the marinade to a rolling boil for 2 minutes, whisking constantly to prevent burning. Set aside and let cool slightly while pork finishes.
Let the pork rest under a tin foil tent for 5 minutes and then slice into thin pieces and serve alongside the marinade sauce.
The recipe made enough to have leftovers for a full second dinner on night 2.
Want more summertime grilling recipes? Don't miss these favorites: