Easy grilled peaches make an amazing summer dessert or side dish with your light and healthy grilled dinner recipes.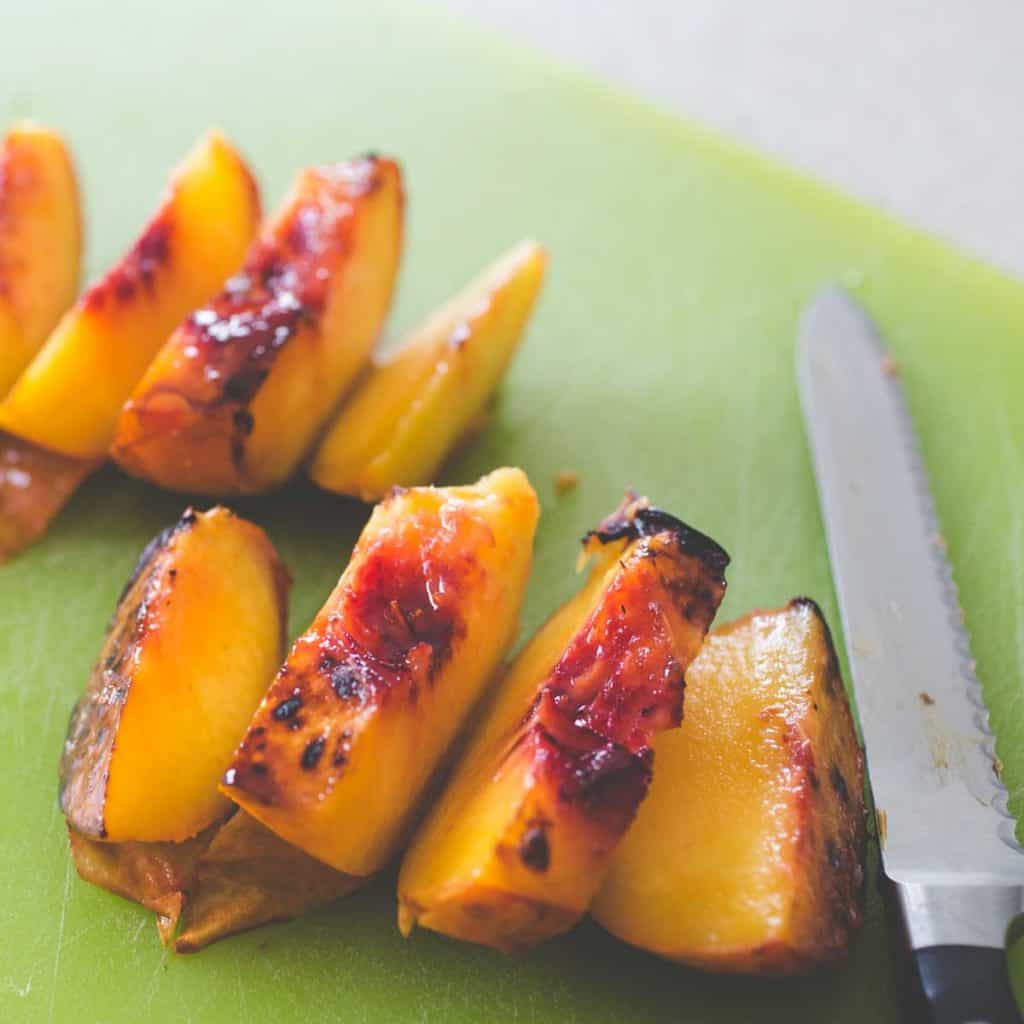 Are you tempted to lick your screen? I can't say I blame you.
Grilled peaches with brown sugar and butter. I could pretty much stop right there, right??
They kind of sell themselves, don't they. . .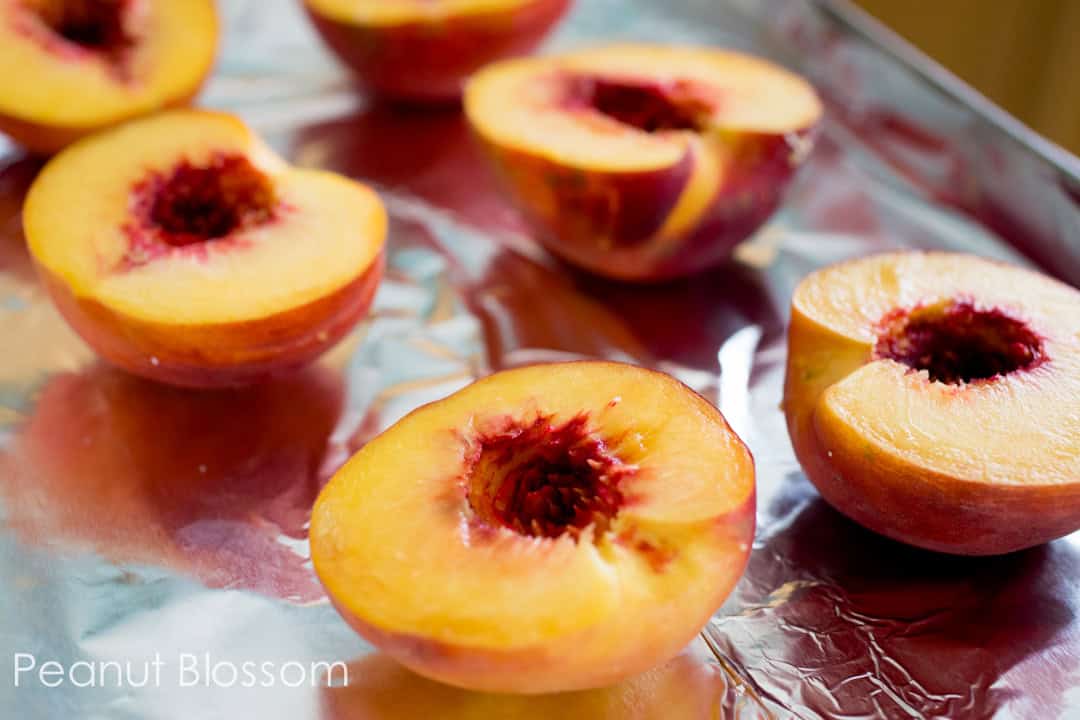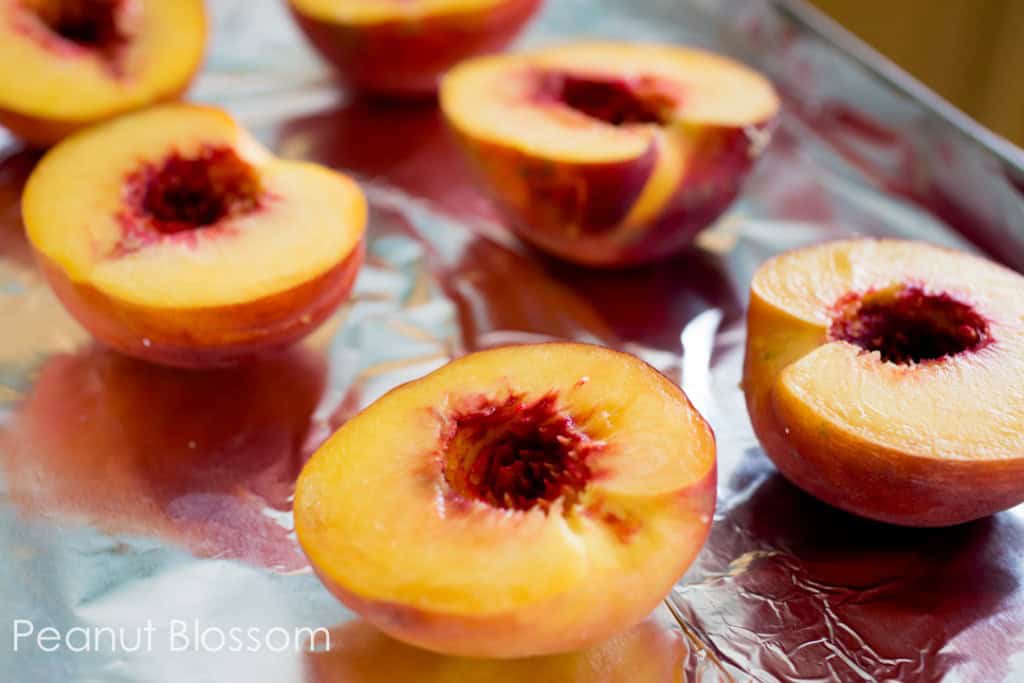 We first made these easy grilled peaches as a side dish to go with this MIND Blowing awesome rum glazed pork recipe. Together, they are a match made in heaven.
These peaches were so amazing, they deserved their own post and not just a footnote as part of the pork recipe.
I started with my favorite local peaches which are absolutely still in season here in the south. They were firm but ripe. I carefully sliced them in half and removed the pits.
Grill or Broil the Peaches
Handyman Tim was working the grill for the pork and I didn't want to disturb him. I needed that pork as picture-perfect as possible. So I took the peaches to the oven broiler instead. It worked great.
So choose your own adventure: Grill or Broiler. Either one works the same.
While the broiler preheated, I brushed a little butter just over the tops of the open peaches.
Sprinkled them with a tiny bit of brown sugar: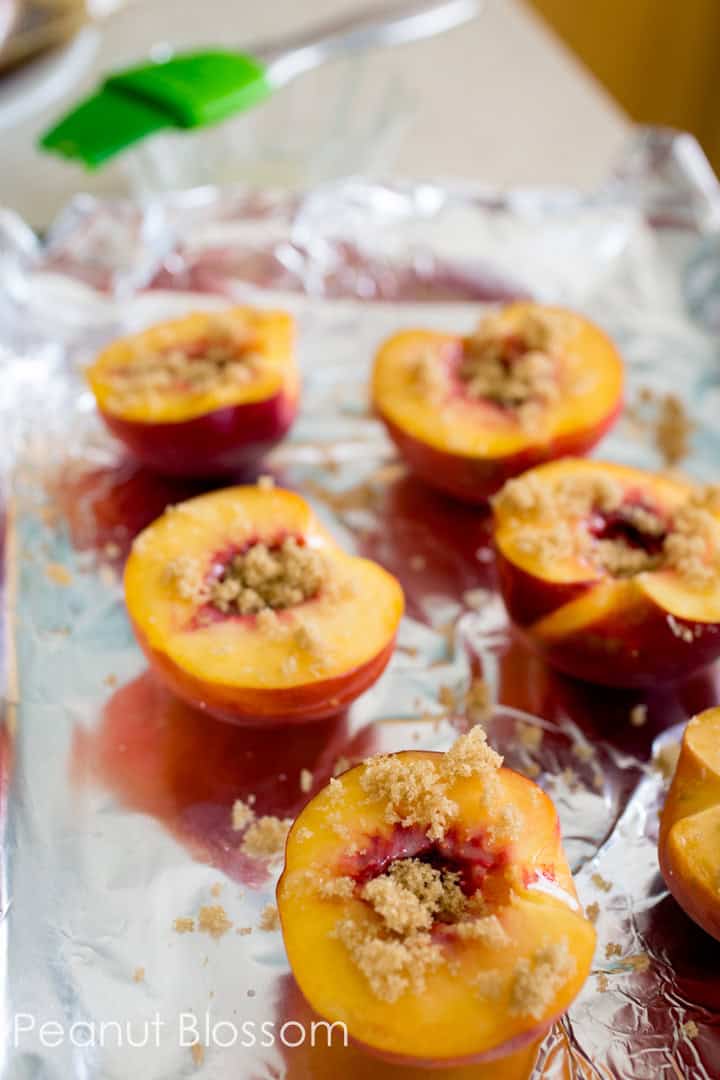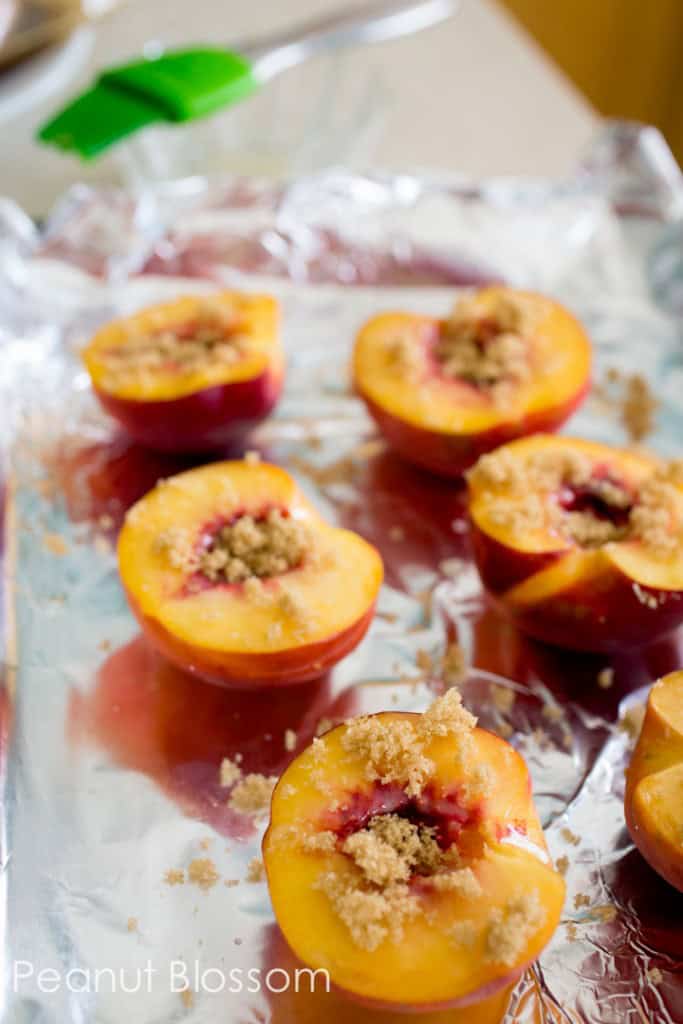 And then nearly had a heart attack when they went from melty to almost completely burned within moments: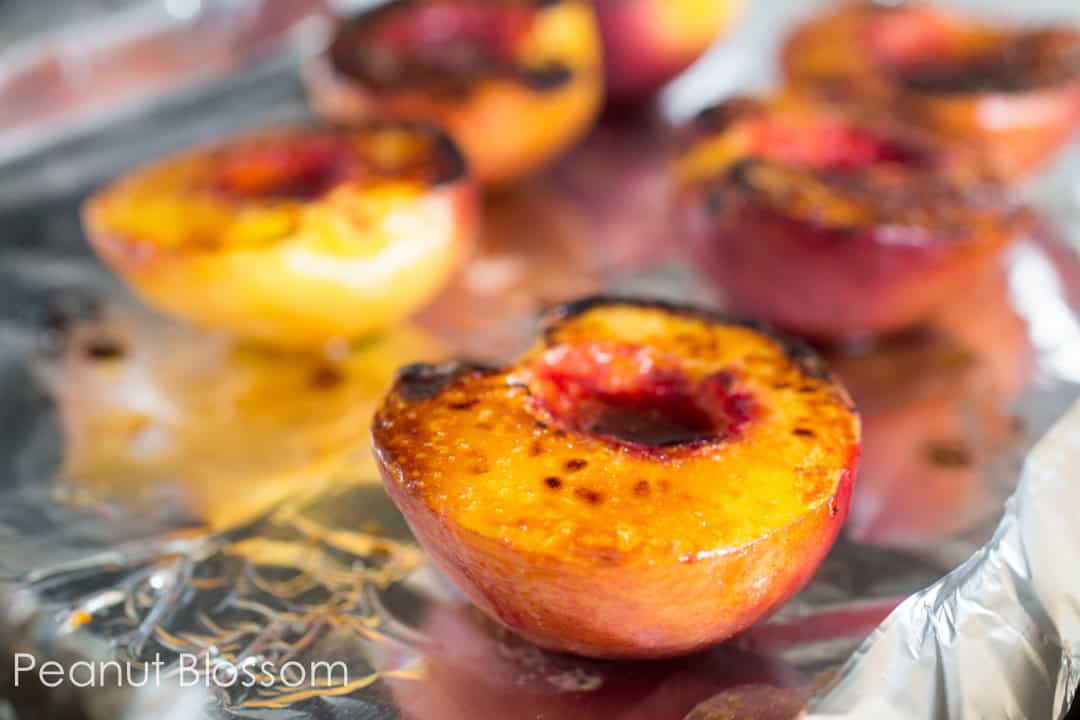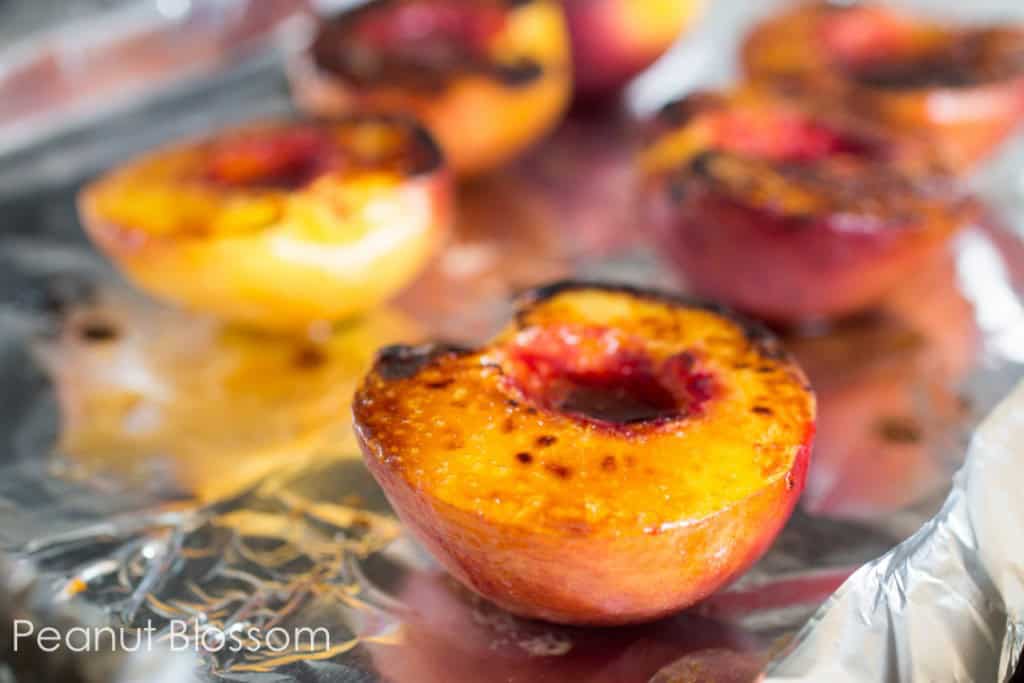 I caught them just in time. They didn't taste at all burned so don't panic if you have a bit more char than you expected.
Just watch them closely because it turns FAST. I love how the tops remind me of my favorite creme brulee.
To the cutting board they went. Once they had cooled enough to touch, I sliced them into wedges.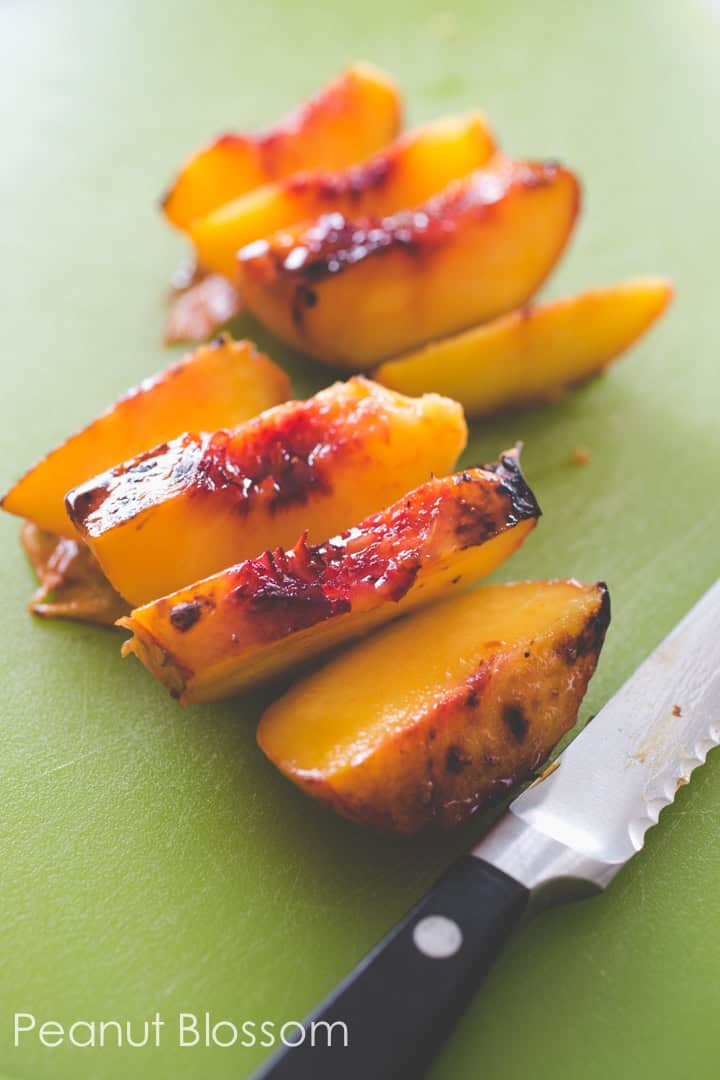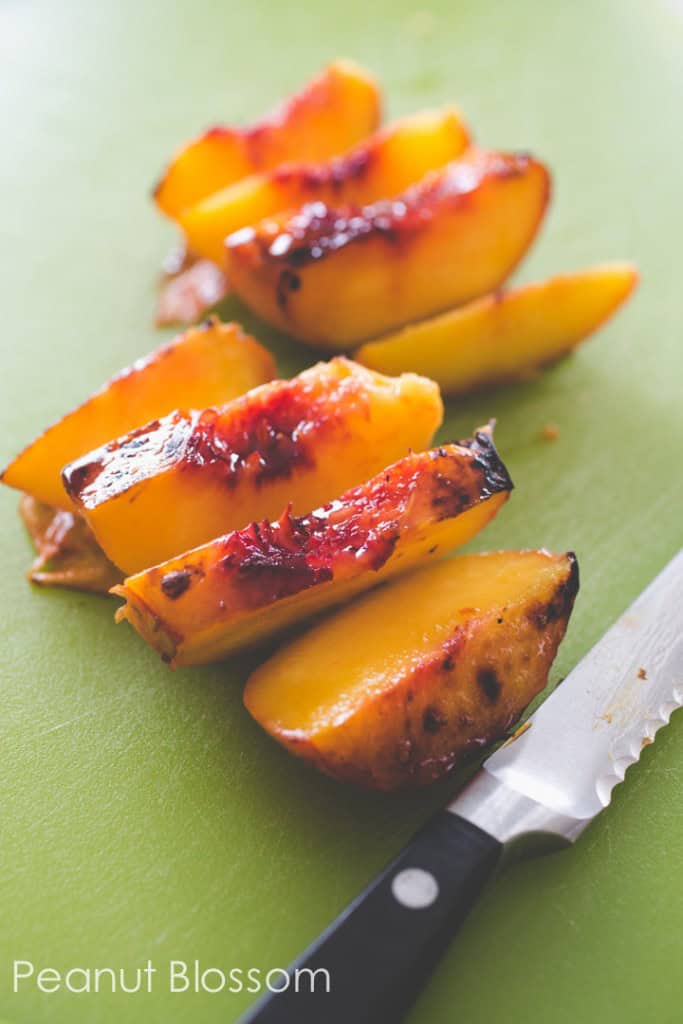 Serving Suggestions
As an accompaniment to the pork dish, they were sheer perfection. You could also pair them with your favorite summer barbecue chicken.
We also enjoyed them on toasted crostini with a little goat cheese which is still an obsession because of this peach appetizer recipe here. Or you could use them in place of the uncooked peaches in my favorite peach salsa.
I could also see putting these grilled peaches over some vanilla ice cream or just straight up enjoying on their own.
They were crazy easy to make, only took a few extra minutes on top of our dinner prep and were such a wonderful summertime treat.
📖 Recipe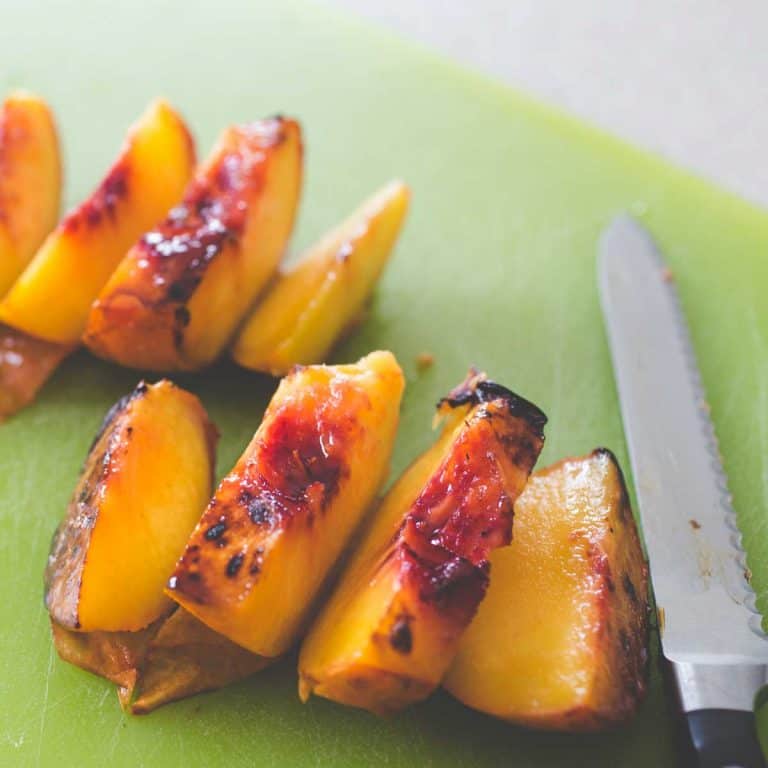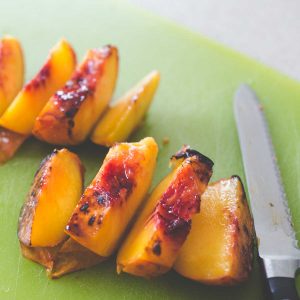 Grilled Peaches
Delicious caramelized grilled peaches make an easy summer side dish to go with grilled pork, chicken, or fish. Want to serve it as a dessert? Just add ice cream.
Ingredients
3-4

fresh firm but ripe peaches

halved with pits removed

1

tablespoon

butter

1-2

tablespoon

brown sugar
Instructions
Line the peaches up on a broiler-safe pan. Brush with butter and sprinkle the brown sugar over the top. Broil for 3-4 minutes and then watch like a hawk so they don't burn.

Alternative prep: rather than broil them, you can grill them for a few minutes with the sugar side up.
Save This Recipe to Your Recipe Box
Find this delicious recipe next time you visit by saving it to your very own recipe box on my site. All your favorites stored in one easy place!