Easy fresh peach recipes are great to keep handy in the summer when the market is overflowing with fresh fruit. From sweet peach dessert recipes to savory peach dinner ideas for chicken and pork, all the best ways to use peaches are here.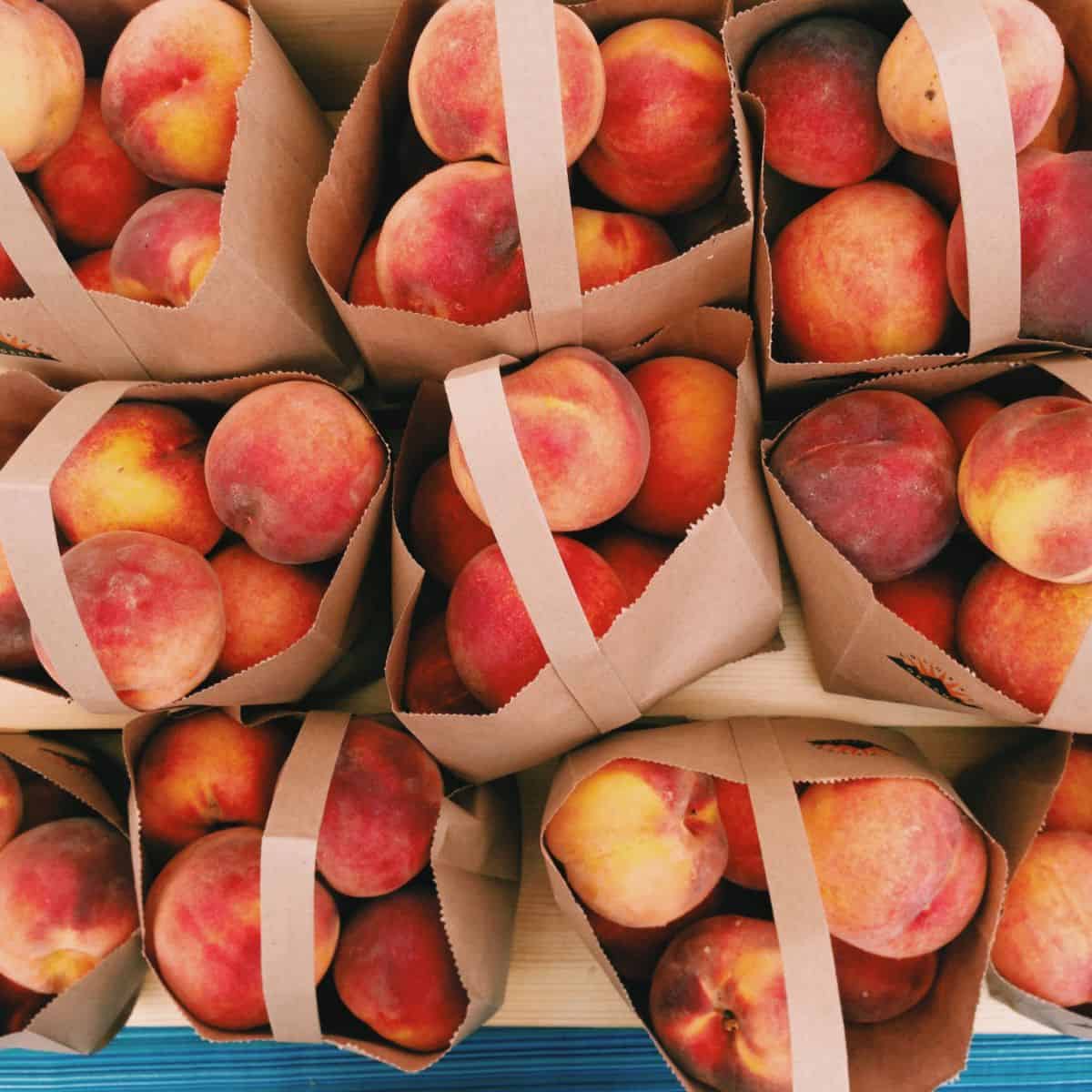 When you move to the south like our family did, it is an unwritten rule that you need to embrace fresh peaches and learn to use them in all manner of recipes immediately the moment your house is unpacked.
I started with this classic peach jam recipe the same week we moved in so I could slather it over a buttery biscuit.
I then proceeded to work for 8 summers in a row to perfect my southern peach cobbler game. I've finally nailed it.
Every year I add a few more peach recipes to my repertoire and I never tire of those sweet golden stone fruits that explode all over our farm stand.
How to Pick a Perfect Peach
Before you try to cook any of these peach recipes, you'll want to know how to pick the perfect peach from your market.
Look for the Sticker:
I'm a HUGE fan of the peaches from Titan Farms in South Carolina.
Everyone thinks Georgia peaches are the best, but the peaches from Titan Farms have been the best I've ever tasted.
If you can't find them, peaches from the South are definitely still going to be the best.
GENTLY Squeeze:
Very gently, not so hard as to make a mark just enough to get a feel, squeeze the fruit and see if it is hard like a rock or has some give to the flesh.
If you plan to eat or bake with your peaches in the next 24 hours, pick ones that are softer.
The hard-as-rock ones will ripen at home in the next 3 days and are better for when you plan to use them later in the week.
Smell the Peach
Give the fruit a sniff. Does it smell like a sweet peach? Ripe peaches give off a lovely aroma.
Storage Tips
If your peaches are ripe and soft, keep them in the fridge fruit drawer but plan to enjoy them as soon as possible.
If your peaches are hard and still need to ripen at home, place them in a paper bag with the top open on the counter and they'll soften up in the next 24 - 48 hours.
If you want them to take longer to ripen, store the hard peaches in the fruit drawer of your fridge for a week.
More Fresh Produce Recipes