Homemade peach bread with toasted almond glaze is a moist quick bread that is bursting with fresh peaches. This delightful bread can be easily sliced and served as a special part of any festive brunch or relaxing weekend breakfast with coffee but it is elegant enough to be a perfect peach dessert.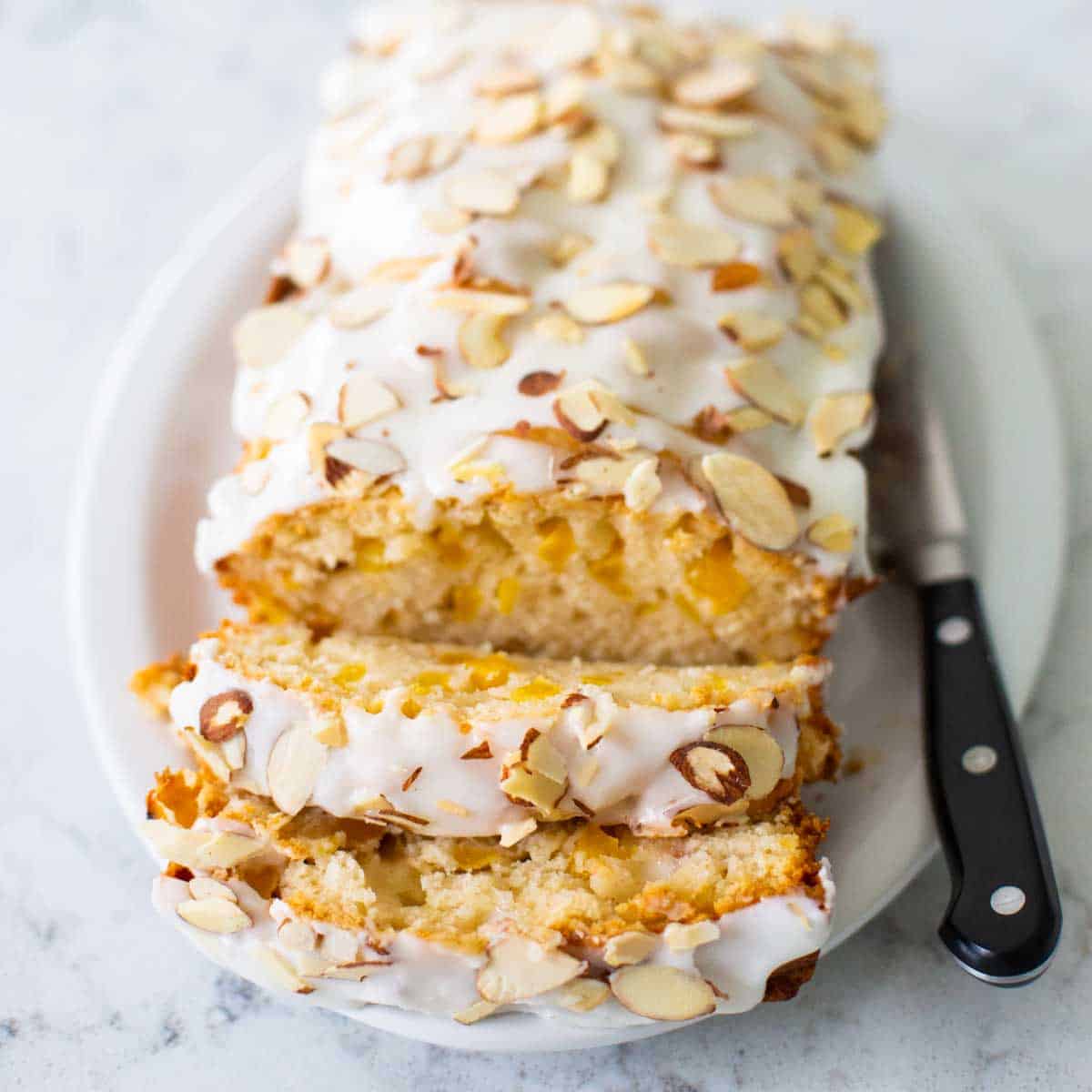 One of the very best parts about living in the south is the mountains of fresh peaches that fill our market stands.
From the first day we moved here, I've been on a quest to find all the best peach recipes to use up these golden juicy fruits.
While my southern peach cobbler is a perennial favorite, I've used peaches in everything from spicy peach salsa, homemade peach freezer jam, topped homemade crostini with a peach blueberry salsa, and even grilled peaches for a fun summer side dish.
I had a few stragglers sitting in my kitchen waiting to be baked here at the end of peach season so I thought it would be fun to try a new recipe.
This peach bread recipe is the perfect way to use up the last of the season's fruit.
In fact, it would be even more perfect if you could bake ahead a variety of quick breads like almond poppy seed bread, banana zucchini bread and our freezer-friendly pumpkin bread, and save them for the easiest Christmas morning buffet.
Be sure to check out the notes on freezing at the bottom!
Why This Recipe Works
Perfect Texture: The bread is light and cakey, the peaches are sweet and juicy, and the toasted almonds have an amazing crispy crunch on top.
Easy Prep: This is a one-bowl batter and the easy glaze just takes a few minutes to prepare.
Two Peaches: You don't need a ton of fresh peaches for this recipe so you can use up the few stragglers in your kitchen.
Easy to Freeze: Once cooled, the bread should easily pop out of the bread pan it was baked in as long as you greased it with butter before baking. This makes freezing it extra-easy.
Jump to:
Ingredients
This easy peach bread recipe has a short list of ingredients, you likely have most of this in your pantry right now!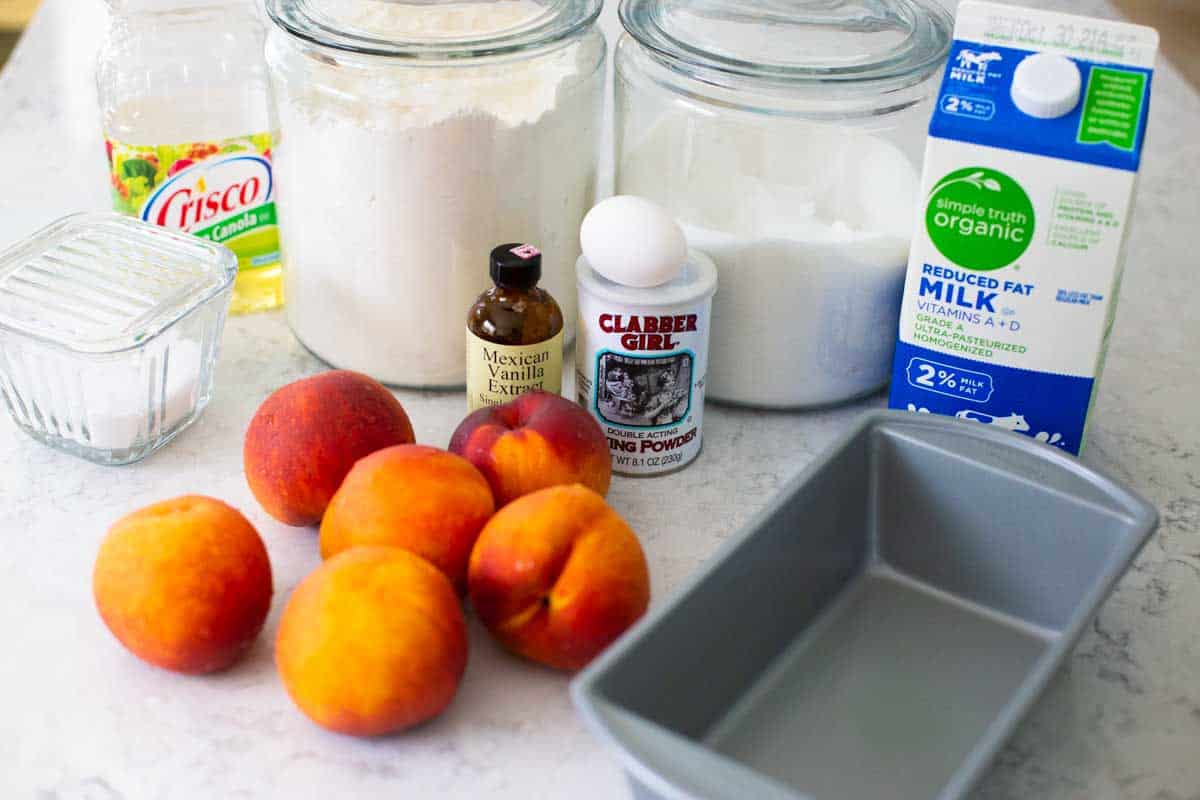 Fresh Peaches
Flour
Sugar
Egg
Butter
Canola oil
Milk
Baking powder
Vanilla extract
Cinnamon
Additionally, for the toasted almond glaze:
Powdered sugar
Sliced almonds
Almond extract
See recipe card for quantities.
Instructions
Preheat the oven to 350°F and grease a 9x5-inch bread pan with softened butter.
Start by prepping the fresh peaches: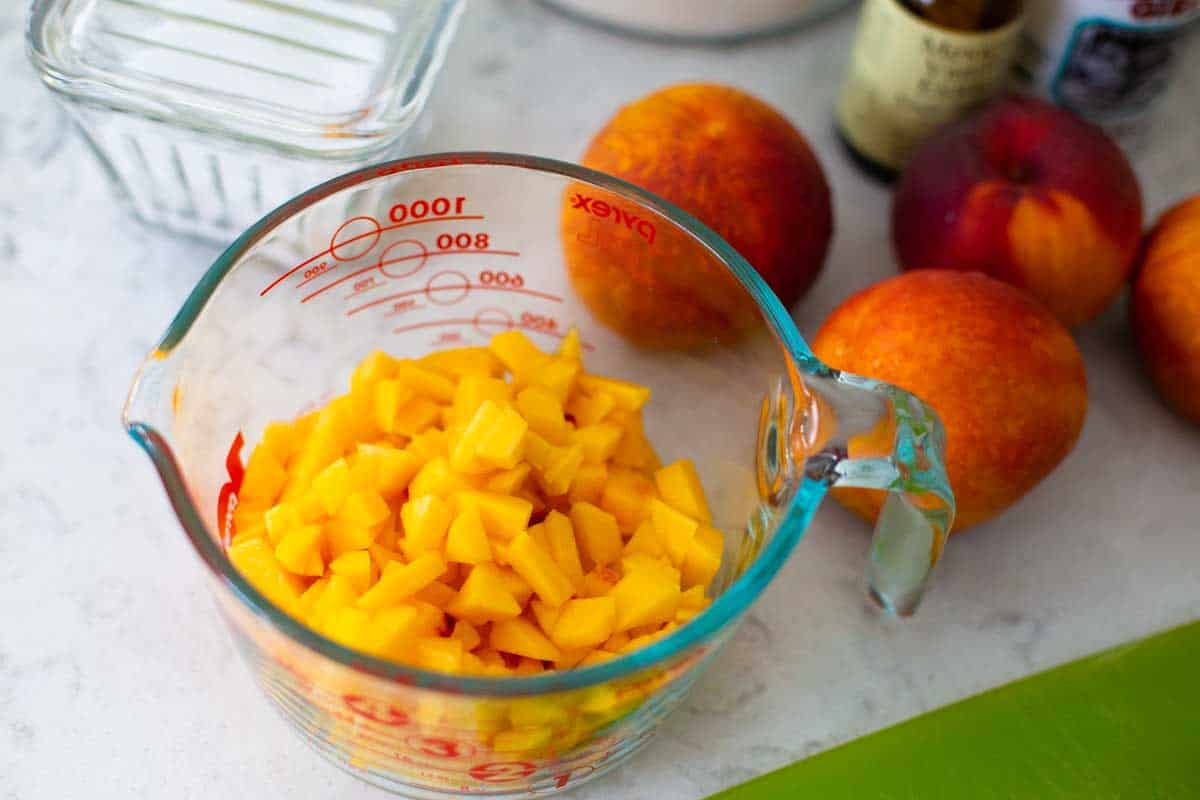 Peel the fruits. I like to just use a potato peeler! Cut the fruit away from the pit and chop it into a small dice.
Then prepare the batter: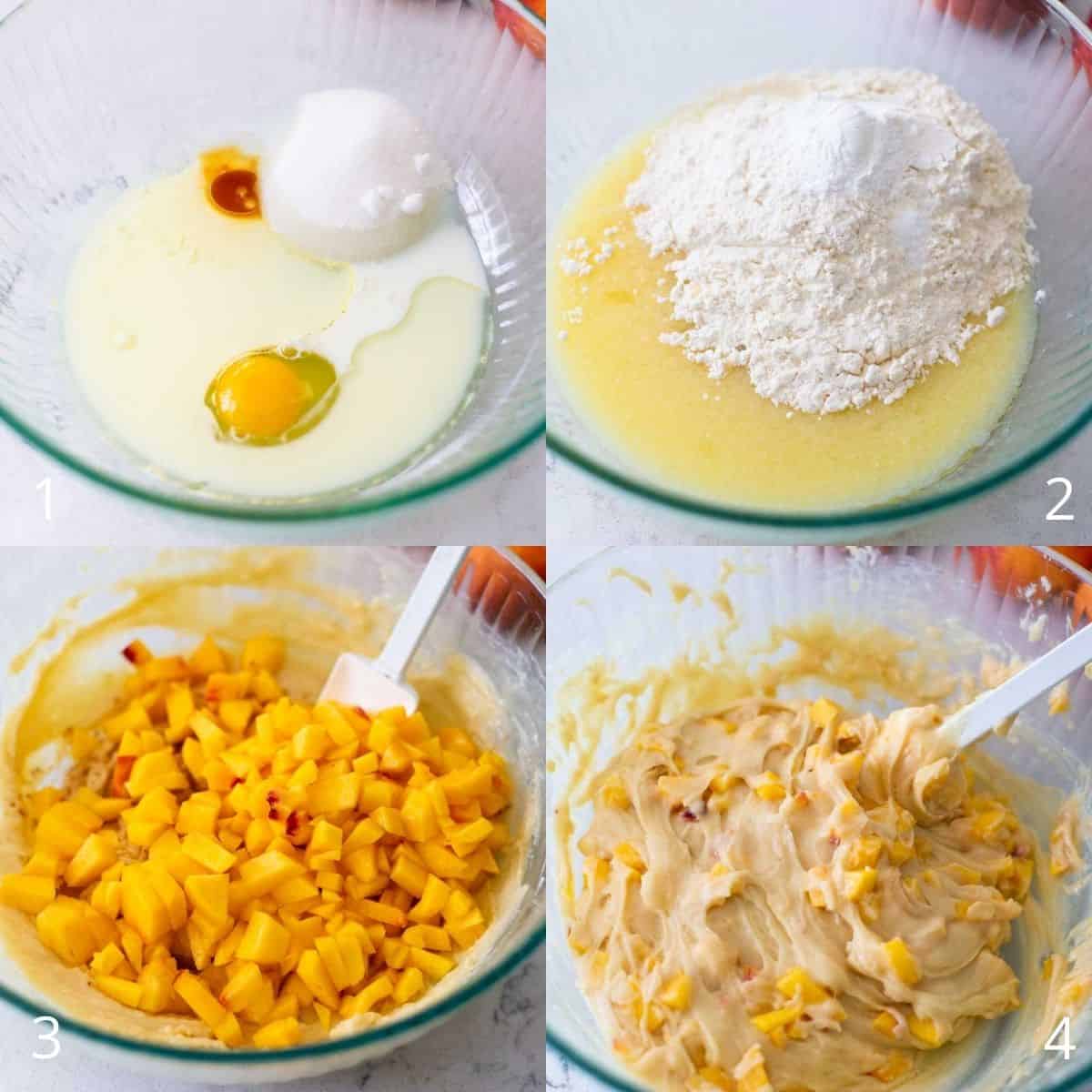 Add the sugar, milk, oil, egg, and vanilla in a large mixing bowl and whisk them together.
Add the flour, baking powder, cinnamon, and salt and stir it with a spatula.
Add the fresh peaches and fold them in. The batter will be quite thick.
Spread the batter into your prepared bread pan.
Run your spatula down the center of the bread to help even it out.
NOTE: I have found a basic metal bread pan to be the best tool for this recipe. I have a prettier ceramic baking dish with ruffled edges but it tends to burn the outer crust before the inside of the bread is finished baking.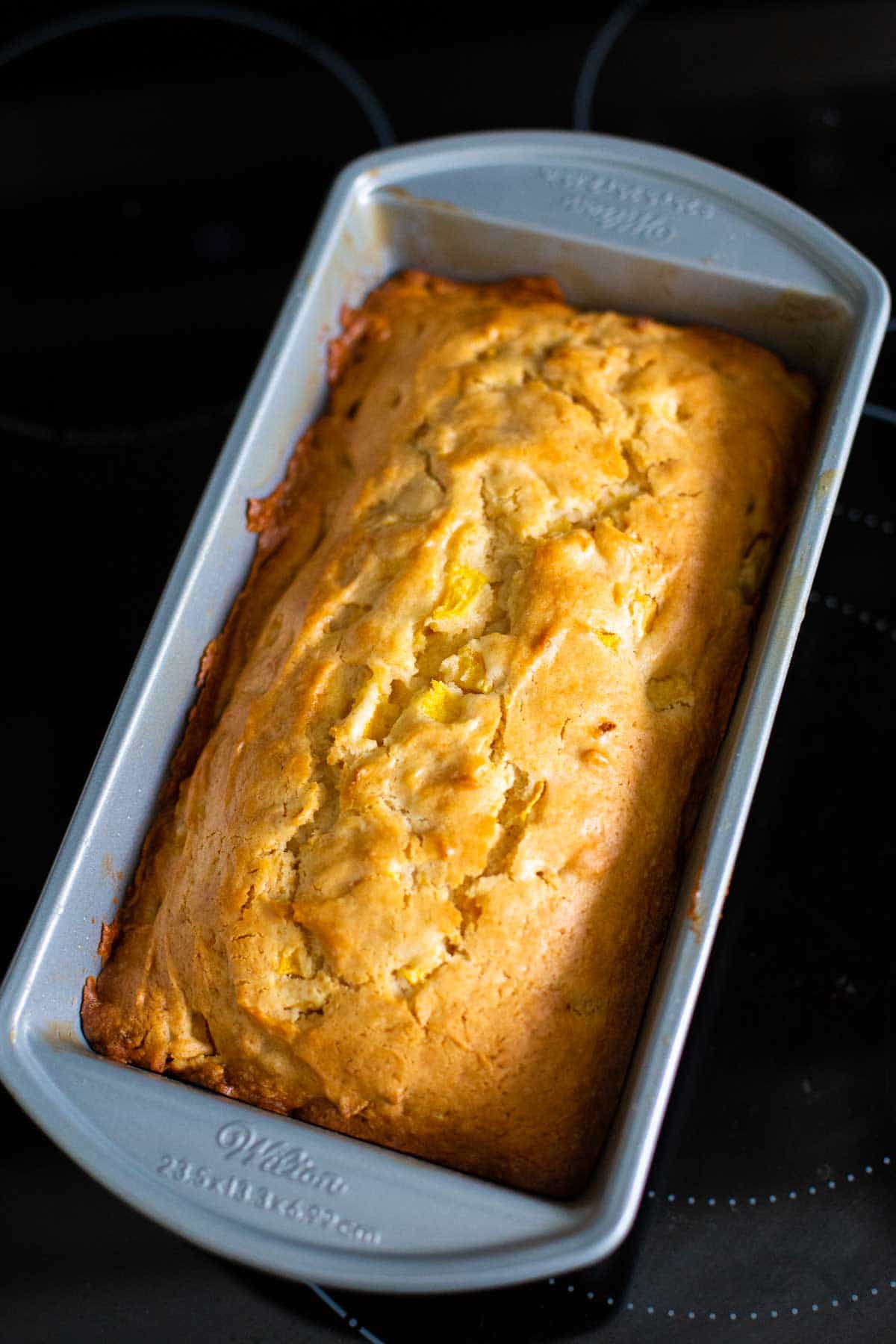 Bake the peach bread for 55 - 60 minutes or until a toothpick inserted in the center comes out clean.
The outer crust will develop a deep golden brown color but the inside could still be very much underdone. You absolutely need to do the toothpick test to be safe.
While the bread cools, prepare the toasted almond glaze:
Spread the sliced almonds on a baking sheet lined with parchment. Bake in the preheated oven for 3 minutes. Watch them closely and pull them out when they are fragrant and slightly toasted.
They can burn quickly, so keep an eye on them!
Whisk together the powdered sugar, melted butter, milk, vanilla and almond extracts.
If the mixture is too thick, add more milk just a teaspoon or so at a time until the glaze is thick but runs off your whisk like this: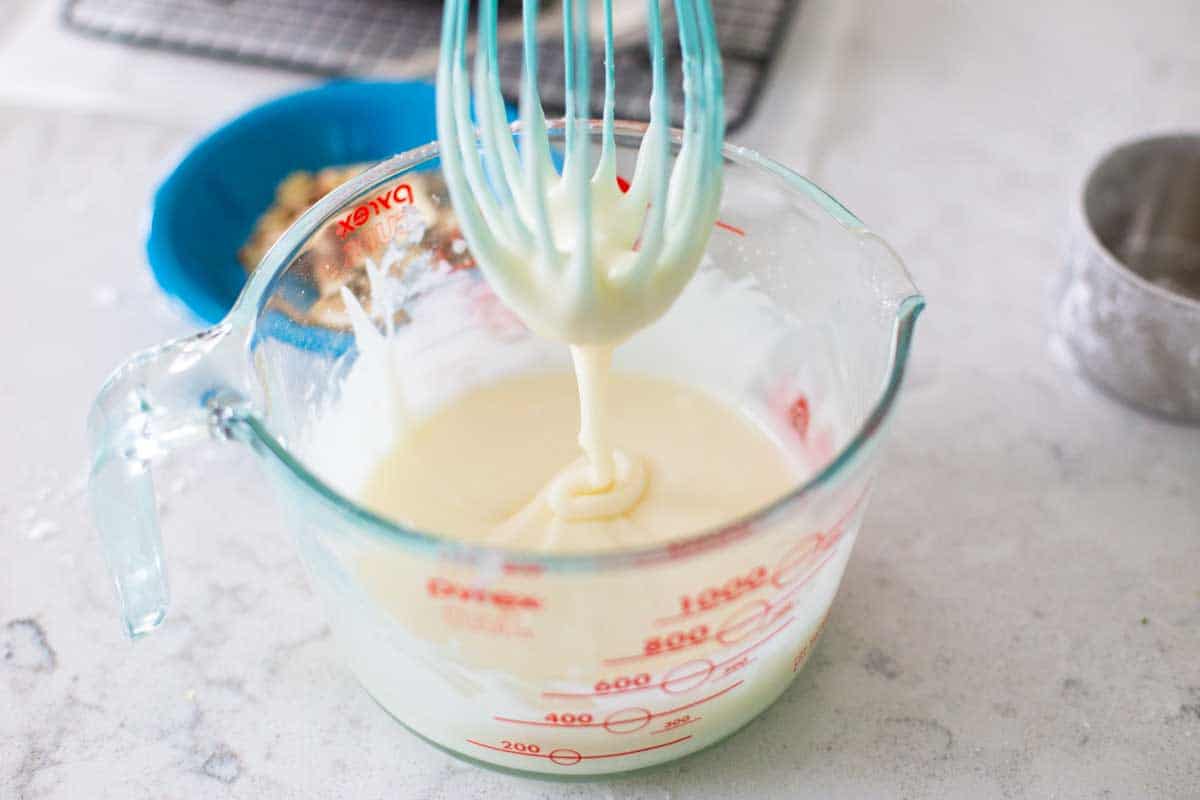 Place your cooled peach bread on a wire rack over parchment paper.
Drizzle the glaze over the top and sprinkle the toasted almonds immediately.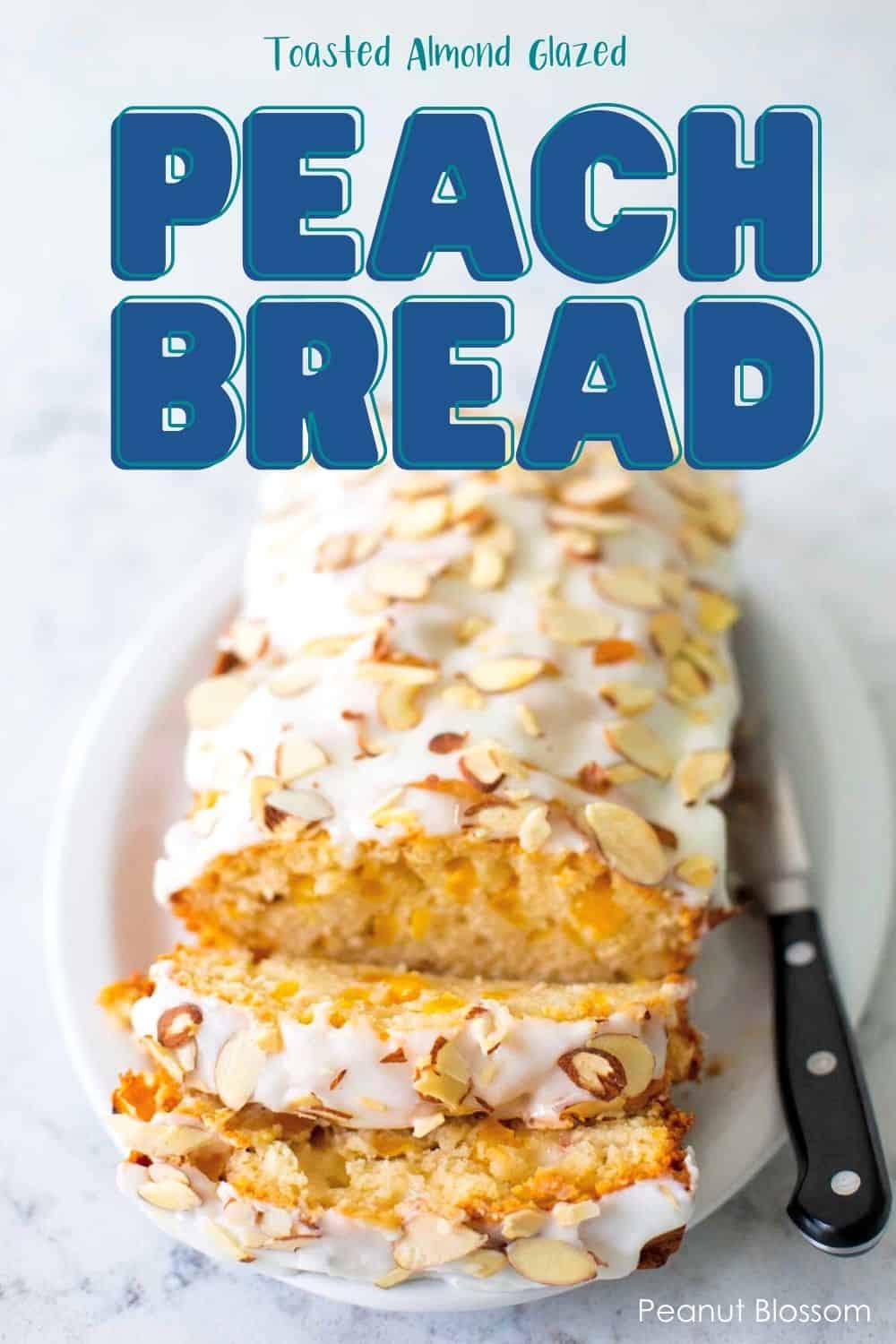 Storage
This quick bread will keep for 3 - 4 days if stored in the fridge.
To Freeze: Cool the peach bread completely, DO NOT GLAZE, wrap in aluminum foil, and freeze for 3 - 6 months.
Simply loosen the wrappings to prevent condensation on the bread and thaw in the fridge overnight.
Prepare the glaze the day you plan to serve it.
Top tip
Remember, the batter will be very thick and it takes a long time to bake completely through. Be sure to prick the center with a toothpick to test for doneness.
Easy Breakfast Treats
Looking for a few more ideas to add to your breakfast menu? These delicious baked treats are perfect for a special weekend breakfast or festive brunch:
If you've tried this peach bread or any other recipe on PeanutBlossom.com please don't forget to rate the recipe and let me know where you found it in the comments below. I love hearing from you!
FOLLOW along on Instagram @peanut.blossom as well as on Pinterest and Facebook.