I love pumpkin bread in the fall. I don't think I know anyone who doesn't! After plenty of trial and error, I found this easy pumpkin bread recipe with canned pumpkin a few years ago and haven't experimented with anything different ever since.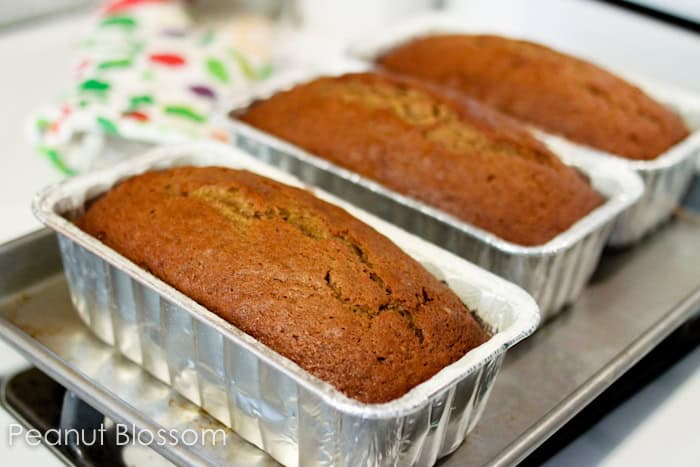 The best part of this easy quick bread recipe for me is that it makes 3 pumpkin bread loaves all from one batch of batter. I bake the three loaves of pumpkin bread all at once and store 2 in the freezer.
This is a go-to recipe for bringing food to friends who have just had a baby. I love to bundle it up as a special breakfast treat or a unique side dish with the dinner we bring. (Want more meal train ideas? Check out my full mommy meals guide here.)
When I brought this to two friends who had recently had babies, both ladies requested this easy pumpkin bread recipe. It is perfect for even the busiest of new moms to bake!
Need an easy pumpkin bread recipe to bake with kids?
Since this big batch of pumpkin bread batter makes three whole loaves, it is the perfect recipe to encourage kids to try new flavors. Tell them to try mixing in butterscotch chips, chopped pecans, or even dried craisins to see which variety they love best. The pumpkin bread is super moist and delicious as is, but with three loaves, it can be fun to experiment!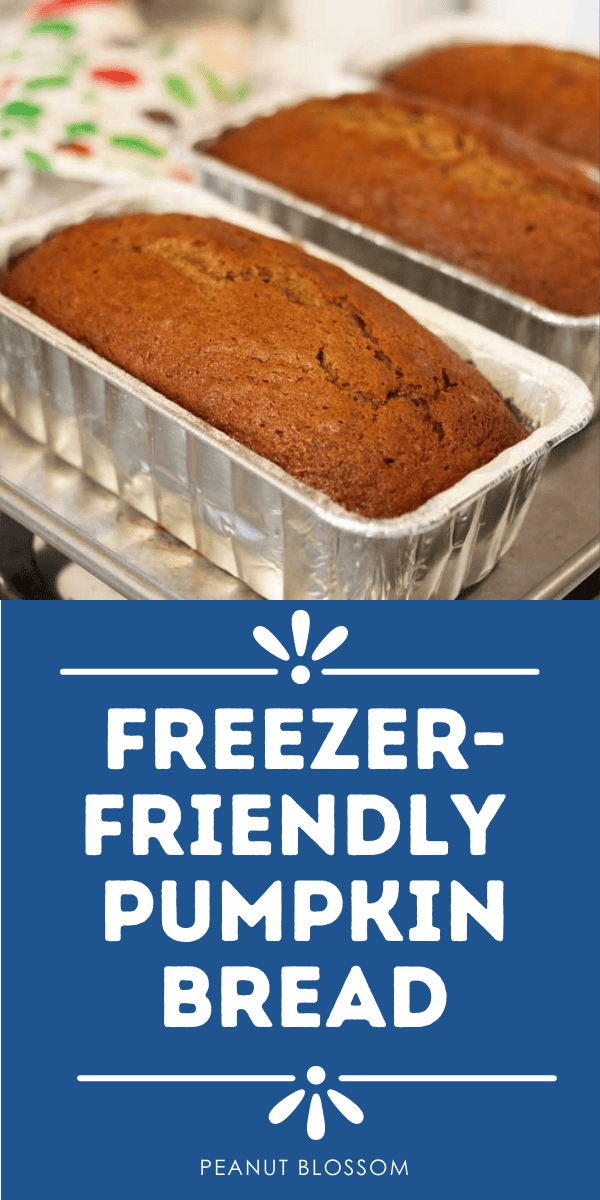 How to freeze pumpkin bread:
Let each of the pumpkin bread loaves cool completely to room temperature. Wrap tightly in two layers of aluminum foil and mark the bread with a strip of tape so you remember the date you baked it. The bread should freeze well for a couple months.
When you're ready to eat the pumpkin bread, remove it from the freezer and unwrap the foil so the moisture doesn't get trapped against the bread as it thaws. Let it thaw in the fridge overnight.
How to heat up pumpkin bread for serving:
We love to slice our pumpkin bread just thin enough to fit into our toaster. If you're careful, it will get nice and crispy on the outside which is just perfect for slathering a little bit of butter on. This is the perfect breakfast treat for fall!
Editor's Note: This post was originally published in October 2010. We've updated this perennial reader favorite for you.