Easy big batch pumpkin bread makes 3 loaves of quick bread from one bowl of batter. This freezer-friendly pumpkin bread is perfect for making ahead of the holiday or for sharing with friends.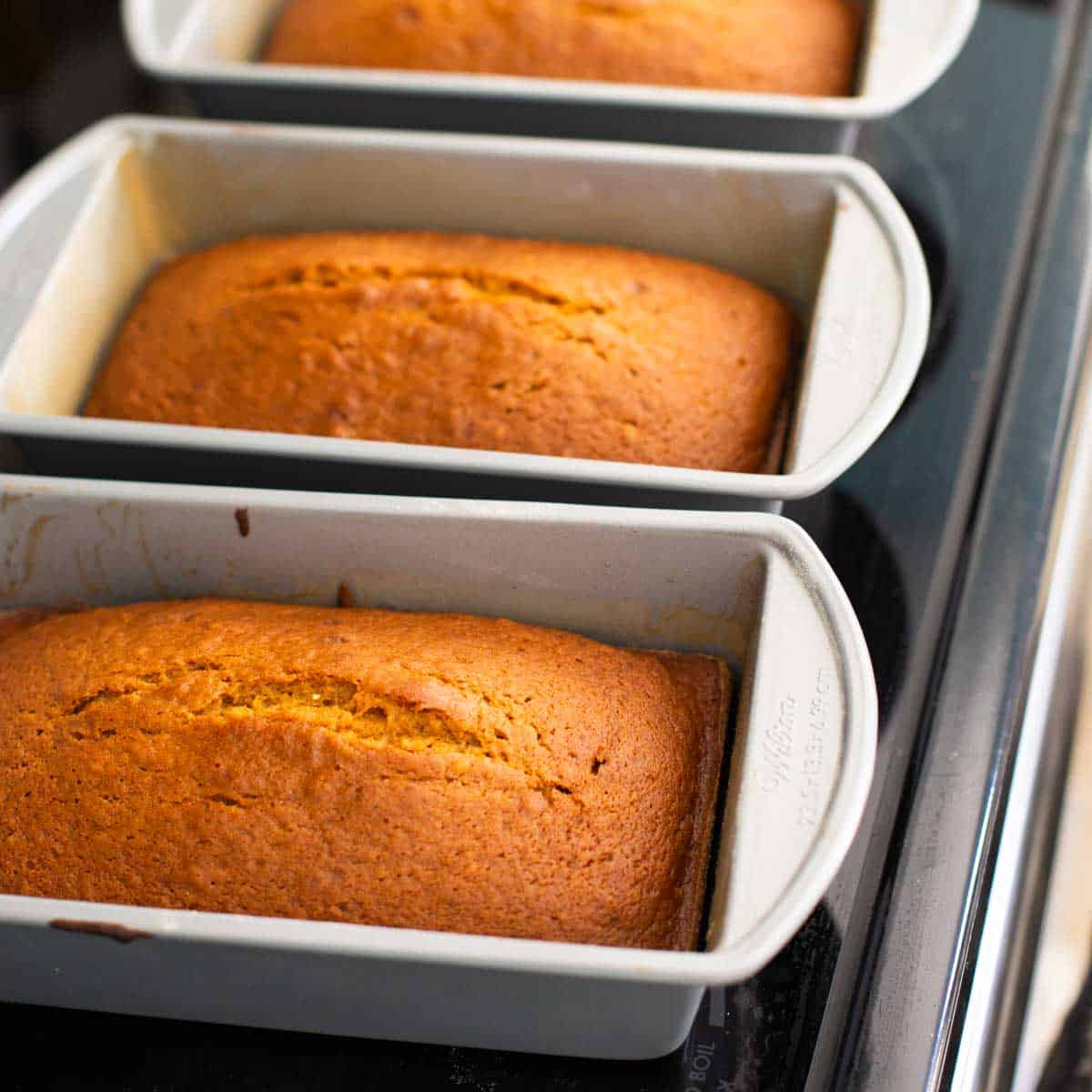 I love pumpkin bread in the fall. I don't think I know anyone who doesn't!
After plenty of trial and error, I found this easy pumpkin bread recipe with canned pumpkin a few years ago and haven't experimented with anything different ever since.
The best part of this easy quick bread recipe for me is that it makes 3 pumpkin bread loaves all from one bowl of batter.
I bake the three loaves of pumpkin bread all at once and store 2 in the freezer.
This is a go-to recipe for bringing food to friends who have just had a baby.
I love to bundle it up as a special breakfast treat or a unique side dish with the dinner we bring. Don't miss more of my meal train ideas here.
When I brought this to two friends who had recently had babies, both ladies loved it so much, they begged for this easy pumpkin bread recipe.
It is perfect for even the busiest of new moms to bake!
Jump to:
Why This is the Best Recipe
This pumpkin bread recipe is one of the most popular recipes on my entire site. It has been around almost as long as the blog!
Readers come back again and again because:
Most Delicious: I served this at a party recently and my guests said: "This tastes just like the Starbuck's pumpkin bread!" The whole platter was empty at the end of our party.
Super Easy Batter: Mix everything together in just one mixing bowl.
Whole Can of Pumpkin: There's no waste with this recipe, you use up the entire can of canned pumpkin for the bread.
Big Batch, 3 Loaves: If you're going to bake, why not maximize your efforts and get three loaves instead of just one??
Freezer-Friendly: This pumpkin bread is perfect for the freezer, don't miss my freezing and thawing instructions below.
Ingredients
Another reason this recipe is so popular with my readers is that the ingredients are likely hanging out in your pantry right now!
All you need to bake it is:
Can of Pumpkin Puree
Eggs
Vegetable Oil
Sugar
Flour
Baking Soda
Salt
Cinnamon
Nutmeg
Ground Cloves
Ginger
Prepare the Baking Pans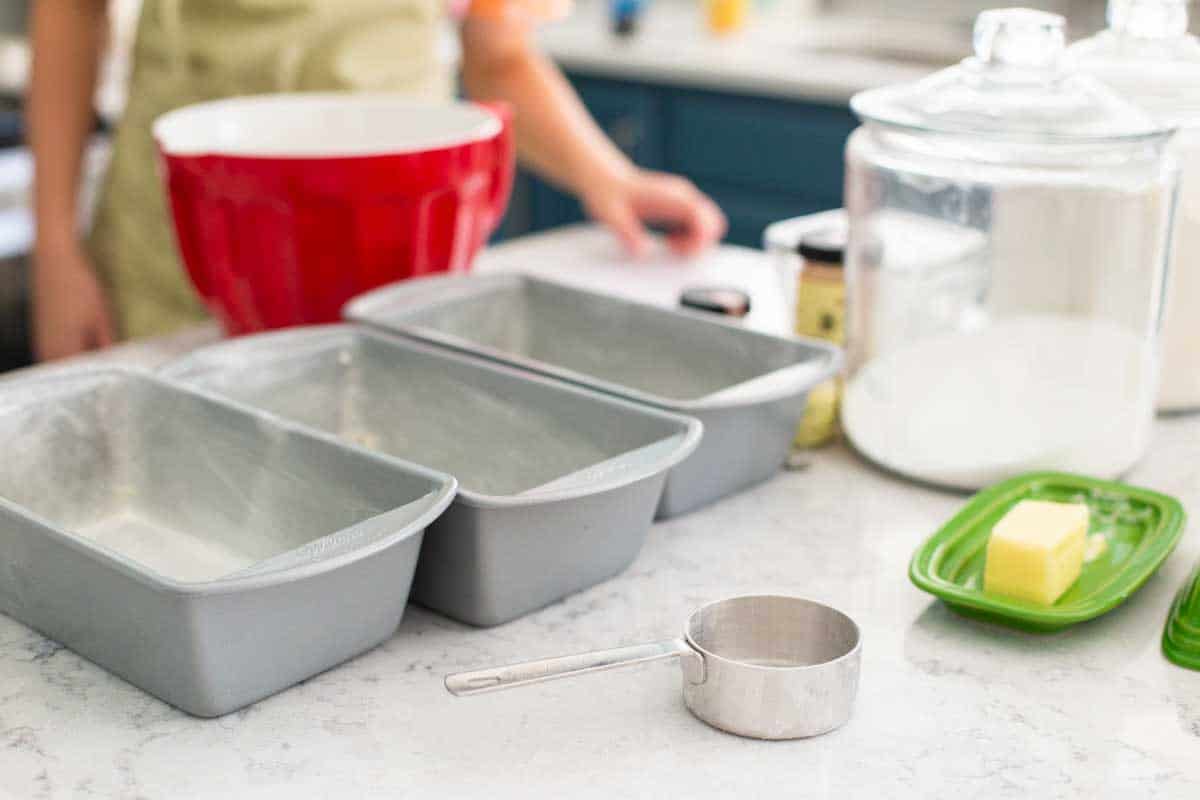 Once I realized how awesome this recipe is, I bought a set of three matching baking pans so the breads cook evenly and the batter is easier to divide.
If you don't want to store pans in your cabinet, you could also purchase the disposable aluminum foil baking pans at the grocery store.
This is an especially great idea if you plan to give the breads away as a special gift.
To prepare the pans for baking, all you need to do is:
Rub softened butter all around the inside of each pan.
Add a small spoonful of flour to each pan and shake it around until the flour coats the butter.
Tap the pan gently upside down over your kitchen sink to remove the excess flour.
Set the pans aside while you prepare the batter.
Prepare the Batter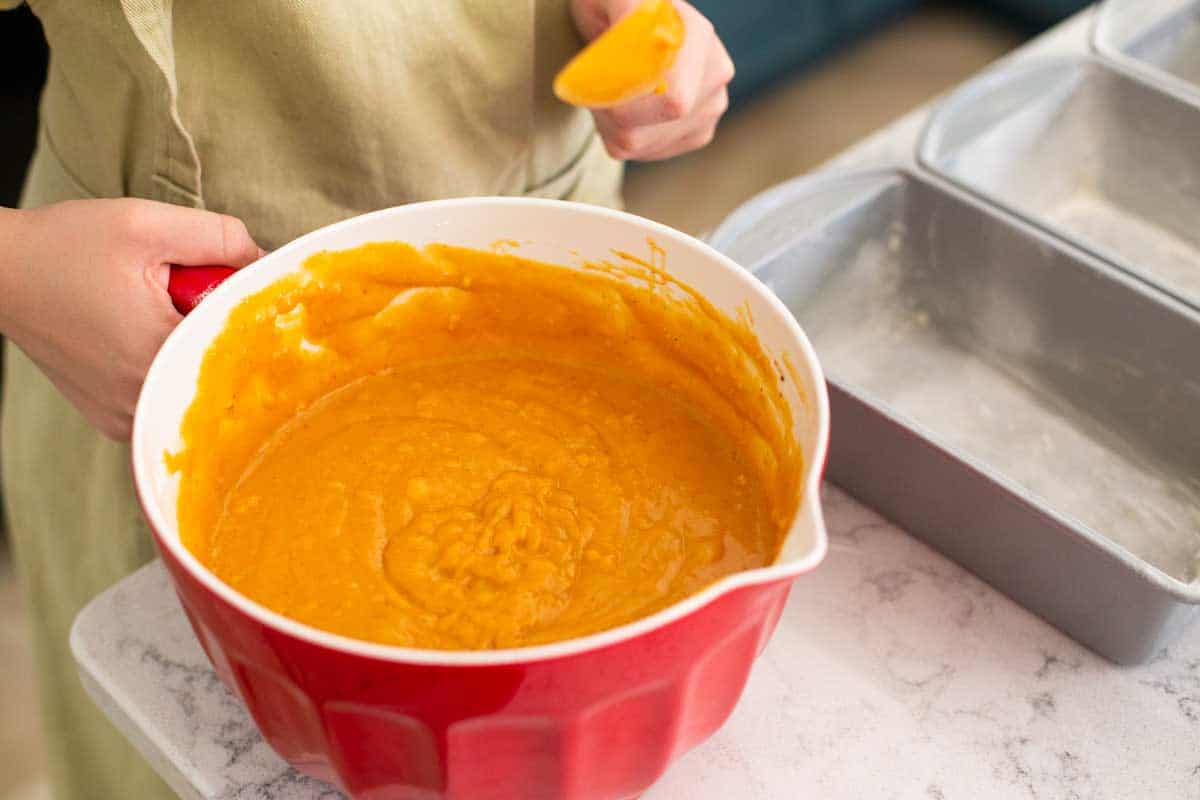 Stir the pumpkin, eggs, vegetable oil, and water together in a large mixing bowl.
In a medium sized mixing bowl, whisk together the remaining dry ingredients: sugar, flour, baking soda, salt, cinnamon, nutmeg, cloves, and ginger.
Add the dry ingredients to the pumpkin batter and stir together until just blended.
Fill 3 Pans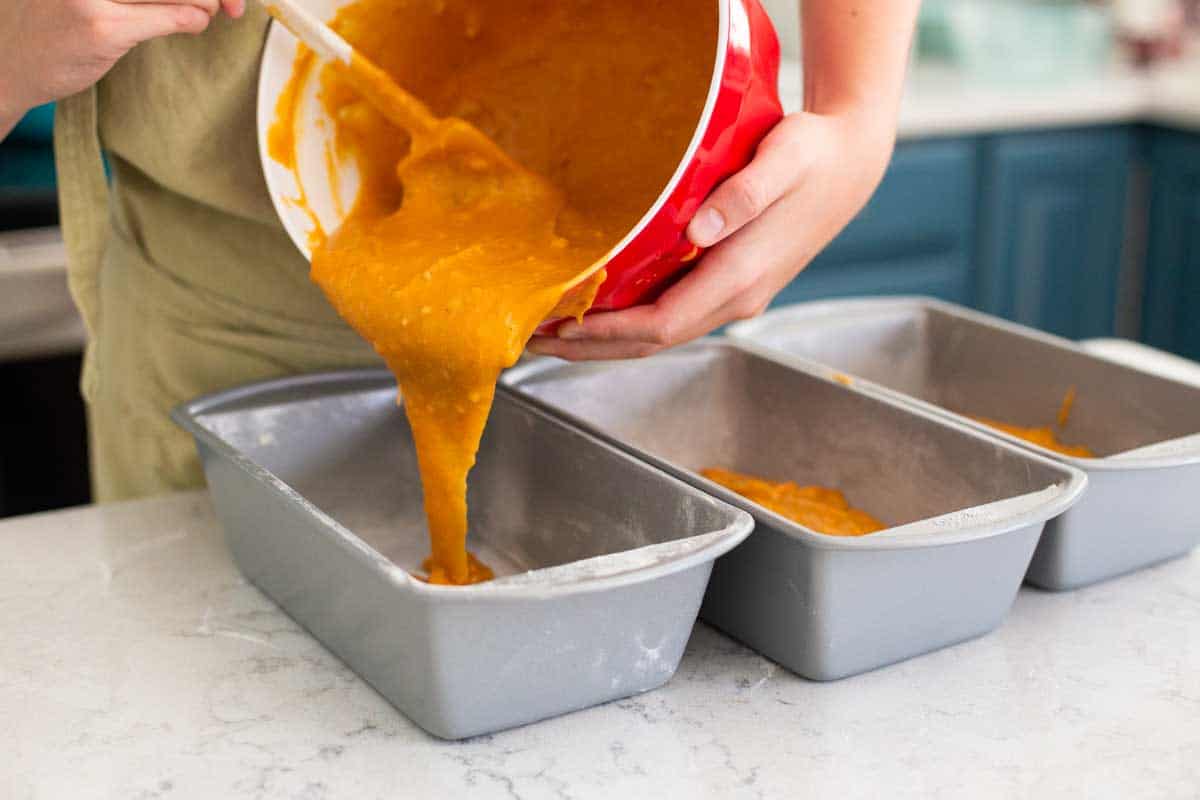 Line up the prepared baking pans and pour the batter evenly among the pans.
If you're worried about keeping them perfectly even, you could also use a measuring cup to portion out the batter among the pans.
We usually just eyeball it and keep the pans near to each other to check the levels as we go.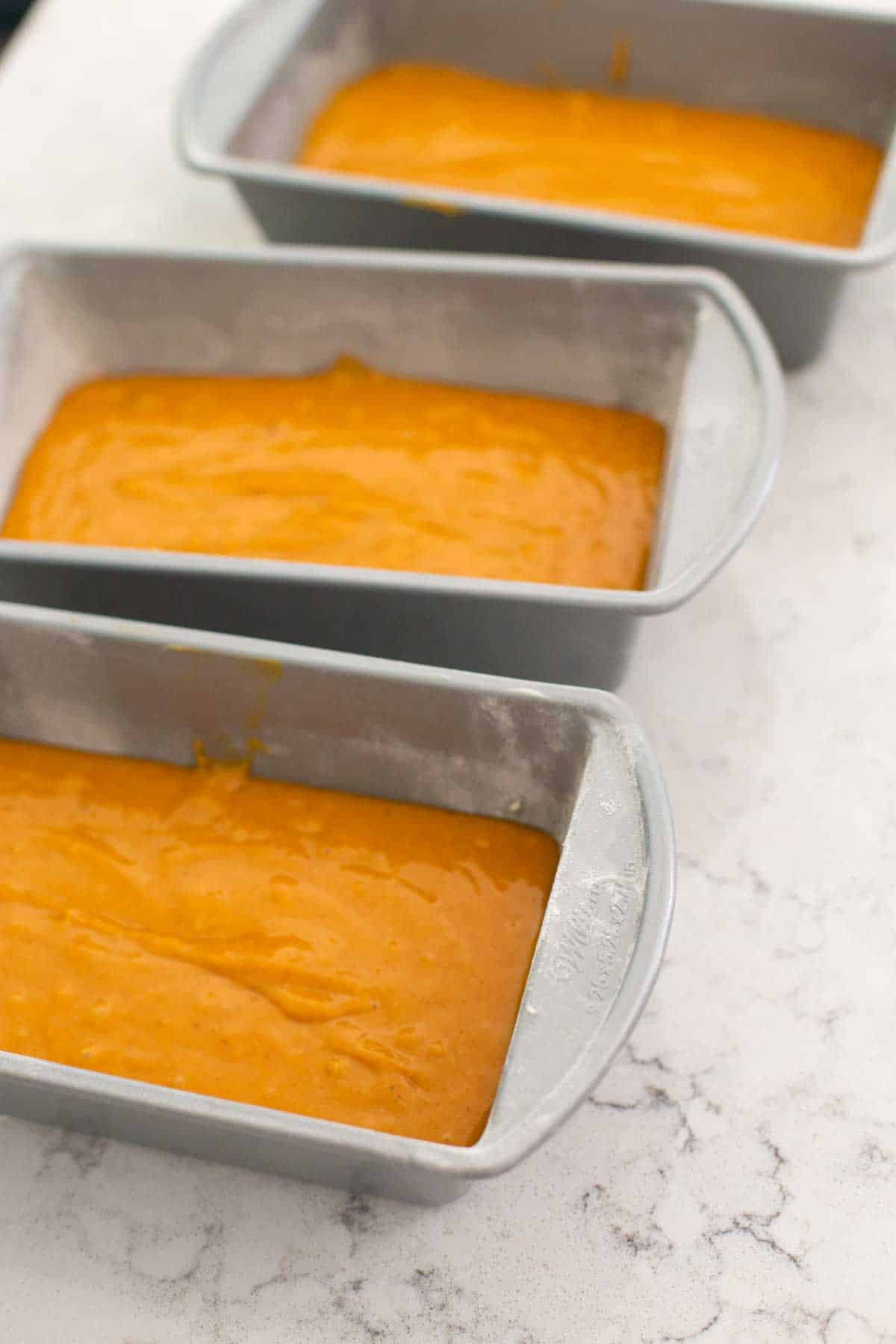 Bake the Pumpkin Bread
Preheat the oven to 350°F.
Bake the pumpkin bread for 50 - 60 minutes or until a toothpick inserted in the center comes out clean.
I usually place the baking pans directly on the center rack, but you could also place the pans on a baking sheet if you want to be able to pull them in and out of the oven easier.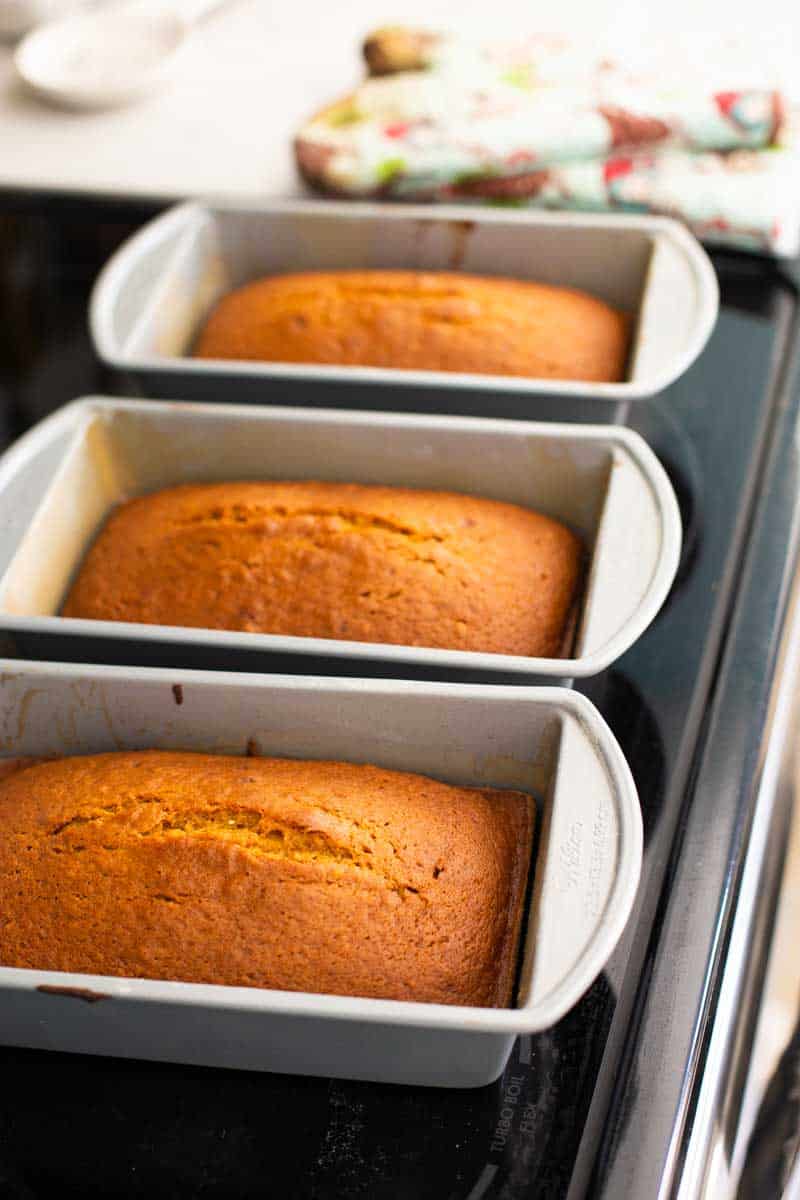 Variations
Since this big batch of pumpkin bread batter makes three whole loaves, it is the perfect recipe to encourage kids to try new flavors.
Tell them to try mixing in butterscotch chips, chopped pecans, or even dried craisins to see which variety they love best.
The pumpkin bread is super moist and delicious as is, but with three loaves, it can be fun to experiment!
How to Freeze Pumpkin Bread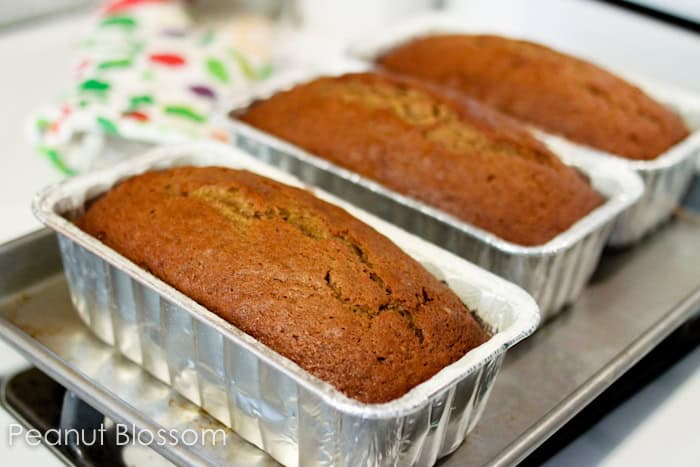 Let each of the pumpkin bread loaves cool completely to room temperature.
If you try to freeze still-warm bread, the steam will form condensation on the wrapping and cause your bread to be mushy when it thaws.
Once the bread has completely cooled, wrap each loaf tightly in two layers of aluminum foil to prevent freezer burn.
Mark the quick bread with a label so you remember the date you baked it.
The bread will freeze well for 6 months.
How to Thaw Frozen Pumpkin Bread
When you're ready to eat the pumpkin bread, remove it from the freezer and loosley unwrap the foil so the moisture doesn't get trapped against the bread as it thaws.
Thaw the bread in the fridge overnight and it will be ready for breakfast in the morning.
You could also thaw it on the countertop but keep it covered so it doesn't dry out.
How to Heat Up Pumpkin Bread for Serving
We love to slice our pumpkin bread just thin enough to fit into our toaster.
If you're careful and toast it lightly, it will get nice and crispy on the outside which is just perfect for slathering a little bit of butter on.
This is the perfect breakfast treat for fall!
More Canned Pumpkin Recipes
This big batch pumpkin bread uses an entire can of canned pumpkin but if you love pumpkin recipes, you won't want to miss these easy baking ideas:
📖 Recipe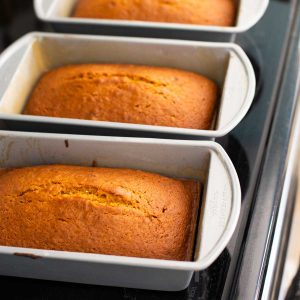 Easy Pumpkin Bread Recipe
This big batch of pumpkin bread makes three loaves -- 1 to keep, 2 to freeze or share with friends. Such a tasty recipe for fall entertaining and easy breakfasts. Freezes so well!
Ingredients
1

(15 ounce) can pumpkin puree

4

eggs

1

cup

vegetable oil

⅔

cup

water

3

cups

white sugar

3 ½

cups

all-purpose flour

2

teaspoons

baking soda

1 ½

teaspoons

salt

1

teaspoon

ground cinnamon

1

teaspoon

ground nutmeg

½

teaspoon

ground cloves

¼

teaspoon

ground ginger
Instructions
Preheat oven to 350° F. Rub softened butter around the inside and flour three 7x3 inch loaf pans.

In a large bowl, mix together pumpkin puree, eggs, oil, water and sugar until well blended.

In a separate bowl, whisk together the flour, baking soda, salt, cinnamon, nutmeg, cloves and ginger. Stir the dry ingredients into the pumpkin mixture until just blended.

Pour into the prepared pans.

Bake for about 50 minutes in the preheated oven.

Loaves are done when toothpick inserted in center comes out clean.
Save This Recipe to Your Recipe Box
Find this delicious recipe next time you visit by saving it to your very own recipe box on my site. All your favorites stored in one easy place!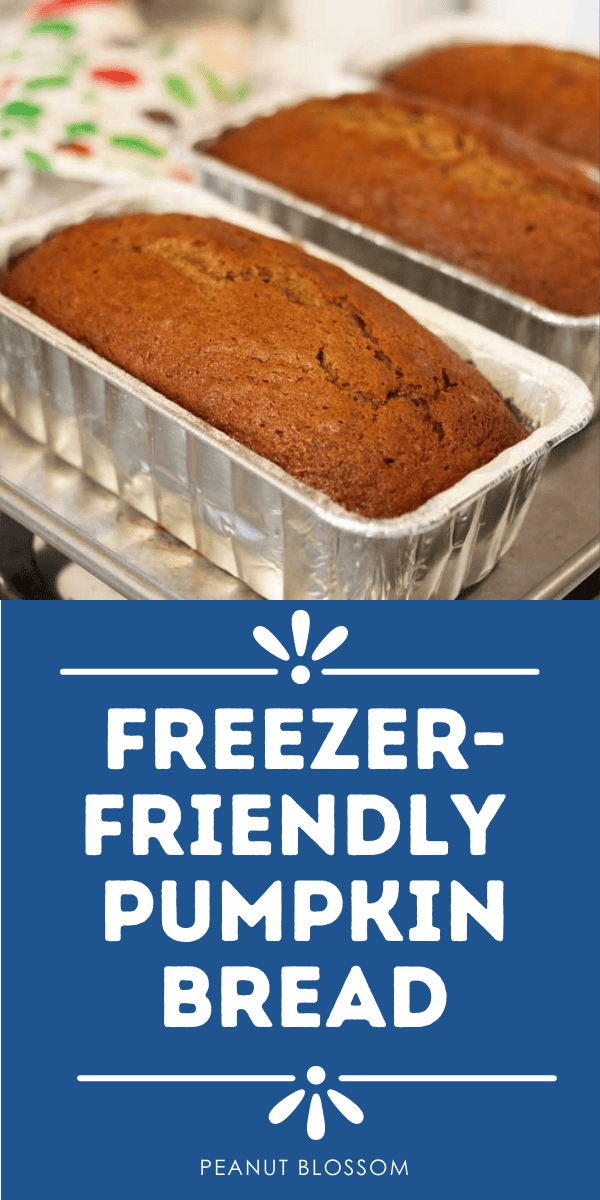 Editor's Note: This post was originally published in October 2010. We've updated this perennial reader favorite for you.