I love pumpkin bread in the fall. I don't think I know anyone who doesn't! After plenty of trial and error, I found this recipe a few years ago and haven't experimented with anything different ever since. The best part for me is that it makes 3 loaves all from one batch. I bake it once and store 2 in the freezer. Or in the case of this particular baking adventure, saved one for our family and gave two others to moms who recently had babies.
Both ladies requested this big batch pumpkin bread recipe, so I thought I'd share it here!
Don't be afraid to mix in butterscotch chips, chopped pecans, or even dried craisins. The bread is super moist and delicious as is, but with three loaves, it can be fun to experiment! We love to slice ours just thin enough to fit into our toaster. If you're careful, it will get nice and crispy on the outside which is just perfect for slathering a little bit of butter on. The perfect breakfast treat!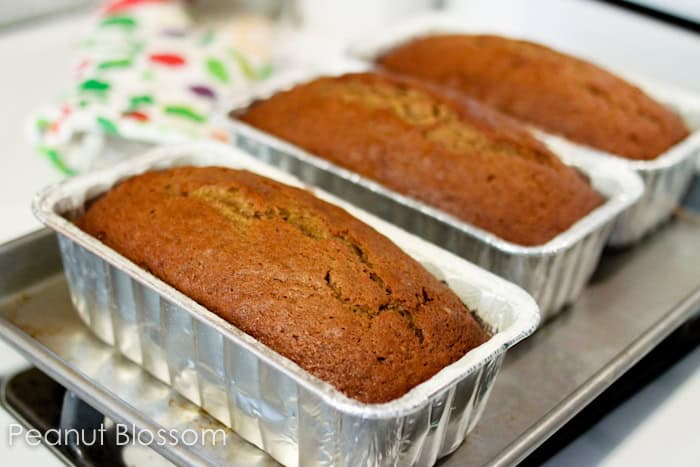 Big Batch Pumpkin Bread Recipe
from AllRecipes.com
Yield: 3 loaves (Freezes great!)
Ingredients
1 (15 ounce) can pumpkin puree
4 eggs
1 cup vegetable oil
2/3 cup water
3 cups white sugar
3 1/2 cups all-purpose flour
2 teaspoons baking soda
1 1/2 teaspoons salt
1 teaspoon ground cinnamon
1 teaspoon ground nutmeg
1/2 teaspoon ground cloves
1/4 teaspoon ground ginger
Method
Preheat oven to 350 degrees F (175 degrees C). Grease and flour three 7×3 inch loaf pans.
In a large bowl, mix together pumpkin puree, eggs, oil, water and sugar until well blended. In a separate bowl, whisk together the flour, baking soda, salt, cinnamon, nutmeg, cloves and ginger. Stir the dry ingredients into the pumpkin mixture until just blended. Pour into the prepared pans.
Bake for about 50 minutes in the preheated oven. Loaves are done when toothpick inserted in center comes out clean.