Pumpkin gooey butter cake bars are the perfect make-ahead Thanksgiving dessert to replace pumpkin pie. It travels well if you're heading to someone else's house for the holiday.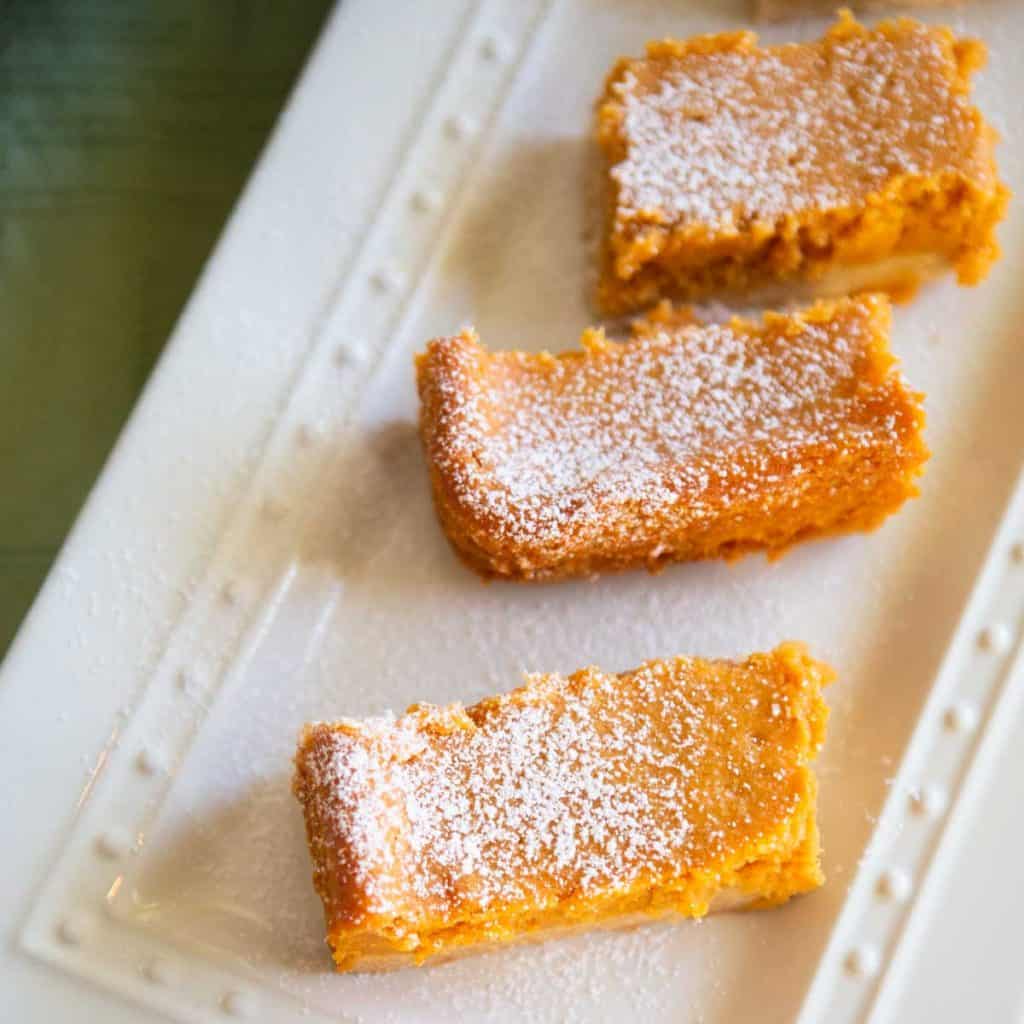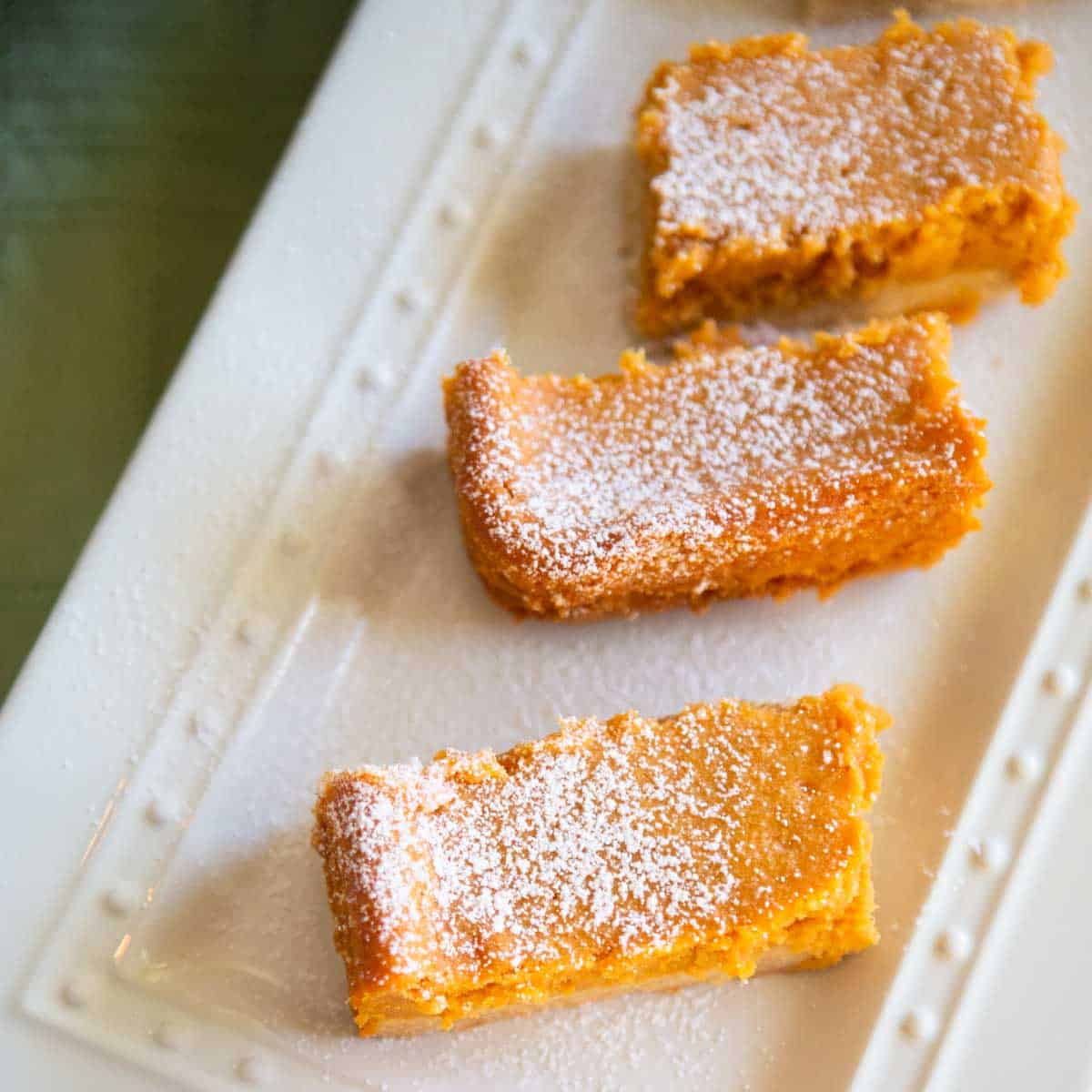 Confession: I'm not a huge fan of pumpkin pie. I remember loving it as a kid but now as an adult, I far prefer the texture and crunch of a good slice of pecan pie.
Yet, every Thanksgiving my mom and I battle over which dessert would be the ONE single dessert to make when we're trying to keep things easy. We always end up making both because we just can't decide.
Last year, I discovered these pumpkin gooey butter cake bars and I nearly swooned. THIS right here is the solution I need! I love the flavor of pumpkin, but these bars bring the texture I crave. They have a wonderful crisp chewiness to them but are still soft and, well, gooey.
They still didn't trump my mom's request for an old-fashioned pumpkin pie but I just couldn't resist making them! I'd rather have a sliver-slice of pecan and a small square of pumpkin gooey butter cake than one large piece of a single dessert.
If you want to add variety to your Thanksgiving table, these pumpkin gooey butter bars are the perfect choice. You can slice them into small bite-sized servings. Since they are so rich, a little goes a long way anyway!
They'd be just perfect on a dessert buffet table mixed with a variety of homemade or even store-bought desserts to keep it easy.
RELATED: Store-bought shortcuts you NEED this Thanksgiving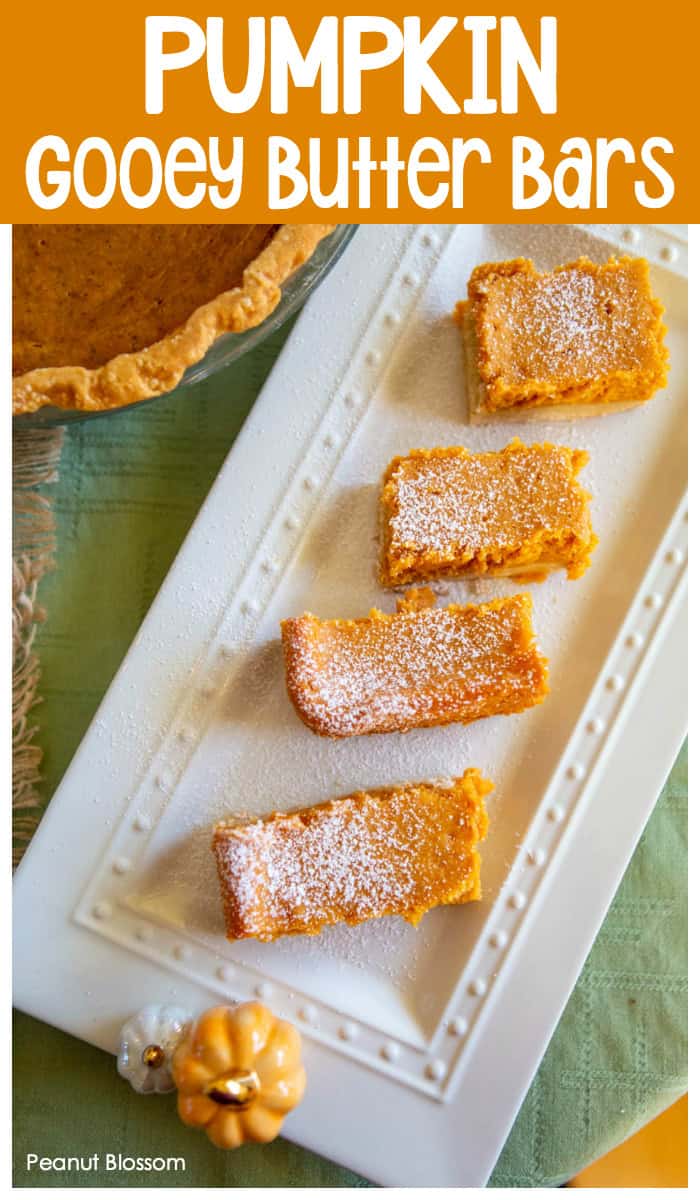 What are pumpkin gooey butter cake bars anyway?
If I lost you at "gooey butter cake," don't worry. Gooey butter cake is an old-fashioned American dessert where you turn a whole lot of butter and a boxed cake mix into a decadent layered dessert. It comes in a wide variety of flavors including both vanilla and chocolate.
I've tried both vanilla and chocolate gooey butter cakes and they are ok, but these pumpkin bars totally take the cake! Pun intended.
They are an awesome fall dessert for any event you want to bring a treat.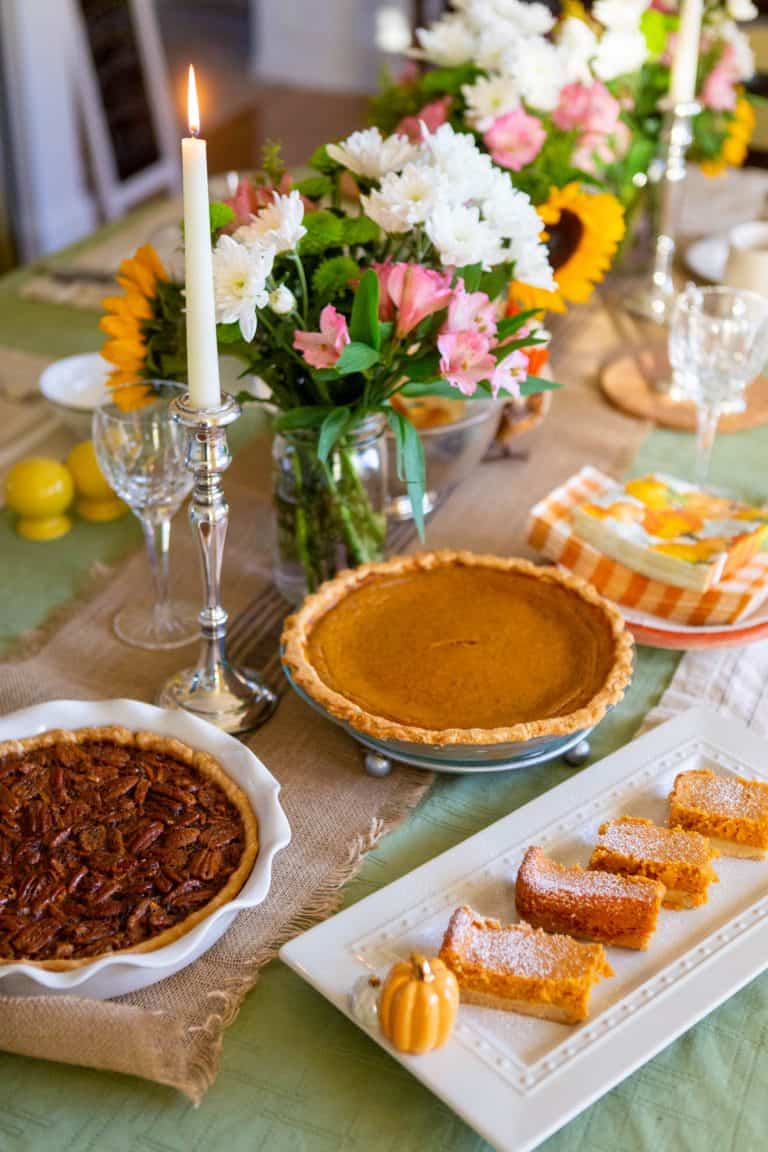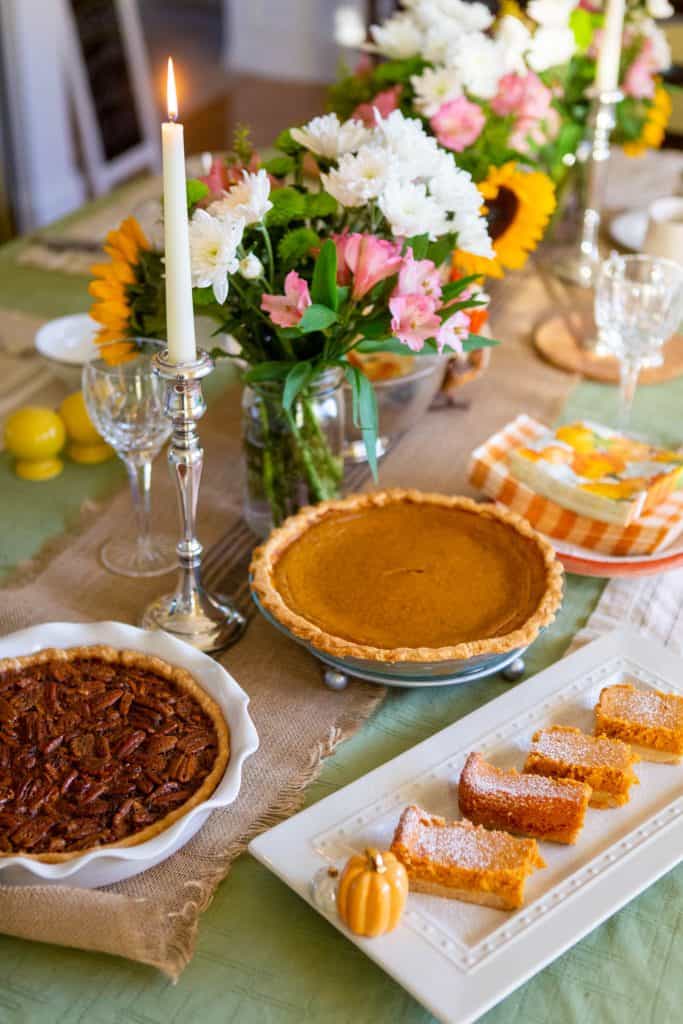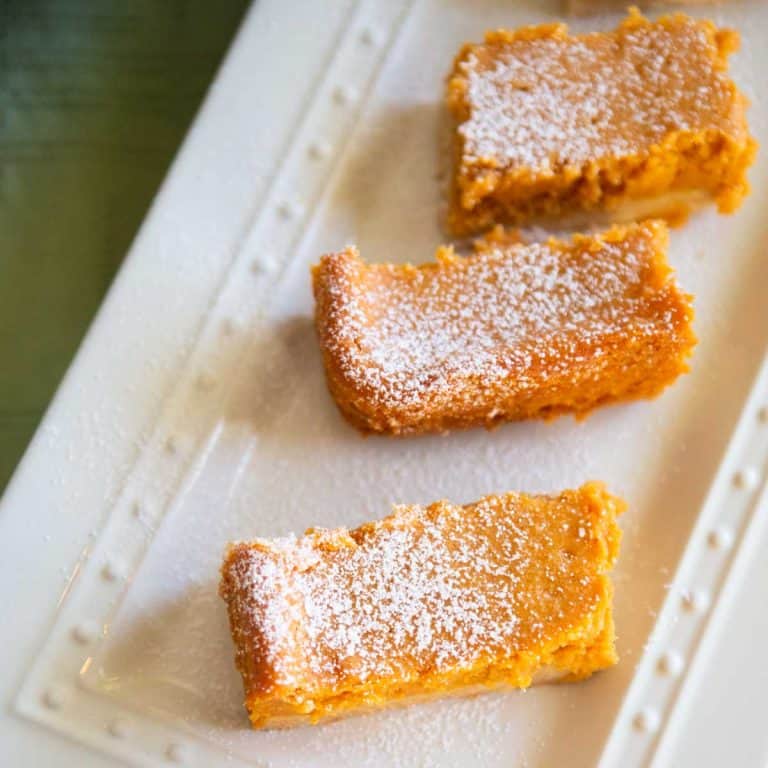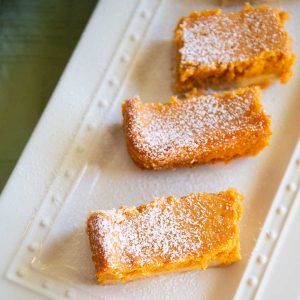 Pumpkin Gooey Butter Cake Bars
These rich and delicious pumpkin gooey butter cake bars are the perfect make-ahead Thanksgiving dessert. They travel really well if you're in charge of bringing the pumpkin dessert!
Ingredients
For the crust:
1

box yellow cake mix

8

tablespoon

butter

1 stick

1

egg
For the filing:
¼

cup

crust mixture saved from the above combination

1

(8 oz) package cream cheese

softened

8

tablespoon

(1 stick) butter

softened

16

oz

container of powdered sugar

1

teaspoon

pie spice

or 1 teaspoon cinnamon and a dash of nutmeg

1

egg

1

teaspoon

vanilla

1

(15 oz) can pumpkin puree

Powdered sugar for dusting
Instructions
Preheat the oven to 350°F. Set out a 9 x 13 baking dish.

Prepare the crust: Combine the cake mix, butter and the egg in a large mixing bowl with your mixer. Set aside ¼ cup of the mixture to add to the filling. Use your fingers to pat and press the remaining crust mixture evenly in the baking pan.

Prepare the filling: Add the cream cheese and butter to the mixing bowl with the reserved ¼ cup of crust mixture. Beat them together until smooth. Beat in the powdered sugar and pie spice. Add the egg and vanilla and mix until just combined. Finish by adding the pumpkin and beat to combine until smooth.

Pour the filling over the crust in the prepared pan. Use a spoon to even it out and then bake for 40 minutes. You'll know it is done when the filling will begin to crack and is completely set but may still jiggle slightly. Cool completely in the pan before serving. Don't test with a knife, it will not come out clean.

Cut into bar shapes and serve with a dusting of powdered sugar for presentation.
Recipe Notes
These bars are delicious the next day and are a perfect make-ahead Thanksgiving dessert.
Save This Recipe to Your Recipe Box
Find this delicious recipe next time you visit by saving it to your very own recipe box on my site. All your favorites stored in one easy place!
Easy Thanksgiving Desserts:
The best part of Thanksgiving is have a variety of treats. Try mixing in some of our family favorites for your dessert buffet table: