Need a pumpkin spice Cheerios recipe? This seasonal flavor is only available for a limited time so let's take advantage and turn it into an ooey gooey, easy no bake pumpkin spice Cheerios treat! Thanks to General Mills for providing the ingredients and recipe to make these easy party treats.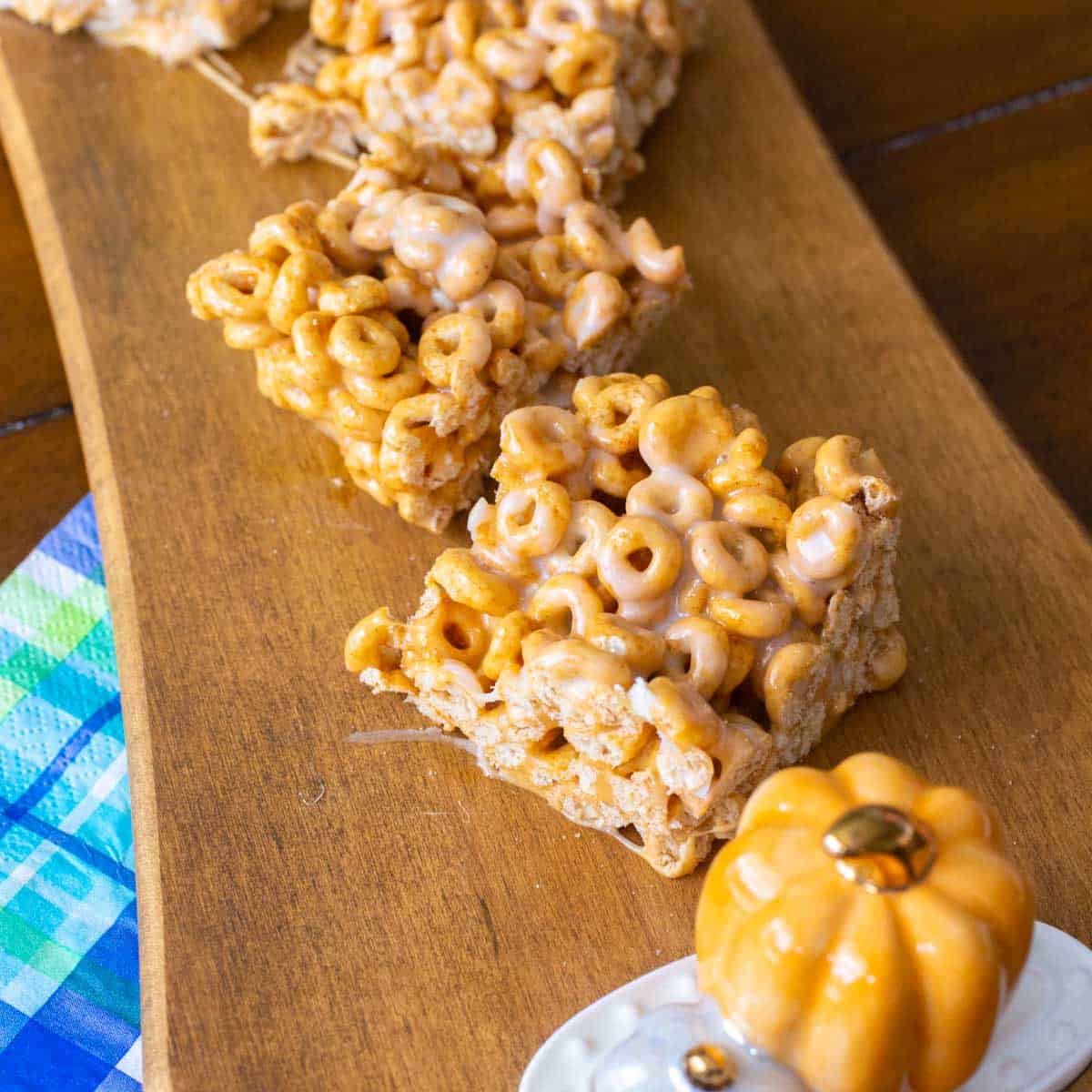 The ingredients to make these delicious pumpkin spice Cheerios bars are so easy to keep on hand.
You just never know when you might need a sweet treat with caramel and marshmallow, topped with a white chocolate drizzle.
My husband has a huge soft spot for easy cereal treats like our mini Trix rice krispie treats. He sighed with contentment at the sight of the easy baking ingredients, so I knew the girls and I had to whip up a batch for him over the weekend.
I love that these Cheerios treats come together in a 9x13-in pan in a pinch. There is no baking involved, everything is prepared right in the microwave. 
Jump to:
Why This is the Best Recipe
I love easy no bake cereal treat recipes but I think this is the best Pumpkin Spice Cheerios treat recipe because:
Kid-Friendly: The kids loved helping to measure and pour all the ingredients for the marshmallow cereal bars. They also helped to stir the caramel and marshmallow during the melting process.
Fun Seasonal Flavor: The Limited Edition Pumpkin Spice Cheerios are always so fun to find at the grocery store. I love that these are actually not available year round, it makes making them so much more fun each fall.
Ooey Gooey Caramel: Unlike regular marshmallow based treats, I love that this recipe includes my other favorite fall flavor -- caramel!
Ingredients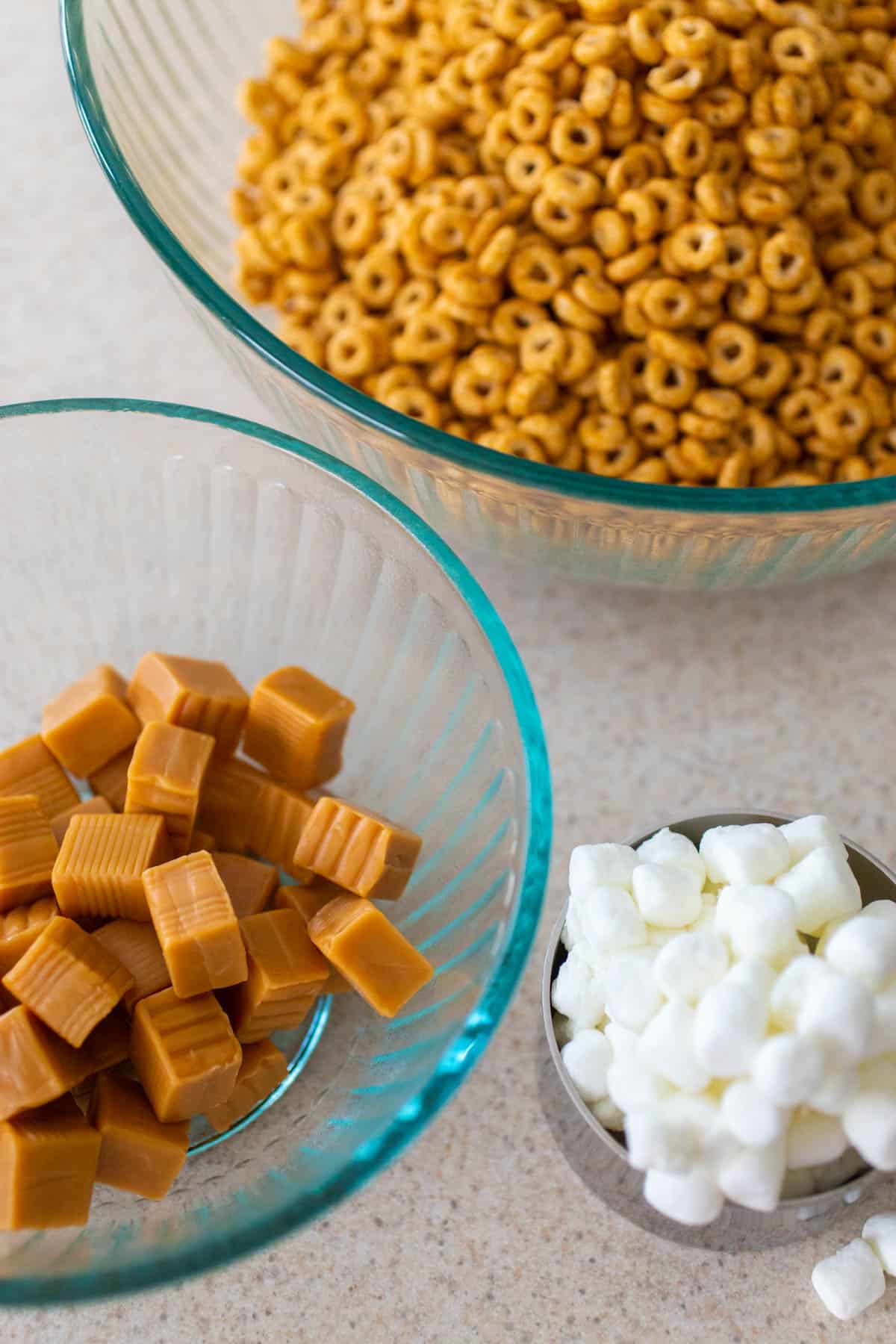 This is such a popular recipe because all you need to make it is:
Pumpkin Spice Cheerios
Caramel Candies
Mini Marshmallows
White Vanilla Baking Chips
Milk
Prep the Baking Pan and Mixing Bowl
Before you get going, you'll want to set out a 9 x 13-inch baking pan.
Spray the pan with cooking spray to make sure your Cheerios bars come out neatly.
Then, spray a large mixing bowl with cooking spray and measure the Pumpkin Spice Cheerios into it.
This will help the treats from sticking to the mixing bowl when you stir it all together later.
Melt the Caramels
Unwrap all the caramel candies and place them in a microwave safe bowl.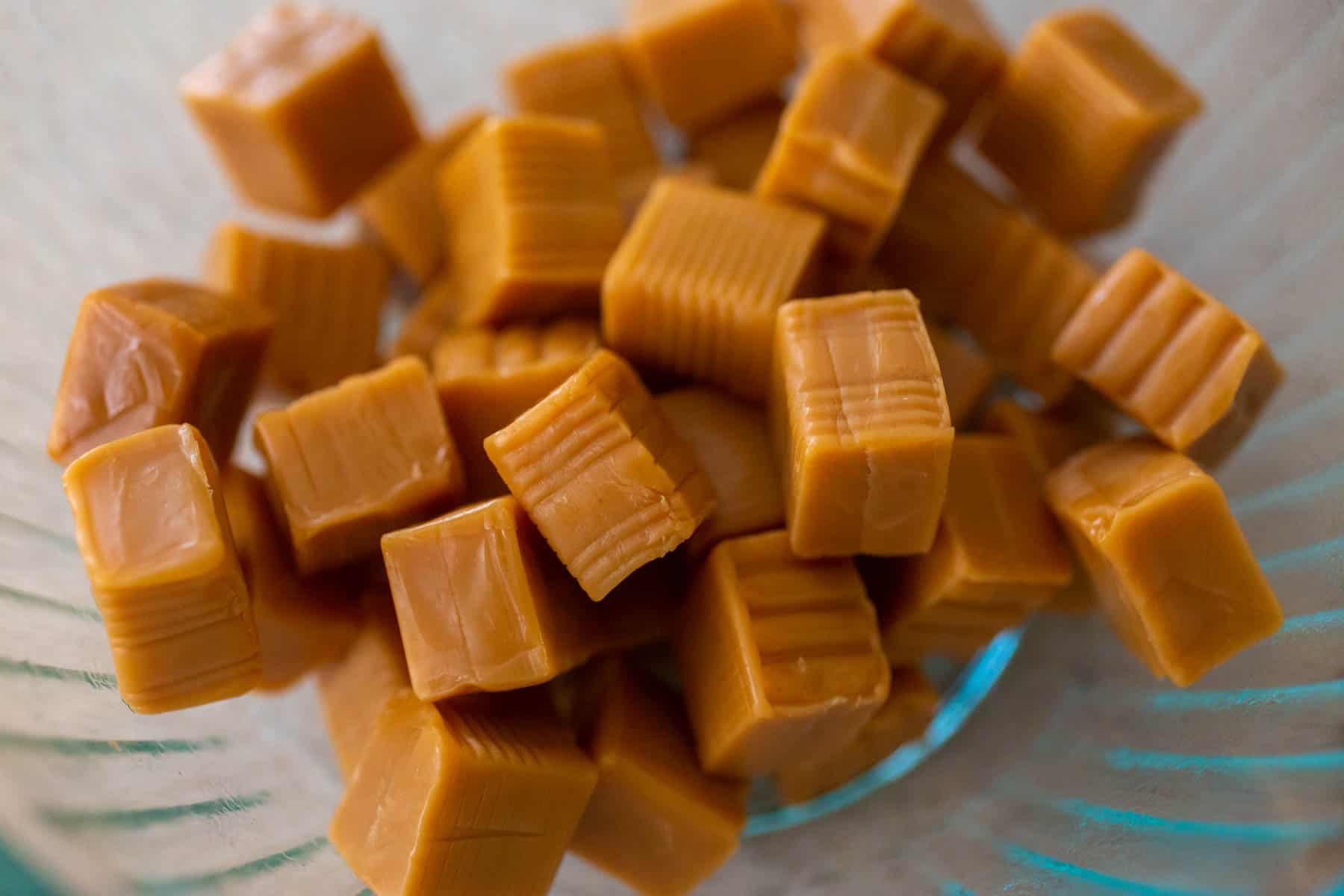 Add the water and microwave the caramels on HIGH for 1 minute and then stir.
Heat the candy for another minute and stir. By now the caramels should be smooth but if they need more time, just heat them 10 seconds at a time and stir until they are the right consistency.
CAUTION: Melted caramel is extremely hot and sticky, it would be too easy for little kids to burn themselves without a little help for this one step so use caution.
Add the Marshmallows and Cheerios
Pour the marshmallows into the melted caramel and stir them together until smooth.
Pour the melted caramel mixture over the prepared bowl of Cheerios and stir them together.
Immediately pour the mixture into the prepared baking pan and spread into a nice even layer.
Drizzle the White Chocolate
In a clean small microwave safe bowl, add the white baking chips and milk.
Heat them in the microwave on high for 1 minute and stir.
If the mixture is not smooth, heat it in 30 second intervals until the white chocolate is just melted.
Be careful to not overcook the baking chips or it will stiffen up.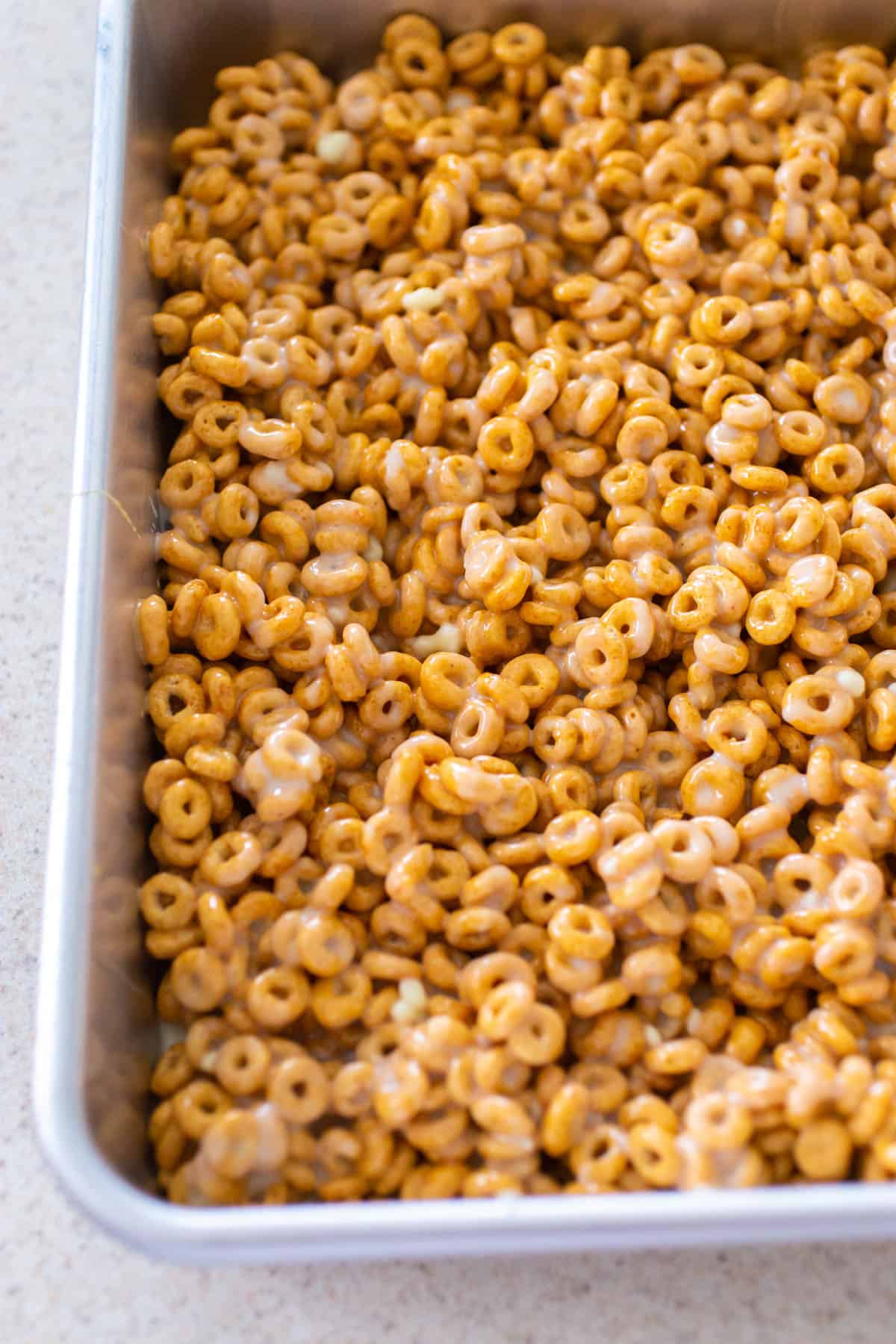 Drizzle the white chocolate over the top of the prepared Cheerios bars and then refrigerate the pan until the cereal bars have set.
Storage Tips
These Pumpkin Spice Cheerios Bars are such a great treat because they'll keep for up to a week.
You can safely store them at room temperature in an airtight container or if you like them extra-chewy, you can store them in the fridge.
Variations
I love these Pumpkin Spice Cheerios Treats just as they are, but a few fun mix-ins you could consider adding would be:
Chopped Pecans: This would add fun crunch and more fall flavor
Mini Chocolate Chips: You could sprinkle a few mini chocolate chips over the top of the treats once you've spread them in the baking pan.
Dried Cranberries: For a little bit of fruity flavor accent, dried cranberries would pair really well with these flavors.
Serving Suggestions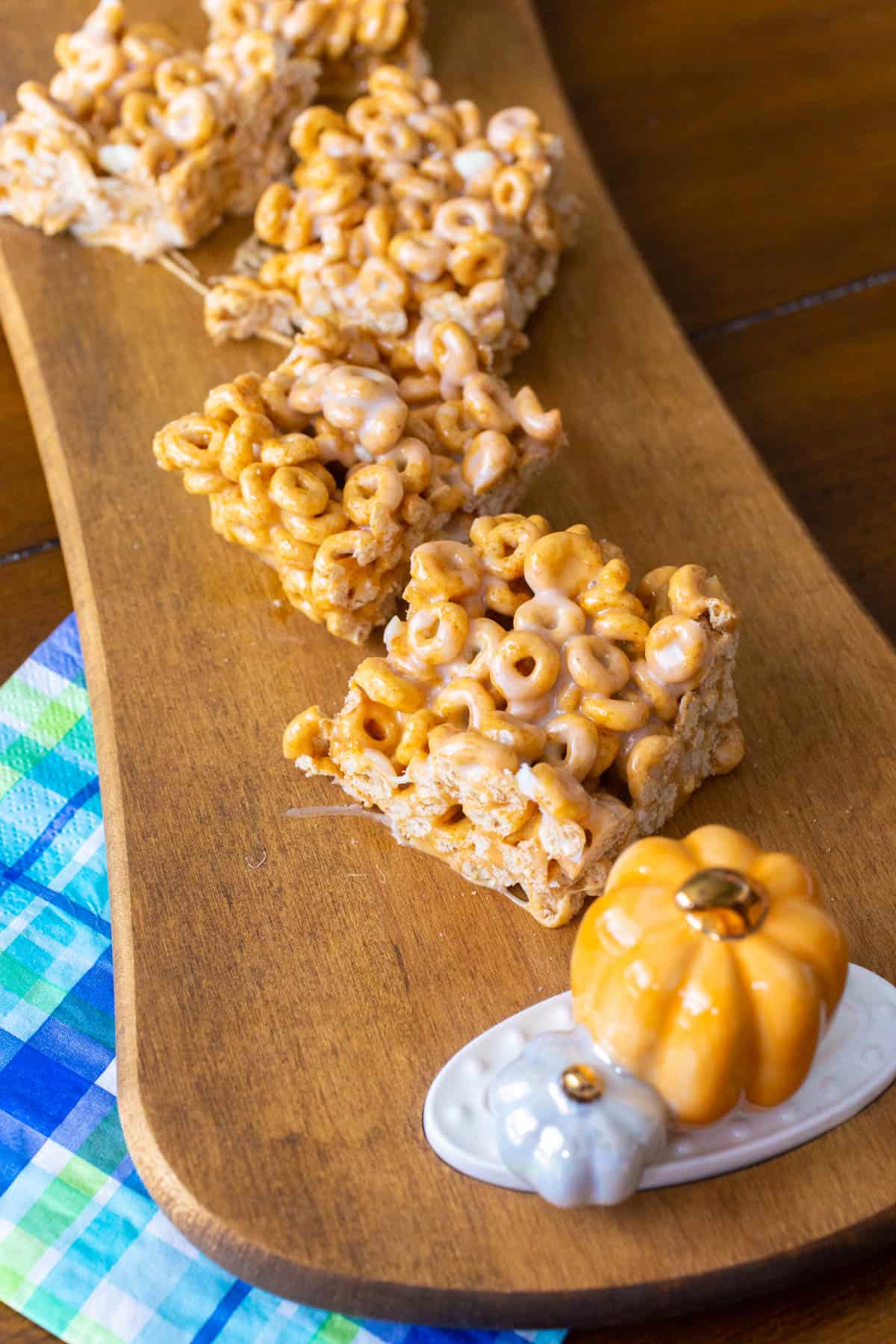 The bars are very sweet and rich and super caramel-y and gooey. They are everything good about fall rolled up into one easy treat.
They would make such a fun party dessert to serve before Trick or Treating, as a Halloween movie night snack, or Halloween party but I also think they'd make a deliciously easy Thanksgiving dessert for kids.
More Easy Cereal Treats
If you love baking with boxed cereals in different flavors, you won't want to miss these other easy krispie treats, snack mixes, and munchies:
More Pumpkin Spice Recipes
If you love pumpkin spice and all things fall, you won't want to miss these other delicious pumpkin recipes:
📖 Recipe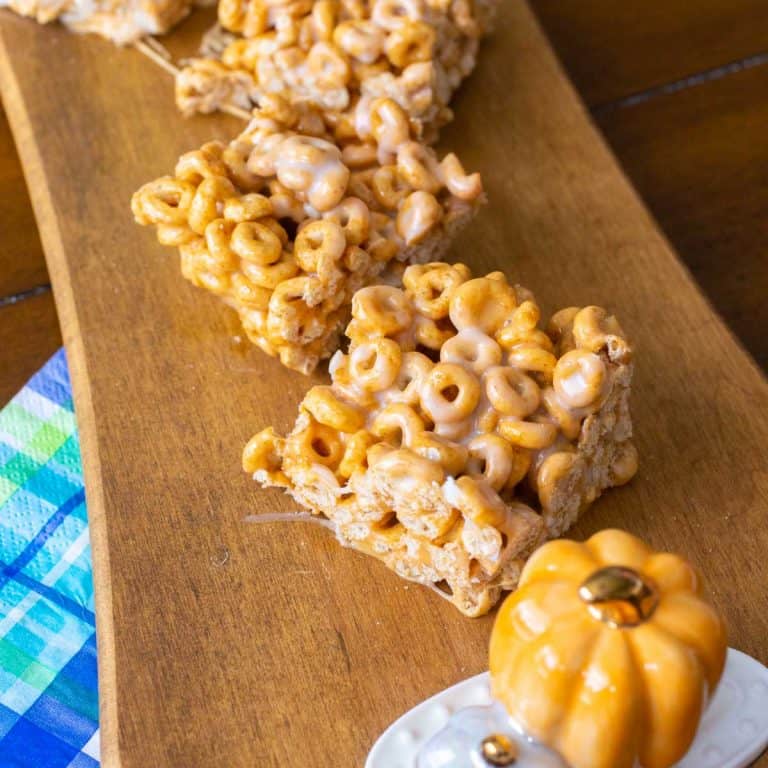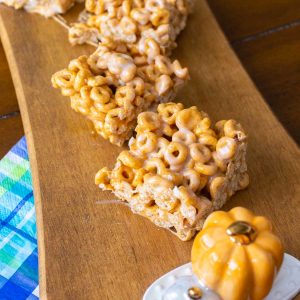 Pumpkin Spice Cheerios Bars
These no-bake pumpkin spice Cheerios treats combine melted marshmallow and caramel for a delicious fall dessert. This easy recipe is great to have some fall baking fun with the kids.
Ingredients
6

cups

Pumpkin Spice Cheerios

1

(11 oz) bag caramels

2

tablespoon

water

2

cups

miniature marshmallows

½

cup

white vanilla baking chips

2

tablespoon

milk
Instructions
Line a 9 x 13 inch pan with parchment paper and spray the bottom and sides with cooking spray. Spray a large mixing bowl with cooking spray, place the Pumpkin Spice Cheerios in the bowl and set aside.

Spray a medium sized microwaveable bowl with cooking spray and add the unwrapped caramels and water. Microwave the caramels uncovered on High for 1 minute and then stir. Heat for another minute and stir. The caramels should be smooth. If they need more time, heat 10 seconds at a time until you reach the proper consistency.

Add the marshmallows to the caramel and stir until the marshmallows have melted and the mixture is smooth. CAREFULLY pour the hot melted caramel over the pumpkin spice Cheerios and stir. The cereal should be completely coated and combined with the caramel.

With the back of a spatula that has been sprayed with cooking spray, spread and press the cereal mixture into the pan until evenly spread.

In a small microwavable bowl, add the white baking chips and milk. Heat on High for 1 minute and stir. If the mixture is not smooth, heat at 30 second intervals until it is just melted. Be careful to not overheat or it will stiffen up. Drizzle the melted white chips over the top of the pumpkin spice Cheerios bars.

Place in the refrigerator until the mixture is firm and the glaze is set, about 30 minutes.
Save This Recipe to Your Recipe Box
Find this delicious recipe next time you visit by saving it to your very own recipe box on my site. All your favorites stored in one easy place!