Coconut Chex Mix with toasted almonds is a 10-minute party treat to serve this holiday season. Both crispy and chewy all at the same time, this coated Chex mix is a delightful addition to any party table.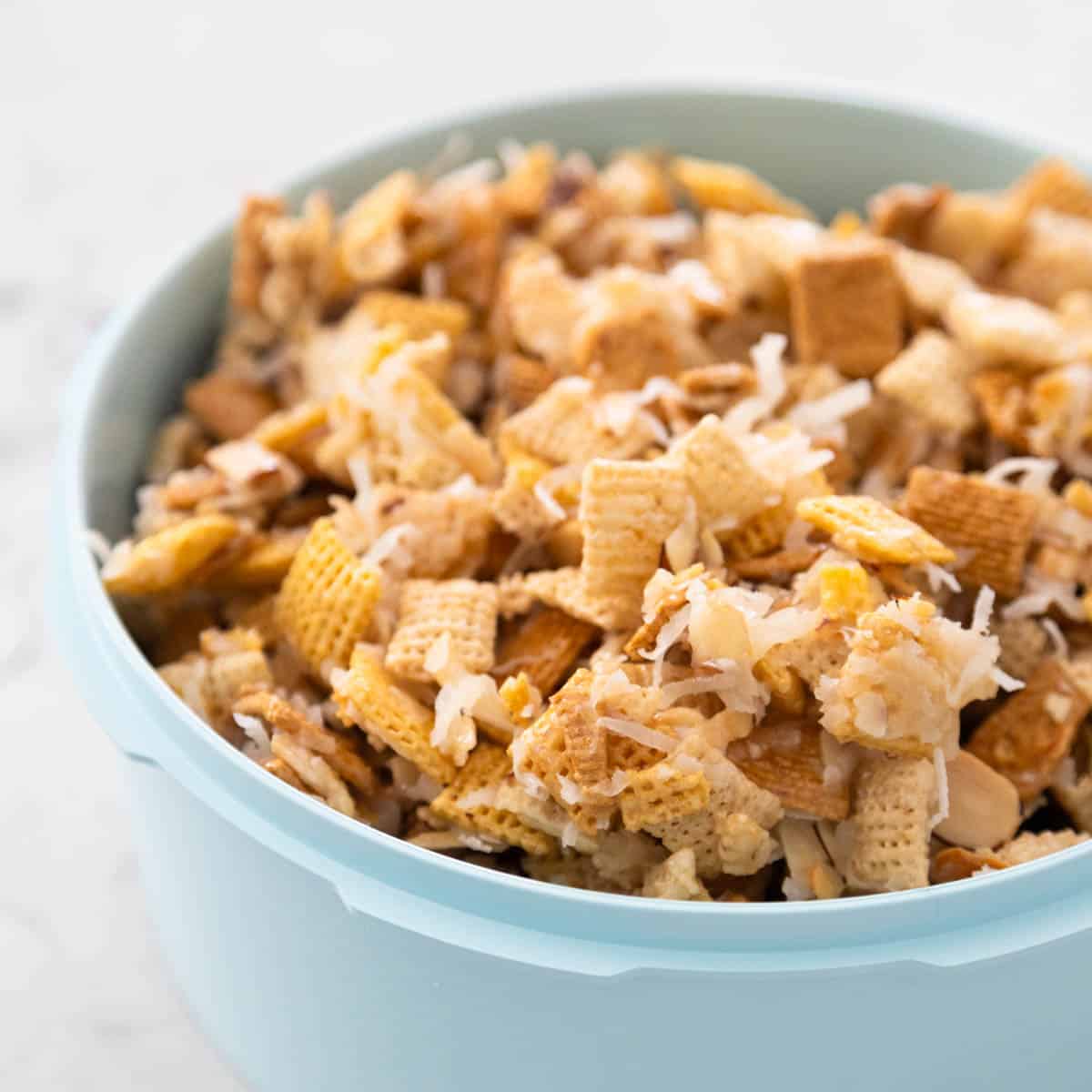 I love coconut treats, don't you? The chewy texture, the sweet flavor, YUM.
But go ahead and mix that with a crispy Chex Mix with a vanilla butter coating? I'm sold.
This 10-minute party treat was so easy to stir together. I've been sending it in my kids' lunch boxes as a special surprise but we're absolutely going to make it again during the holiday season to fill our candy bowls during our open house party.
Jump to:
Why This is the Best Recipe
I love to bake simple treats with my kids for the holidays. I think this is the best coconut Chex Mix recipe because:
Quick and Easy: In under 10 minutes, I can have this sweet party treat all prepared.
Dare You to Eat Just One Bite: You won't be able to stop eating this snackable sweet treat. The texture is chewy and crispy all at the same time. YUM.
Lots of Coconut Flavor: The shredded coconut really shines in this recipe, adding both texture and flavor. If you love coconut, you're going to really love this recipe.
Ingredients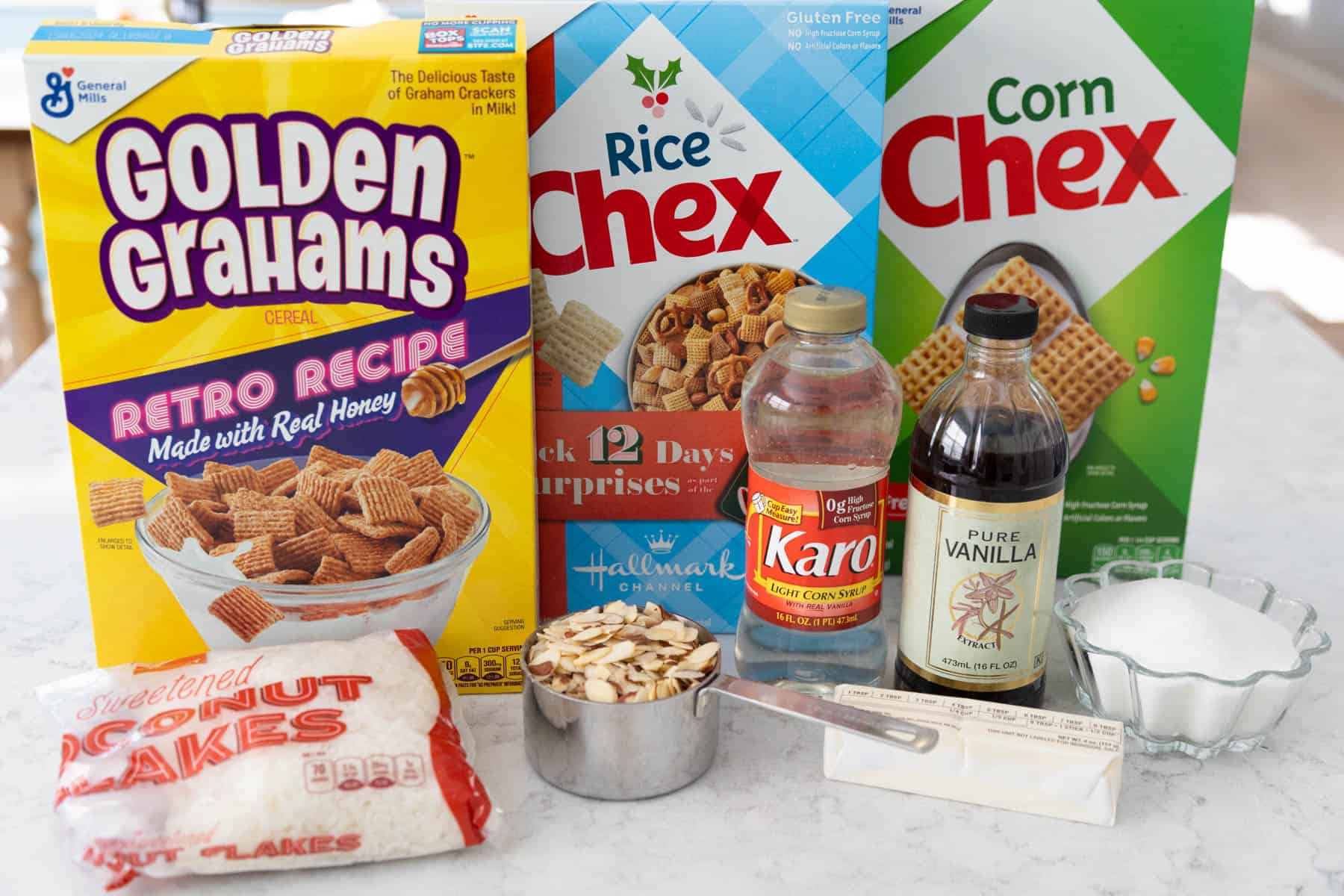 This easy recipe only needs a few ingredients:
Rice Chex
Corn Chex
Golden Grahams
Sliced Almonds
Shredded Coconut
Sugar
Light Corn Syrup
Butter
Vanilla Extract
How to Toast the Almonds
Toasted almonds add an extra-delicious flavor to this snack mix and it only takes a couple of minutes.
Preheat the oven to 350°F. Spread the almonds on a baking sheet and bake for 2 minutes or until golden brown.
Watch carefully because they can burn quickly.
Set them aside to cool for a minute while you measure the cereal.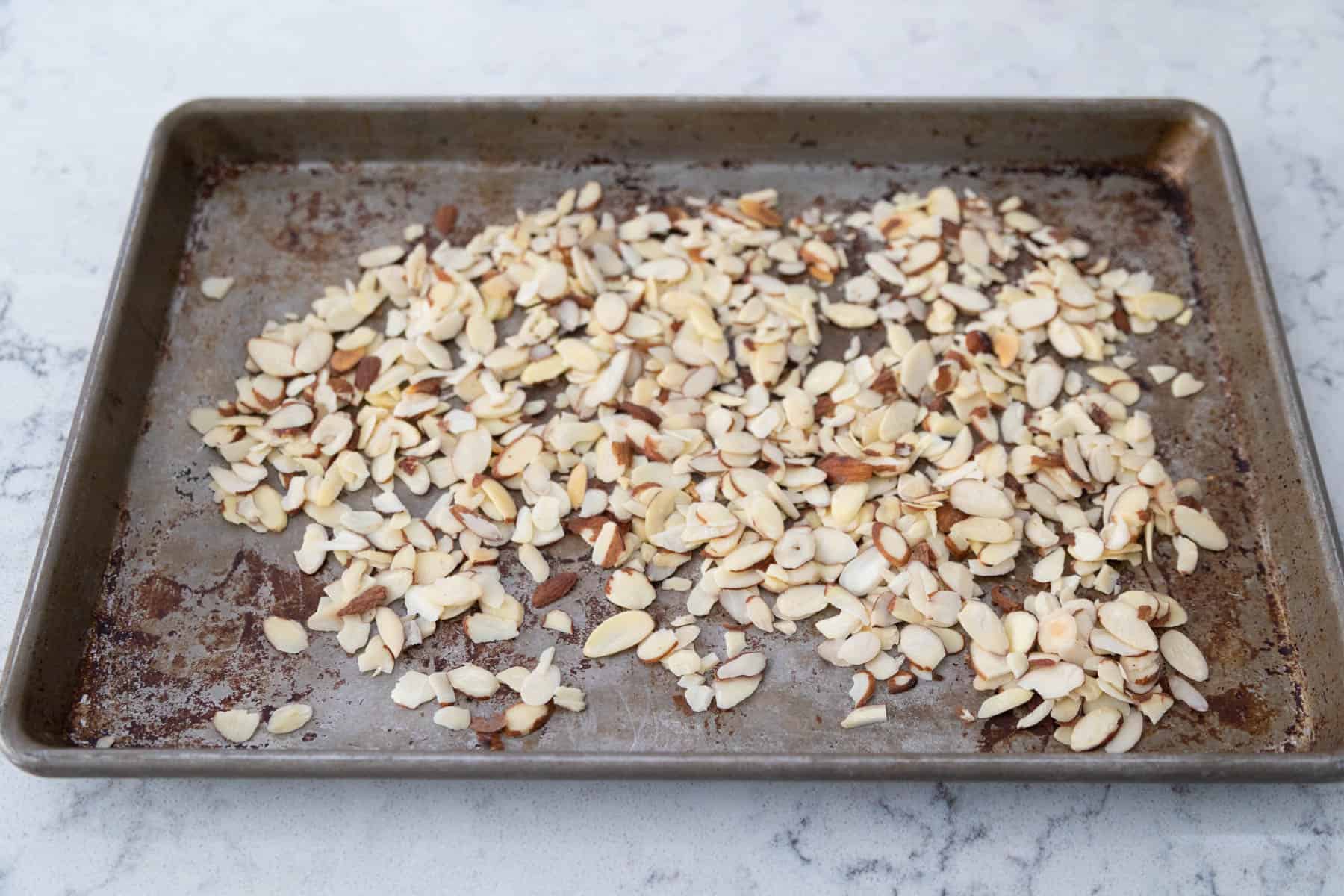 Mix the Cereal with Coconut
Add the Rice Chex, Corn Chex, Golden Grahams, and shredded coconut to a large mixing bowl.
Stir it all together and then add the cooled almonds. Stir them once more.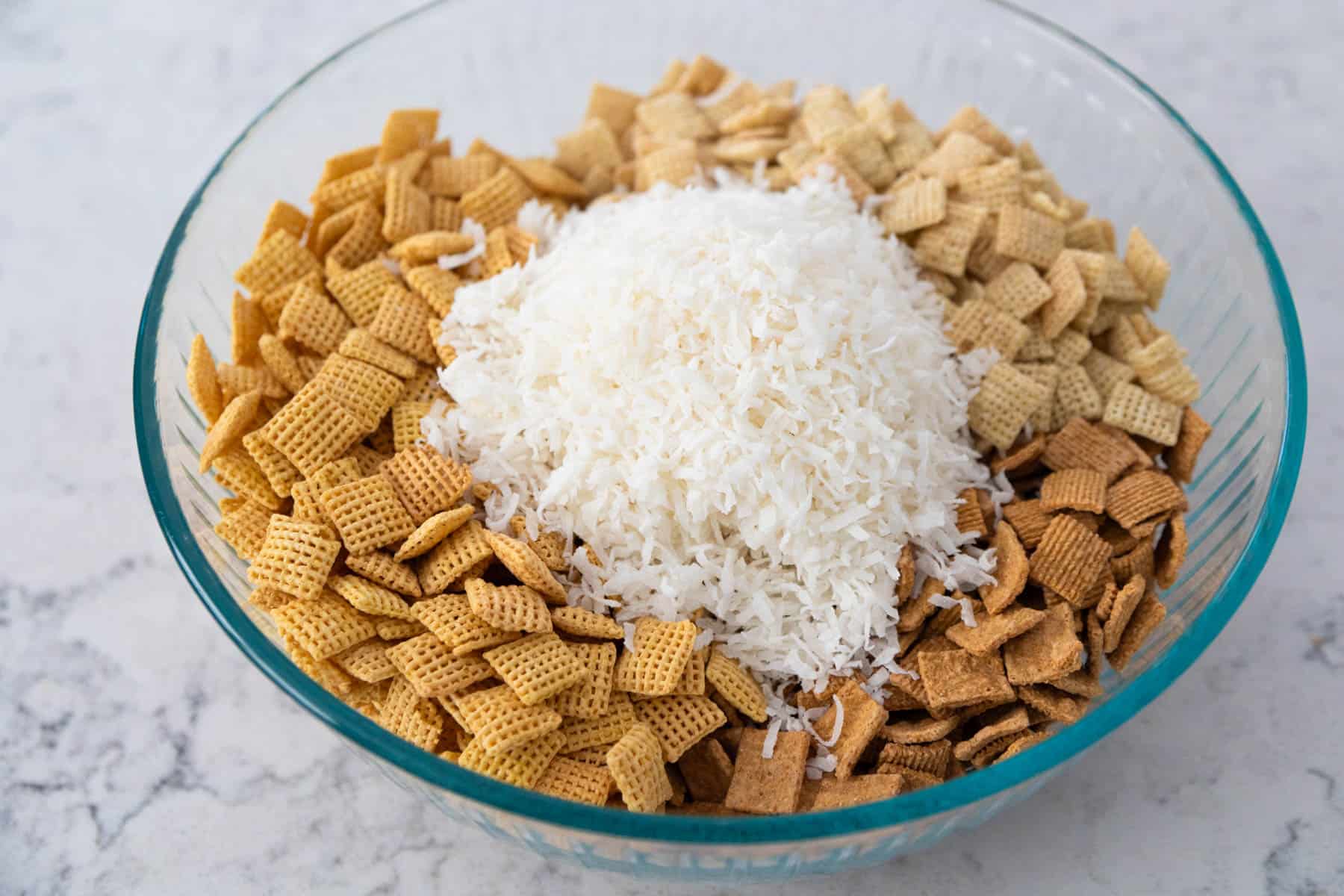 Make the Vanilla Butter Sauce
Melt the butter in a saucepan over medium-high heat.
Add the sugar and corn syrup and stir it together. Bring the mixture to a boil.
Once bubbling, cook for 3 minutes and then remove it from the heat.
Add the vanilla extract and stir until well combined.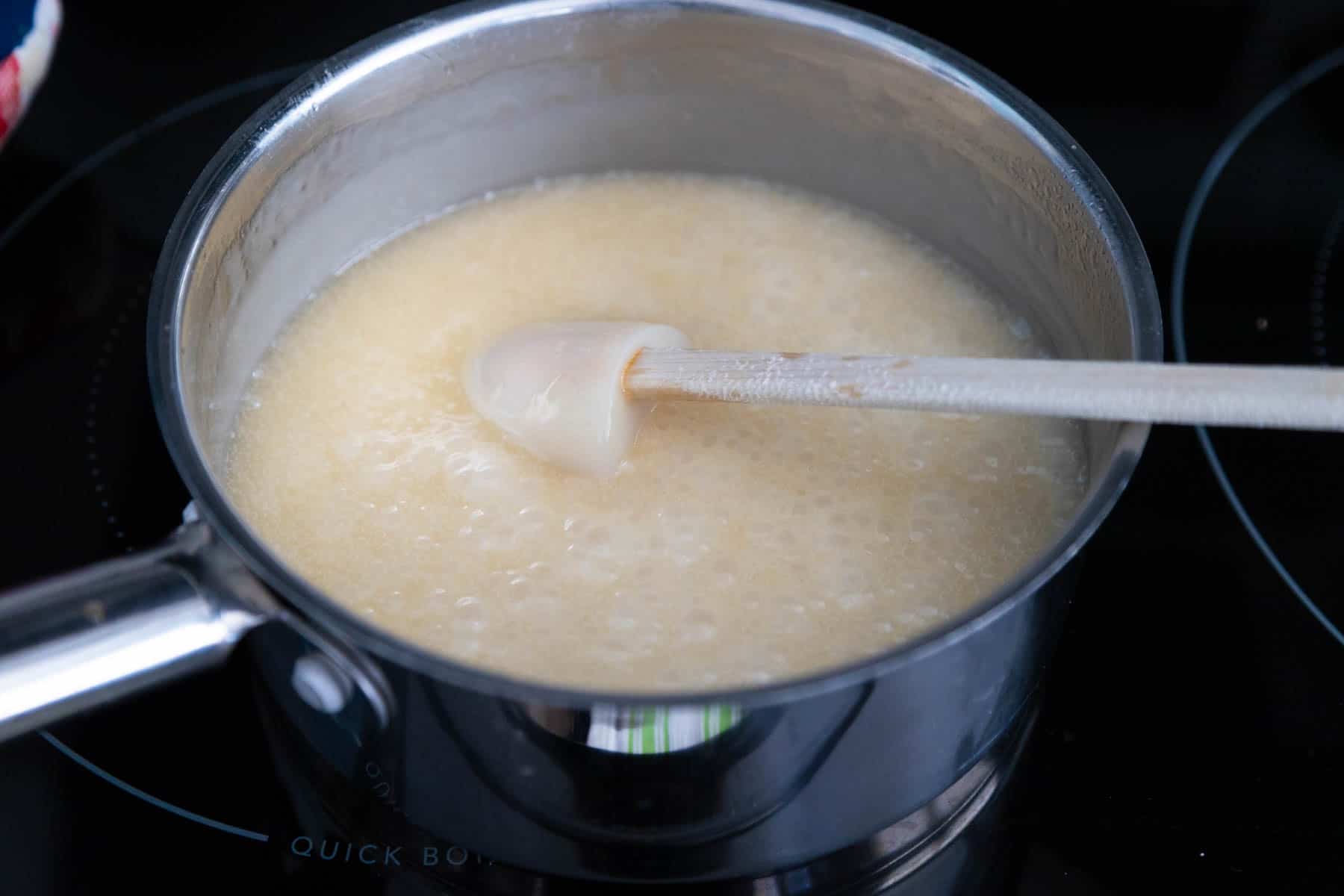 Assemble the Chex Mix
Pour the vanilla butter sauce over the prepared cereal in the mixing bowl and stir it all together.
It will be very sticky and get harder to stir. Use a large spatula and work quickly.
As it cools, you may find it easier to help nudge clumps along with your fingers as you break it up and stir until well coated.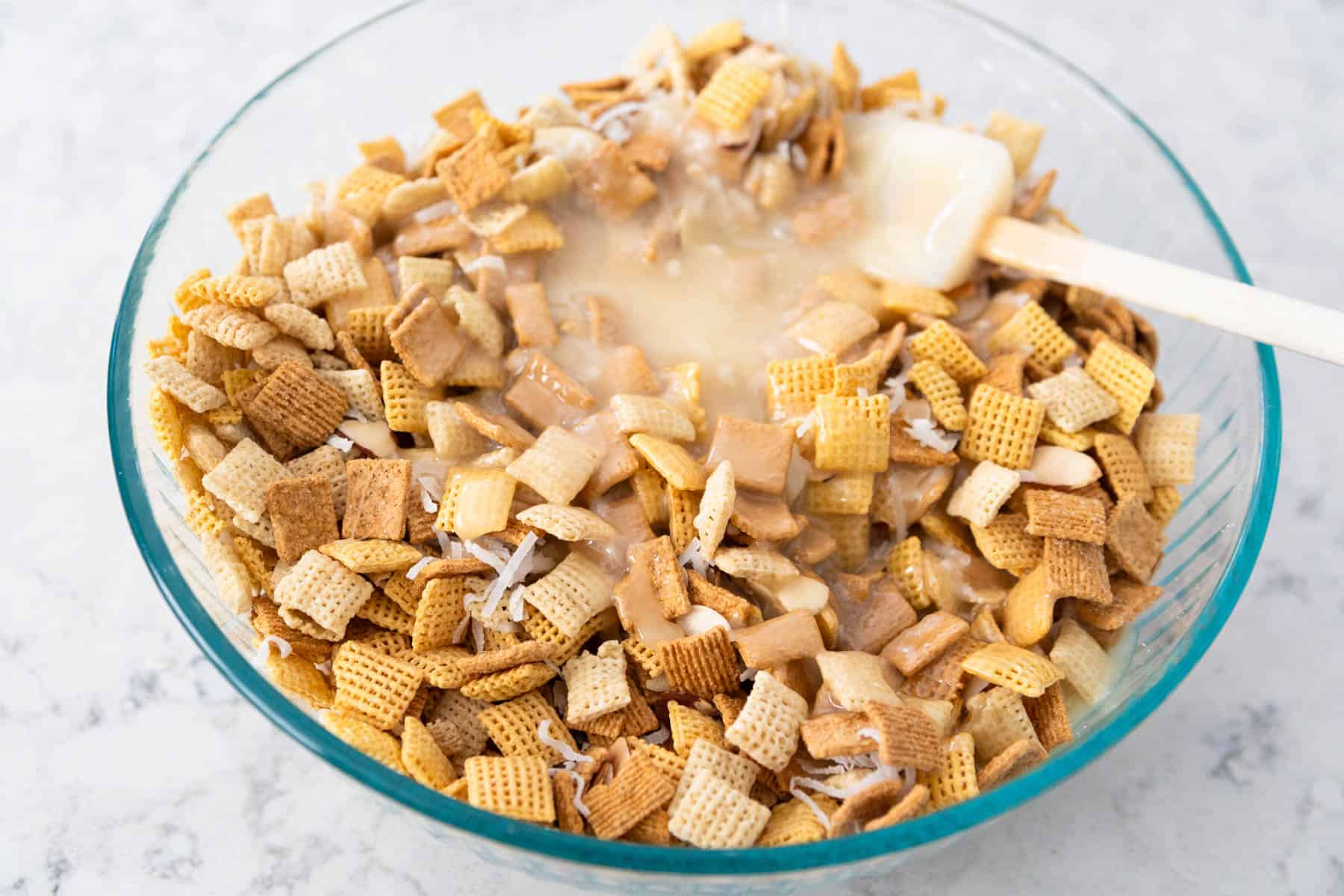 Spread the coated Chex Mix into an even layer across two large baking sheets lined with parchment paper.
Allow the coconut Chex Mix to cool completely before breaking it up into small clumps and storing in an airtight container.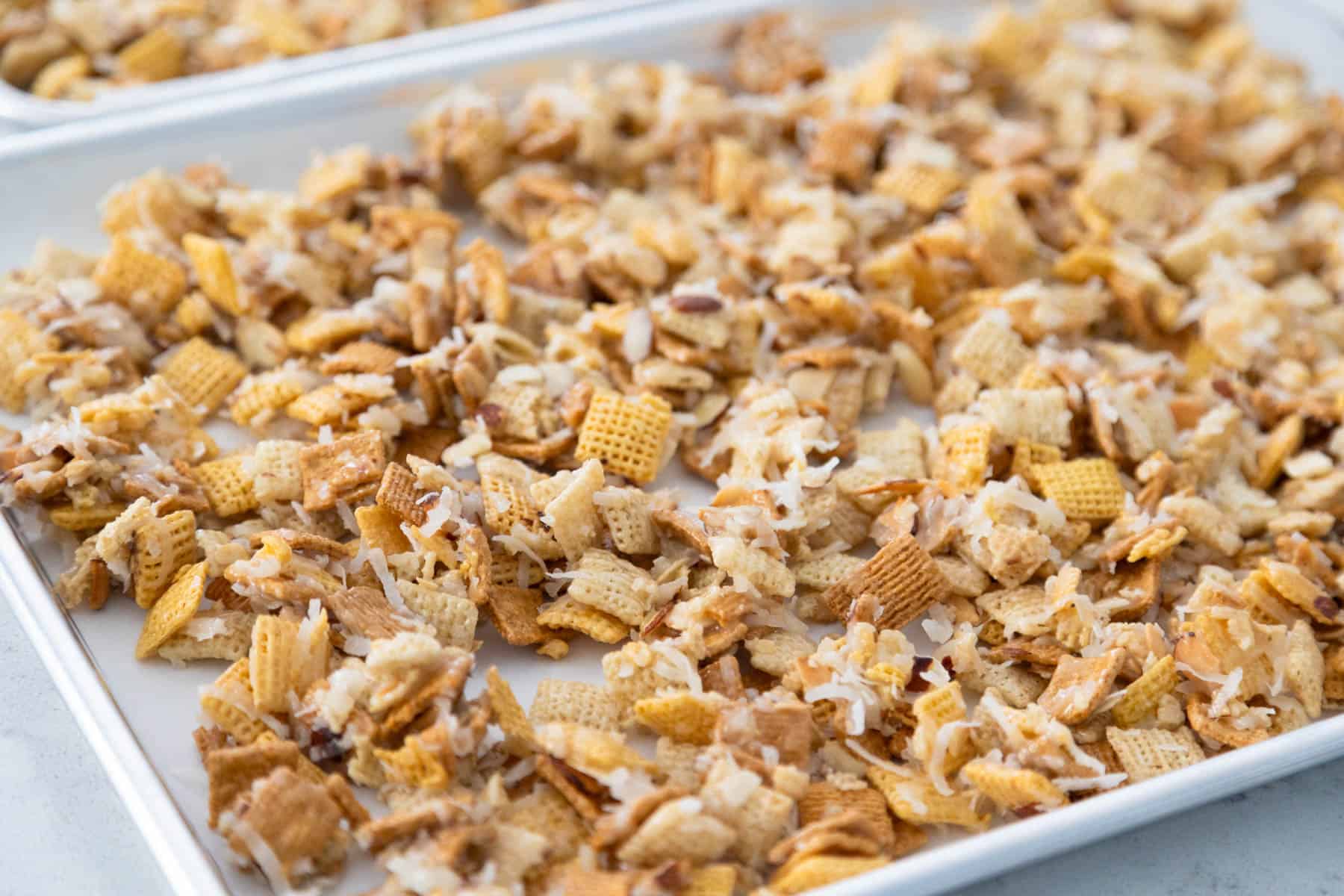 Variations
This sweet coconut Chex Mix is a gorgeous coated party treat with the shredded coconut and is delicious just as is, but there are a few fun ways you could play with this recipe, too:
Chocolate Coconut Chex Mix with Almonds: Add mini chocolate chips to the chex mix after it cools.
Holiday Chex Mix: Add colorful sprinkles to the coated Chex Mix just before it sets.
Pineapple Coconut Chex Mix: Add chopped dried pineapple or even dried banana chips for a tropical twist to this recipe.
Coconut Pecan Chex Mix: Swap chopped pecans for the almond slices. You can toast them the same way.
Nut Free Chex Mix: Skip the nuts altogether if you know your friends have sensitivities to nuts. Be sure to label the treat that it has coconut in case anyone has an allergy.
Storage Tips
This sweet Chex Mix recipe will keep in an airtight container for up to 5 days.
Serving Suggestions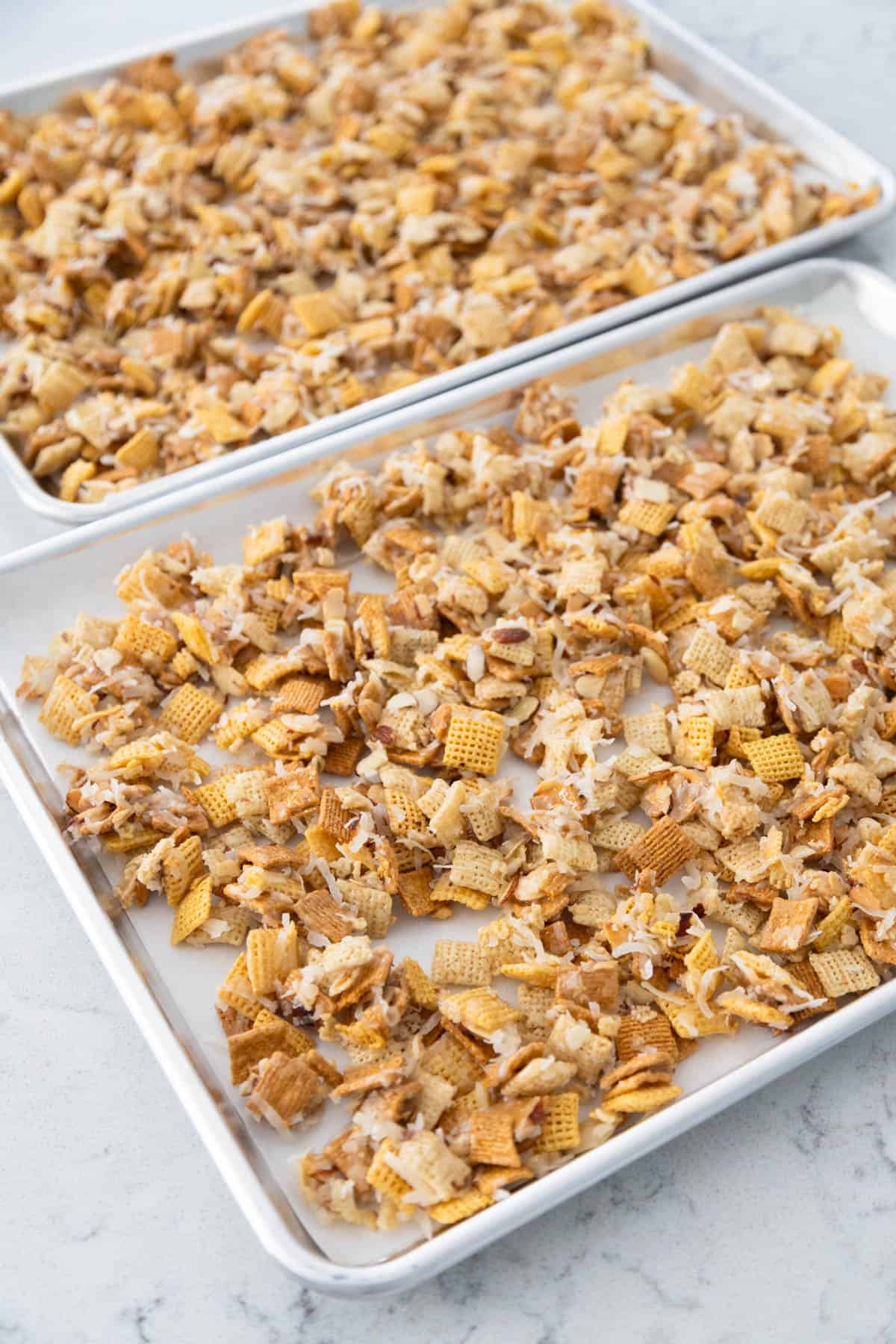 Coconut Chex Mix would make an awesome party treat to serve during the holiday season.
You can break it up into clumps and add to pretty dishes on your buffet tables or offer it in individual party treat cups.
It would also make a delicious homemade gift bundled up in pretty treat bags with ribbons.
More Easy Party Treats
Looking for more easy treats to serve for a party? Here are a few other fun nibbles you'll enjoy:
More Chex Mix Recipes
Chex Mix is so popular during the holiday season for great reason. From sweet to salty, I've got you covered:
📖 Recipe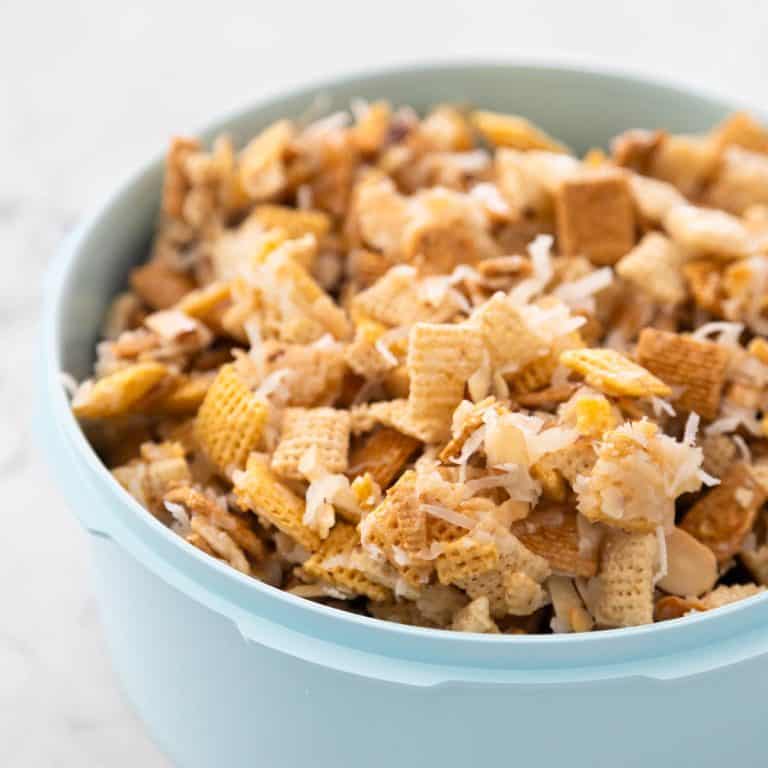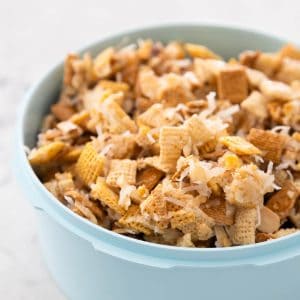 Coconut Chex Mix
Sweet coconut Chex mix with toasted almonds is a perfect party treat for the holidays. This no bake dessert can be prepped in under 10 minutes. Add mini chocolate chips or festive sprinkles to personalize it for your special event.
Ingredients
4

cups

Rice Chex

4

cups

Corn Chex

4

cups

Golden Grahams

1

cup

almond slices

2

cups

shredded coconut

1

cup

sugar

1

cup

light corn syrup

¾

cup

butter

1 ½

teaspoon

vanilla extract
Instructions
Set out a large mixing bowl. Add the cereals, almonds, and coconut and stir it all together.

Add the sugar, corn syrup, and butter to a saucepan. Heat over medium-high and bring to a boil. Cook for 3 minutes, stirring continuously. Pull the pan from the heat and stir in the vanilla.

Pour the vanilla butter sauce over the cereal mix. Toss to coat with a spatula.

Spread the Chex mix onto large sheets of parchment paper so it can cool in a mostly-even layer. Store in an airtight container for up to 2 weeks.
How to Toast the Almonds (Optional)
If you would like to toast the almonds before you make the Chex Mix, preheat the oven to 350°F. Spread the almonds in a single layer on a baking sheet and bake for 2 minutes or until lightly golden brown. Watch them closely, they can burn quickly. Let them cool briefly and then add them to the cereal mix before coating with the vanilla butter sauce.
Save This Recipe to Your Recipe Box
Find this delicious recipe next time you visit by saving it to your very own recipe box on my site. All your favorites stored in one easy place!