Mini Trix rice krispie treats with marshmallows is a fun and colorful variation on everyone's favorite cereal bar recipe! These adorable rainbow treats are perfect for a party or a St. Patrick's Day dessert for kids.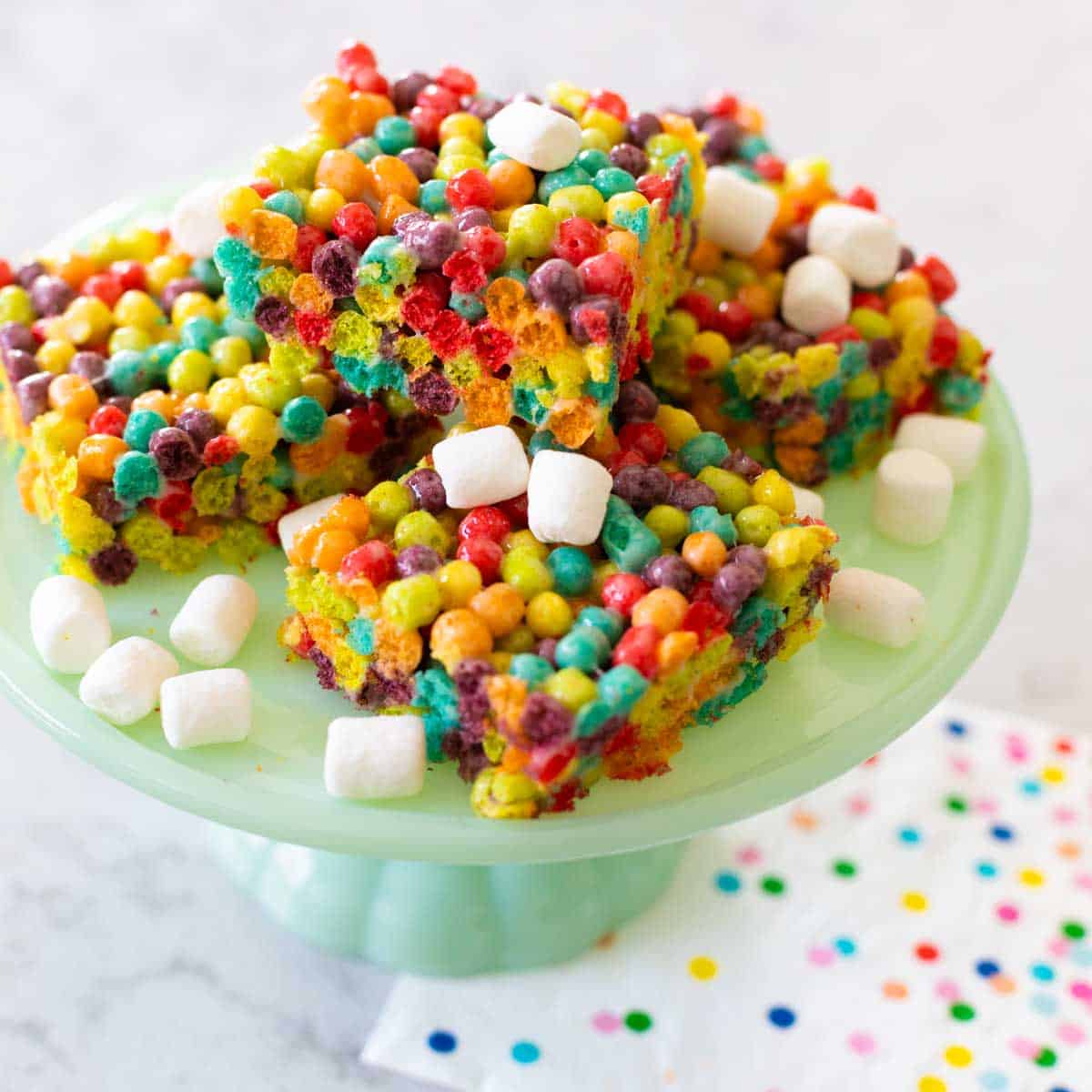 I confess that fruity Trix cereal is one of my personal favorite guilty pleasures. I've loved it ever since I was a kid.
When I got my hands on a box of the new Trix Minis cereal, I was so excited to use them for a special treat for my kids.
But, it was my husband's brilliant suggestion that won! He took one look at the box and said: "You know, those would make amazing rice krispie treat cereal bars."
The miniature size of the Trix cereal does indeed make it absolutely perfect for these easy rice krispie treats!
They are so cute and colorful, they'd be perfect for a party but would be especially fun with St. Patrick's Day coming up!
Jump to:
Why This is the Best Recipe
Classic rice krispie treats are one of the most popular no-bake dessert recipes of all time for a good reason.
With just 3 ingredients and 10 minutes, you can have these easy cereal bars ready to eat!
However, I think this mini Trix rice krispie treats recipe is the best because:
Fun & Fruity: So colorful and cute, and I love how the fruity cereal pairs with the marshmallow!
Budget-Friendly: With such a short list of ingredients, this is easy to add to your grocery shop for the week.
Perfectly Portable: Cut them into squares and send them as a fun lunch surprise or bring them to your next special event. No worrying about them getting crushed or ruined on the way, they are the perfect portable treat.
No Melting: As the weather warms up later in the spring and into summer, these would be a super fun treat to bring anywhere you have to worry about the heat.
Ingredients
All you need to make these delicious cereal bars is:
Trix Minis cereal
Jet-Puffed Marshmallows: Buy the original large size, not the jumbo or the mini.
Butter
Measure the Trix Cereal First
Be sure to measure the cereal before you melt the marshmallows because you don't want the marshmallows to overcook while you measure the cereal after.
This way, you can just pour the cereal in at the right moment.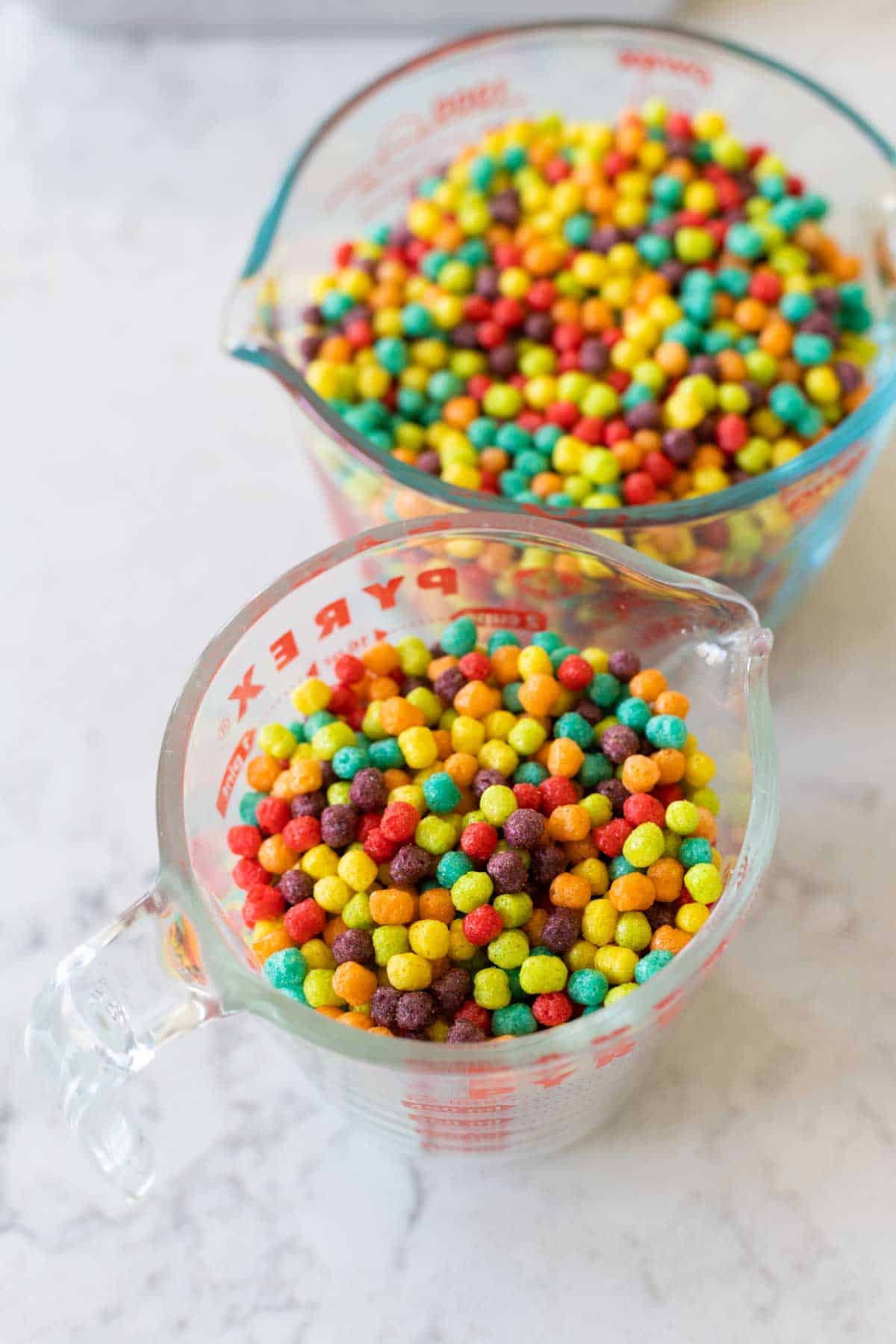 Prep the Marshmallow Base
Spray a 9 x 13-inch baking pan with cooking spray and set it aside.
Place the measured Trix cereal near the stove next to the open bag of marshmallows.
Add the butter to a large pot that has plenty of room for stirring. Melt it over medium-high heat.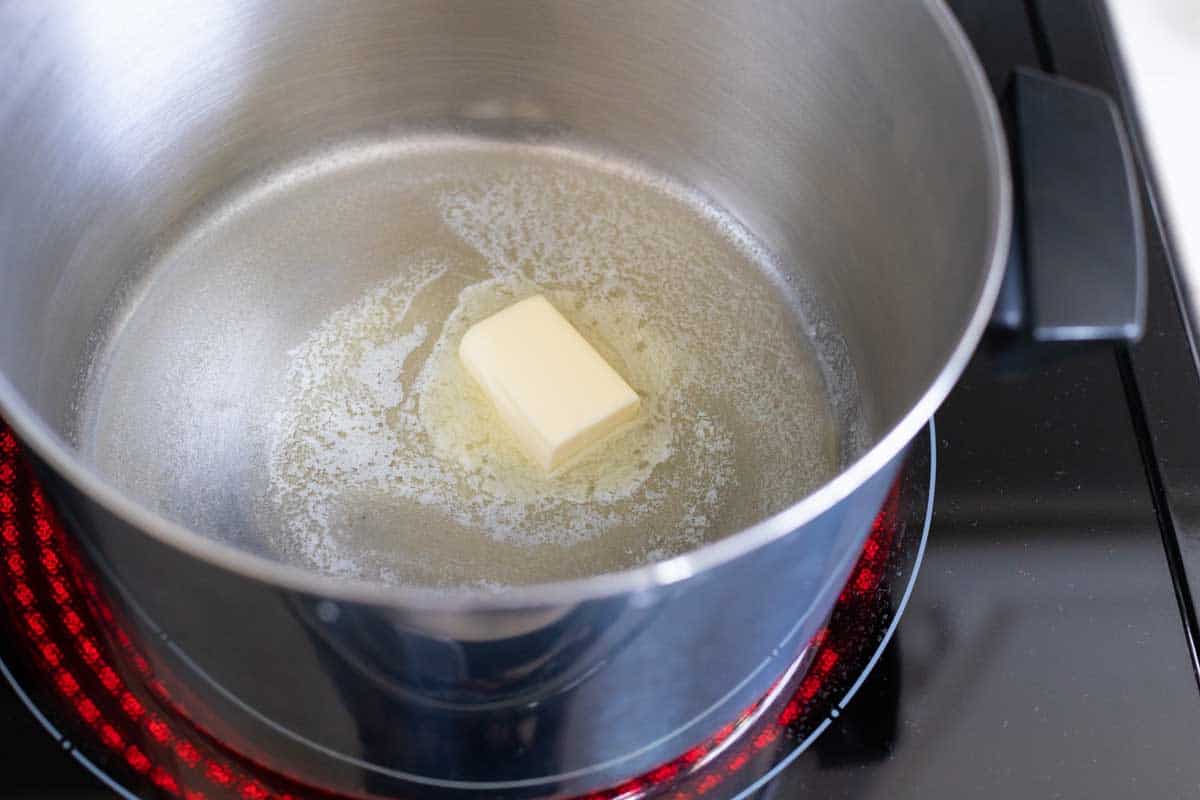 Add the marshmallows to the pot and let them sit a minute.
Gently stir and scrape the bottom of the pot so they don't stick and burn.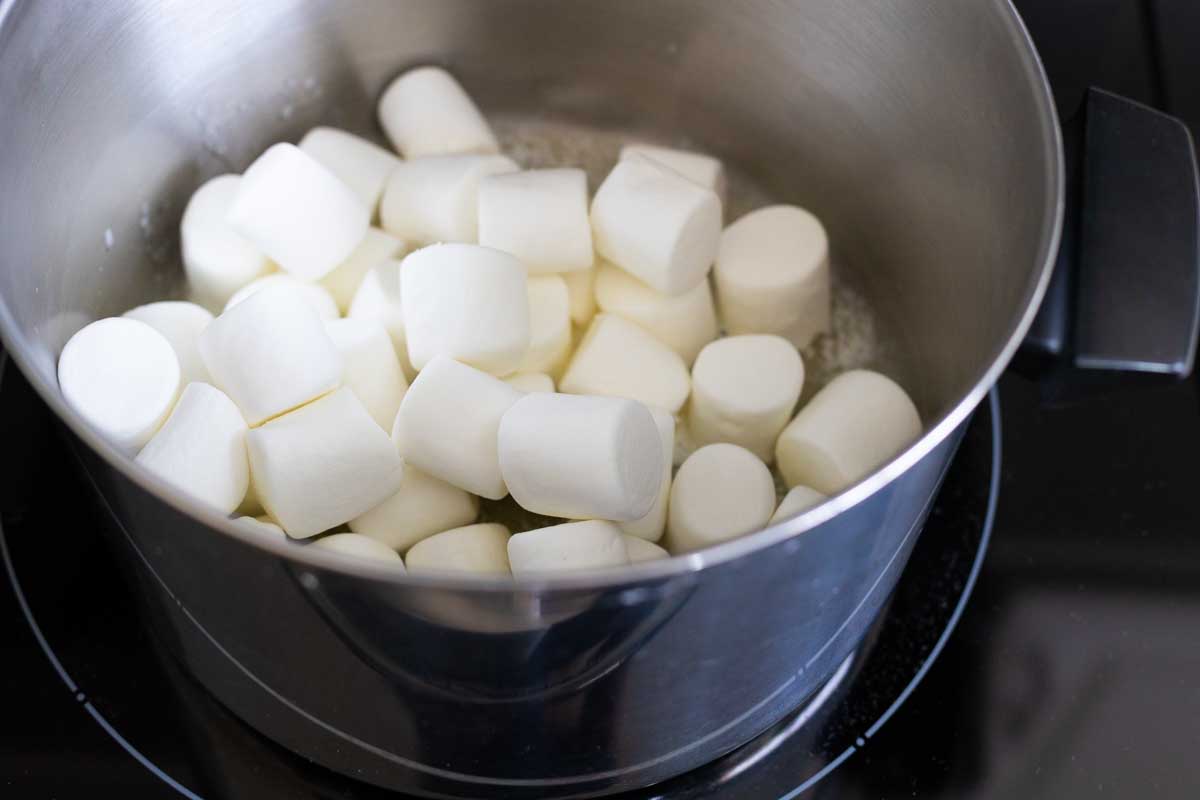 Continue to gently stir the marshmallows until they've completely melted and are smooth.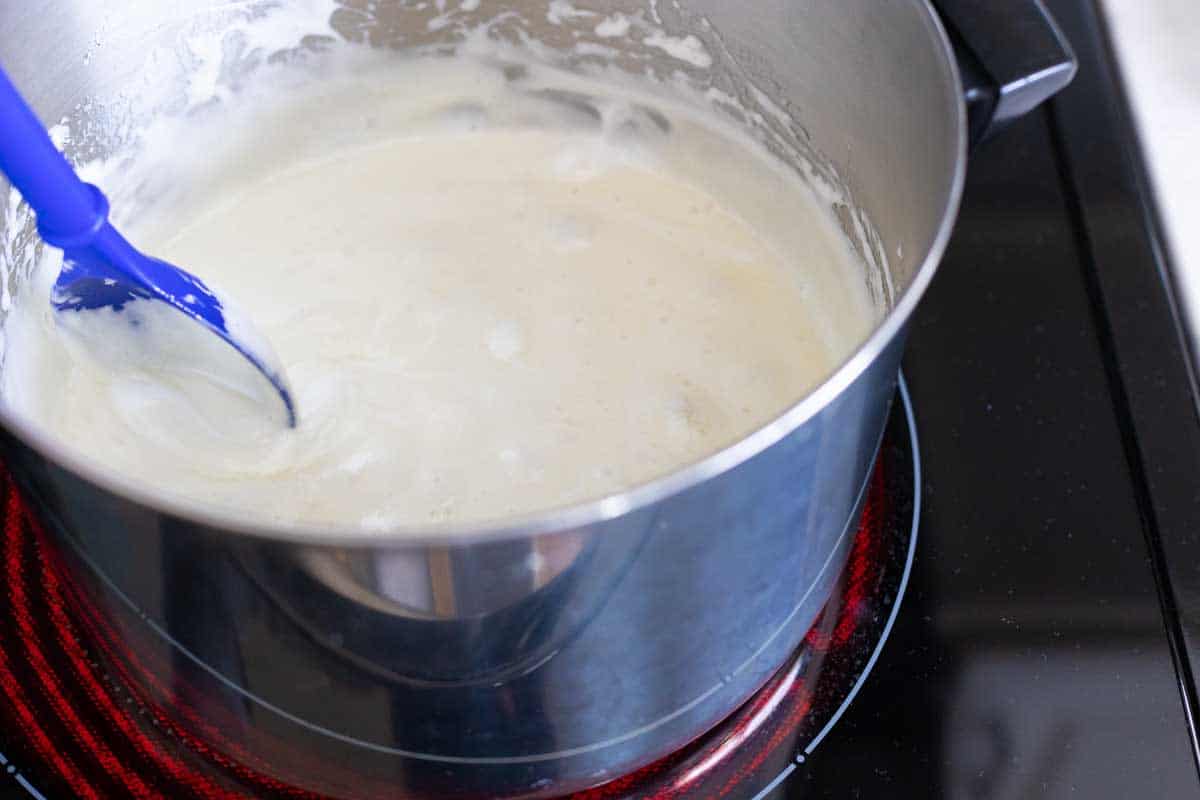 Make the Rice Krispie Treats
Pour in the Trix cereal to the melted marshmallows and stir.
It will be thick and sticky, so be sure to work quickly while the marshmallows are still warm. Things will start to set up quickly.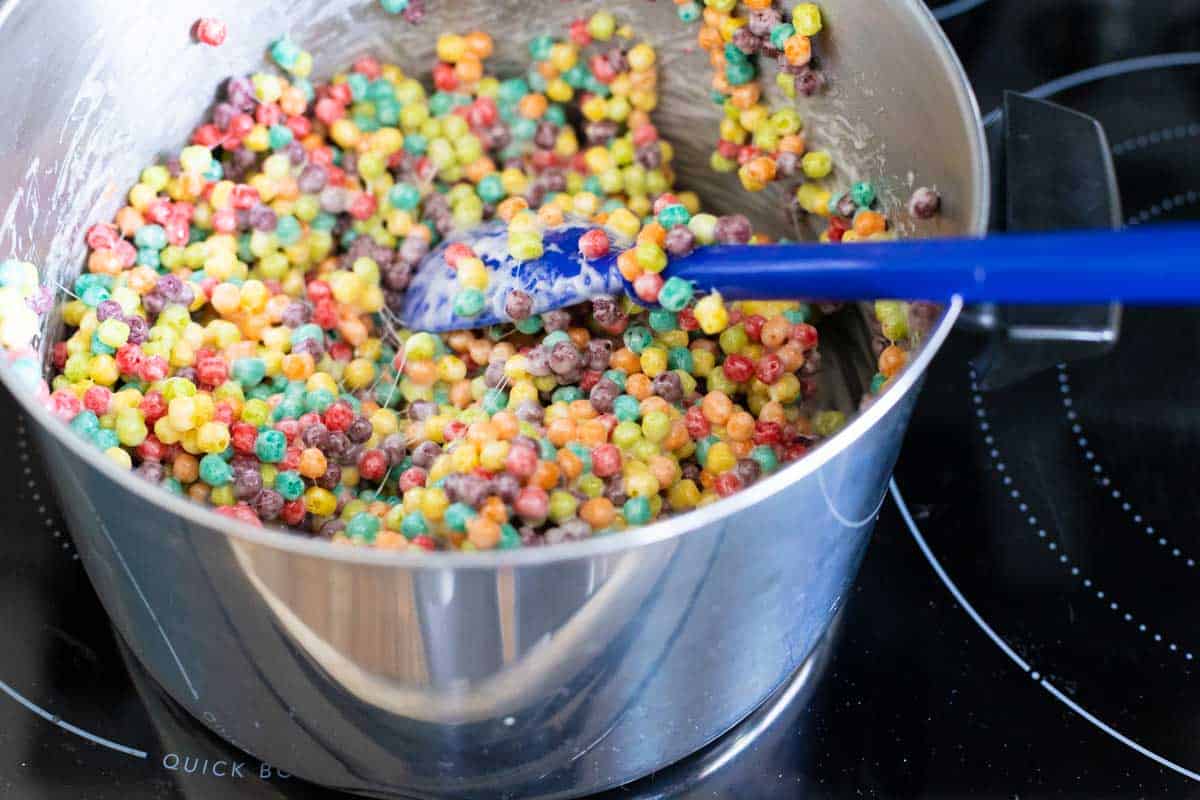 Pour the entire cereal bar mixture into your prepared baking pan and use a spatula to smooth everything into an even layer.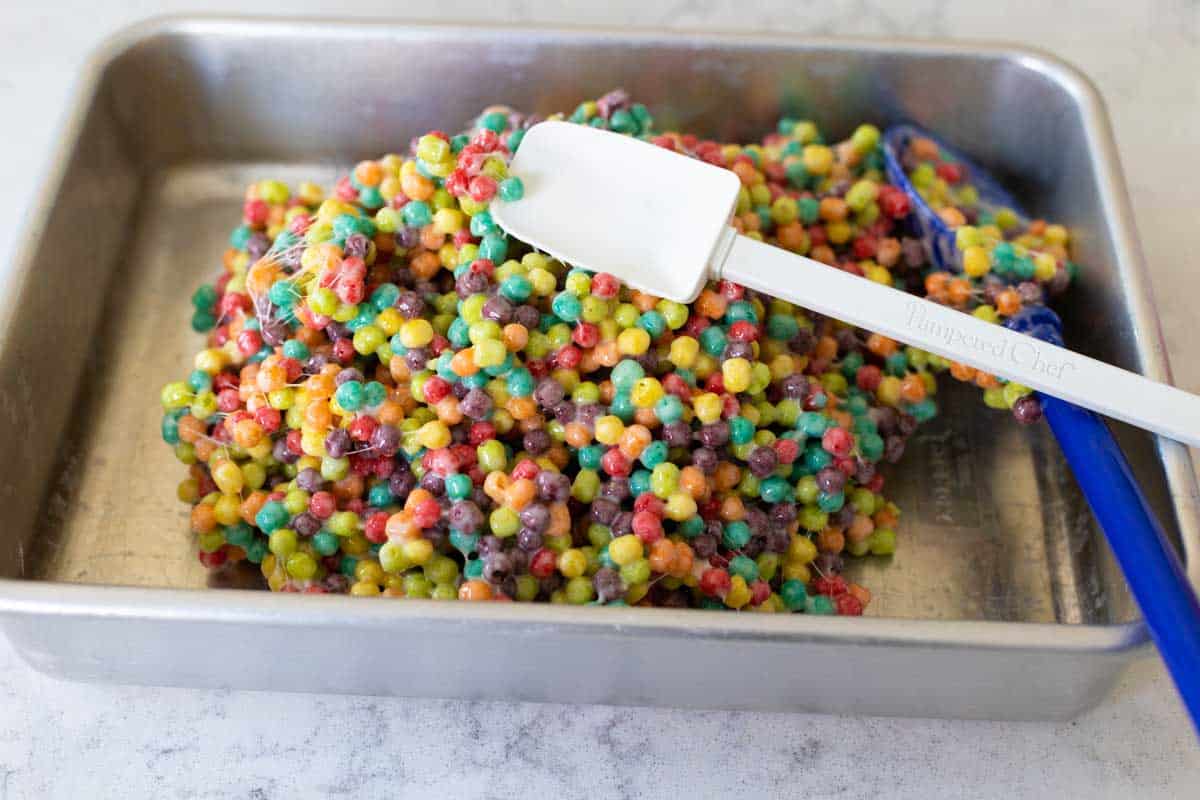 Use the back of the spatula to gently press the krispie treats into place so that as the cereal bars cool they stick together.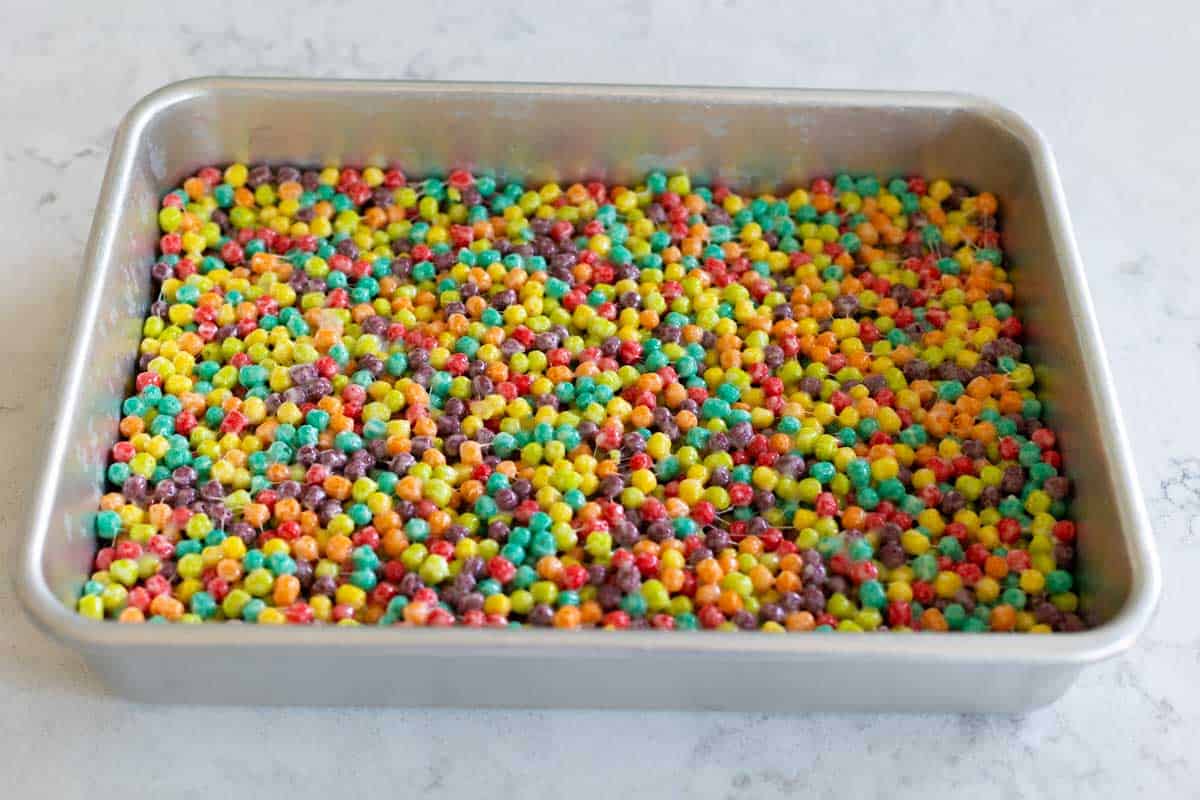 Storage Tips
Let the Trix rice krispie treats completely cool before covering. Keep them at room temperature for up to 5 days.
They taste best within the first 48 hours of making them, and just begin to get quite chewy after that.
Serving Suggestions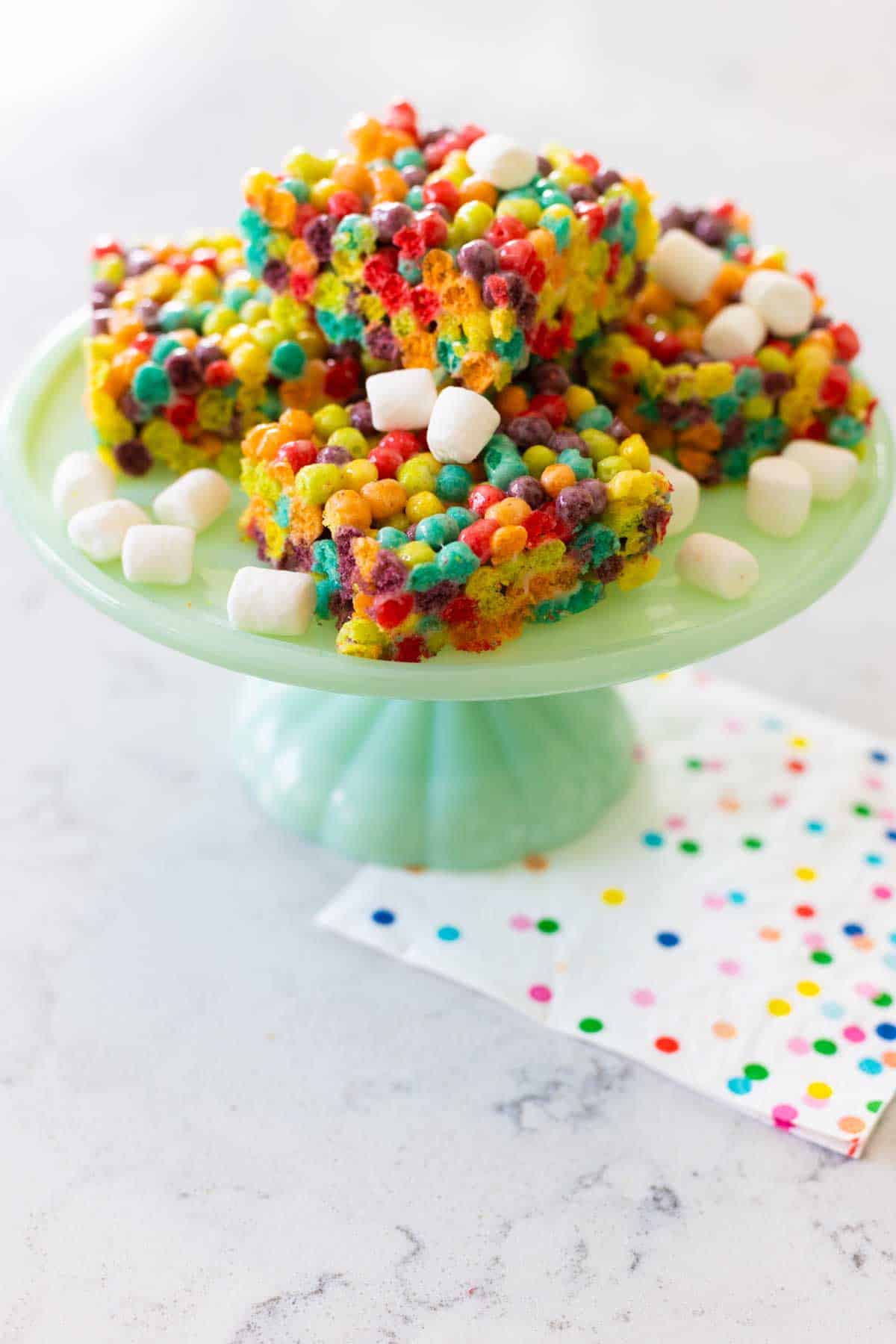 These colorful party treats can be cut into generous large squares or cut into small bite-sized squares for a buffet table.
They would be perfect for any rainbow party theme or as an easy St. Patrick's Day dessert for kids.
More Fun Party Treats
📖 Recipe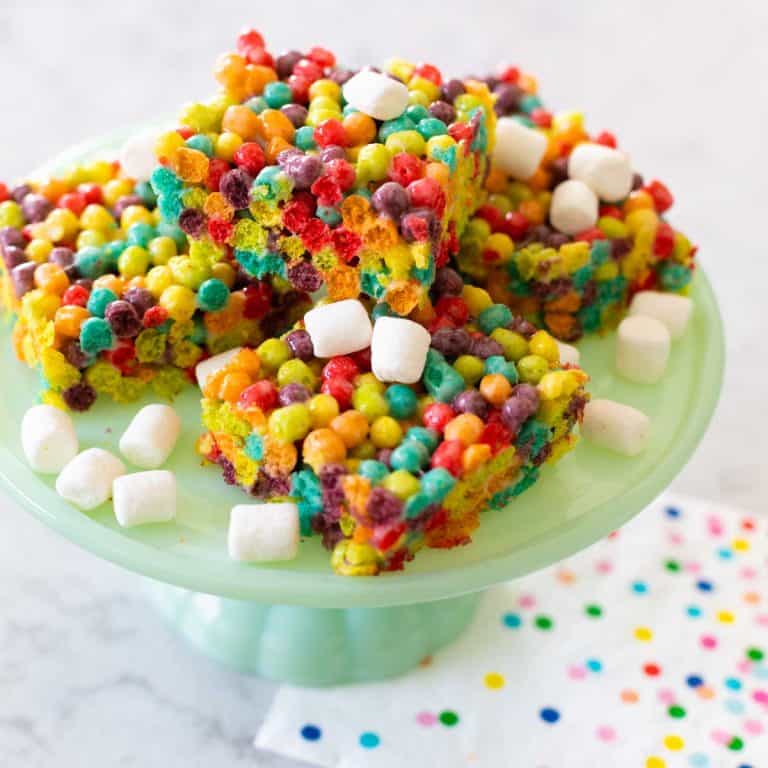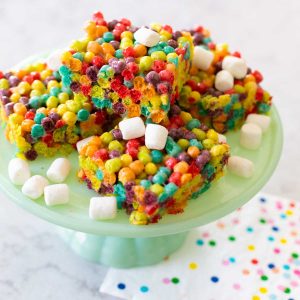 Mini Trix Rice Krispie Treats
Use the new Trix Minis cereal to make these adorable rice krispie treats style dessert. The rainbow fruity cereal pieces make a colorful marshmallow treat that is easy for kids to make on their own. This is a perfect lunchbox treat or could be used as a fun St. Patrick's Day dessert for kids!
Ingredients
6

cups

Trix Minis Cereal

3

tablespoons

butter

1

(12 oz) bag Jet Puffed marshmallows

this is the larger size marshmallow, not the mini sized ones
Instructions
Spray a 9 x 13-inch baking pan with cooking spray and set aside.

Measure the Trix cereal and set next to the stove.

In a large pot, melt the butter over medium-high heat. Add the entire bag of marshmallows and stir them into the melted butter. As the marshmallows begin to warm up and melt, stir gently while scraping the bottom of the pot so they don't stick and burn. Continue to stir until the marshmallows have completely melted and are smooth. Remove the pot from the heat.

Pour in the Mini Trix cereal and stir to coat in the marshmallow cream.

Scrape the Trix mixture into your prepared baking pan and use a spatula to spread it evenly. Gently press the cereal bars into place so everything sticks together well.

Cool completely and then cut into squares for serving.
Recipe Notes
Storage Notes
The Mini Trix rice krispie treats will keep in an airtight container on the counter for up to 5 days.
Save This Recipe to Your Recipe Box
Find this delicious recipe next time you visit by saving it to your very own recipe box on my site. All your favorites stored in one easy place!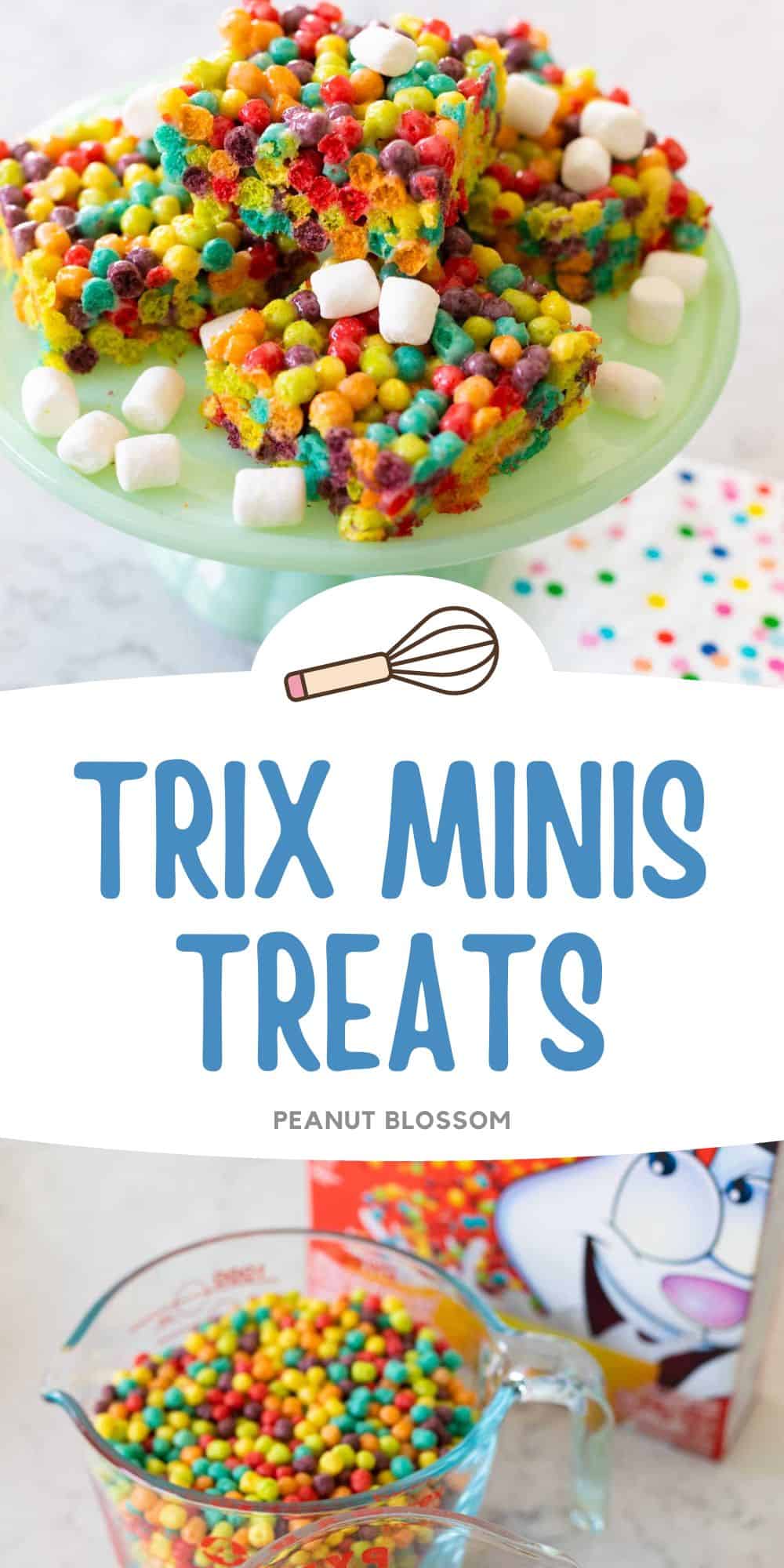 We're proud to be friends with the General Mills cereal team. We were sent a box of Mini Trix Cereal to sample but the recipe and opinions are all our own.