Slow cooker sweet potatoes are the easiest way to make cooked sweet potatoes for serving as a side dish or mashing to use in a sweet potato casserole. They turn out perfectly tender with almost no effort!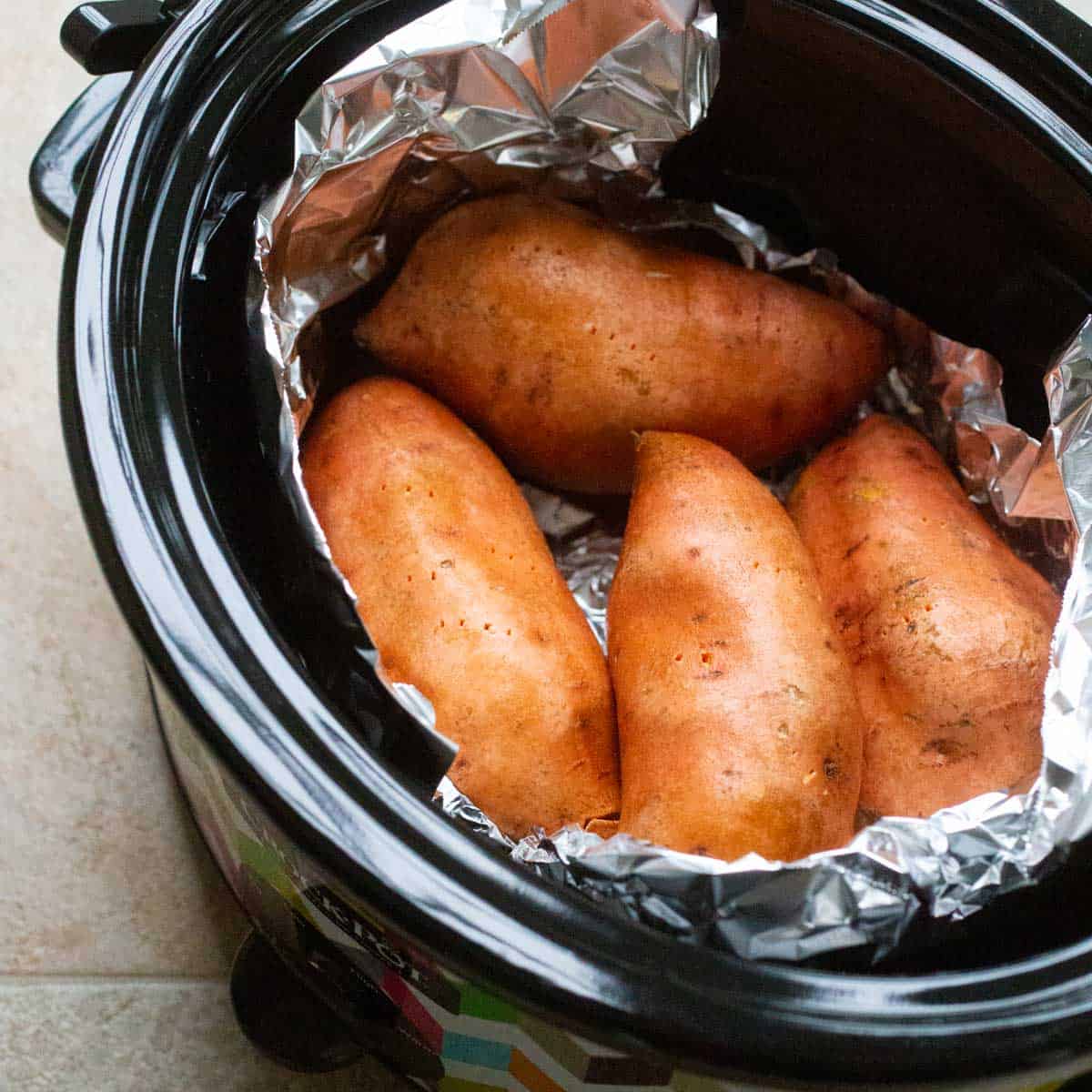 I know it is almost Thanksgiving when I see those gorgeous piles of sweet potatoes mounting up at the grocery store.
Our holiday menu just isn't complete without my favorite make ahead sweet potato casserole.
When you're busy prepping all the dishes for the holiday meal, it's smart to take all the shortcuts you can get.
To make my sweet potato casserole, you need baked sweet potatoes but my oven is usually filled with other things!
The good news is, you can pop those potatoes right into a slow cooker for a hands-off way to bake them.
It's such an easy way to cook sweet potatoes that you just might find yourself serving them for weeknight dinners topped with butter, brown sugar, and a sprinkle of cinnamon, too!
Jump to:
How to Prep the Sweet Potatoes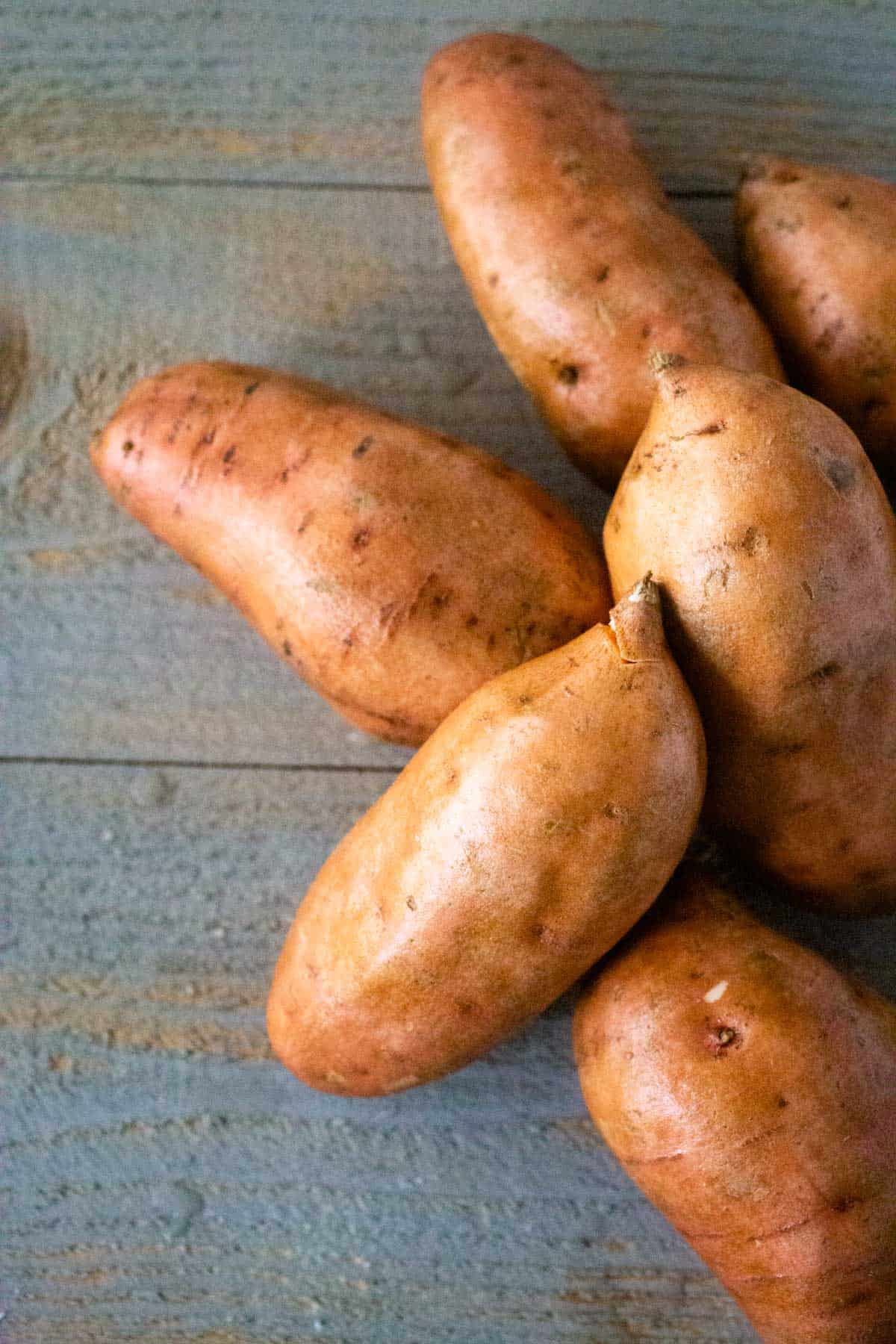 Sweet potatoes often come from the store covered in dirt and grime.
You'll definitely want to give them a really good rinse and scrub with a vegetable brush under cold water.
Don't dry the potatoes, you want that little bit of moisture to cling to the potato skins. It is what will help them to cook better in the Crockpot.
Prick the Potatoes with a Fork: Yes or No?
When you're buying the potatoes, try to find ones that are a similar size so that they all cook evenly in the slow cooker, too.
When you bake potatoes, you're supposed to prick them with a fork so they don't explode during the baking process.
Just to be safe, I always prick my sweet potatoes with a fork before I put them in the slow cooker but since they cook so much more gently and slowly, you'll be fine skipping that step if you want.
Prep the Slow Cooker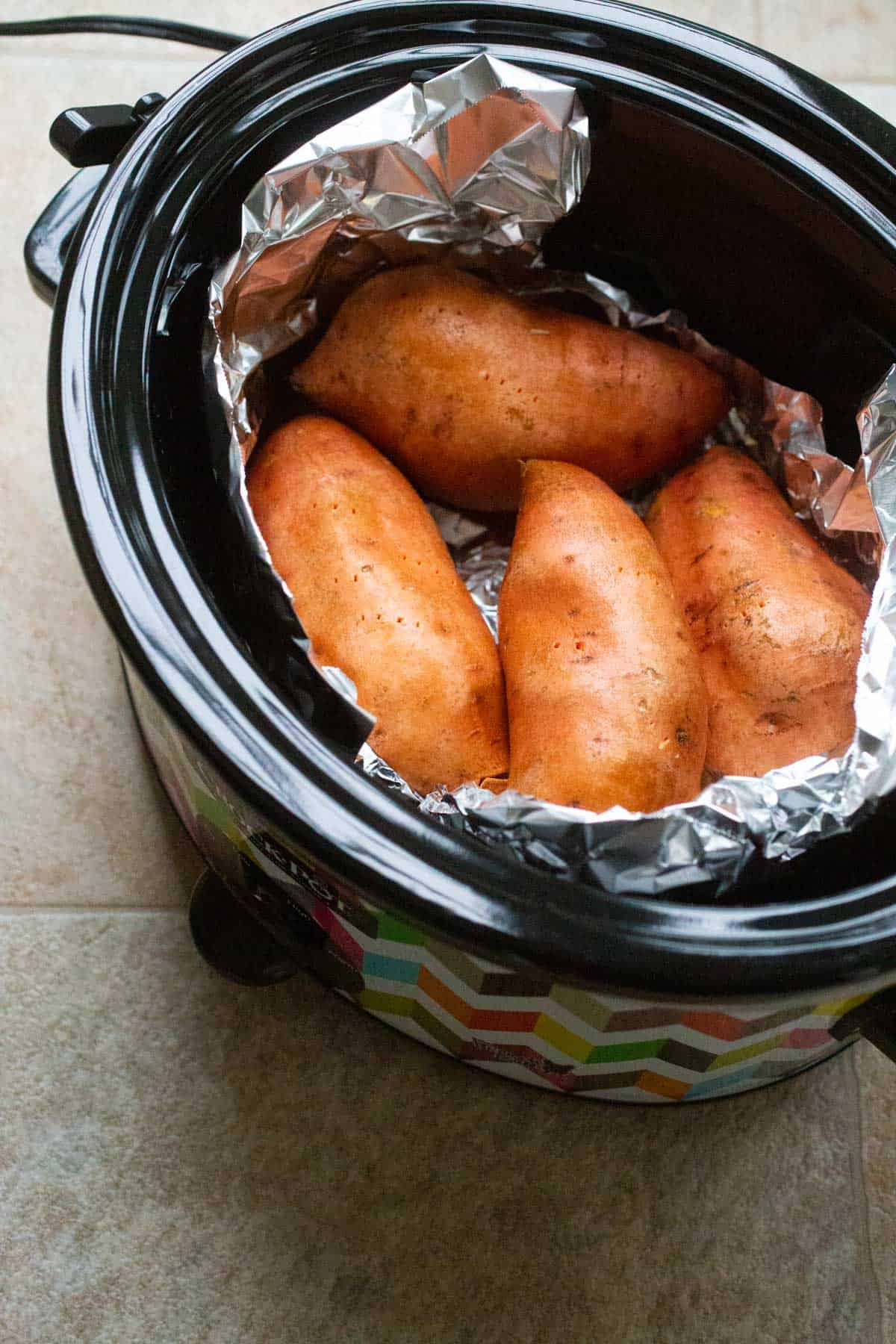 Line your slow cooker with aluminum foil, especially if you pricked your sweet potatoes with a fork.
The little fork vents allow some of the sugary juices from the potato to leak out during the cooking process.
This sticky sugar can be a mess to clean up at the end, so the foil helps to speed things up.
Nestle the sweet potatoes into the slow cooker and cover.
Cook the Sweet Potatoes
Slow cooker sweet potatoes will take 3 - 4 hours on LOW or 6 - 7 hours on HIGH.
You'll know they are done when you can easily prick them with a fork or paring knife.
Serving Suggestions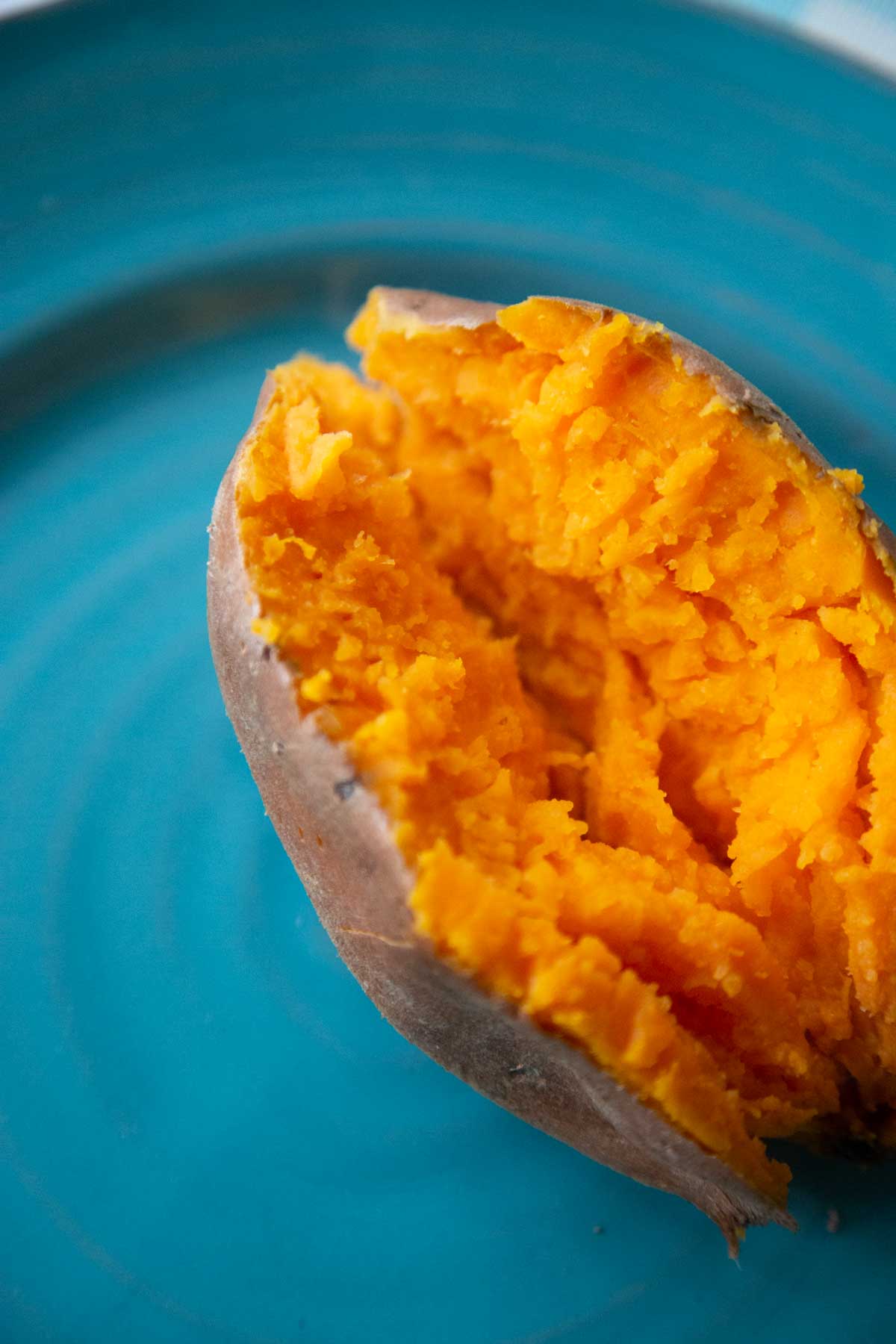 A baked sweet potato is a fun alternative to a traditional baked potato for any weeknight dinner.
We love to top ours with butter, brown sugar, and cinnamon. A little dash of cayenne gives them a spicy-sweet flavor, too.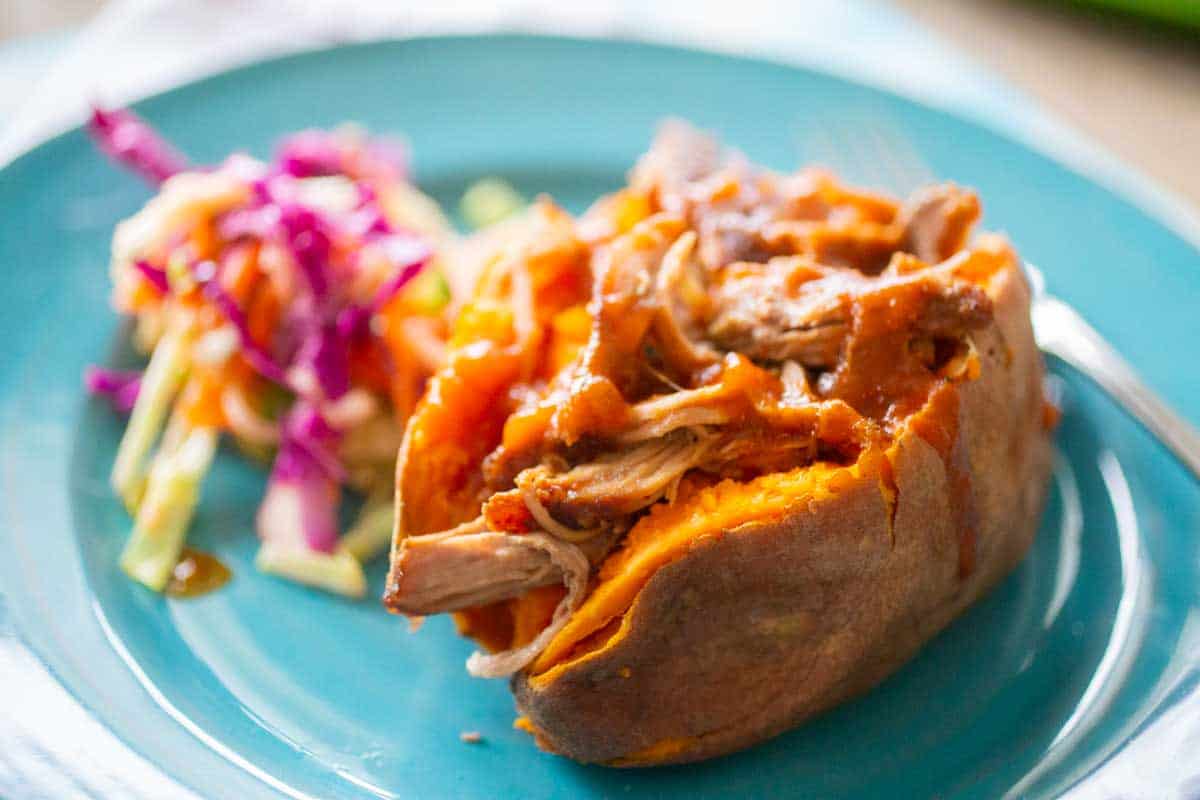 But when you're super busy making all the things for Thanksgiving dinner, using this slow cooker sweet potatoes recipe to prep the potatoes for my make-ahead sweet potato casserole is one of my favorite handy tips!
📖 Recipe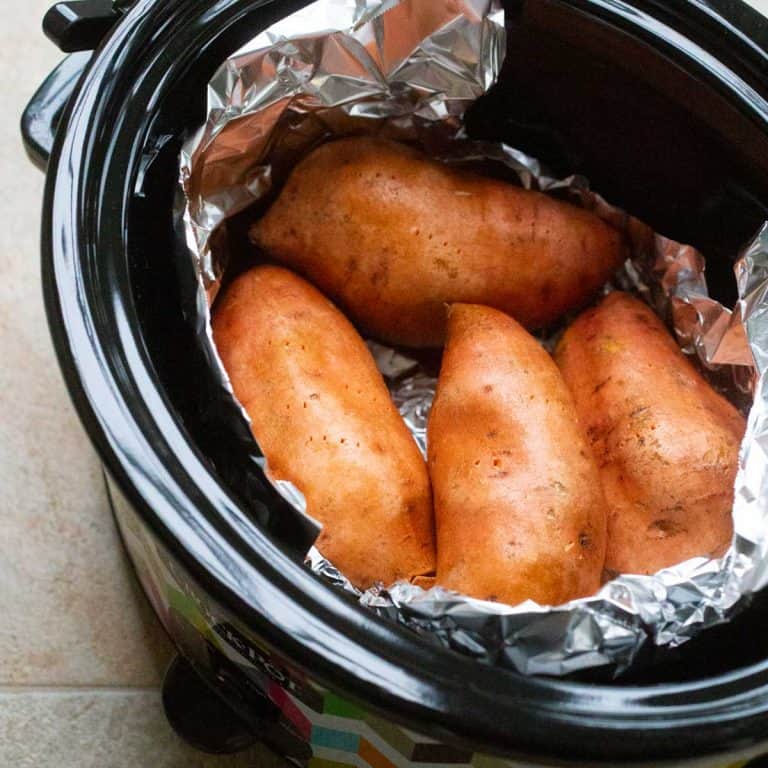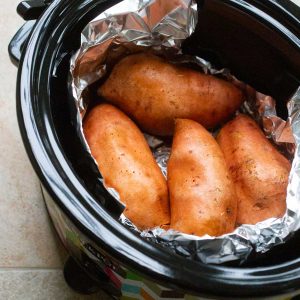 Slow Cooker Sweet Potatoes
Need baked sweet potatoes for a side dish or to mash for a Thanksgiving side dish recipe? When you're busy in the kitchen and need an easy way to cook sweet potatoes, pop them into your slow cooker so you can focus on other tasks.
Ingredients
6

whole sweet potatoes

unpeeled
Instructions
Scrub the sweet potatoes with a vegetable brush and rinse them well in cold water. There is no need to dry them because the moisture from the washing will help to cook them in the slowcooker.

Line your Crock Pot with aluminum foil for easier clean up. Nestle the sweet potatoes into the bowl and cover.

Cook on LOW for 6 - 7 hours or on HIGH for 3 - 4 hours or until a fork can easily prick through the flesh of the potatoes.
Recipe Notes
Serving Ideas
Slice each sweet potato open and top with butter, a bit of brown sugar, and a dash of cinnamon and enjoy like a baked potato.
Scoop the flesh of the sweet potato out into a bowl and mash for using in my easy sweet potato casserole.
Save This Recipe to Your Recipe Box
Find this delicious recipe next time you visit by saving it to your very own recipe box on my site. All your favorites stored in one easy place!