Crispy roasted sweet potatoes make a perfect easy potato side dish for pork or chicken. Seasoned with red pepper flakes and thyme, they are a sweet and spicy combo that adds so much flavor to your meal.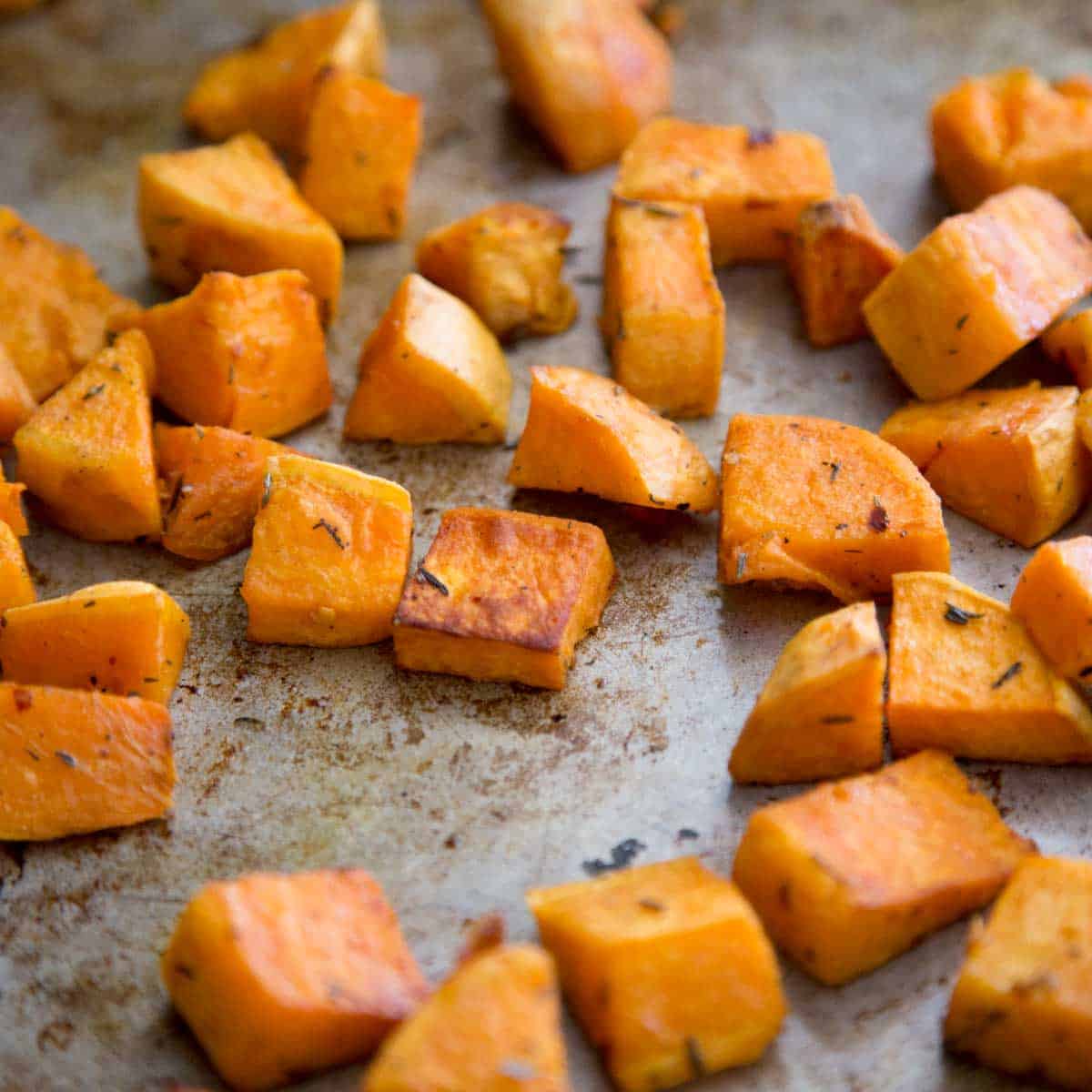 Does your family eat sweet potatoes outside of the Thanksgiving dinner?
Bright orange sweet potatoes, or yams, are not a vegetable I grew up eating but I have learned to absolutely love them as an adult.
If you're looking for a healthier way to enjoy them, minus the marshmallows and butter, this easy crispy roasted sweet potato recipe is sure to be a winner.
Chopped into large cubes and tossed in olive oil, these sweet potatoes are roasted with garlic, roasted red pepper flakes, and thyme giving them a fantastic sweet and spicy flavor.
You'll love the final texture of the roasted potatoes alongside chicken or pork.
Jump to:
Why This is the Best Recipe
I've been making this delicious crispy roasted sweet potatoes since the first year we got married. I think it is the best recipe because:
Crispy Texture: I love how crispy the outside of the sweet potatoes get. If you've only ever tried mashed sweet potatoes, you need to try making them this way.
Sweet and Spicy: But not too spicy! These crispy sweet potatoes have an awesome sweet flavor from the potatoes themselves and a hint of kick from the crushed red pepper flakes.
Guilt-Free Sweet Potatoes: No marshmallows, no brown sugar, just heart-healthy olive oil and absolutely delicious potatoes.
Perfect Year Round: Sweet potatoes are not just for the holidays! We enjoy them this way every month of the year.
Ingredients
I've made this recipe so many times, I've practically got it memorized! You will, too! Especially with this easy, short list of things to use:
Fresh sweet potatoes: Peeled and then cut into large cubes. Do not try to use canned yams or sweet potatoes for this recipe, they are too wet to roast.
Olive oil
Minced garlic
Crushed red pepper flakes
Dried thyme
Salt & pepper
How to Roast the Sweet Potatoes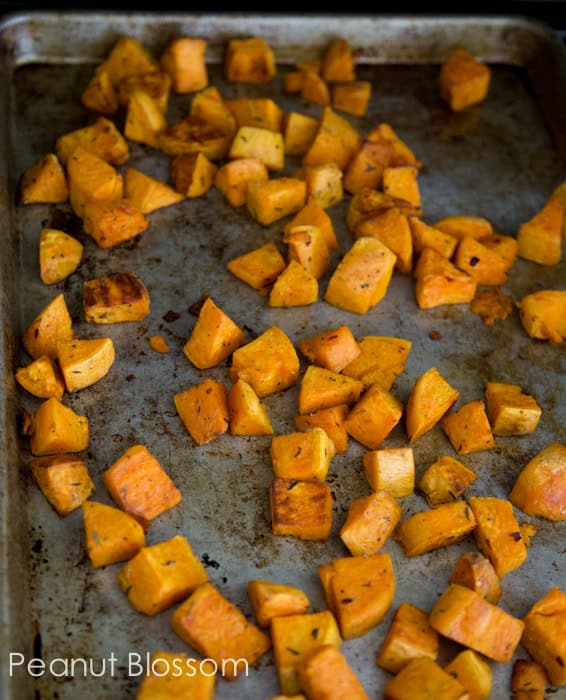 Preheat the oven to 400°F.
On a large baking sheet, toss the sweet potatoes with the olive oil until coated.
Add the garlic and seasonings and toss to coat again.
Smooth the potatoes out into an even layer on the baking sheet. There should be plenty of room for air to circulate around the potatoes.
If the pan is too crowded, they'll steam rather than roast.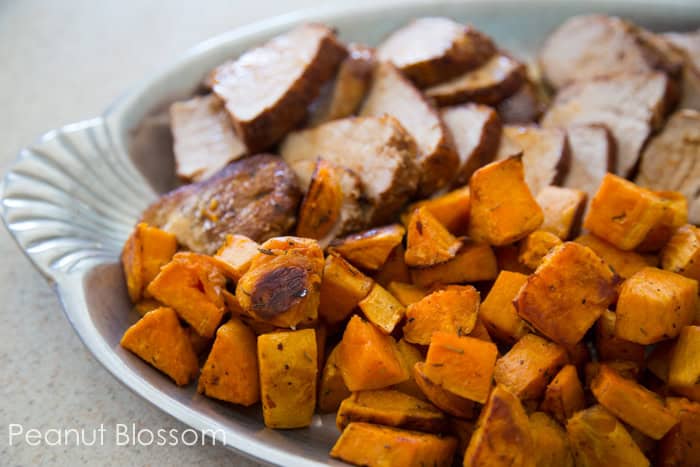 Make Ahead Tips
Unfortunately, you cannot prepare this dish very far in advance or the sweet potatoes will start to turn color.
Room temperature sweet potatoes roast better than chilled ones, so pre-chopping them and storing in the fridge can cause troubles.
They are worth the effort of making them fresh for dinner.
Serving Suggestions
The roasted sweet potatoes get just the right amount of crispy on the outside and the spicy seasonings pair perfectly with the sweetness of the potato.
Our favorite meat dish to pair it with is my rum glazed pork but it appears in the rotation alongside roasted chicken and seasoned tilapia, too.
I also particularly love it as a side dish for many egg recipes for brunch or dinner.
More Potato Recipes
Don't miss these other fan-favorite potato recipes:
📖 Recipe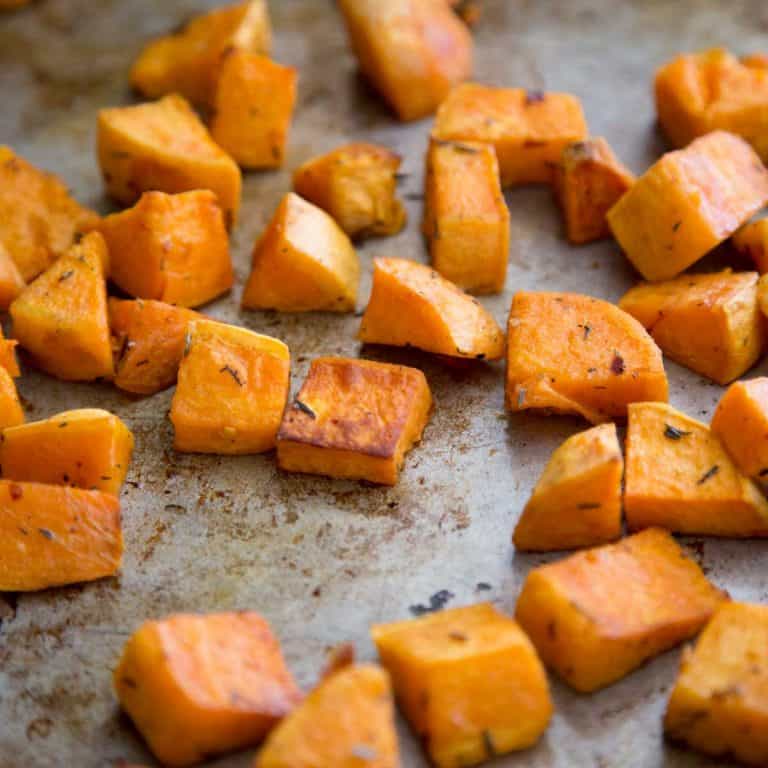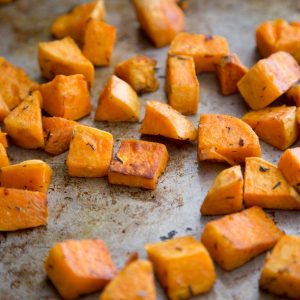 Crispy Roasted Sweet Potatoes
Cube them up and toss them with olive oil for the best crispy roasted sweet potatoes you've ever had! Slightly sweet from the potato itself with a hint of spice from the red pepper flakes, this is the perfect potato side dish for grilled chicken, savory pork, or even grilled fish.
Ingredients
4

medium sweet potatoes

peeled and cut into 1-inch chunks as evenly as possible

3

tablespoons

of olive oil

1 ½

teaspoons

dried thyme

2

cloves

of garlic

minced

¼

teaspoon

crushed red pepper flakes

1

teaspoon

kosher salt

sprinkle of fresh cracked black pepper
Instructions
Preheat the oven to 400°F. All the ingredients to a large zip-top bag, shake until the potatoes are evenly coated.

Spread the potatoes in a single layer on a large baking sheet. Roast until tender and starting to brown, approximately a total of 45 minutes. Be sure to toss with a spatula halfway through the cooking time so they don't burn--the sweetness of the potatoes can cause that to happen quickly.

NOTE: If you adjust the recipe quantities, just be sure to not overcrowd your baking sheet or the potatoes will steam and not crisp up.
Save This Recipe to Your Recipe Box
Find this delicious recipe next time you visit by saving it to your very own recipe box on my site. All your favorites stored in one easy place!