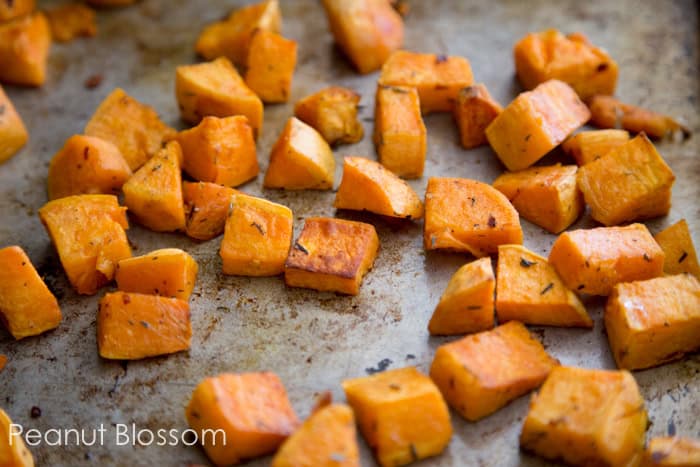 Rather than focusing on diets, I have always leaned towards cooking with real foods when it comes to feeding my family. When we've been going slack and relying on too many nights of buttered noodles or frozen pizzas, I try to rein it in with simple, nutrition-boosting foods to balance things out.
One of the easiest swaps, when you want to move towards cleaner eating, is to upgrade white potatoes for sweet ones. But where to start?
Do you know I had never tasted a sweet potato until I was a married adult?! I found the base of this recipe in an ancient copy of Martha Stewart Living the first fall after our wedding. I remember it being a key part of one of the first "real meals" I cooked for Handyman Tim. It's been one of our favorites ever since.
I've tweaked it over the years to make it easier to manage for a busy family. My only regret is that it isn't much of a make-ahead dish because you can't really chop the potatoes ahead of time or they turn funky.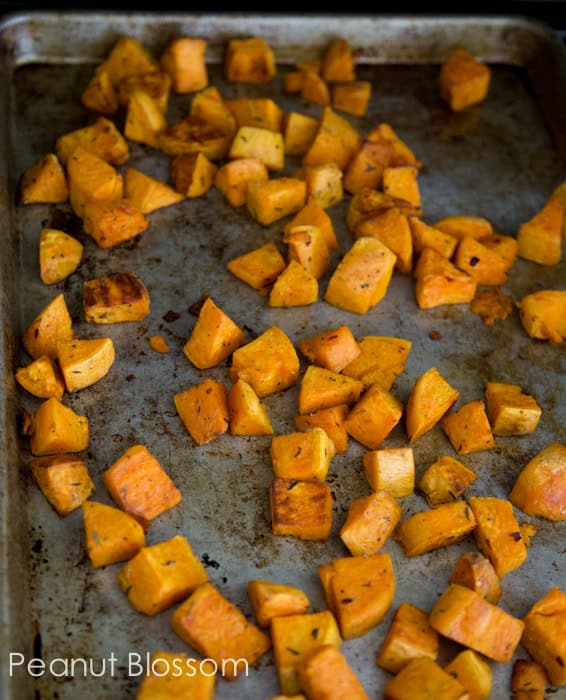 The roasted sweet potatoes get just the right amount of crispy on the outside and the spicy seasonings pair perfectly with the sweetness of the potato. Our favorite meat dish to pair it with is this recipe for Island Spice Pork but it appears in the rotation alongside chicken and fish, too. I also particularly love it as a side dish for many egg recipes for brunch or dinner.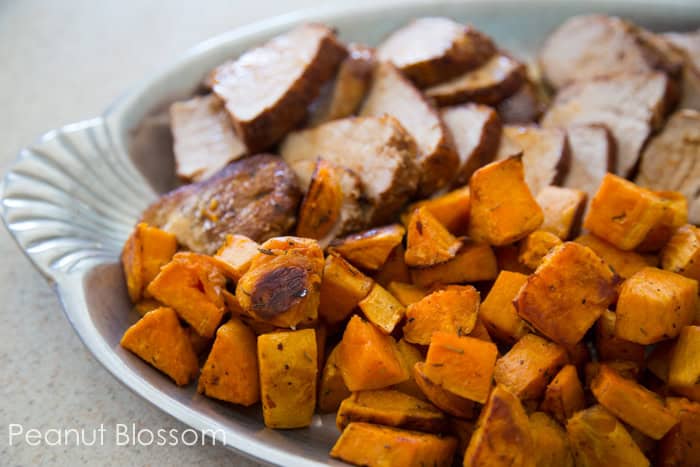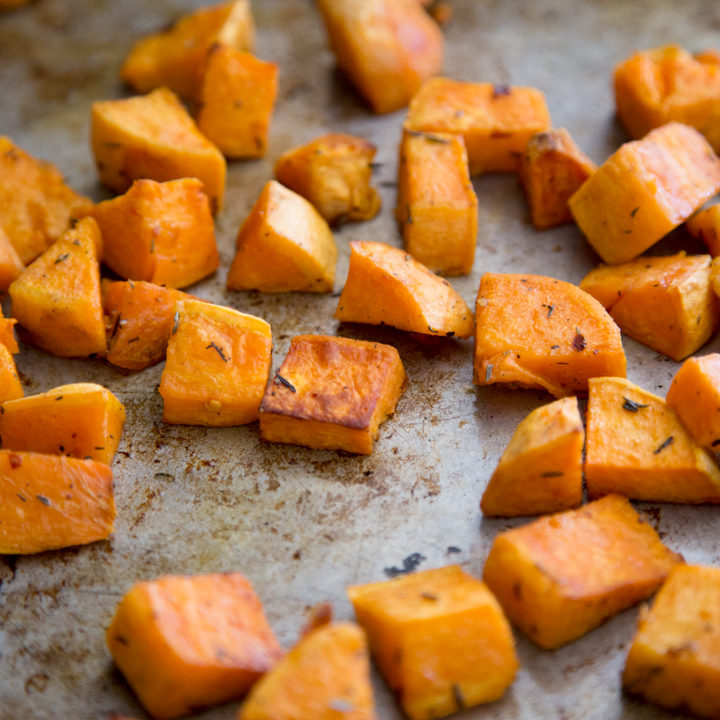 Sweet and Spicy Roasted Sweet Potatoes
Toss cubed sweet potatoes with olive oil and savory seasonings and roast them for a simple side dish.
Ingredients
4 medium sweet potatoes, peeled and cut into 1-inch chunks as evenly as possible
3 tbsp of olive oil
1 ½ tsp dried thyme
2 cloves of garlic, minced
¼ tsp crushed red pepper flakes
1 tsp kosher salt
sprinkle of fresh cracked black pepper
Instructions
Preheat the oven to 400 degrees. All the ingredients to a large zip-top bag, shake until the potatoes are evenly coated.
Spread the potatoes in a single layer on a large baking sheet. Roast until tender and starting to brown, approximately a total of 45 minutes. Be sure to toss with a spatula halfway through the cooking time so they don't burn--the sweetness of the potatoes can cause that to happen quickly.
NOTE: If you adjust the recipe quantities, just be sure to not overcrowd your baking sheet or the potatoes will steam and not crisp up.