Grilled tilapia is an easy healthy recipe to make for a quick family dinner. Choose from a spicy or mild seasoning blend and serve the grilled fish on a bun for a sandwich or on a platter with fresh sides like rice and corn.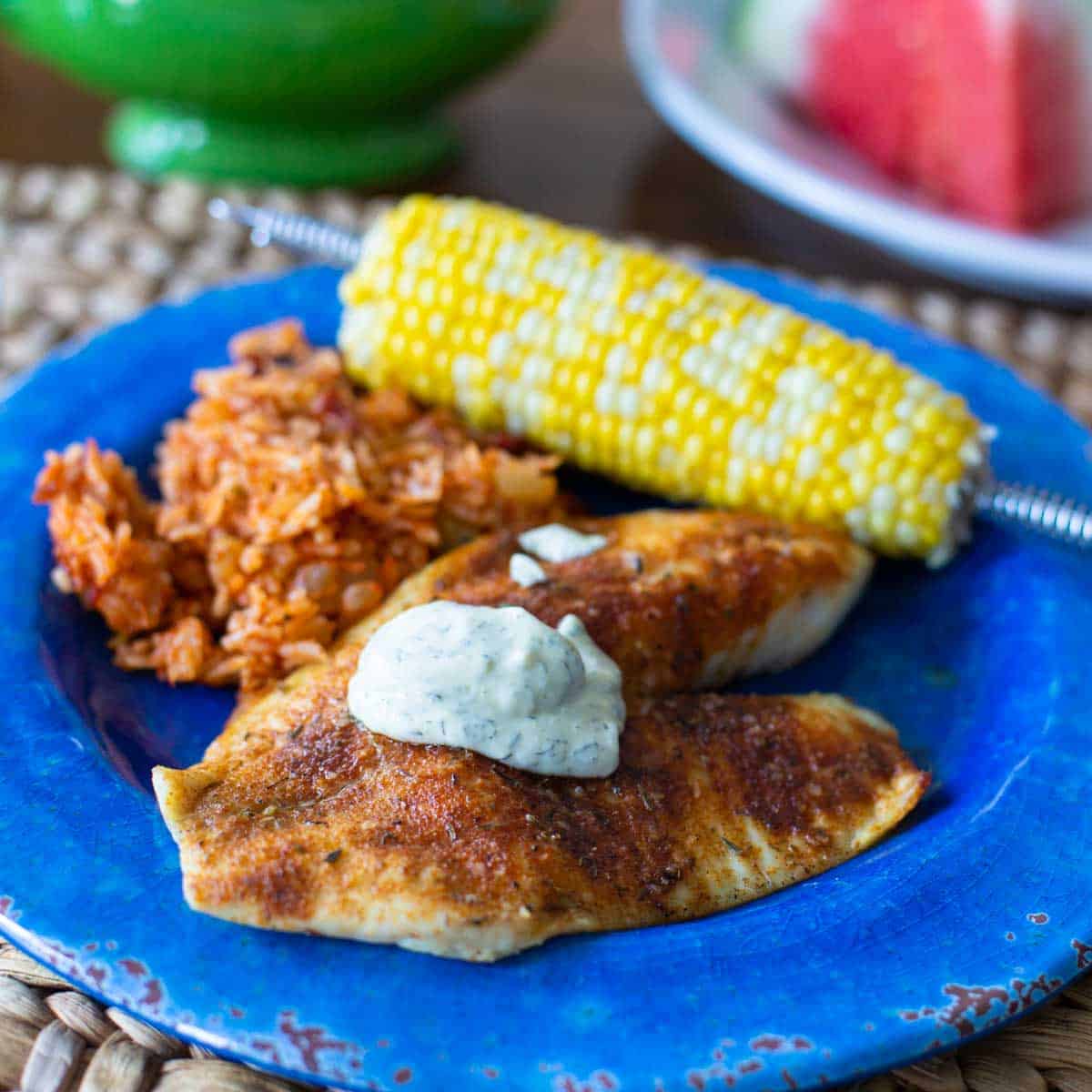 Summer is my favorite time for grilling fresh fish because all the aromas of our dinner stay outside the house.
My kids are huge fans of fresh grilled tilapia on cedar planks. I season them with a variety of options to keep things interesting.
Sometimes we make grilled fish sandwiches on toasted buns, other times I serve it with my favorite baked red rice and sweet corn on the cob.
No matter how you enjoy it, learning how to grill tilapia is going to be a dinner skill you'll turn to again and again.
Jump to:
Ingredients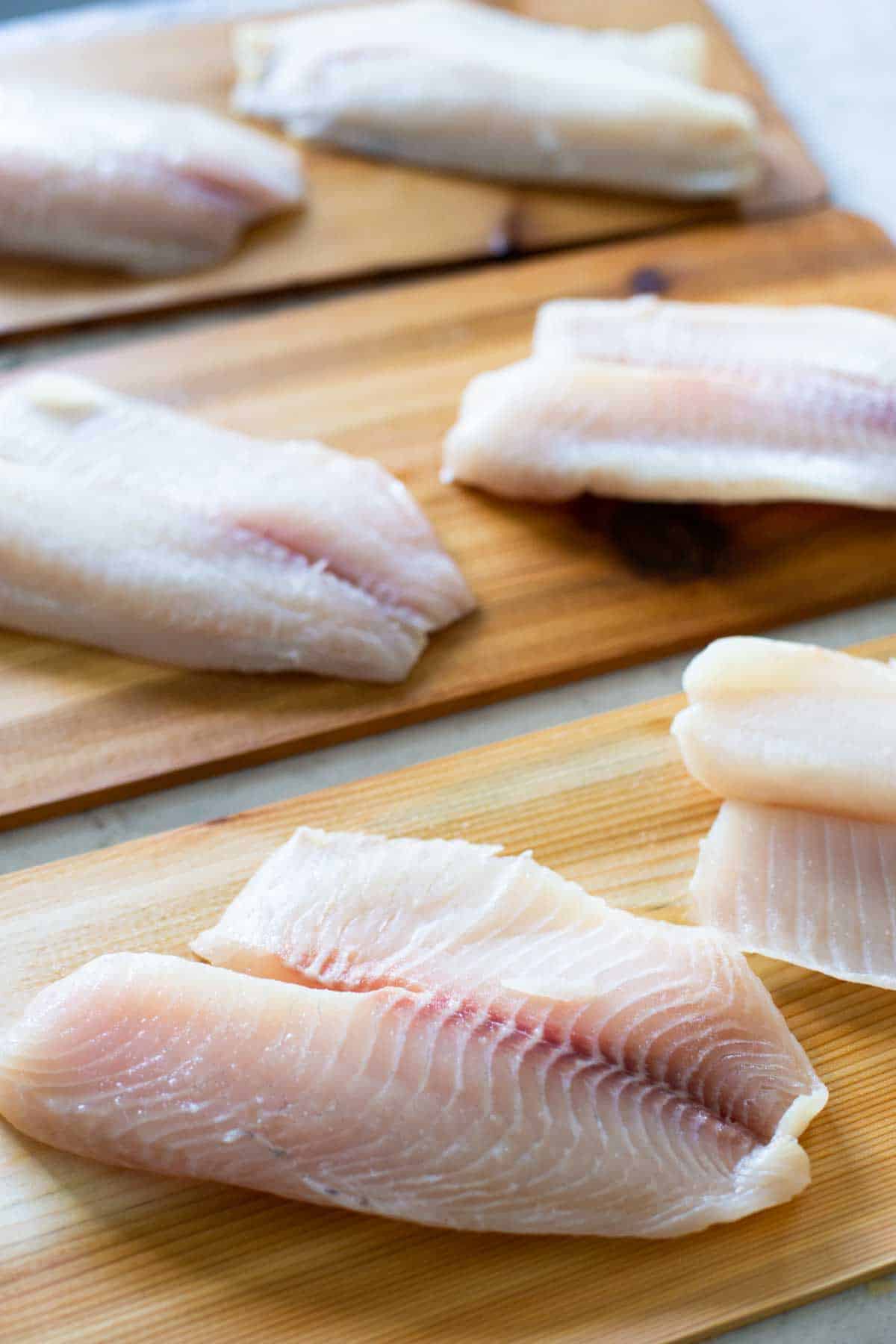 This versatile grilling recipe requires the tiniest list of ingredients! All you need to have on hand is:
Fresh Tilapia Fillets, Skinless
Olive Oil
Seasoning Blend: See notes below on options
Sauces for Serving: Optional
Mix and match the spices and sauces to make entirely new recipes you'll love.
Where to Buy the Best Fish
Tilapia fillets are often sold in the freezer section of grocery stores but I vastly prefer fresh fish from my local seafood grocer.
Thankfully, tilapia is a very affordable fish and a great way to experiment with cooking fresh fish for the first time.
If you don't have a fresh seafood store, try to find tilapia in the seafood department of the grocery store near you (not the freezer department.)
Plan one fillet per person as you plan your meal.
Prep the Tilapia for the Grill
If you want to grill tilapia without it falling apart on the grill, you need to use wooden grilling planks.
I buy a big bulk package of cedar grilling planks at Costco at the start of every summer. You can also find them right here.
Before you prep the fish, plan ahead and soak your cedar planks in clean water in your kitchen sink to prevent burning on the grill.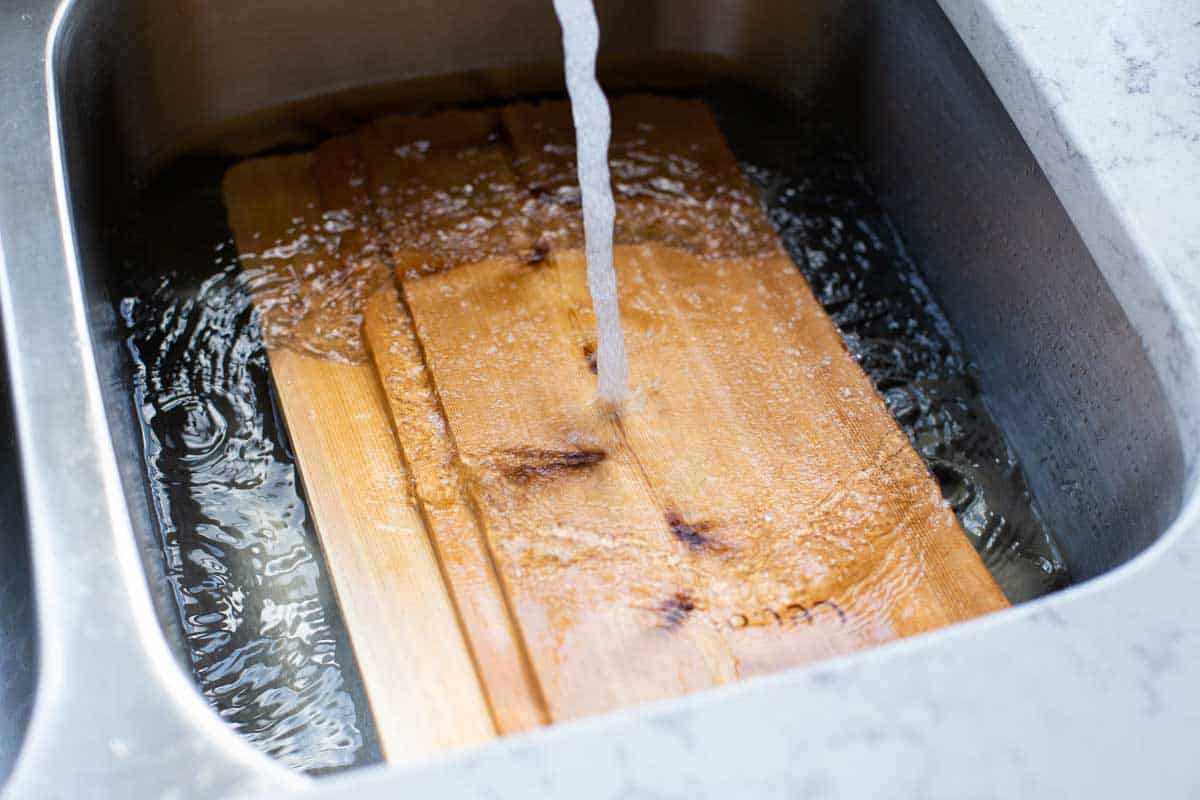 I soak the planks for 2 hours and sometimes they need to be weighed down with a pot so they submerged and soak up the water.
Don't remove the planks from the water until just before you plan to grill the fish.
Gently drain off the excess water from the surface and then line up the fresh tilapia in a single layer on the hydrated cedar planks: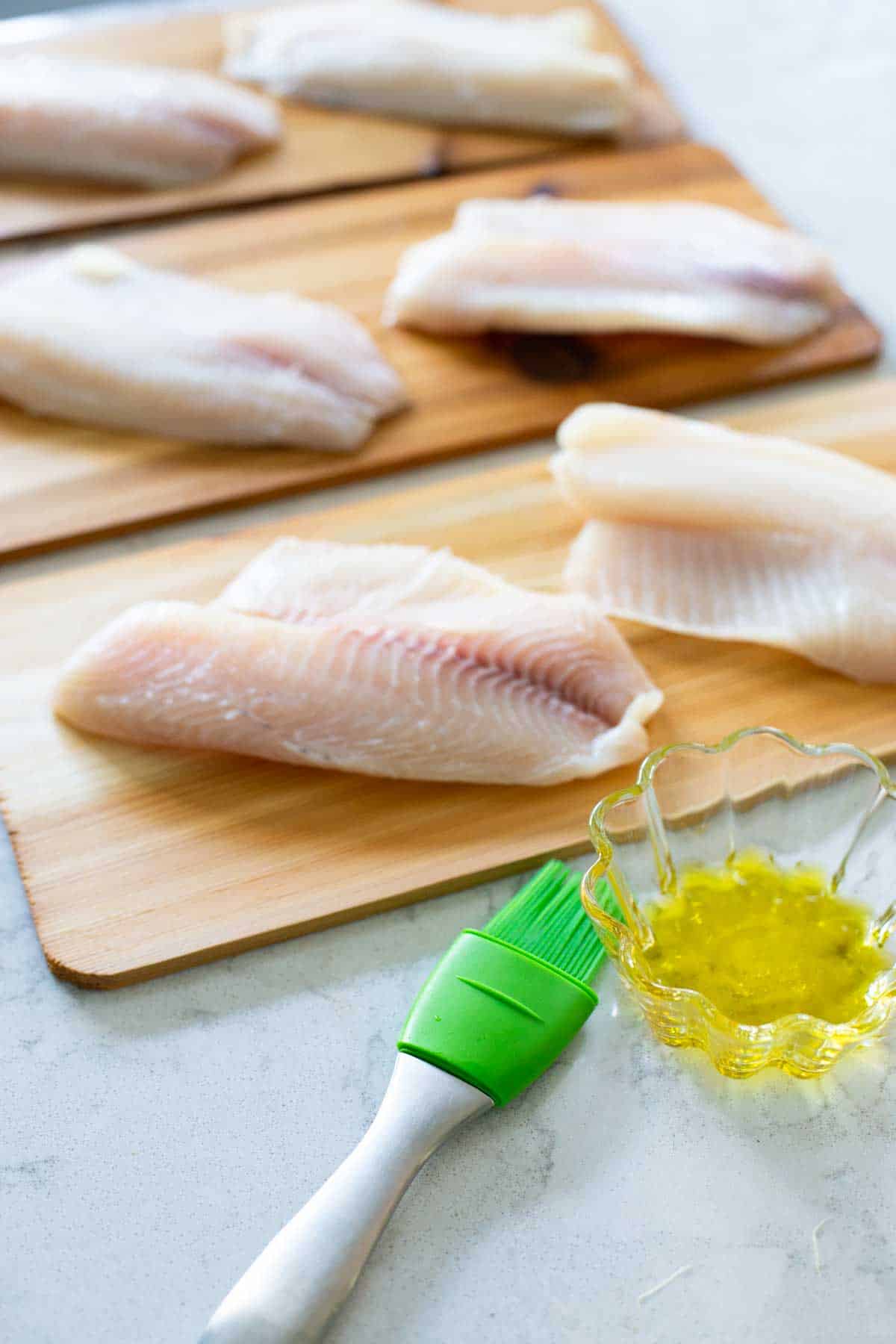 Brush the tilapia fillets with a little bit of olive oil so that they get nice browned edges and the seasoning blend you use will stick a little better.
Best Seasonings for Tilapia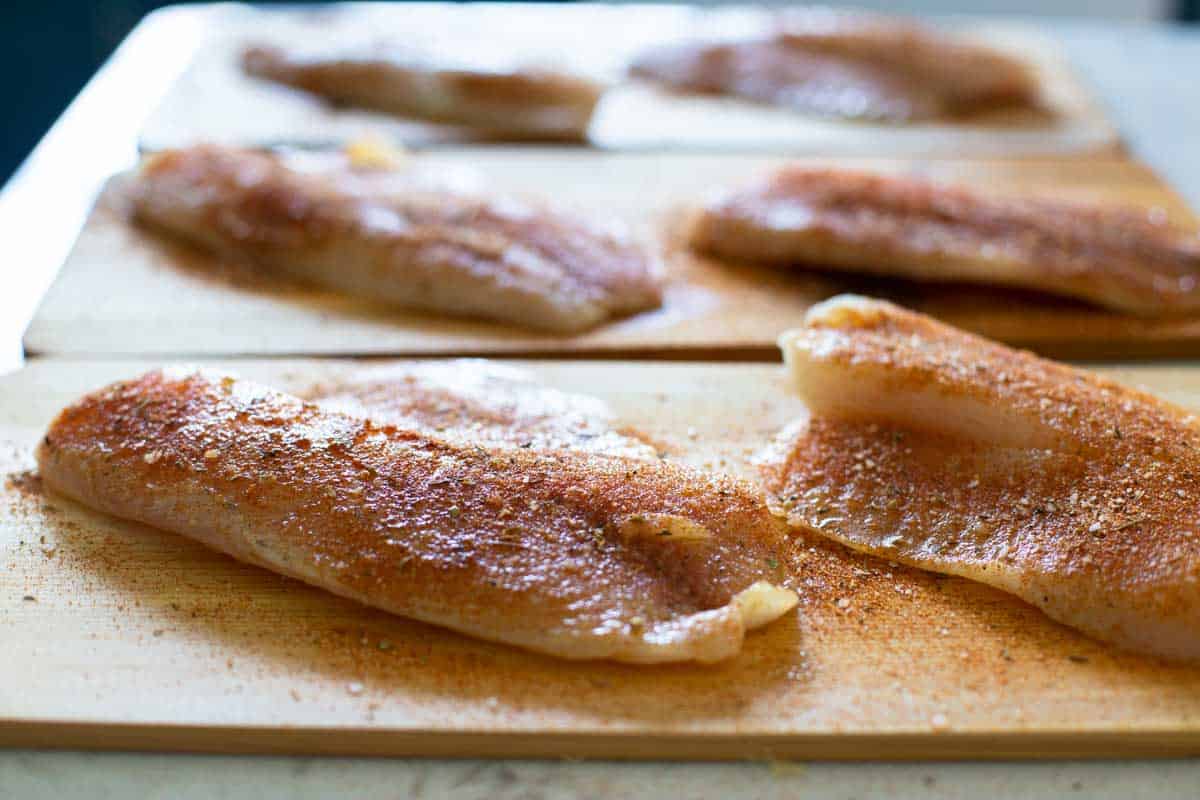 I love using prepared spice blends for our fish. Some of my favorite seasonings for tilapia include:
Creole Seasoning: Mostly herby, not too spicy.
Cajun Seasoning: More spicy but not hot.
Blackened Seasoning: A little more spicy but excellent if you're making sandwiches with a creamy spread.
Lemon Pepper: Lemon is always a great choice for pairing with fish.
If you don't want to use a prepared spice blend, you could sprinkle on a little seasoned salt, thyme, or rosemary. Add a pinch of cayenne if you want some heat.
Lemon juice and Dijon mustard would also make excellent flavor pairings with the tilapia.
How to Grill Tilapia
Preheat the grill to 450°.
Place the tilapia on the cedar planks directly on the grill grate. Close the grill lid and cook for about 10 minutes.
The fish should be slightly charred around the edges and flake easily when you prick it with a fork at the thickest part.
It will read 145°F with a probe thermometer.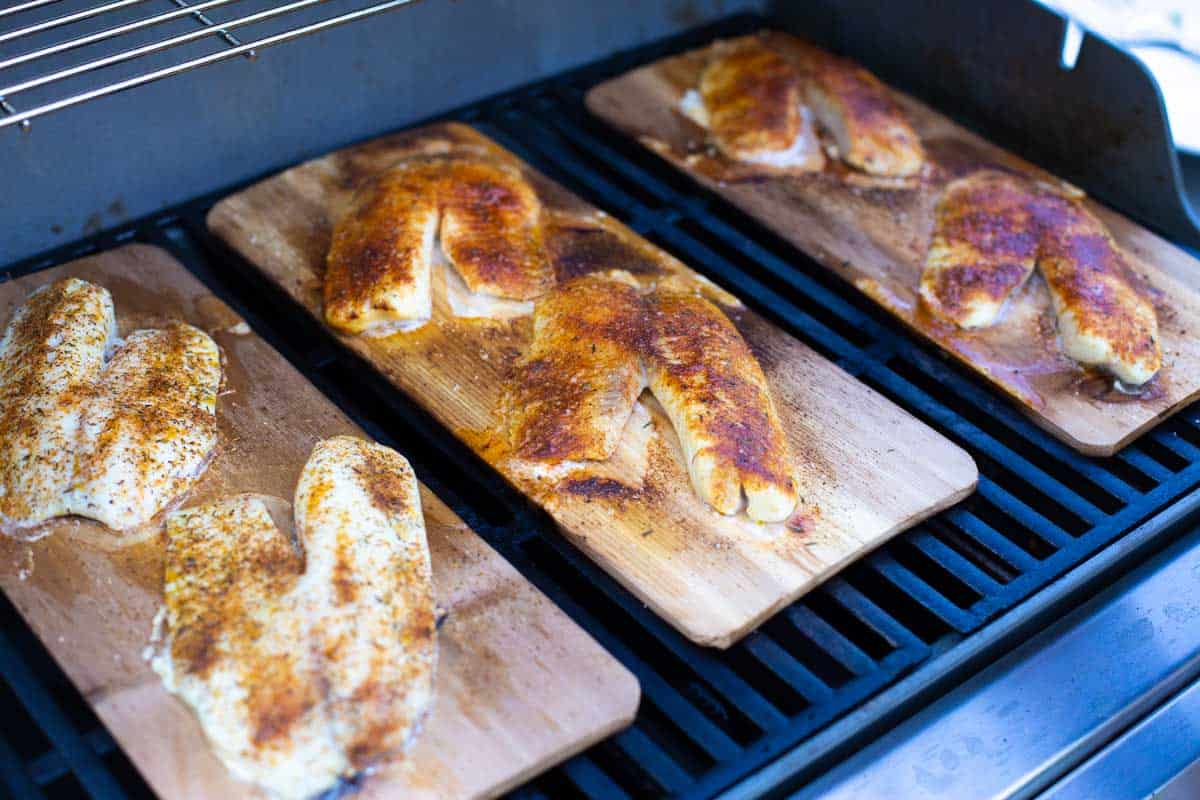 NOTE: The olive oil may cause small flames on the boards. Use long handled grill-safe tongs to adjust the planks away from heat to help reduce the flames.
Best Sauces for Tilapia
If you want to make an amazing grilled tilapia sandwich, you may prefer to add a spread of this spicy sandwich sauce to the bun.
If you want to make a grilled tilapia salad, you may want to drizzle a touch of cilantro lime dressing or lemon parmesan vinaigrette.
This sweet mojito salsa is an amazing topping for grilled tilapia eaten with a side of herbed rice but this pineapple salsa would taste amazing with the bacon in my Savannah red rice.
For a more elegant way to serve the tilapia, you could make this easy 10-minute parmesan cream sauce recipe, too.
Serving Suggestions
We love to eat grilled tilapia with a simple rice side dish. This southern-style red rice recipe is the perfect pair but the easy herb butter rice is always a hit, too.
If you want to add a veggie, steamed corn on the cob, roasted peppers and pineapple, or my favorite spicy roasted sweet potatoes are all a perfect match.