Herb butter rice is the perfect easy side dish for chicken or seafood. This 5 minute Instant Pot recipe is perfect for a holiday dinner because the pressure cooker keeps the cooked rice warm for up to 20 minutes giving you flexibility to finish the main course as needed.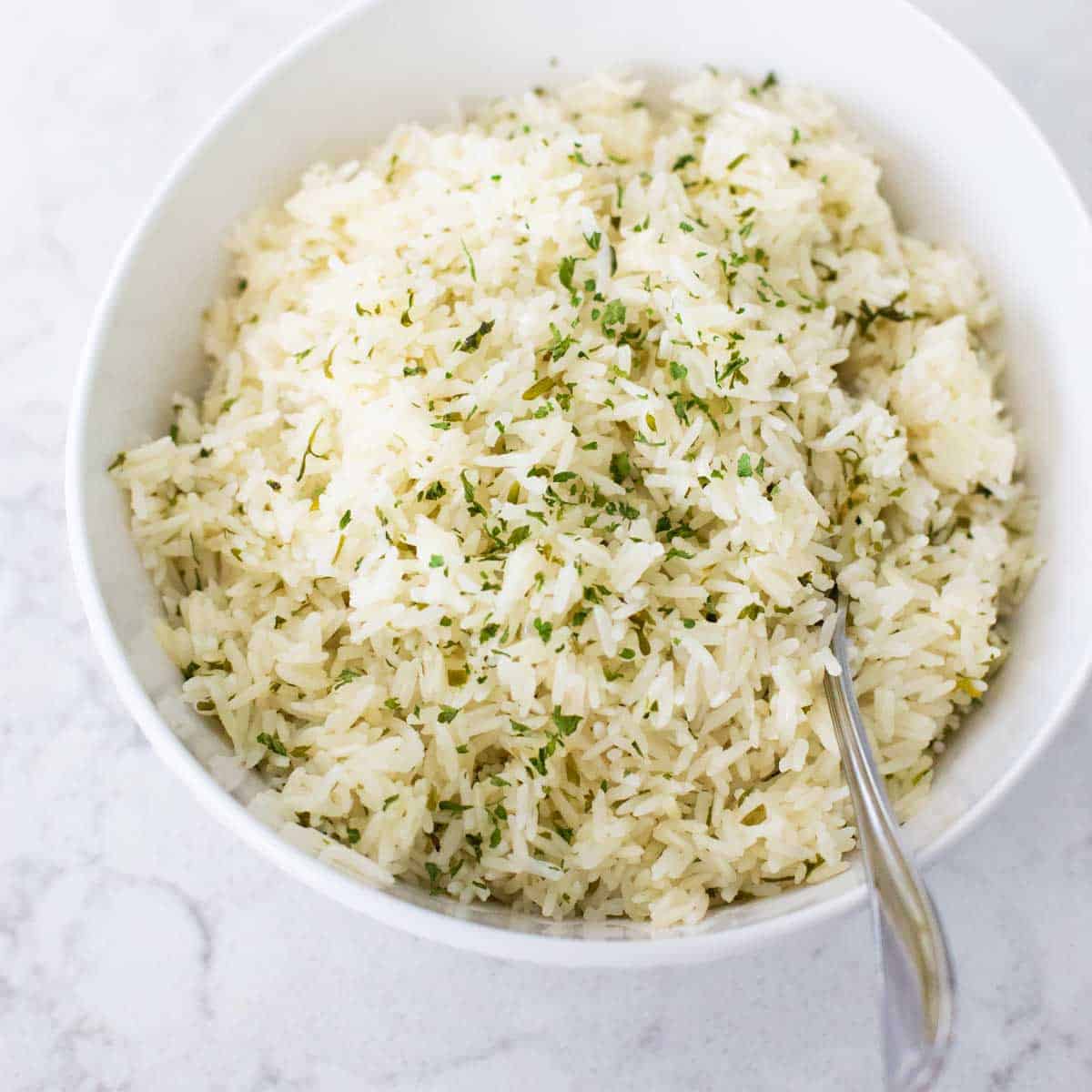 During the busy holiday season, everyone needs a super easy side dish that basically cooks itself and keeps warm until you're ready to serve it.
I'm not sure what we'd ever do without our Instant Pot mini. It cooks our rice so perfectly fluffy and takes less than a minute to set up. I love being able to completely ignore the pressure cooker until I'm ready to lift the lid and serve the dish.
This delicious herb butter rice has plenty of flavor by itself but is the perfect base for a saucy protein spooned over the top.
It was created especially to go with my very favorite apricot chicken recipe but I'm sure you'll find tons of reasons to use it for elegant and easy dinners all month.
Jump to:
Ingredients
3 ingredients, 1 minute to prep? YES, PLEASE.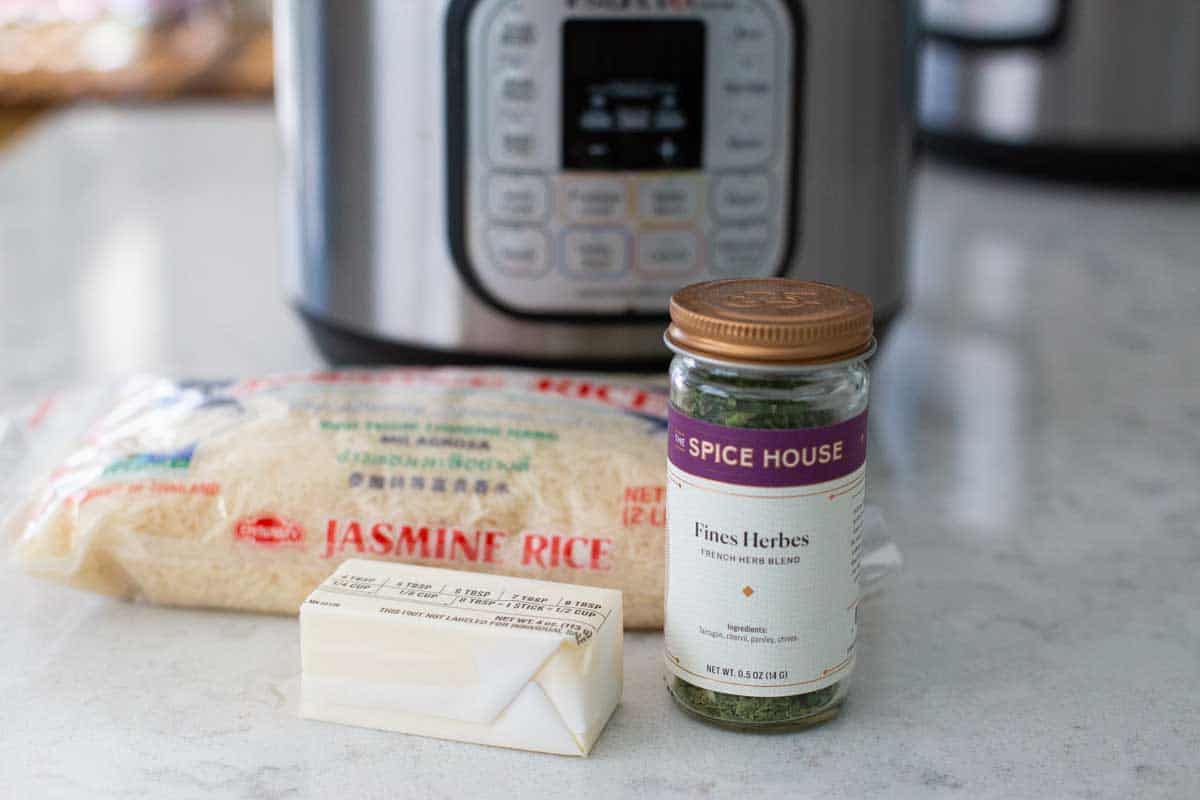 Jasmine Rice: I use jasmine rice anytime a recipe calls for white rice. It's our favorite. But, you could substitute long grain white rice if you prefer.
Butter: I always use salted. If you prefer unsalted, you may wish to add a little more salt to the water.
Fines Herbs: This dried herb blend can be found at most major grocery store chains. It's a simple mix of parsley, chives, tarragon, and chervil. It's far cheaper to just buy the blend than to try to mix your own. You can buy an affordable flat pack pouch with free shipping right here.
Tools
I always use our Instant Pot mini to cook rice because I think the smaller pot comes to pressure faster and doesn't need to be filled with as much food as the larger sizes.
It also takes up so much less room in the kitchen!
If you use a larger Instant Pot, be sure to check the minimum food level required.
How to Cook the Rice
Add the rice and the water to the Instant Pot pot. Be sure to stir them together so no dry rice touches the bottom of the pot or it may scorch.
Chop the butter into smaller cubes and sprinkle them over the water. This helps ensure that it will melt evenly all throughout the rice as it cooks.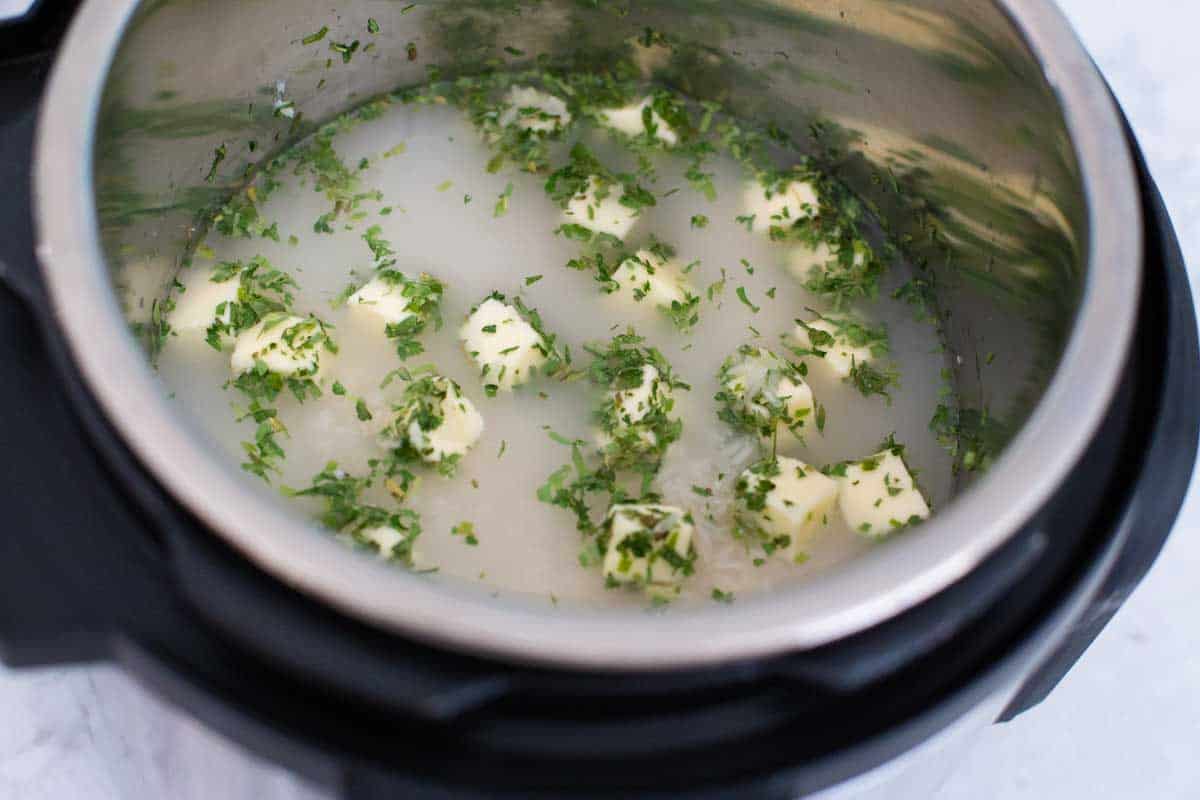 Sprinkle the fines herbs, salt, and pepper into the pot and stir.
Cover and seal the Instant Pot. Cook the rice on HIGH pressure for 3 minutes.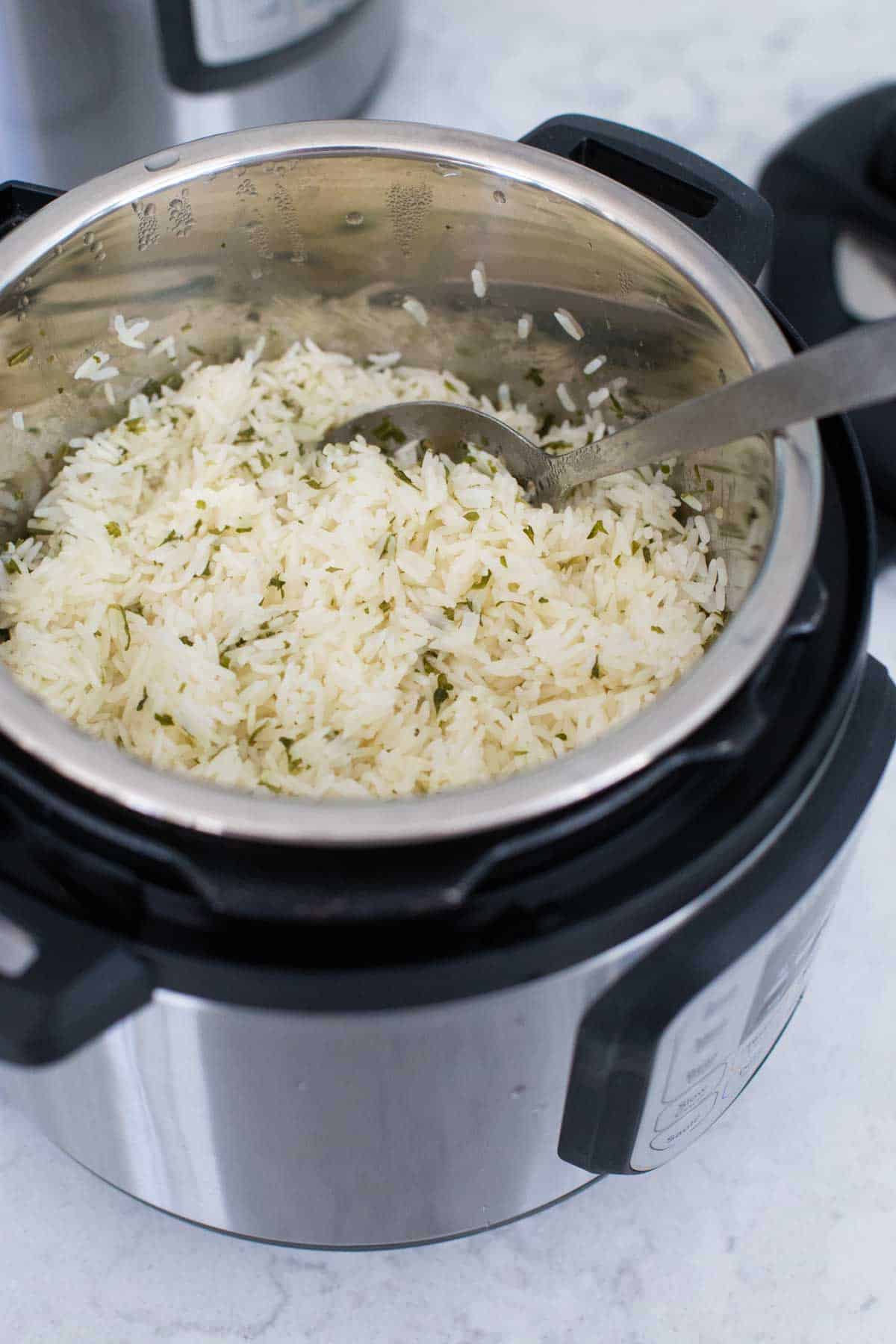 You can do a quick release of the pressure and serve immediately, or you can leave the pot sealed and let the Instant Pot keep your rice warm for up to 20 minutes.
This is such a handy way to cook a side dish for a busy holiday dinner because your rice will be ready whenever your main dish finishes!
Serving Suggestions
This yummy herb butter rice is the perfect side dish for my favorite saucy apricot chicken but would pair wonderfully with halibut, salmon, or roast chicken, too!
More Instant Pot Side Dishes
I just love cooking rice in our Instant Pot mini. You might also enjoy plain jasmine rice or rich sticky butter rice.
If you've tried this herb butter rice or any other recipe on PeanutBlossom.com please don't forget to rate the recipe and let me know where you found it in the comments below. I love hearing from you!
FOLLOW along on Instagram @peanut.blossom as well as on Pinterest and Facebook.