Macadamia crusted halibut is one of the best easy halibut recipes for a special occasion. Prep it earlier in the day and this oven baked halibut will be ready to go in just minutes at dinner time leaving you with almost no clean up. Serve it with a drizzle of rich lemon butter cream sauce for a quick but decadent treat.

When we lived in Chicago, Tim and I loved Wildfire for special date nights. Without fail, the only thing we ever ordered was their mind blowing macadamia crusted halibut with lemon butter cream sauce. It was our favorite anniversary dinner for many years.
It's been so long since we've been able to visit Wildfire's, I wanted to learn how to make an easy oven baked halibut here at home to surprise Tim for a special occasion. After some trial and error, I finally nailed the perfect easy romantic dinner that has a minimum of messy dishes to clean up when you're done.
In a rush? You can skip to the macadamia crusted halibut and lemon butter cream sauce recipes here.

P.S. Don't miss these 5 alternative easy halibut recipes you can make at home at the end of the post.
What is halibut?:
If you're not familiar with cooking fish at home, halibut is a firm, white flatfish with a mild taste. It is lean and often portioned into steaks similar to salmon. While flaky when you eat it, it is firm enough to handle many cooking methods like grilling, steaming, sautéing, and broiling.
Our favorite way to prepare halibut in the oven is with a crust of chopped macadamia nuts, panko breadcrumbs, and garlic.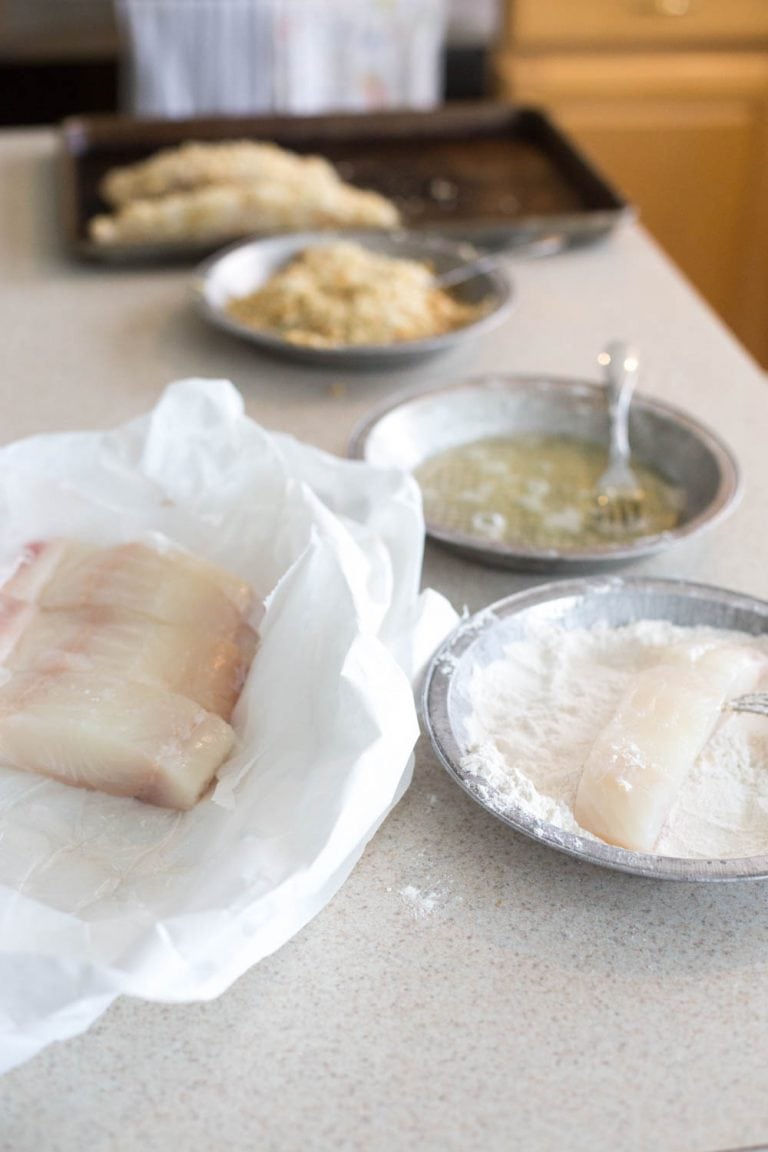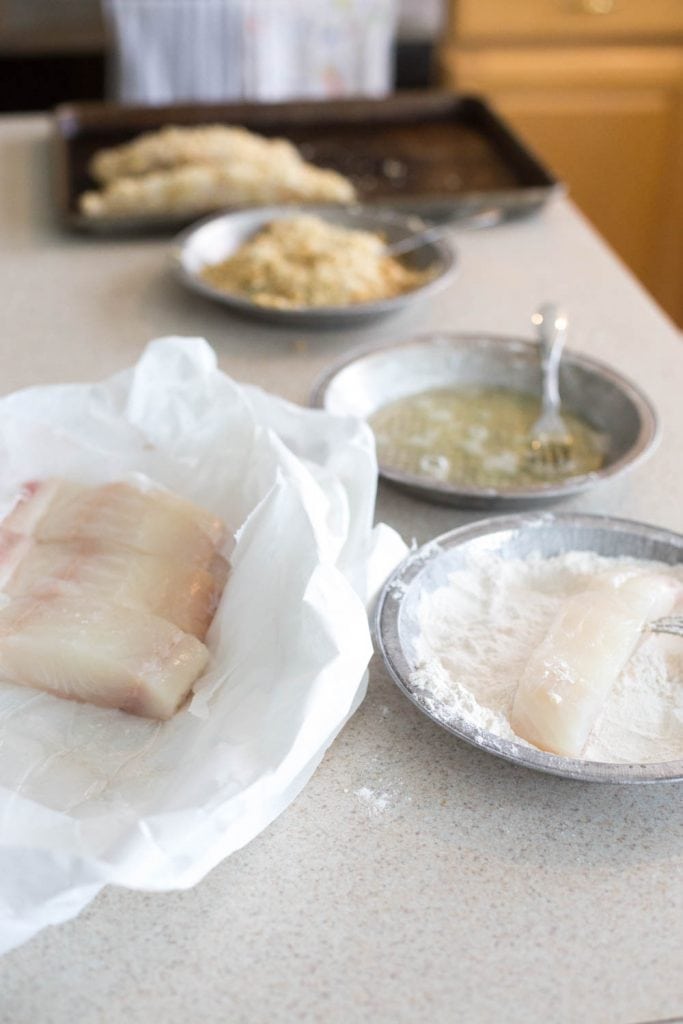 How to bake halibut:
Since halibut is such a lean fish, the trick to juicy oven baked halibut is setting a higher heat and cooking it for a shorter amount of time. I like to use 425 degrees which is also the perfect temperature for roasting fresh asparagus for your seafood side dish. Everything can go into the oven at once which takes the guessing out of timing your side dish.
Easy halibut recipes: How to prep macadamia crusted halibut
Since halibut tends to be a pricier fish, it is perfect for an easy romantic dinner or special occasion at home. It has been our go-to anniversary meal, Valentine's Day dinner, and Tim once requested it for Father's Day.
Over the last year, it has become one of my kids' very favorite dinners. Prepping the macadamia encrusted halibut is super fun and easy for kids to manage so they feel like they have a hand in the creation of our fancy meal.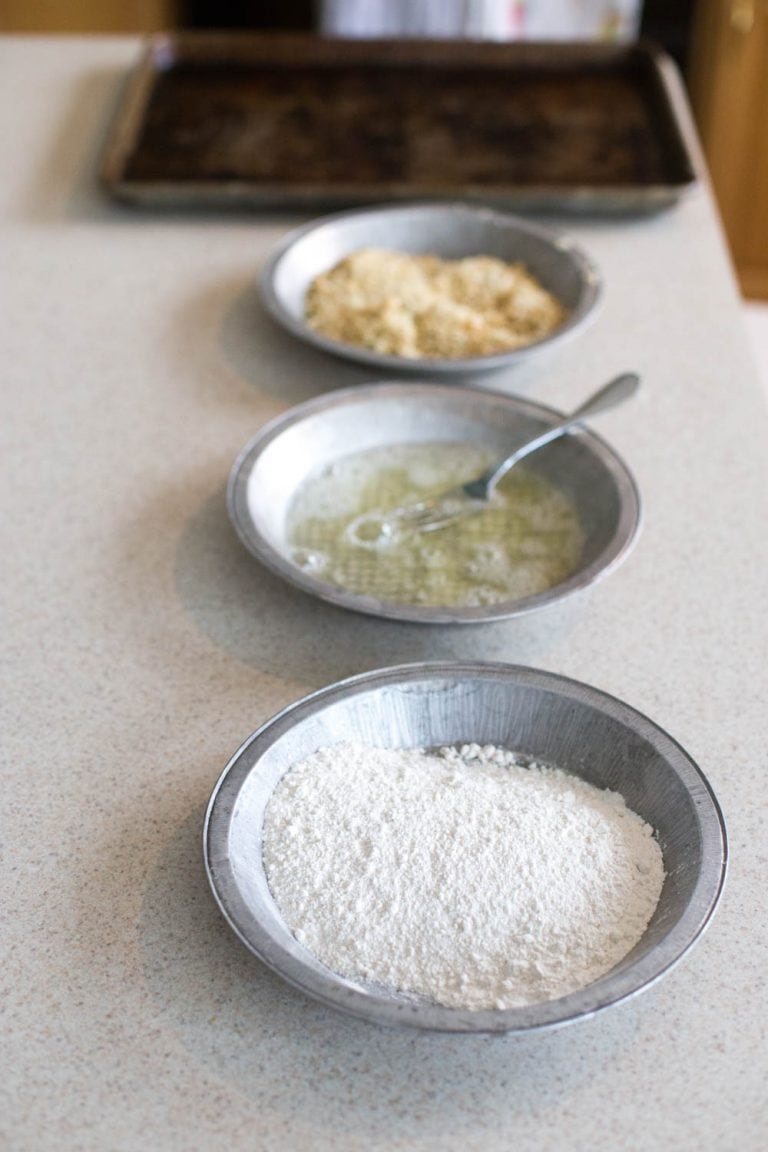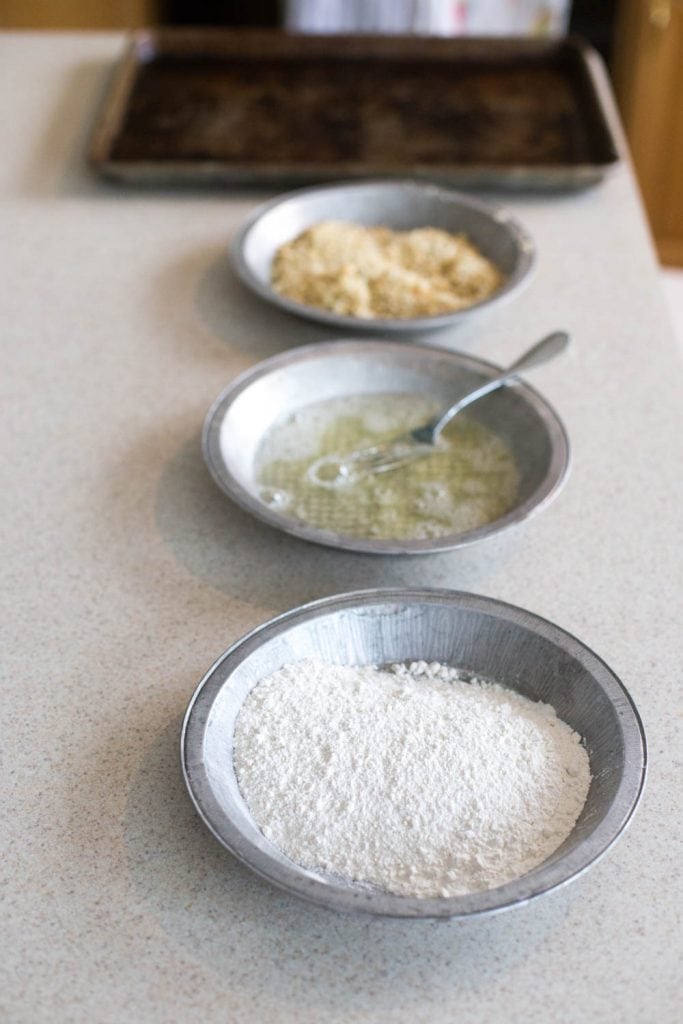 To prepare the halibut steaks, I set up 3 pie plates in a production line: flour, lightly beaten egg whites, and the macadamia nut bread crumb mixture. The kids can move the fish through each pie plate and line them up on a cookie sheet.
Store the prepare halibut in the fridge until you're ready to make dinner.

Don't forget the lemon butter cream sauce:
The thing that makes this the most delicious halibut recipe you'll find is the rich and decadent lemon butter cream sauce that gets drizzled over the top.
While the fish is baking in the oven, whisk together the butter, cream, and lemon juice in a small sauce pan on the stovetop. It pairs really well with the fresh asparagus as well!
You could use this lemon butter cream sauce for halibut, other fish, chicken, or even pasta. It's a handy sauce recipe to keep in your stash.
Macadamia Crusted Halibut with Quick Lemon Butter Cream Sauce:
Print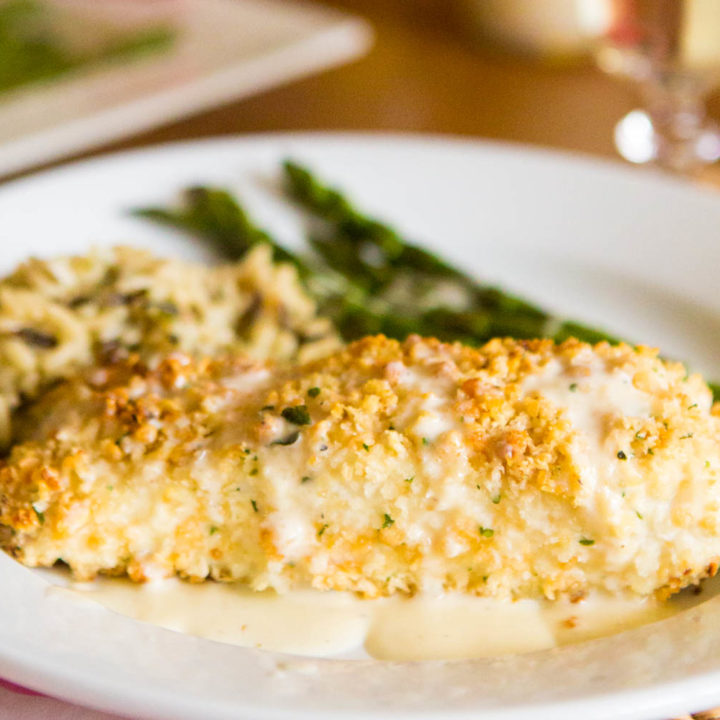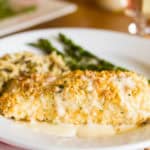 Easy macadamia crusted halibut with quick lemon butter cream sauce
---
Scale
Ingredients
1 cup

roasted salted macadamia nuts

2 cup

s panko breadcrumbs

1 tsp

minced garlic

1 tbsp

dried parsley

2 tbsp

melted butter

1 cup

all-purpose flour

3

egg whites, lightly beaten

4

–

6

boneless, skinless halibut fillets
For the sauce:

8 tbsp

butter (

1

stick)

1/4 cup

heavy cream
Juice of

1

large lemon
---
Instructions
Chop the macadamia nuts in a food process until minced. In a medium bowl, combine the nuts, breadcrumbs, garlic, parsley, a pinch of salt & pepper, and the melted butter. Gently toss with a fork until everything is evenly coated in butter.
Line 3 pie plates or flat open dishes in a row on your working space. Place the flour in dish #1. Place the beaten egg whites in dish #2. Place the nut/breadcrumb mixture in dish #3. Place a large cookie sheet at the end of the line.
Dip each halibut filet one at a time into the flour. Shake off the excess flour and gently turn over inside the egg whites to coat. Let the excess egg drip off and then place into the breadcrumb mixture. Use a spoon to cover and coat the fish with the breadcrumbs. Be sure to coat the top, bottom, and all sides. Gently transfer the coated fish to the baking sheet. Repeat with remaining fillets.
Store the fish in the fridge until you are ready to cook dinner. Up to 8 hours ahead of time.
FOR A CRISPY COATING:
Remove the fish from the fridge when you start to preheat the oven to 425 degrees. Let it slowly come to room temperature while the oven heats.
Transfer the fish to a clean room-temperature baking sheet just before placing it in the oven. (If the pan is chilled, the fish will steam and the bottoms will be soggy.)
Bake the halibut for 15 – 20 minutes until opaque and flaky.
TO PREPARE THE SAUCE:
While the fish bakes, melt the butter over medium heat in a medium-sized sauce pan. Add the cream and lemon juice and whisk to combine. Add a pinch of salt & pepper to taste. Heat until slightly thickened and keep warm over low heat until the fish is ready.
Serve the lemon butter cream sauce in a small pitcher for drizzling over the fish at the table or the crust on the fish will get soggy.
---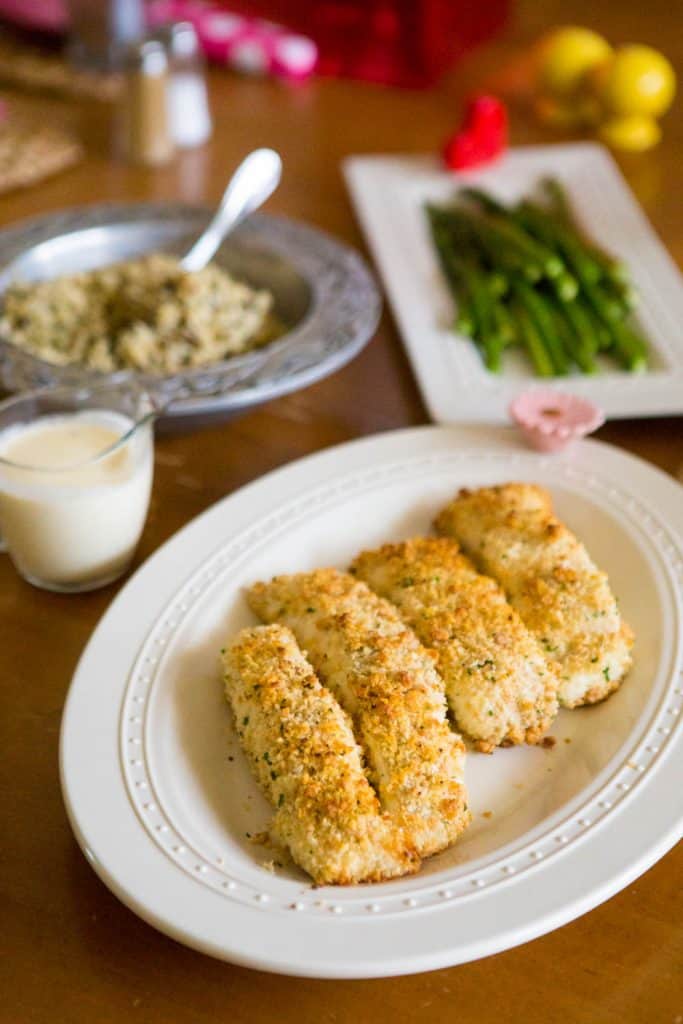 More easy halibut recipes you can make at home:
And don't miss these 30 meatless dinners for Lent that your kids will actually eat. There are tons of great seafood recipes included.