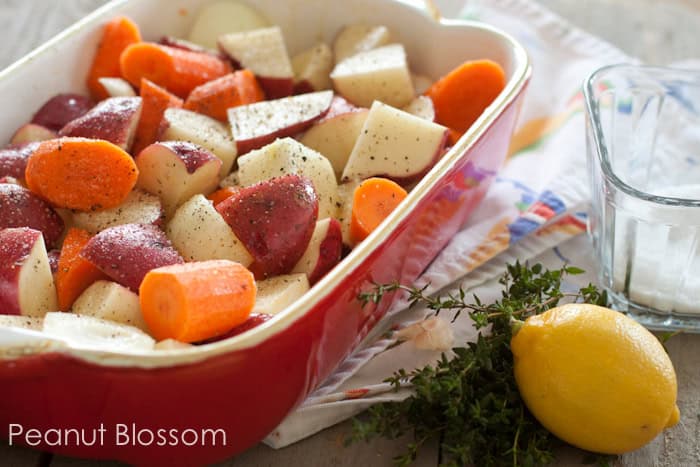 I have officially become a roast chicken convert. Handyman Tim and I have been married coming on 12 years. As a new bride in 2001 I became obsessed with Food Network and all things Ina Garten. Everywhere I looked, celebrity chefs were touting how easy, how basic, how essential it is to have roast chicken in your cooking repertoire. So I whipped out our shiny new kitchen gifts and tried my hand at roasting a bird.
We're lucky we didn't die of salmonella.
I felt betrayed. Lied to. Then I felt silly, maybe I had misread the instructions. This is a kitchen basic, right? I must have missed the easy part. So I tried again. The next time, it was dried out, tough, and barely edible.
I tossed my hands up in frustration and avoided most roasted meats for the next 11 years.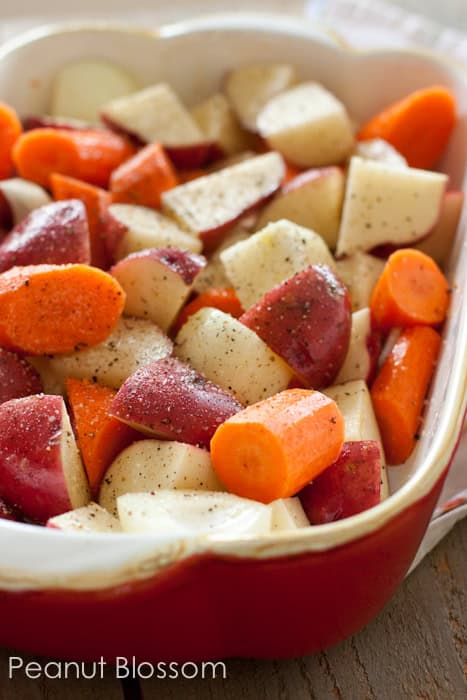 Then along came Dinner: A Love Story. Between Jenny Rosentrach's phenomenal writing style and Jennifer Causey's incredible food photography, I was immediately obsessed with the idea of trying my hand one last time at roasting a chicken. The gorgeous photograph of the homemade chicken stock she makes from the remaining chicken bits and then the drool-worthy shot of her homemade chicken soup she makes from the stock had me immediately intrigued.
I followed Jenny's simple instructions to a T. Handyman Tim nearly wept with joy when I served dinner that night. Between the 4 of us in our little family there was not a single scrap of chicken, potatoes, or carrots left at the end of the meal.
I took those chicken bones and made my first ever batch of stock and then my first ever batch of homemade chicken soup and now the whole family is addicted to chicken. This has graced our table nearly weekly since sometime mid-December. You'd think we'd be sick of it by now, but not a chance.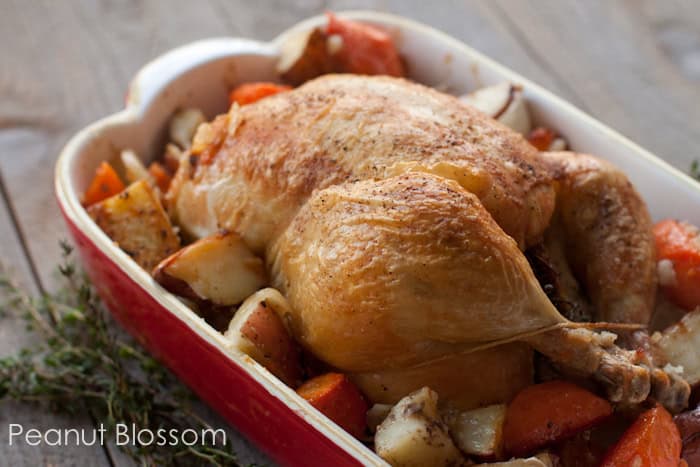 So as a roasted chicken convert with a very checkered history of roasting meats, I swear to you this is the easiest most fool-proof method for roasting a chicken known to man. The meat is tender, juicy, and so so flavorful. The vegetables are that perfect combination of soft with crispy edges and everything gets just a little bit sweet from the butter and lemon drippings. The kitchen smells out of this world and nothing could possibly be more comforting and wholesome than this.
Thank you Jenny. You are an absolute game changer!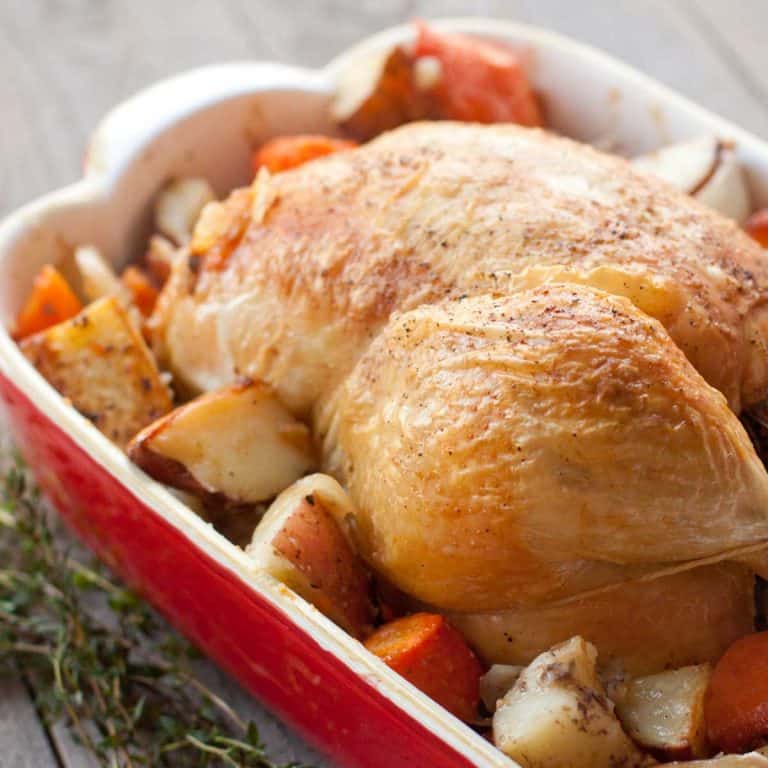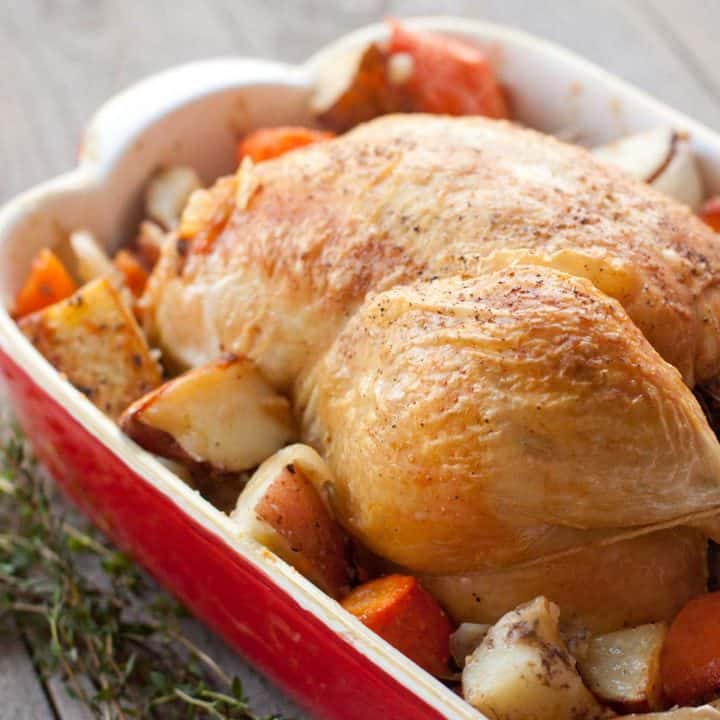 How to Roast A Chicken
Total Time:
1 hour
20 minutes
This juicy golden brown roast chicken is just a few minutes away from your dinner table. The buttery flavoring helps to season the perfectly tender roasted potatoes and carrots underneath the chicken as it cooks.
Ingredients
6 red potatoes, cut into large chunks
3 large carrots, peeled and cut into large chunks
1 onion, cut into large chunks
1 tbsp olive oil
Salt and Pepper
1 (4-pound) whole roasting chicken
2 tbsp butter
1 lemon
1 small bunch of fresh thyme
Instructions
Preheat the oven to 425 degrees.
In a large roasting pan toss the potatoes, carrots, and onions with the olive oil. Sprinkle with salt and pepper to taste. Roast the veggies for 15 minutes.
While the veggies are roasting, wash the chicken and pat it dry. Use a knife to pierce several slits into the lemon. Stuff the cavity with the lemon and then the bunch of thyme. Gently tie the legs together if needed. Massage the melted butter all over the surface of the chicken--breasts, legs, wings, and thighs. Sprinkle with salt and pepper.
When the timer rings from the veggies, remove the pan from the oven. Toss with a large spatula to prevent burning on the bottoms. Place the chicken on the bed of vegetables. Insert a cooking probe thermometer into the fleshiest part of the thigh. Place the roaster back into the oven. Cook until the meat in the thigh reaches 180 degrees. About 18-20 minutes per pound.
The bird should be golden brown with crispy skin. Carve and serve with the vegetables.