These pillowy-soft buttery dinner rolls with salted rosemary sprinkled over the top are the perfect touch for your holiday dinner. The baked-in fold makes them so easy to pull apart for a tiny sandwich.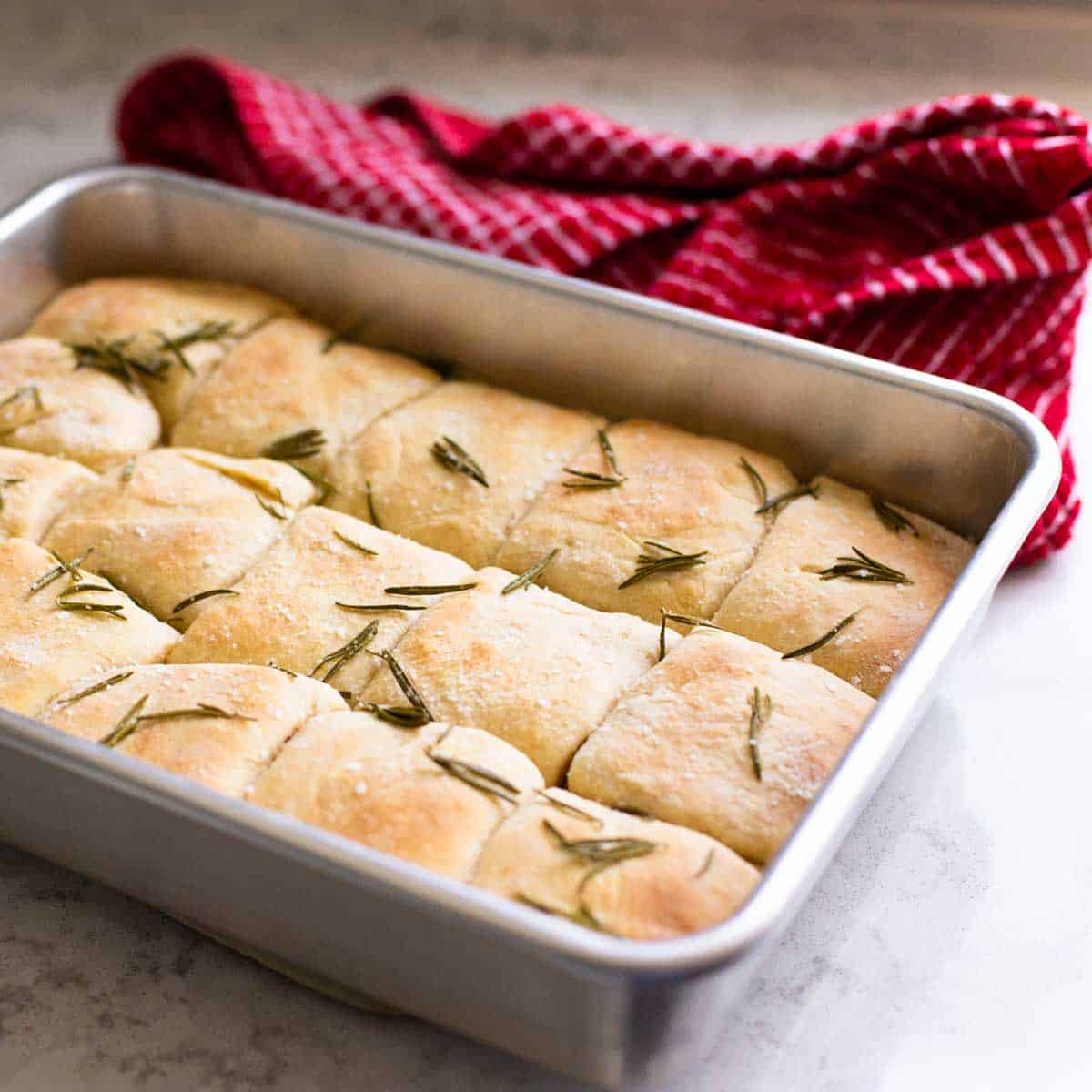 Dinner rolls have always been an essential part of any festive family meal at hour house.
We don't simply enjoy them as a side dish, my husband loves to use them to make tiny sandwiches out of whatever entree I'm serving for the special meal.
Whether it's a slice of Easter ham, a Christmas roast beef, or savory bit of Thanksgiving turkey, I've watched as he makes his little holiday sandwiches at the table using whatever dinner roll I'm serving.
To make his task even easier, I discovered this fantastic folded dinner roll method which bakes up crispy-topped buns with soft insides that pull apart easily to form little sandwich buns.
The kids and I are just as happy to crack open a dinner a roll and slather it with a little more butter or dip them in gravy.
The fresh rosemary gets tossed in a bit of melted butter before being sprinkled over the top of the rolls before baking. They get crispy and roasted in the oven and add an amazing pinch of flavor to an otherwise simple roll.
You could skip the rosemary if you prefer but we've found it complements almost any traditional holiday meal.
Jump to:
Ingredients
The ingredients for these butter rolls are fairly simple. You probably have most things you need in your pantry.
The unique items you may have to pick up include:
A packet of instant yeast: You can use individual packets for ease but if you think you'll enjoy doing a lot of baking in the next 3 - 6 months, invest in a full jar of instant yeast and simply measure 2 ¼ teaspoon of yeast for this recipe. Store the remaining jar in your fridge or freezer for the longest keep.
Fresh rosemary: dried rosemary is not a good substitute here, you'll really want the fresh herbs so they can properly roast in the oven
Kosher salt: I use this for all my baking but it is especially important in this recipe because it has the perfect texture for sprinkling over the top of the rolls
Equipment
While I absolutely adore our bread machine, this recipe is best made using a simple stand mixer. The dough comes together completely in the mixer with the paddle and dough hook attachments and then is baked in a 9 x 13 pan in your oven.
Other kitchen tools you may find handy:
Pizza wheel for cutting portions of dough
A pastry brush for spreading melted butter over the rolls
A baking mat and rolling pin for rolling out the dough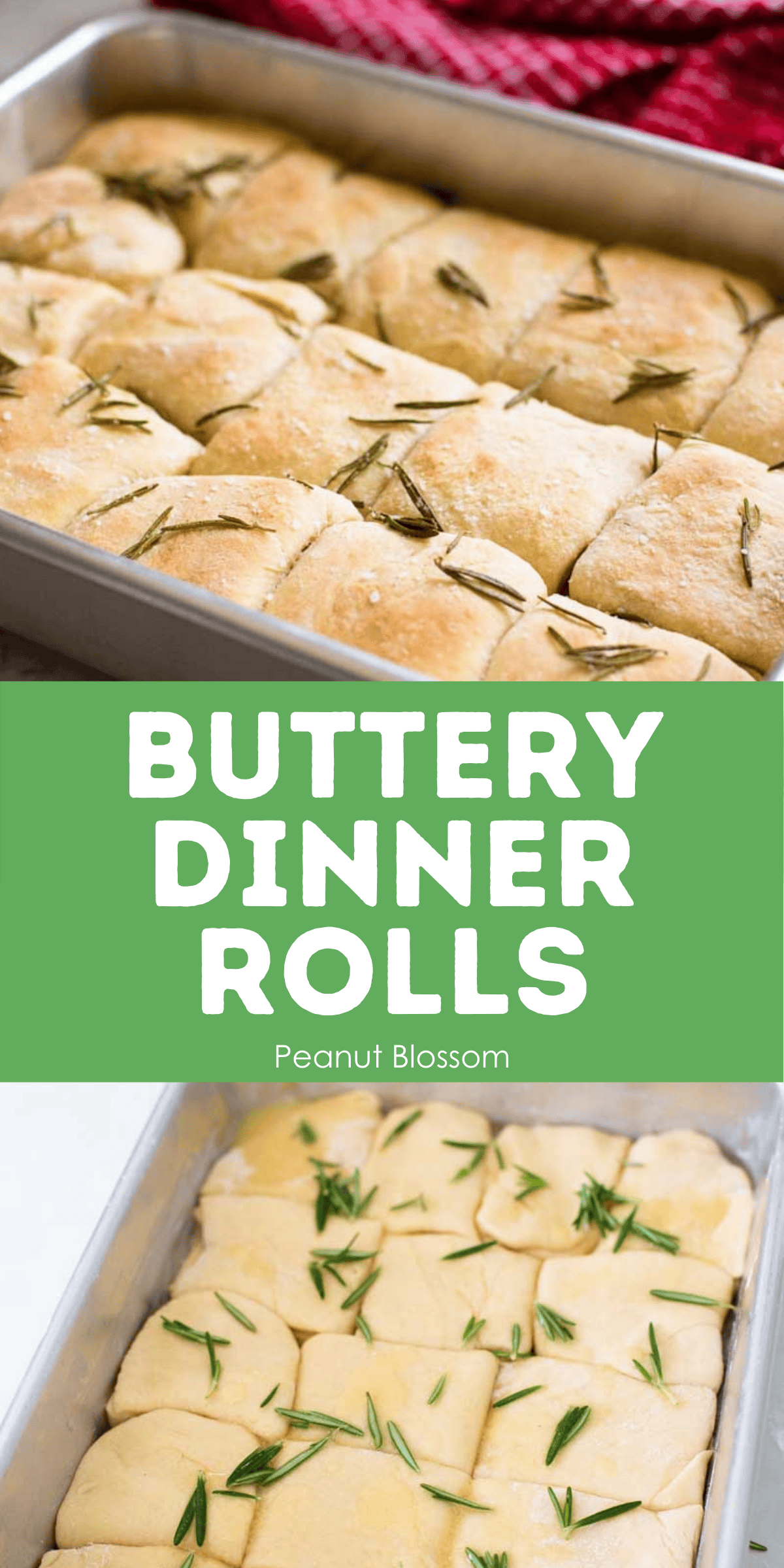 Substitutions
Baking usually requires specific ingredients for the recipe to turn out properly. But, in real life we're not always stocked with just what we need.
If you're missing something, here's how to fix it:
Whole Milk: It's ok to use 2% milk but don't try fat-free or skim milk. You need the bit of creaminess for the dough to have the buttery soft texture.
All-purpose flour: You can substitute bread flour if you have it.
Variations
Want to play with the flavor a little? Try these fun swaps:
Swap the herbs: We love the rosemary, but you could try fresh thyme or chopped sage.
Make it savory: Add minced garlic and roasted red pepper flakes to the melted butter
Make it sweet: Drop the herbs completely and add a cinnamon and sugar sprinkle over the top
Make-Ahead Tips
These rosemary rolls are freezer friendly. You can bake a batch (or two) and let them cool completely before storing in an airtight bag in the freezer.
Let them thaw overnight in the fridge and warm them in the oven before serving.
They also keep well at room temperature for 24 hours. Simply cover them to keep them fresh and reheat in the oven for 2 - 3 minutes before serving.
Serving Suggestions
These delicious homemade dinner rolls pair perfectly with any festive holiday meal you plan to serve but we especially love it with these easy entrees.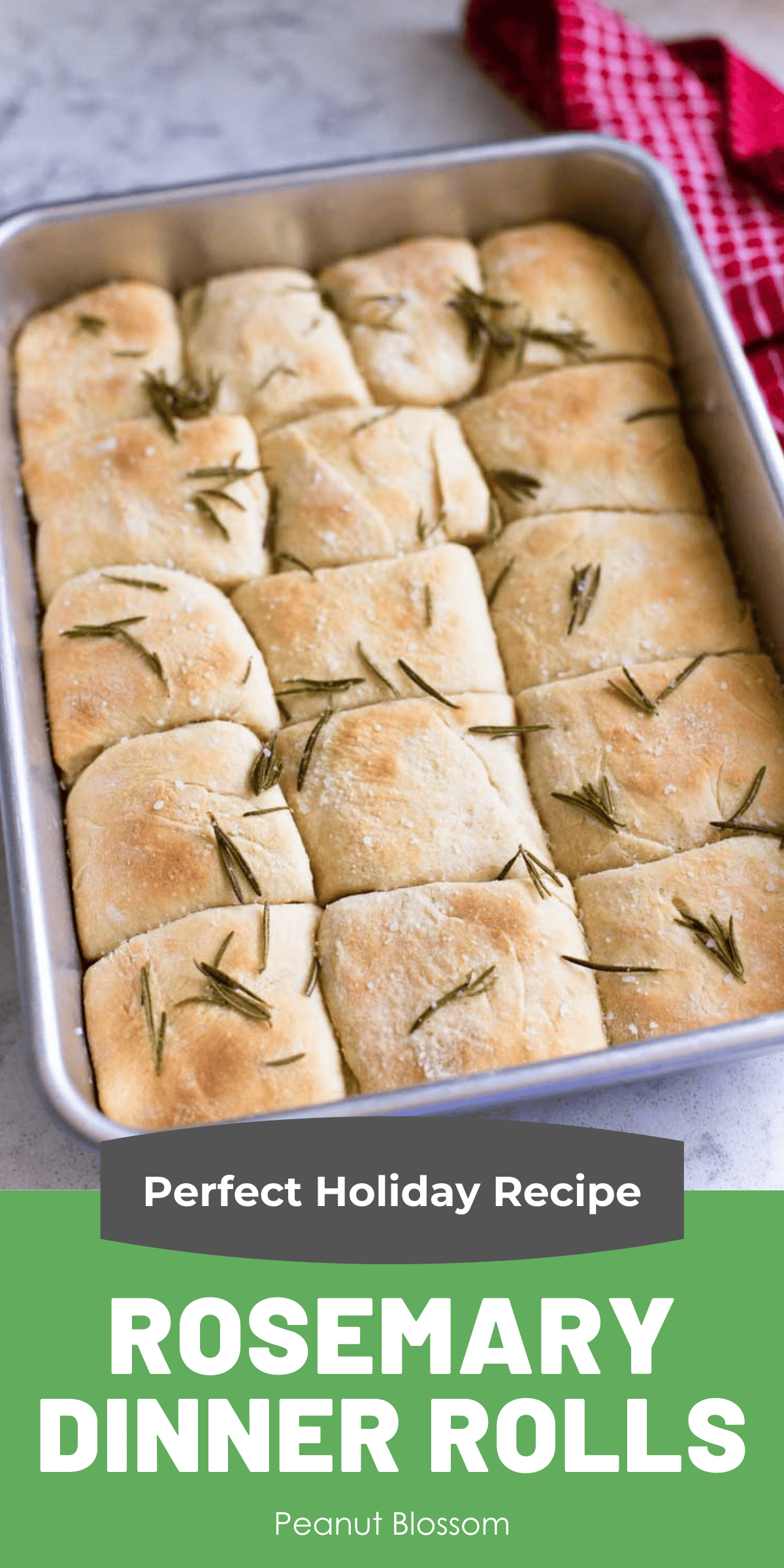 If you've tried these salted rosemary dinner rolls or any other recipe on PeanutBlossom.com please don't forget to rate the recipe and let me know where you found it in the comments below. I love hearing from you!
FOLLOW along on Instagram @peanut.blossom as well as on Pinterest and Facebook.