Easy buttermilk drop biscuits you can whip up in under 20 minutes to go with your favorite dinner. 4 easy flavor variations to give you options from sweet to savory.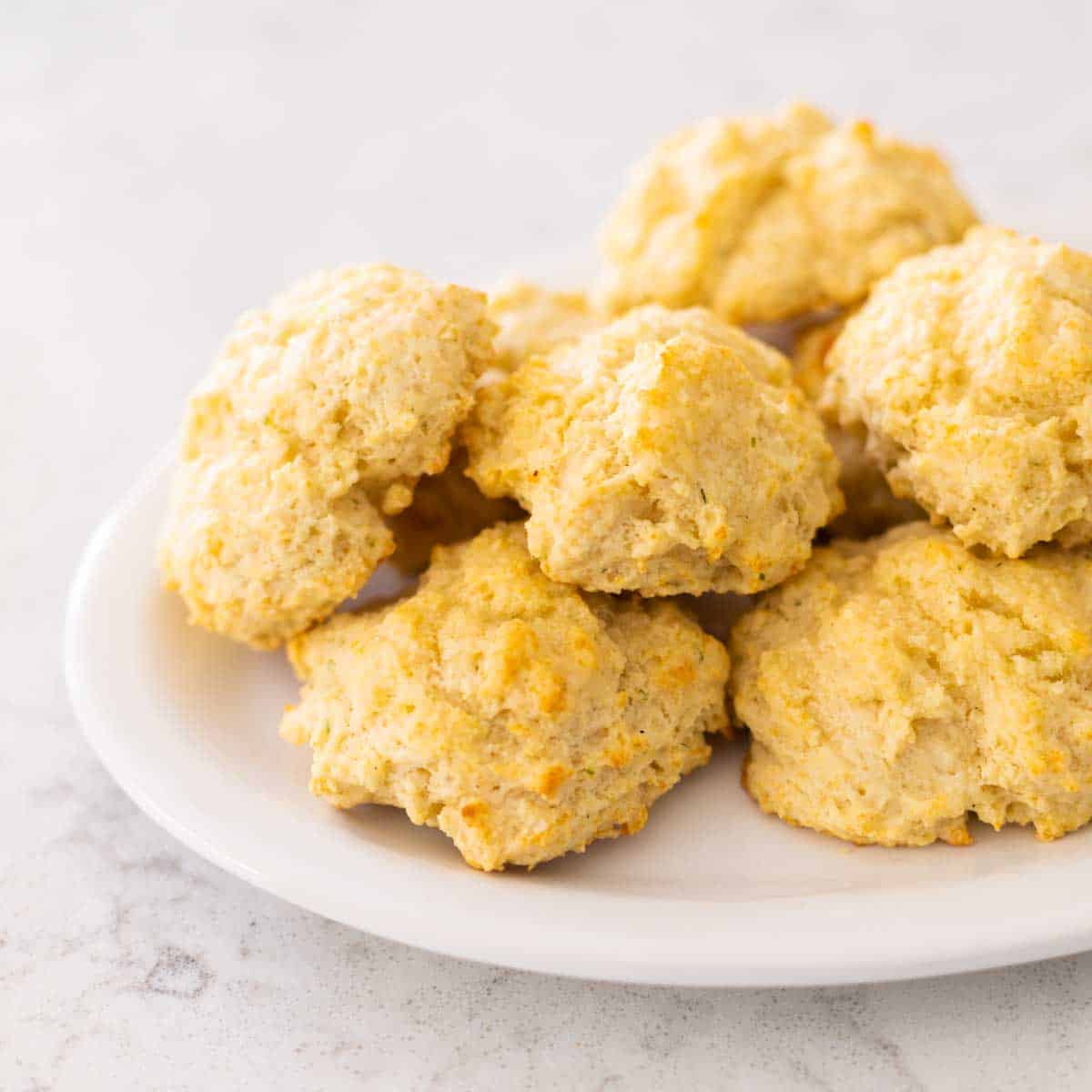 Living in the south, we are more likely to be served a basket of biscuits when we dine out than other dinner rolls at most places.
In the decade+ that we've lived here, that's a lot of biscuits we've been able to sample.
I can honestly say that this easy recipe for buttermilk drop biscuits is by far the best we've tried.
Brush the tops with melted butter when the biscuits come out of the oven and are all nice and hot. Serve them immediately and watch as your family gobbles them up.
We'll start with a classic buttermilk biscuit recipe and then I share three totally delicious ways you can mix things up to match your meal.
Jump to:
Why This is the Best Recipe
Once you've tried this delicious buttermilk drop biscuit recipe, I'm pretty sure you'll agree it is the best because:
Easier than Cut Biscuits: Drop biscuits are so much easier for beginner bakers to make than cut biscuits that require rolling and cutting. The inner flake is similar, but a drop biscuit is just an easy one-bowl recipe you can make in minutes.
Light and Flaky: The buttermilk gives these biscuits a totally delicious texture that holds together but breaks apart in your hands to reveal a tender, flaky center.
Basic Ingredients: The classic version of the recipe has just 7 ingredients, most of which you probably have sitting in your pantry right now.
Ingredients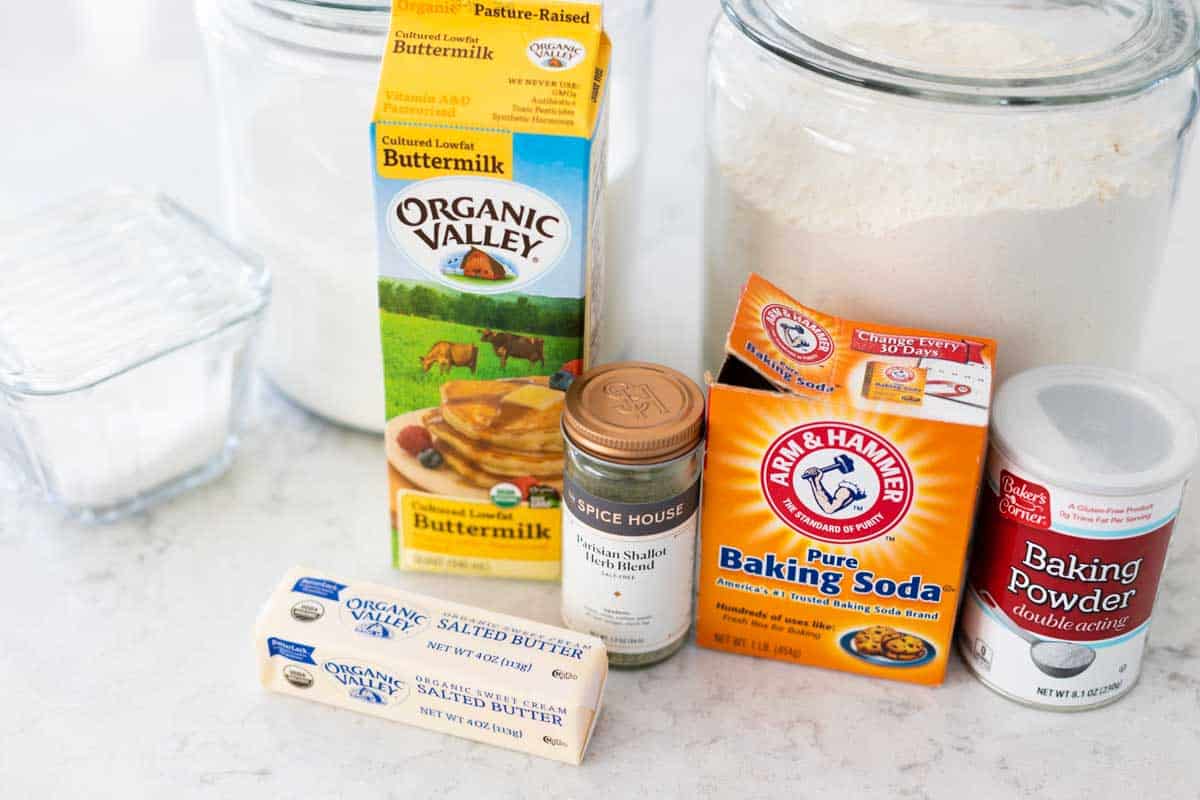 To make the classic version of this recipe, all you need to have on hand is:
Buttermilk
Salted Butter
All Purpose Flour
Sugar
Baking Soda
Baking Powder
Salt
Buttermilk Substitute
I love having a container of buttermilk in the fridge to make homemade buttermilk waffles but if you're in a rush and don't have time to get it from the store, you can easily make this substitution:
Measure 1 cup milk and then add 1 tablespoon lemon juice or white vinegar. Stir and let sit for 5 minutes before using.
How to Make the Classic Drop Biscuit Recipe
First, I'll show you how to make plain buttermilk drop biscuits.
This is the classic recipe you're probably most familiar with. It goes well with any dinner you'd like to serve a biscuit.
Once you know how to do this, the other 3 flavor variations will be easy-peasy.
Whisk the Dry Ingredients
Add all the dry ingredients to a large mixing bowl and whisk them together.
This includes the flour, sugar, salt, baking powder, and baking soda.
My photo below shows the herbs from one of the variations. Oops. Don't add that unless you're making that flavor variation.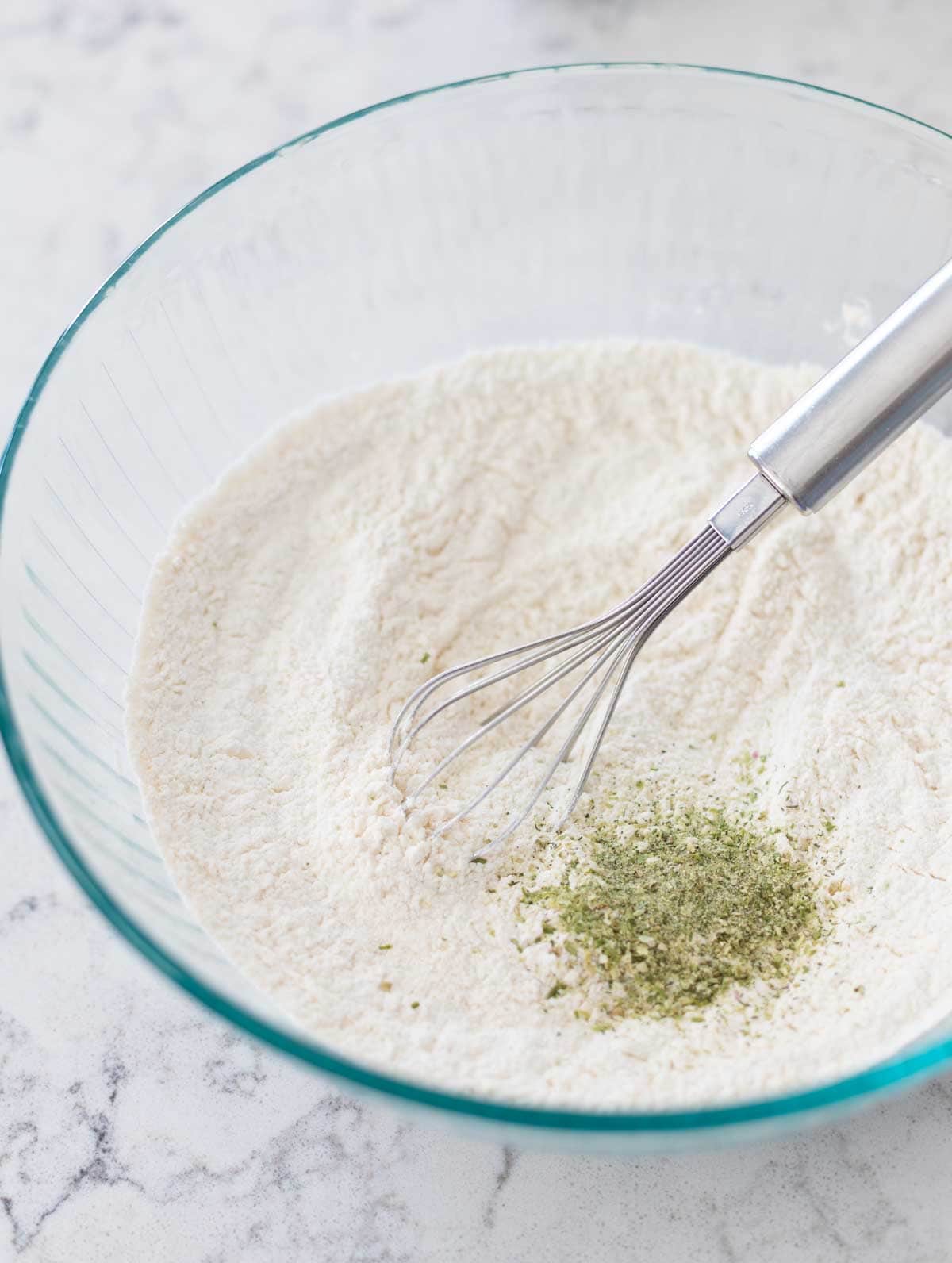 Whisk the Buttermilk and Butter
Melt the butter in a microwave safe container.
Let it sit and cool while you pour the buttermilk. I actually like to melt it while I'm measuring the dry ingredients so it has a little more time to sit.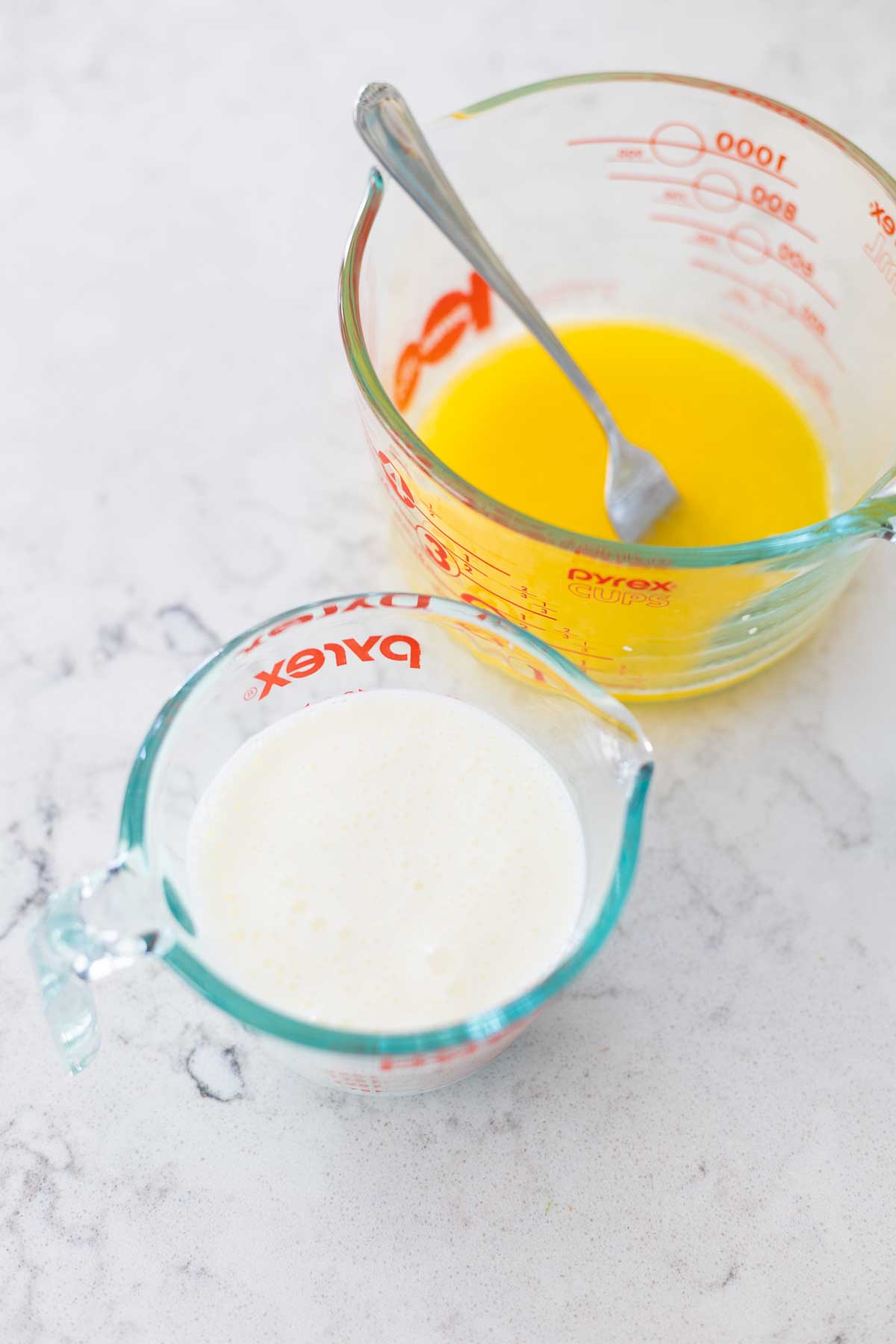 Pour the buttermilk into the butter and whisk it together with a fork.
Stir it for a minute or so. The mixture will begin to appear curdled like this: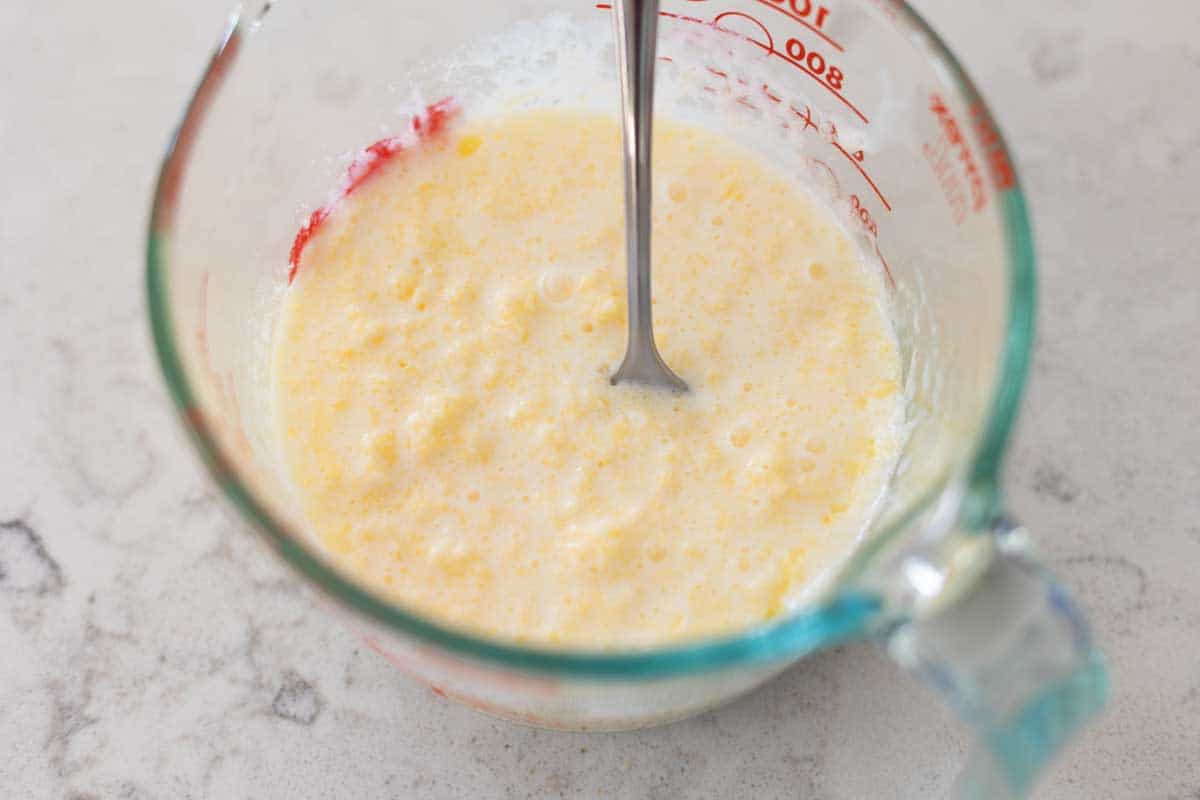 Drop the Biscuit Dough
Pour the buttermilk mixture into the dry flour bowl and stir the biscuit dough together.
Do NOT over mix the dough. Just gently stir it together until the dough forms a solid piece with slightly shaggy edges like this: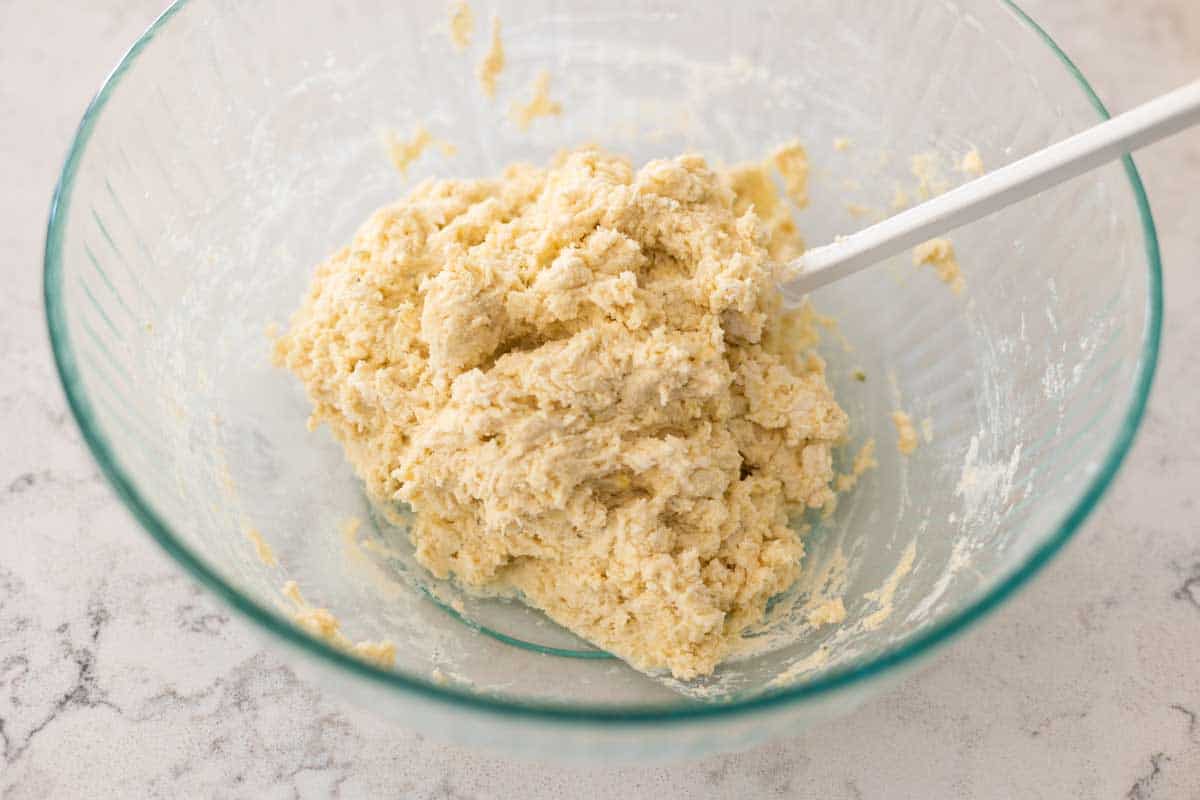 Line a baking pan with parchment paper.
To scoop the dough, use a large table spoon: the kind from your utensil drawer, not a measuring spoon. See mine sitting on the pan in the picture below?
You are going to drop 12 even balls of dough onto the pan in 4 rows of 3.
Each ball will be roughly about ¼ cup in volume, but I've found that the spoon is much easier to scoop and drop than an actual measuring cup.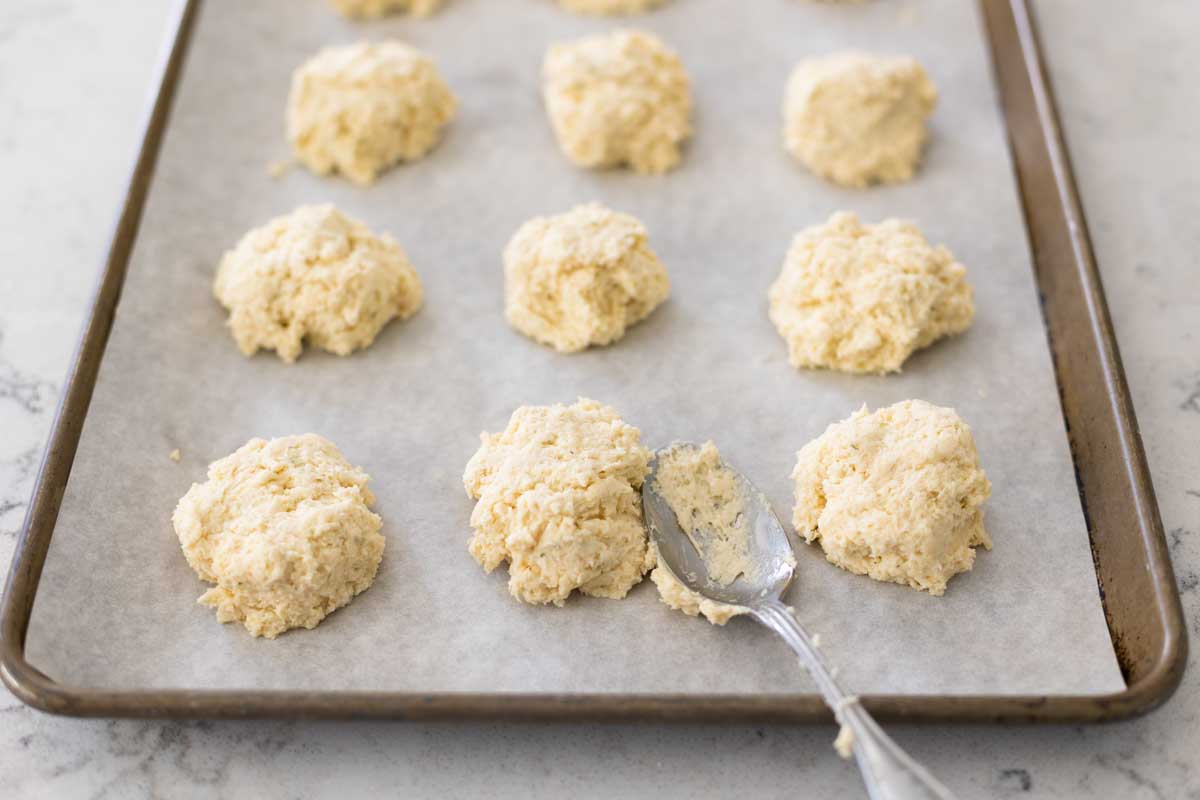 Make them Pretty
Once you've portioned out the 12 biscuit drops, go back and gently pat the edges to make sure they aren't too shaggy.
Pointy bits will bake quickly and could brown too much or even burn.
Just gently pat and tuck the edges in a bit. Work quickly and don't fuss too much. This is just a polishing step, not essential.
Baking Instructions
Preheat the oven to 425°F.
Bake the buttermilk biscuits for 13 - 15 minutes or until they are just turning golden brown around the edges.
Melt 2 tablespoons of butter while they are baking and use a pastry brush to paint them while they are still hot from the oven.
This helps ensure the melted butter is soaked up by the biscuit and doesn't just run off the sides.
You know the biscuits are done when the underside is nice and golden brown like this: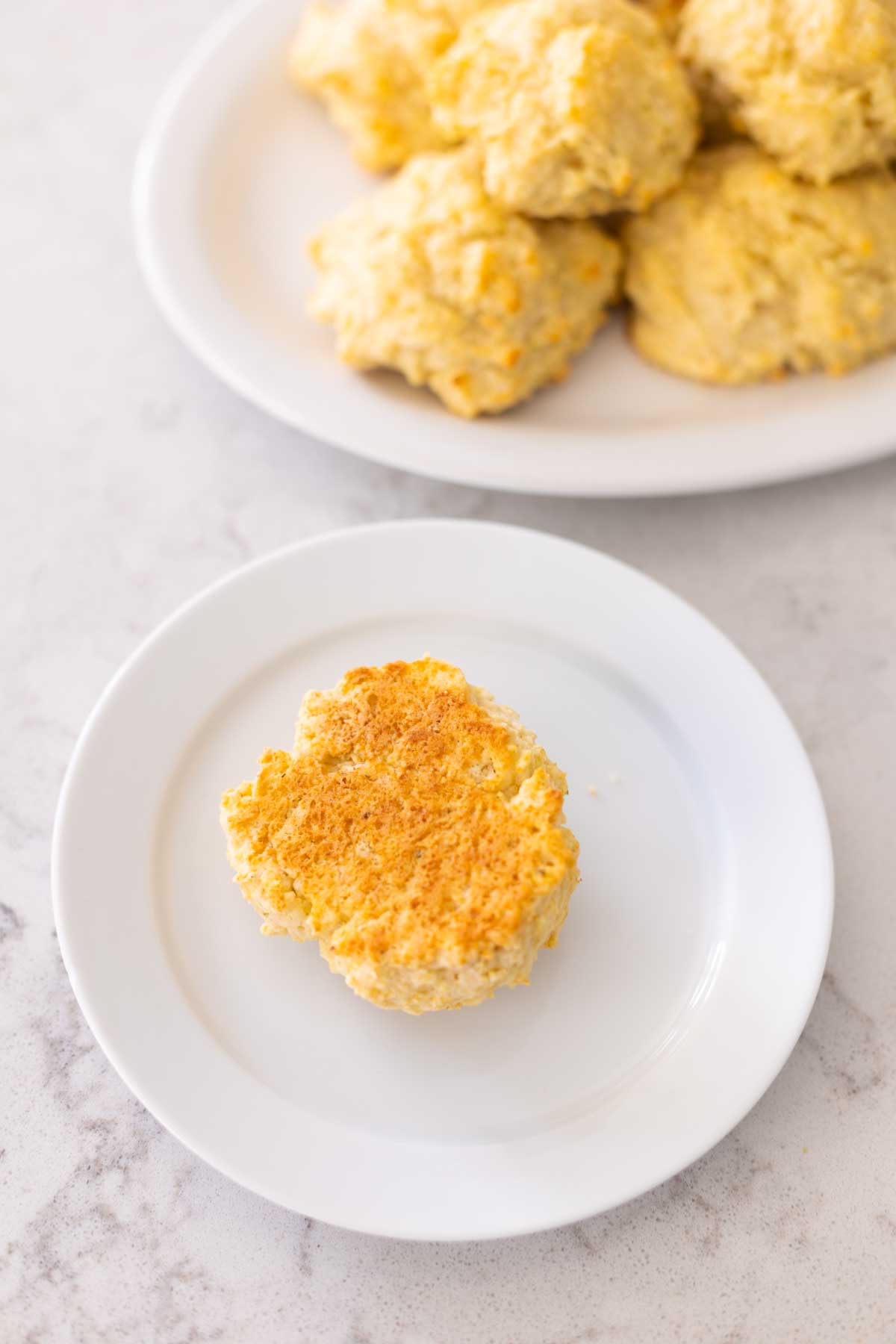 Easy Biscuit Variations
Now that you're a pro at making the basic biscuit dough, here are 3 ways you can play with this recipe for even more delicious dinner biscuits: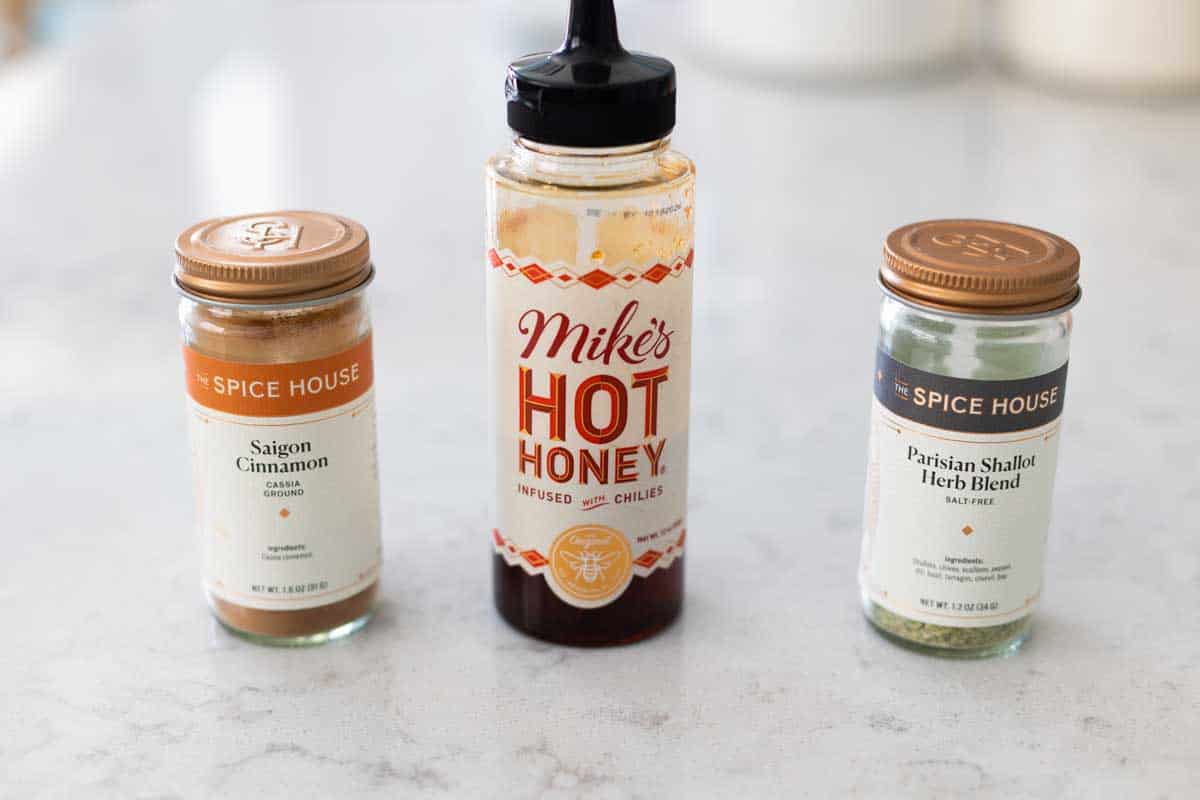 1. Herb Butter Biscuits
For a deliciously herby biscuit, add 1 teaspoon dried herbs to your dry ingredients bowl.
Add ½ teaspoon herbs to the butter you brush over the top.
Otherwise, bake as directed.
Be sure to read the recipe card below for suggestions on herb blends to use.
2. Cinnamon Sugar Biscuits
Add ½ teaspoon ground cinnamon to the dry ingredients.
Once you've formed the dough, use a small spoon to sprinkle sugar over the top of each biscuit and then bake as directed.
If you really love things sweet, you could add a little more cinnamon sugar mix to the melted butter you brush over the top.
3. Hot Honey Butter Biscuits
Our family loves Mike's Hot Honey. Spicy-sweet is one of our favorite flavor combinations.
If you prefer just regular sweet honey, go ahead and use that instead.
Bake the classic biscuit recipe as directed but then add 1 tablespoon of hot honey or regular honey to the melted butter that you brush over the tops.
You can read more about my favorite hot honey recipes here.
Serving Suggestions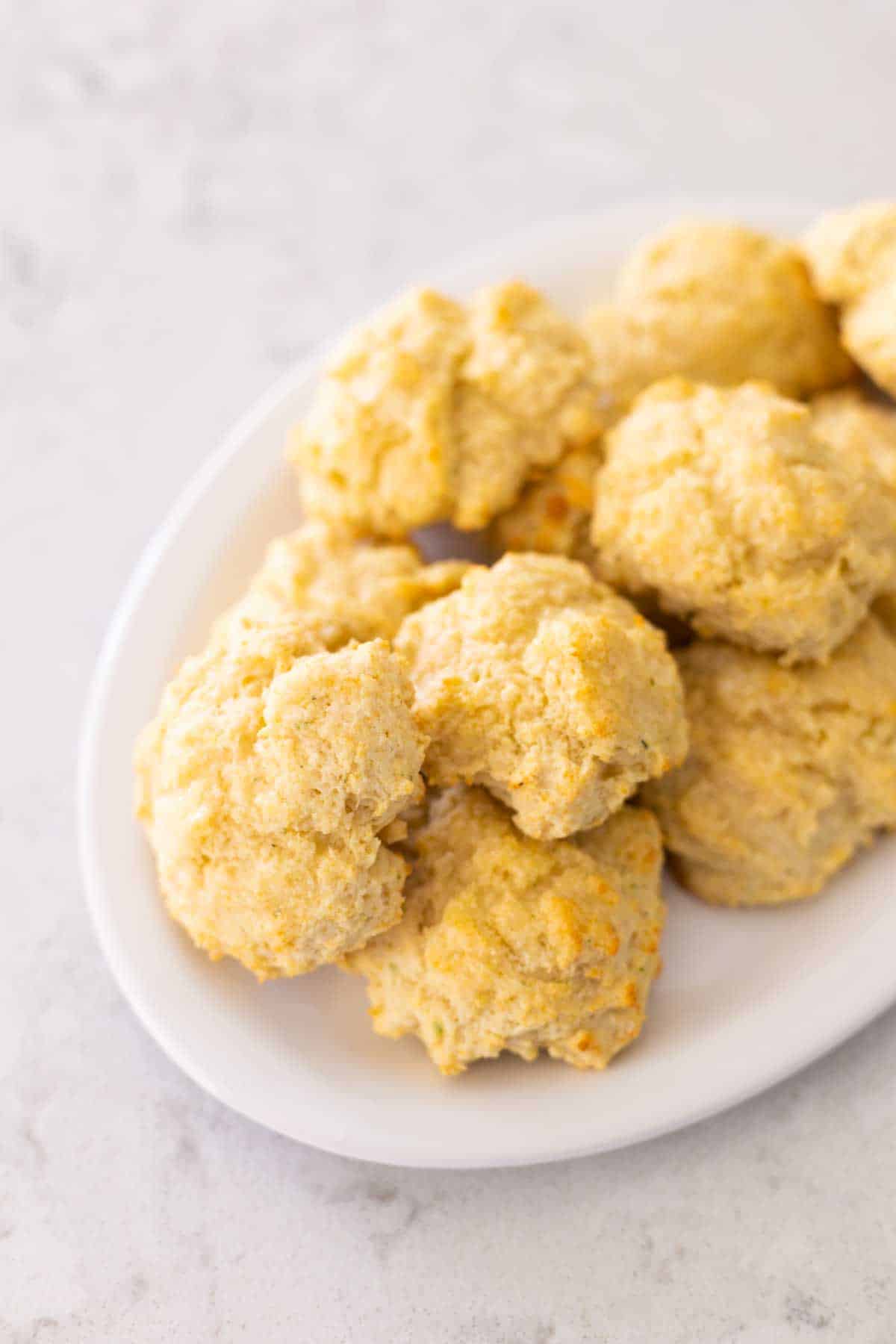 Other than inhaling those crispy, buttery biscuits straight from the pan, you might want to have a few dinners to go with them.
Warm biscuits will go well with just about any soup or stew you want to make.
I especially would love one of these with my favorite chicken pot pie casserole or chicken pot pie soup.
My easy roasted chicken actually bakes at the same temperature as the biscuits, so this would make a perfect pairing.
And if you want to be especially southern, make a batch of this homemade pimento cheese spread and break a biscuit in half and spoon on a little cheese spread!
📖 Recipe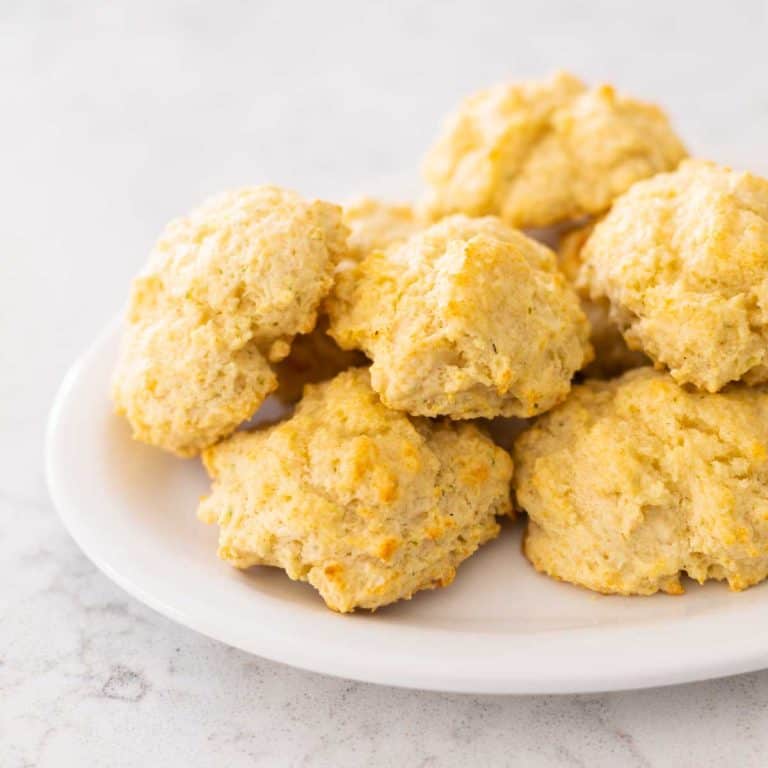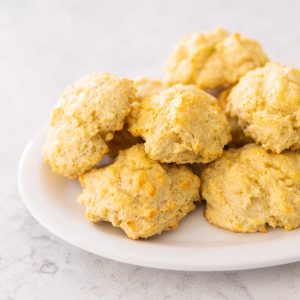 Easy Buttermilk Drop Biscuits
These easy buttermilk drop biscuits can be made in just minutes and bake up so light and flaky. Try the classic butter biscuit recipe first and then switch things up with one of the 3 fun flavor variations listed in the notes below!
Ingredients
8

tablespoons

(1 stick) butter

2

cups

all-purpose flour

2

teaspoons

baking powder

1

teaspoon

sugar

½

teaspoon

baking soda

¾

teaspoon

salt

1

cup

cold buttermilk

2

tablespoons

butter for brushing on top of baked biscuits
Instructions
Preheat the oven to 425°F. Line a large baking sheet with parchment paper and set aside.

Place the butter in a microwave safe dish and melt it on HIGH. Let the melted butter sit aside to cool while you prepare the dry ingredients.

In a separate large mixing bowl, whisk together the flour, baking powder, sugar, baking soda, salt, and the herb blend of your choice.

Measure the buttermilk and whisk it into the melted butter with a fork. Continue to stir for a minute or until the mixture becomes lumpy and appears curdled.

Pour the buttermilk mixture into the dry ingredients and stir it together with a spatula. Don't over mix the dough, stop as soon as all the flour has just been incorporated, scraping the sides of the bowl as you go.

Use a large soup/table spoon to scoop 12 even balls of dough and drop them on the prepared baking sheet in 4 rows of 3.

It's ok to gently pat the edges of the dough into place on each biscuit. You don't want an overly shaggy biscuit drop or the pointy bits will brown more quickly than the rest of the biscuit. See photos above for reference.

Bake the biscuits for 13 - 15 minutes or until golden brown underneath and just starting to brown on top.

Melt the remaining 2 tablespoons of butter and use a pastry brush to paint the tops of the biscuits while they are still warm. Serve immediately.
Recipe Notes
Herb Butter Biscuits:
Add 1 teaspoon dried herb blend to the dry ingredients and whisk in. Bake the biscuits as directed above.
You can use any dried herb blend that you love like Italian herb, Mediterranean herb, Greek herbs, etc.
I used a blend named "Parisian Shallot" that features dried shallots, chives, scallions, dill, basil, tarragon, chervil, and bay.
Cinnamon Sugar Biscuits:
Add ½ teaspoon ground cinnamon to the dry ingredients. Use a small spoon to sprinkle a little additional sugar over each biscuit dough ball before baking, bake as directed.
Hot Honey Butter Biscuits:
Bake the classic biscuits as directed. Add 1 tablespoon hot honey to the 2 tablespoons of melted butter and stir together before brushing over the warm biscuits.
Save This Recipe to Your Recipe Box
Find this delicious recipe next time you visit by saving it to your very own recipe box on my site. All your favorites stored in one easy place!